This homemade garlic balsamic vinaigrette is a necessity to have in your kitchen. One of my favorite recipes, it only takes 10 minutes to make and can be stored up to a week and pairs perfectly with anything from spinach salad to pasta salad.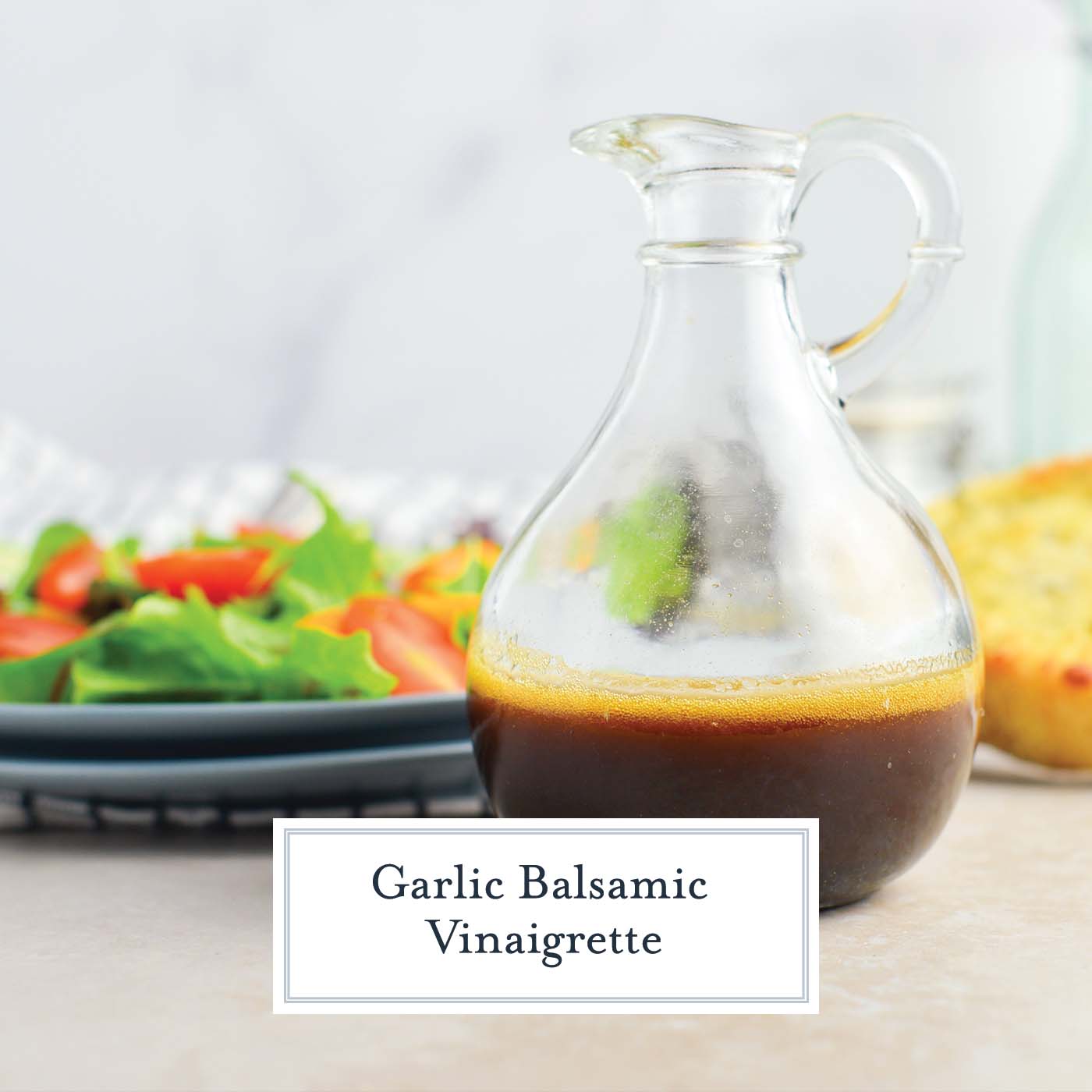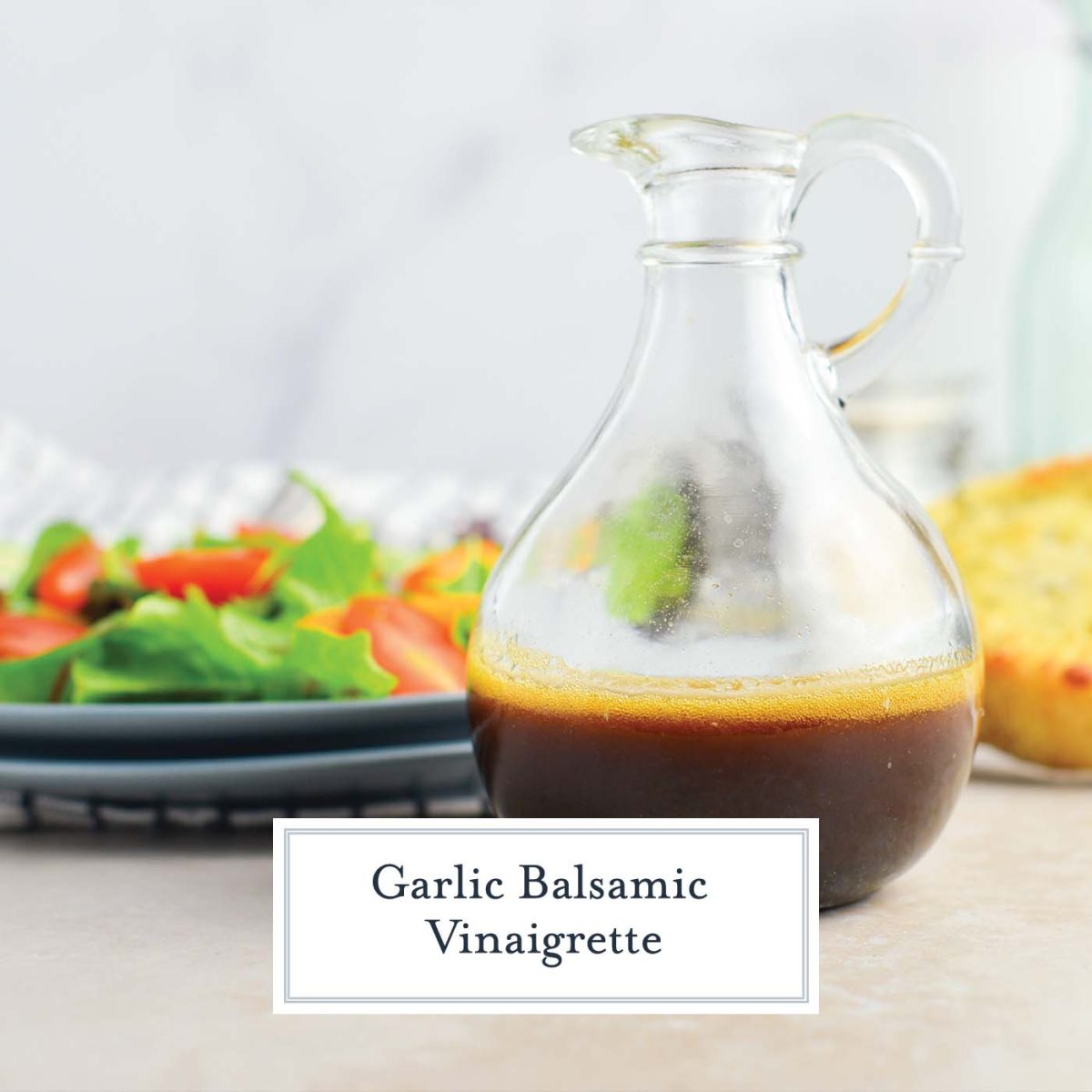 My kitchen is full of basics and staples that I am constantly reaching for. Olive oils, compound butter, Maldon salt, and this salad dressing.
There is just something about a homemade dressing that turns an ordinary salad into the best salad. Even a simple salad dressing, with the right ingredients, can elevate the flavors of any dish, and is often the best part.
Dressing is a Staple
Meet your new kitchen staple: an easy balsamic salad dressing. But it is SO much more than just a dressing. It can be used as a balsamic marinade, it is the perfect blend baste for grilled veggies and meat, on roasted vegetables, as a dip and for so much more! And of course, for your favorite green salad and grilled romaine salads.
It can be as simple as oil and vinegar or made richer with aged balsamic and good quality extra virgin olive oil. This garlic balsamic vinaigrette is a basic dressing that adds a little, shall we say, spunk, by using fresh garlic. We measure garlic with our heart in this house and let's just say we wouldn't never see any vampires nearby. LOL.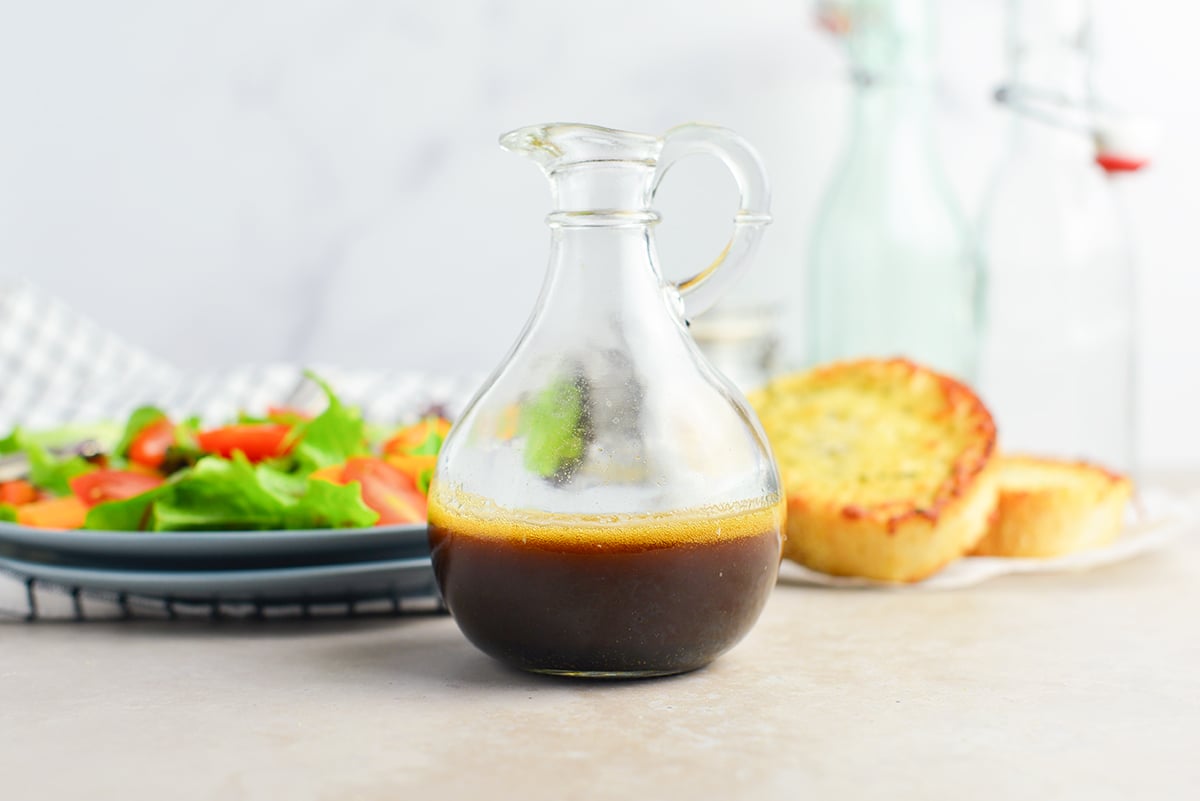 What is Balsamic Vinegar?
Balsamic vinegar is dark and concentrated Italian vinegar. It is usually made from grape musk- meaning leftovers from winemaking like the skin, seeds and other remnants. They are boiled and reduced and then fermented in casks, just like wine, for a few weeks.
Reggio Emilia and Modena, Italy are the only two geographic locations that make true balsamic vinegar– some goes for a few bucks and other more complex varieties for up to $200 per ounce!
For our recipe, we only need your run-of-the-mill store bought brand, so don't break the bank or waste the really good stuff on this recipe, yours will be delicious after we get done with it.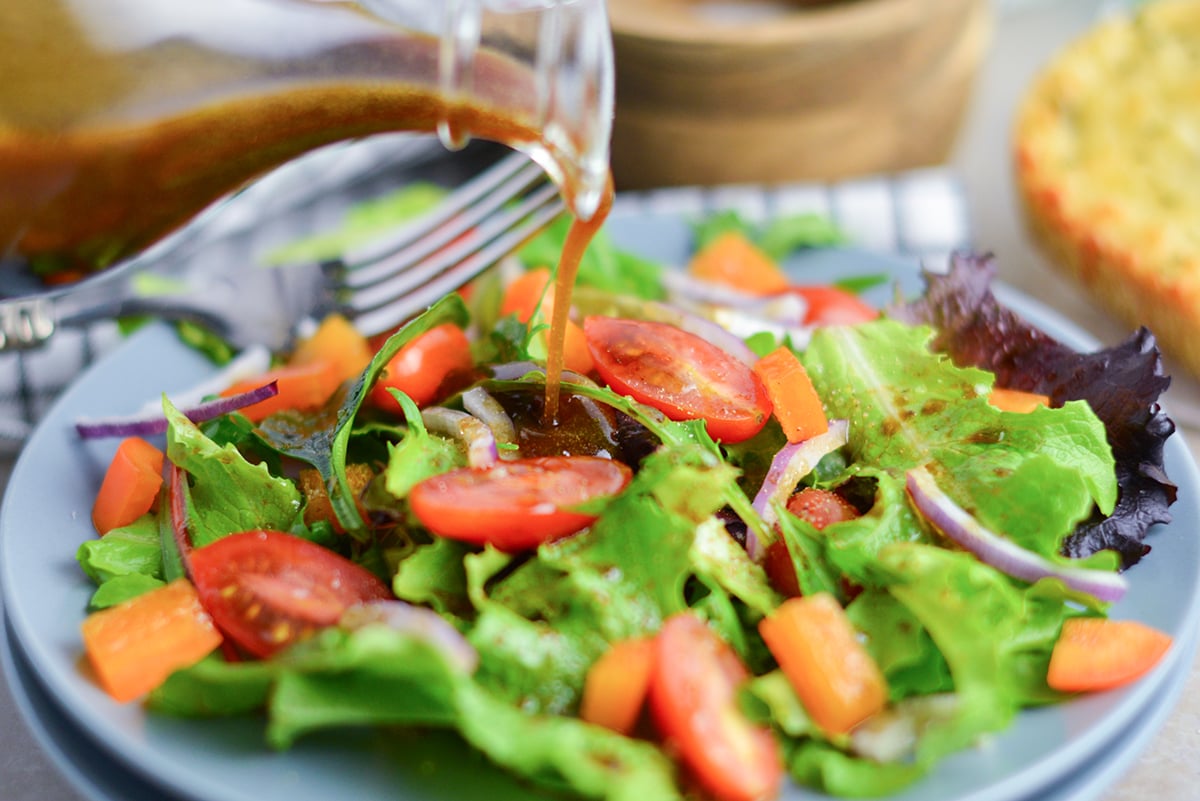 Garlic Balsamic Vinaigrette Ingredients
This recipe uses a handful of ingredients that are pantry staples, so chances are you have them on hand already.
Standard Balsamic Vinegar – As stated above, you don't need the really expensive bottle for this recipe. The other flavors and ingredients help to elevate the flavor.
Light Brown Sugar – This balances out the acidity and gives a sweet aftertaste. Balsamic vinegar on it's own already has a little added sugar, so this adds another flavor profile.
Fresh Garlic Clove – Use more or less based on preference. I highly encourage you to use fresh and not the bottled minced garlic, which is generally sweeter. Fresh garlic gives the most pungent garlic flavor.
Coarse Kosher salt – I always prefer using coarse salt, but if you're using a fine sea salt, be sure to cut the volume in half.
Black pepper – Either coarse or finely ground work. You can also use ground white pepper and it will do just fine.
Extra virgin olive oil – Here is where you want to use the good stuff. There is a difference in quality for salad dressings.
Shake your dressing together to emulsify all the ingredients. Alternatively you can whisk together in small bowl or give it a whirl in a food processor. This works best if you don't like have little chunks of garlic (or onion if you use it) in your homemade vinaigrette. It is normal for them to separate after sitting for a period of time.

Garlic Balsamic Vinaigrette Variations
This is a great basic vinaigrette recipe, but here are a few ideas to customize your homemade balsamic vinaigrette recipe.
Omit olive oil and fold the other ingredients into 3/4 of mayonnaise for a creamy balsamic dressing.
Add 1 teaspoon of dried Italian seasoning.
Add 1 tablespoon of freshly chopped scallions, shallots or red onion.
Swap out brown sugar for honey or agave nectar.
The essence of this recipe is balsamic vinegar, but you can also use a white balsamic vinegar, apple cider vinegar, white wine vinegar or red wine vinegar in a pinch.
Add a touch of Dijon mustard.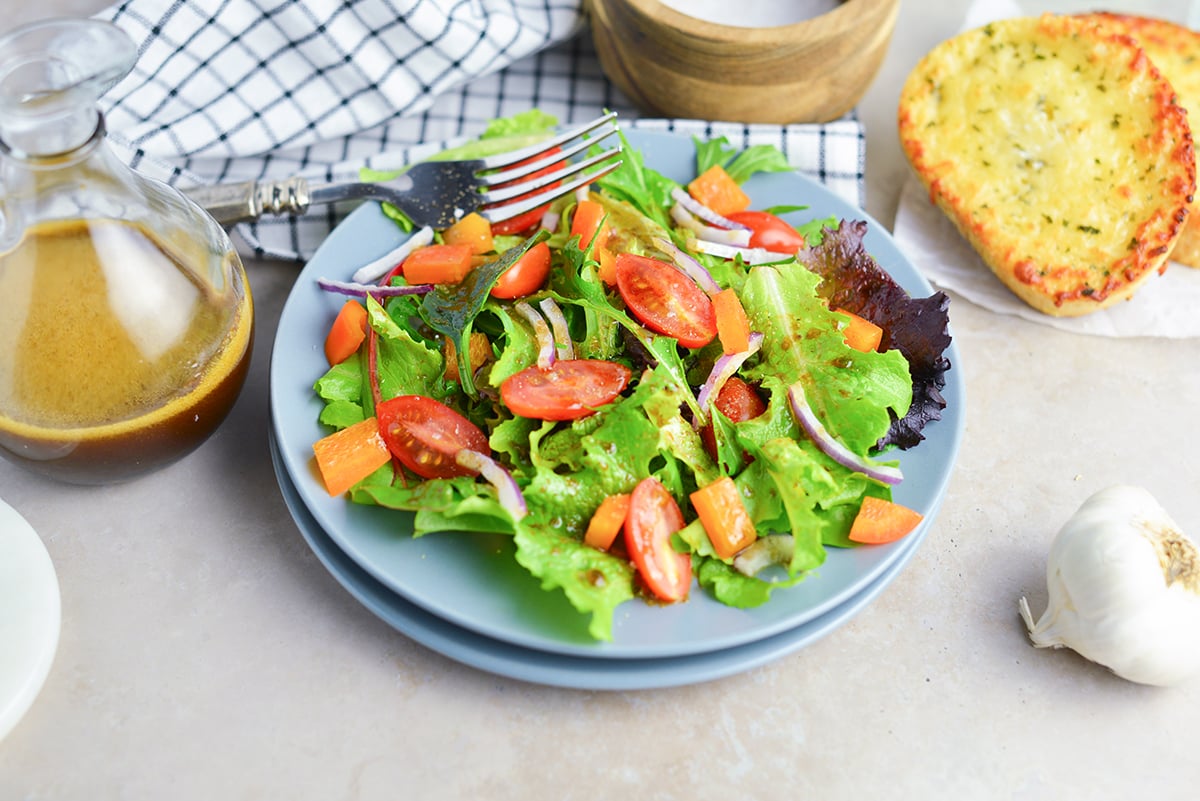 Storage & Shelf Life
It does not need to be refrigerated, however I do keep mine chilled, and will keep indefinitely in your kitchen as long as it is stored in a dry, cool place away from heat. I like keeping all of my homemade dressings in a mason jar. Any airtight container or even clean jam jar will do to maintain good flavor.
If you do serve it chilled, let it sit for a bit to come to room temperature. It has the tendency to separate a little, so give it a good shake before using. Rest assured, this is 100% normal.
This garlic balsamic vinaigrette dressing is great to make ahead and have ready to go for when you're ready to use it. Vinaigrette can be stored in an airtight container at room temperature in a dry, cool and dark place for up to a week.
Part of my weekly routine is whipping up a batch. Remember, it will probably settle out in between use so give it a good, hearty shake before you drizzle.
Use it for salads, as a marinade for chicken or drizzle on steamed vegetables. The sky's the limit!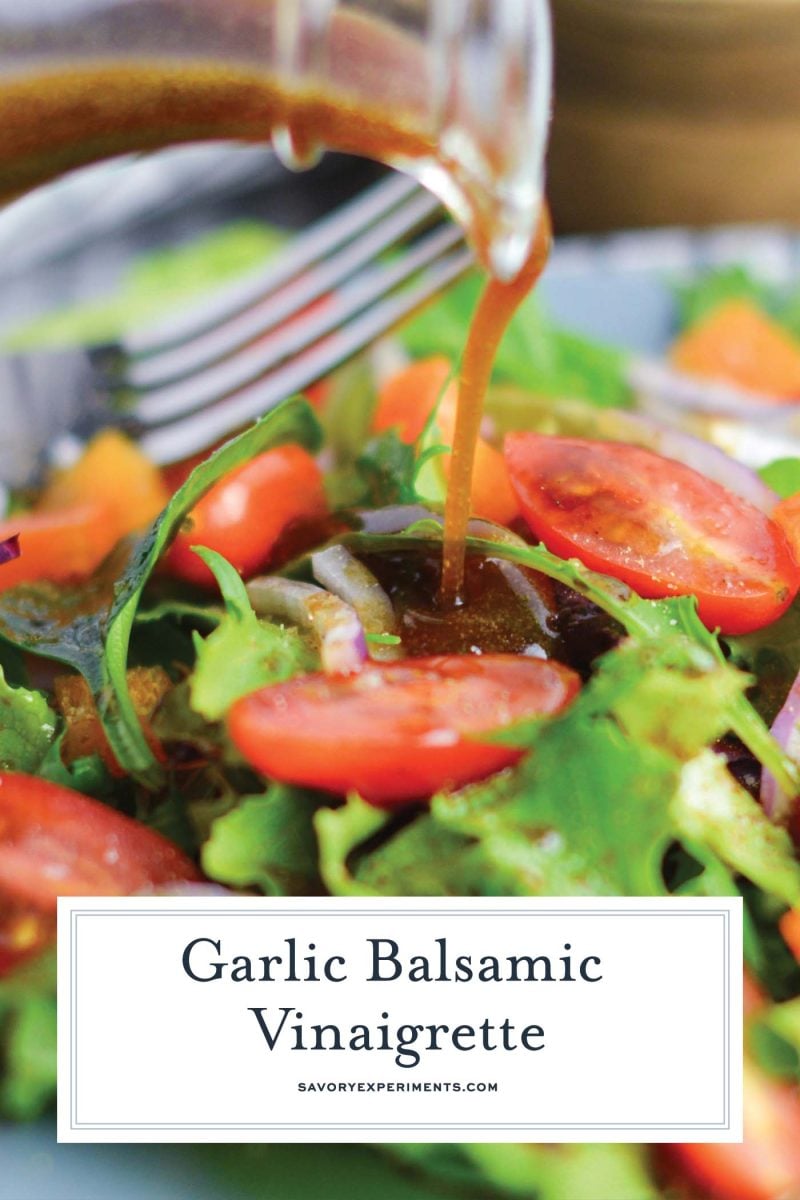 Check out these other salad dressing recipes: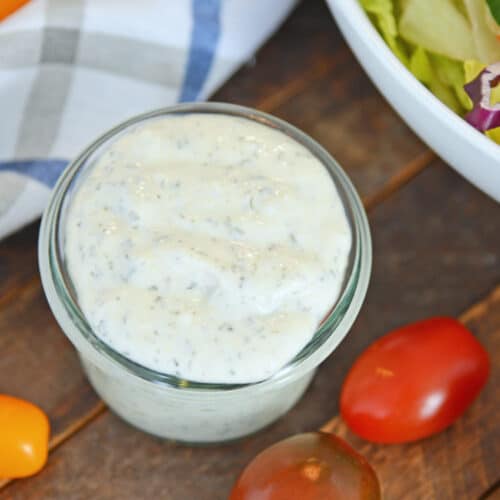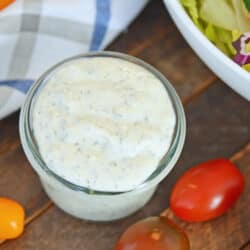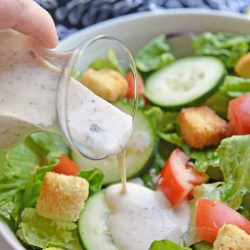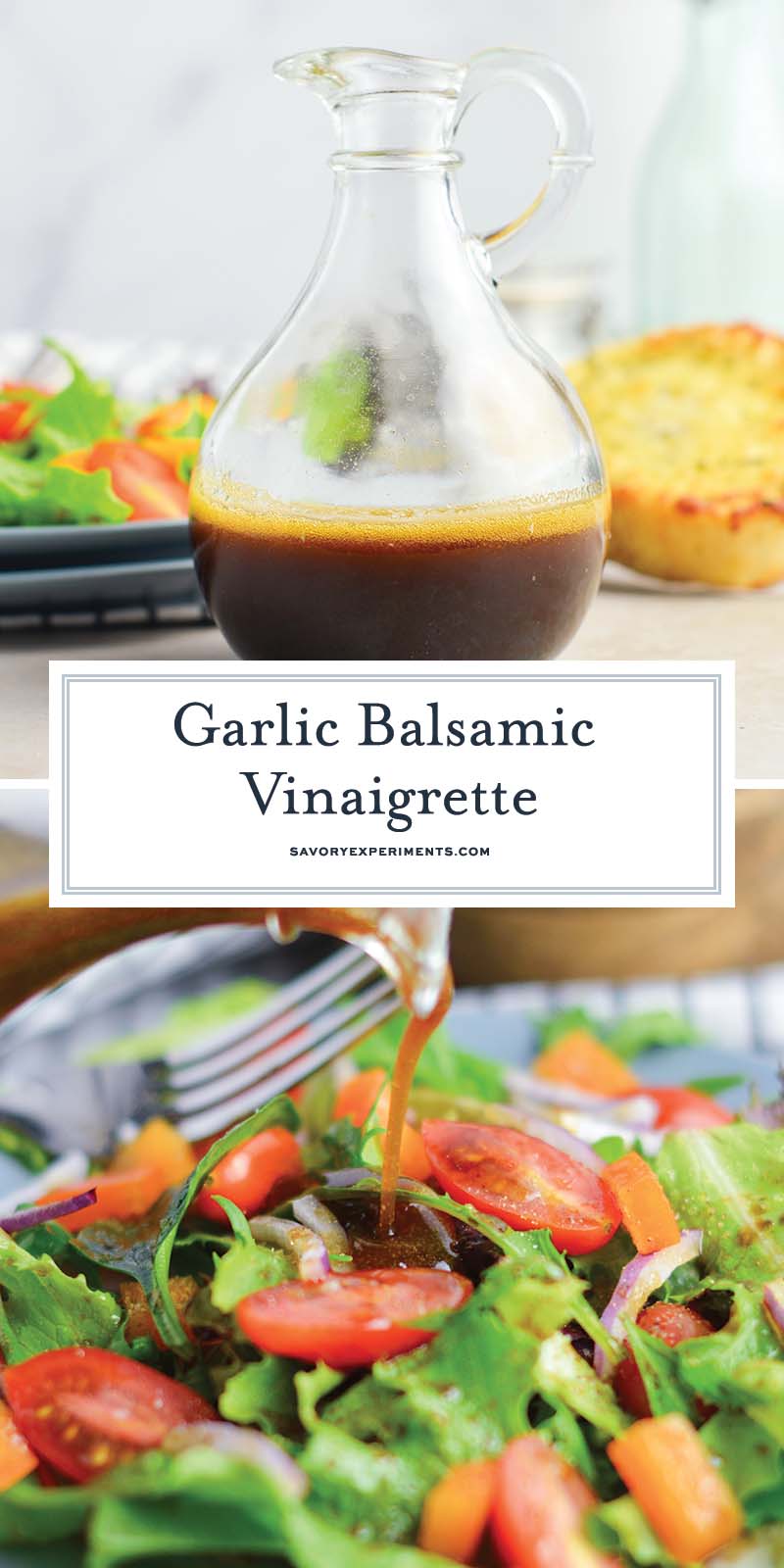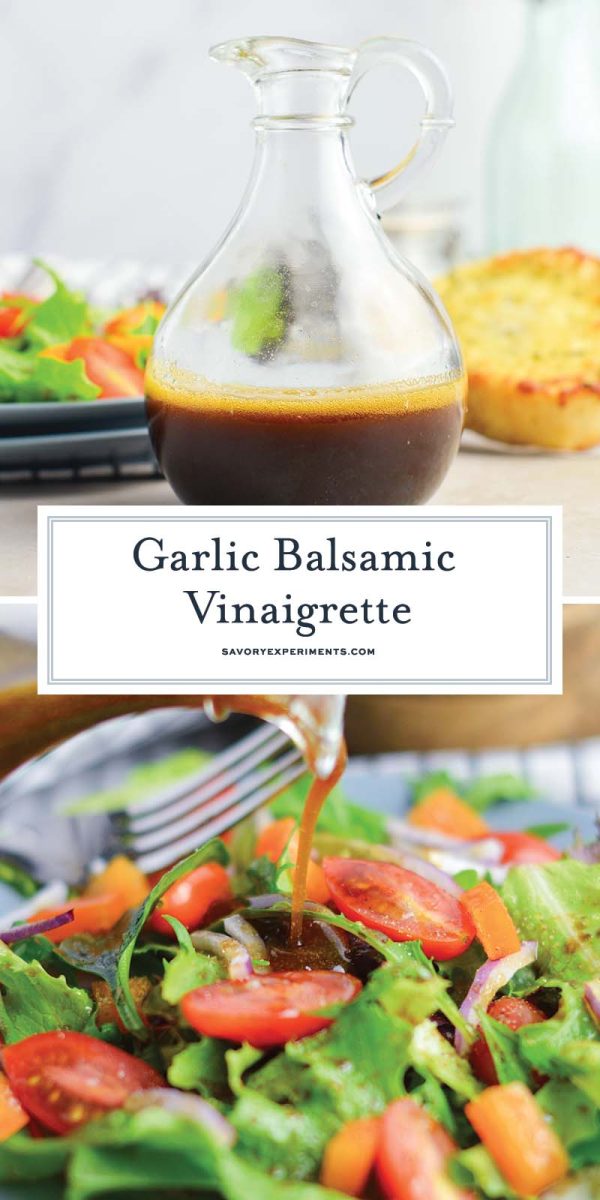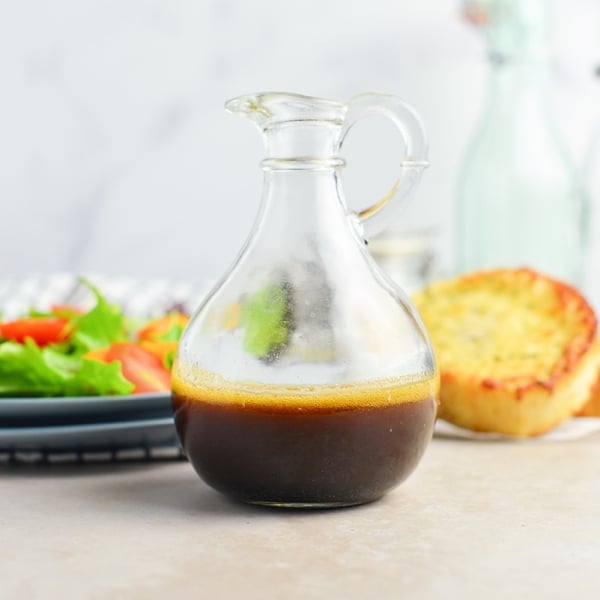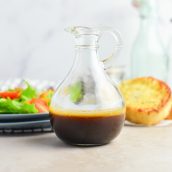 Garlic Balsamic Vinaigrette
This Easy Garlic Balsamic Vinaigrette is a staple dressing to have in your home. It's so simple to make and full of tangy but savory flavors!
Instructions
Using a microplane or small food processor, grate or pulse garlic to a pulp. This releases the juices, activates the flavor and prevents large chunks of garlic in your dressing.

Combine all ingredients in an airtight plastic containers and shake, shake, shake.

Vinaigrette can be served immediately, but tastes best if flavors are allowed to steep for a bit before serving.

If you've tried this recipe, make sure to come back and let us know how it was!
Notes
Omit olive oil and fold the other ingredients into 3/4 of mayonnaise for a creamy balsamic dressing.
It does not need to be refrigerated.
Nutrition
Calories:
128
kcal
,
Carbohydrates:
2
g
,
Fat:
13
g
,
Saturated Fat:
1
g
,
Sodium:
50
mg
,
Potassium:
5
mg
,
Sugar:
1
g
,
Vitamin C:
0.2
mg
,
Calcium:
2
mg
,
Iron:
0.1
mg