Whether you are hosting a dinner party or just want a jazzy weeknight salad, this simple Beet Goat Cheese Salad with arugula and toasted almonds is the perfect choice. Pair that with a bright orange vinaigrette and you have a crave-able salad that can be served as an entree, appetizer or side dish for nearly any protein.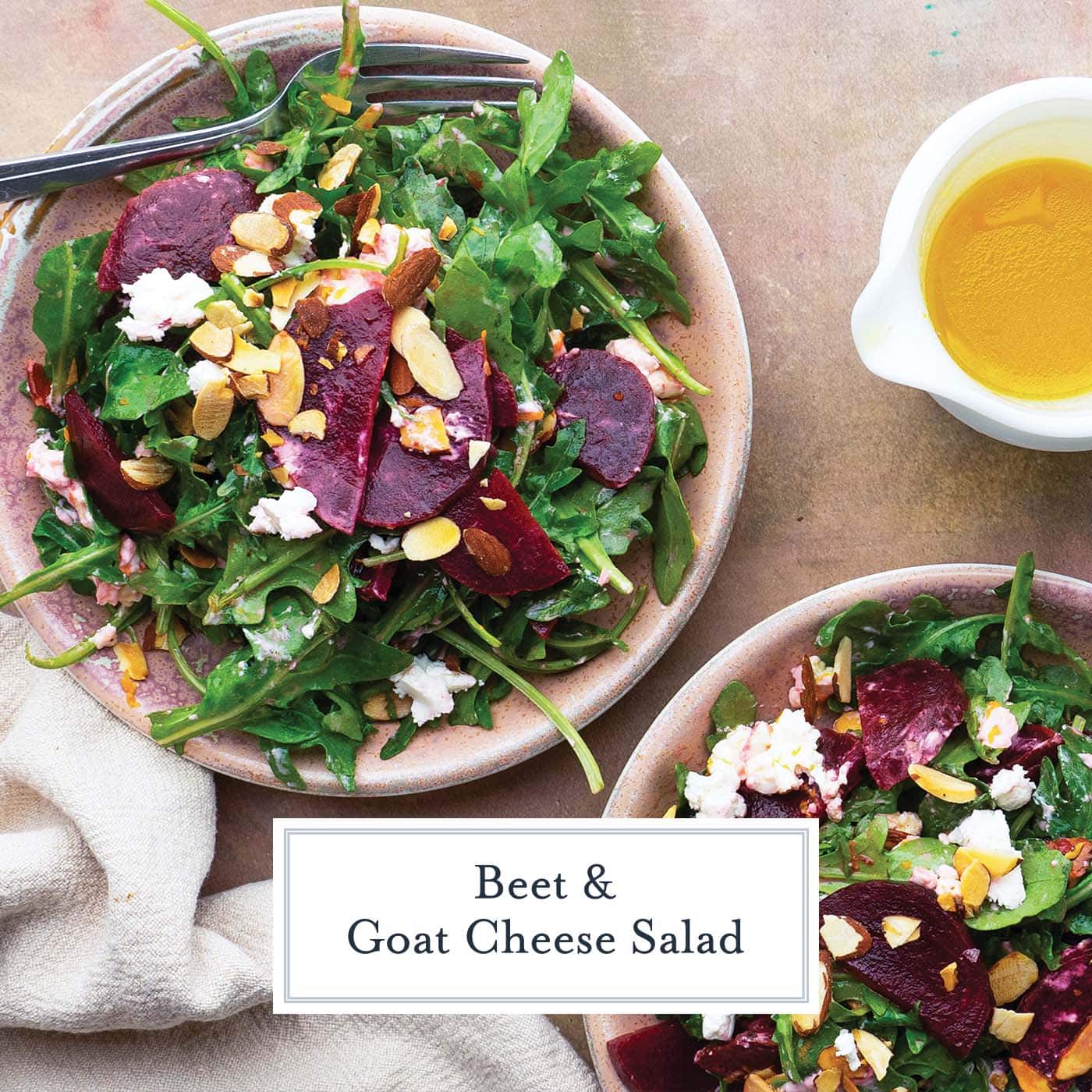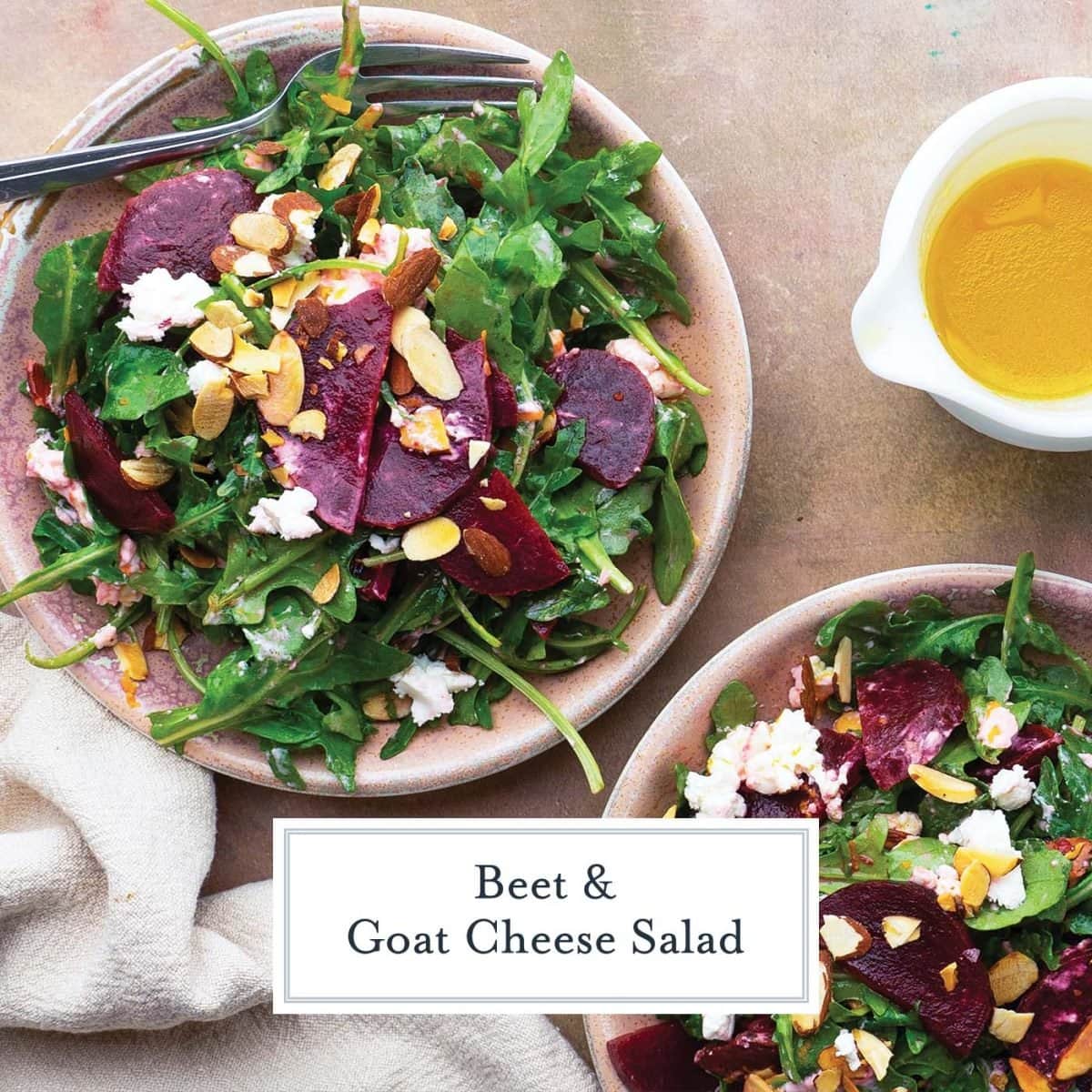 Make this goat cheese and beet salad into an entrée by adding more protein. I like to add crispy roasted chickpeas, sliced chicken or cooked shrimp to turn them into a balanced meal.
Beet Goat Cheese Salad Ingredients
The ingredients are a little out of the usual "kitchen staples" realm, but also easy to find and source.
Whole beets – You can buy these precooked and peeled or roast beets at home.
Goat cheese – I prefer to buy a log of goat cheese and crumble it myself, but you can buy it pre crumbled.
Arugula – Any leafy green will work for these salad. You can use spinach, spring mix or baby kale in place or arugula.
Sliced almonds – I usually buy these raw and toast them gently on the stovetop. You can also buy them pre toasted. Not a fan of almonds? Use toasted pecans or walnuts instead.
Naval orange – Zest the orange first and then squeeze it for the juice. You can also use a mandarin orange or blood orange.
Extra virgin olive oil, rice vinegar and a pinch of salt – These are the other ingredients needed to make a simple vinaigrette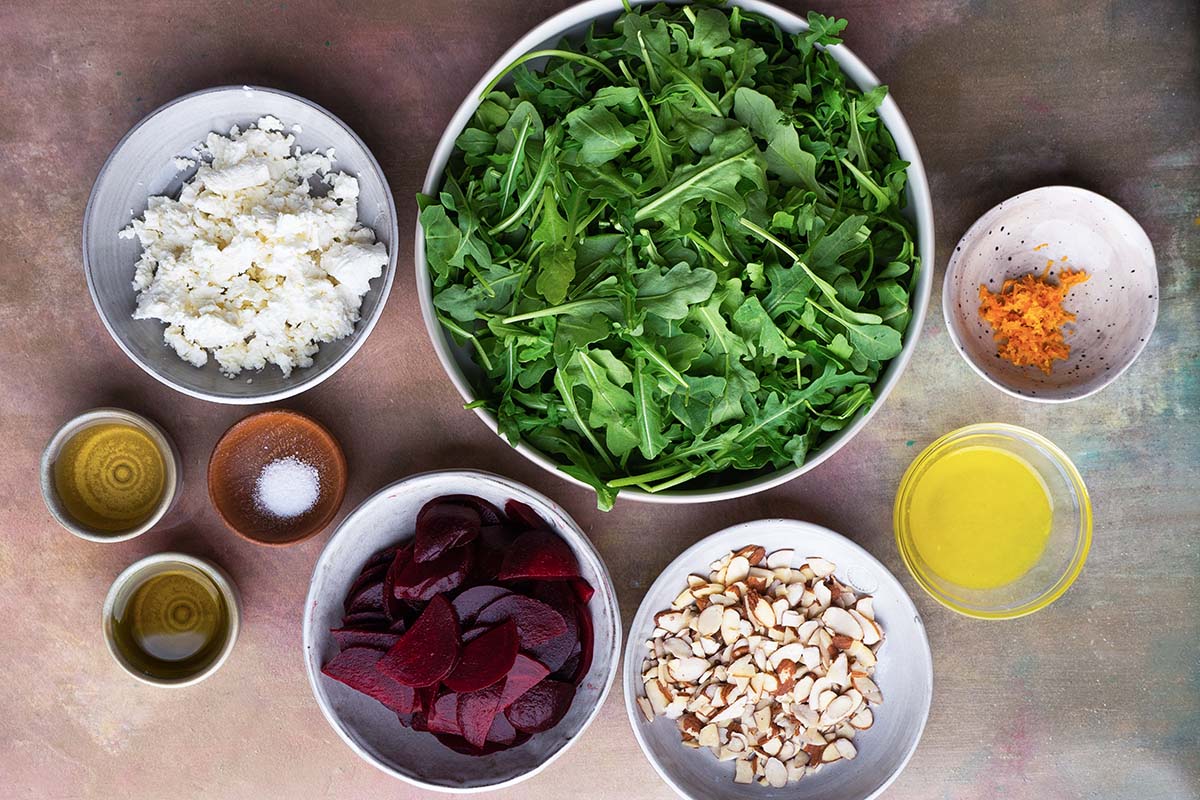 Use Pre-Cooked Beets or Roast Beets in the Oven
I personally like to use precooked, peeled beets. You can find these canned at room temperature or wrapped in plastic in the refrigerated section near the produce.
I prefer the refrigerated cooked beets because they still taste fresh are commonly roasted instead of steamed and aren't steeped in juices. In fact, you'll find that many beet salads that are called "roasted beet salad" are not actually roasted and just popped out of a can.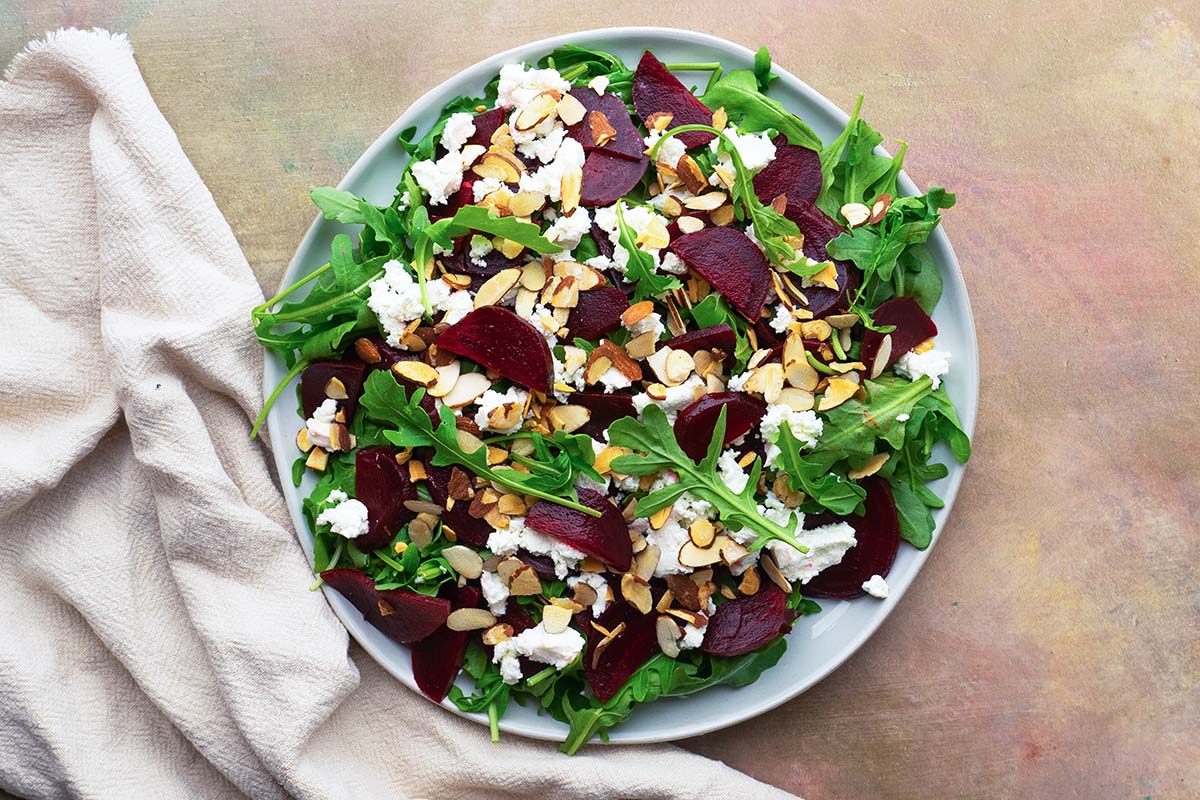 You can also roast beets from scratch. It is a simple process, but time consuming and potentially messy because beets are so juicy… and that juice is a vibrantly beautiful burgundy.
Clean and trim the stem and root.
Drizzle them with olive oil and then wrap each beet individually in a piece of aluminum foil.
Place on a baking sheet and roast at 400°F for about 1 hour. Exact cooking time will vary based on the size of the beet. Pierce with a cake tester and if it inserts easily, they are done. The consistency will still be slightly taunt, but not hard to penetrate.
Allow to cool slightly and then remove the skin, which should slip off easily at this point.
Dressing Options
I made a homemade orange vinaigrette for this beet salad recipe. The bright citrus of orange zest, orange juice emulsified with olive oil, rice vinegar and salt. There are many other salad dressings that you can use instead such as: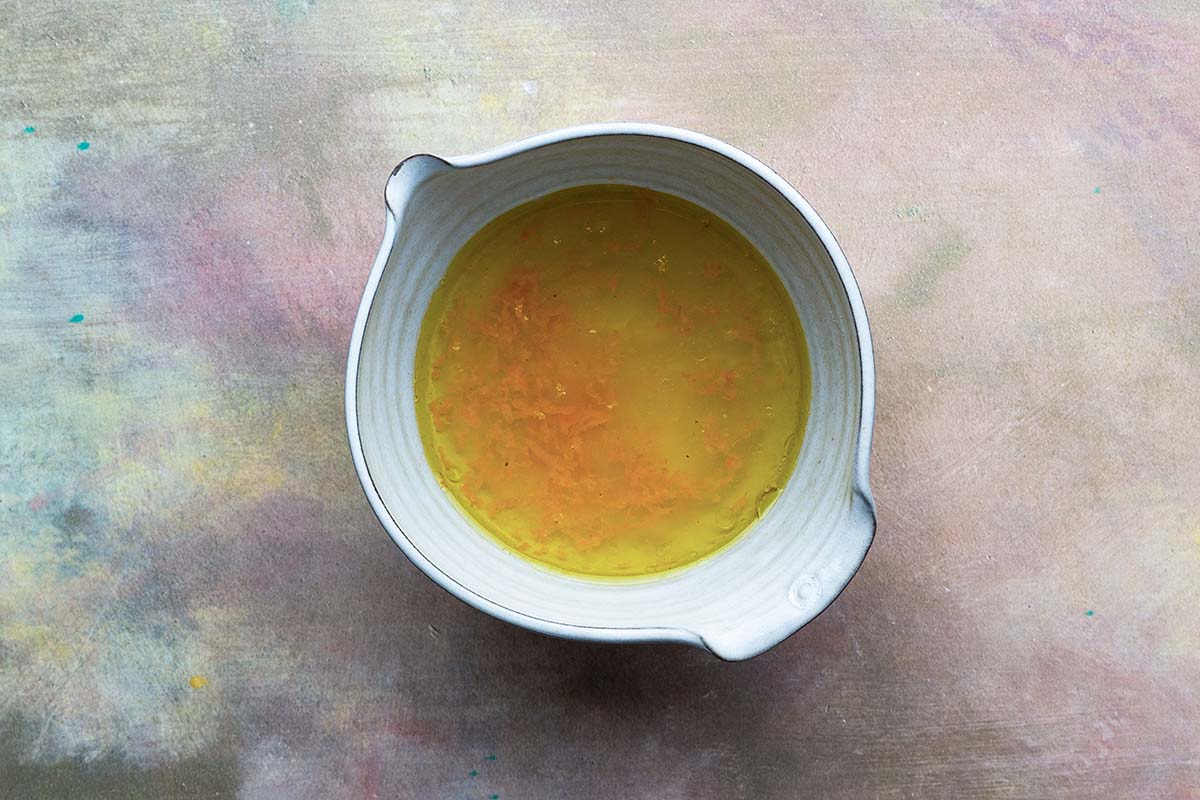 How to Make a Beet and Goat Cheese Salad
Toast the almonds. Pour the sliced almonds into a dry nonstick skillet. Heat over medium-low heat and cook until they are golden brown. It is easy for sliced nuts to burn so keep an eye on them and shake the skillet frequently to keep them moving. As soon as they start to brown and become fragrant, remove them from the heat and cool. Toasting brings out natural flavors and oils in nuts that would otherwise not be tapped into.
Slice the cooked beets and crumble the cheese. Cut each cooked beet in half and then slice into half moons. Each slice should be about one quarter inch thick.
Assemble the salad. Pour the arugula onto a platter or into a bowl. Layer the beets, goat cheese, and toasted almonds on top.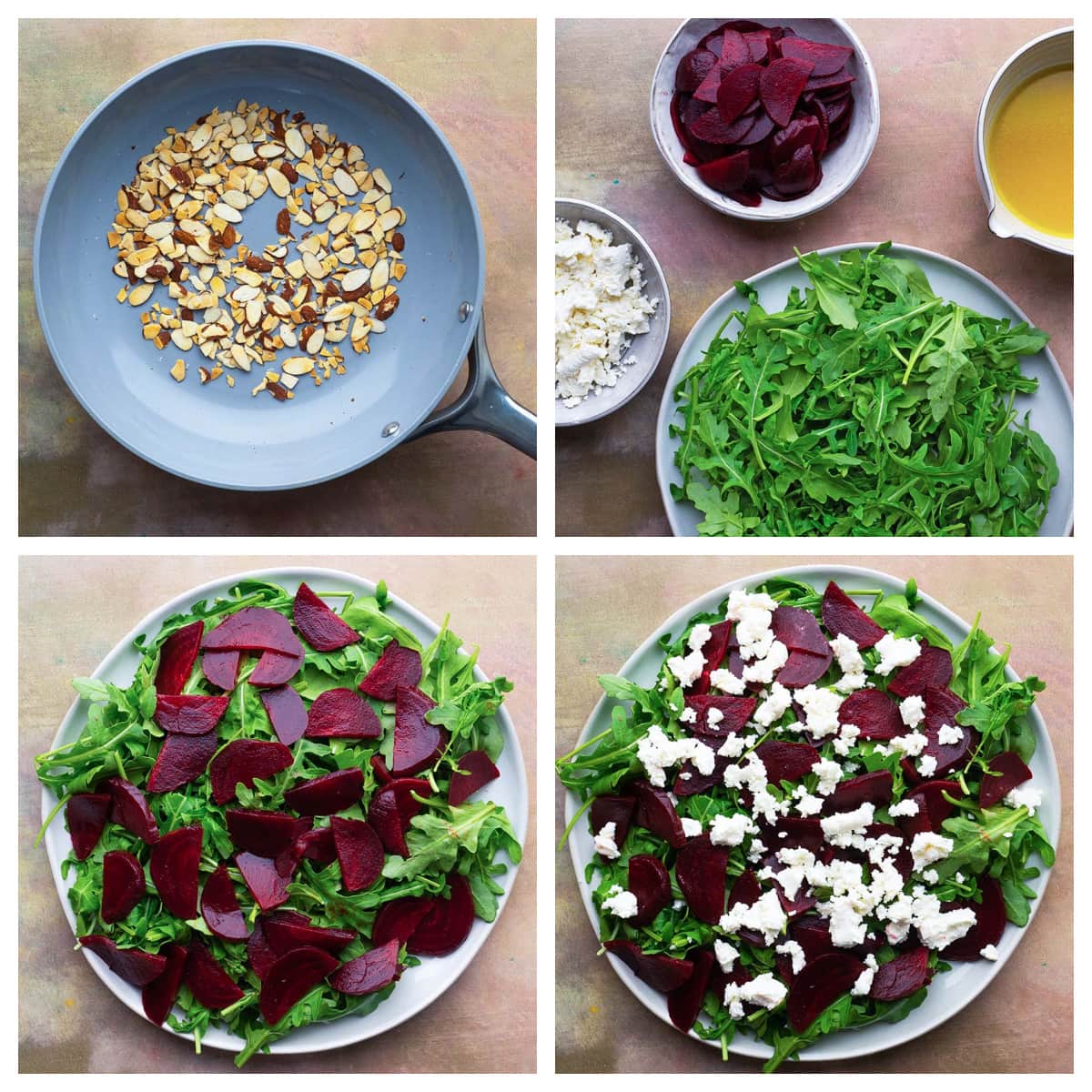 Prepare the dressing. Zest and juice the orange. On average, a fresh naval orange will produce 2 teaspoons of zest and 3 tablespoons of juice. Whisk together the juice, zest, olive oil, rice vinegar, and salt.
Toss salad and serve. Pour half of the dressing over the salad and toss. Slowly continue to add more dressing until it is fully dressed. Serve immediately. If it sits too long, this acidic dressing will quickly wilt your greens.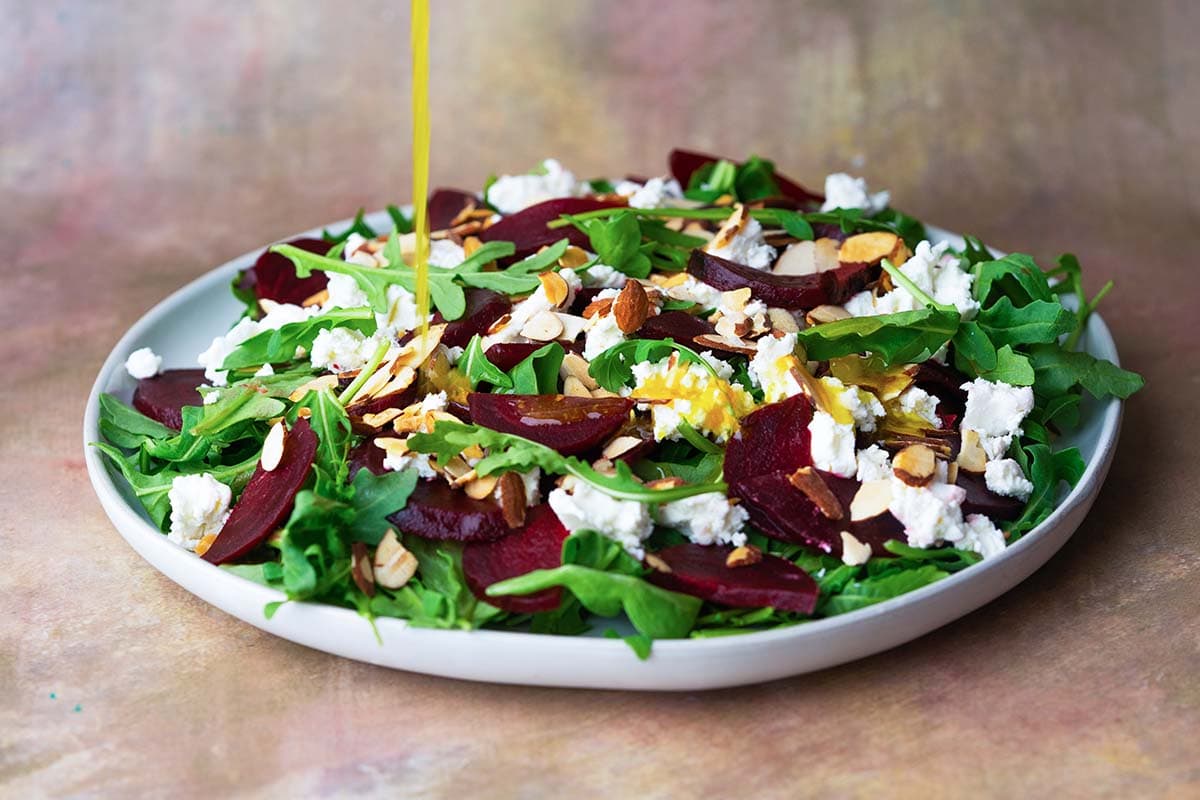 Prep and Storage
You can certainly prepare this salad ahead of time, especially if you plan to serve it for the holidays or a dinner party.
Arrange the arugula on a platter or in a bowl with the beets, goat cheese and almonds. Mix the vinaigrette together. Cover both and store separately in the refrigerator for up to 24 hours. Toss in dressing just before serving.
Unfortunately, not many salads store well as leftovers. You can, of course, do so, but the greens get a little soggy and sad within several hours.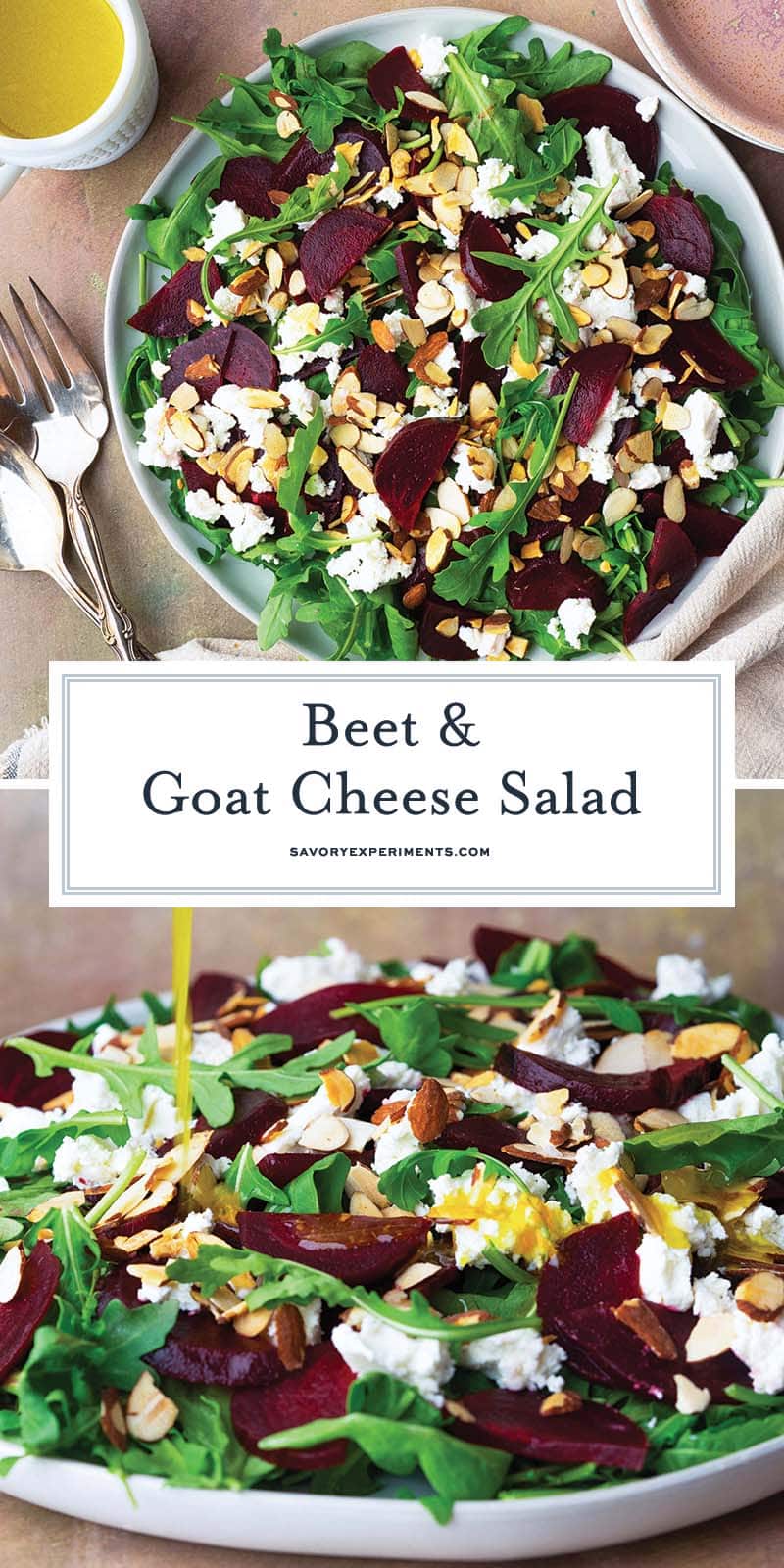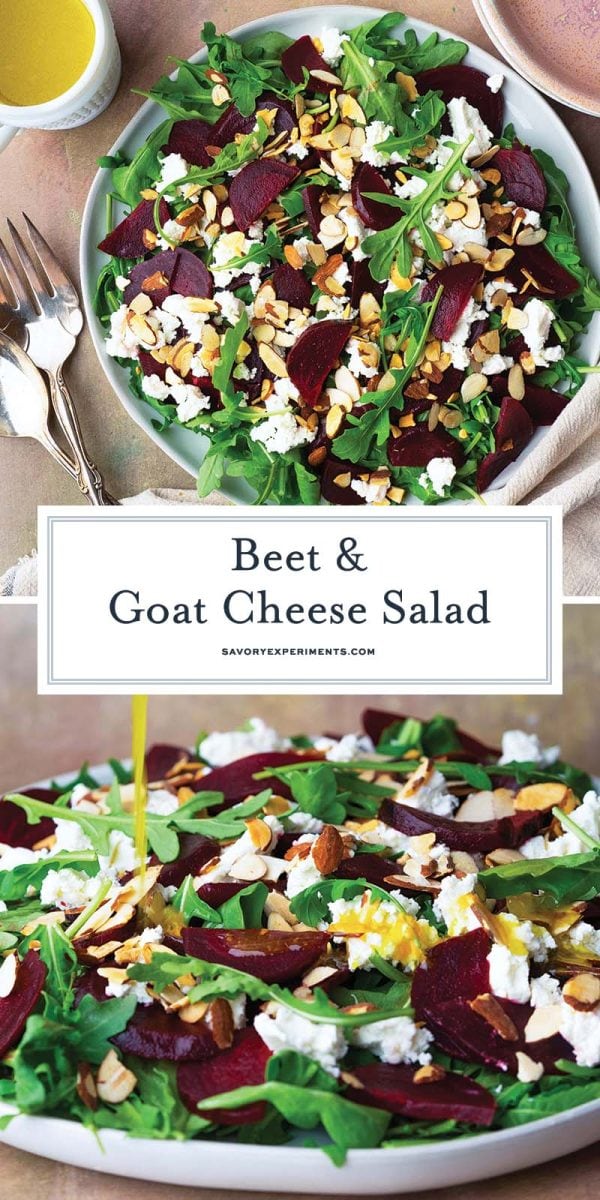 More Easy Salad Recipes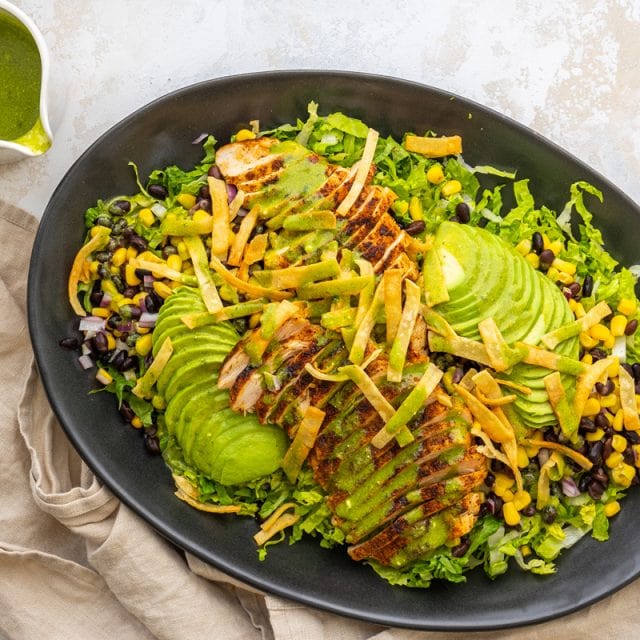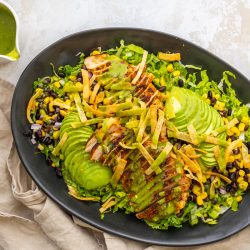 Southwest Chicken Salad
This Southwest Chicken Salad is a delicious salad made with seasoned chicken breast and bold flavors of the southwest. It's paired with a cilantro lime dressing and tortilla strips for added crunch!
See The Recipe!
Gouda and Corn Salad
Easy salad recipes don't get much better than this simple Gouda and Corn Salad! It's perfect for a quick lunch, or even to bring to a potluck! #goudaandcornsalad #cornsalad #easysaladrecipes www.savoryexperiments.com
See The Recipe!
Green Curry Steak Salad
Green Curry Steak Salad uses a seared steak with a sweet and mildly spicy green curry sauce over Romaine lettuce and charred bell pepper and carrots. The perfect summer salad recipe!
See The Recipe!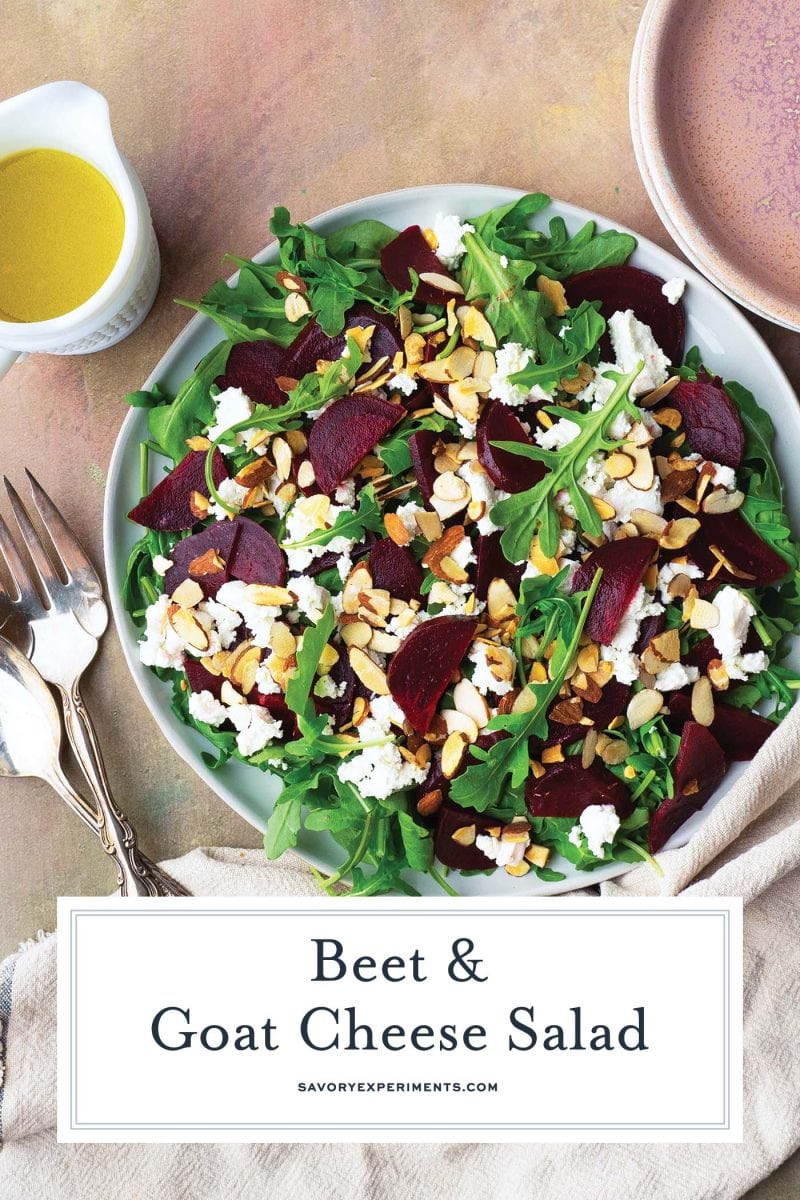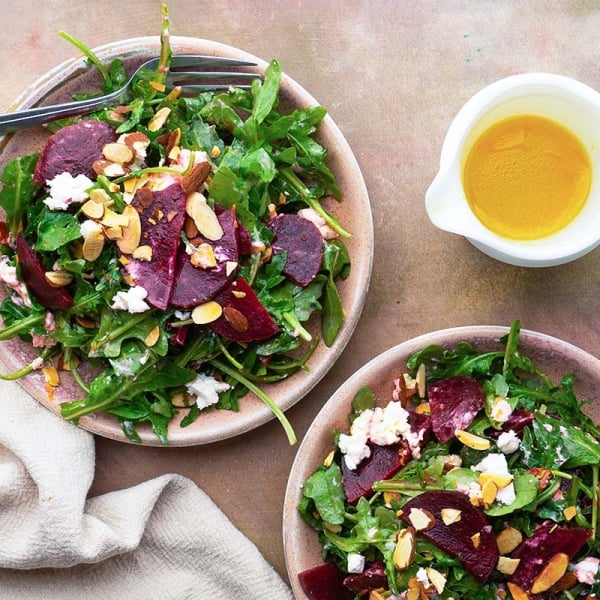 Beet Goat Cheese Salad
Dress this beet goat cheese salad with a simple orange vinaigrette. Easy enough for a weeknight supper, but fancy enough for a dinner party.
Instructions
Pour the almonds into a dry nonstick skillet and heat over medium-low heat. Cook tossing frequently until the almonds are just browned, remove, cool and set aside.

Cut the beets in half and then into ¼" half moon slices. Crumble the goat cheese. Pour the arugula onto a platter or into a bowl and top with the sliced beets, goat cheese and toasted almonds.

Zest and juice the orange. Whisk together the zest, juice, olive oil, rice vinegar and salt.

Pour half of the dressing over the salad and toss to coat. Keep adding small amounts of the dressing and toss until the salad is fully dressed.

If you've tried this recipe, come back and let us know how it was in the comments or ratings.
Nutrition
Calories:
311
kcal
,
Carbohydrates:
15
g
,
Protein:
10
g
,
Fat:
25
g
,
Saturated Fat:
5
g
,
Polyunsaturated Fat:
4
g
,
Monounsaturated Fat:
15
g
,
Trans Fat:
1
g
,
Cholesterol:
10
mg
,
Sodium:
276
mg
,
Potassium:
493
mg
,
Fiber:
5
g
,
Sugar:
8
g
,
Vitamin A:
985
IU
,
Vitamin C:
24
mg
,
Calcium:
150
mg
,
Iron:
2
mg