Fresh and light, with just a little bit of spunk, Cilantro Lime Salad Dressing is the perfect accompaniment for a summer salad! This citrus dressing is so tasty and refreshing, it'll become one of your new favorites.
Cilantro Lime Dressing is an easy and delicious citrus dressing for salads, dipping sauces or even as a marinade! Spicy and sweet, it is no-cook and comes together in 5 minutes.
The best part about this recipe is that Cilantro Lime Dressing isn't just a salad dressing!
You can also use it as a marinade for chicken or fish, it drizzles wonderfully over a grilled steak, can be tossed on roasted or grilled veggies or used as a dipping sauce.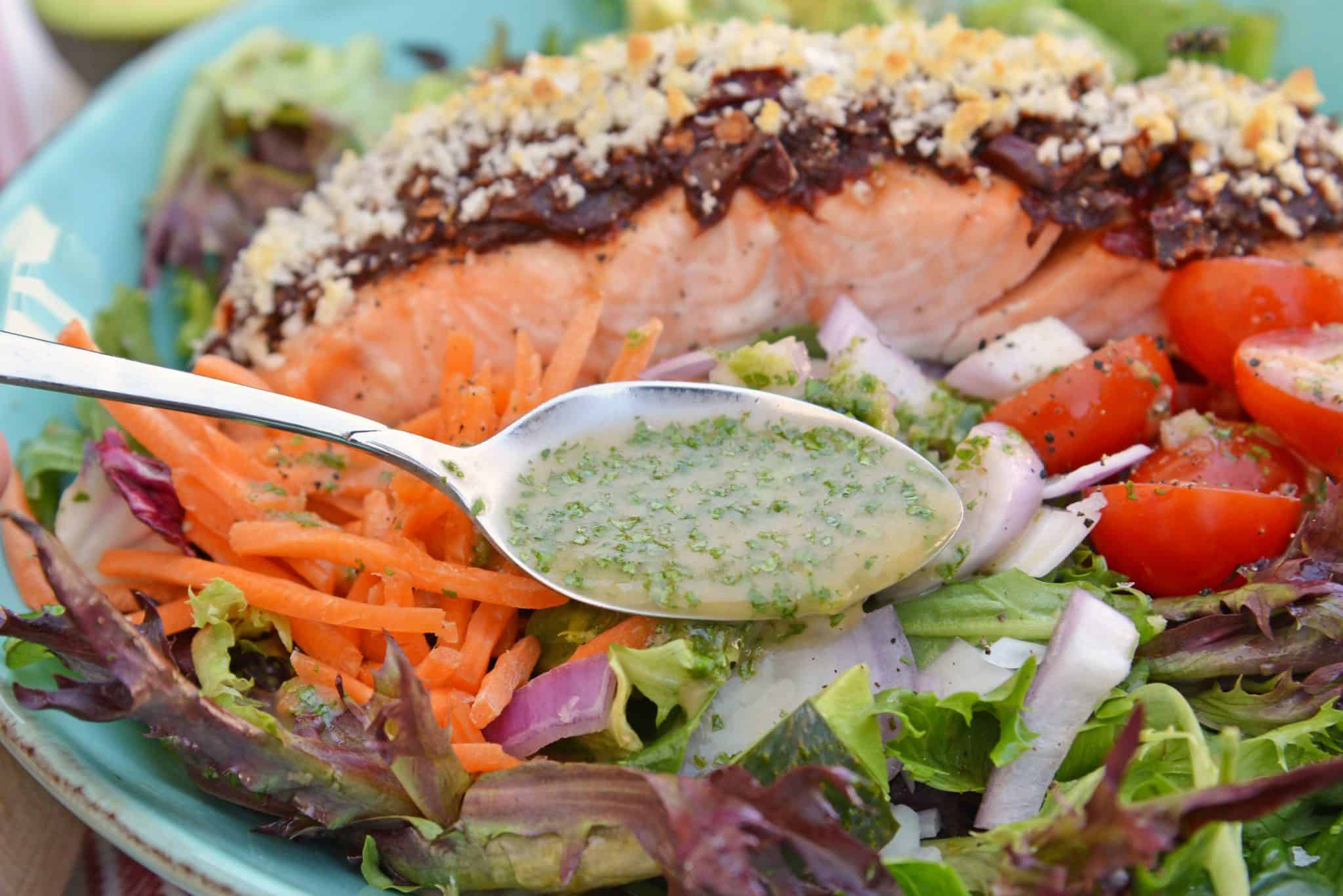 Homemade salad dressing is the best kind of dressing because then you know exactly what has been put into it. I don't trust all these dressings that don't expire for months or require refrigeration. Homemade also doesn't cost an arm and a leg.
What makes a vinaigrette? A vinaigrette is simply a oil and vinegar based dressing that is seasoned with salt and pepper and commonly fresh herbs and other flavors like shallot, garlic or mustard.
You're actually reversing the effects of eating a healthy salad by using a store bought dressing because it's loaded with fat, sodium, sugar, and calories. As opposed to using a homemade salad dressing like this Citrus Lime Dressing that is lower in calories and carbs.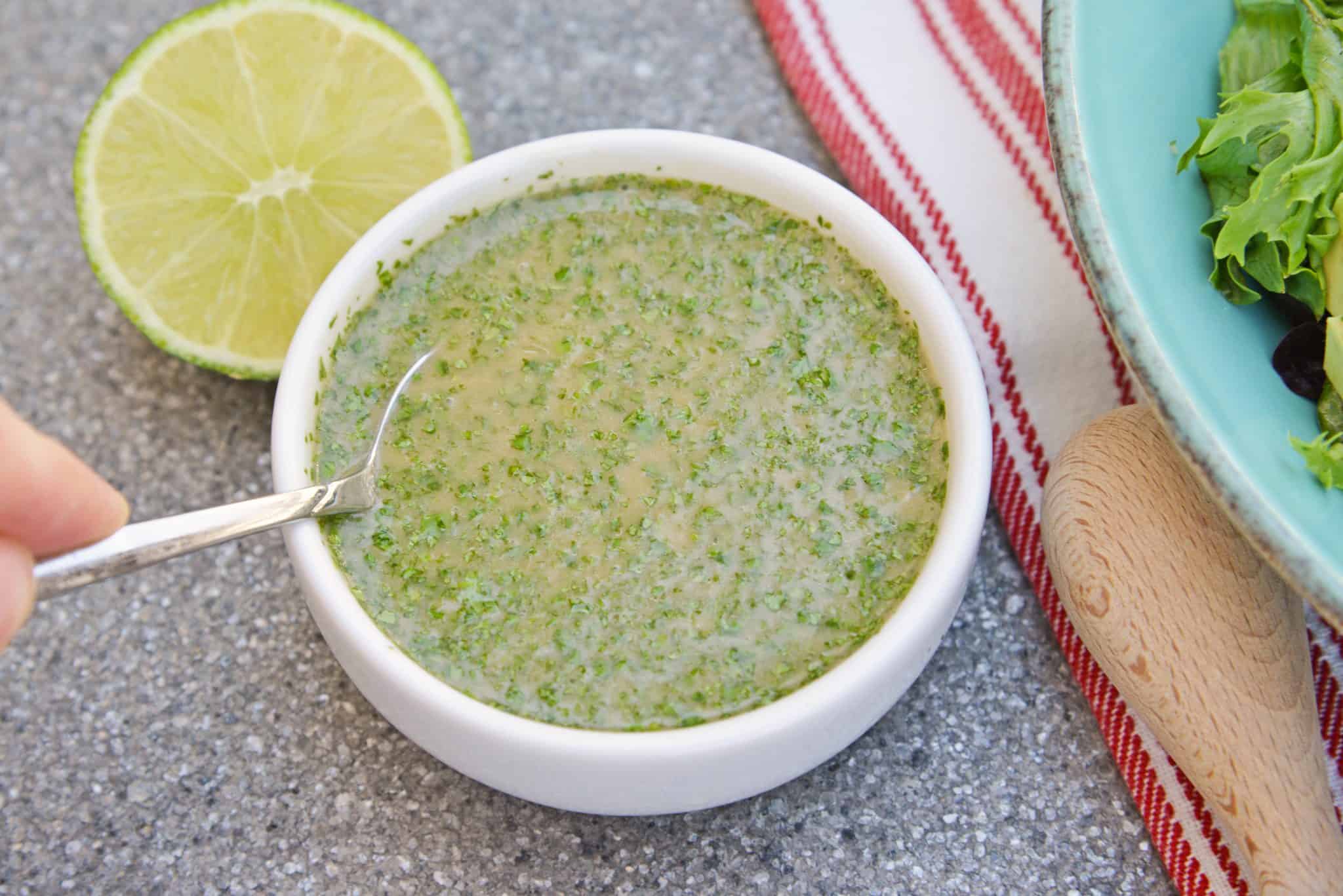 This salad dressing recipe can be made and stored for a week when chilled, which is usually the average for a fresh dressing you make at home. It will cost you pennies on the dollar to make and other than cilantro, you probably already have the ingredients at home.
Maybe you do store cilantro on the regular, what do I know?
It's a great recipe to make ahead and store for when you're ready to use it. During the hot months, I keep mine on hand in an airtight salad dressing container in the fridge.

If you loved this homemade vinaigrette, check out these other easy dressing recipes: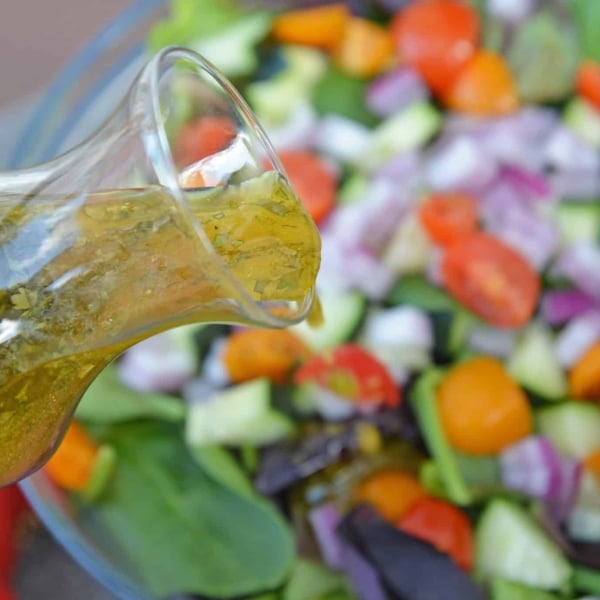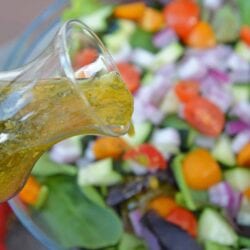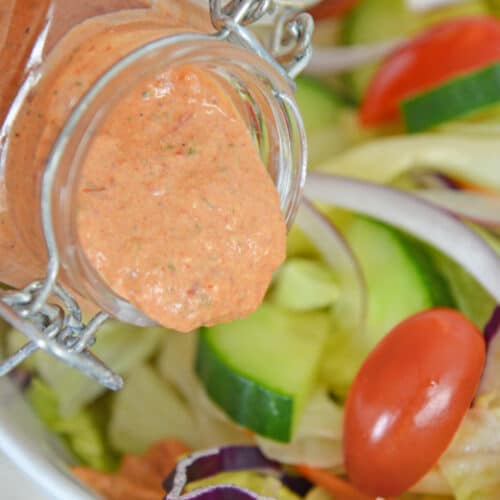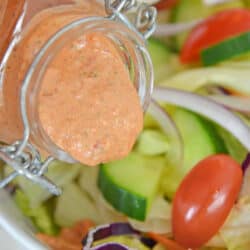 Tools for making Cilantro Lime Dressing:
Good Extra Virgin Olive Oil– A good olive oil will taste like, well, olives, while a poorly made one will taste like vegetable oil. Gross. While people tend to favor Italian and Greek olive oils, I prefer to buy mine domestically.
There are some great ones out there from all over the world, but the reporting of ingredients isn't always the same and you could find that your super expensive olive oil was actually cut with vegetable oil.
Mini Food Processor– I use this thing daily! It is by far my most used kitchen appliance, it is small and I throw all the parts into the dishwasher, well except the base and cord, of course!
Salad Dressing Shaker and Storage- If you make homemade dressing often, this shaker makes it so easy to store and dress your salads.


Questions you might have about how to make homemade salad dressing:
Can I make homemade salad dressing ahead of time? You sure can! In fact, for many dressings, they taste better when they sit and let the flavors marry for a little while. I would say the sweet spot is at about 24 hours.
How long are homemade salad dressings good for? If you keep your salad dressing refrigerated, it will stay good for up to 7 days. If it lasts that long…
Does homemade salad dressing need to be refrigerated? Yes! Since your homemade dressing containers no additives and preservatives, it needs to stay chilled. Salt will help preserve it, but keeping it chilled will allow it to survive better.
My dressing separated, what happened? Oil and vinegar separate. It just happens. Shake, shake, shake and it should be all good!
I don't have a mini food processor, what do I do? Just chop, chop chop and shake, shake, shake!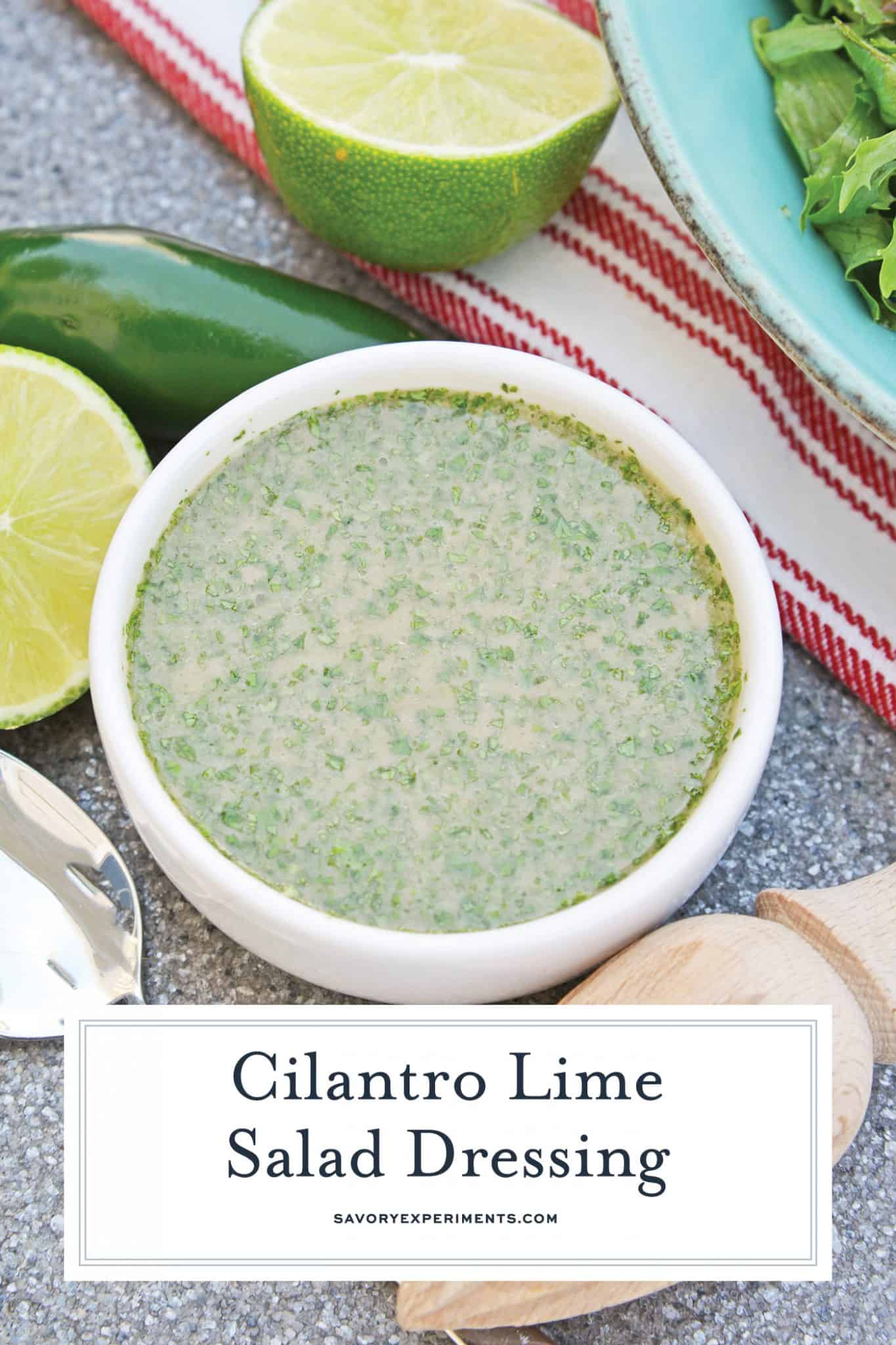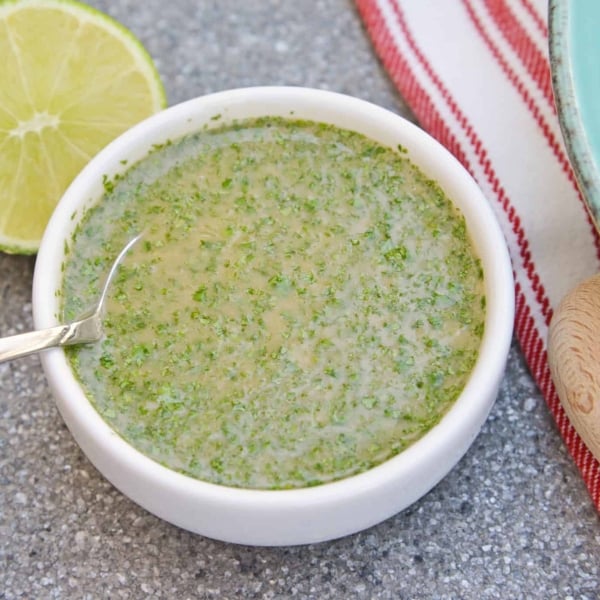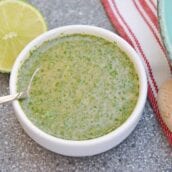 Cilantro Lime Dressing Recipe
Cilantro Lime Dressing is an easy and delicious citrus dressing for salads, dipping sauces or even as a marinade! Spicy and sweet, it is no-cook and comes together in 5 minutes.
Instructions
Place all jalapeno, garlic and ginger into a food processor. Pulse until finely minced.

Add lime juice through olive oil, pulse until vinaigrette consistency.

Serve over salad or seafood! Cilantro Lime Dressing can be keep refrigerated for up to a week in an airtight container.

If you've tried this recipe, come back and let us know how it was!
Nutrition
Calories:
222
kcal
,
Carbohydrates:
17
g
,
Fat:
18
g
,
Saturated Fat:
2
g
,
Sodium:
196
mg
,
Potassium:
21
mg
,
Sugar:
16
g
,
Vitamin A:
85
IU
,
Vitamin C:
6.4
mg
,
Calcium:
2
mg
,
Iron:
0.2
mg