Grab your casserole dish, because I'm sharing all of my favorite casserole recipes! From breakfast to dinner and even dessert, these flavorful casserole recipes are the perfect wat to make easy weeknight dinners for the entire family.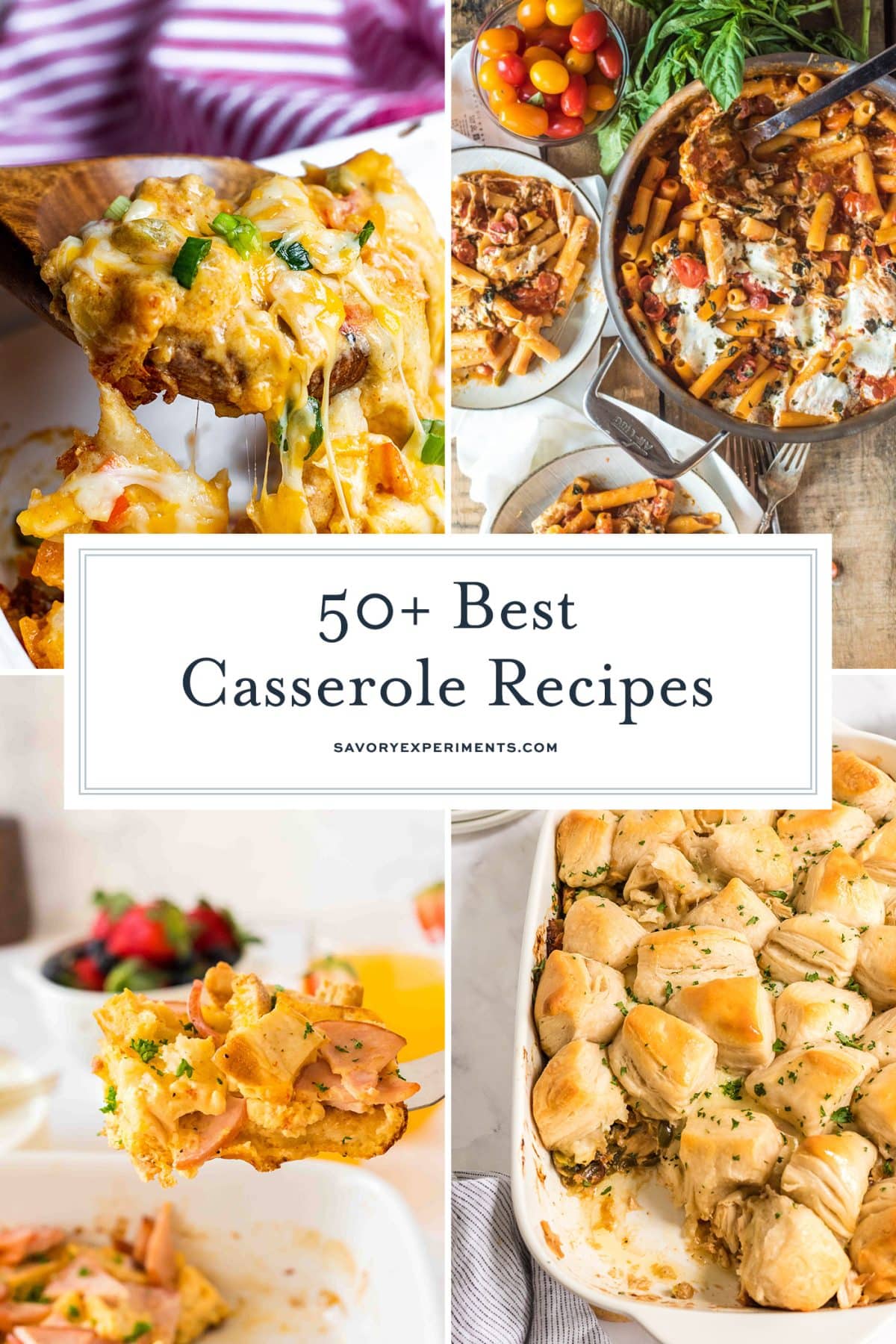 I'm always looking for an easy recipe to make for busy weeknights. And while slow cooker recipes are great, I don't always have time to prep dinner in the morning before work. Queue the casserole recipes.
I saw a meme once that said, "Never underestimate someone with a casserole dish and a can of cream of something soup," and I've never read something more accurate.
These easy casserole recipes prove that statement to be quite true. From main dishes with savory flavors to easy casseroles for breakfast, a casserole recipe is always a great option when you're short on time.
Popular Casserole Recipes Ingredients
While every recipe is different and calls for any number of ingredients, here are a few that might be nice to keep on hand for busy weeknights.
Rotisserie chicken
Cream of mushroom soup
Cream of chicken soup
Ground turkey
Italian seasonings
Variety of types of cheese
Sour cream
Breakfast Casserole Recipes
Whether for a holiday morning or just a weekend breakfast, these breakfast casseroles are sure to start your day off on the right foot.
Dinner Casserole Recipes
From beef casseroles to pasta recipes, these delicious meals are the perfect way to make a complete meal for your family.
Storage and Freezing
Storage: Most casseroles can be store in an airtight container in the refrigerator for up to three days. But check each specific recipe to be sure.
Freezing: Most casserole recipes are great options for freezer meals. Check out my how to freeze casseroles guide for specifics!
Dessert Recipes
If you really want to take your dinner to the next level, you need to finish it off with a delicious dessert. Complete your meal with some of our favorite dessert recipes!