With ingredients like sausage, hash browns, onions and cheese, this Crockpot Breakfast Casserole will be your new go to dish!
Easy breakfast recipes don't get any better than this Crockpot Breakfast Casserole! Whip it up before you go to bed and breakfast is ready in the morning!
This recipe breaks my usual "10 minutes in the pot" rule. Yep, I broke down and browned sausage.
A general no-no for me, but this is the one occasion I am going to make an exception. Because sausage it delicious, obviously.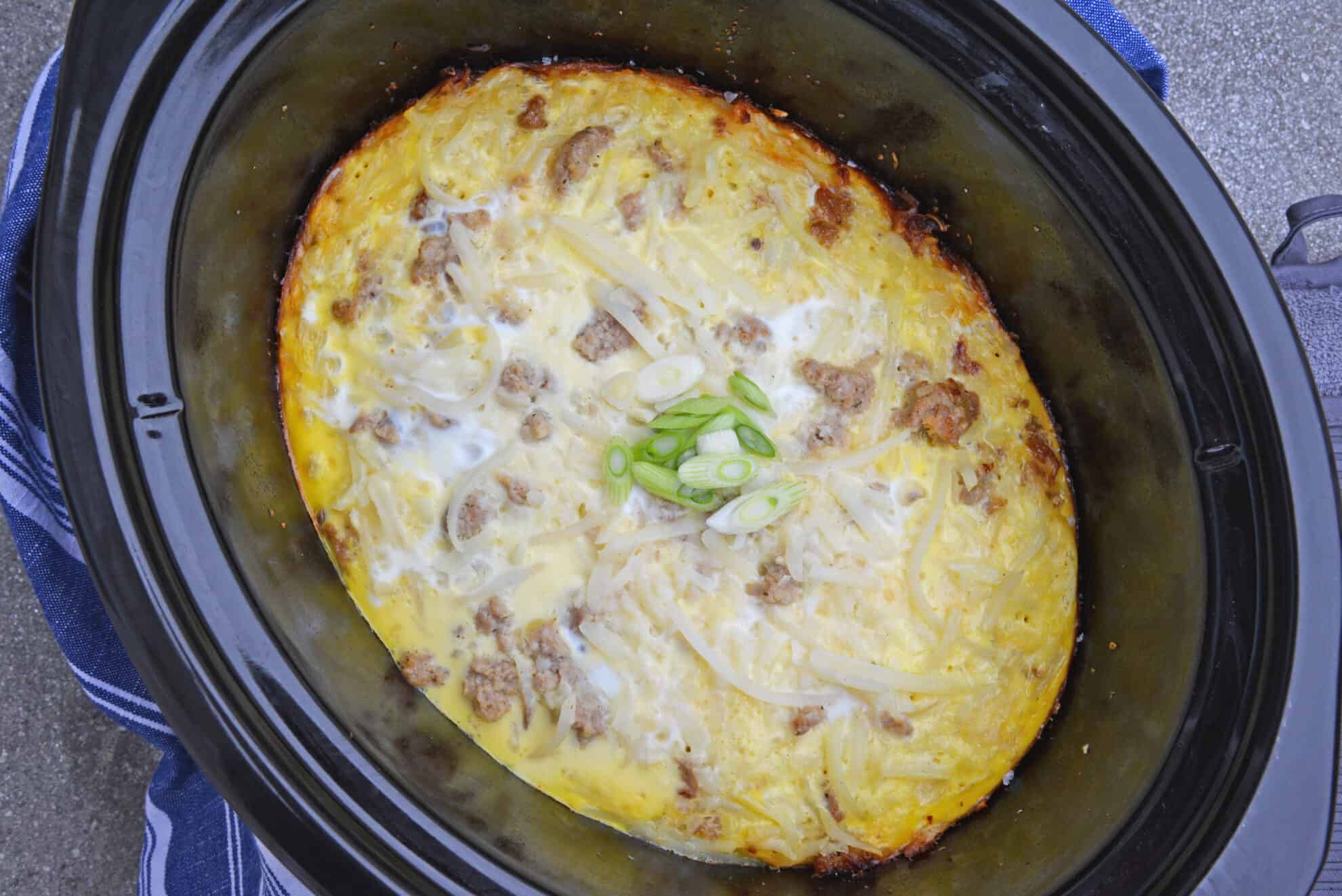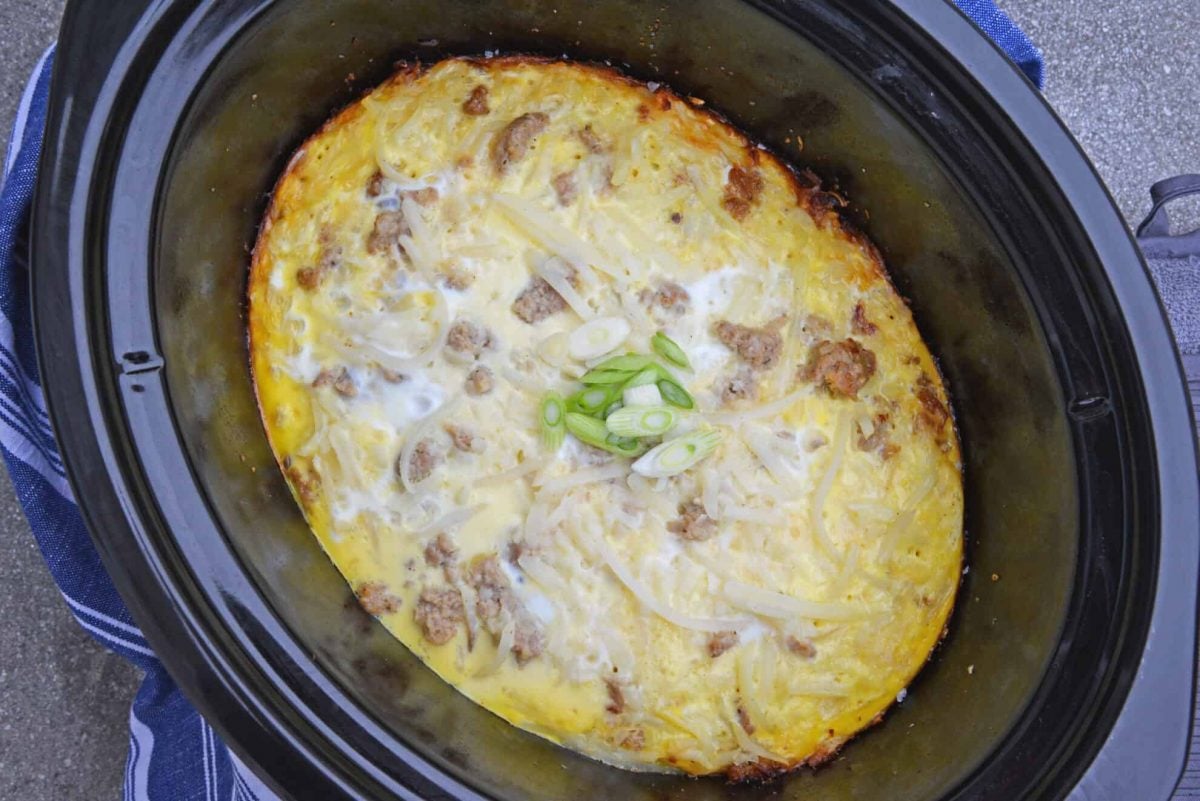 This overnight breakfast casserole is easy to assemble and cooks while you are getting beauty sleep. When you wake up, it is ready to go!
Perfect for Christmas morning breakfast when the kiddos just want to tear into those gifts or when you have early rising guests at your home. I serve mine alongside a Cream Cheese Board with fresh bagels.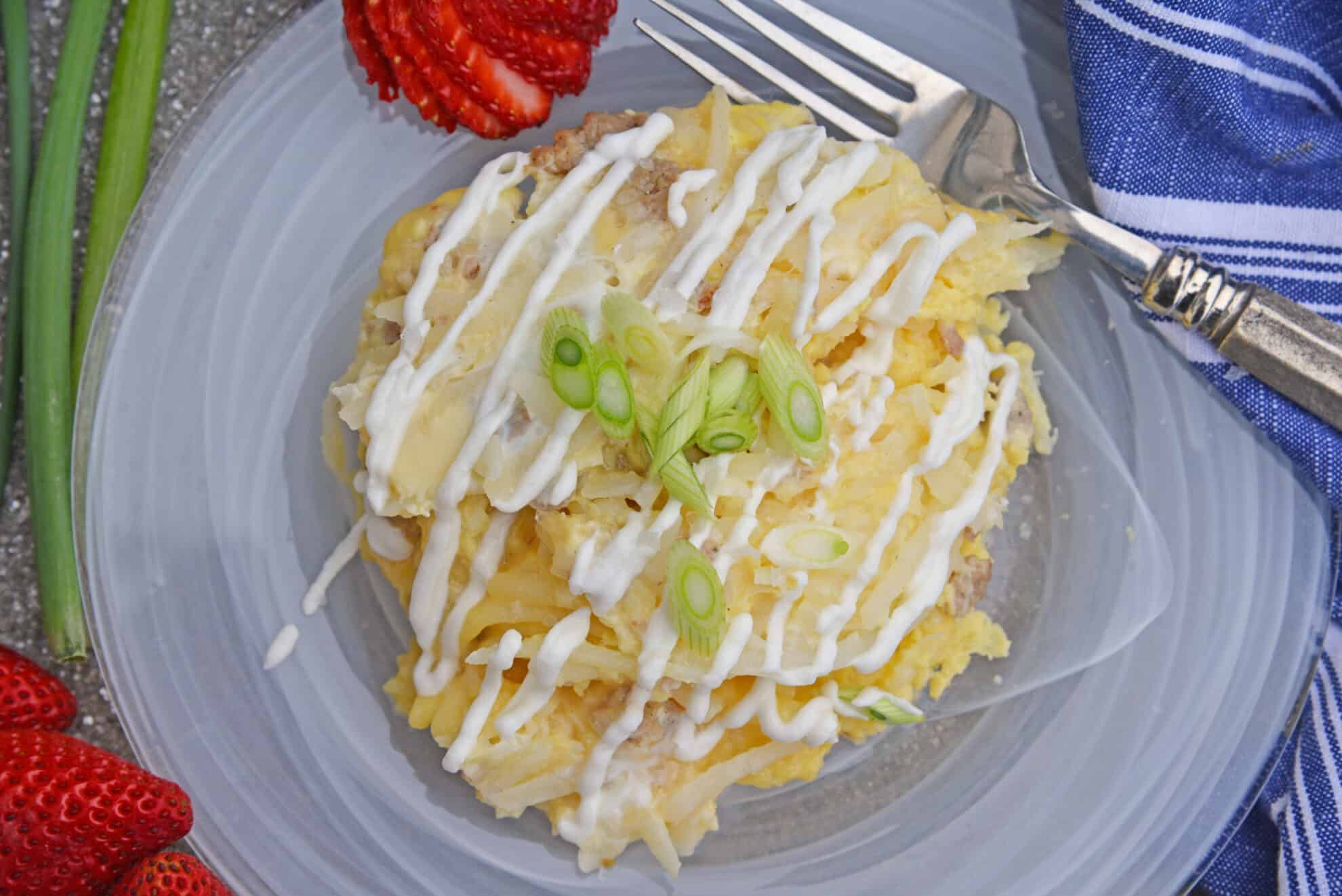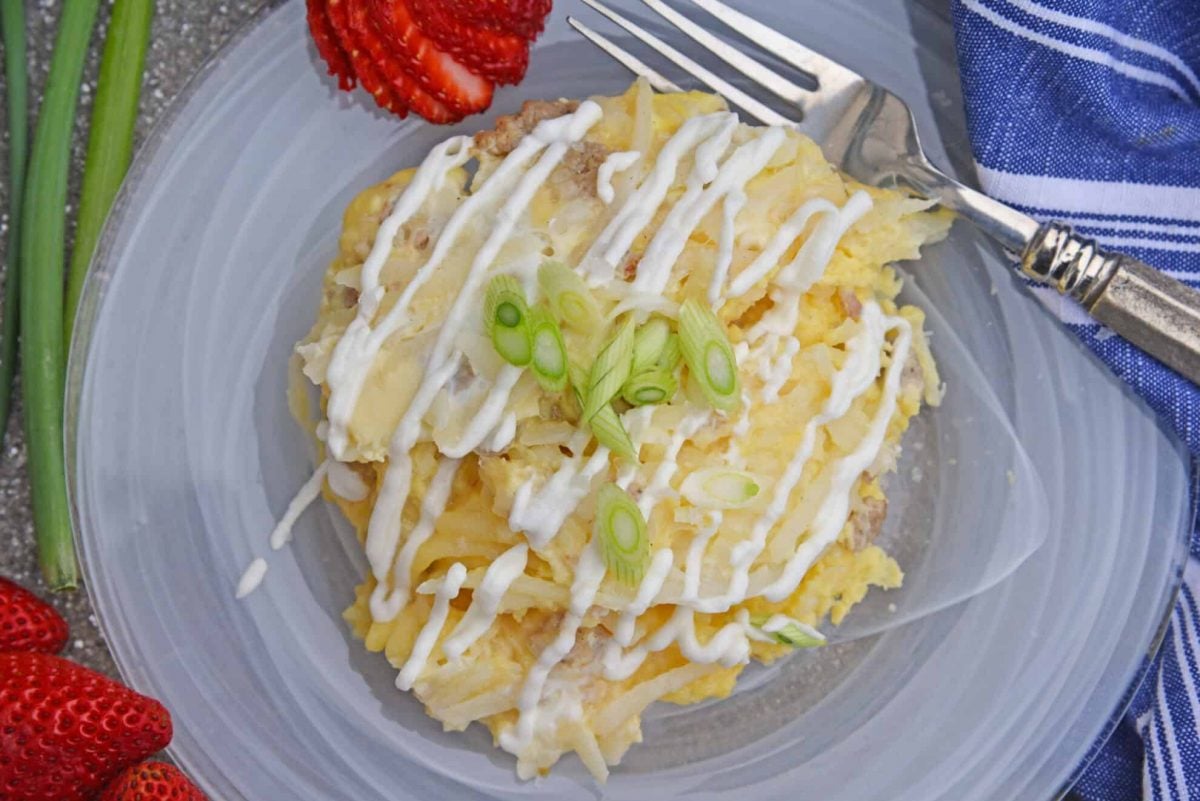 You can even make the morning-of for brunch by cranking up the heat to "high". If you put it on overnight, set the timer function and it will "keep warm" until you roll yourself out of bed.
This would also be a great dish to bring to new parents. The last thing they want to be doing after waking up 4+ times with a newborn is make a hearty breakfast. You can prepare it the night before, drop it off and they have a delicious, filling NO WORK breakfast ready for them in the morning!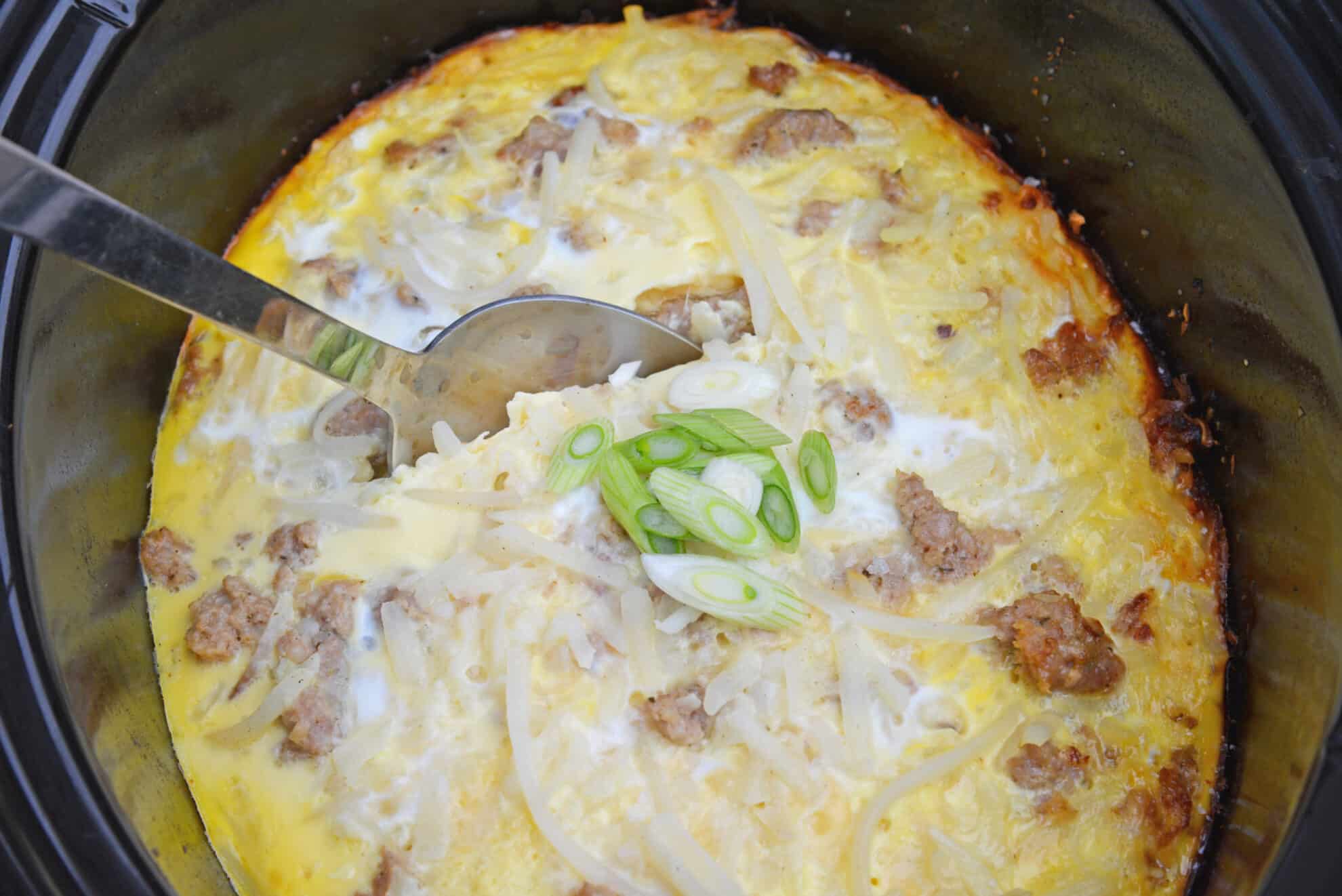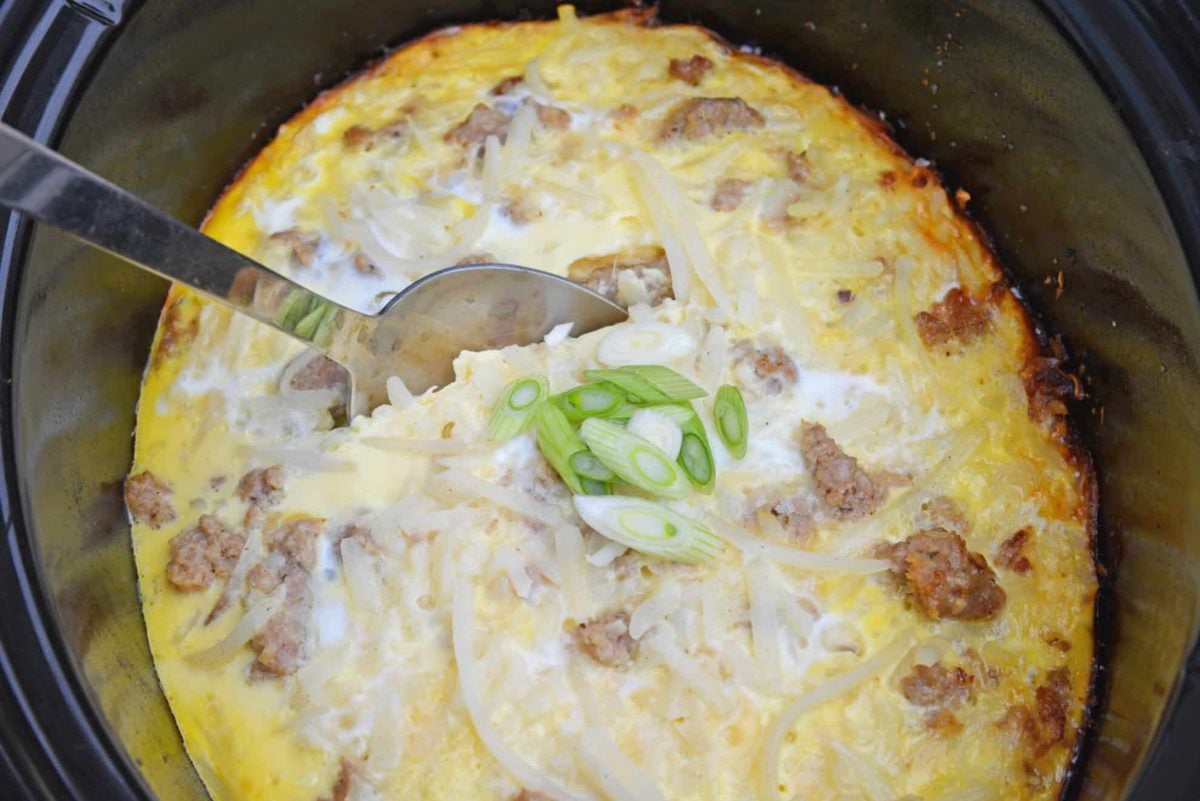 I have toyed with a few slow cooker breakfast casserole recipes and most have one thing in common: they are too watery. I realized this was due to one simple aspect they all had in common.
The addition of raw onions or bell peppers. Both of these ingredients are delicious. I love them, but in a crockpot, there is no way for excess moisture to escape. So when they sweat down, releasing all their liquid into the eggs resulting in runny eggs.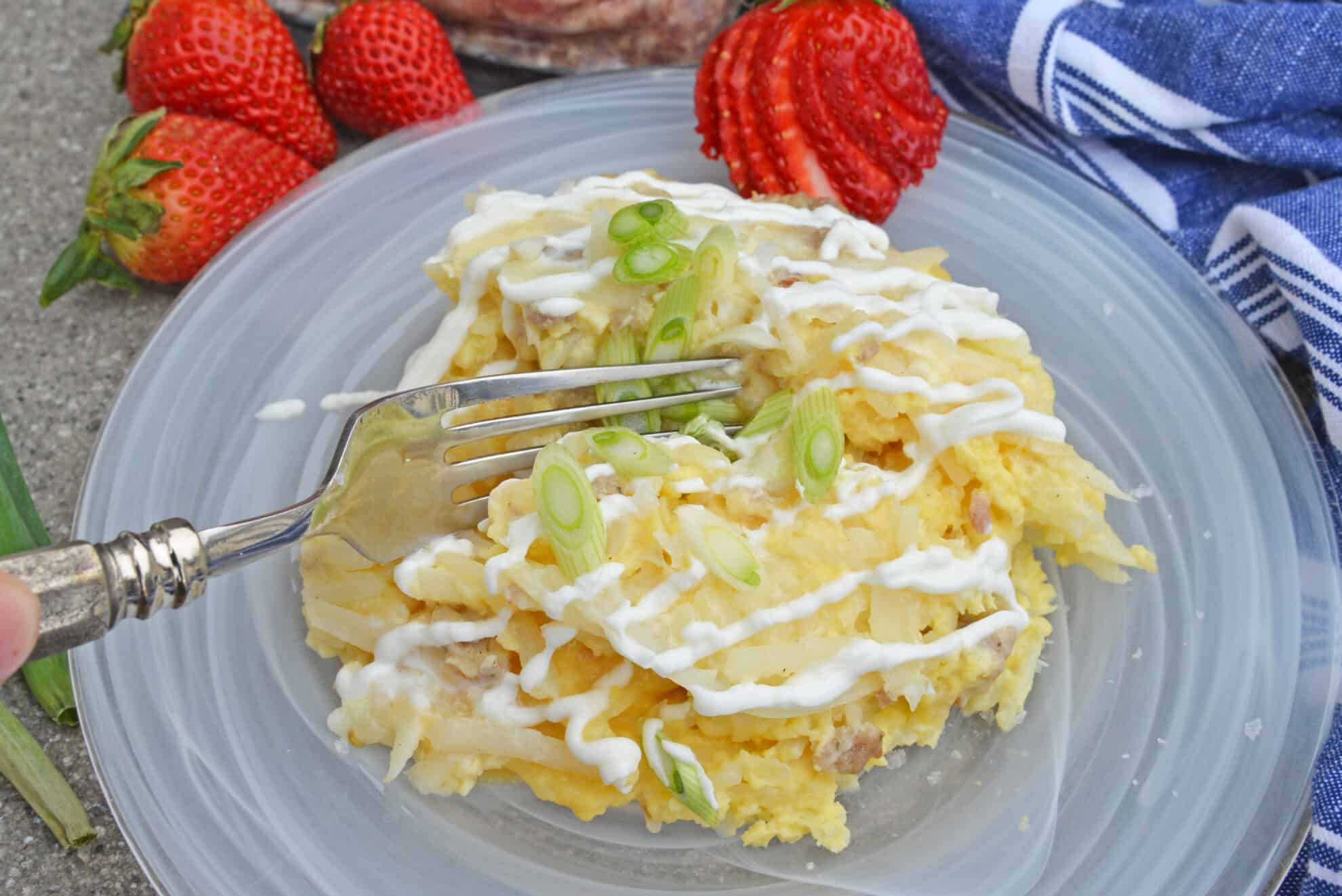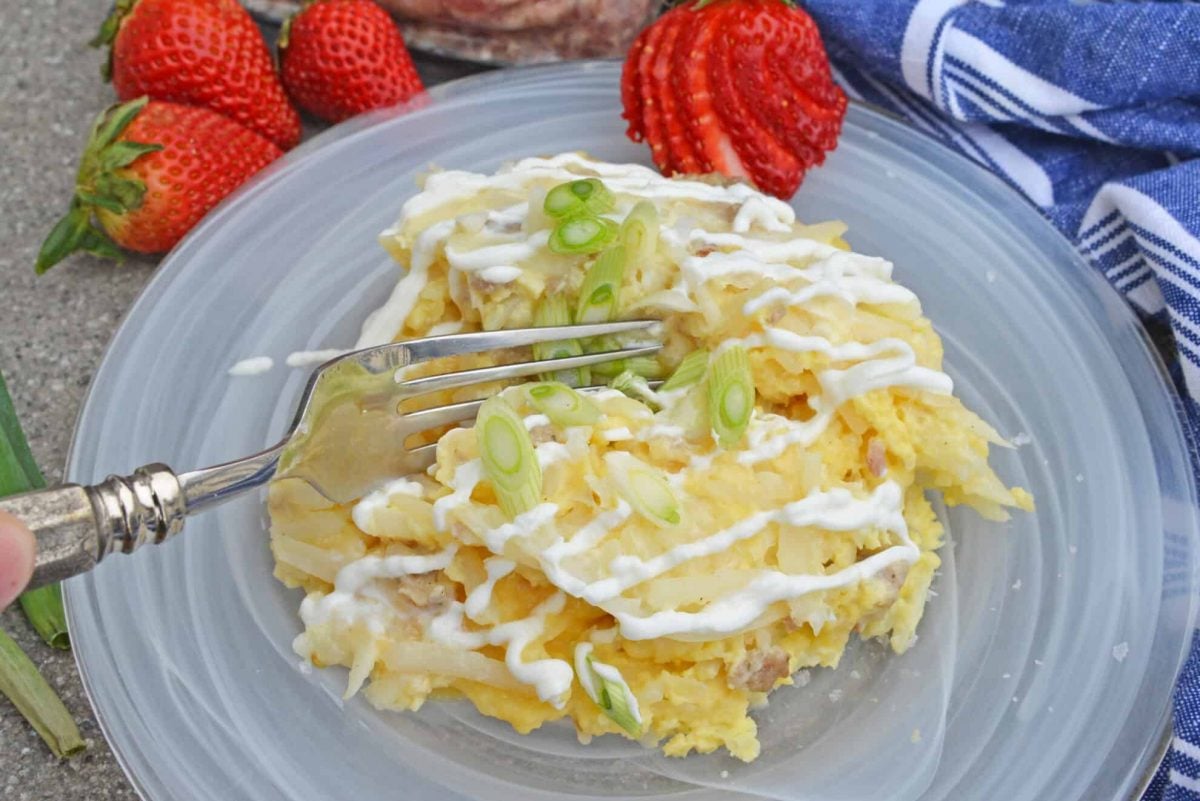 I love the flavors of onion and garlic, even in my breakfast foods, though, so I still added them, just in other ways. Dried minced onion actually helps to soak up liquid floating around while still adding flavor and saving you a step in the kitchen. Garlic powder gives flavor without the watery aftermath.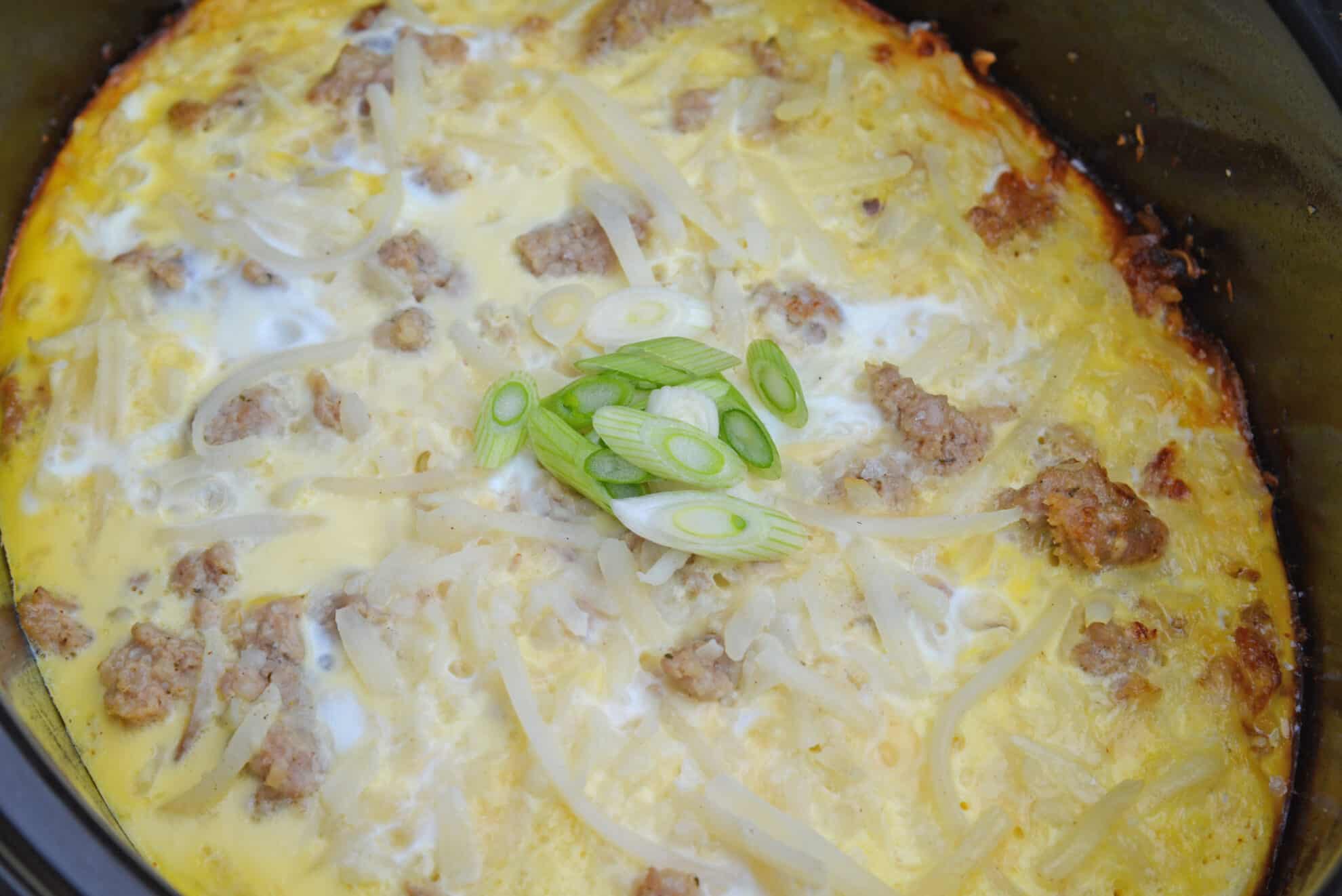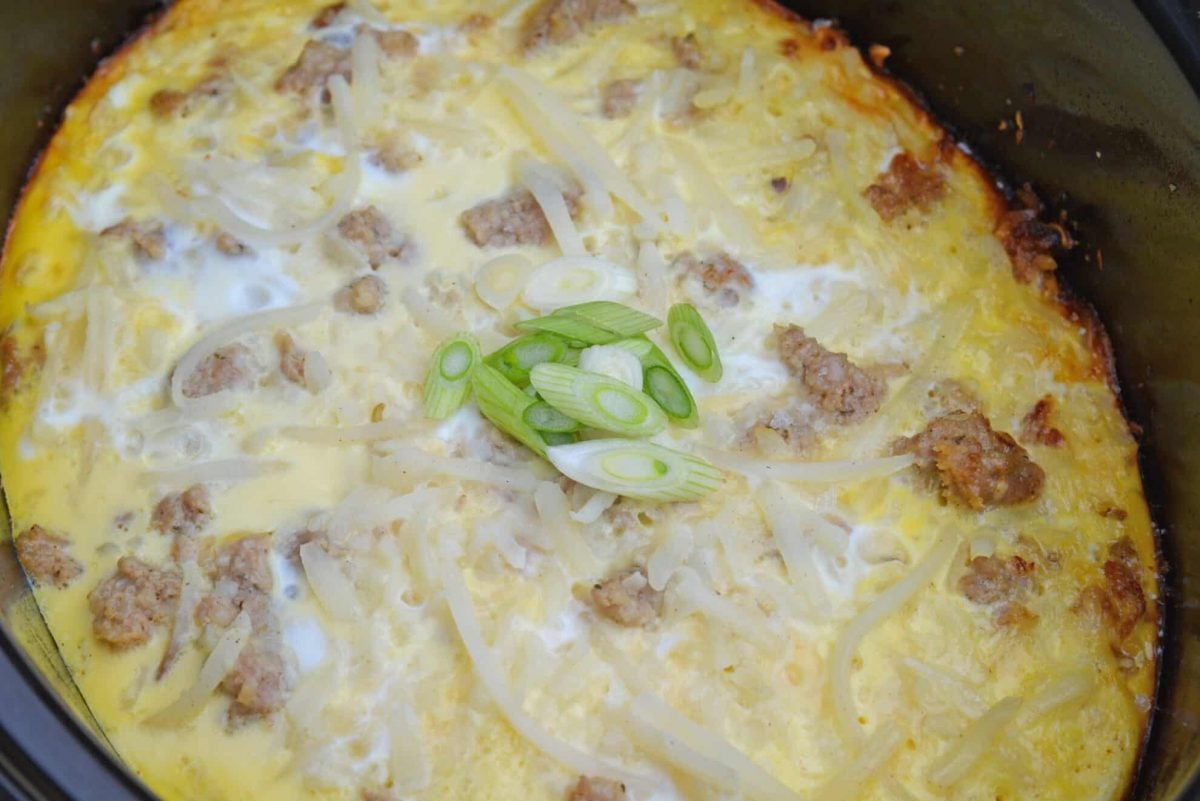 If you do want fresh veggies, opt to pile them on high and raw when serving instead of baking them. You still get the flavor without all of the extra moisture!
Now onto this delicious breakfast. As I stated before, start by crumbling and cooking your sausage in a medium skillet. Once fully cooked, transfer to a plate that is lined with paper towels. This will help with draining off the grease.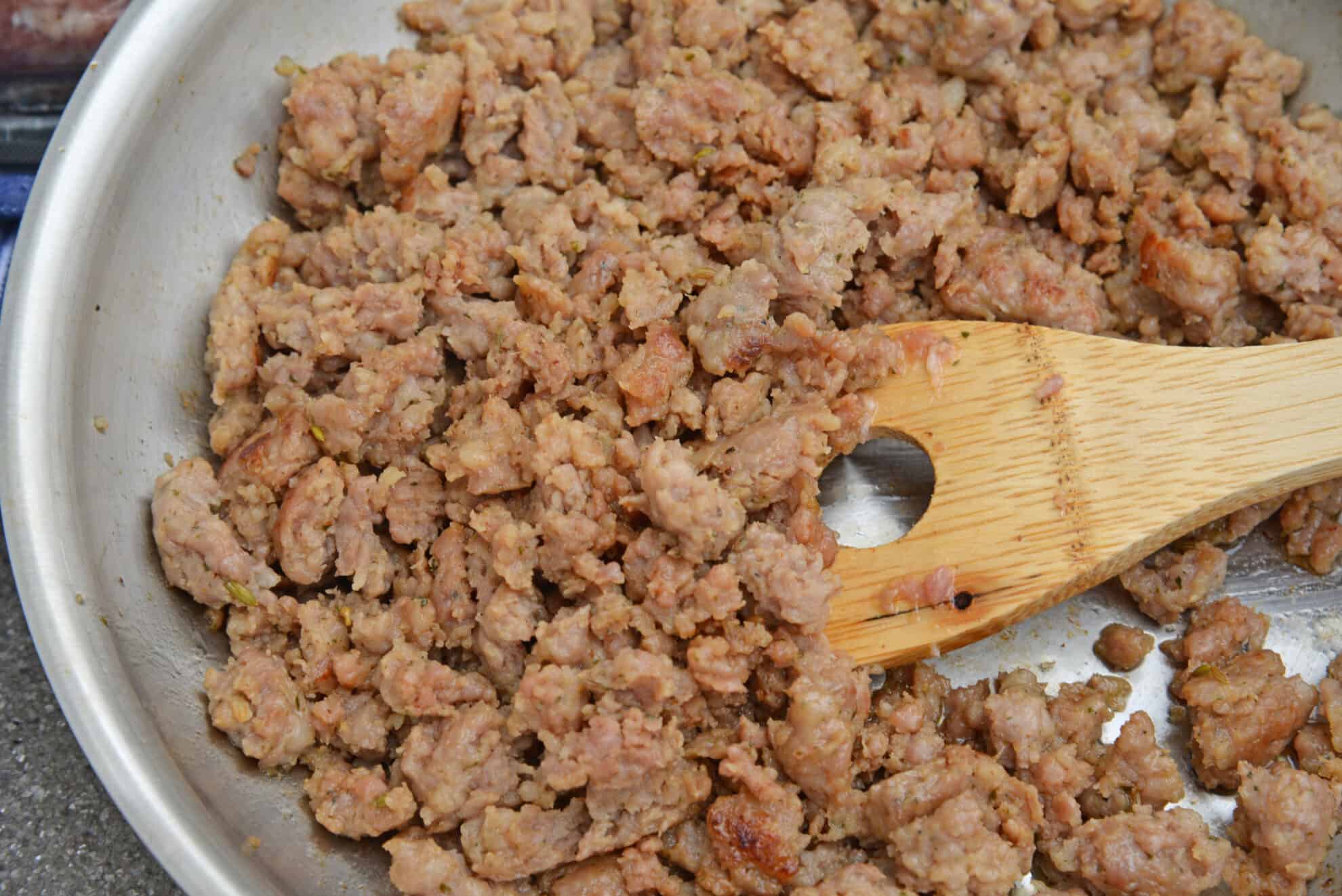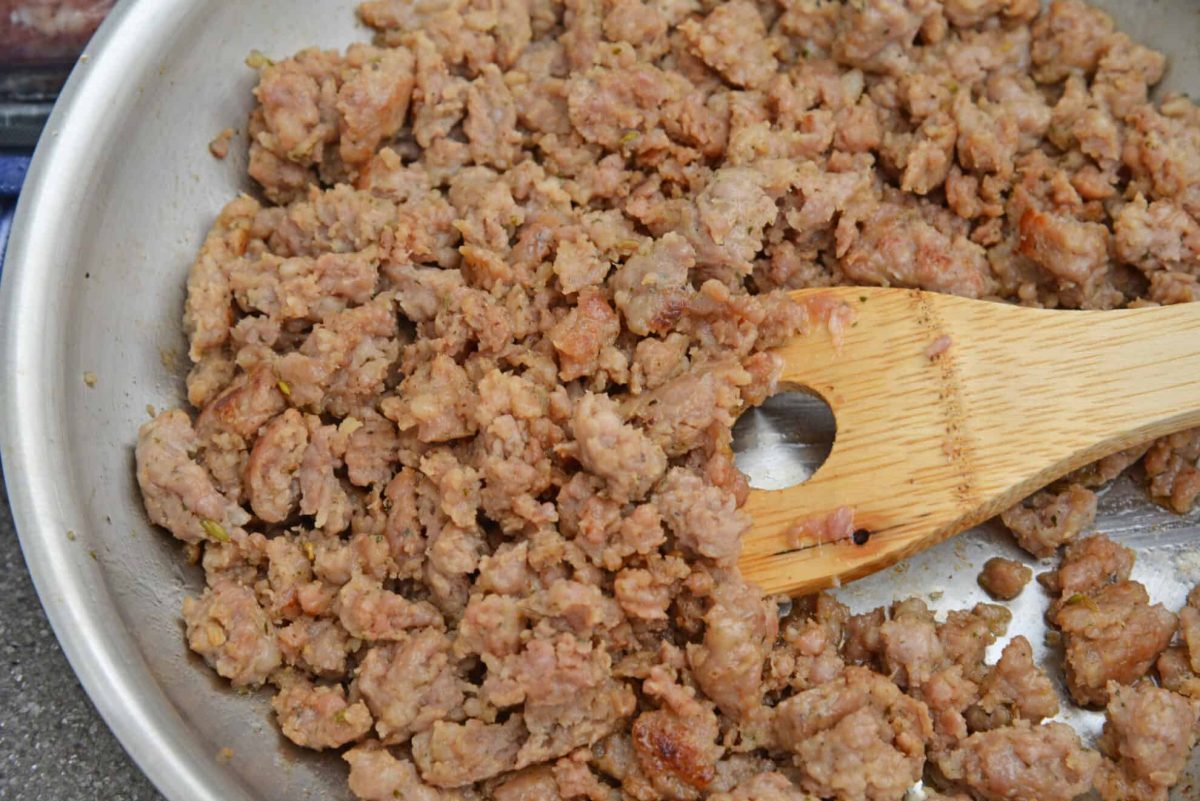 Next, you will coat your slow cooker with cooking spray. This ensures that the breakfast casserole is perfect and does not stick to the slow cooker itself. You can also use slow cooker liners.
Once the slow cooker is coated, add the hash browns, cheddar cheese (or any type of cheese that you prefer,) Kosher salt, ground white pepper, diced minced onions and cooked sausage.
Toss all of those ingredients until well mixed.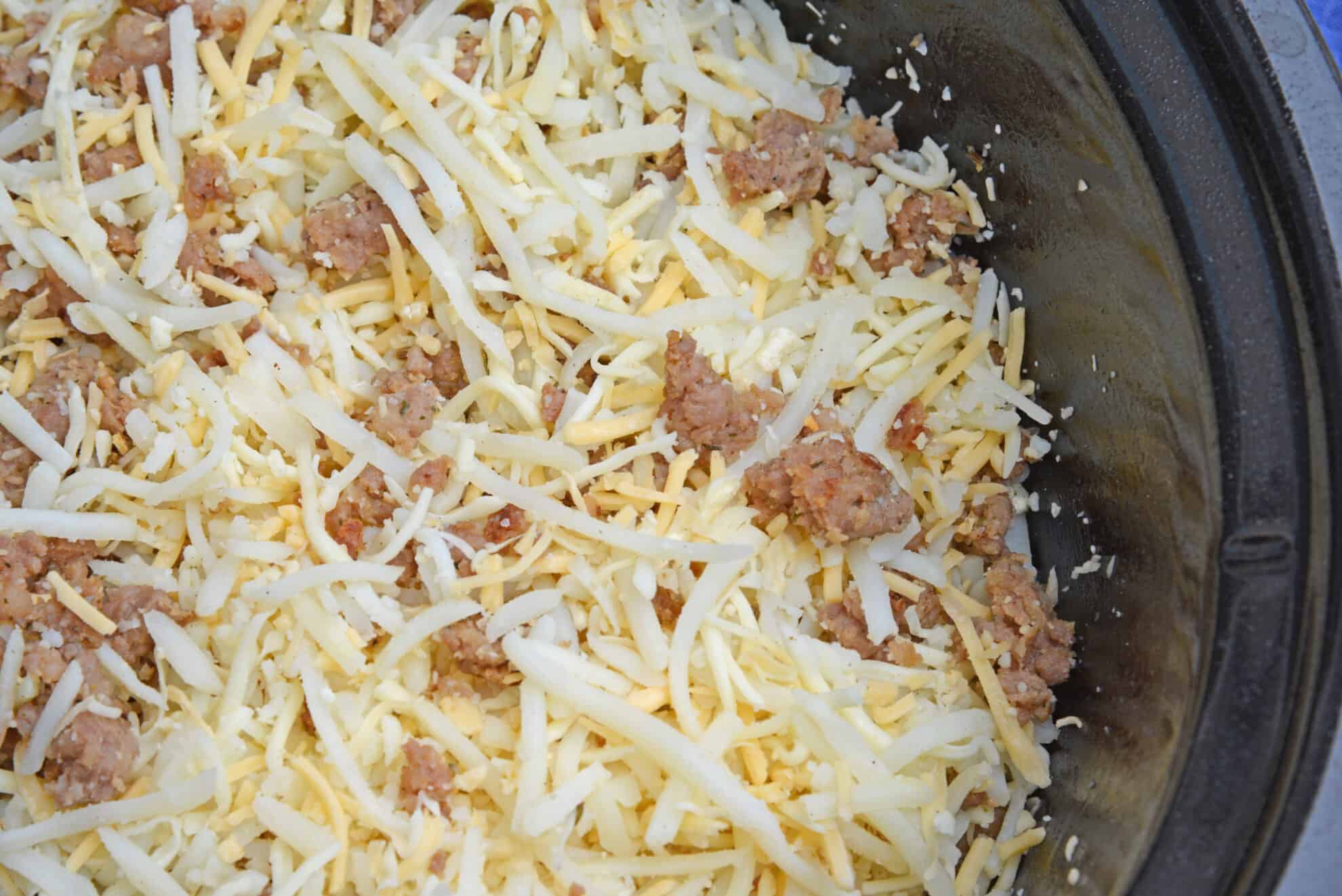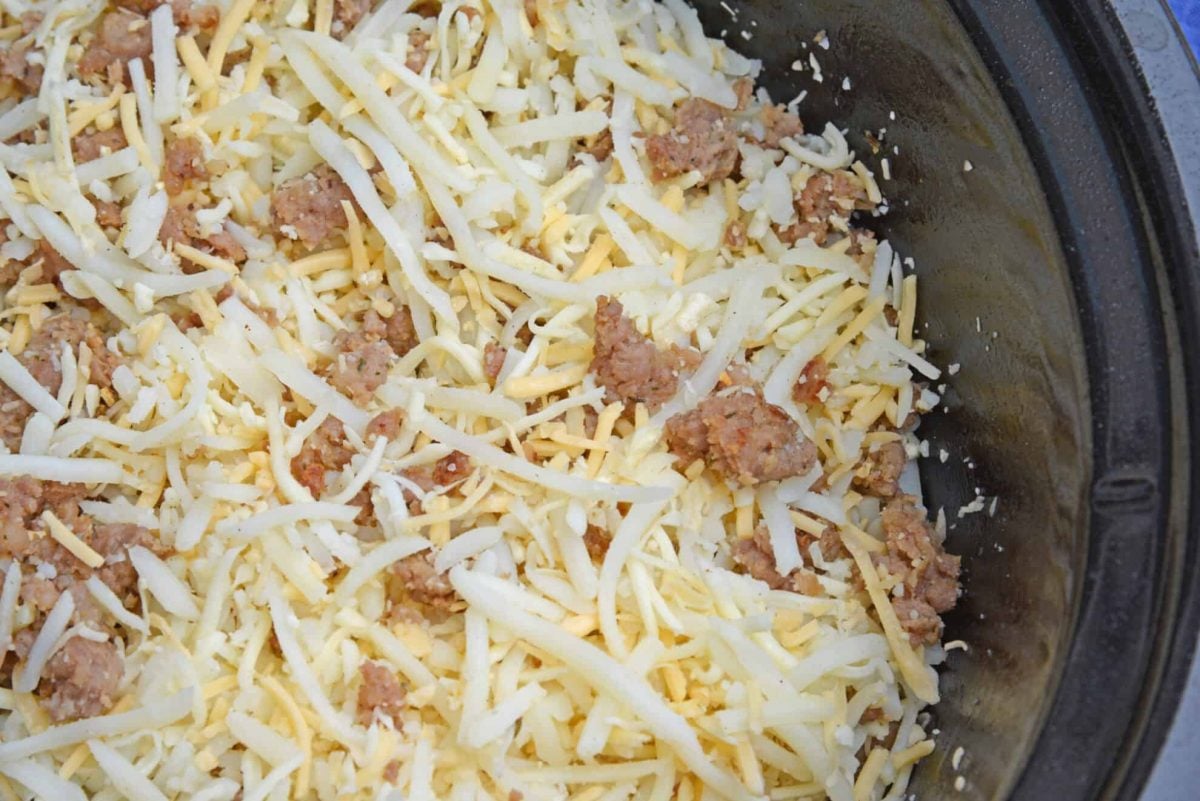 In a separate large bowl, whisk the eggs milk. Pour that mixture over the hash brown and sausage mixture.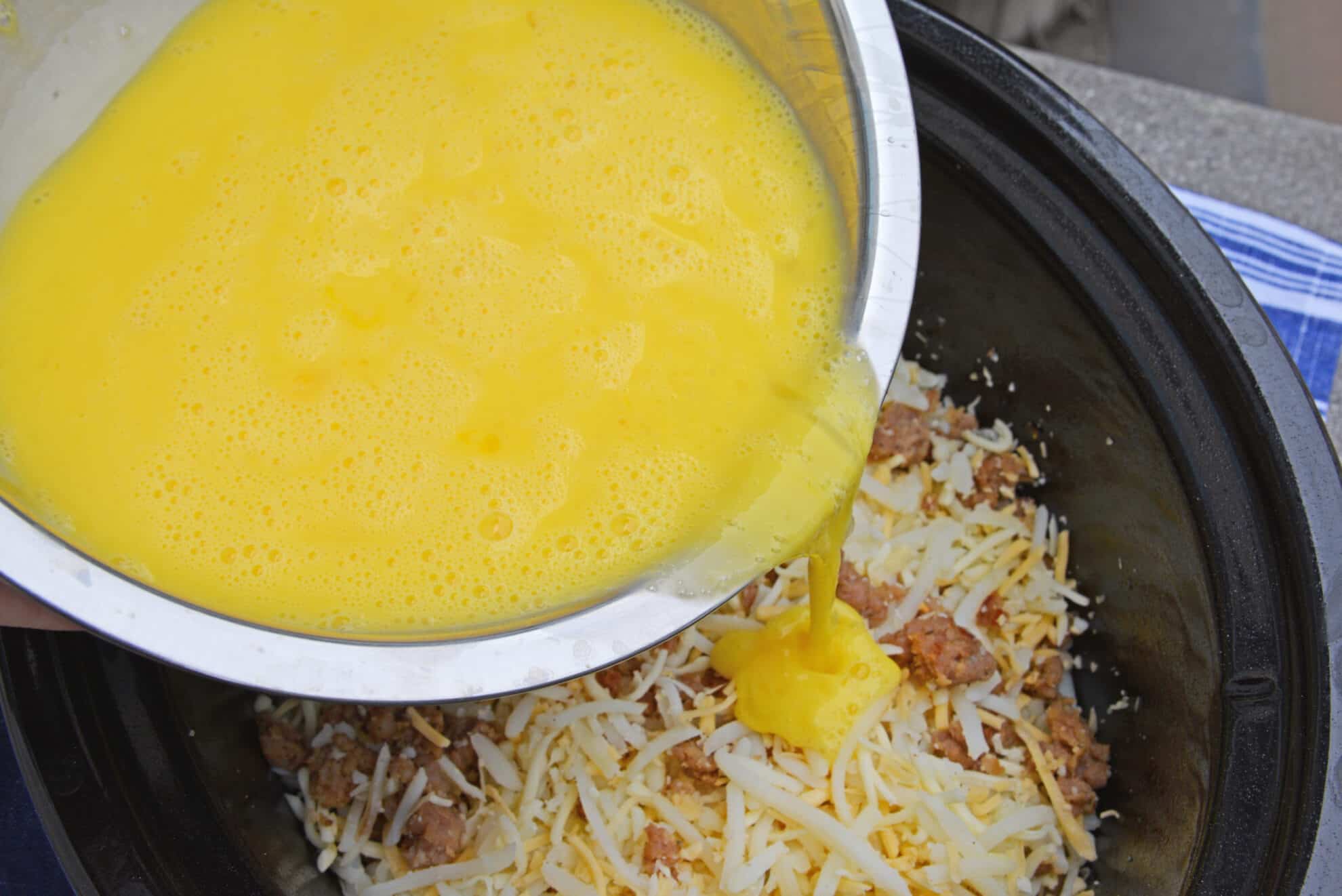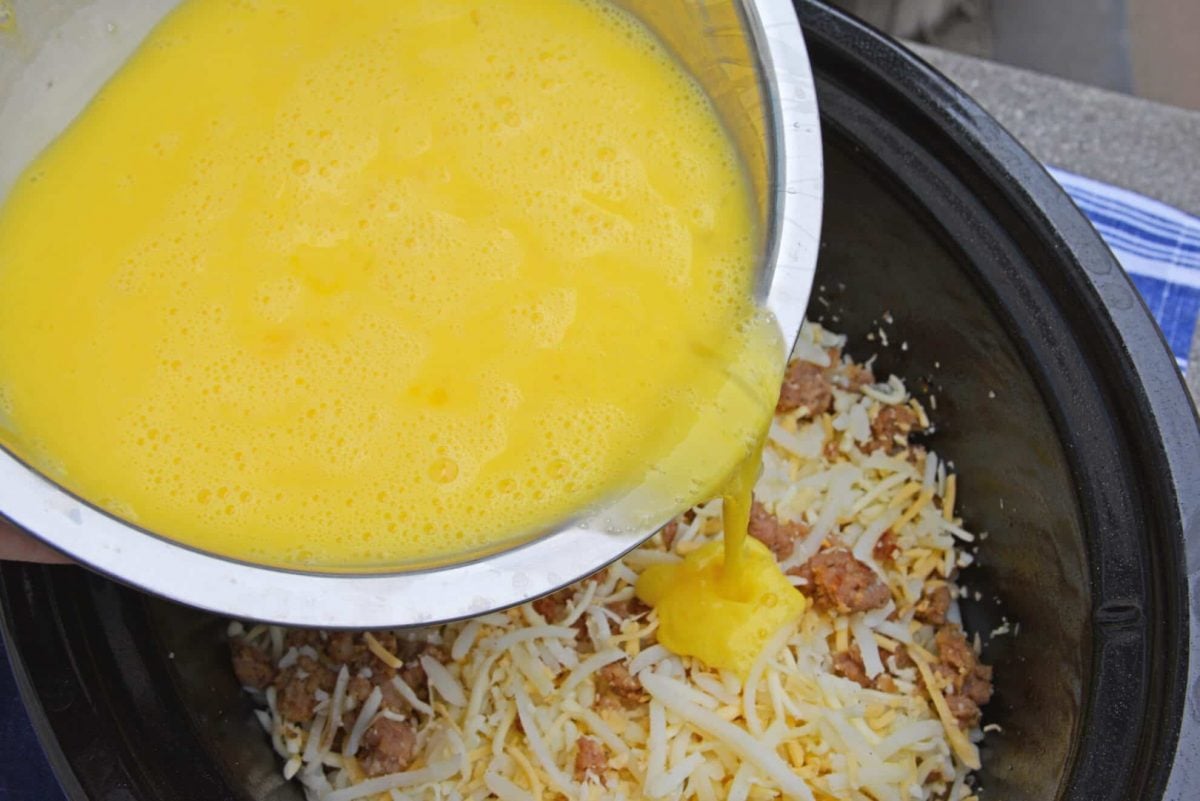 Cover with the lid and set the cooking time to 7-8 hours on low (or until the eggs are set.) When you are ready to serve, top with salt and pepper, sour cream, or any of your favorite fresh veggies!
Questions you may have about this Crock Pot Egg Bake:
Can I use frozen hash browns? Yes and no. You wanted a straight answer, didn't you?
Using frozen hash browns leads to the same issue with soggy eggs as using fresh onion and bell pepper. The frozen hash browns release all their liquid and it can't evaporate.
If you do opt for frozen hash browns, I advise to add a step and cook them before adding to the mix.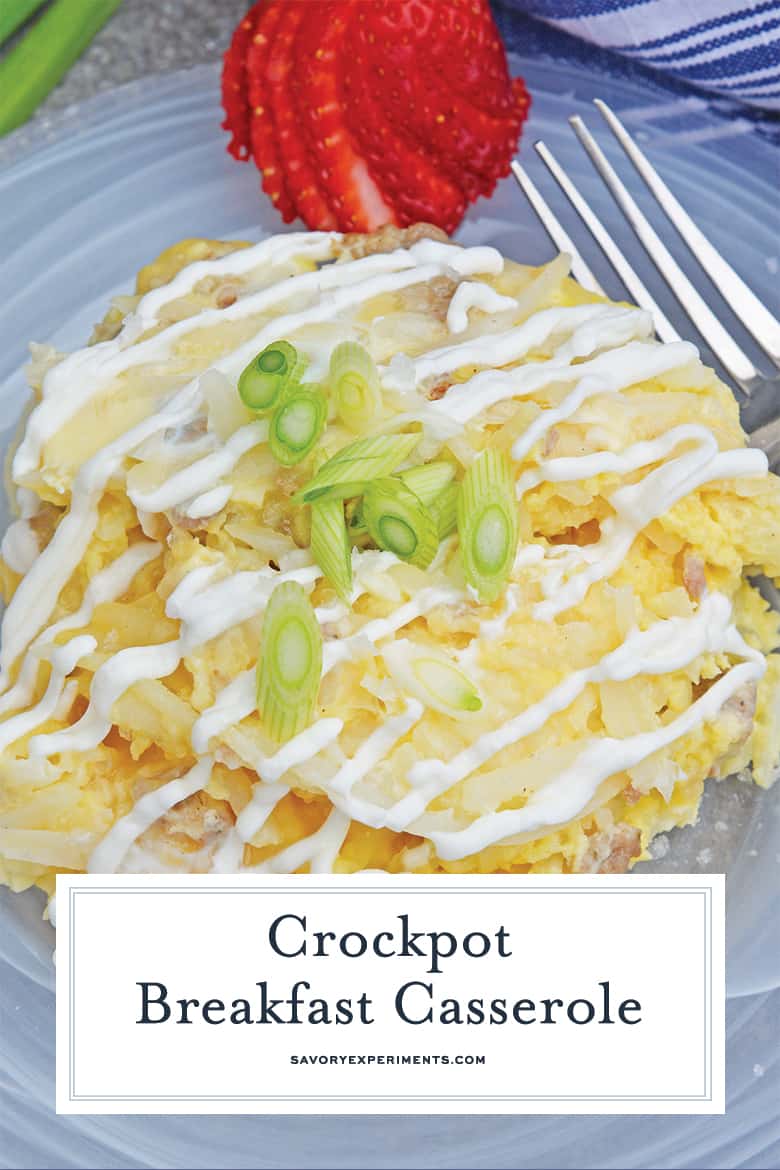 Can I substitute bacon for sausage? Sure! Just use the same amount, cook it, chop it up well and drain it before adding.
What toppings are best for a breakfast casserole? Anything you want! I know a lot of folks who love salsa on their eggs. I love fresh avocado slices. For this one I used a sour cream drizzle and sliced scallions.
If you are craving fresh veggies, use arugula, microgreens, chopped red pepper or onion.
Can I add spinach to my breakfast casserole? You can add spinach, but wilt it down to release excess liquid before adding.
Can I double this recipe? I do not suggest doubling this recipe in the same slow cooker, it is already fairly deep and you'll run the risk of the center not being fulling cooked. If you need a double batch, use two slow cookers.
Can I freeze this casserole? Yes, you can! Check out how to freeze casseroles here.
If you liked this breakfast recipes, check out these ones: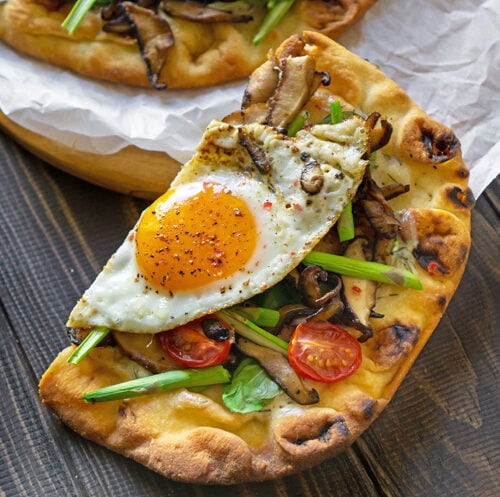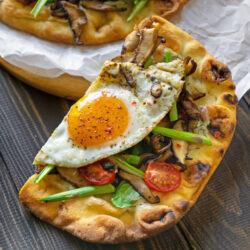 Vegetable Breakfast Pizza
When it comes to easy breakfast recipes, this Breakfast Pizza tops the list! With just a few ingredients and a homemade sauce, this pizza is the best!
View this recipe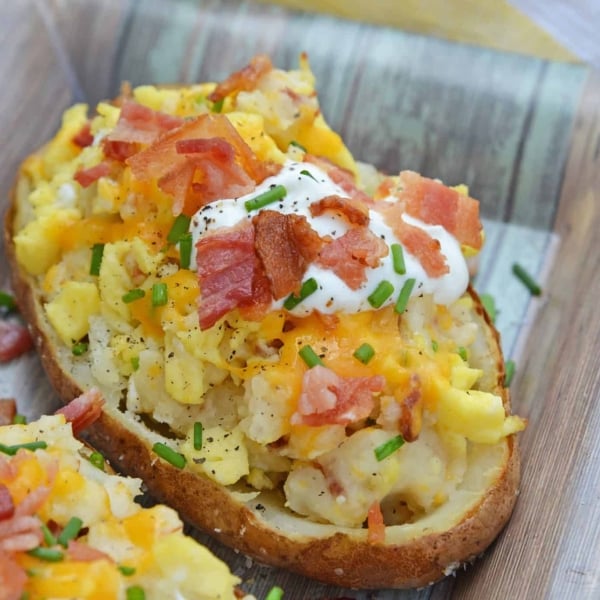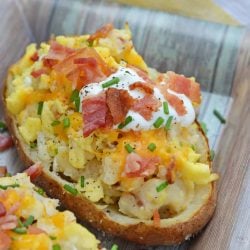 Twice Baked Breakfast Potatoes
Twice Baked Breakfast Potatoes use leftover potatoes with scrambled eggs, cheddar cheese, chives, sour cream and BACON for the perfect easy breakfast recipe.
View this recipe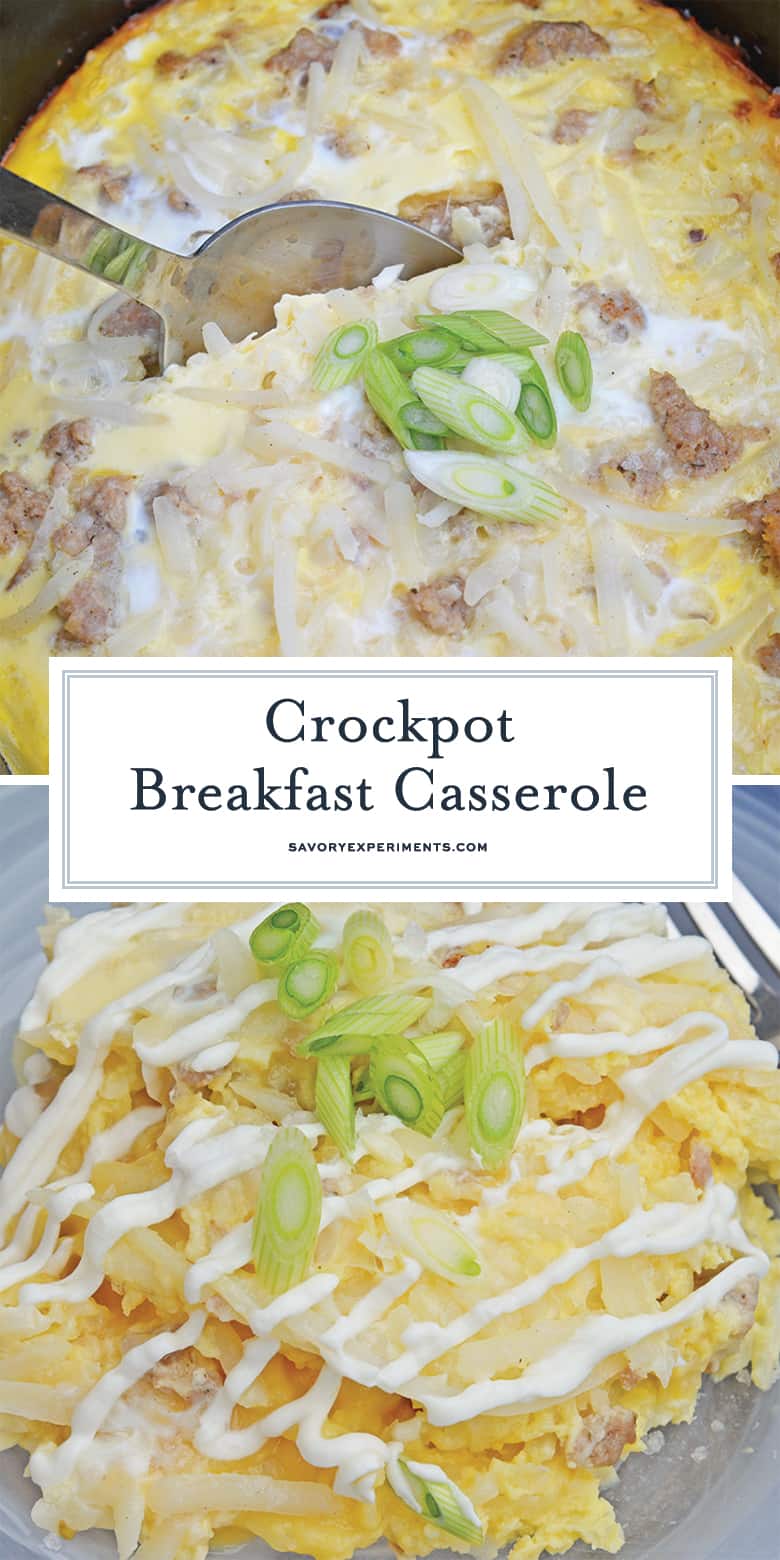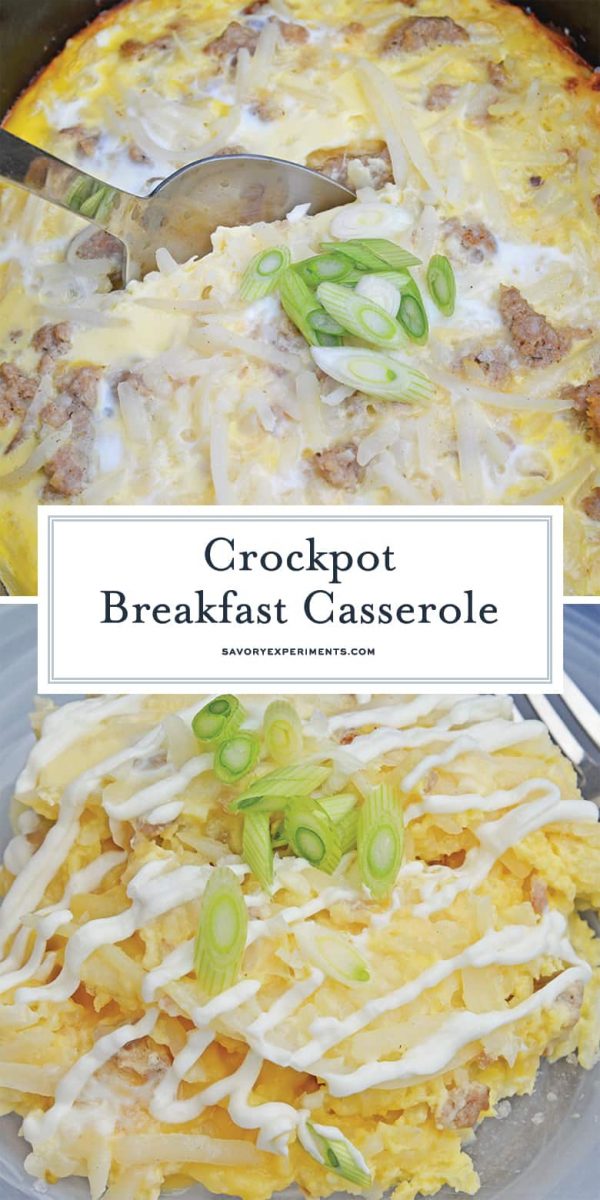 Tools for making this slow cooker breakfast casserole:
Slow Cooker– You'll need a slow cooker for a SLOW COOKER recipe, LOL.
Slow Cooker Liners– Skip the mess and the clean up by using slow cooker liners!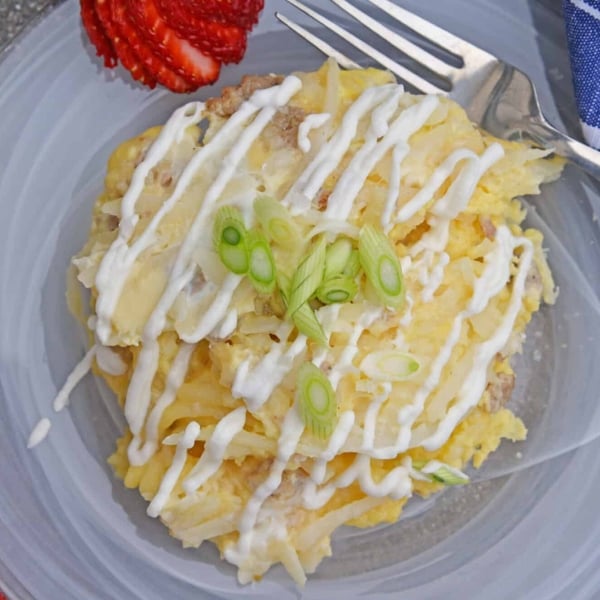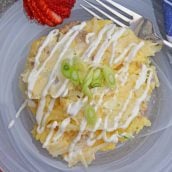 Crockpot Breakfast Casserole
Easy breakfast recipes don't get any better than this Crockpot Breakfast Casserole! Whip it up before you go to bed and breakfast is ready in the morning!
Instructions
In a medium skillet, cook and crumble sausage. Remove to a paper towel lined plate to drain.

Meanwhile, coat inside of slow cooker with cooking spray.

Add shredded hash browns, cheese, Kosher salt, ground white pepper, dried minced onion and cooked sausage. Toss to combine.

In a separate mixing bowl, whisk together eggs and milk. Pour over hash brown-sausage mixture.

Cover and cook on low for 7-8 hours, or until eggs have set.

Serve while hot. Garnish with scallions and sour cream, if desired.
Nutrition
Calories:
357
kcal
,
Carbohydrates:
10
g
,
Protein:
21
g
,
Fat:
26
g
,
Saturated Fat:
11
g
,
Cholesterol:
255
mg
,
Sodium:
757
mg
,
Potassium:
369
mg
,
Fiber:
1
g
,
Sugar:
2
g
,
Vitamin A:
585
IU
,
Vitamin C:
4
mg
,
Calcium:
229
mg
,
Iron:
2
mg