Taco bakes are an excellent, family friendly one-dish meal. Full disclosure… this meal has one more step than I would usually commit to for a "quick dinner" but it is totally worth it.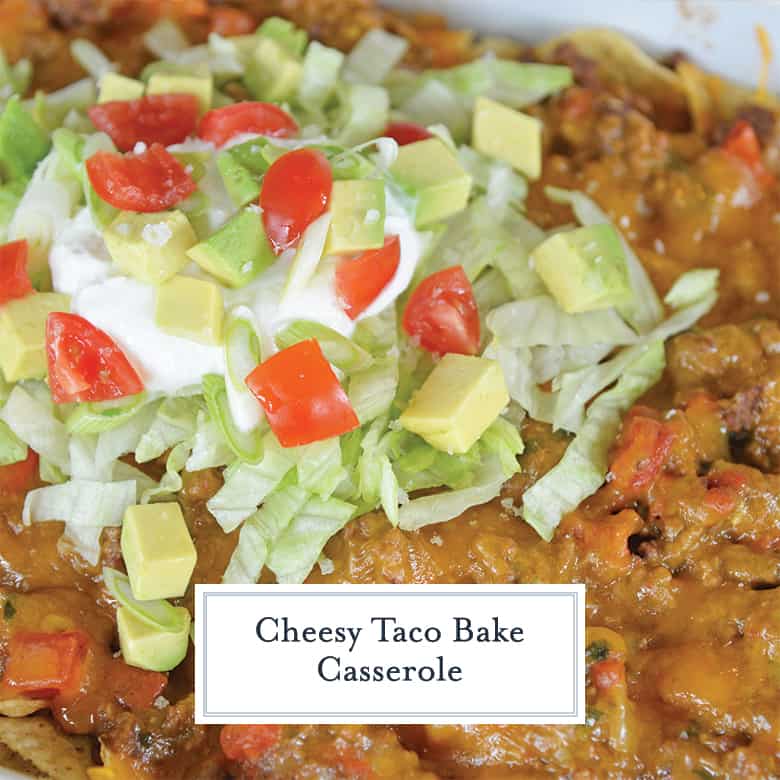 This Easy Taco Bake Casserole is the perfect easy dinner recipe that the whole family will love. A one dish dinner with loads of flavor!
It is essentially a taco casserole. All the ingredient you know and love in tacos all in one tasty baking dish.
Tomatoes
Cheese
Taco toppings
Tacos, when you think about it, aren't all that quick and easy. I spend more time chopping up all the toppings than I would for many of my other meals!
This taco bake recipe is perfect for potlucks, parties or quick and easy dinners. It can even be made ahead!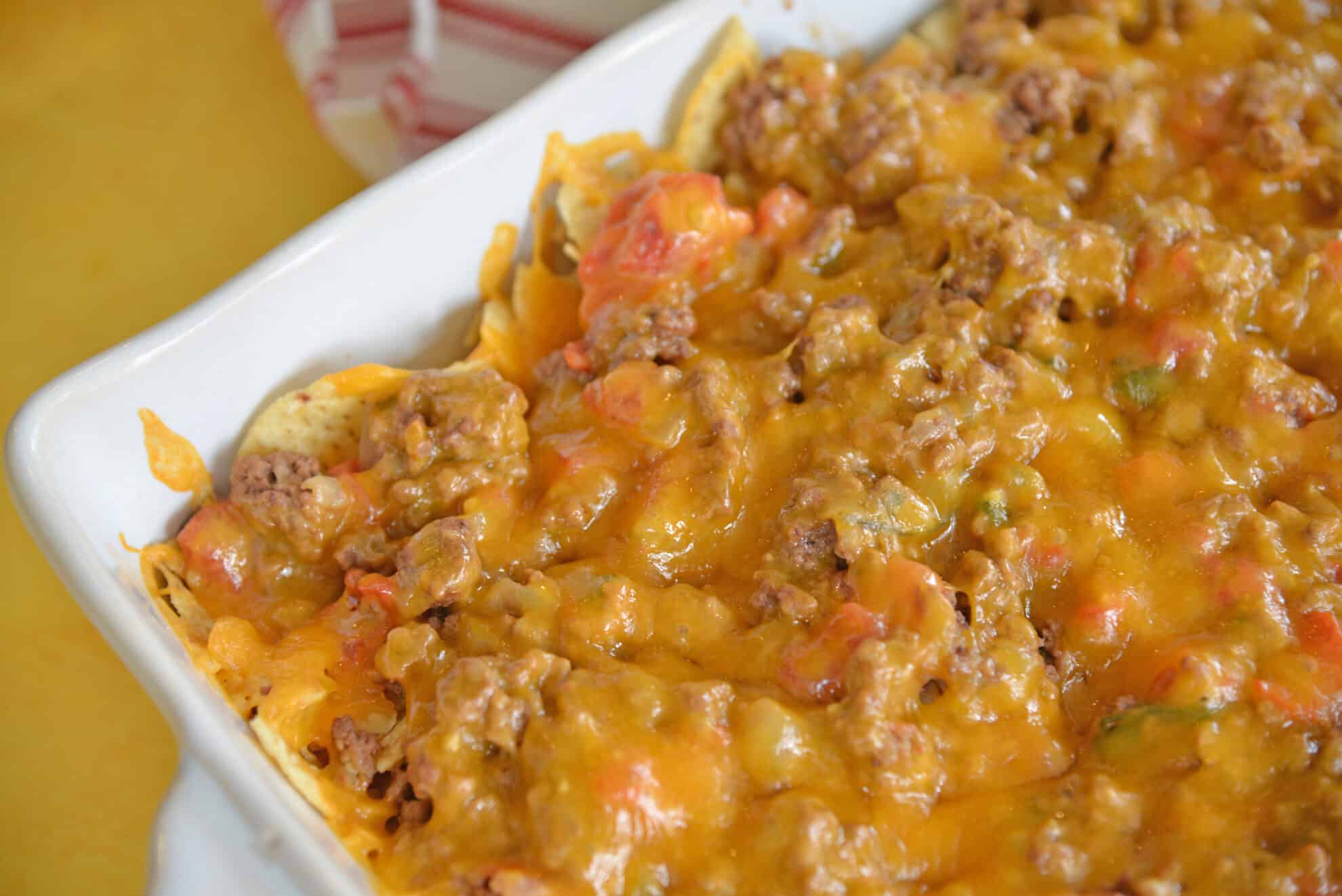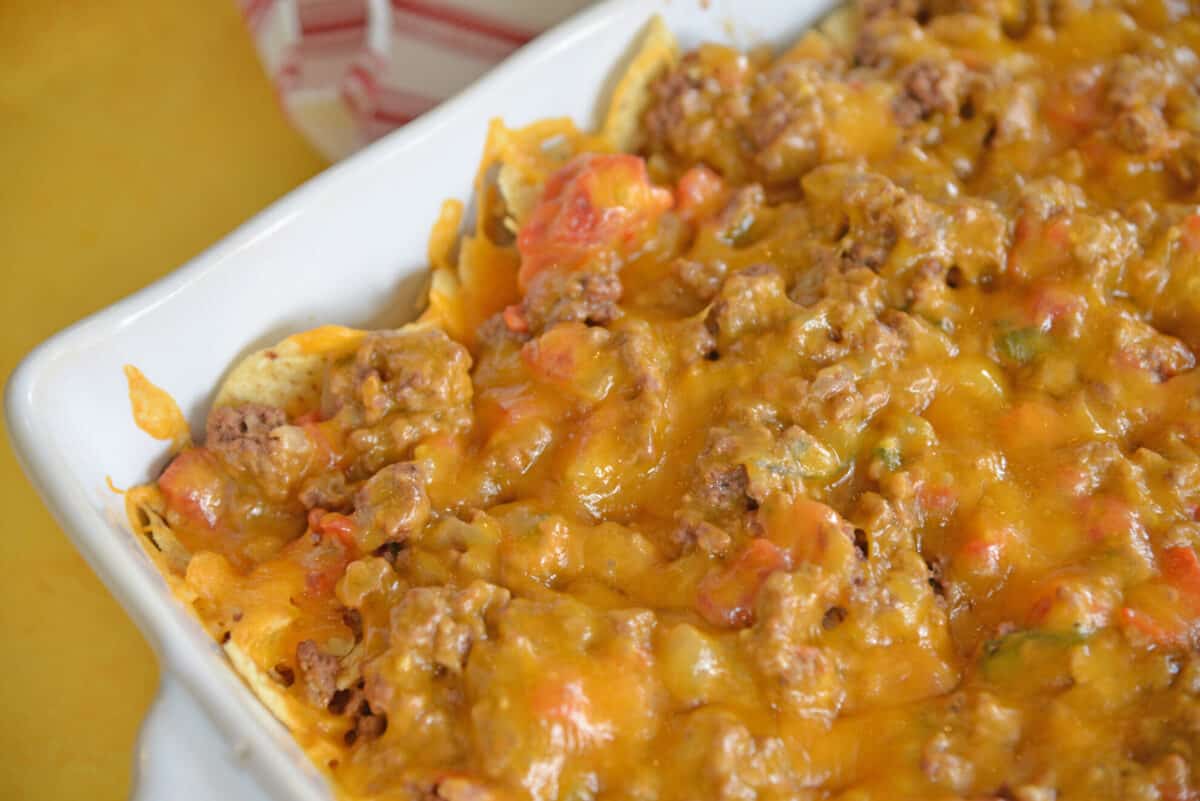 Many taco bakes use flour tortillas or corn tortillas for the chip layer, but I like using broken tortilla chips like a Frito Pie. Since they are crunchy and not soft, the texture sets up a little more and isn't as soggy.
PRO TIP: Buy your fresh ingredients pre chopped to save time in the kitchen!
You can use a single layer of tortillas if you wish or have some leftover. Corn or flour works and it is a great way to use up a few old, kind stale tortillas.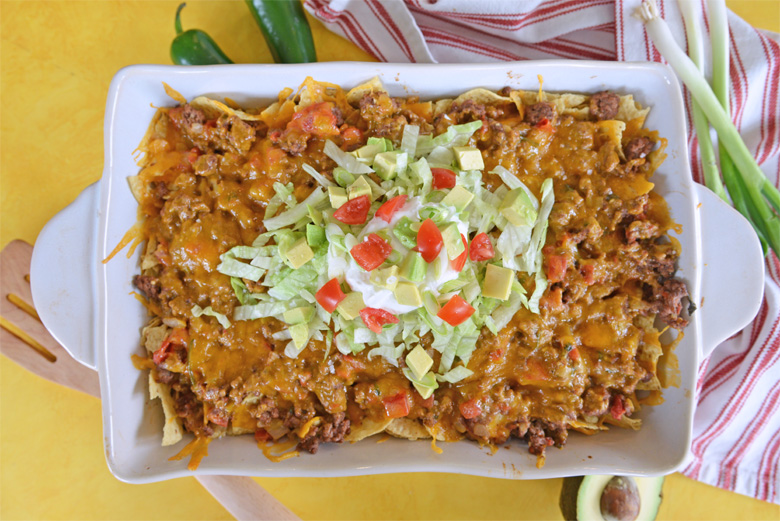 It is basically a Mexican lasagna!
The biggest trick to making the best taco bake is having enough liquid for the mixture to set up and make the cheese creamy, buy not so much that it pools at the bottom.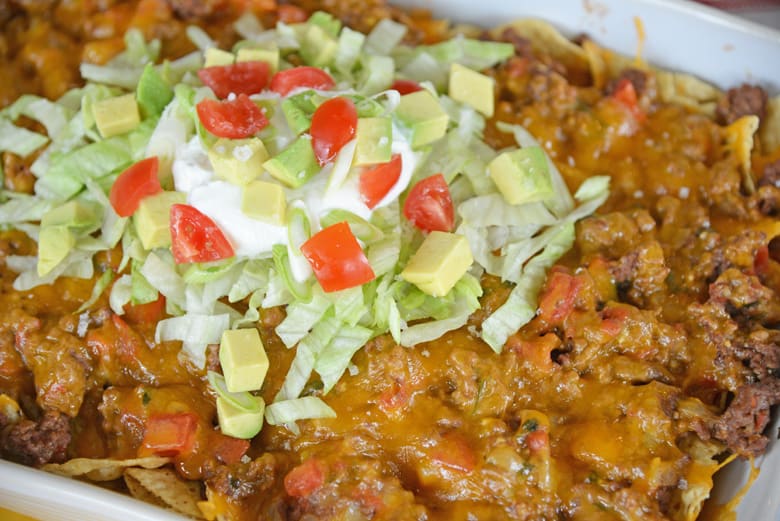 How to make a taco bake casserole:
Saute ground meat, onion, garlic and stir in taco seasoning mix.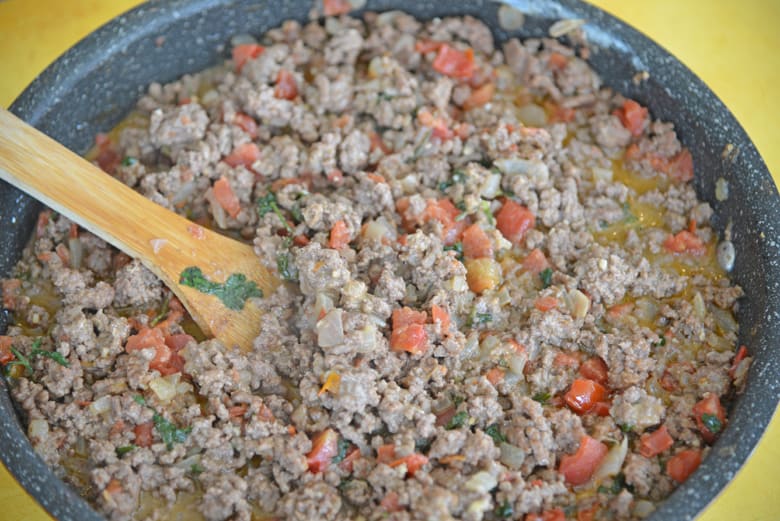 Stir beef mixture with tomatoes, cilantro and any other add-ins you desire along with beef broth.
Thicken it up a little with sour cream and cheddar cheese.
Layer with roughly crushed tortillas chips and freshly shredded cheese.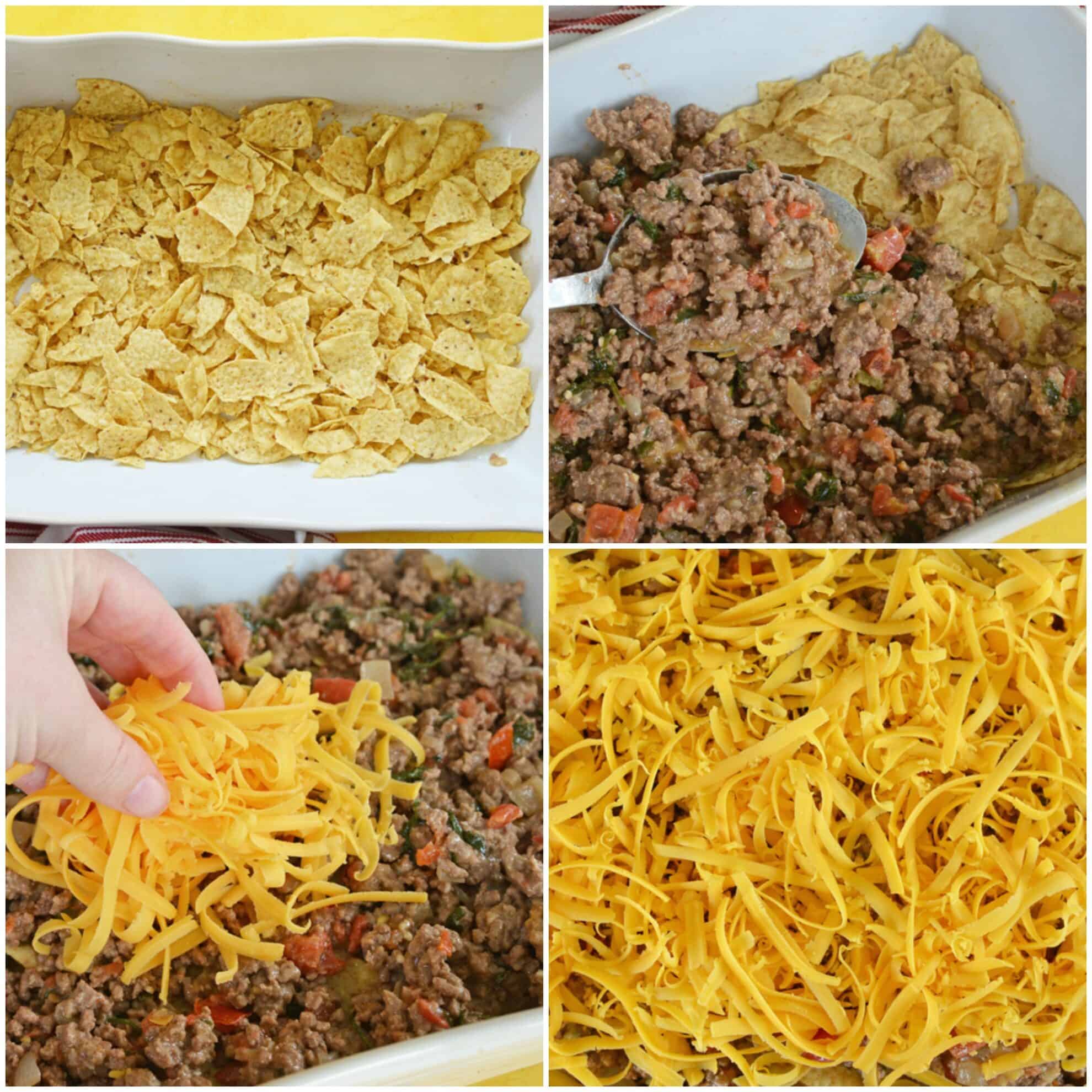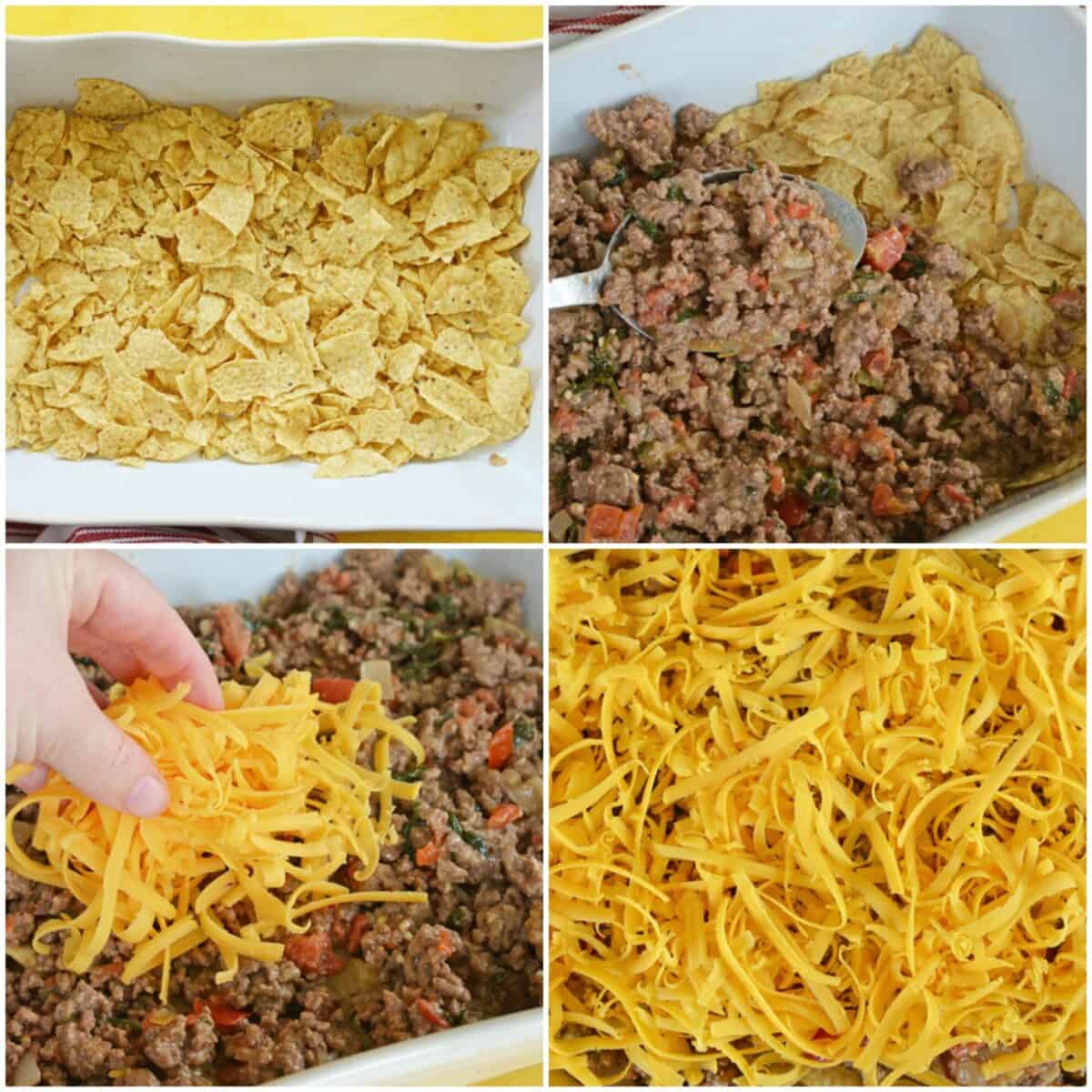 Bake to combine and until cheese is melted.
Top with all the amazing things you want like avocado, green onions, shredded lettuce, sour cream (or Mexican sour cream), jalapenos and more!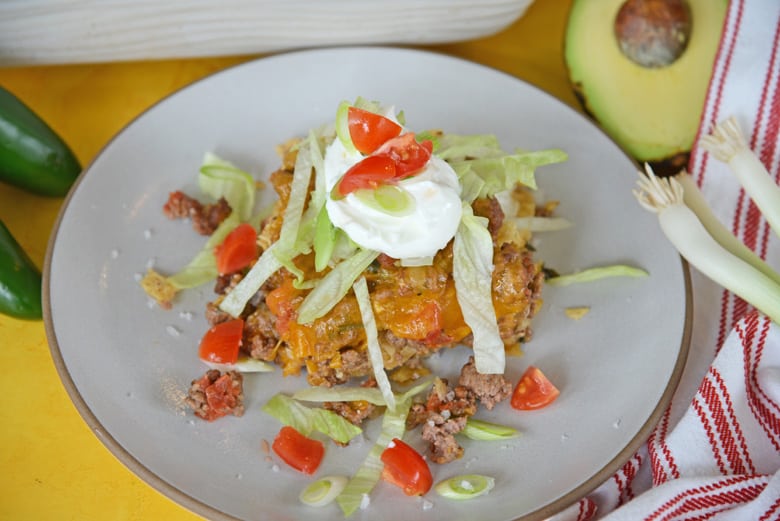 Enjoy because the whole family will love this recipe.
Make Ahead Taco Bake
To make a taco bake ahead of time, prepare the whole dish and assemble. Cover and refrigerate for up to 24 hours and then bake for an additional 5 minutes (25 minutes total).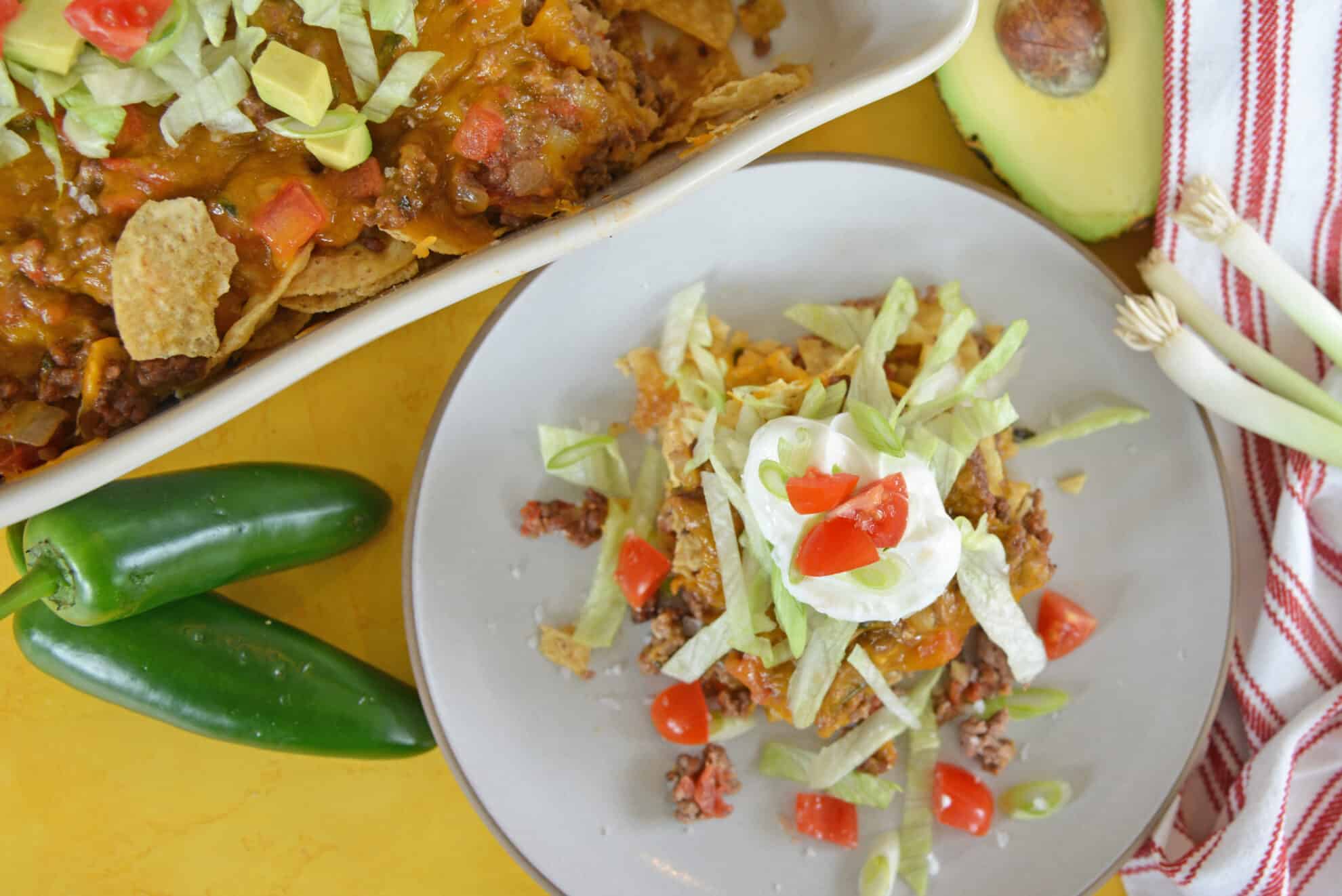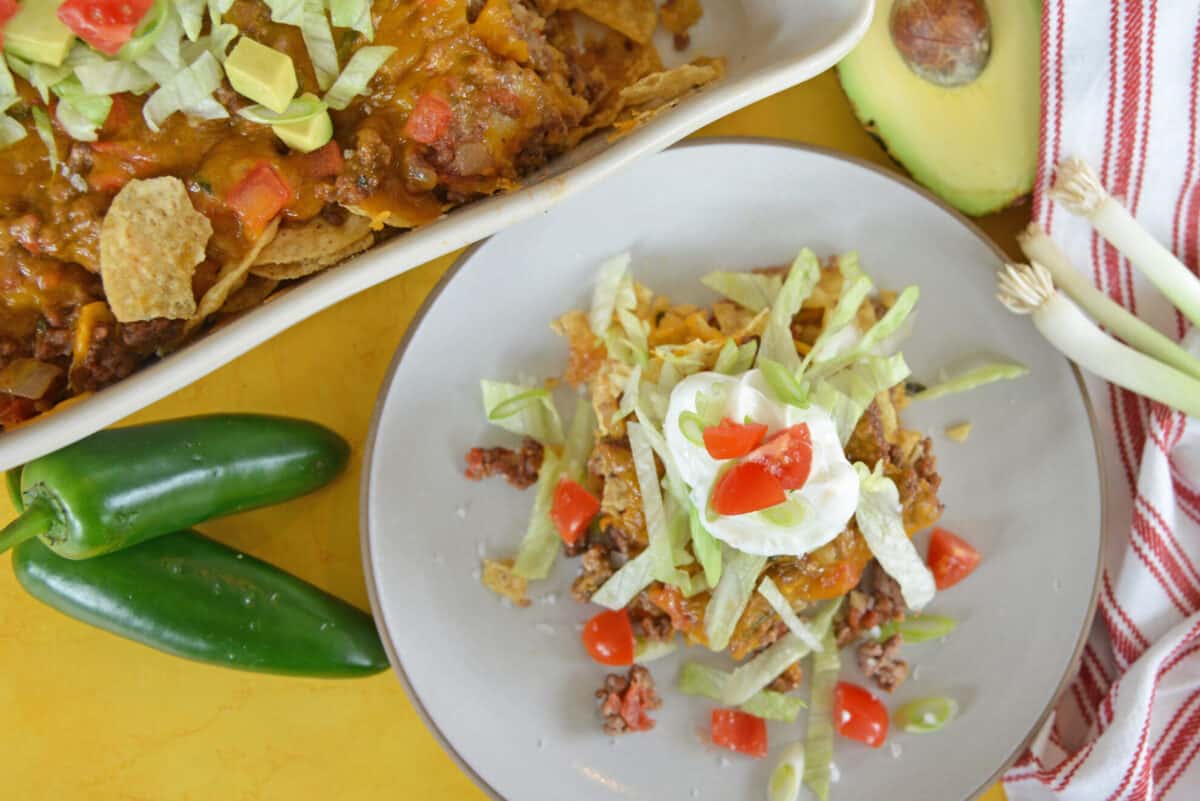 Can I use ground turkey in my taco bake?
You sure can! You can use ground turkey or ground chicken… even bulk ground sausage if you'd like. Want to get totally crazy? Try a blend of meats!
Use the same amount as your would for ground beef and saute until fully cooked. Make sure to drain off any excess fat or liquid, which will vary depending on the type of meat, so you don't end up with a soggy bake.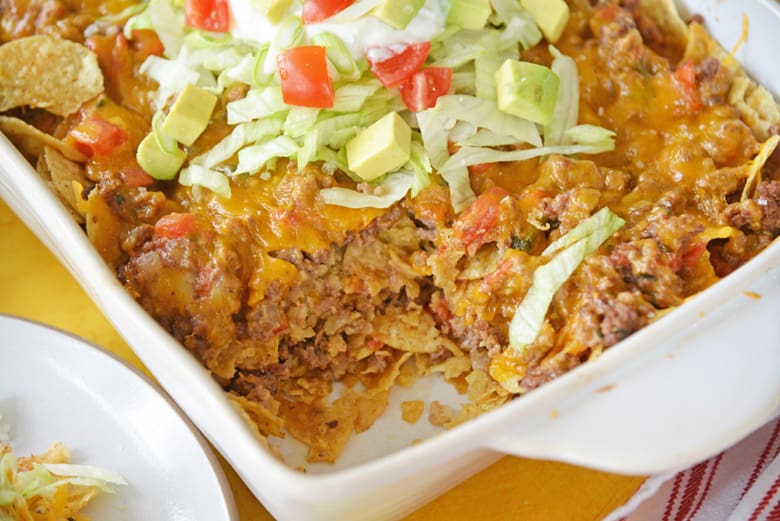 How do I make a spicy taco bake?
You can get your heat on several ways. The first is to add more chile powder or even crushed red pepper flakes. Half a teaspoon to 1 teaspoon will do the trick. Add it with your taco seasonings.
You can also add fresh jalapenos to the onions or topping at the end. Jarred, pickled jalapenos will give a little kick, but not as much heat.
PRO TIP: Instead of using canned tomatoes, use a thick and chunky salsa. Then you'll get bell peppers, more onion, garlic and some other spices.
Canned chipotle peppers in adobo sauce will give you a smoky heat. Simply mince up about 2 tablespoons and add with onions as well. Another tablespoon of adobo sauce will give even more smoky flavor.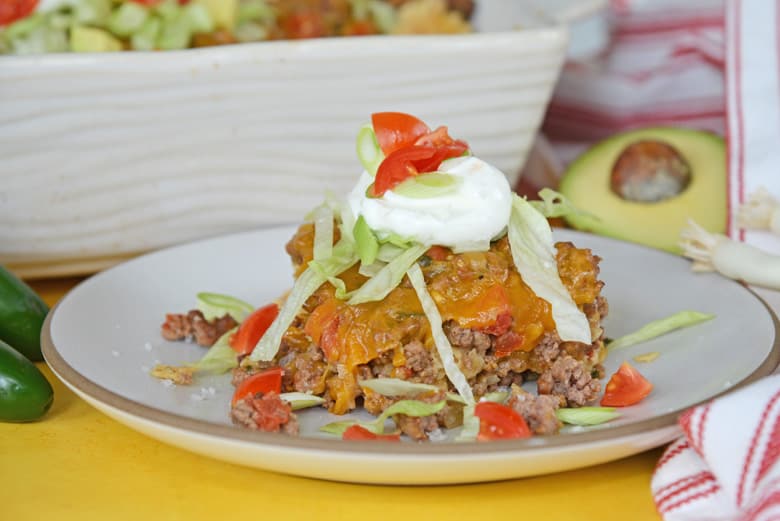 You can also use a pepper jack or habanero laced cheese for half of the shary cheddar. You just top it with a ton of hot sauce!
PRO TIP: Instead of using a slotted spoon and paper towel, drain meat in a fine mesh colander.
Can I make this a low carb taco bake?
All you have to do it omit the tortilla chips and you'll have a low carb one dish meal!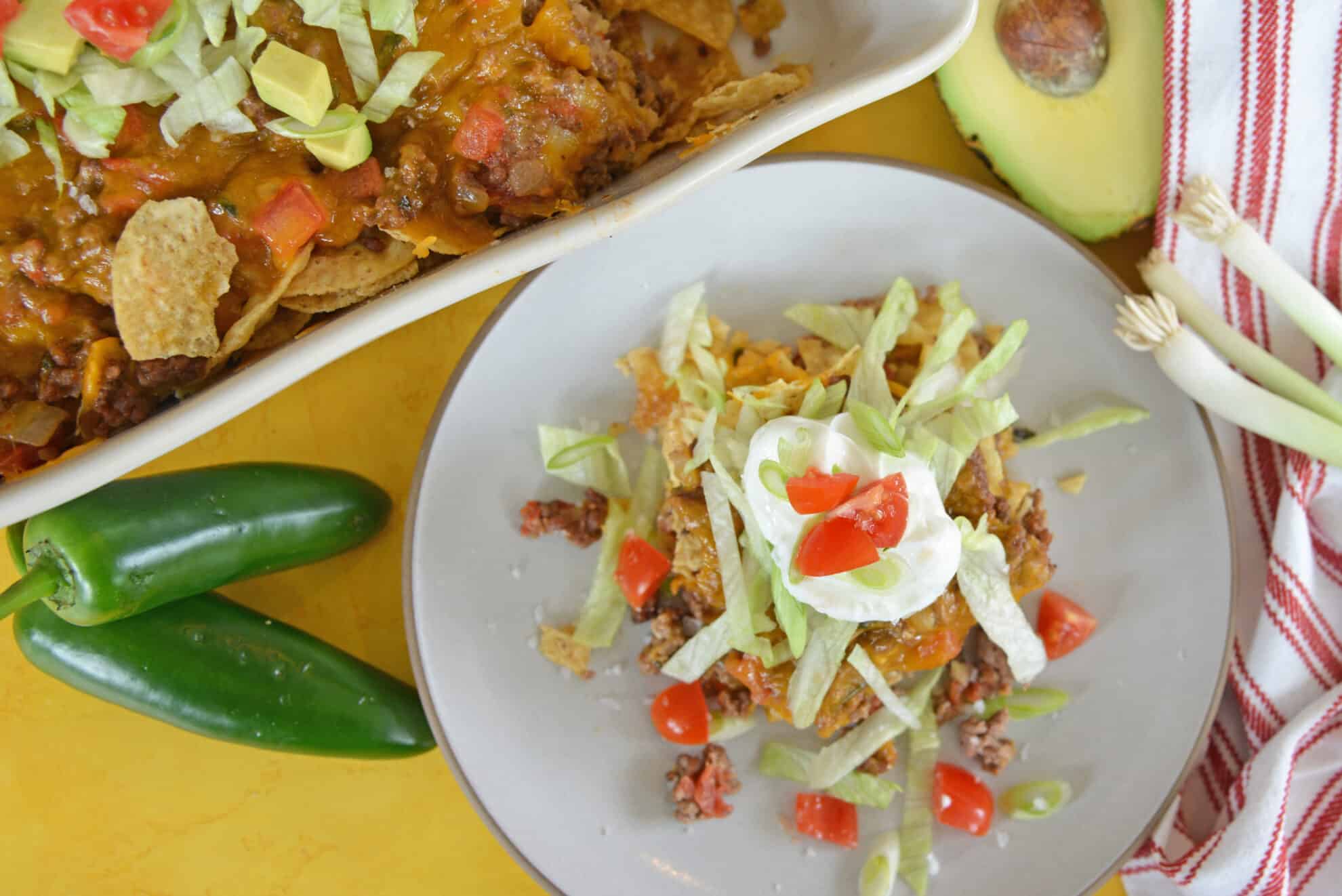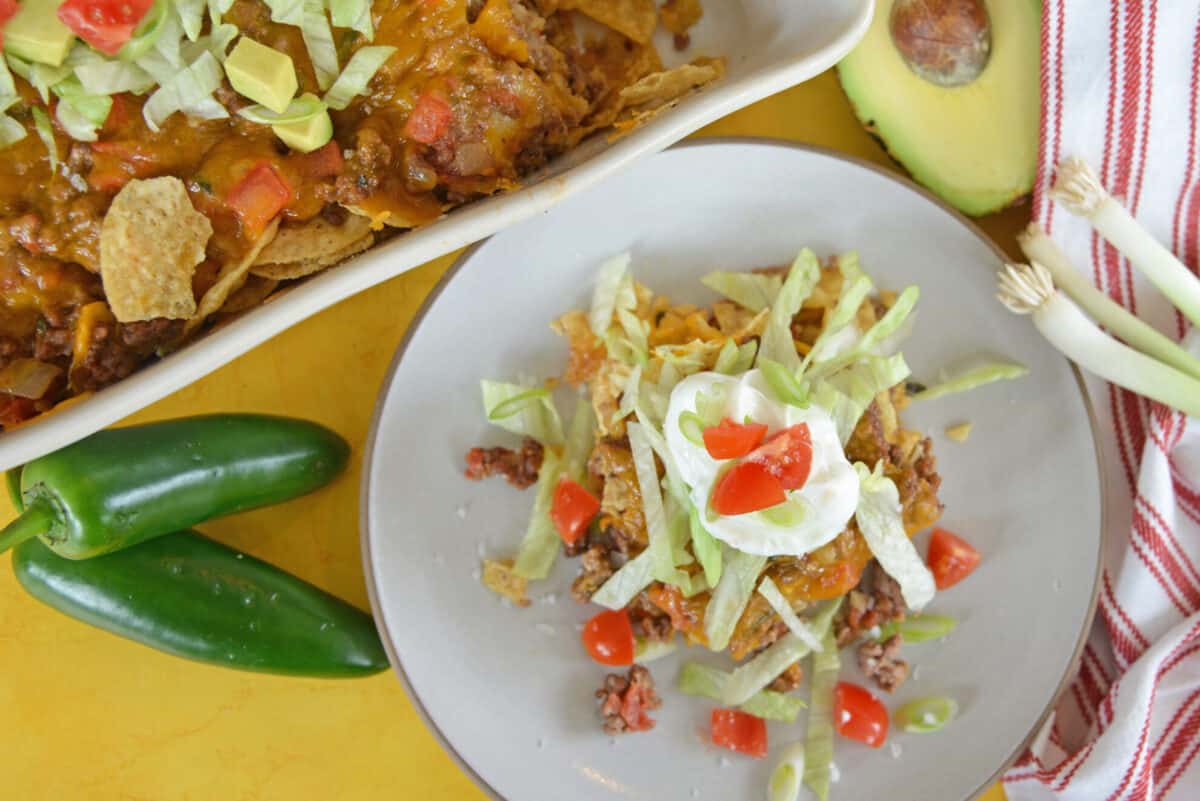 Alternatively, you can dish and serve it more like a 7 layer dip with chips or fresh tortillas on the side. Perfect for bringing "tacos" to a tailgate!
PRO TIP: Using pre shredded cheese saves time, but it tossed in a light coating of potato starch to prevent sticking. I like to freshly shred my cheese for dishes like this. It takes a few more minutes but is totally worth it.
Freezing Taco Bake Casserole
You can certainly make this ahead of time and freeze it! This is great for when you're making a meal for someone, prepping for the arrival of a baby, or just have leftovers you'd like to freeze.
Here are my tips for freezing a casserole.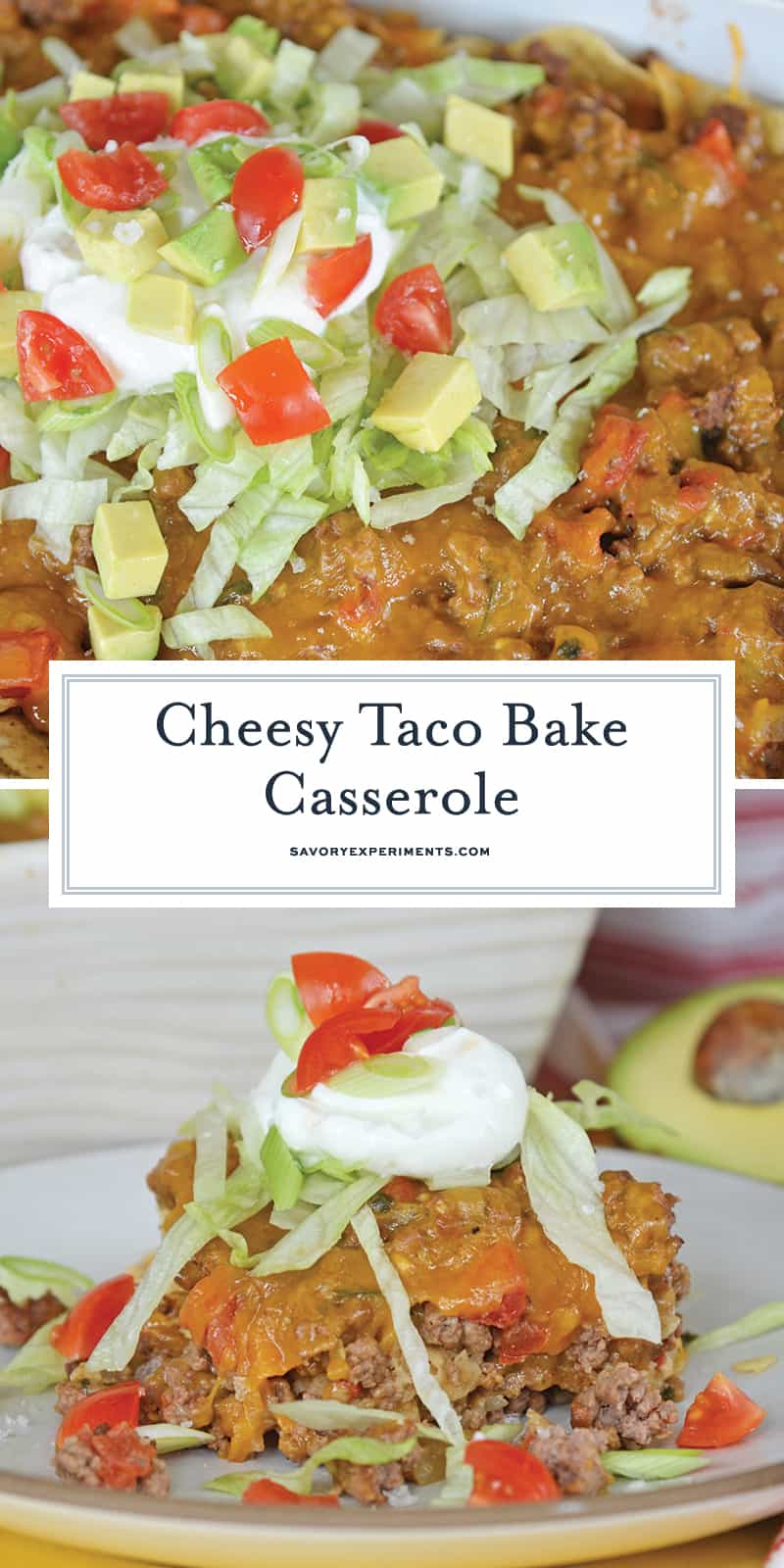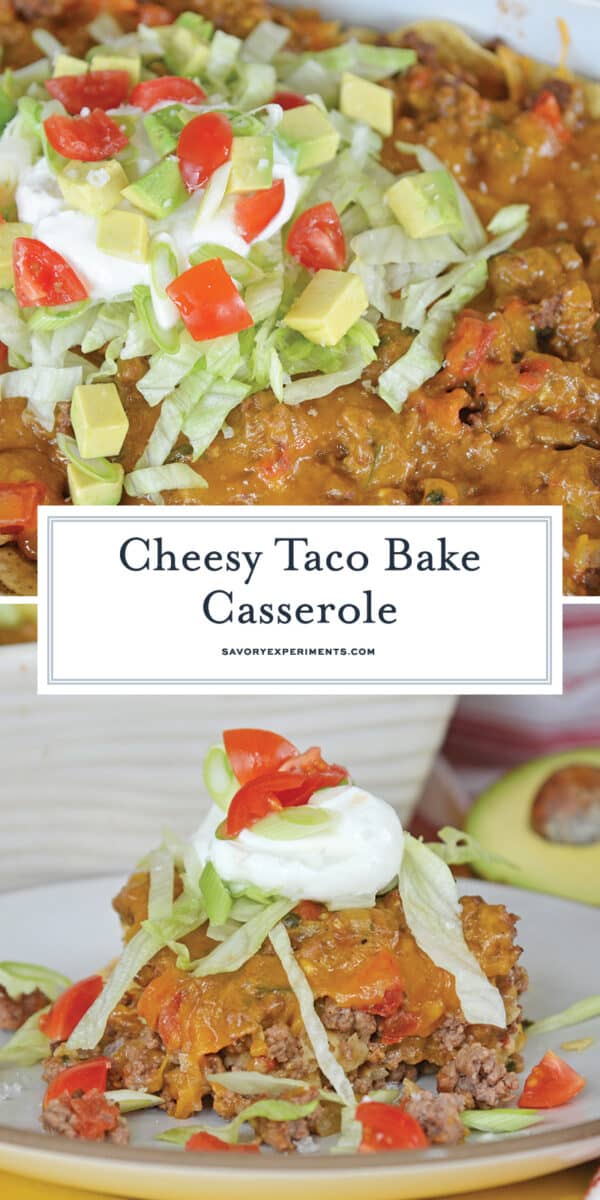 Taco bakes are really a one dish meal, but if you want easy side dishes with Mexican flare, here are a few of favorites.
Mexican Refried Beans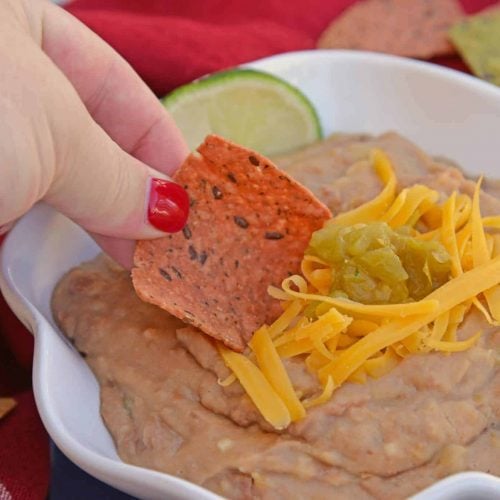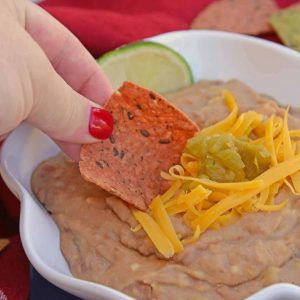 Mexican Refried Beans are an easy homemade refried bean recipe using pinto beans, green chilies, cheese and Mexican spices. Ready in just 15 minutes!
Black Bean Green Chile Soup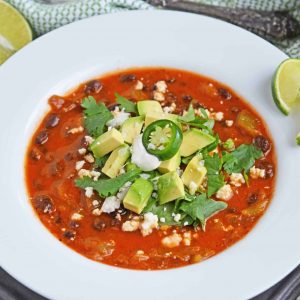 Black bean Green Chile Soup is a tomato based soup with smoky chipotle peppers and robust flavors. Top with avocado, cilantro and queso fresco! Hearty enough for an entree, but can also be an appetizer!
Sloppy Joe Tater Tot Casserole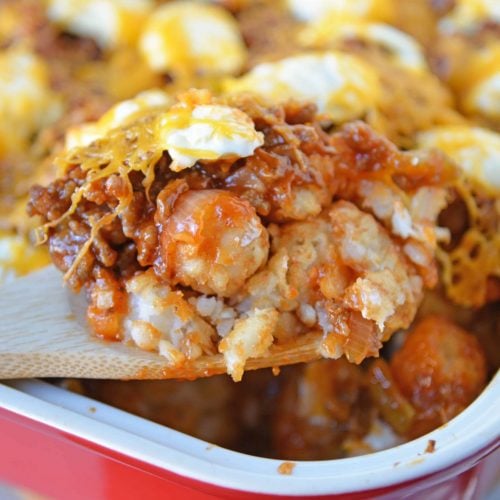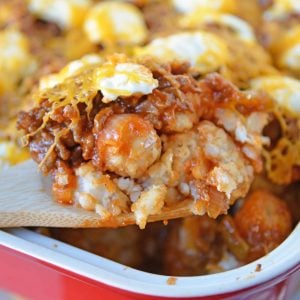 Sloppy Joe Tater Tot Casserole combines layers of crispy tater tots with homemade sloppy Joe mix, cream cheese and cheddar for the ultimate quick meal or party food!
Chicken Pot Pie Casserole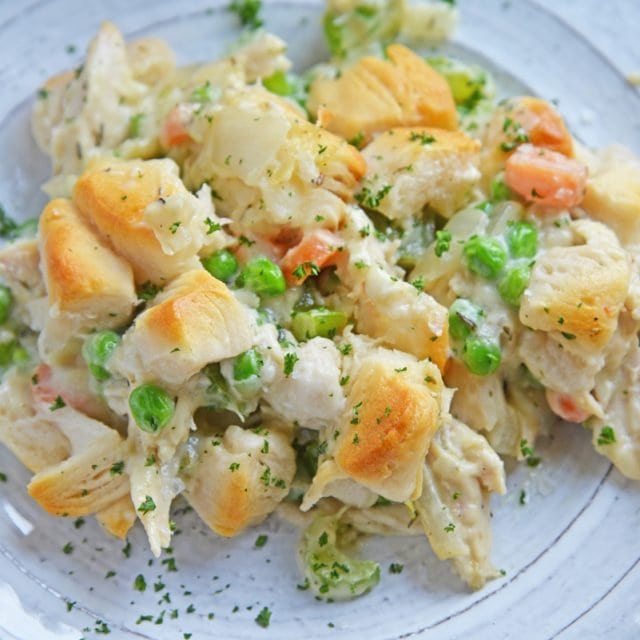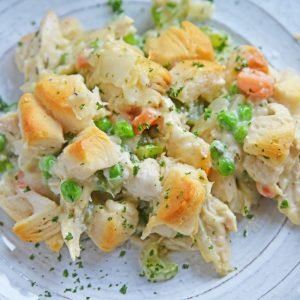 Chicken Pot Pie Casserole using biscuits is an easy way to make a comforting chicken casserole. Easy pot pie filling with buttery topping.
CONNECT WITH SAVORY EXPERIMENTS!

Be sure to follow me on social media, so you never miss a post!

Facebook | Twitter | Youtube
Pinterest | Instagram
Get our FREE 8 Day E-Course on How to Be a Better Home Cook. Sign up HERE!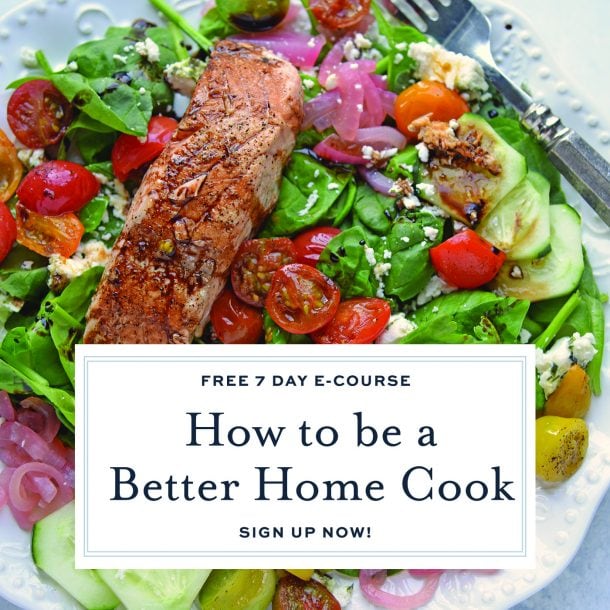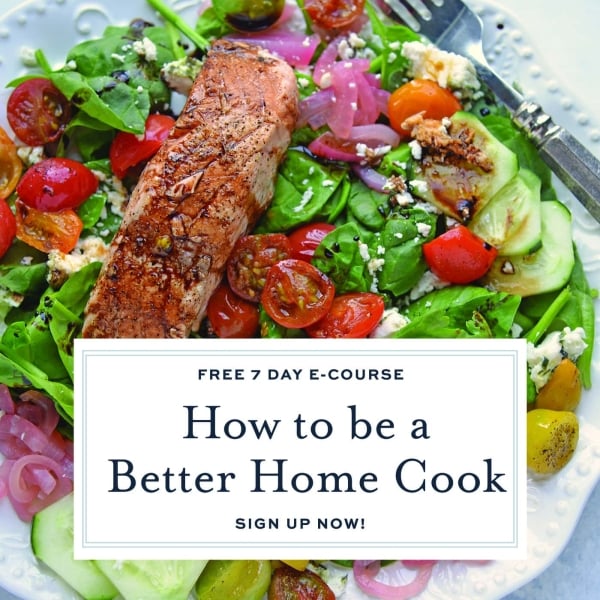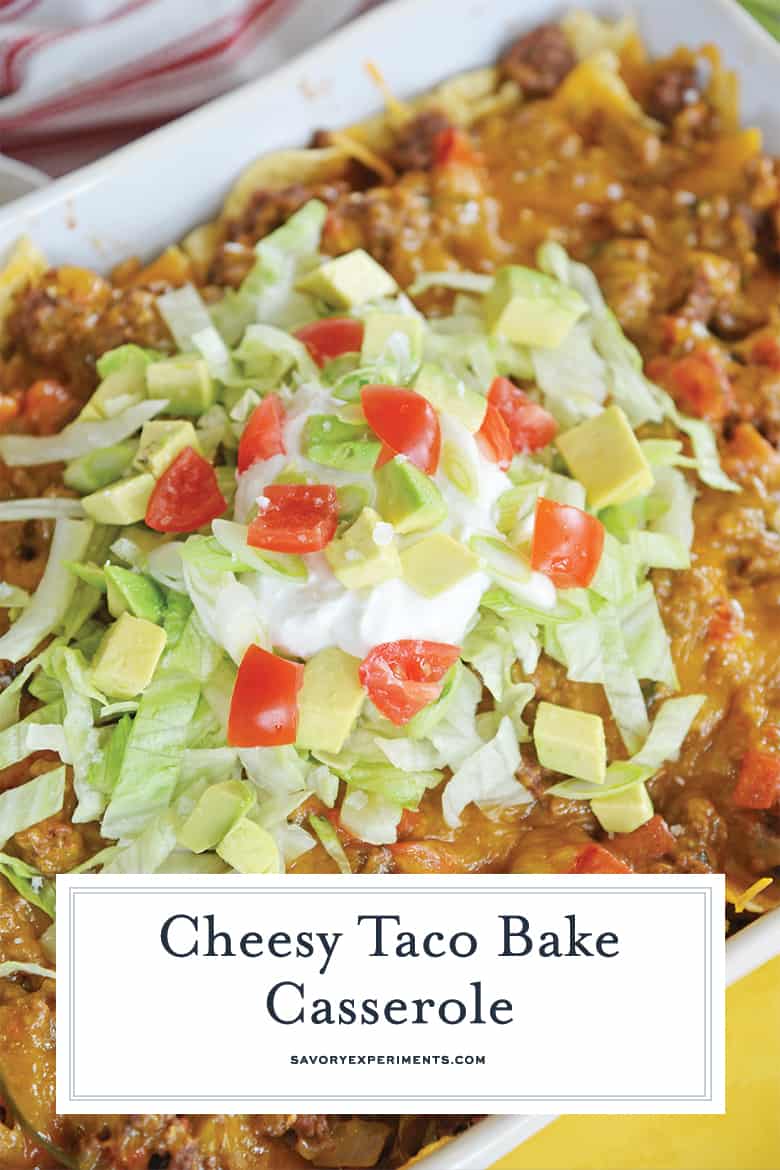 We hope this taco bake casserole is as much of a hit in your house as it was in ours! A true new family favorite for dinner.
Best Taco Bake Casserole
This Easy Taco Bake Casserole is the perfect easy dinner recipe that the whole family will love. A one dish dinner with loads of flavor!
Instructions
Preheat oven to 350 degrees. Prep a medium casserole dish with cooking spray. Set aside.

In a large skillet over medium heat, saute vegetable oil and onions until soft, approximately 4 minutes.

Add ground beef, crumbling as you go. Cook and turn until fully browned. Drain meat and onion and return to pan.

Add beef broth, drained diced tomatoes, cilantro and taco seasoning. Toss to coat and heat, approximately 3 minutes.

Add sour cream and 1/2 cup shredded cheese. Mix and then remove from heat to allow mixture to thicken.

Roughly crumble half of the tortilla chips with your hands, place in the bottom of the casserole dish. Top with half of the browned beef mixture and then half of the remaining shredded cheese. Repeat these layers once more.

Place in oven, uncovered, for 20 minutes.

Remove and allow to cool for 5 minutes before cutting to serve and topping with desired toppings.

If you've tried this recipe, come back and let us know how it was!
Notes
All nutrition is without toppings. 
Nutrition
Calories:
700
kcal
|
Carbohydrates:
46
g
|
Protein:
28
g
|
Fat:
46
g
|
Saturated Fat:
17
g
|
Cholesterol:
98
mg
|
Sodium:
626
mg
|
Potassium:
523
mg
|
Fiber:
4
g
|
Sugar:
3
g
|
Vitamin A:
511
IU
|
Vitamin C:
5
mg
|
Calcium:
363
mg
|
Iron:
4
mg