Eggs Benedict is a classic breakfast combining delicate poached eggs, salty Canadian bacon, and creamy hollandaise sauce all on top of perfectly toasted English muffins. This eggs Benedict casserole combines all of those flavors in an easy recipe that will take less time to make and to clean up than the traditional dish.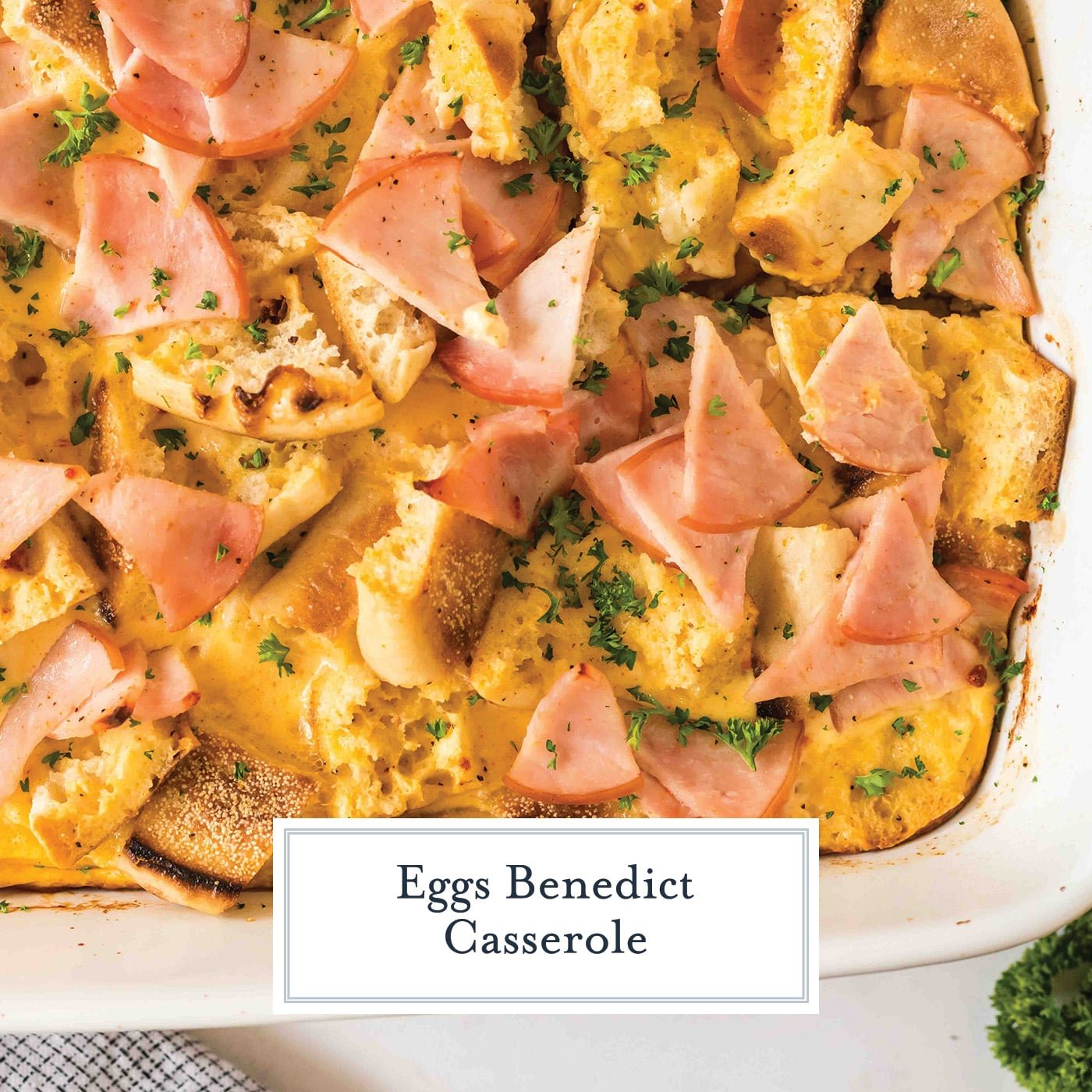 This delicious breakfast casserole is a make-ahead meal so it's ready to bake when you are. You can also whip up the easy hollandaise sauce in the blender ahead of time, too, or make it while the casserole is cooking.
If you're looking for a breakfast casserole that's as elegant as it is tasty, this eggs Benedict bake is a winner.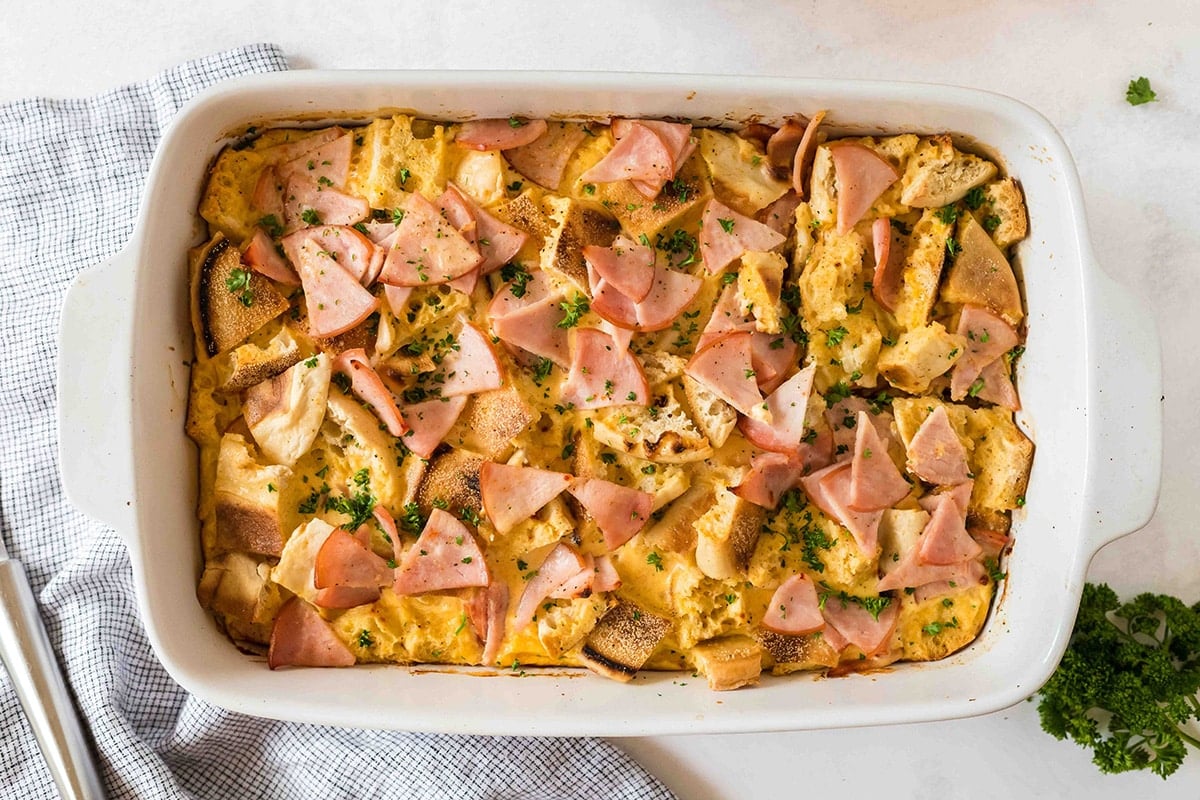 Why You'll Love Eggs Benedict Casserole
If you're a fan of eggs Benedict, but not of poaching a bunch of eggs in the morning, this simplified version may become your new go-to recipe.
Easy – This is a quick way to channel all of the flavors of eggs Benedict without the time and work.
Versatile – Feed your family on Sunday morning or take this to a brunch or a baby shower. It works as well for casual settings as it does for special occasions like Mother's Day or Easter brunch.
Convenient – It's easy to just pop this make-ahead casserole in the oven when you're ready to bake. It also works well for meal prepping.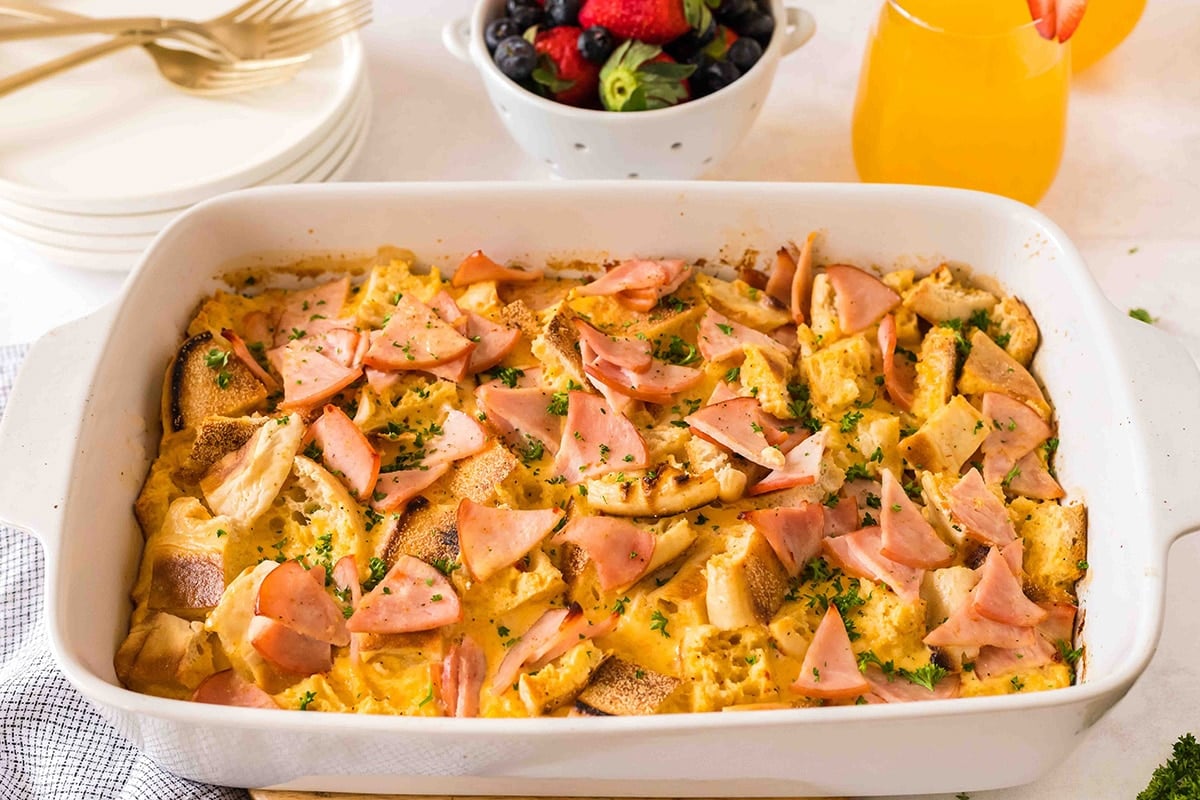 Ingredients for Easy Eggs Benedict Casserole
All of the ingredients in this casserole recipe are easy to find at the grocery store — and you might already have most of them.
Casserole:
English muffins – Toast the muffins before slicing into small pieces.
Canadian bacon – Make sure to slice the meat into uniform sized pieces so that it cooks evenly.
Large eggs – Use large sized eggs for this recipe to get the right ratio of eggs to the meat and bread.
Heavy cream – Cream helps to give this casserole its rich texture.
Whole milk – Whole milk also contributes to the richness of the casserole — we recommend sticking with full fat dairy for this recipe.
Onion powder – This helps make preparation easier but you can substitute diced onions if you prefer.
Paprika – This spice adds just a touch of peppery flavor and sweetness.
Sea salt – Sea salt elevates this easy casserole.
Black pepper – You can grind it freshly or use pepper that's already been ground.
Dried mustard – This ingredient adds a slightly tangy flavor.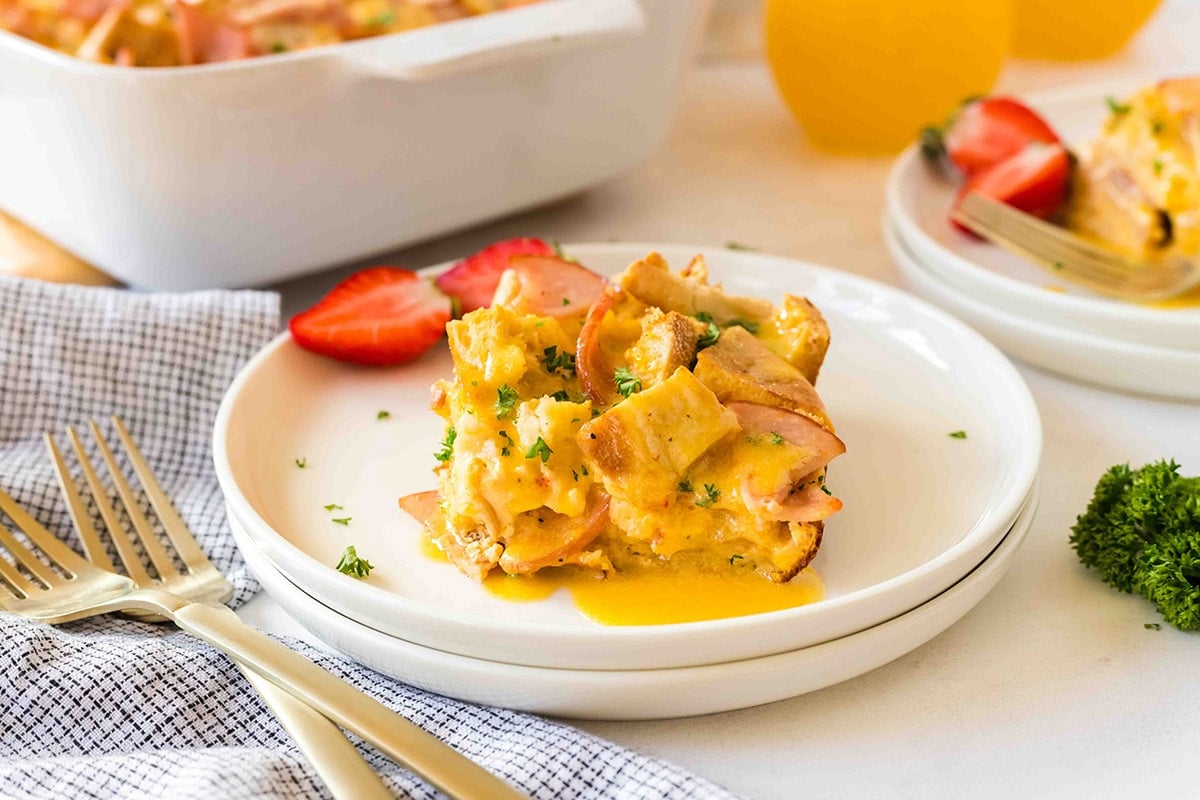 Egg yolks – Be sure to use only the yolks. Save the whites for another recipe like a topping for meringue pie.
Dijon mustard – Dijon adds depth to this classic sauce.
Fresh lemon juice – Citrus imparts brightness in hollandaise.
Butter – Melt the butter in the microwave in intervals and allow it to cool slightly before using it to make the sauce.
Salt and pepper – Add the amount you like to the sauce.
Hot sauce – While optional, hot sauce gives the hollandaise a bit of a kick.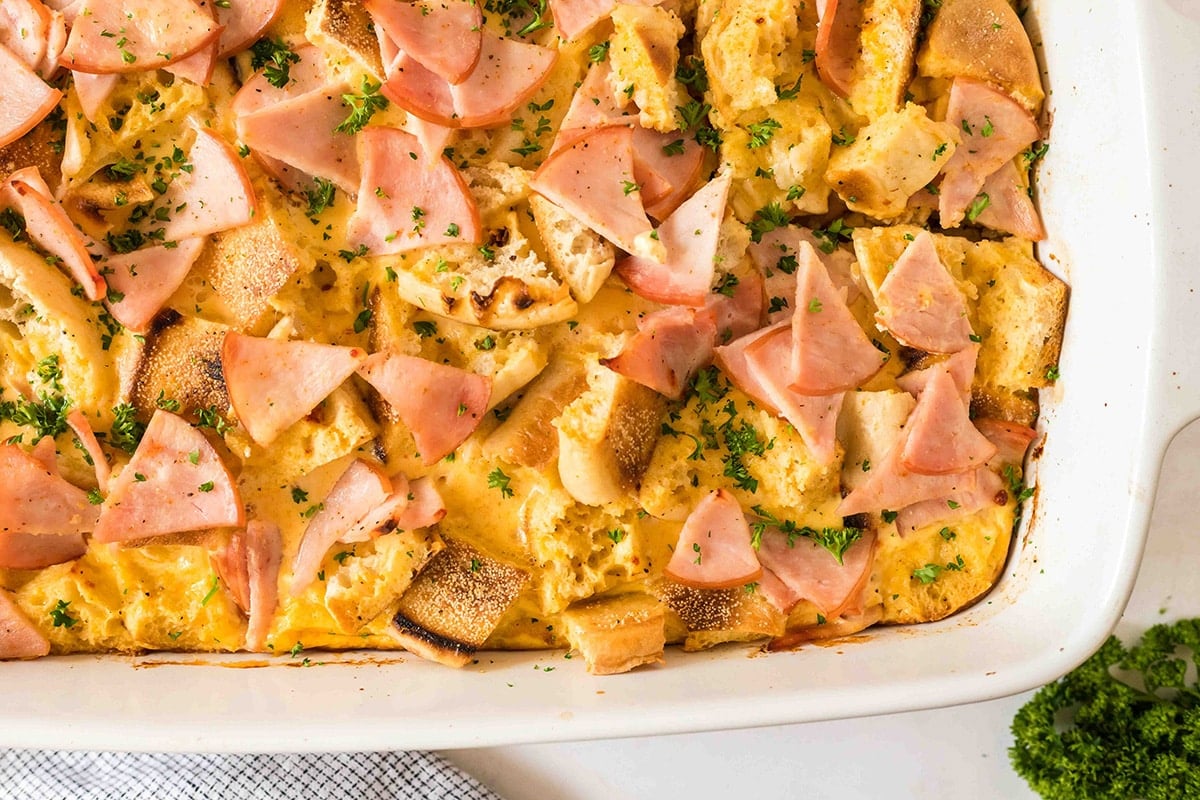 How to Make Eggs Benedict Casserole
This simple casserole that will feed the whole family is a quick alternative to traditional eggs Benedict.
Arrange the sliced English muffin pieces and Canadian bacon in an even layer in a prepared baking dish (sprayed with cooking spray).
Using a whisk, beat the eggs. Add the cream, milk, and spices to the eggs and stir until completely combined.
Pour the egg mixture into the baking dish over top of the English muffins and Canadian bacon.
Cover the casserole dish and refrigerate.
To bake, place the covered casserole dish in the preheated oven.
Bake for the recommended amount of time before uncovering.
Continue to bake until the eggs are set in the center.
Make the hollandaise sauce while the casserole bakes.
Add yolks, mustard, and lemon juice to a blender and mix until completely combined. An immersion blender also works for this process. You can use arm strength and a whisk too!
Continue to blend while adding melted butter in a steady stream through the top of the hole of the blender lid.
Once thickened, keep the sauce warm in a water bath.
After removing the casserole from the oven, allow it to briefly cool.
When ready to serve, slice the casserole and spoon the sauce over top.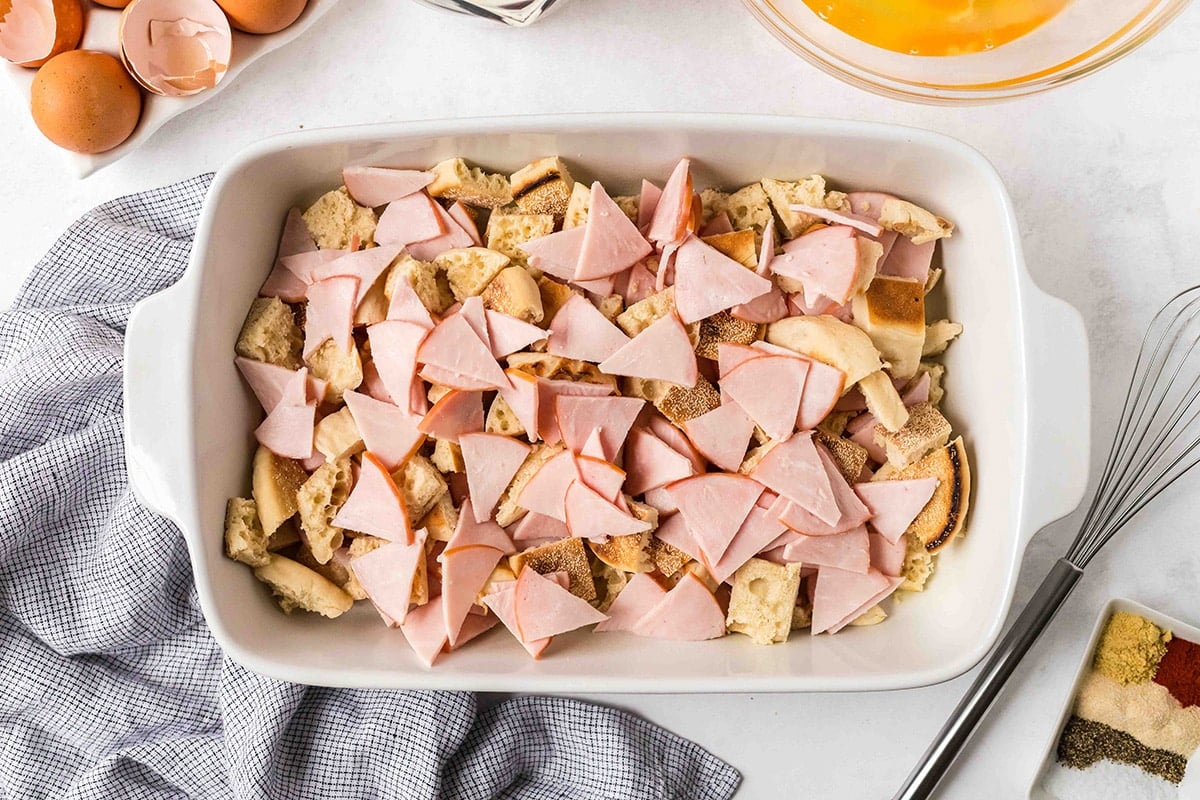 What to Serve with Eggs Benedict Casserole
Like any egg dish, there are lots of options for sides. We like to serve bacon-wrapped asparagus for a veggie on the side or air-fryer bacon for more meat.
You can also serve a colorful, fresh fruit salad, a simple green salad, or a fruit fluff salad.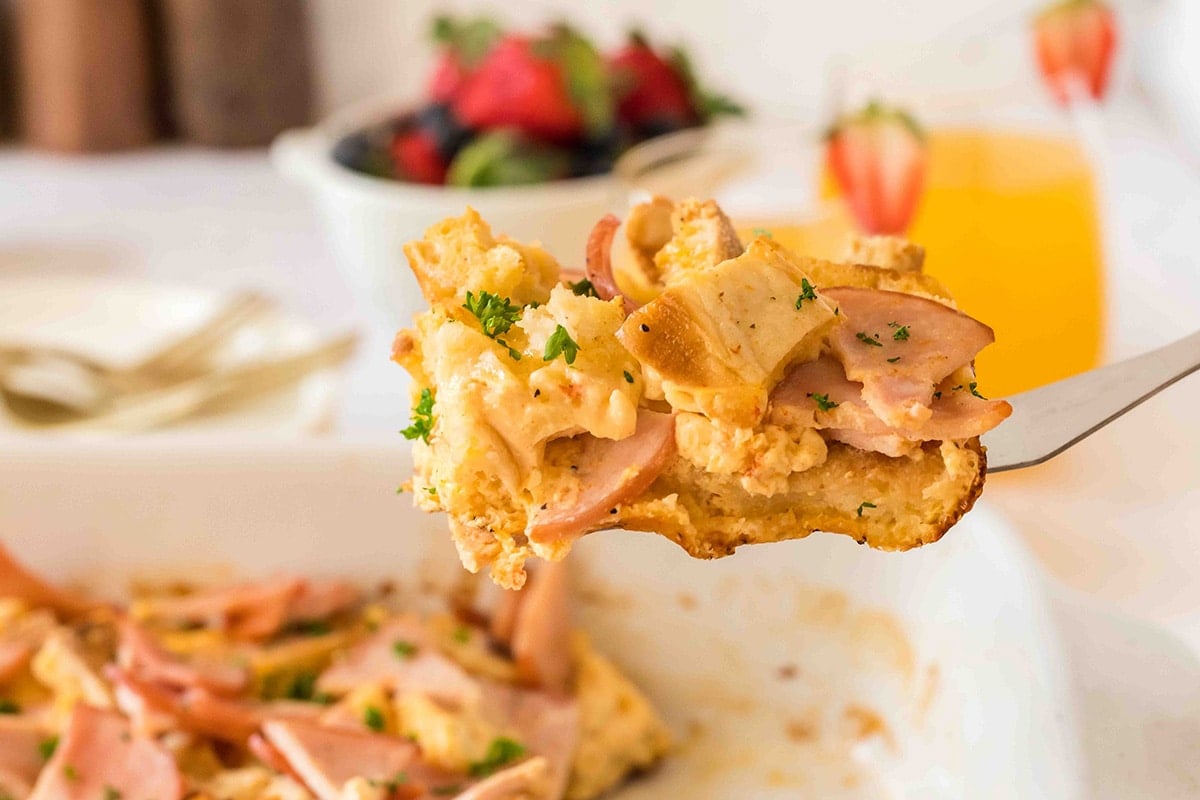 Variations on Overnight Eggs Benedict Casserole
It's easy to add so many different ingredients to an easy egg bake like this.
Herbs – Add fresh thyme, parsley, or other herbs to the egg mixture or use them as garnish.
Spice – Try using crushed red pepper flakes or diced jalapenos to add some heat.
Vegetables – Diced bell peppers, sliced mushrooms, or baby spinach all work well with eggs.
Garlic – Add finely minced garlic or garlic powder.
Meat – Instead of Canadian bacon try regular bacon or country ham.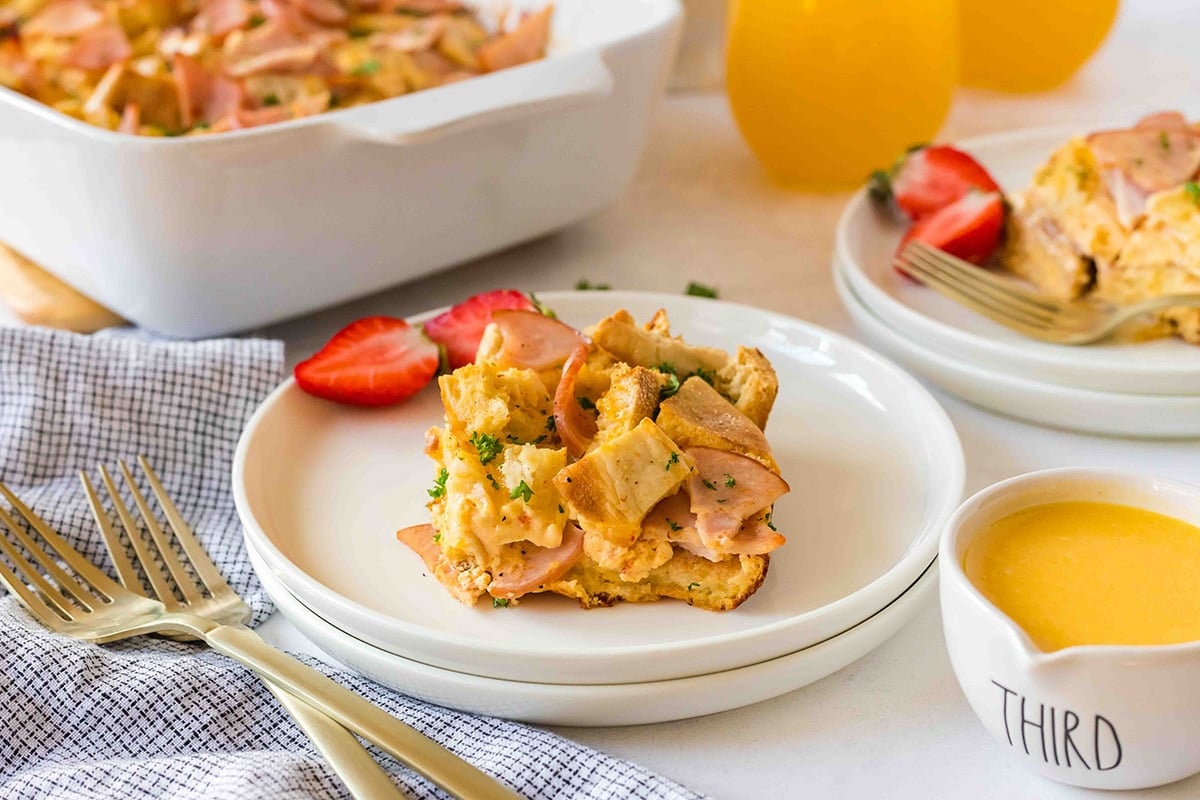 Storage, Make Ahead and Freezing
Make-Ahead: You can make the sauce the day before and gently warm it before serving. Since the casserole requires refrigeration for several hours before baking, it's a perfect make-ahead meal.
Refrigerator: Store the egg bake in its original baking dish covered in plastic wrap (or aluminum foil) or in an airtight container for 3-4 days. The sauce can be stored for 2-3 days.
Freezer: Freeze the egg casserole for up to 3 months in a freezer-safe container. We do not recommend freezing the sauce.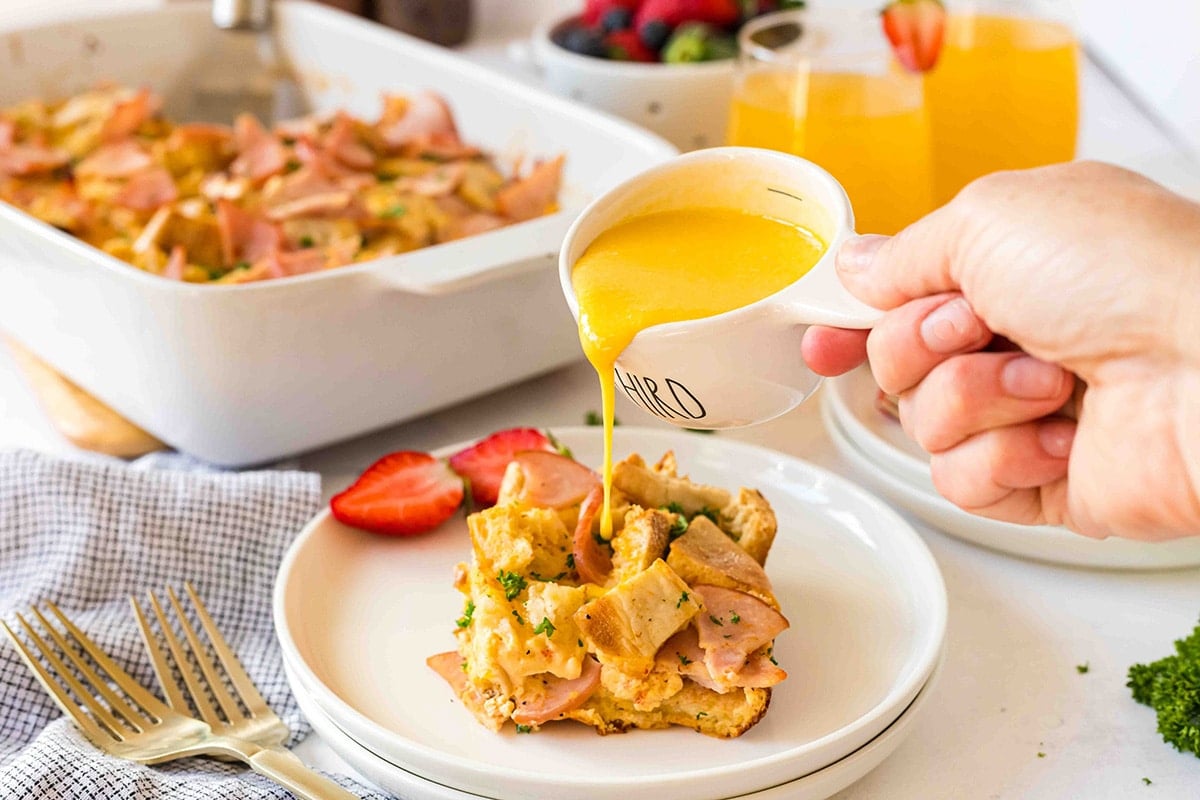 Common Questions About Eggs Benedict Casserole
What is traditionally served with eggs Benedict?
Canadian bacon is the traditional meat served with a Benedict though there are plenty of variations, as well.
Why are eggs Benedict so good?
Eggs Benedict is a favorite with so many people largely thanks to the citrusy butter sauce drizzled over top of the eggs, Canadian bacon, toasted English muffins. It also has a variety of textures that work well together.
What is the best thing to serve with eggs Benedict?
This is a matter of preference but it's often served alongside breakfast potatoes or hash browns. We recommend a good cup of coffee or tea, too.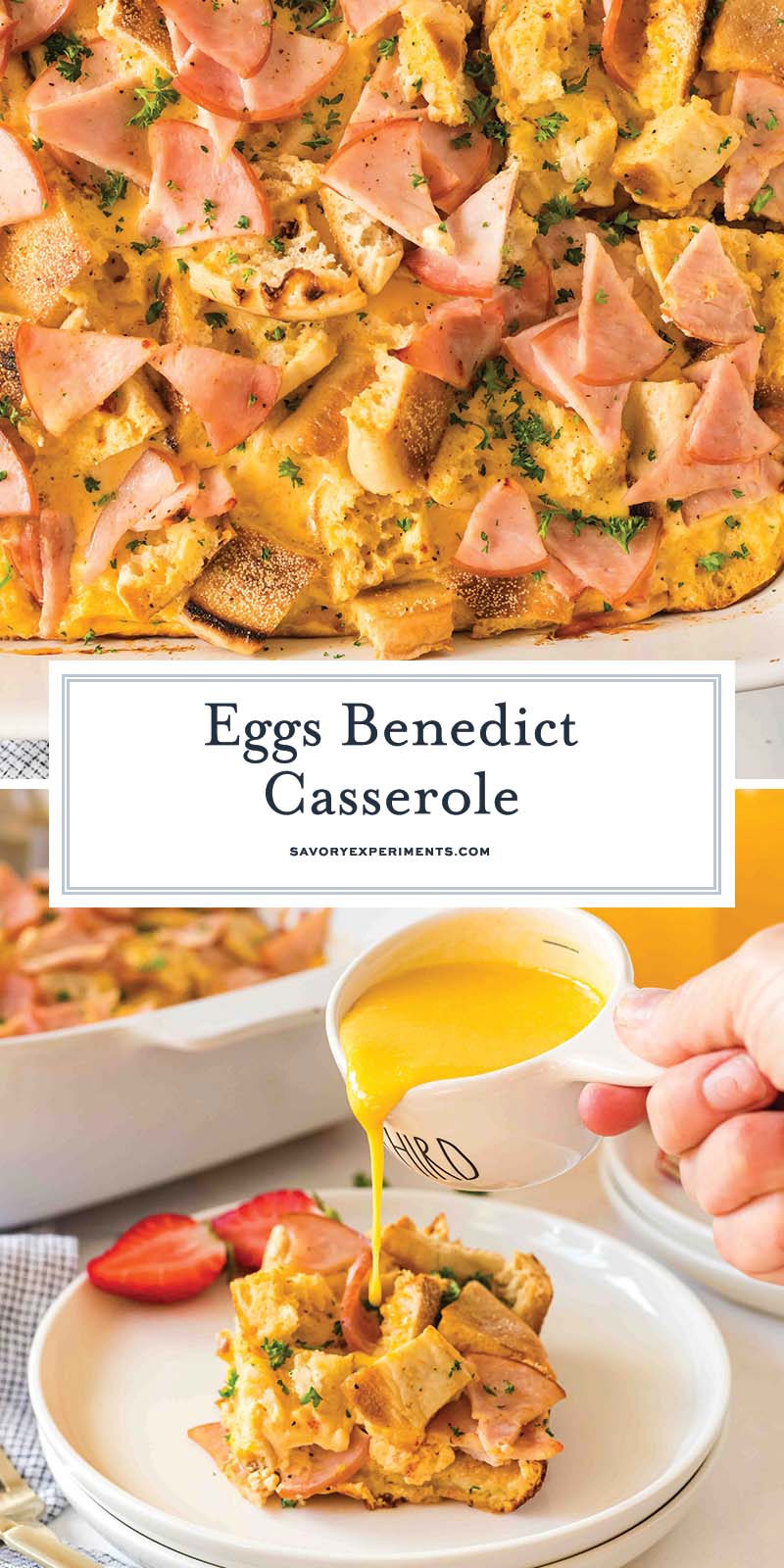 More Breakfast Bakes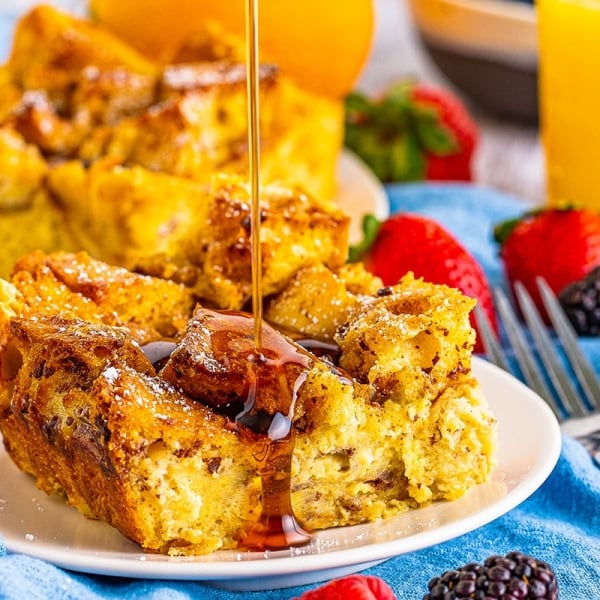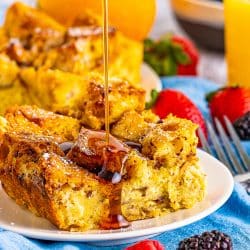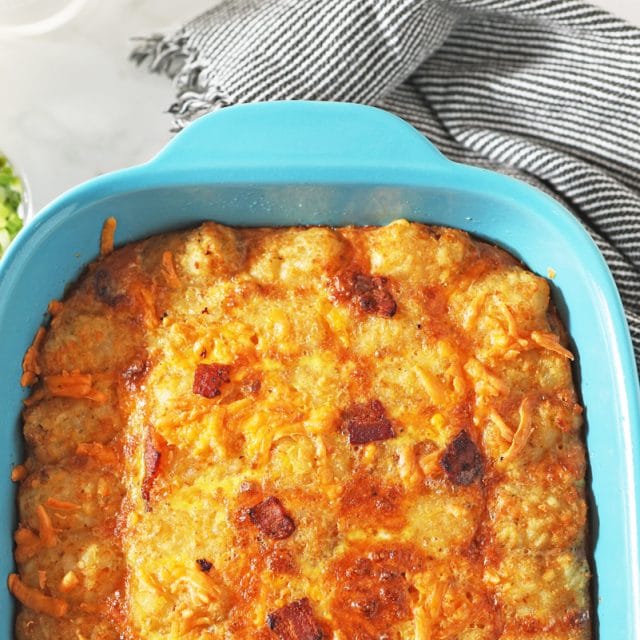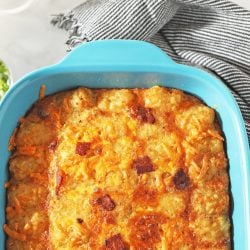 Bacon Tater Tot Breakfast Casserole
Crunchy, gooey and delicious, Breakfast Tater Tot Casserole makes breakfast an occasion for the whole family! With just a handful of ingredients and frozen tater tots, this easy breakfast casserole is great for a crowd!
See The Recipe!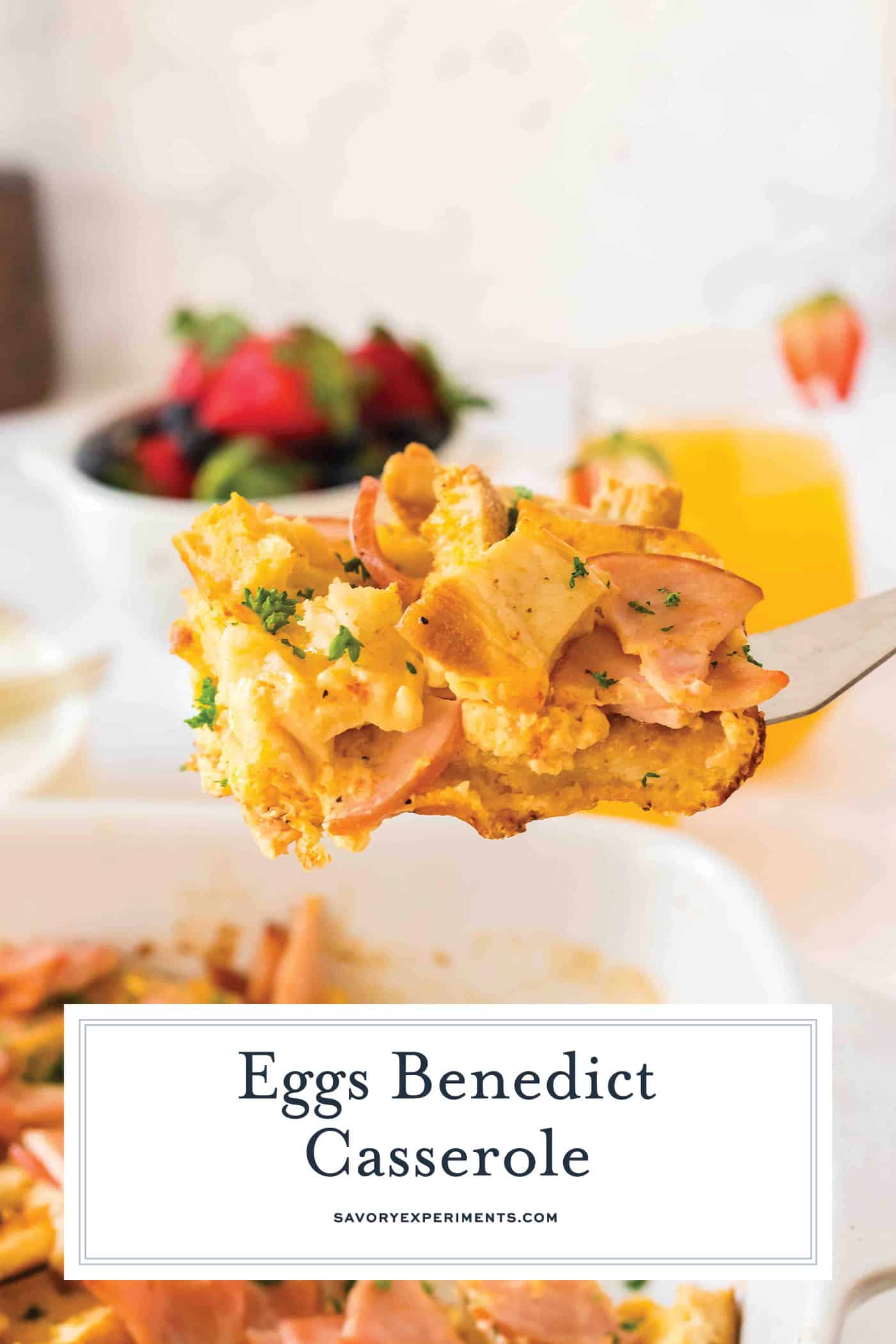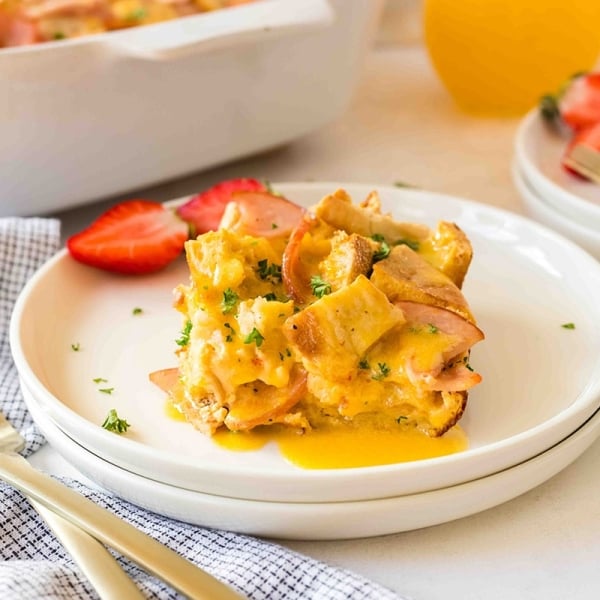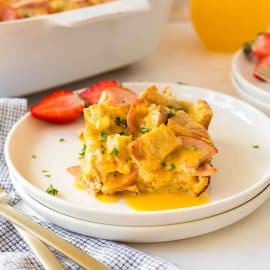 Eggs Benedict Casserole
This EASY Eggs Benedict Casserole combines all of those flavors of a traditional eggs Benedict in an easy make-ahead recipe!
Instructions
Casserole:
Coat a 9×13 casserole dish with cooking spray. Set aside.

Place the cut English muffins and Canadian bacon in two layers in the prepared pan.

In a large bowl, whisk together the eggs until beaten, then add the cream, milk, and spices until combined.

Pour the egg mixture over the English muffins and Canadian bacon.

Cover with foil and chill at least 4 hours, however overnight is best.

When ready to bake the casserole, preheat the oven to 375°F.

Bake, covered, for 30 minutes. Uncover and bake an additional 15-20 minutes or until the middle is set and not jiggly.
Hollandaise Sauce:
While the casserole is baking, make the hollandaise sauce.

In a blender, add the egg yolks, mustard, and lemon juice. Blend until light in color and thoroughly mixed.

With the blender on and the top hole open, drizzle in melted and slightly warm butter. Drizzle and blend until sauce is thickened.

Remove and keep warm in a water bath until ready to serve.

When the casserole is done, remove and let cool for 5-10 minutes.

Cut and drizzle with hollandaise sauce and garnish with parsley, if desired.

If you've tried this recipe, come back and let us know how it was in the comments or star ratings.
Nutrition
Calories:
350
kcal
,
Carbohydrates:
16
g
,
Protein:
14
g
,
Fat:
26
g
,
Saturated Fat:
14
g
,
Polyunsaturated Fat:
2
g
,
Monounsaturated Fat:
8
g
,
Trans Fat:
0.3
g
,
Cholesterol:
243
mg
,
Sodium:
704
mg
,
Potassium:
235
mg
,
Fiber:
1
g
,
Sugar:
2
g
,
Vitamin A:
977
IU
,
Vitamin C:
1
mg
,
Calcium:
78
mg
,
Iron:
1
mg