Regardless of what you call them, Cherry Bars, Cherry Pie Bars, Cherry Cobbler Squares or anything between, this easy dessert recipe helps me channel spring and summer vibes!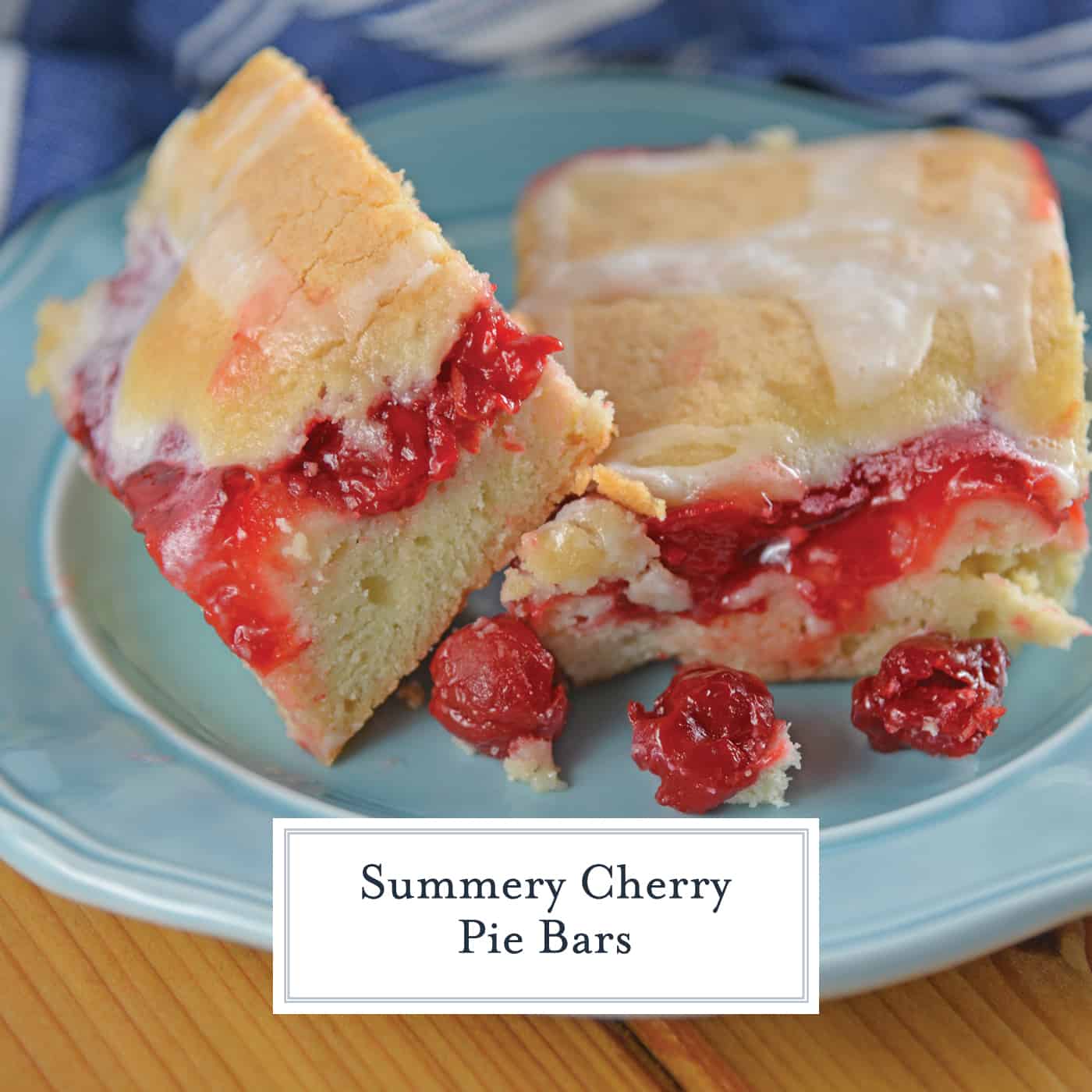 Cherry Bars are the best mix of cherry pie, bars and hand pies. Easy to make and easy to eat, they are the ultimate easy dessert recipe!
My neighbor, Jennifer, sometimes brings me her Pinterest trials (and errors). Today's were these fabulous Cherry Bars!
She knows how obsessed I am with cherries during the season. I joke that I need a line item in my budget just for cherries and probably eat about a pound per day. I have the best intentions to use them recipes, but they never seem to last long enough to make it there.
So I feed my cherry cravings throughout the year in other ways, using cherry pie filling or frozen cherries. If you want to share in my unnatural cherry issues, here are a few fun facts I like to share with my friends.
Cherries are also known as drupes or stone fruits. They are related to peaches, nectarines and other fruit with a pit.
Cherries can be dated back to Asia in the years before Christ. They are seen as a delicacy in Ancient Rome.
January 3rd is National Chocolate Covered Cherry Day, February 22nd is National Cherry Pie Day, April 23rd is National Cherry Cheesecake Day, May 17th is National Cherry Cobbler Day, May 26th is National Cherry Dessert Day, August 28th is National Cherry Turnover Day, September 24th is National Cherries Jubilee Day.
There are 1,000+ varieties of cherries, however only about 10 are produced commercially.
There are about 44 cherries in one pound.
A mature cherry tree will produce approximately 800 cherries.
Peak cherry season is June.
Cherry Pie Bars were originally published in Taste of Home magazine, I also found the same recipe on Julie's Eats and Treats and the Recipe Critic, so I am honestly not sure who to give proper credit to.
PRO TIP: Don't overmix the batter. This can cause it to dry out.
What I do know it that they were so darn good I made them the next week and wanted to share with all of my foodie friends! That is all of you…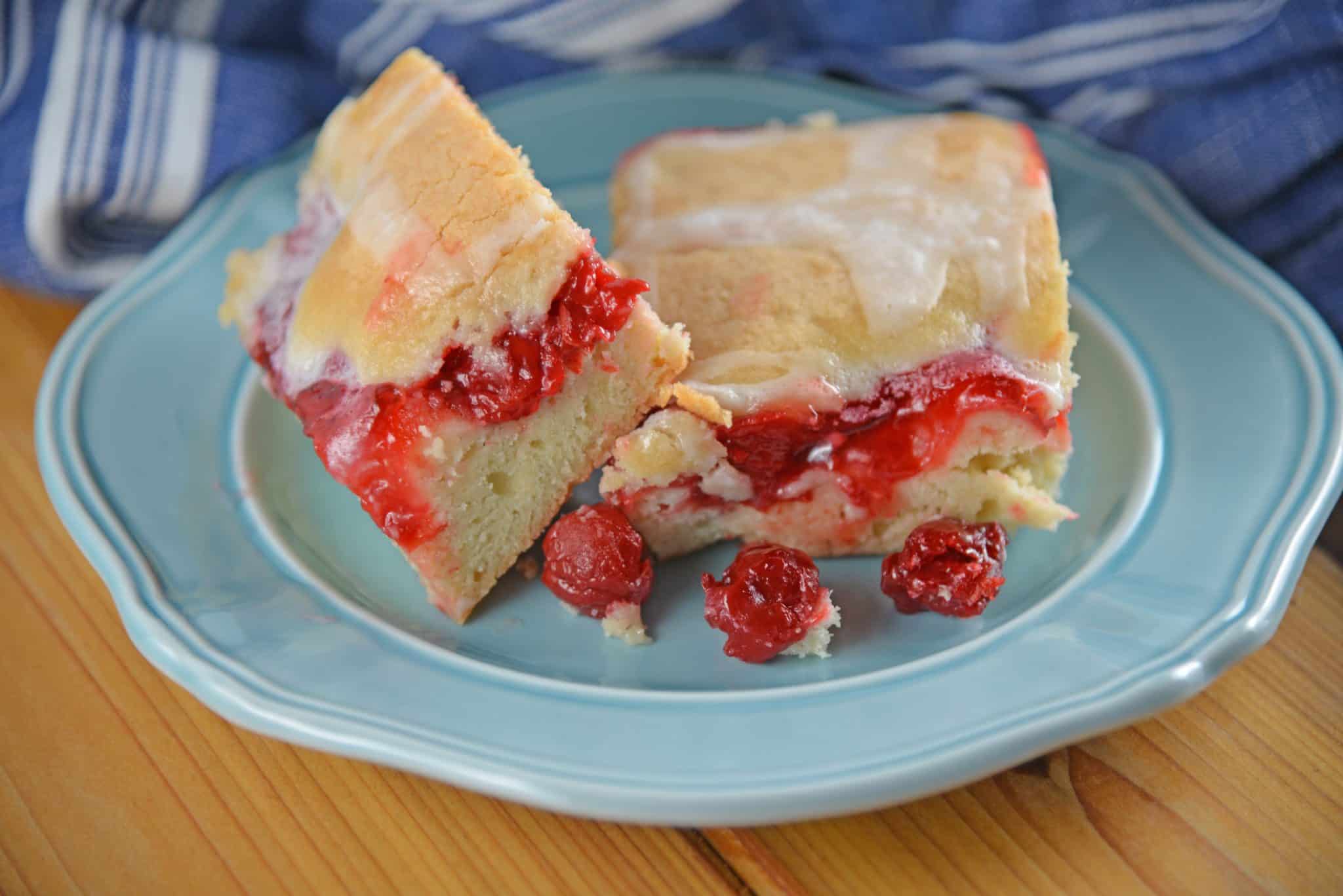 Jennifer used 2 cans of cherry filling for her Cherry Bars, as the Recipe Critic suggests, however doing this created a cobbler, too moist and heavy for a bar. They were no longer finger food.
I decided to omit one can of cherry pie filling, making them a little more finger-friendly. The dough for the bars is cobbler-y (yes, I made that word up) and light enough to almost be shortbread, but sweet enough to remind you it is still a dessert.
Due to a change in the cherry pie filling, the cooking time also needed to be adjusted. I also decided to leave out the additional extracts in the powdered sugar icing.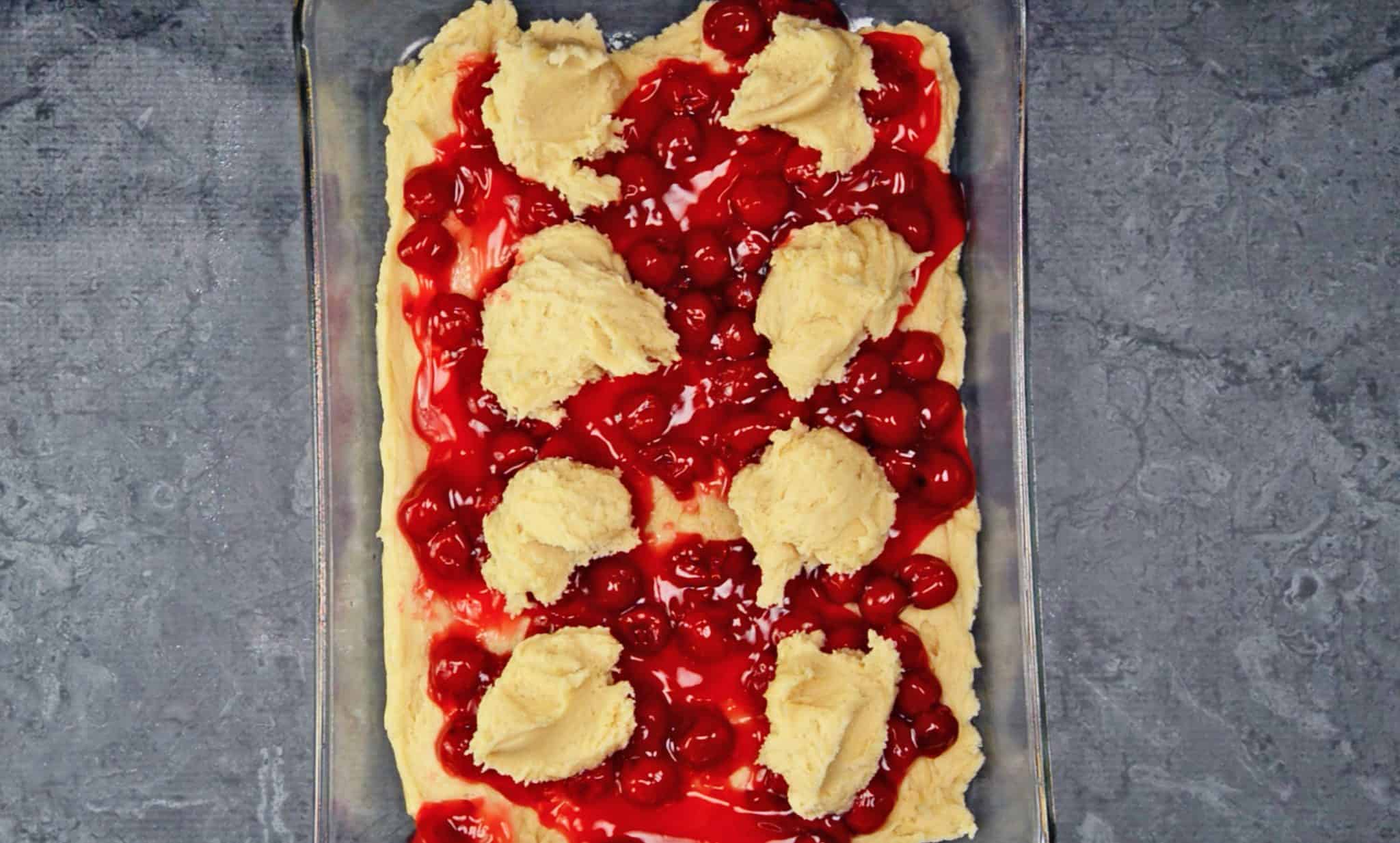 I found the flavors to be a little too overpowering to the delicious cherries. You can certianly add vanilla or almond extract, should you want those flavors. However, I did increase these flavors in the batter itself.
PRO TIP: Always preheat your oven while baking and don't open it while cooking. You can lose up to 100 degrees for every 2 seconds it is open which can totally ruin a baked dessert!
If you prefer to make your own cherry pie filling instead of using canned cherry pie filling, be my guest! Simply combine 4 cups tart cherries (frozen or fresh) with 1 cup sugar and 1/4 cup cornstarch in a medium saucepan. Heat over medium heat until well combined and syrupy.
Serve up your Cherry Pie Bars with a big ole scoop of Vanilla Ice Cream and fresh whipped cream!
And if you liked this recipe, here are a few more cherry recipes you might enjoy. Scroll on down for even more easy dessert ideas!
Old Fashioned Butter Tarts
Tools for making Cherry Pie Bars:
Cherry Pitter– I used to think this was an excessive gadget I didn't need. I was wrong. Only needed if you are making homemade cherry pie filling.
9 x 13 Glass Baking Dish– an absolute essential for any kitchen! Use it for baking, marinating or storing. Get one with a lid, you'll thank me later.
Stand Mixer– I lived for a long time without one. My life was changed when I finally bit the bullet and bought one. Just do it and thank yourself later.
Sifter– Either sift or whisk your dry ingredients before incorporating, it prevents clumps and the tendency to overmix, which leads to tough and gummy desserts.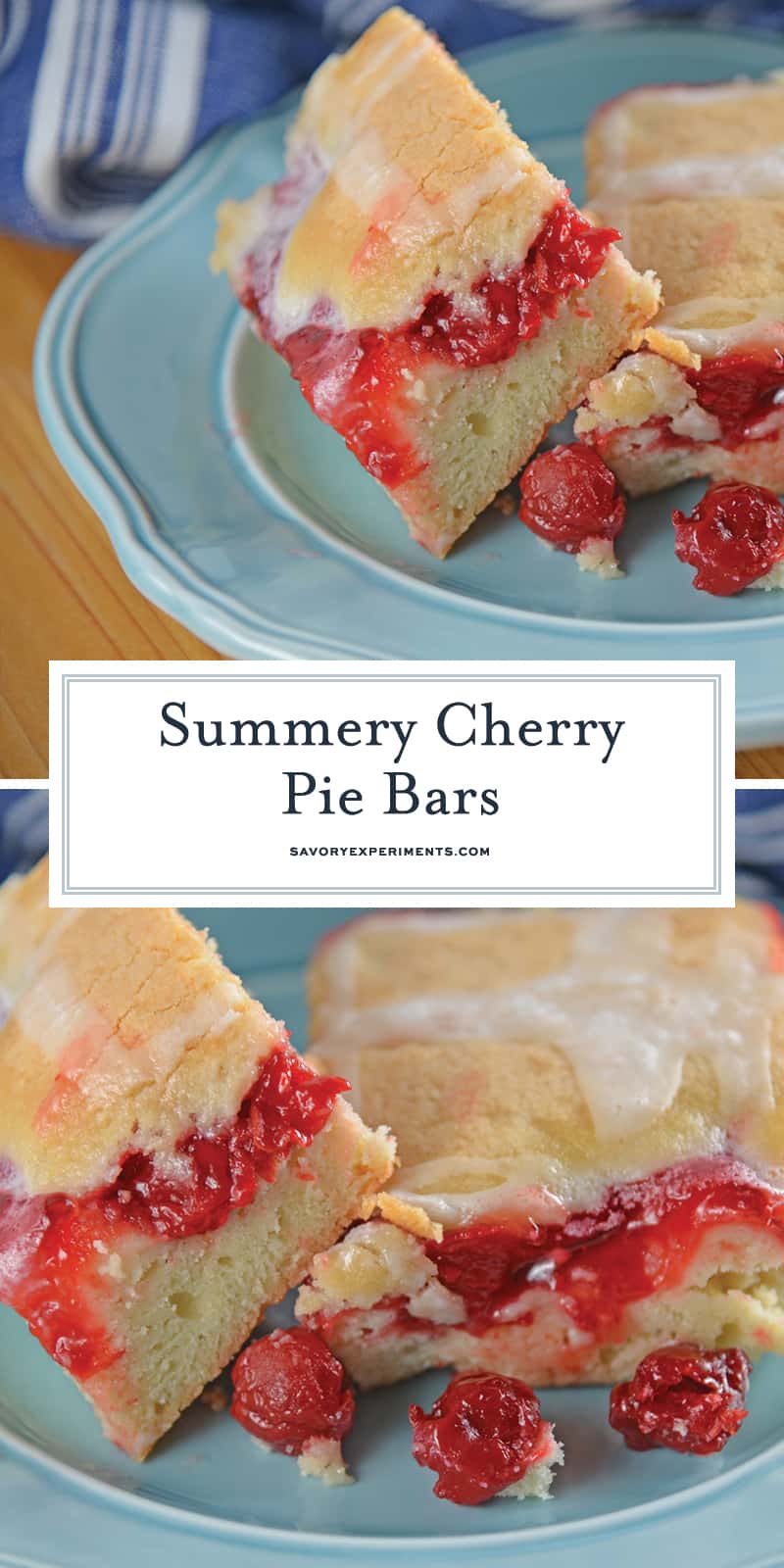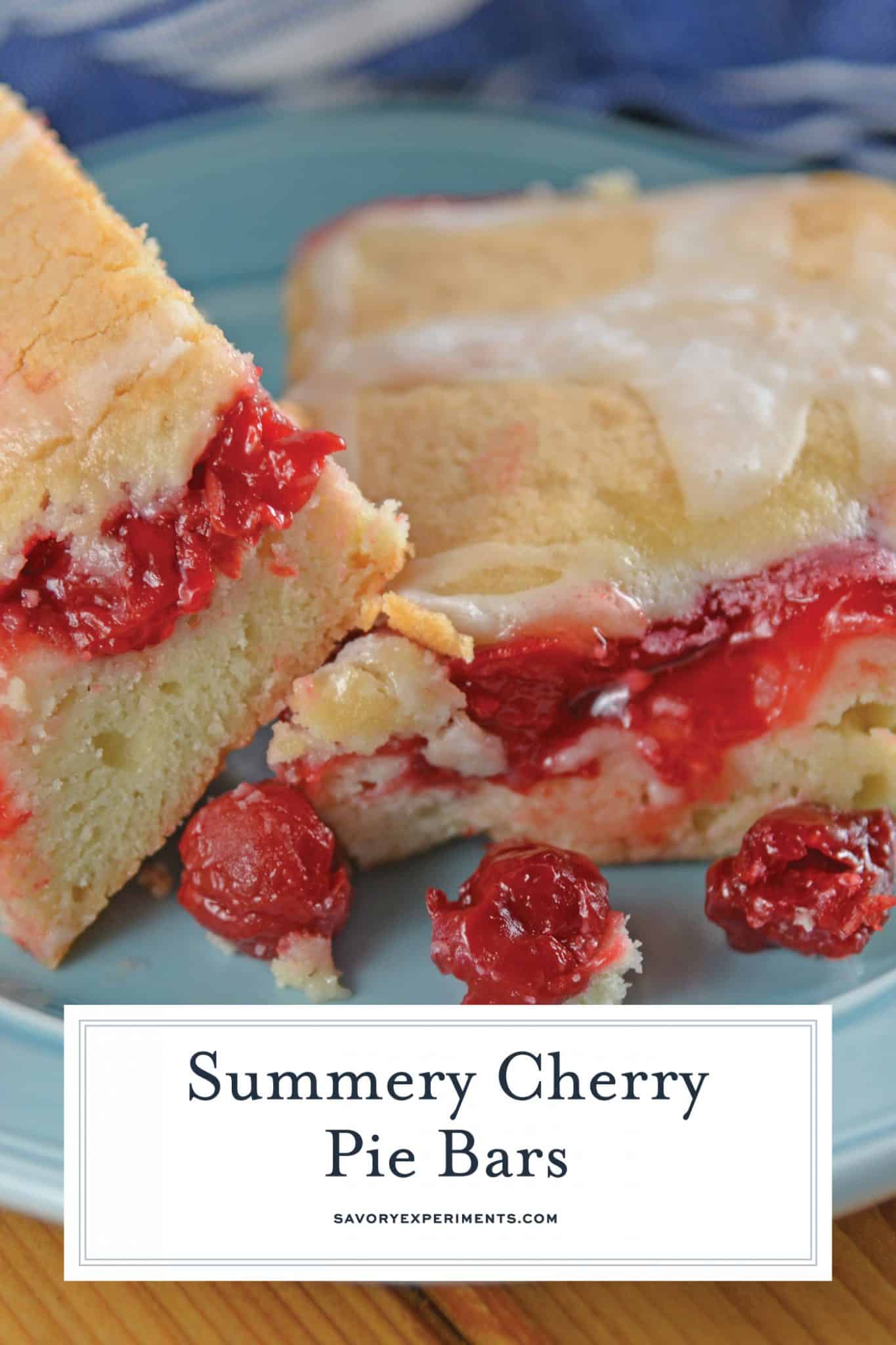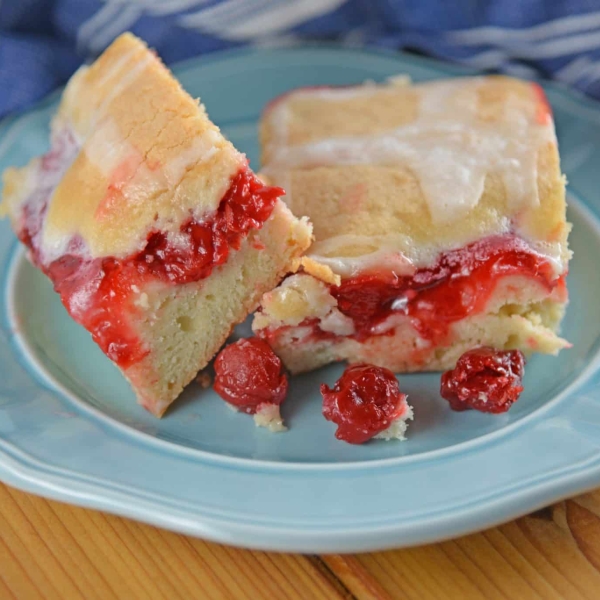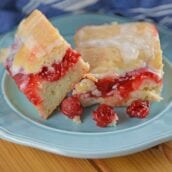 Cherry Bar Recipe
Cherry Pie Bars are the best mix of cherry pie, bars and hand pies. Easy to make and easy to eat, they are the ultimate easy dessert recipe!
Instructions
Preheat oven to 350 degrees.

Cream butter and sugar in a stand mixer fitted with a paddle attachment or a large mixing bowl with electric hand mixer.

Add eggs, one at a time, until combined. Add 1 teaspoon vanilla and 1/4 teaspoon almond extract, blend.

In a separate bowl, whisk or sift together flour and salt. Slowly add dry mixture to wet mixture until just combined, do not over mix.

Lightly coat a 9×13 baking dish with cooking spray. Spread 3 cups batter into the bottom of the baking dish. Top with entire can of cherries. Spoon dollops of remaining batter over top of the cherries. There should be a good bit and it will cover much of the dish.

Bake for 45 minutes, or until it passes the toothpick test. Allow to cool for 30 minutes.

In a small bowl, whisk together powdered sugar and milk plus remaining vanilla and almond extract. Drizzle over Cherry Cobbler Squares.

Cut into 16 equal squares and serve. Enjoy your Cherry Bars!

If you tried this recipe, come back and let us know how they were!
Nutrition
Calories:
374
kcal
,
Carbohydrates:
61
g
,
Protein:
4
g
,
Fat:
12
g
,
Saturated Fat:
7
g
,
Cholesterol:
71
mg
,
Sodium:
270
mg
,
Potassium:
85
mg
,
Sugar:
32
g
,
Vitamin A:
490
IU
,
Vitamin C:
1.3
mg
,
Calcium:
19
mg
,
Iron:
1.4
mg