Cherry Dumpling Casserole is a quick and tasty dessert recipe made with only a handful of ingredients. This easy crescent roll dumplings hack is a simple way to make a dessert that the whole family will love, but also perfect for parties and large groups.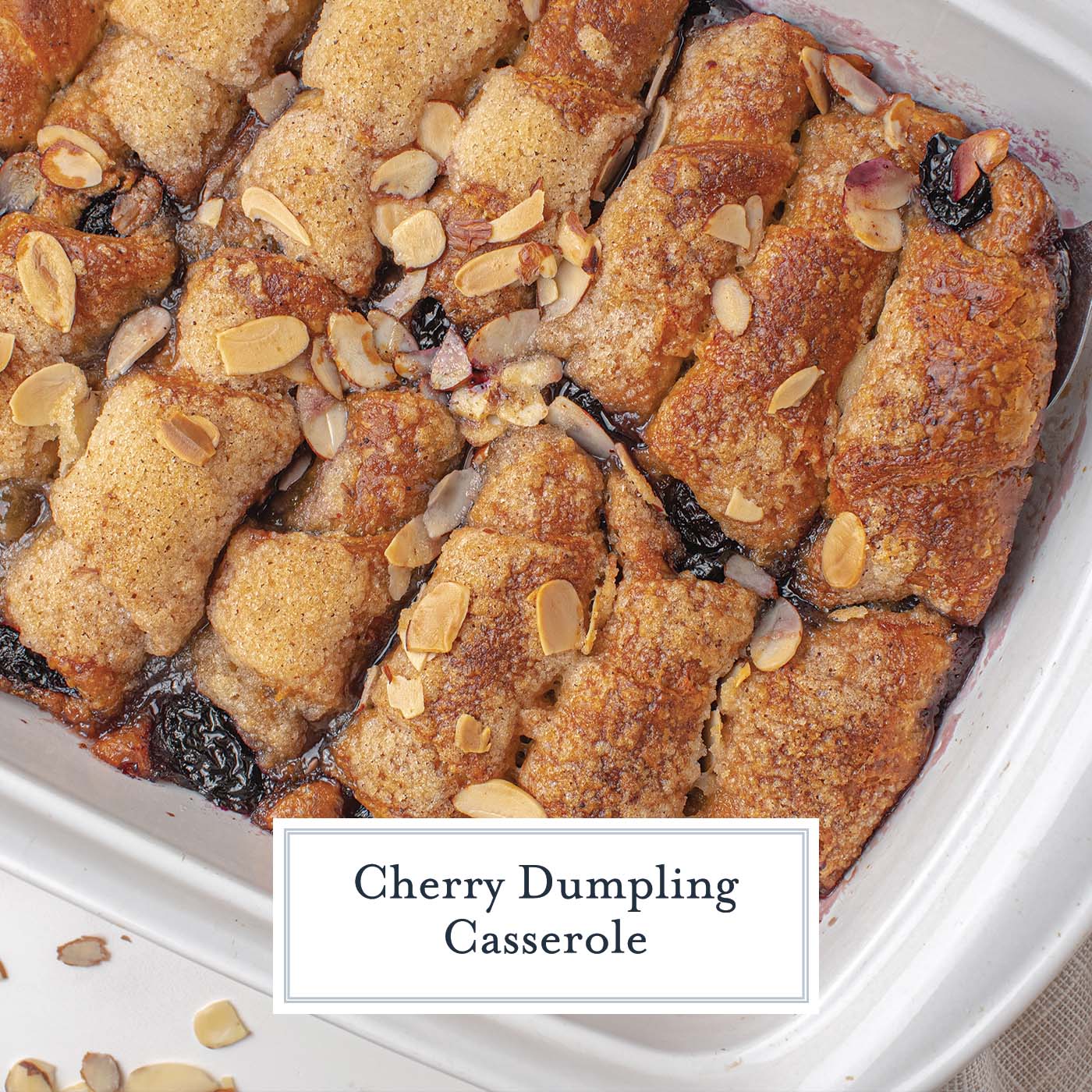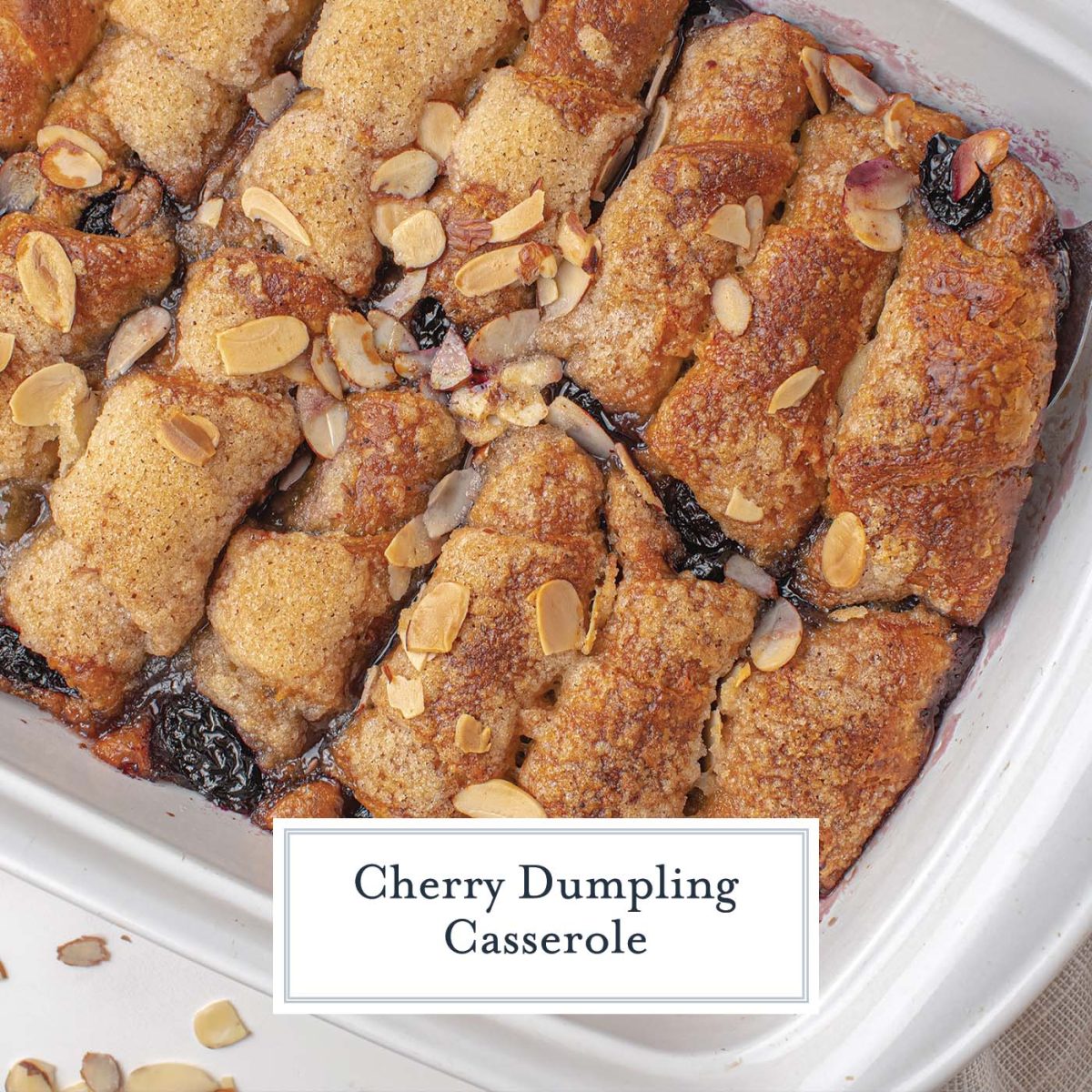 Cherry Dumpling Casserole is kind of a casserole, kind of dumplings, kind of a cherry cobbler recipe, kind of a dump cake but not really any of those. If we are getting technical here, they aren't really even dumplings!
More of a kitchen hack dumplings with minimal effort. The hardest part is waiting for it to get finished baking because the aroma alone will have you drooling.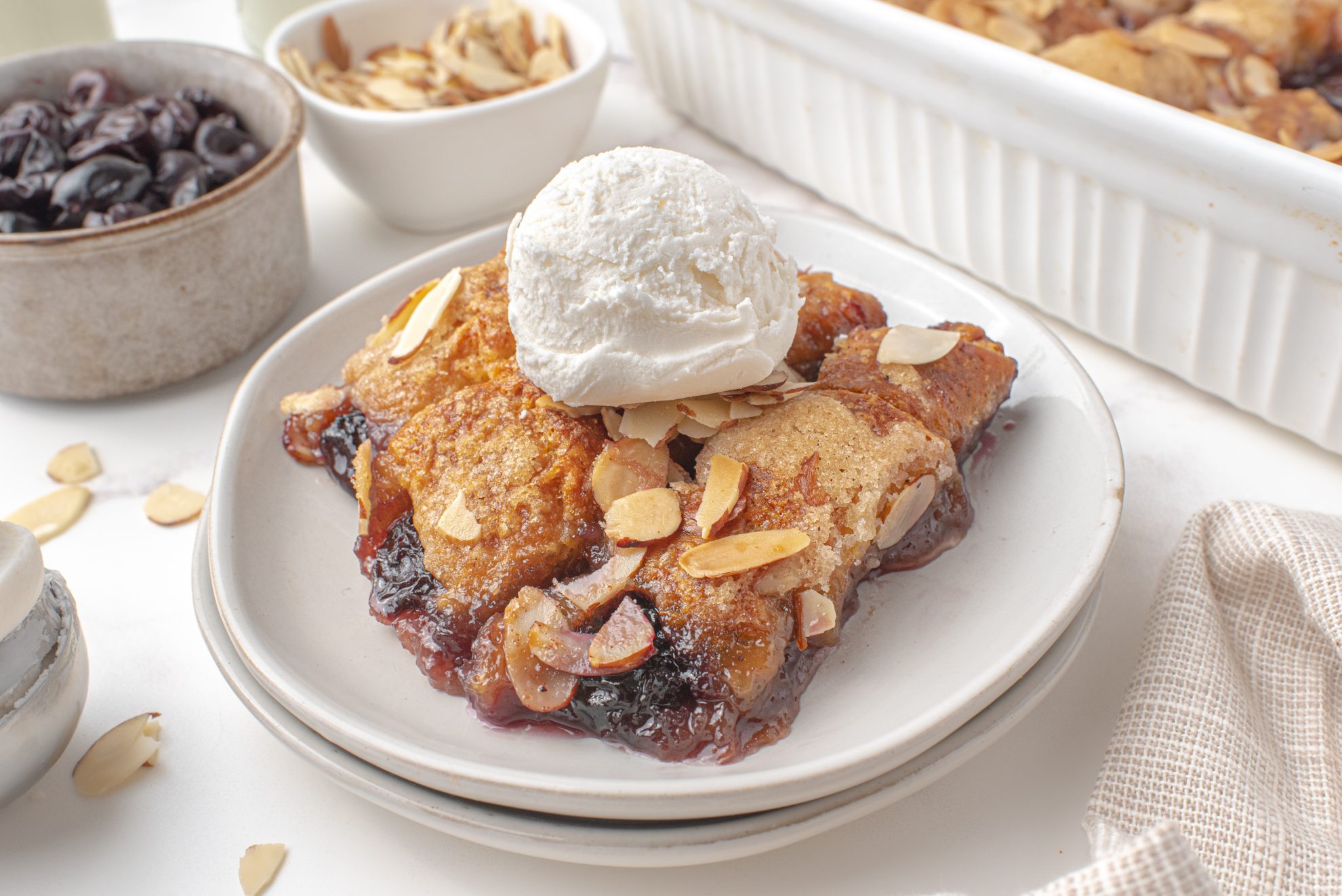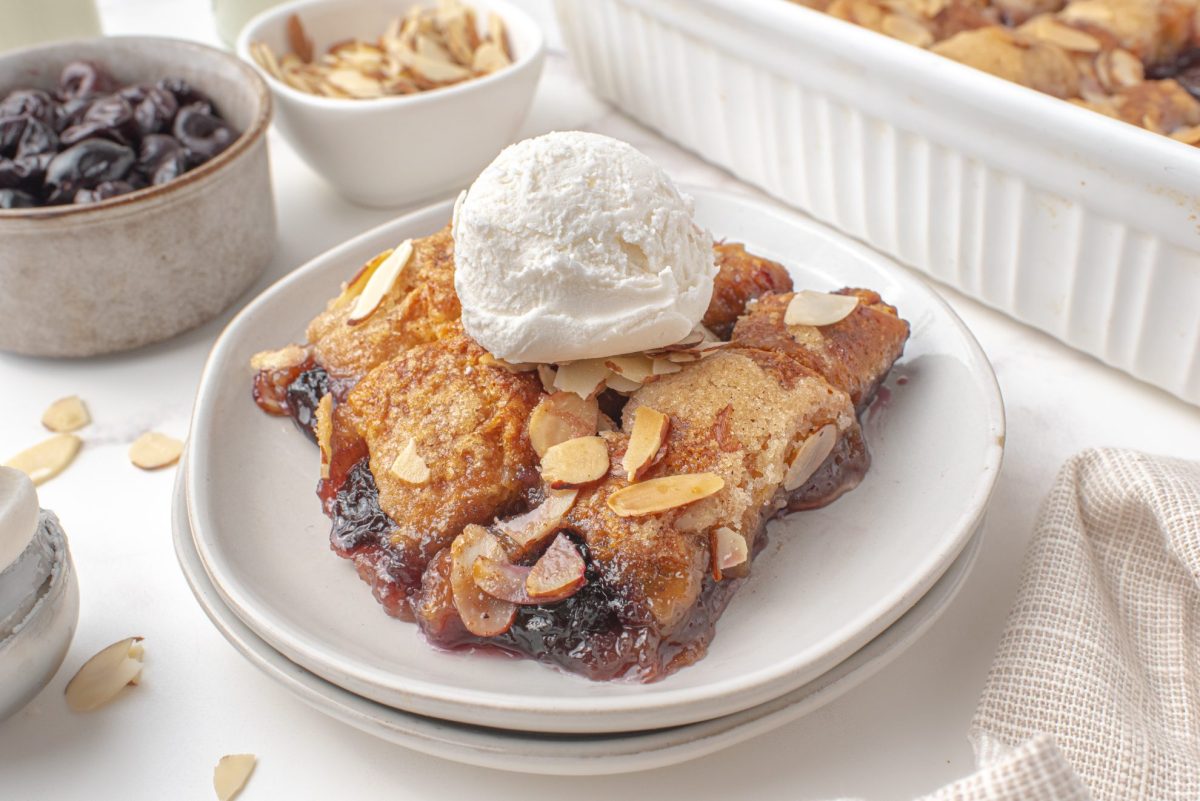 Cherry Dumplings
I thought of this recipe after seeing Ree Drummond (The Pioneer Woman) make it with peaches.. or maybe apples. Seeing that it was the warmer months and I am OBSESSED with cherries at the moment (despite the fact that they are killing my bank account) I decided to make mine with cherries.
While I try to stay away from processed foods, I crumble when it comes to refrigerated biscuits, crescent rolls or pie crusts. The benefits of buying these pre-made far outweighs making them scratch. This coming from a woman who makes her own mayonnaise and butter. What can I say, I am a weirdo!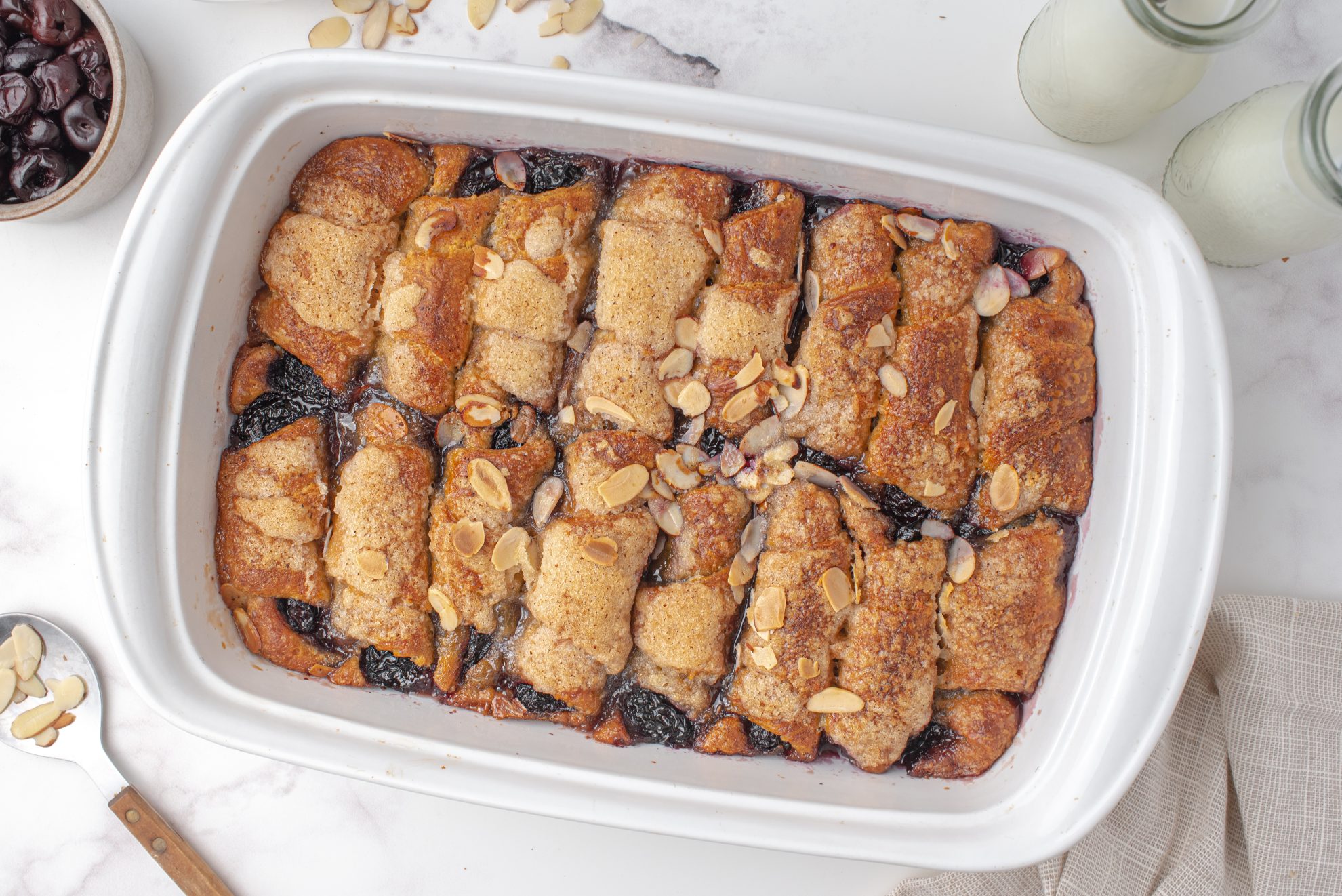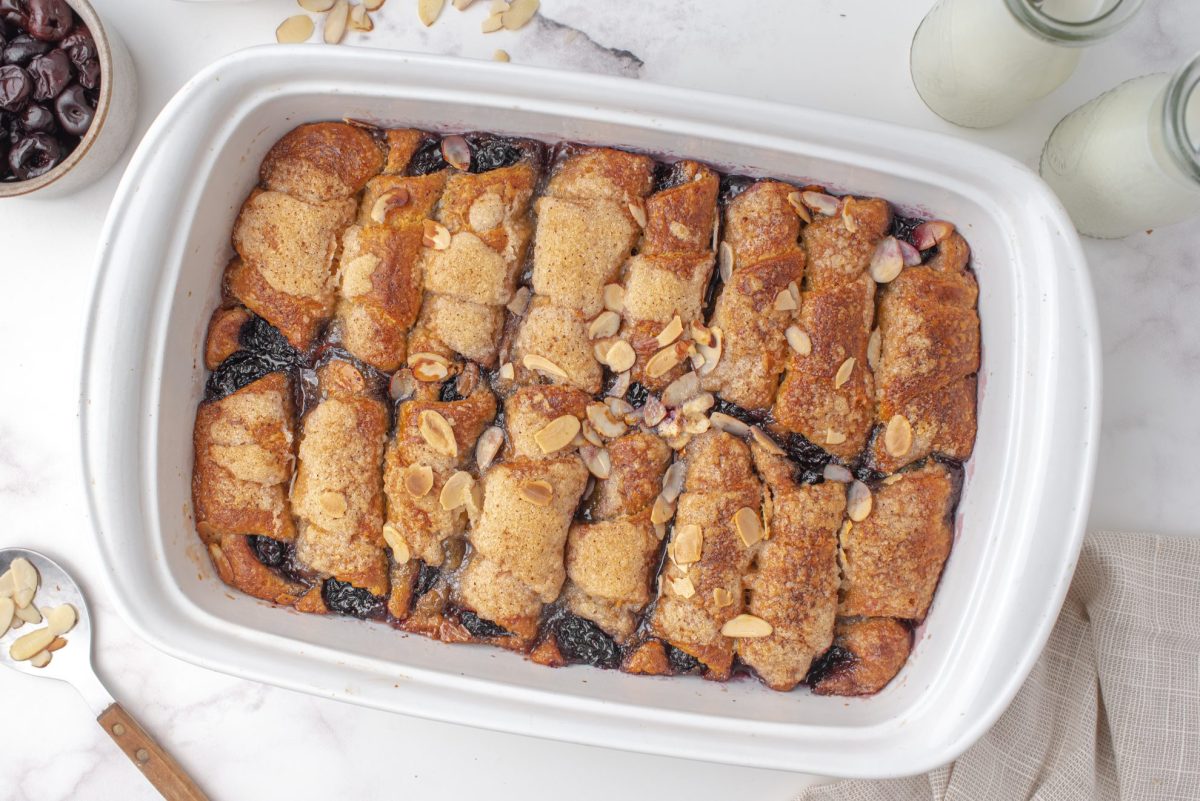 No matter how many times I make dough for these, it never tastes as buttery and delicious as the pre-made kind. Someday I will visit France and have a chef show me "the right way" and then I will never look back.
Ingredients
Cherries: Fresh cherries are the best option, but make sure they are pitted. You can also use frozen if you need to, just make sure they are completely thawed and drained first. Some recipes call for cherry pie filling, but I much prefer using whole cherries- sweet or tart.
Refrigerated croissant dough: Of course, you can make your own, but I love the ease and simplicity that pre-made dough provides. And it always tastes just as buttery and flaky as the real deal anyways, with tons of less work!
Butter: As if the buttery croissant dough wasn't enough, we're going to add even more butter. The sugary butter mix will form a candy coating on top of your dumplings as the pastry bakes.
Sugar: We need a little bit of sweet to balance out the tart cherries (even sweet cherries need to balance). White granulated sugar is an easy way to do just that.
Almond extract: The flavors of cherry and almond are so complementary, this extract really sends this casserole over the top. However, you can use vanilla extract in its place if that's all you have on hand.
Lemon-lime soda: Lemon lime soda gives it a little pizazz and prevents the whole shebang from drying out. Sprite is the typical one.
Ground nutmeg: My secret ingredient- a pinch of nutmeg! The slightly nutty and woody flavor of the nutmeg is just the thing to bring this whole Charry Dumpling Casserole full circle.
Sliced almonds: This goes along with my cherry and almond flavor combination theory. Not only do sliced almonds provide a nice flavor, but they also give the perfect little crunch to your casserole. Slivered works too, but sliced are better texturally.
Cooking spray: A good spritz of cooking spray helps to ensure that all of the deliciousness of the casserole ends up on your plate and not stuck to the side of your casserole dish. You can also line the pan with aluminum foil.
Vanilla bean ice cream: This is, of course, optional- but in my book it's almost necessary. There is nothing better than a bubbly, hot slice of Cherry Dumpling Casserole served alongside a big scoop of melty, creamy vanilla ice cream!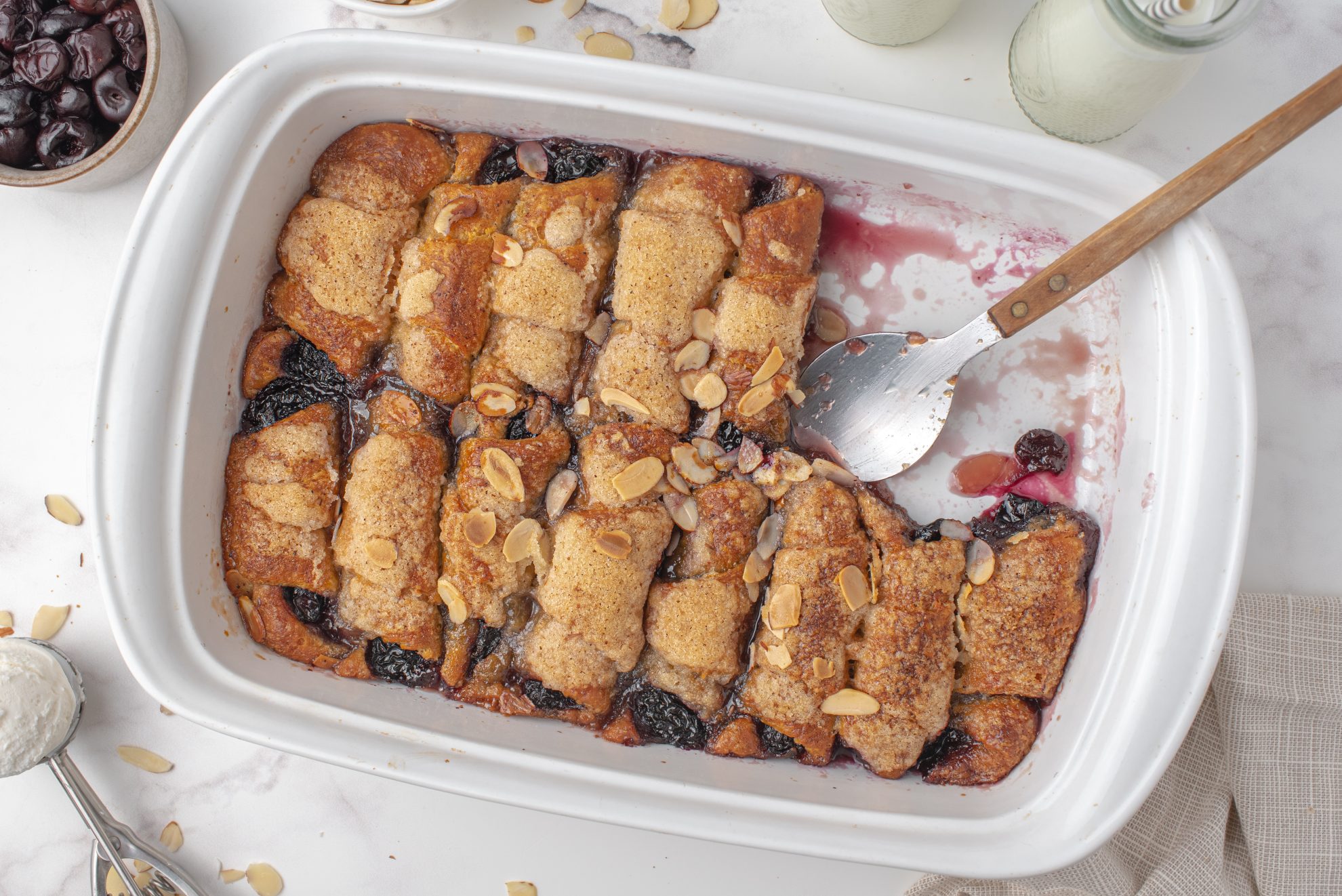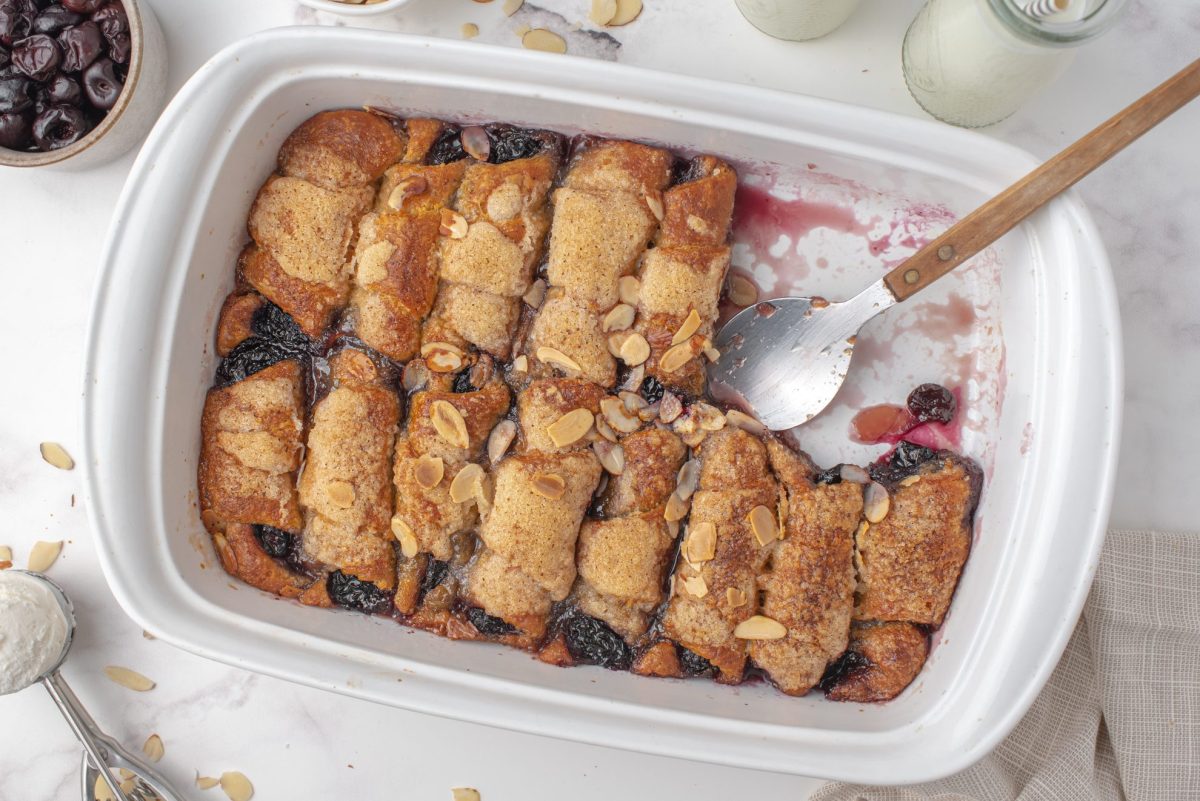 How to Make Cherry Dumpling Casserole
Prepare the oven. Start by preheating your oven and spraying your baking sheet with cooking spray.
Make the dumplings. Place cherries onto each refrigerator croissant roll and roll them up like you were making the actual rolls. The amount you need will vary with the size of your cherries. Line 8 rolls up on each side of the baking dish.
Mix the ingredients. In a large saucepan, melt the butter, almond extract and sugar over medium high heat, stirring until all wet, but still grainy. Pour evenly over the cherry dumplings.
Add toppings. Next, pour the lemon-lime soda around cherry dumplings and sprinkle with nutmeg and sliced almonds.

Bake. Bake until the candy coating sets and they are all bubbly. Remove and allow to cool for 10 minutes before serving your cherry dumplings recipe with a large scoop of vanilla ice cream. If you don't want the natural syrups, serve with a slotted spoon.
Storage and Freezing
If you have leftovers, you can keep them in an airtight container for about three days in the refrigerator. Keep in mind they will get quite soggy.
When you're ready to enjoy them again, simply reheat in the oven until warmed all the way through. If you'd like to learn more about how to freeze casseroles, check out my post about it!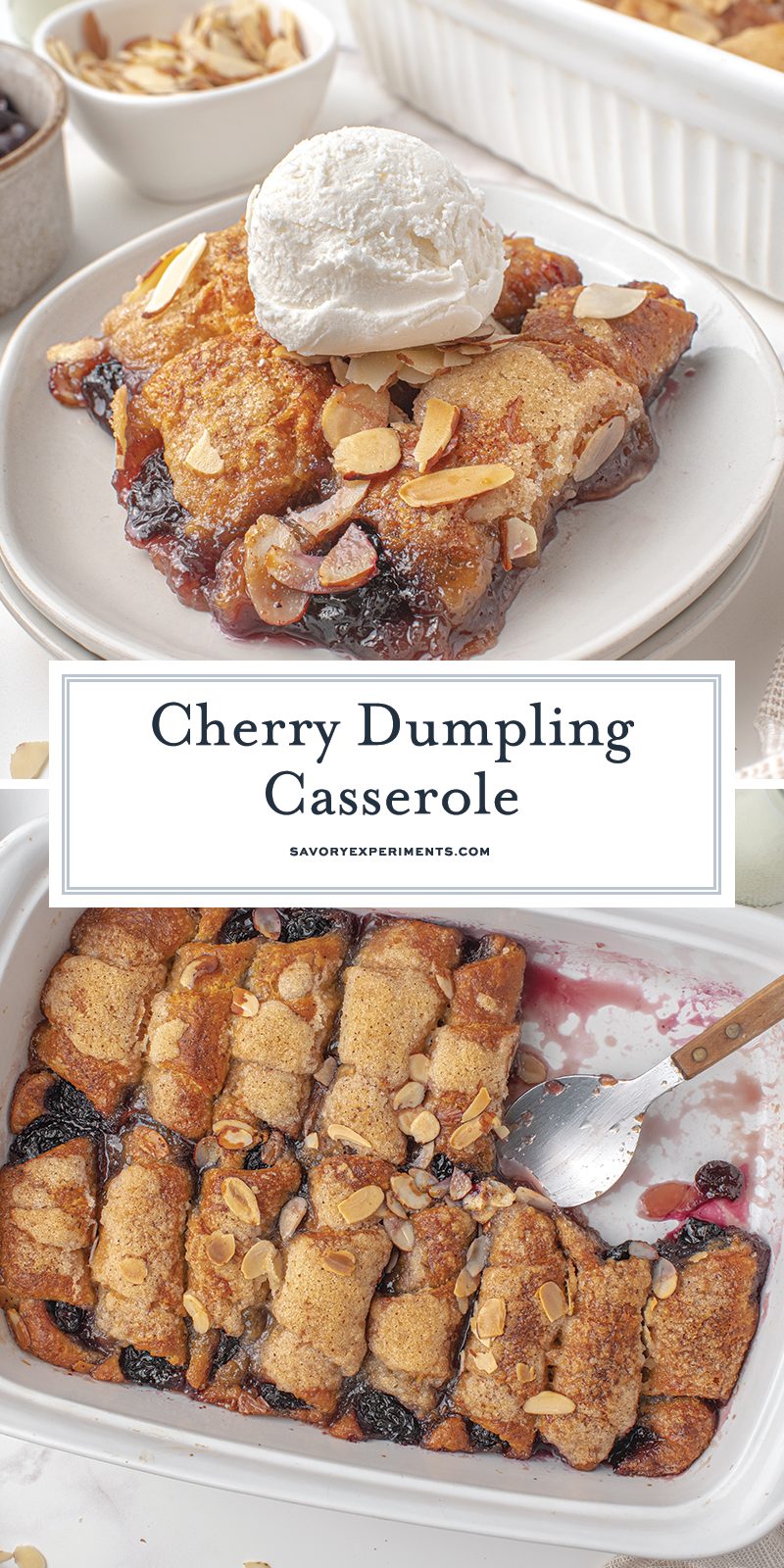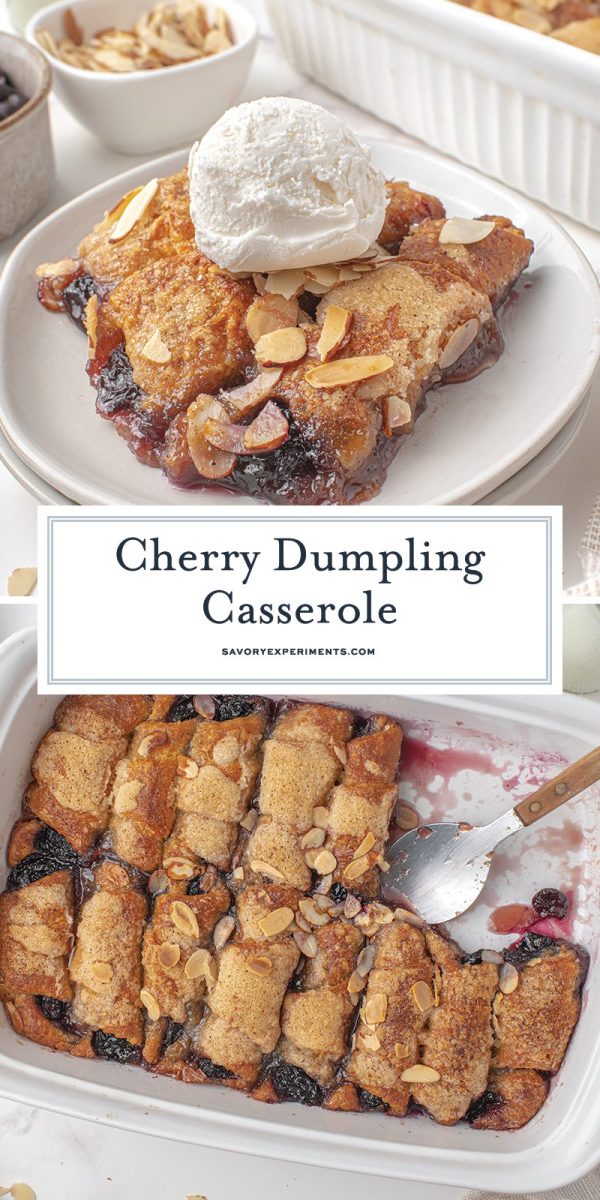 More summer dessert recipes: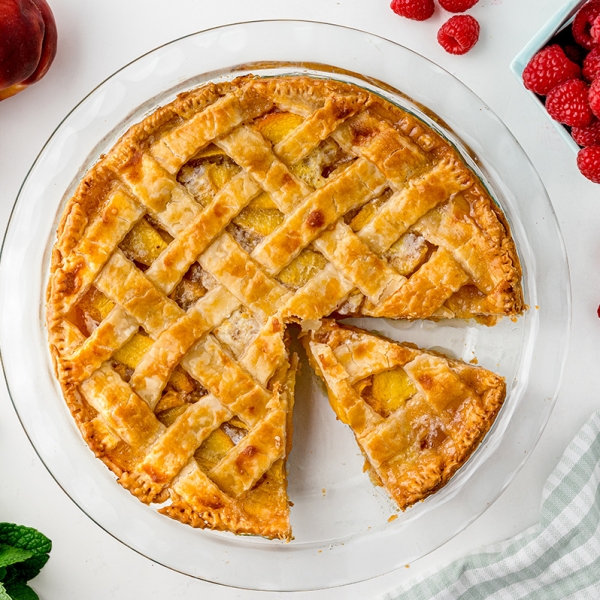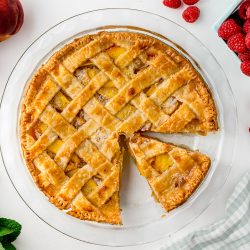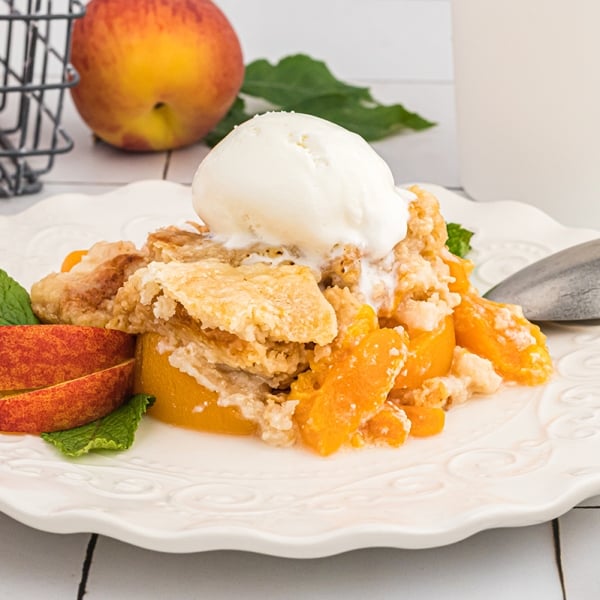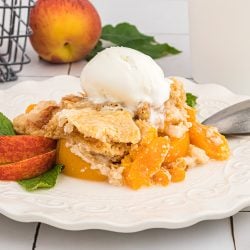 Peach Dump Cake
Quick and easy, this peach dump cake recipe uses only 4 ingredients and is ready in 40 minutes using zero mixing bowls.
See The Recipe!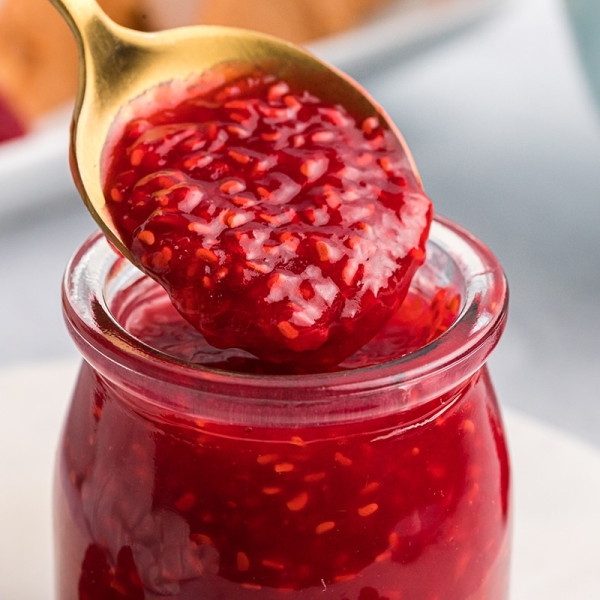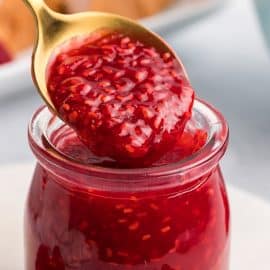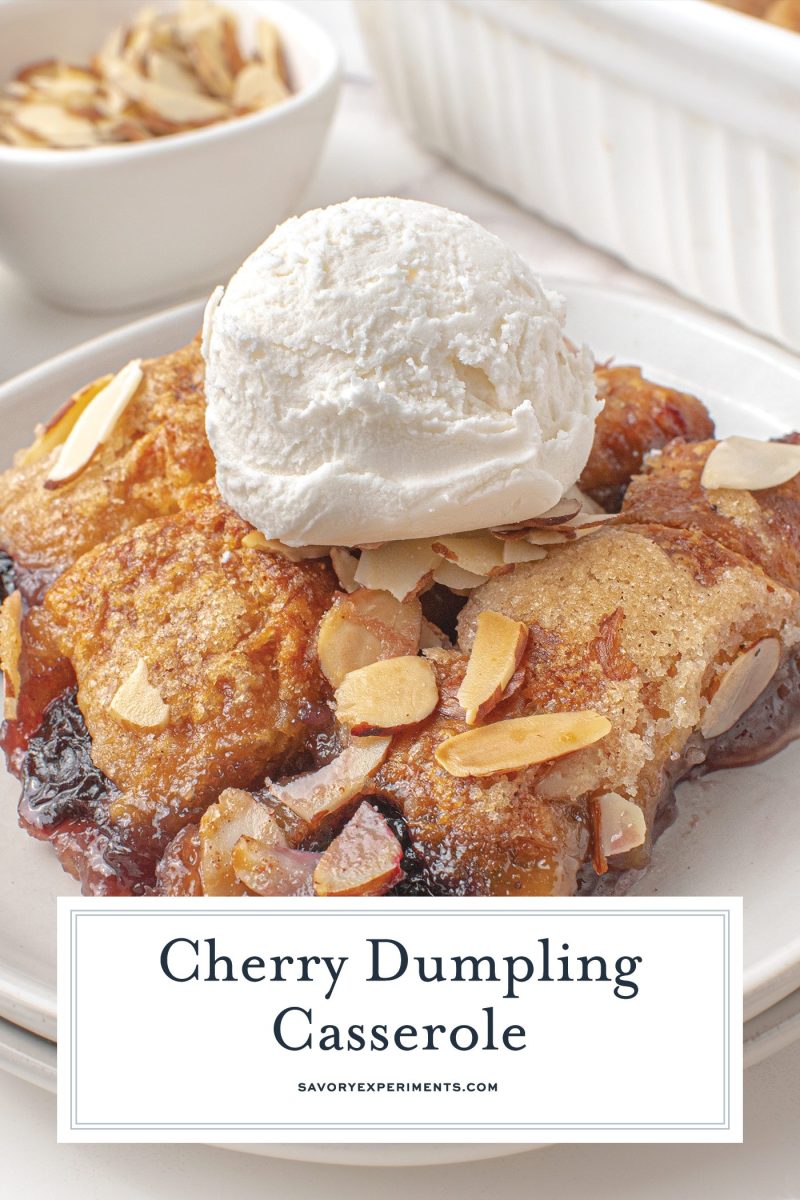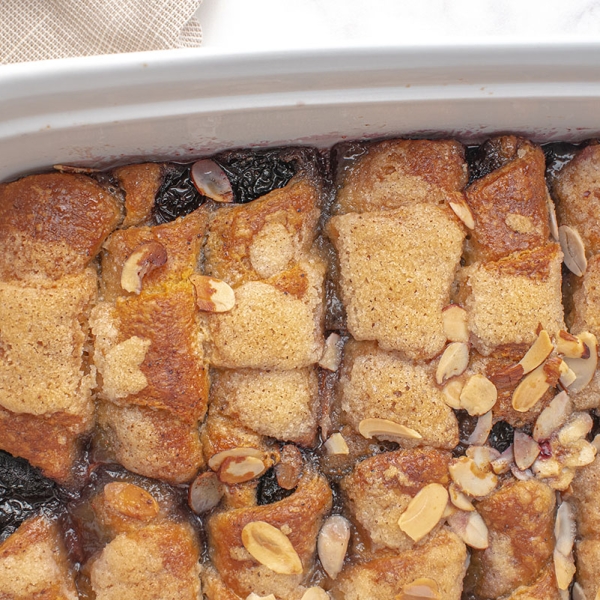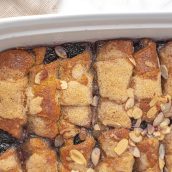 Cherry Dumpling Casserole
Cherry Dumpling Casserole is a great way to use cherries in an easy dessert recipe. Easy to make and delicious to eat, what could be better?
Instructions
Preheat oven to 350 degrees.

Coat cooking spray on 9×13 pan.

Estimate 2-3 cherries per refrigerator croissant roll, roll up like you were making the actual rolls. Line them up 8 on each side.

In a small sauce pan, melt butter, add almond extract and then sugar, stirring until all wet, but still grainy.

Pour evenly over cherry dumplings.

Pour lemon-lime soda around cherry dumplings. Sprinkle with nutmeg and sliced almonds.

Bake for 40 minutes. Remove and allow to cool for 10 minutes before serving with a large scoop of vanilla ice cream.

If you've tried this recipe, come back and let us know how it was!
Nutrition
Calories:
174
kcal
,
Carbohydrates:
21
g
,
Fat:
10
g
,
Saturated Fat:
5
g
,
Cholesterol:
22
mg
,
Sodium:
105
mg
,
Potassium:
49
mg
,
Sugar:
19
g
,
Vitamin A:
275
IU
,
Vitamin C:
1.2
mg
,
Calcium:
8
mg
,
Iron:
0.1
mg