Creamy, delicious and topped with the perfect amount of crunch, you will want to add this Cheesy Squash Casserole to your regular dinner rotation!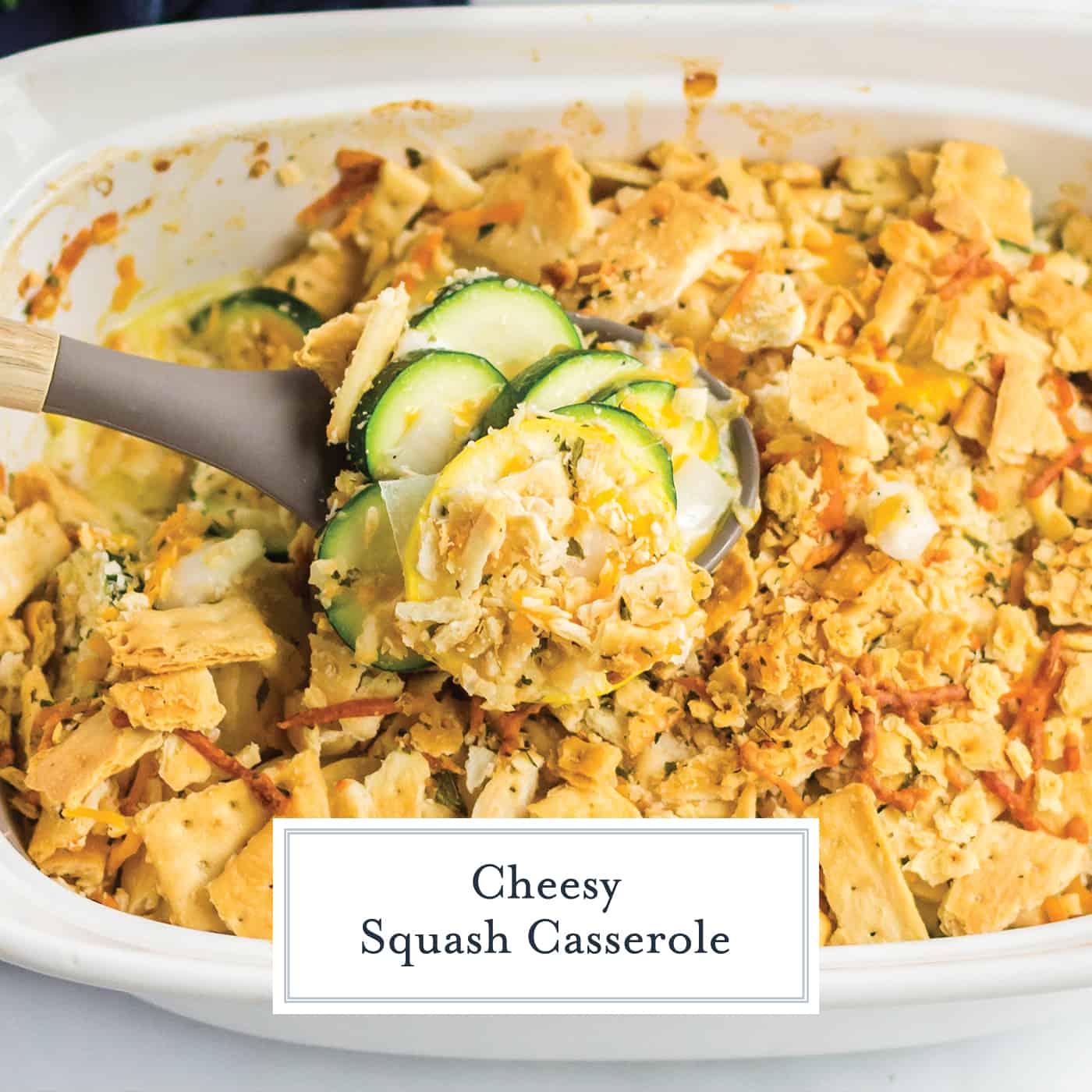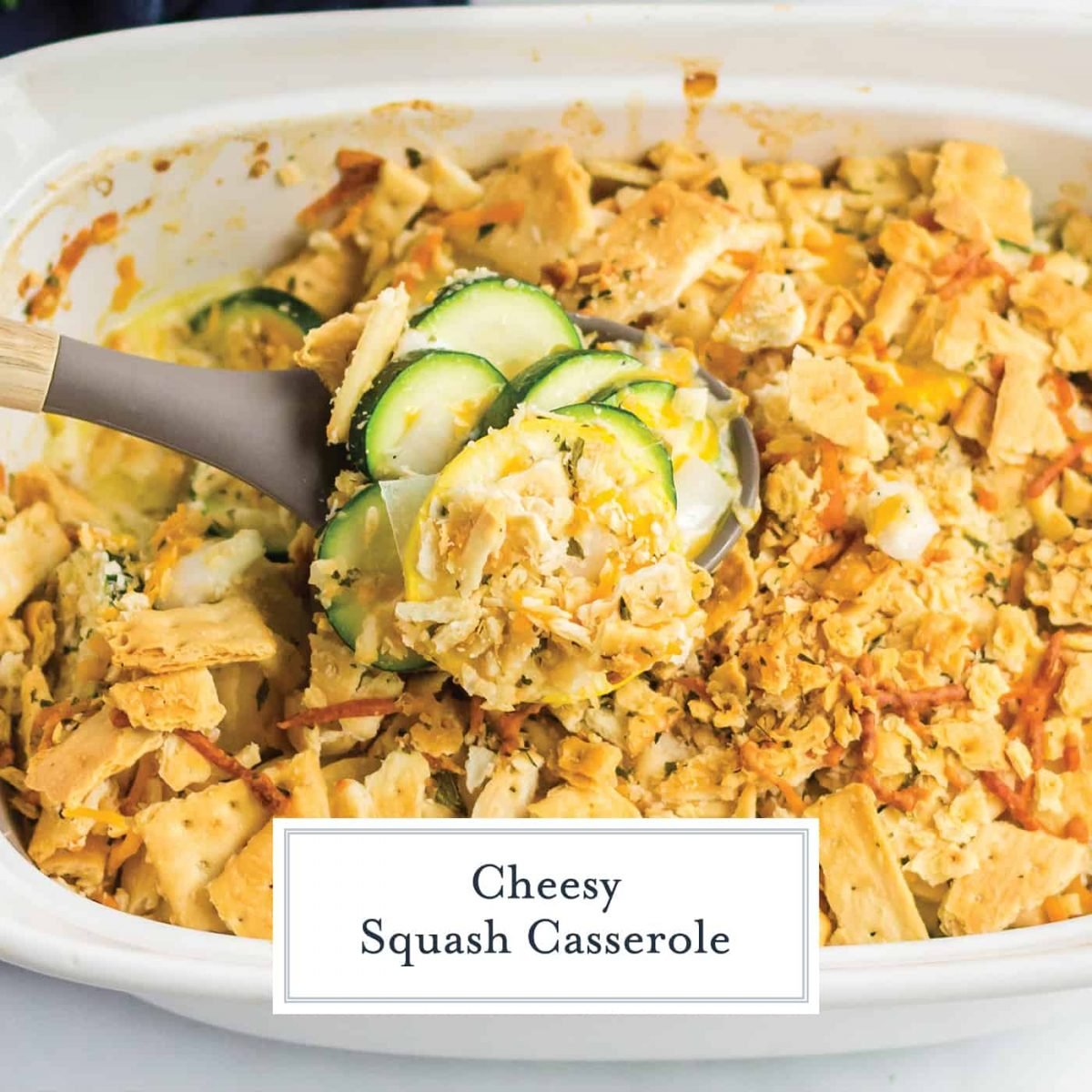 The layers of freshly sliced squash with cheese and a buttery cracker topping in this Cheesy Squash Casserole are the squash side dish you having been searching for!
An unlikely place, this recipe actually came to me at the gym. Actually, it might be a very likely place.
I can't be the only person that works out dreaming about food, can I? I don't hit the elliptical to be skinny, I jump on that thing so I don't feel as guilty about eating dessert!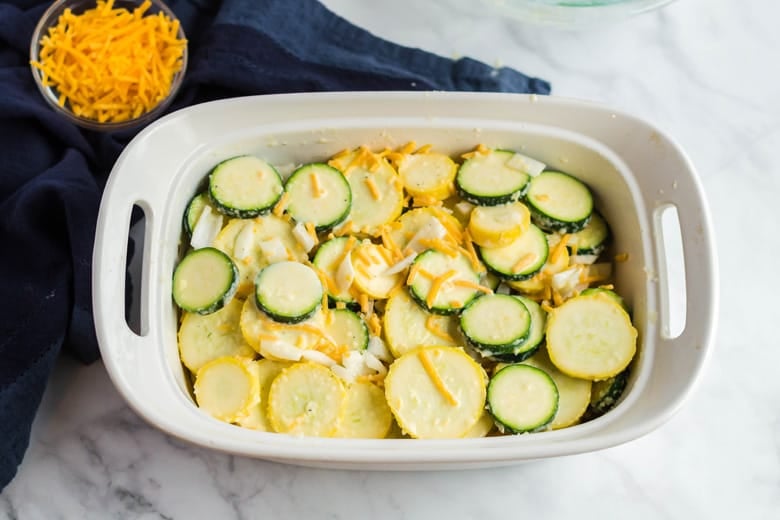 Today was a little different. I was actually chatting up a gym employee about making homemade pickles (sharing tips from my Honey Habanero Pickles) and he was looking for ways to use up the abundance of squash from his home garden.
PRO TIP: Buttery crackers can be any type of buttery cracker, such as Ritz or Club crackers.

Crackers don't have to be perfectly crushed into crumbs, in fact, I like it best when there are varying sizes to make it a little more interesting.
He told me he tried a cheesy squash casserole recipe he got from AllRecipes and loved it! The thing that really got me hooked was the buttery cracker topping.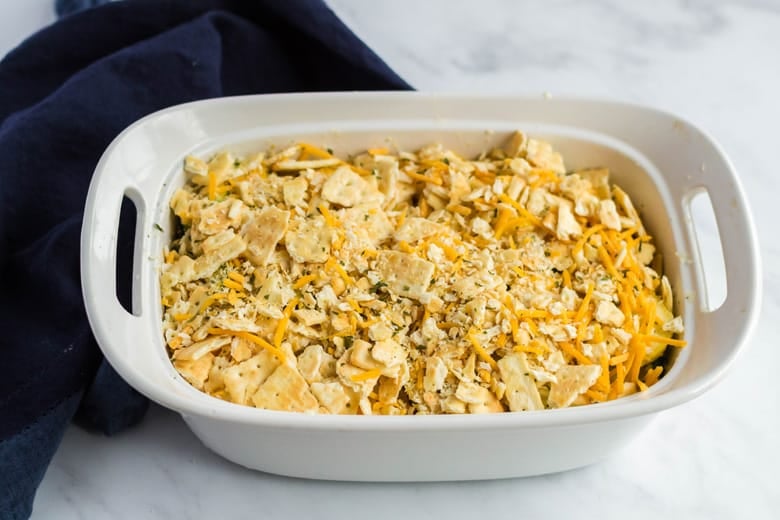 Texture is my thing. So is salt.
I love crunchy and savory. Crackers, cheese and squash! So I set out making my own version.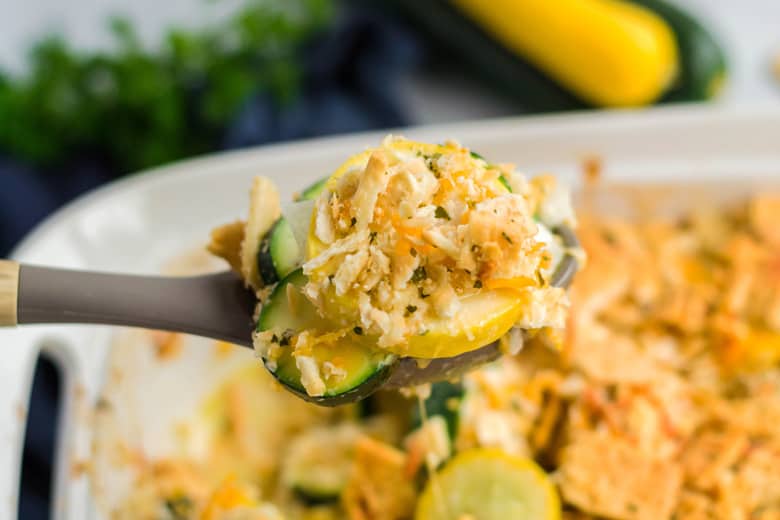 One of the things I learned along my journey was to not initially overcook the squash. Since they are made of so much water, the difference of one minute can take your squash slices from nice and taut to a soggy mess.
They will be cooking even more in the oven, so don't over do it, you want a little snap when you transfer them.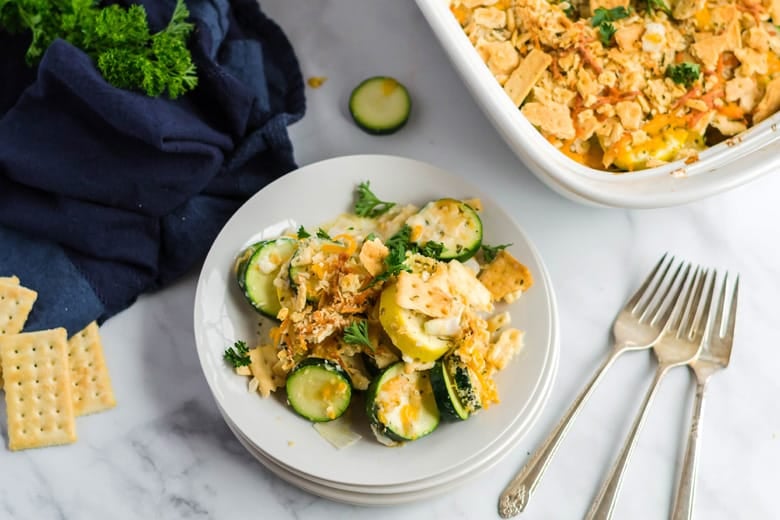 I am also a little type A, so I layered mine all nice and flat. You can just dump them in if that doesn't bother you. It all tastes the same.
PRO TIP- Use a low moisture cheese to prevent additional water in your casserole.
Use a low moisture cheese for this Cheesy Squash Casserole. Again, since there is so much water in the squash, you don't want to add more with a watery cheese.
Lastly, don't skip the step of allowing it to sit. If you carve it too early it just goes all limp and doesn't give the ingredients time to set up.
So how does it work? It is simple! Slice your squash and cook it lightly in a skillet with vegetable oil and onion. Some prefer to use butter, it is up to you, but oil has a higher smoke point than melted butter.
Mix it with sour cream, cheddar cheese, milk and other seasonings. Transfer the squash mixture to a lightly greased casserole dish.
Top it with cracker crumbs and bake. Quick and easy!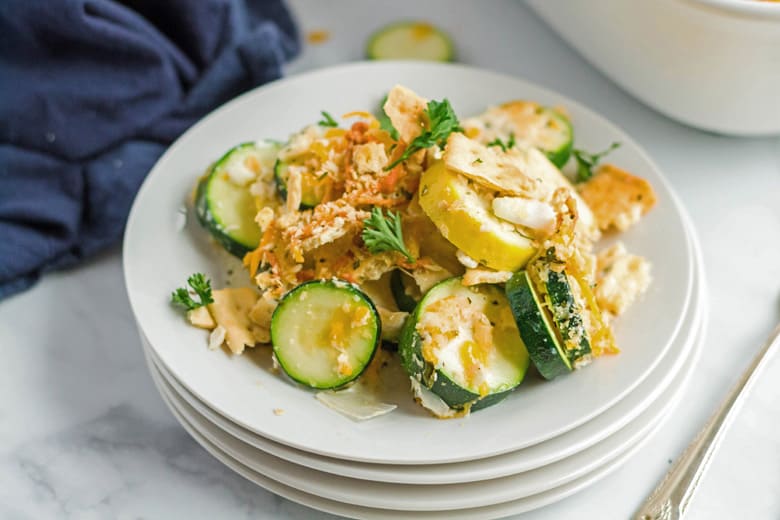 Check out these other delicious recipes that use squash: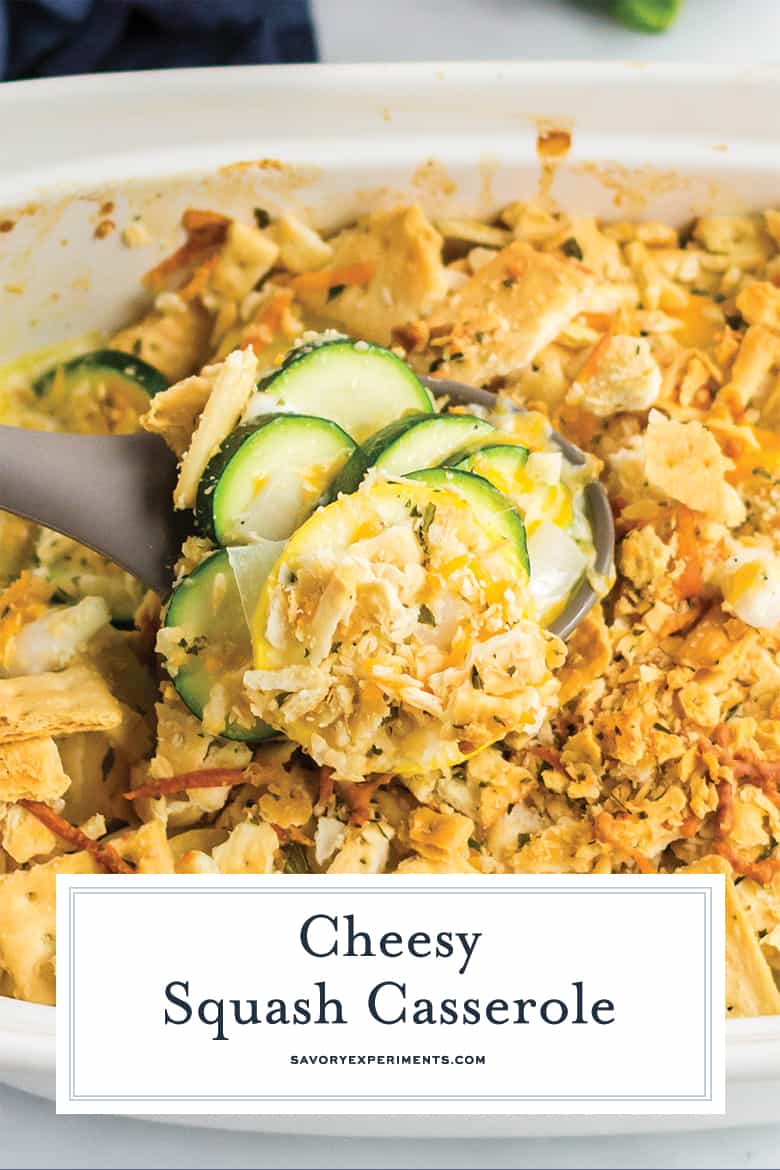 Questions you might have about how to make cheesy squash casserole:
Can I use a different type of cheese? Sure! Other cheeses I would use are mozzarella or even asiago.
Can I make this casserole ahead? You sure can! I would get all the way to step #7, cover and refrigerate up to a day ahead of time. When you are ready to serve, add the crackers and bake to heat.
Can I make it without crackers? Sure! If you do omit the crackers, I would add more cheese on top.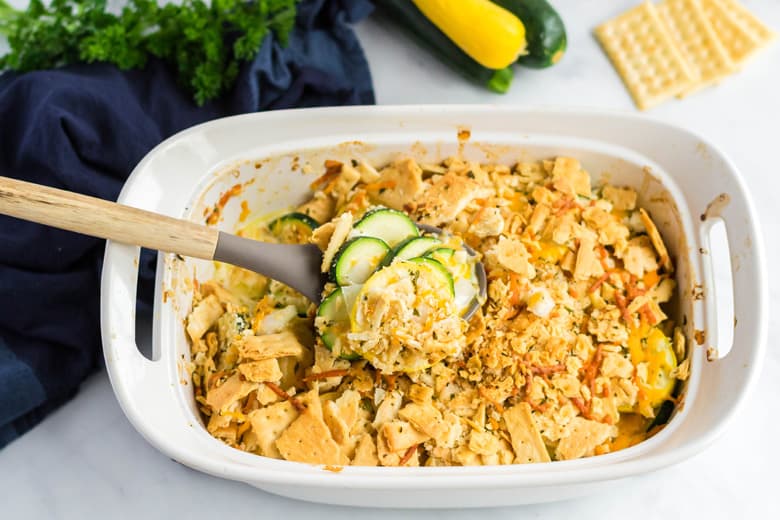 Can I freeze squash casserole? Technically, yes but that darn water is going to get you again! It will most likely defrost to be a little soggy and limp.
Is there a difference between summer squash and winter squash? Winter squash has a slightly thicker skin. You can peel yours if the skin is too tough. It will soften as it cooks.
What are the best crackers for topping? You can really use any crackers you'd like, but most people tend to like Ritz crackers.
Can I use just yellow or just green squash? Yep! I like to "eat the rainbow" so I added both, but feel free to use just one or the other.
What meat goes with squash casserole? This is such a versatile dish, it really goes with anything, but here are a few of my favorites: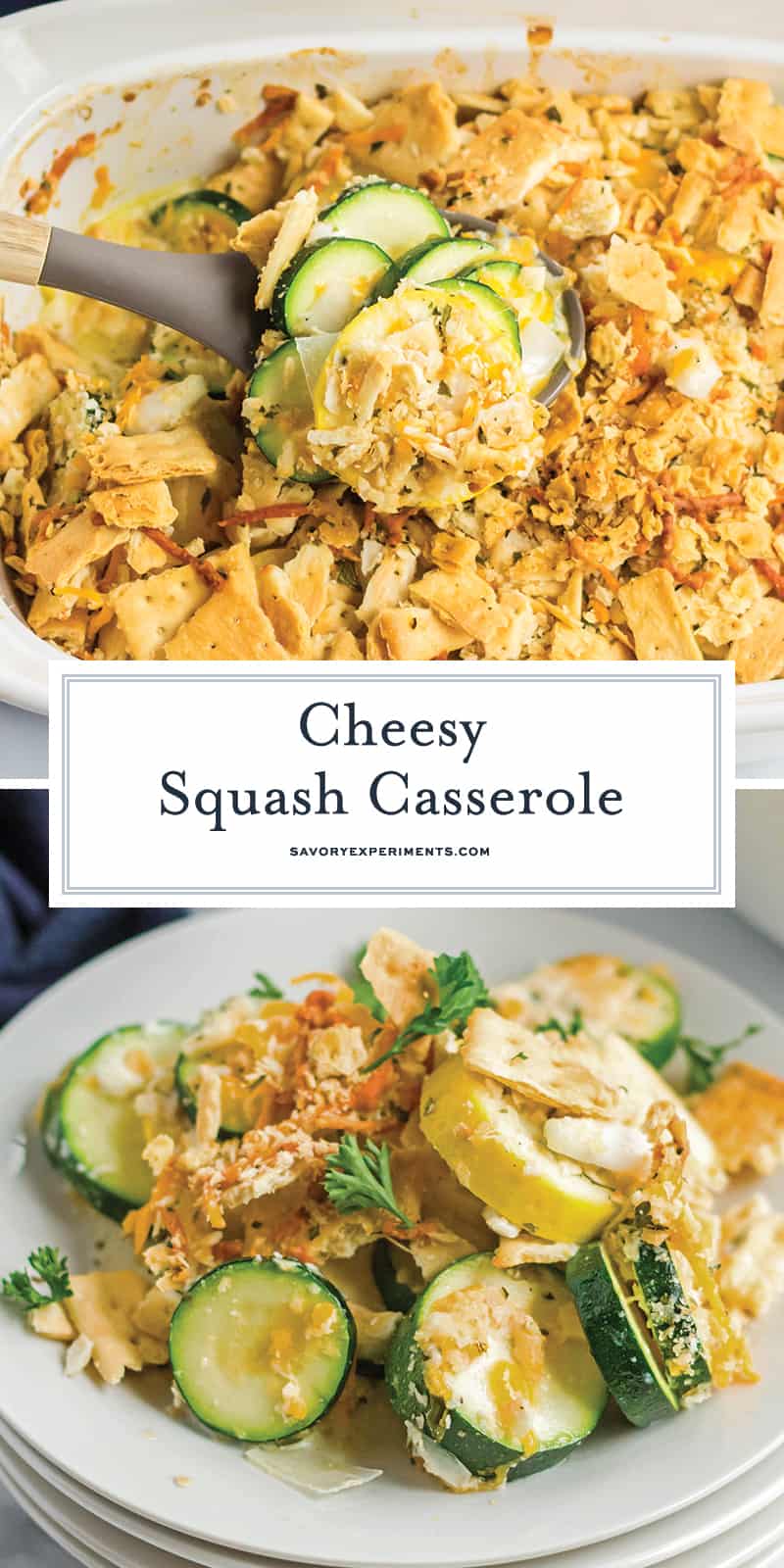 CONNECT WITH SAVORY EXPERIMENTS!

Be sure to follow me on social media, so you never miss a post!

Facebook | Twitter | Youtube
Pinterest | Instagram

Get our FREE 8 Day E-Course on How to Be a Better Home Cook. Sign up HERE!