Many people are all about the main dish but I'm known for my love of side dishes. From mac-and-cheese to saucy veggies, I adore a good side — this creamed corn casserole is one of my favorites.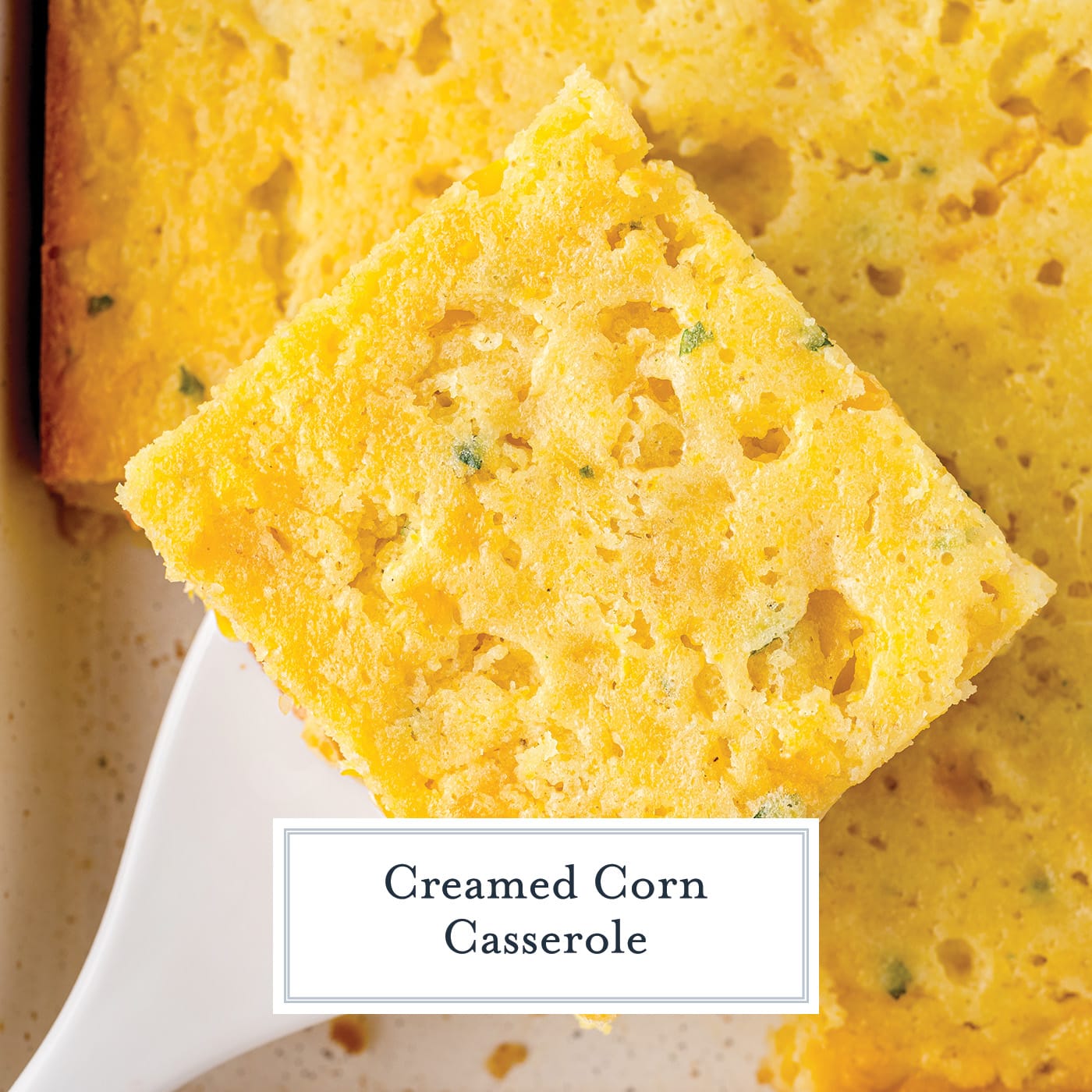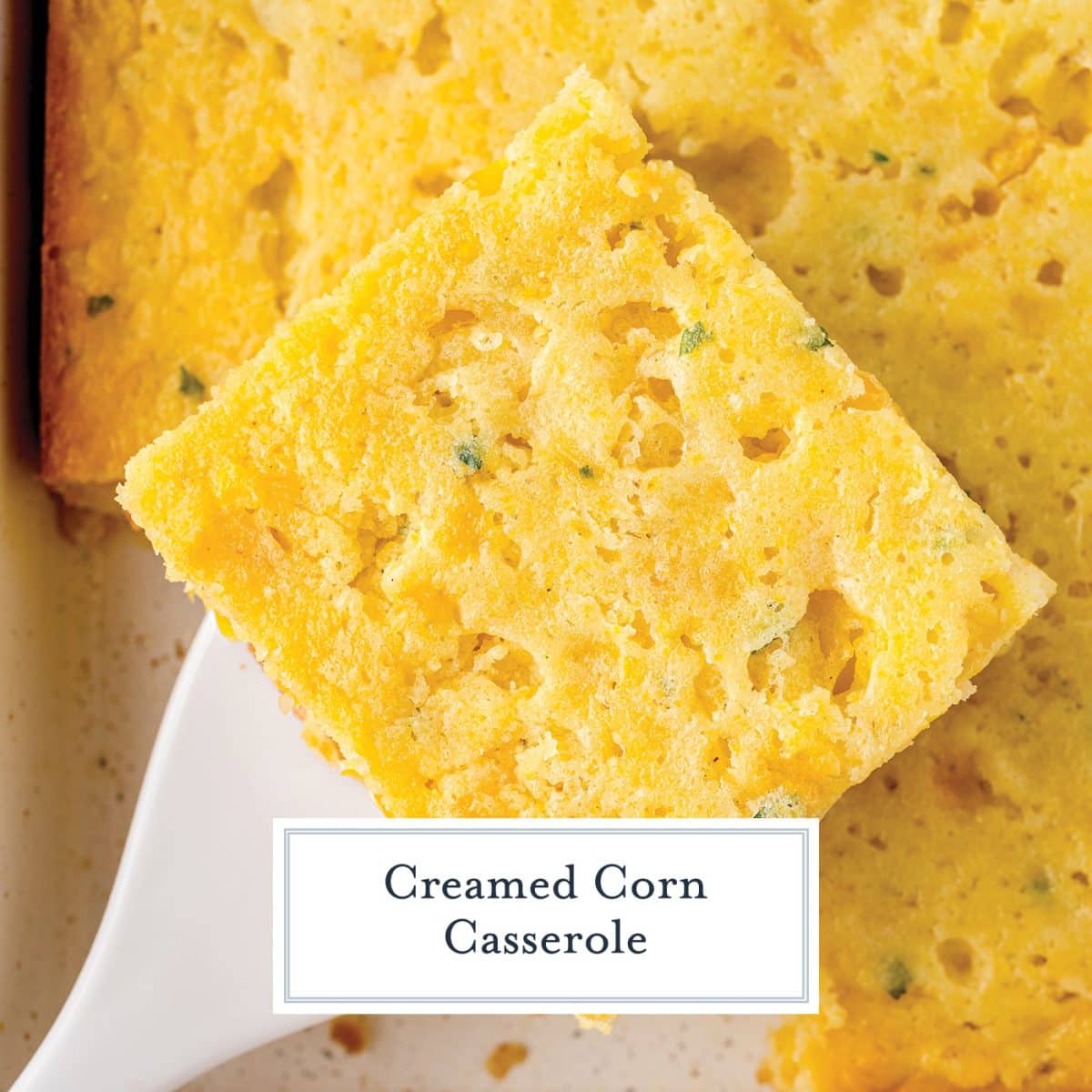 Creamed Corn Casserole – Perfect for the Holidays!
In the spring and summer I can't get enough of chilled street-style preparations of corn. But come the cooler months I want warm corn dishes.
Creamy corn casserole is perfect because it combines both a rich sauce and carbs (from corn bread) with the corn kernels.
Sure, this dish looks like it's for a holiday meal — Christmas dinner and Thanksgiving dinner call for dishes like this. But it's honestly great with any weeknight meal. Plus, it's super easy so it can be on the table quickly anytime.
One of my favorite things about this is that while it's an excellent side dish, it also can masquerade as a full meal with the right additions. Throw in some protein and it goes from easy side dish to a full meal.
The next time you're looking for an easy corn casserole recipe, this should be your go-to. It's the perfect side dish for any gathering — it's a crowd pleaser that will have people asking for the recipe, for sure!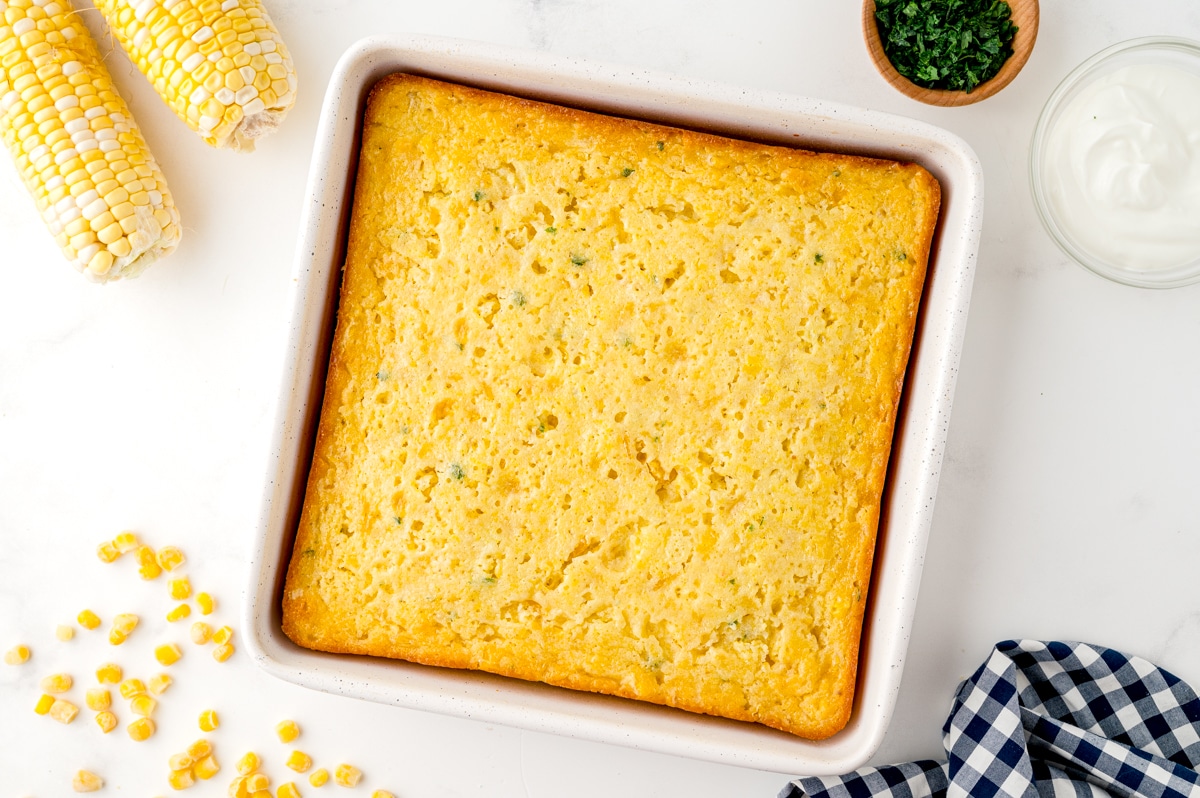 Why you'll love Creamy Corn Casserole
Creamed corn casserole has all of the elements of a delicious side dish — a sweet vegetable, a rich and creamy sauce, and some varied crumbly and crunchy texture from the cornbread mix. What's not to love?
Easy – With few ingredients and a couple simple steps, this recipe comes together quickly.
Hearty – The soul of comfort food is in its ability to deliver what amounts to a warm hug from the plate (or a big bowl). This casserole's corn-infused carbiness (from the corn itself as well as the cornbread) as well as the rich cream, the tang from the sour cream, and the slight crunch of the corn deliver a bounty of textures and flavors that are sure to comfort after the longest of days.
Portable – Make this dish for any potluck to get all the smiles and compliments.
Customizable – While this is a fairly mellow dish all on its own, you can kick it up with tons of variations or add-ins.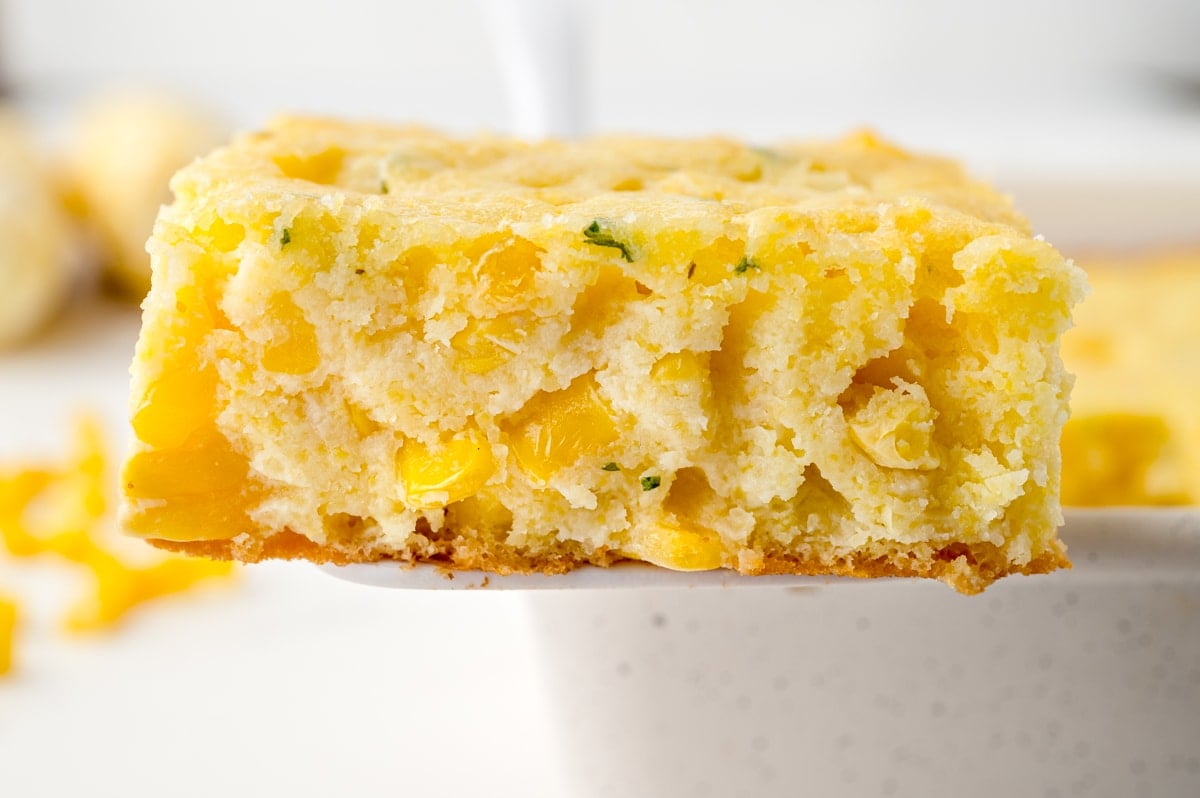 Cream Corn Casserole ingredients
Most of these simple ingredients are already in your pantry — just grab them and whip up this comforting casserole.
Butter – Be sure to use unsalted butter and to melt it before adding it to the other ingredients.
Frozen corn – You can also use canned or fresh corn. If you have leftover corn on the cob from a recent cookout or family gathering, this is the perfect place for it.
Creamed corn – Use my easy recipe for creamed corn in order to whip up this casserole.
Eggs – Use two full large size eggs. They act as an emulsifier to make sure the ingredients of the casserole come together
Sour cream – While you'll need it for the casserole itself, you'll want it for a topping, too.
Sugar – Use typical white sugar — its granules dissolve quickly.
Kosher salt – A course variety of Kosher salt will work well, but feel free to improvise with your own favorite salt.
Jiffy corn muffin mix – This mix is so affordable and helps bring the entire casserole together.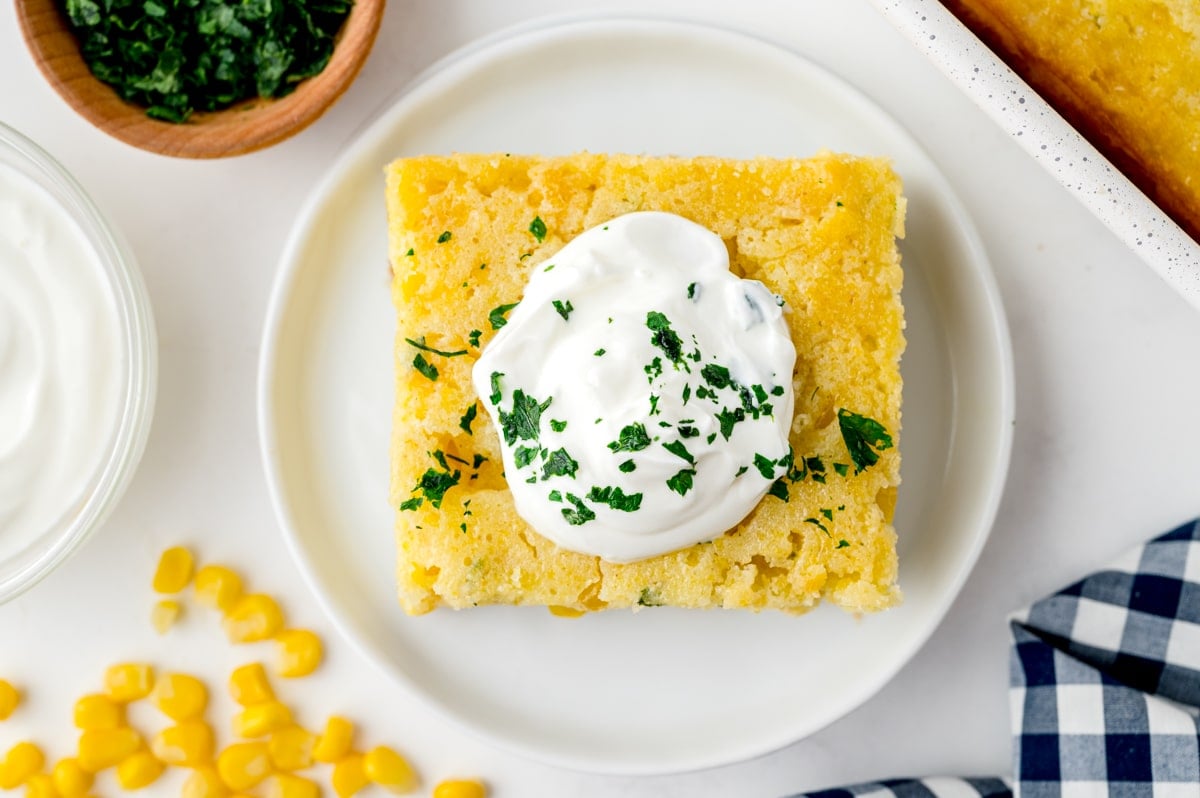 How To Make Creamed Corn Casserole
Add the butter, corn, prepared creamed corn, eggs, sour cream, sugar, and salt to a large mixing bowl.
Stir the mixture until completely combined.
Next, pour in the cornbread mix.
Using a large spoon, combine the mixture until all of the cornbread mix is moist.
Pour the mixture into the prepared casserole dish.
Bake until the edges of the casserole are a golden brown. Test for doneness by inserting a toothpick into the center of the casserole — it should come out clean.
Remove the casserole and allow it to cool before slicing with a serrated knife.

Cream Corn Casserole Recipe variations
This is a traditional creamed corn casserole recipe but you can add some twists to make it special.
Cheese – Sprinkle any cheese that you like over top from sharp cheddar cheese to parmesan to add some richy, salty cheesiness to this casserole. You can also incorporate soft cheese to make a cream cheese corn casserole.
Heavy cream – Adjust the heavy cream from the creamed corn to reach the desired thickness.
Spice – If you want just a little bit more spice, add a bit more black pepper. If you want a lot, shake some cayenne or crushed red pepper flakes in — or go full force with some chopped up green chiles.
Crockpot – Add your ingredients and set your timer and this can be ready in your slow cooker instead of the oven. Do avoid putting frozen ingredients into the crock pot, though, since it can cause the ingredients to remain at an unsafe food temperature.
Herbs – Try adding any of your favorite herbs like rosemary or thyme for more layers of flavor.
Meat – Toss in some diced ham or bacon, ground beef or turkey, or leftover rotisserie chicken to take this corn up a notch and make it a full meal. You may need to adjust some ingredients to take into account the addition of the meat (and consider using a larger baking dish).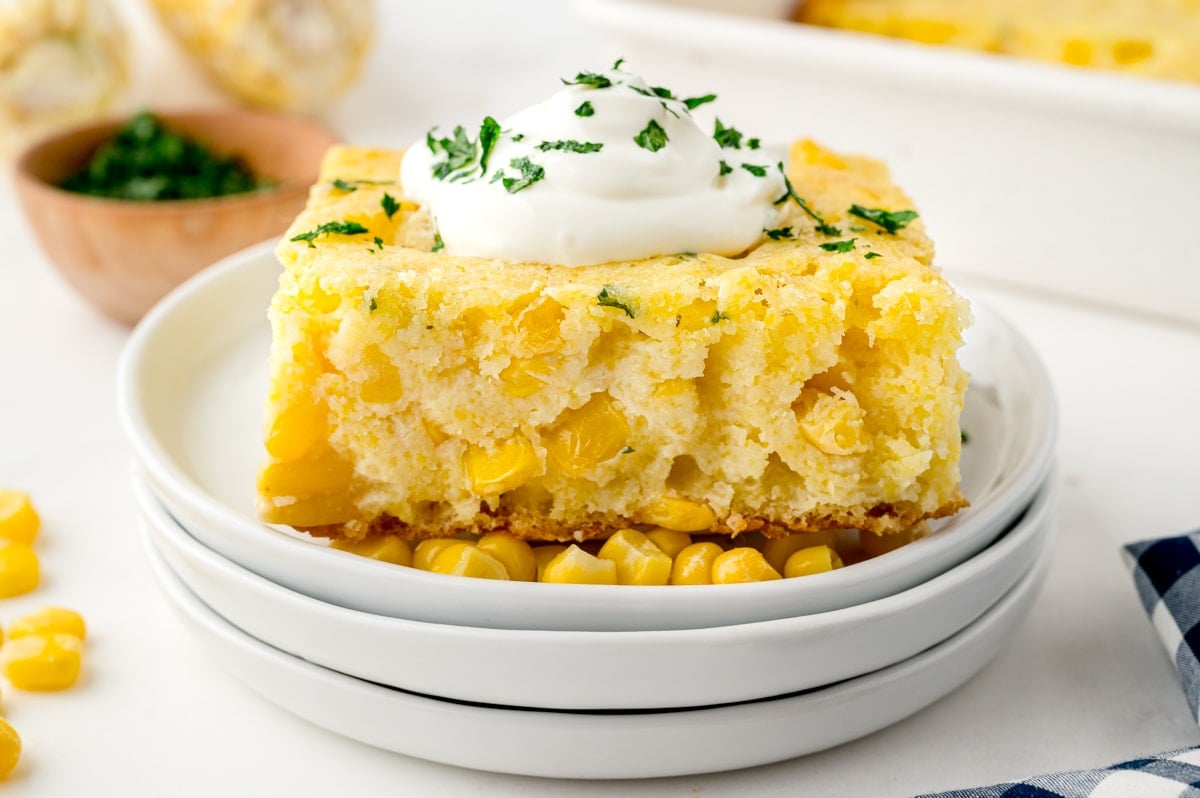 What goes with Corn Casserole
Creamed corn pairs well with a variety of complementary sides and entree due to its sweet flavor and creamy texture. Fluffy mashed potatoes, kale gratin and broccolini are great choices.
For entrees, baked or grilled chicken and pork tenderloin complements the sweetness of the corn. Any classic BBQ dish like pulled pork or burgers are also great.
For a touch of freshness, a side salad with crisp lettuce, tomatoes, and a light vinaigrette can add a burst of color and balance.
Storing Creamy Corn Casserole
Storage: Leftover creamed corn casserole can be stored in an airtight container, or covered with plastic wrap or aluminum foil for up to 7 days.
Make-Ahead: Make ahead up to 2 days in advance but wait to cook the entire dish. Store, uncooked, and pop in the oven when ready.
Can you freeze corn casserole?
Freezer: Allow the casserole to come to room temperature. Then, you can freeze it whole or in portions wrapped tightly or kept in a freezer safe container. It will last for up to 3 months.
Creamed Corn Casserole Recipe FAQs
How do you know when corn casserole is done?
You'll know that corn casserole is done when the top is golden brown and slightly crispy, and a toothpick inserted into the center comes out clean without any wet batter clinging to it. This indicates that the casserole is fully cooked and has a firm, set texture throughout.
Why is my corn casserole runny in the middle?
A runny middle in your corn casserole may be due to undercooking or insufficient baking time. Corn casserole needs enough time in the oven for the center to set properly and for excess moisture to evaporate, resulting in a firmer consistency.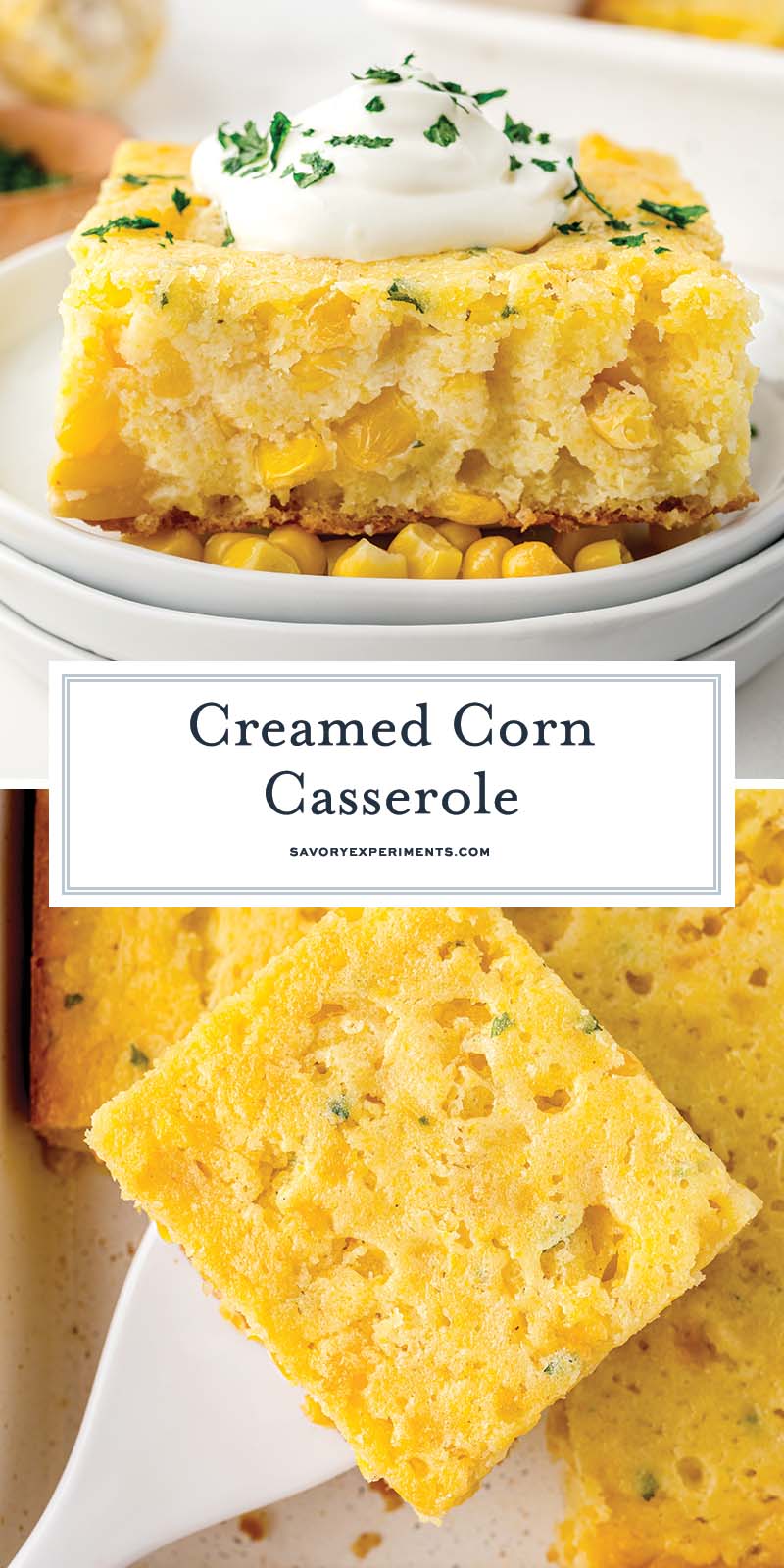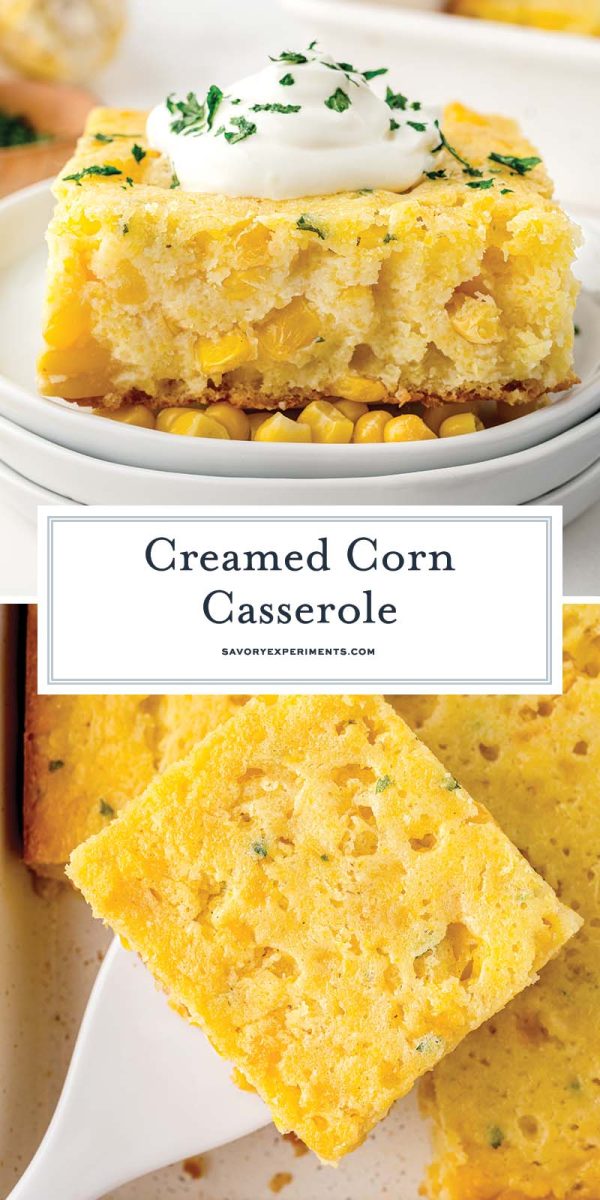 More Vegetable Side Dishes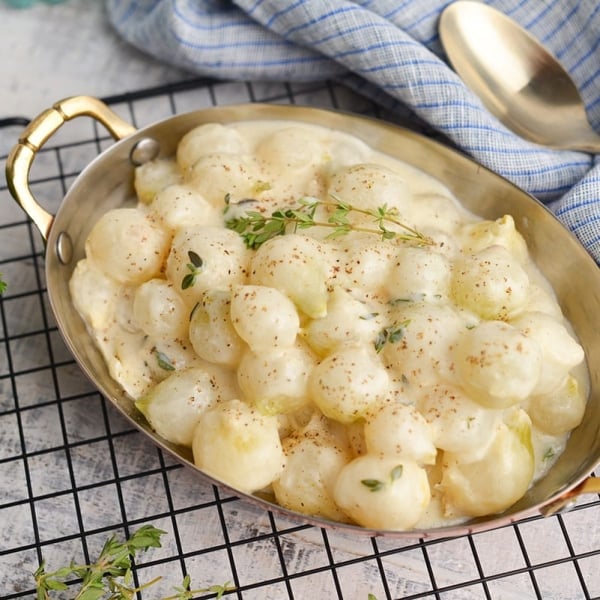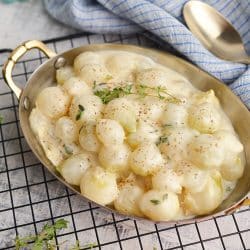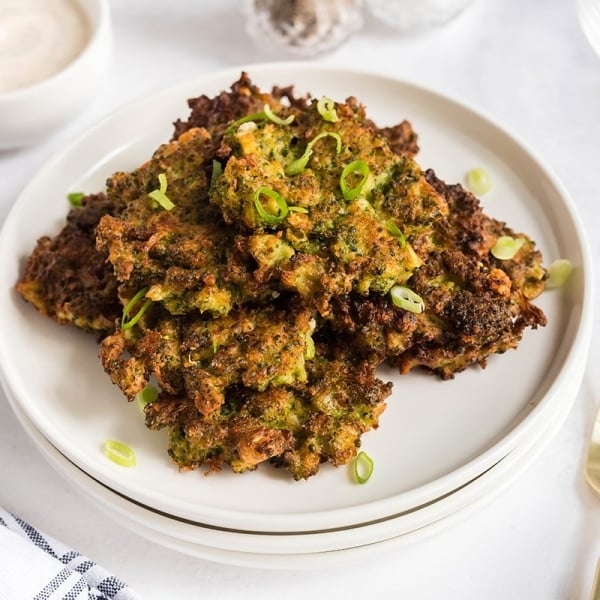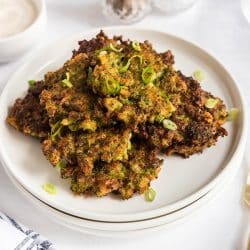 Broccoli Fritters
Crispy fried broccoli fritters perfect for appetizers or entrees. Dip you your favorite dipping sauces! Make ahead and freezer friendly!
See The Recipe!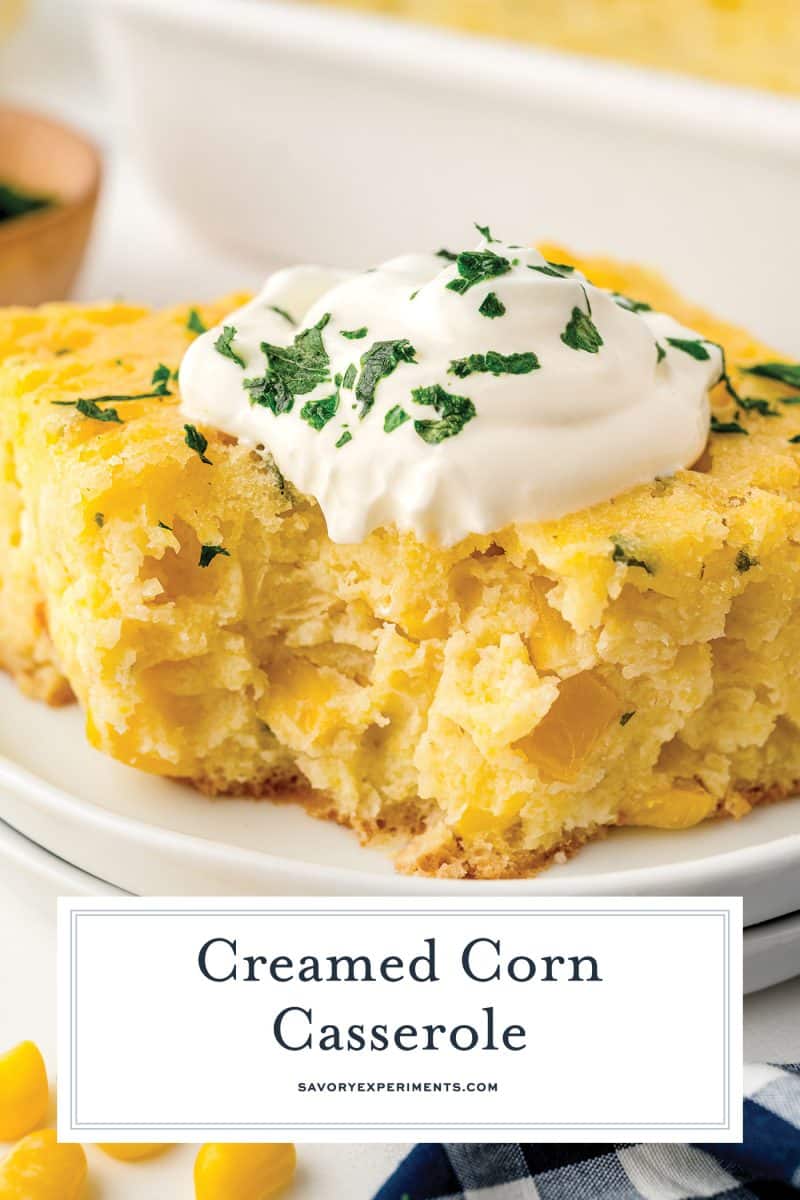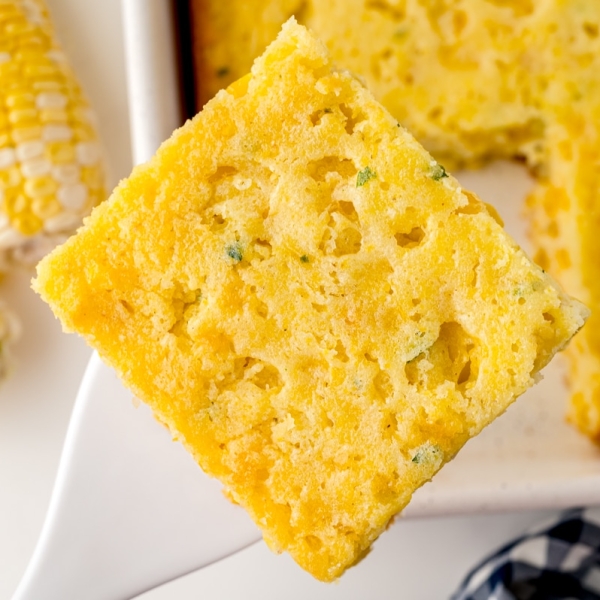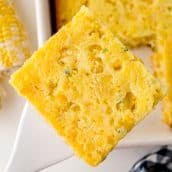 Cream Corn Casserole Recipe
Rich, creamy, and full of cornbread, this Creamed Corn Casserole recipe is amazing as a side or spruced up to be a whole meal!
Instructions
Preheat the oven to 350°F and spray a 9×9 baking dish with cooking spray.

In a large mixing bowl, stir together the butter, corn, creamed corn, eggs, sour cream, sugar and salt. When all combined, add the cornbread mix, stirring until no wet spots remain.

Transfer to the prepared baking dish and baking for 35-40 minutes. Edges should be golden brown and the center set and passes the toothpick test.

Remove and allow to cool for at least 15 minutes before cutting and serving. A serrated knife works best.

If you've tried this recipe, come back and let us know how it was in the comments or star ratings.
Notes
Topping ideas include sour cream, plain Greek yogurt, diced green chiles, jalapeno slices, chives, scallions or parsley.
Nutrition
Calories:
190
kcal
,
Carbohydrates:
19
g
,
Protein:
3
g
,
Fat:
13
g
,
Saturated Fat:
7
g
,
Polyunsaturated Fat:
1
g
,
Monounsaturated Fat:
3
g
,
Trans Fat:
0.3
g
,
Cholesterol:
59
mg
,
Sodium:
228
mg
,
Potassium:
175
mg
,
Fiber:
1
g
,
Sugar:
6
g
,
Vitamin A:
428
IU
,
Vitamin C:
4
mg
,
Calcium:
28
mg
,
Iron:
0.5
mg