Crunchy, gooey and delicious, Breakfast Tater Tot Casserole makes breakfast an occasion for the whole family!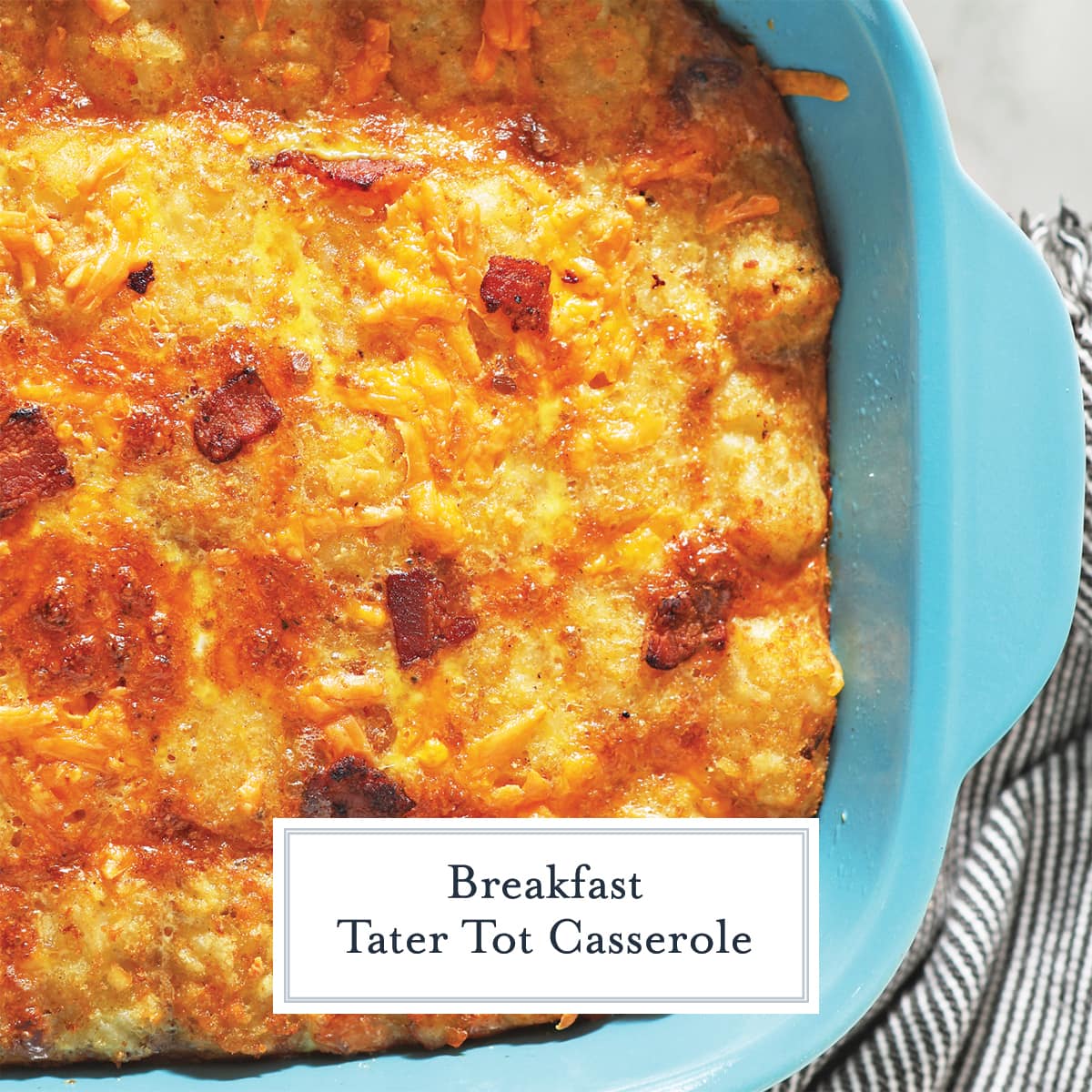 Featuring just a handful of ingredients and frozen tater tots, this easy breakfast casserole is great for a crowd or just a weekend brunch with the fam- the ultimate comfort food.
Breakfast Tater Tot Casserole Recipe
I'm a big homemade brunch person, and even more so in this past year. Why should we NOT celebrate the weekend—or any given weekday—with a delicious meal? And maybe an adult beverage…
This cheesy Tater Tot Casserole is our new favorite. It's bursting with flavor, incredibly balanced and a crowd-pleaser. It's also on the table in less than an hour if you can put it together quickly—and I believe in you!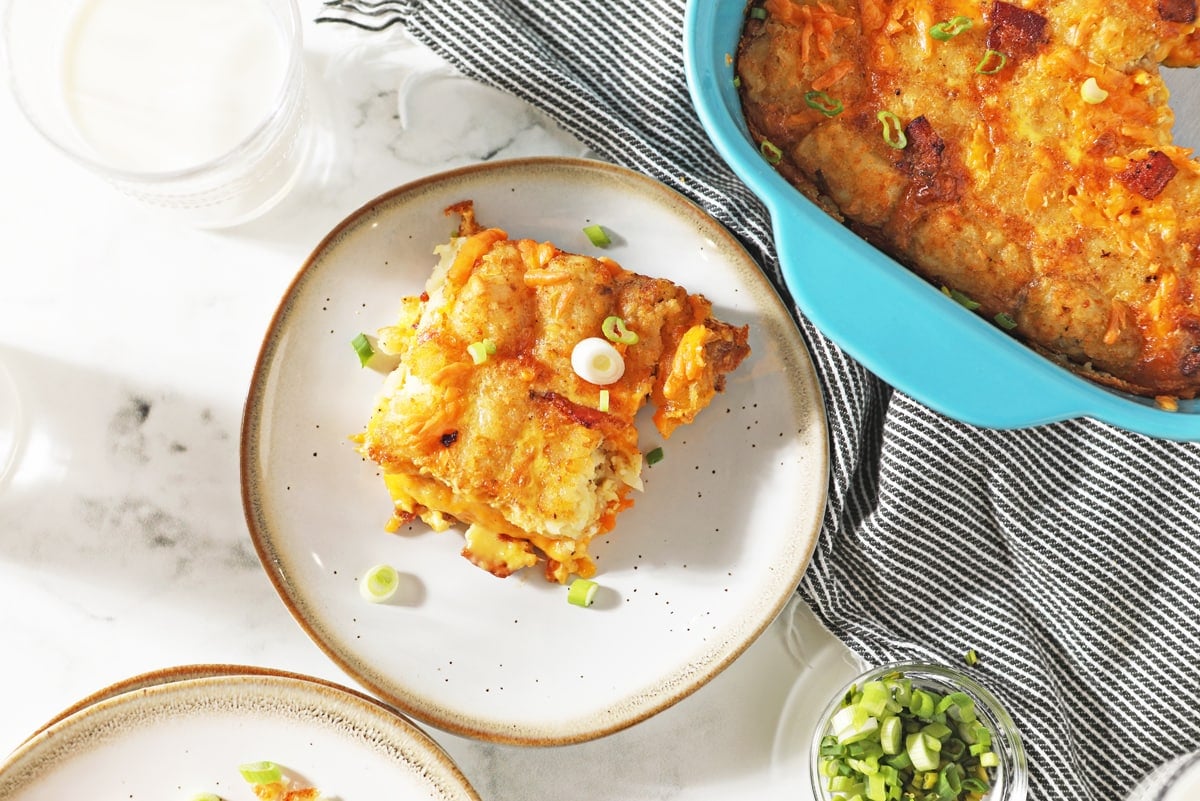 This tater tot breakfast has a nice crunch, thanks in part to the tater tots and the crispy bacon. It's also got some gooeyness, thanks to the cheese. And the eggs cook up beautifully, soaking up all the flavors and just bringing everything together.
Whether you're making this to celebrate an occasion, a weekend or just because, you're not going to be disappointed!
Breakfast Casserole Ingredients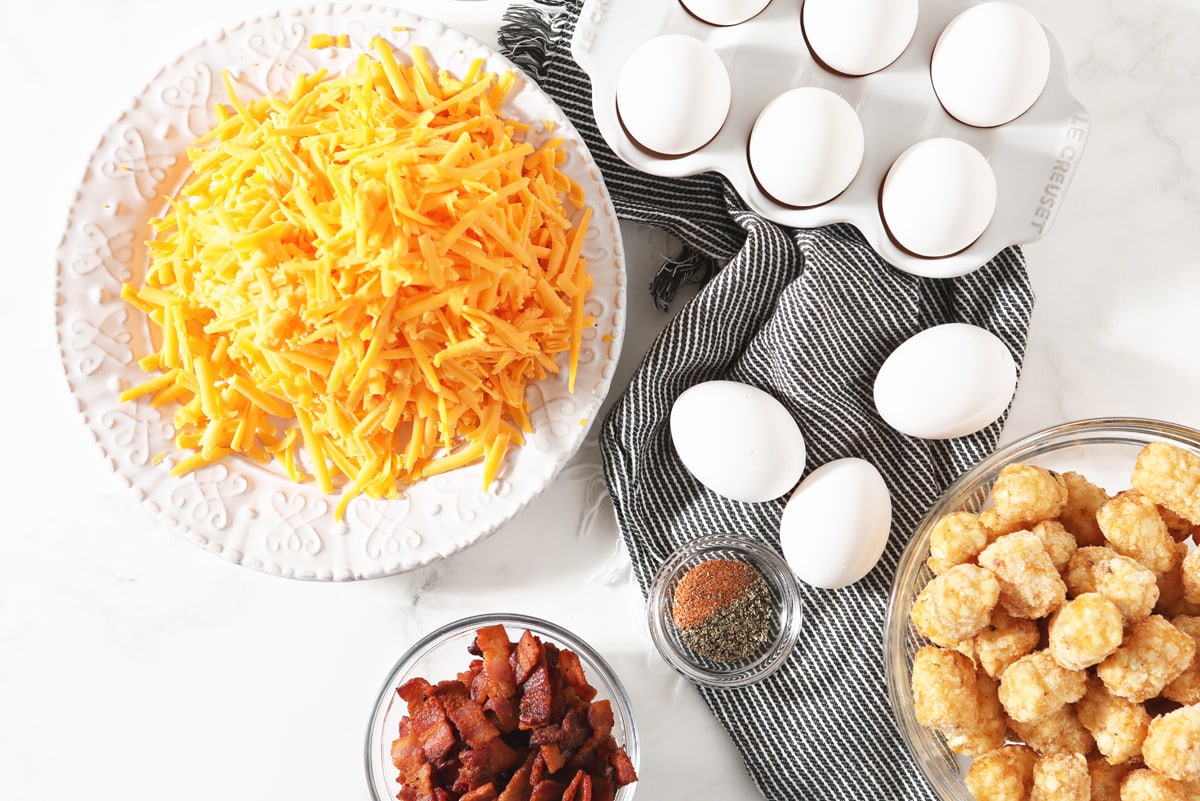 Bacon—because it adds, meatiness, flavor and a little crunch, too! 
Eggs – gives it structure and is the glue that holds it together.
Milk—we used whole milk when testing out this recipe, but it will work with whatever milk you've got on hand including alternative milks.
Creole seasoning—this is one of my favorite kitchen seasoning blends to have on hand because it adds so much flavor and what makes this casserole different from others. It lends a mild pizzazz, but not so much that it isn't kid friendly.
Kosher salt—but only if your Creole seasoning doesn't have added salt
Black pepper
Cheddar cheese—or your family's favorite cheese that can be shredded
Frozen tater tots—grab your favorite brand at the grocery store! I got regular-sized ones, but I know there are mini tots, too.
What is doesn't have… cream of mushroom soup. We felt like this made it taste like a dinner meal and also too creamy instead of a nice slice that kept its structure.
We also tested frozen hash browns, but they were challenging to keep crispy and I like a crunchy potato.
Fun fact: 16 oz. bags of tater tots are hard to find, so grab a 32 oz. one! You'll get two breakfast casseroles out of it… or you can make tots one day to pair with a meal!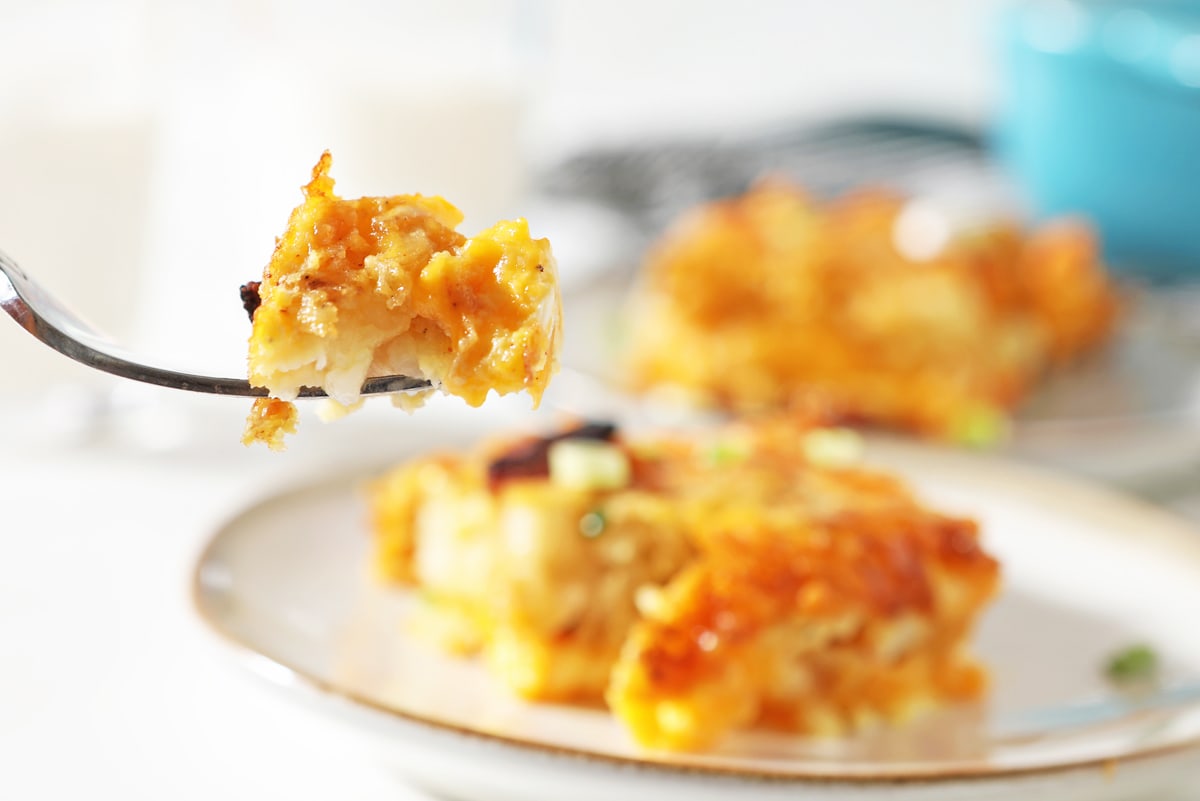 How to make Breakfast Tater Tot Casserole
ONE. First and foremost, preheat your oven and spray your 9×13 baking dish with nonstick cooking spray.
TWO. As the oven preheats, cook the chopped bacon in a skillet (or oven). We want it crispy because nobody likes soggy bacon! Once cooked, scatter most of the bacon the bottom of the baking dish. 
THREE. In a large bowl, crack the eggs and season them with milk, Creole seasoning, black pepper and salt, if necessary. Whisk together until combined, and then pour them on top of the bacon.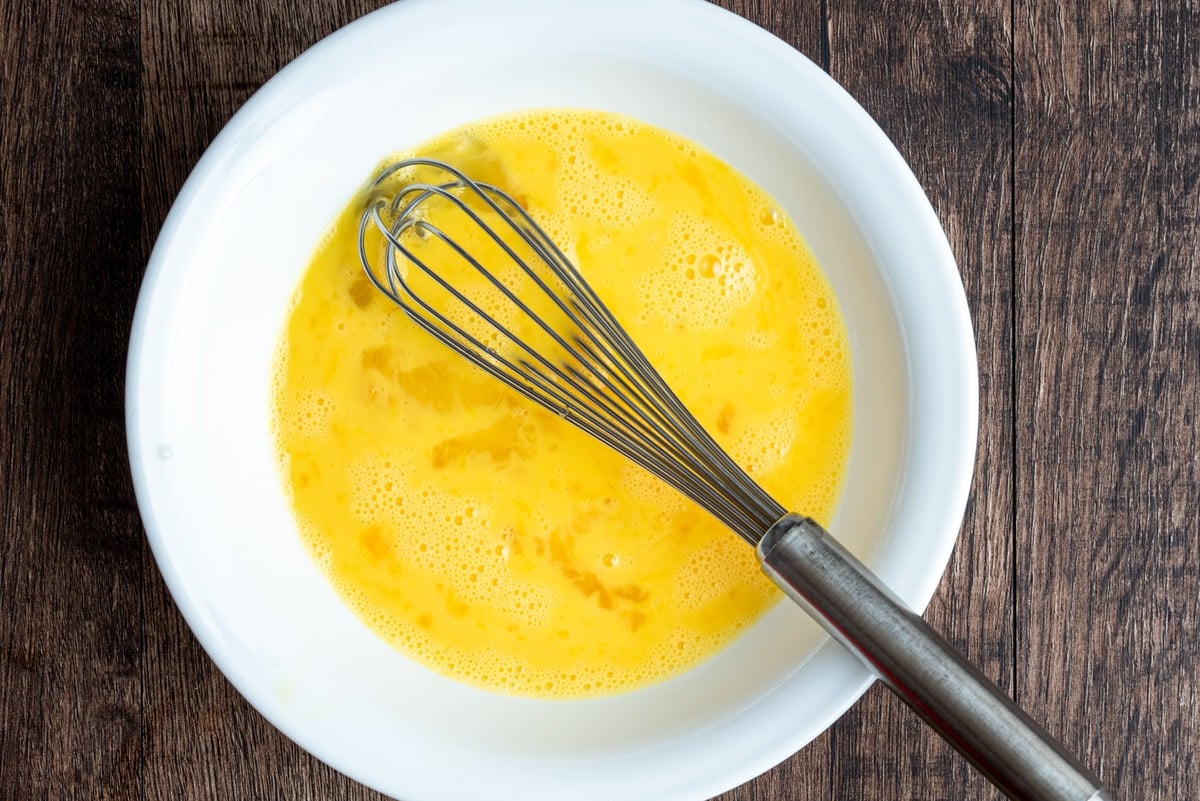 FOUR. Next, sprinkle most of the cheese on top of the eggs. We want to leave some of the cheese to go on top, so set about a handful of it aside. 😉 
FIVE. Then line the pan with the tater tots. I put mine in neat little rows, but you do you and do this however you'd like.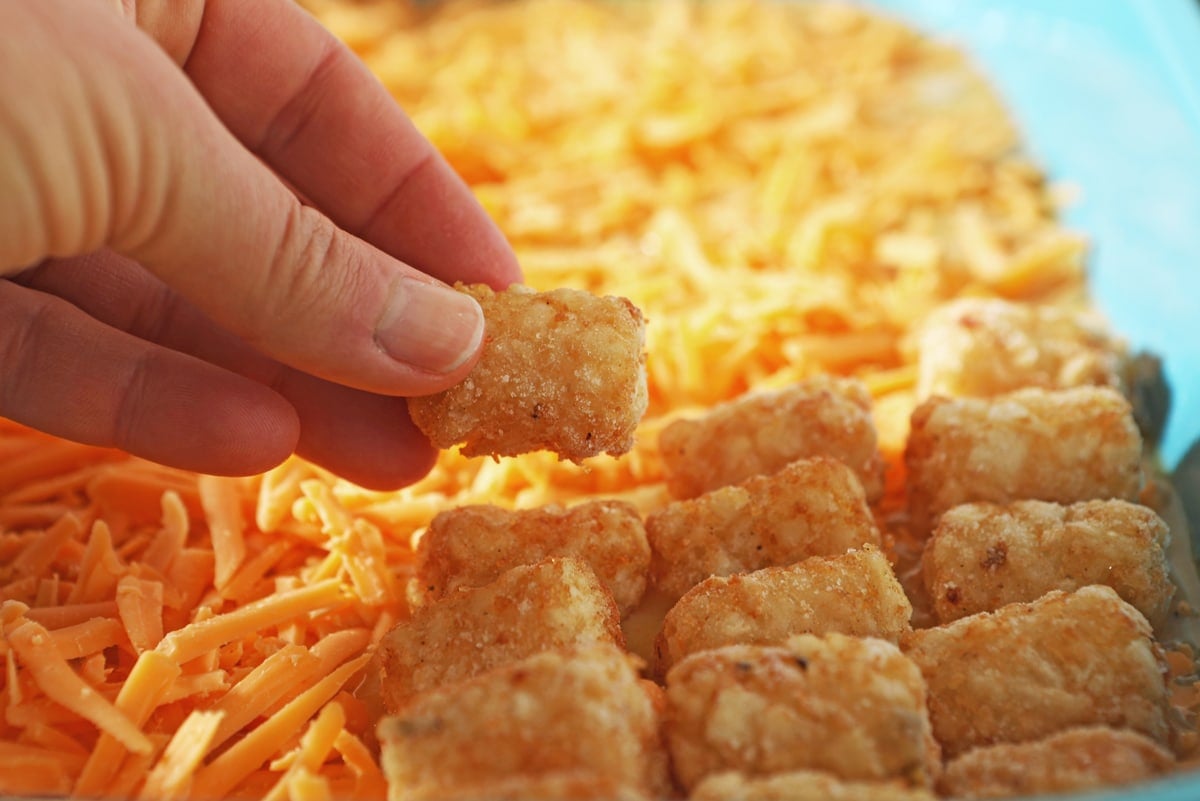 SIX. Finish the top of the casserole by sprinkling on the rest of the cheese and bacon.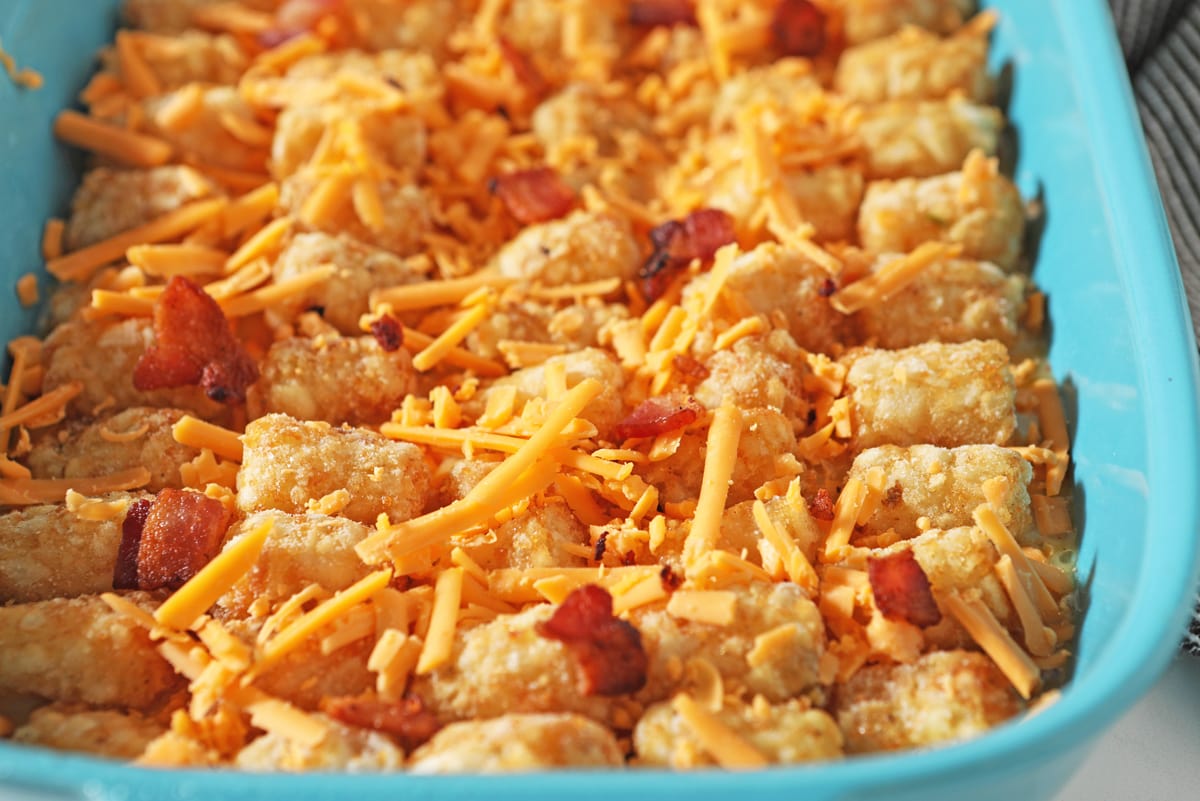 SEVEN. Bake the breakfast casserole for 30 minutes uncovered before raising the oven temperature and baking for an additional 5-8 minutes. Why do we do this? It sets the eggs, as well as gets those tots nice and crispy.
EIGHT. Finally, remove the casserole from the oven. (Also, you need to confirm that the eggs are, indeed, cooked, so look for any liquidy spots.) Let it cool for 10-15 minutes before slicing, top with scallions and sour cream. Enjoy!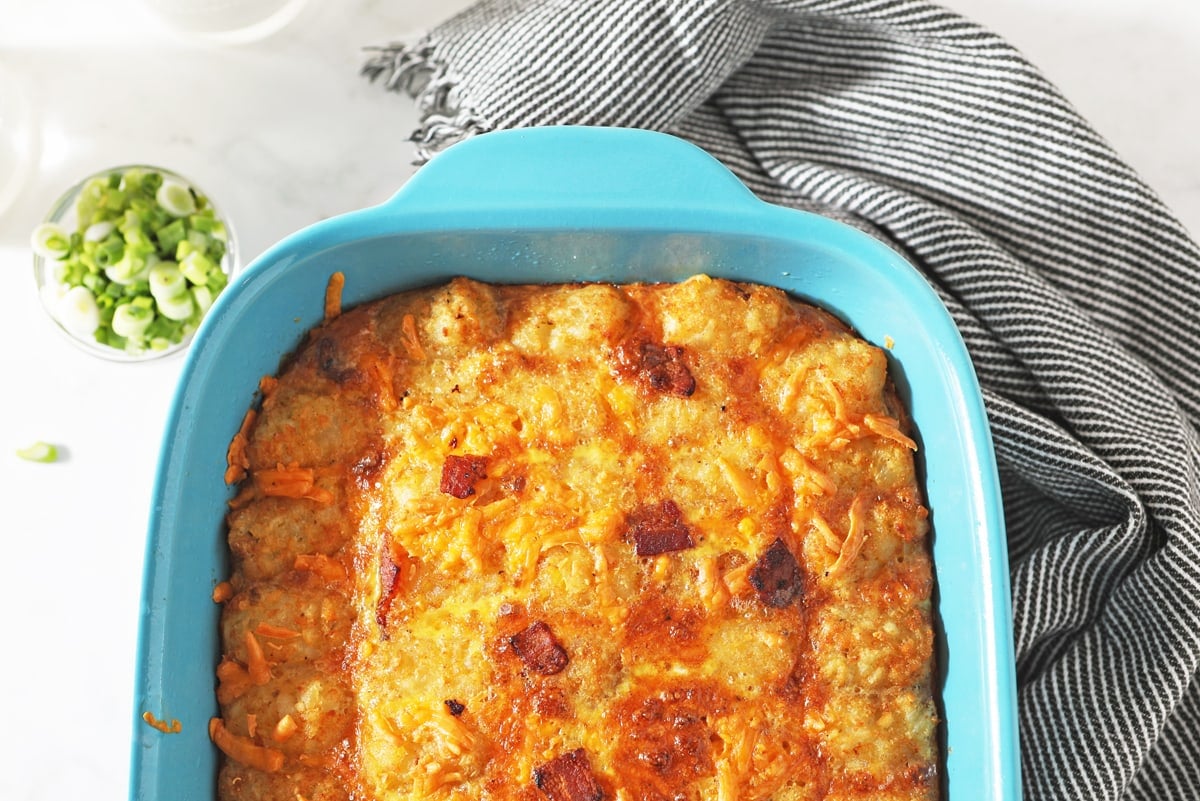 Substitutions
If you would rather use turkey bacon or breakfast sausage, feel free! I would use ½ pound and cook it until crispy, just like the instructions state.
And alternately, if you or your family don't eat meat, omit the bacon and make the casserole without it.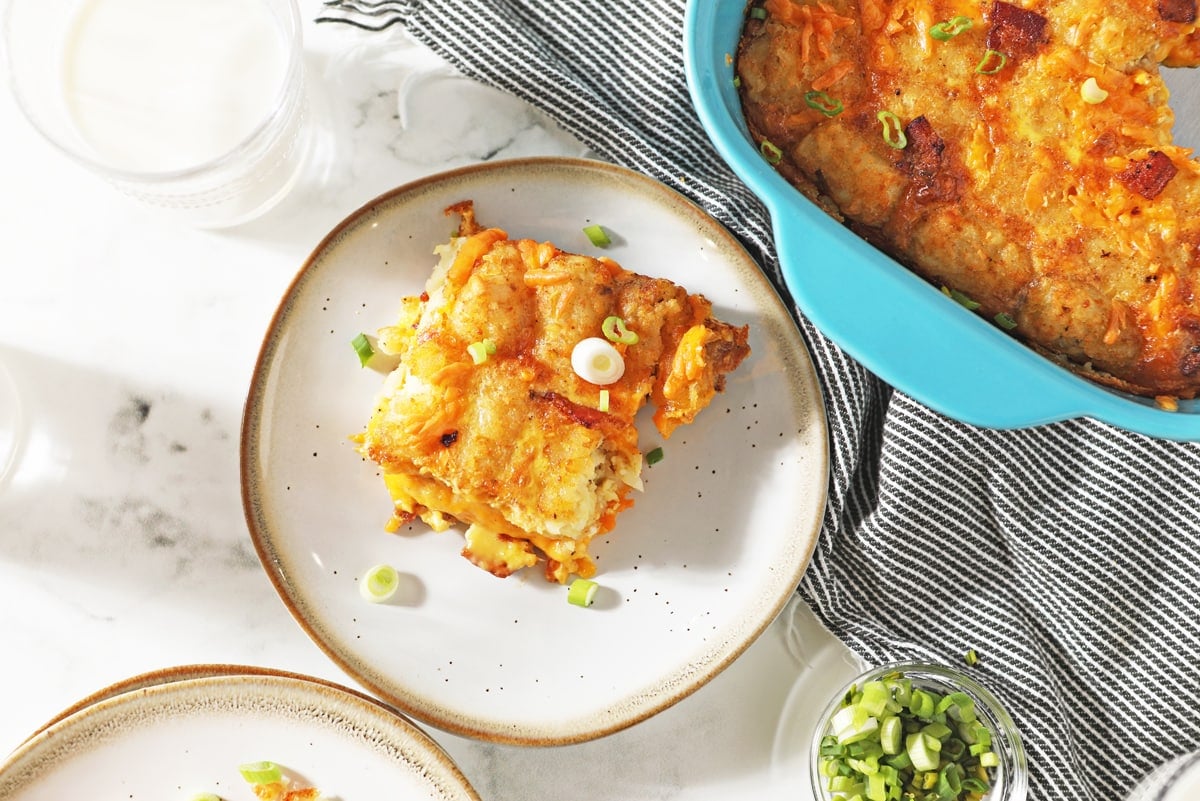 Make Ahead & Freezing
I have not tried making this the night before, but I would assume this would work. But again, I have not tested it. 
This casserole can be frozen after it is cooked. When reheating, place in the oven while still frozen, cooking for twice as long as the original cook time.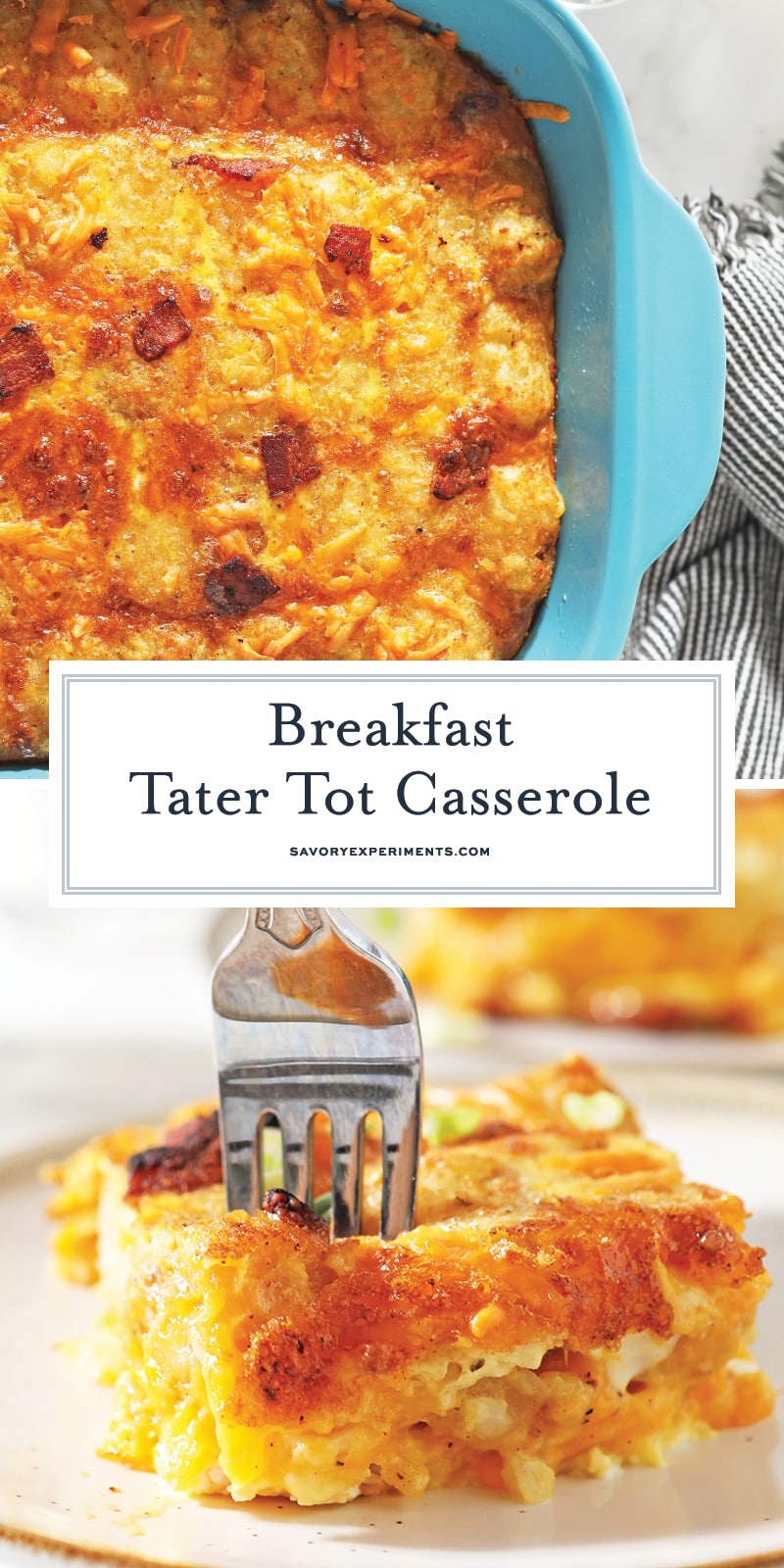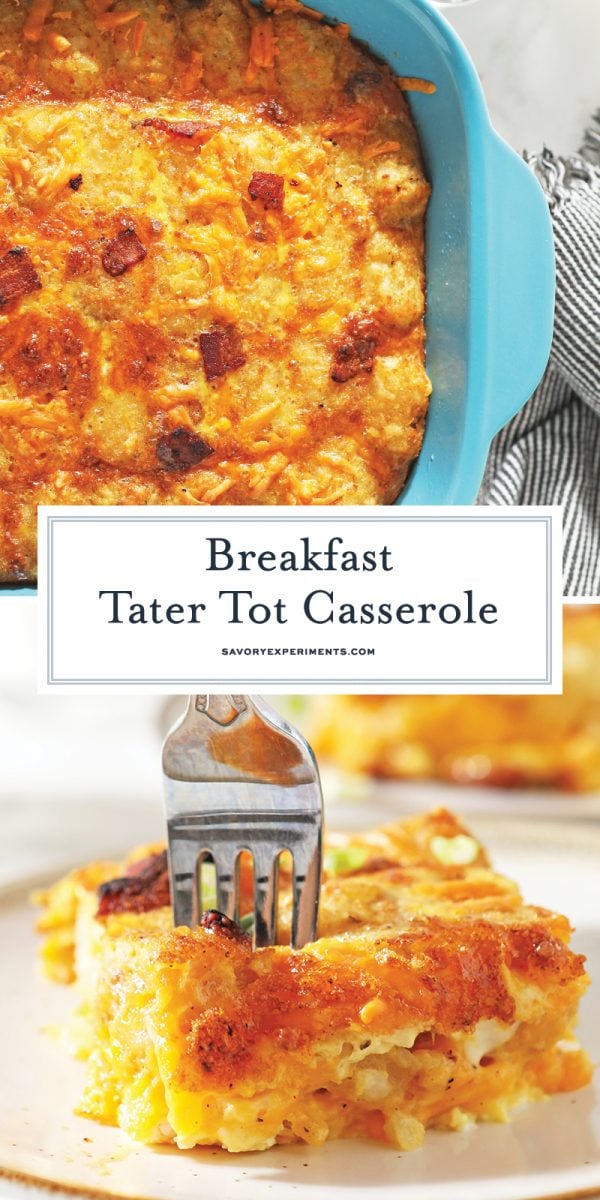 More easy breakfast recipes: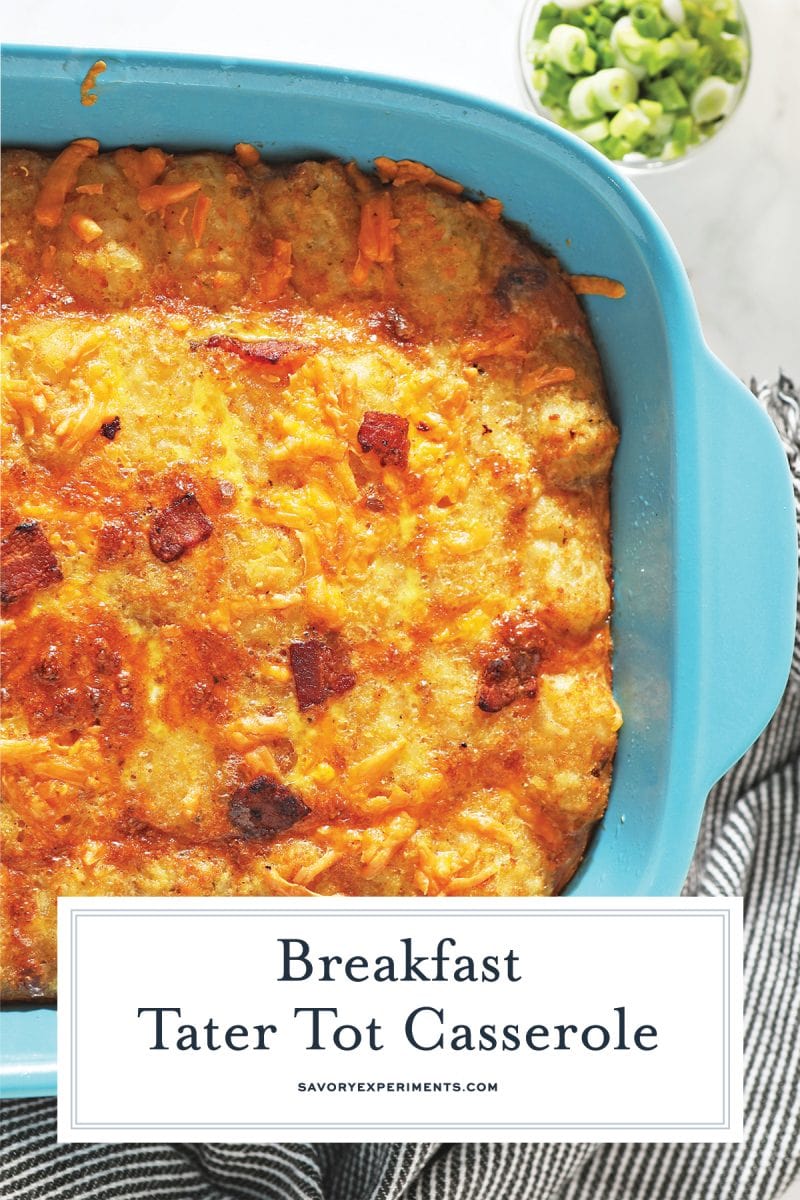 CONNECT WITH SAVORY EXPERIMENTS!

Be sure to follow me on social media, so you never miss a post!

Facebook | Twitter | Youtube
Pinterest | Instagram

Get our FREE 8 Day E-Course on How to Be a Better Home Cook. Sign up HERE!