Cranberry French Toast Casserole, sometimes called a French toast bake, is one of my favorite recipes that uses cranberries. Perfect for Christmas morning or any other special breakfast or Sunday morning brunch.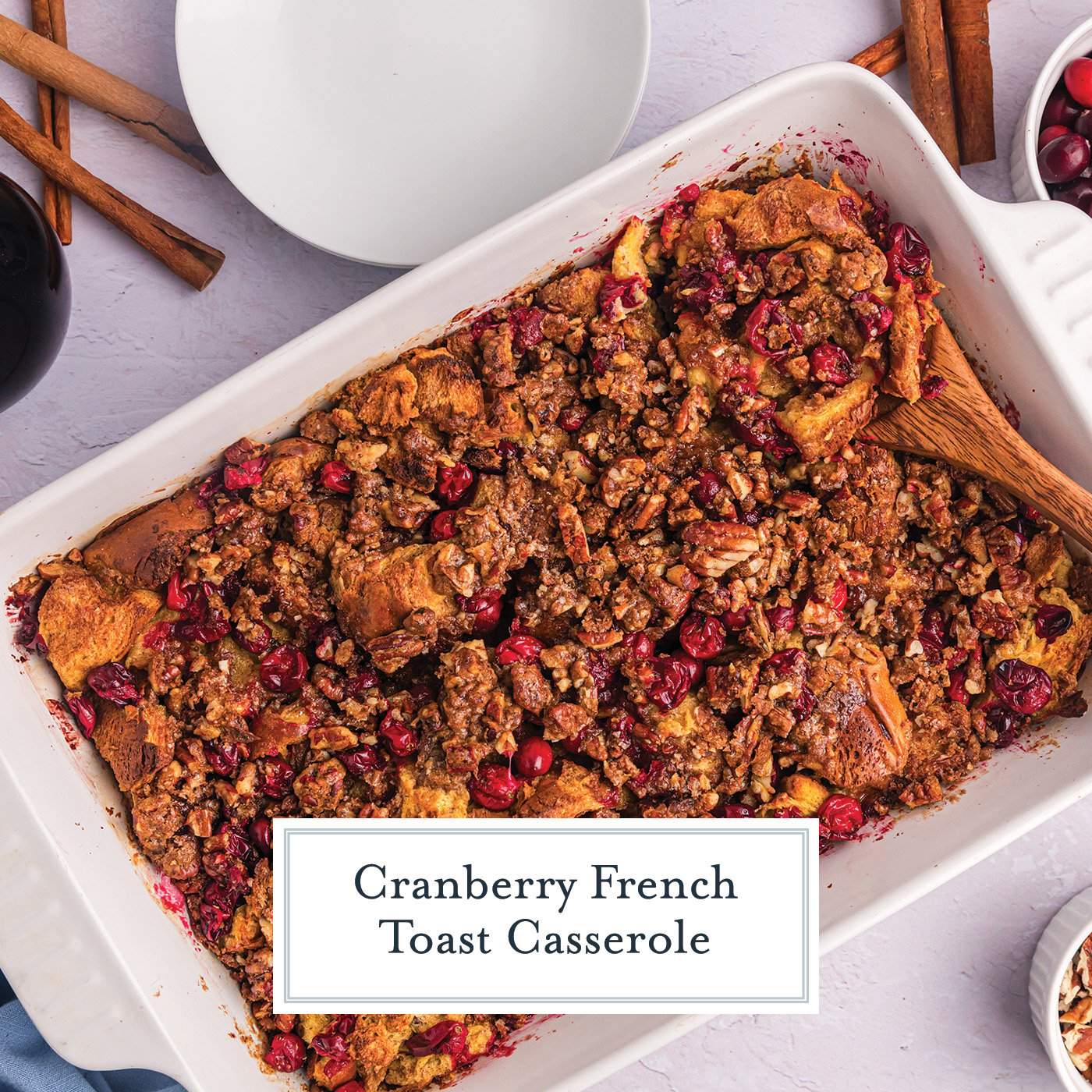 "You nailed this one" was the compliment I received about this breakfast casserole the first morning I made it. The tender pieces of bread with tart bursting cranberries and a sweet and salty topping was something that everyone's taste buds enjoyed.
Whether it is busy mornings or entertaining guests, I am a always at a loss for breakfast recipes. My go-to is chile relleno casserole, but not everyone wants heat in the morning. Pancakes can be quite time consuming when you have a lot of people.
But this easy baked French toast casserole hits all of the bullets for Mother's day, holiday brunch, birthdays and more. It doesn't have to be the holiday season to enjoy cranberries! You can usually find them in the frozen food section.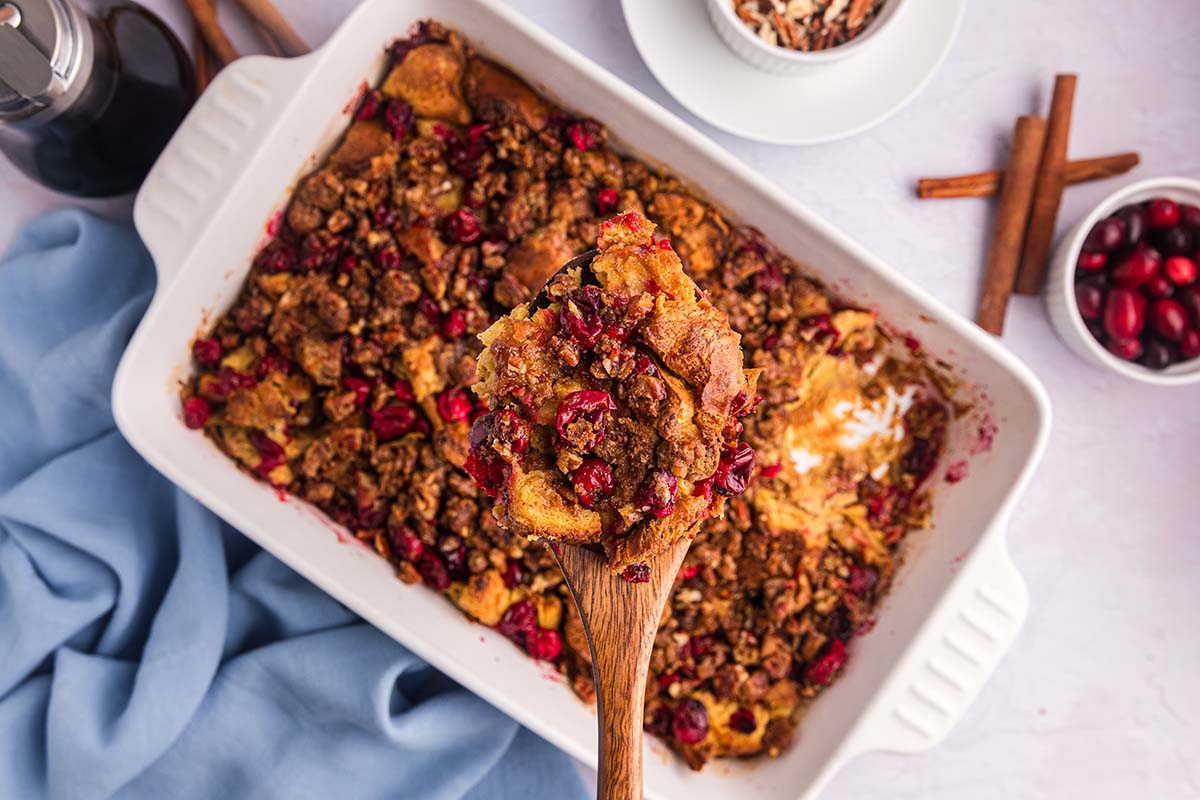 Why You'll Love This French Toast Casserole
A baked french toast recipe full of tart cranberries, you will soon find out why we consider this to be the best french toast casserole recipe!
Perfect for a special occasion – Because it is full of ingredients like cranberries and cinnamon, this recipe is great for weekend breakfasts and holiday breakfasts alike.
Easy to make – This casserole only takes 10 minutes of prep, saving time for spending with family during the holiday season instead of in the kitchen.
Loved by all – The simple flavors and sweet aspect of this delicious french toast casserole makes is a favorite holiday breakfast for all.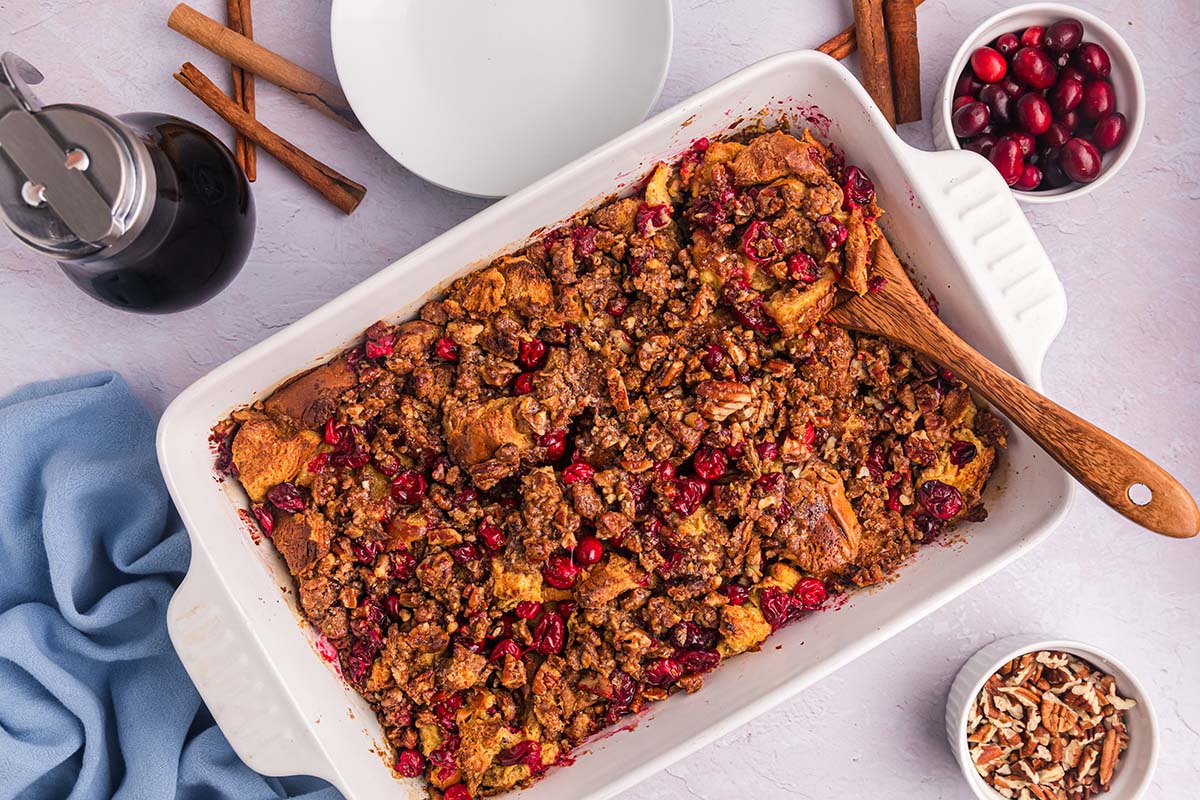 What is French Toast Casserole?
It is a breakfast casserole made from torn bread and custard. Custard is just a dairy and milk mixture, commonly blended with a little bit of sweetner or sugar.
For mine I also incorporated cranberries. Partially because it was Thanksgiving and also because I ended up with a billion cranberries leftover after making sauces.
Traditional French toasts are large pieces of bread dredged in the egg mixture and then gently pan fried. Leaving a slightly crunchy exterior with a fluffy, bread like interior. This version is a blend between the original and bread pudding.
Ingredients
Simple ingredients make up this delicious casserole recipe. Some are doubled in the base and the pecan topping.
Bread– Challah bread or brioche are the best bread in my book. Both are a little more yolky and yellow than plain white bread, although really any type of bread can be used. French bread, of course, is also an option. Bread that is one or two days old works best because is has lost moisture and leaves more room for the custard to infiltrate. Whatever kind of bread you pick, stale bread is key.
Fresh Cranberries- Fresh will give the best flavor and also a pop when you bite into them. Frozen cranberries are also an option, but make sure they are thawed and drained so they aren't carrying excess water into the mixture.
Whole Milk- This isn't the time to skimp on the milk! It needs a little fat to bring it all together. You can use a blend of lower fat content milks and heavy cream or half and half.
Large Eggs– One of the primary components of any French toast are eggs. They give it structure and the signature yolky flavor.
Light brown sugar– I like the hint of molasses from brown sugar. Dark brown sugar or white sugar can be swapped.
Vanilla Extract– Both vanilla or almond extracts are superb at adding just a hint of flavor.
Cinnamon and Nutmeg– For seasoning. Use both or just one. For holidays you can also use pumpkin pie spice or apple pie spice in the same total quantity.
Unsalted butter– We use unsalted because different brands of butter container different amounts of salt, this allows us to control the salt. Use salted butter if you prefer, but omit the additional coarse Kosher salt.
Flour– To bind together the topping elements. Alternative flours can be used.
Coarse kosher salt– These larger grains have less sodium than table salt or fine salt. If using fine sea salt, reduce the volume by at least half.
Pecans– Pecan notes pair perfectly with the other holiday flavors. Walnuts are also a good option. They add crunch, but can be left out for those with nut allergies.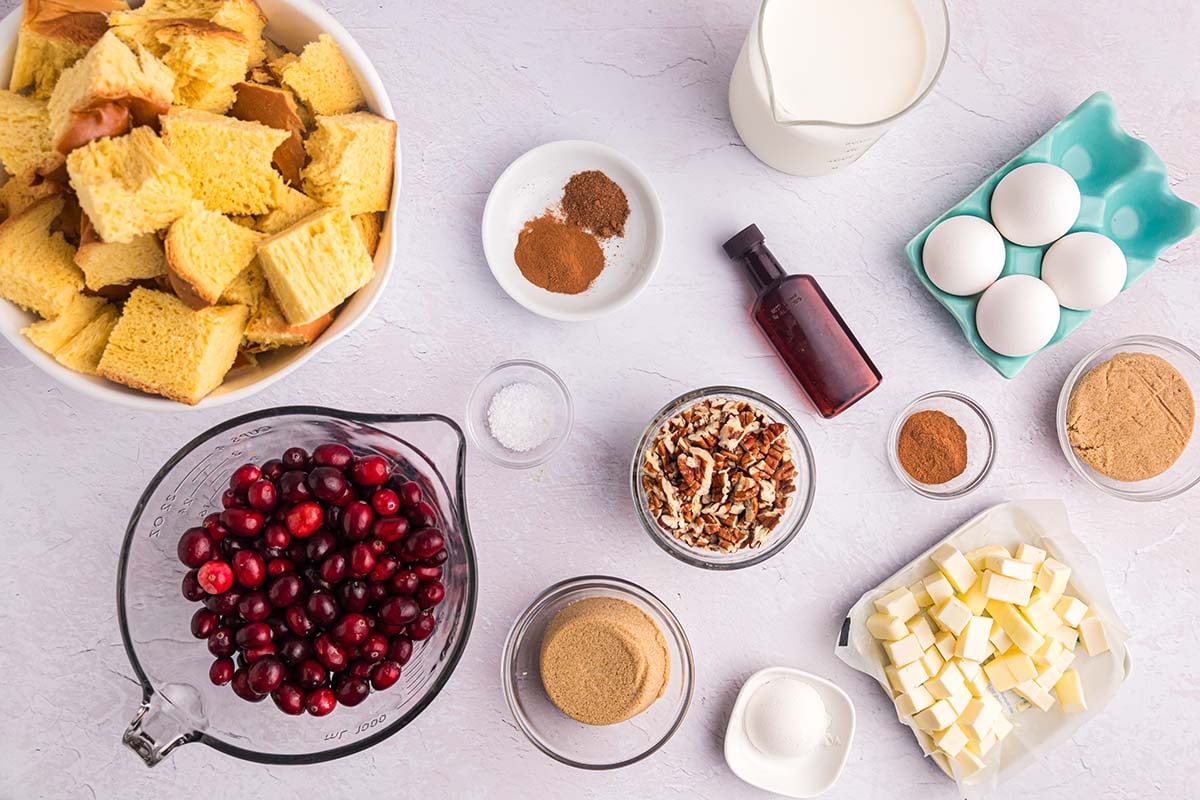 How to Make French Toast Casserole
I know what you are waiting for… the magic of taking this from an overnight French toast casserole to just a 1-hour casserole. Making it the perfect Christmas morning breakfast.
Prepare baking dish. Coat a 2-3 quart casserole dish with cooking spray and set aside. You can also use a 9×13 baking dish, it will just be a little thinner and require less baking time.
Cut bread. Tear your bread of choice into 2 inch pieces, think of a bite-sized piece (maybe even 1-inch cubes if you are feeding kids), and put them into the baking dish. You can use just bread slices, but I really prefer the cubes.
Add cranberries. Top the with fresh cranberries. At this point it will be piled fairly high and probably over the top. Don't worry, after you add the custard mix, it will sink down.
Make custard. Make the custard (egg mixture) by whisking together the milk, eggs, brown sugar, vanilla, cinnamon and nutmeg until fully combined.
Add to bread. Pour the custard mixture over the bread cubes in the baking dish (or use a large bowl). Here is the biggest difference between an overnight casserole and this one: gently squeeze the custard into the bread with your hands. Instead of naturally letting is absorbs, you are forcing it in. Cover and refrigerate for 1 hour. The mixture still needs some time to marry and set.
Preheat oven and toss bread. Preheat the oven and toss the bread one more time to coat any custard that sunk to the bottom. Top with the remaining 1 cup of cranberries and then make the yummy topping.
Make topping. Combine the cold butter, brown sugar, salt, cinnamon and pecans. This works best using a pastry cutter tool or a stand mixer with the paddle attachment. This is kind of a streusel topping with nuts. Using two forks, drop pieces evenly on the top of the casserole.
Bake until golden brown. Allow the casserole to cool for 5-10 minutes. This is the best part- your kitchen will smell heavenly. before serving and then top with pure maple syrup, vanilla butter syrup, dulce de leche or serve plain cause it really doesn't need anything at all.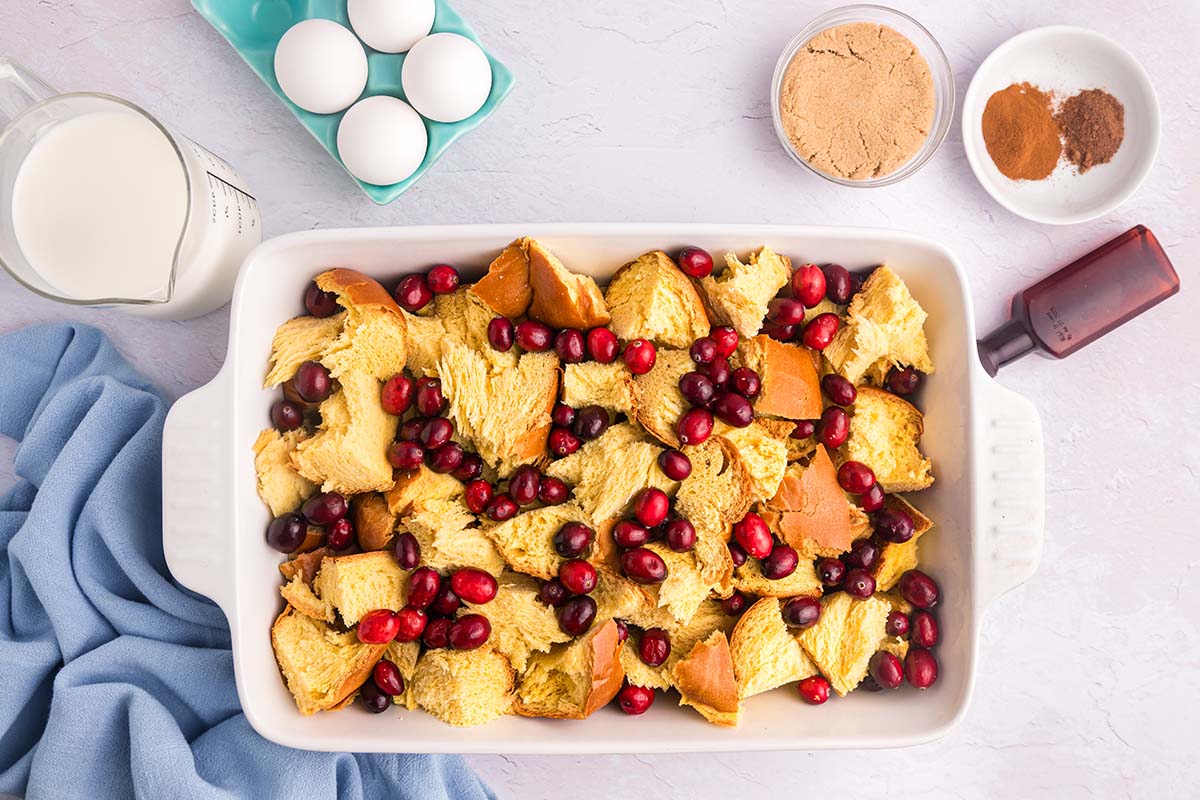 Overnight French Toast Casserole
As mentioned, most are overnight simply to let the custard sink into the bread. You can still use this recipe and do this for a make-ahead breakfast casserole.
Skip squeezing the bread and simple cover and place in the refrigerator overnight. Pick back up in the next morning with tossing to get get any custard that fell to the bottom and bake according to the directions.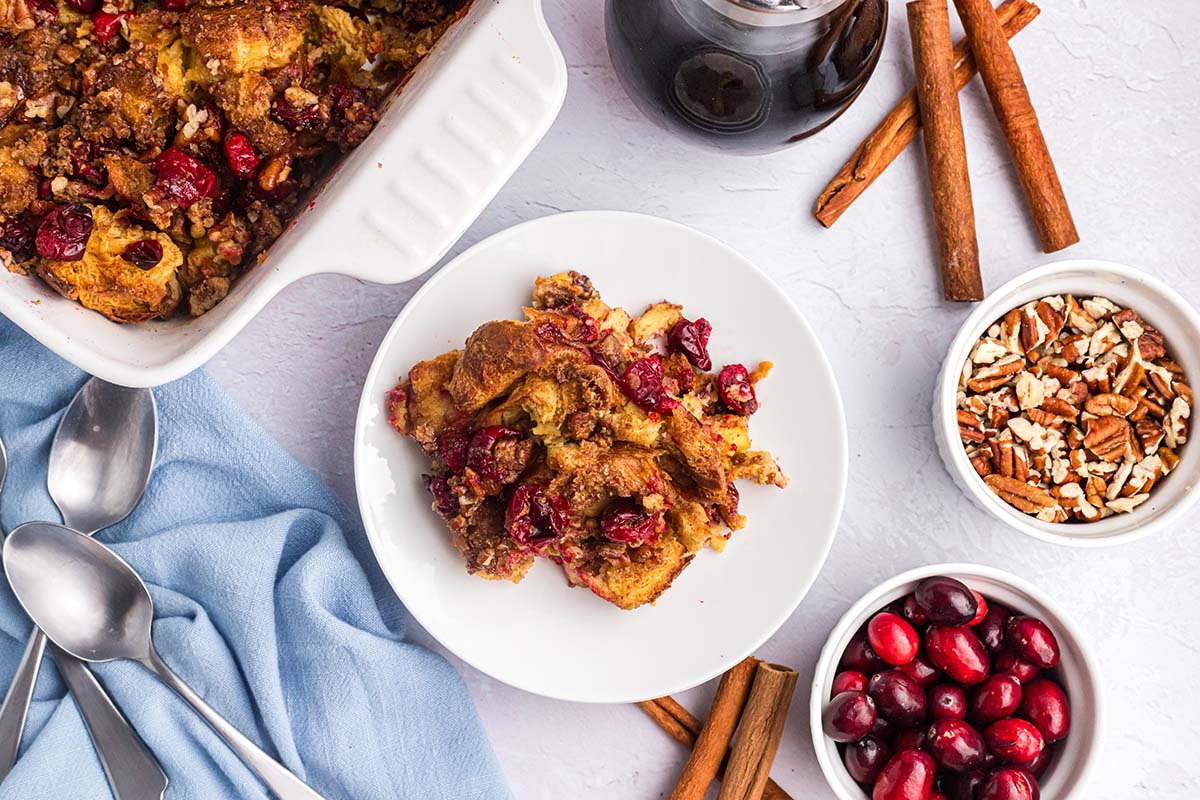 Challah Bread
What is Challah bread? Challah bread is a traditionally Jewish bread made into a braid and used in many French toast recipe. Like brioche, it is a yeast bread that uses eggs, giving it a yellow tinge, fluffier texture and more robust taste.
These elements make it perfect for French bread, or at least a more fun choice than plain white bread. You can still use French bread or even sourdough bread, or any other type of bread you wish as long as it is 16 ounces.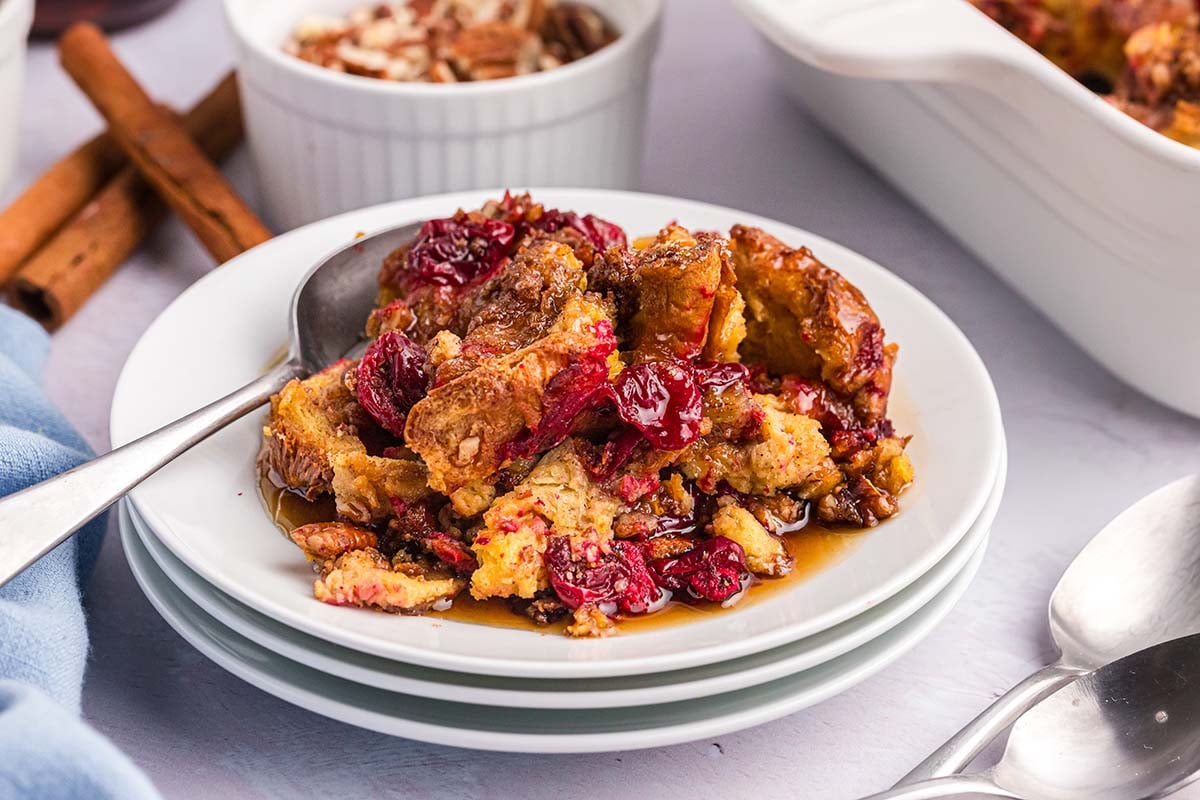 Variations
While we like this baked french toast casserole recipe exactly as written, there are plenty of ways for you to make it your own.
Fruit – Instead of cranberries, you can use other fruits if you'd like. Fresh berries, or any other fresh fruit would be a great addition.
Flavor – Take the flavor up a notch by adding some orange zest, almond extract or other warm spice to elevate the flavors.
Bread – Can't find challah bread? No problem! You could use crusty french bread, texas toast or really any type of crusty bread you have.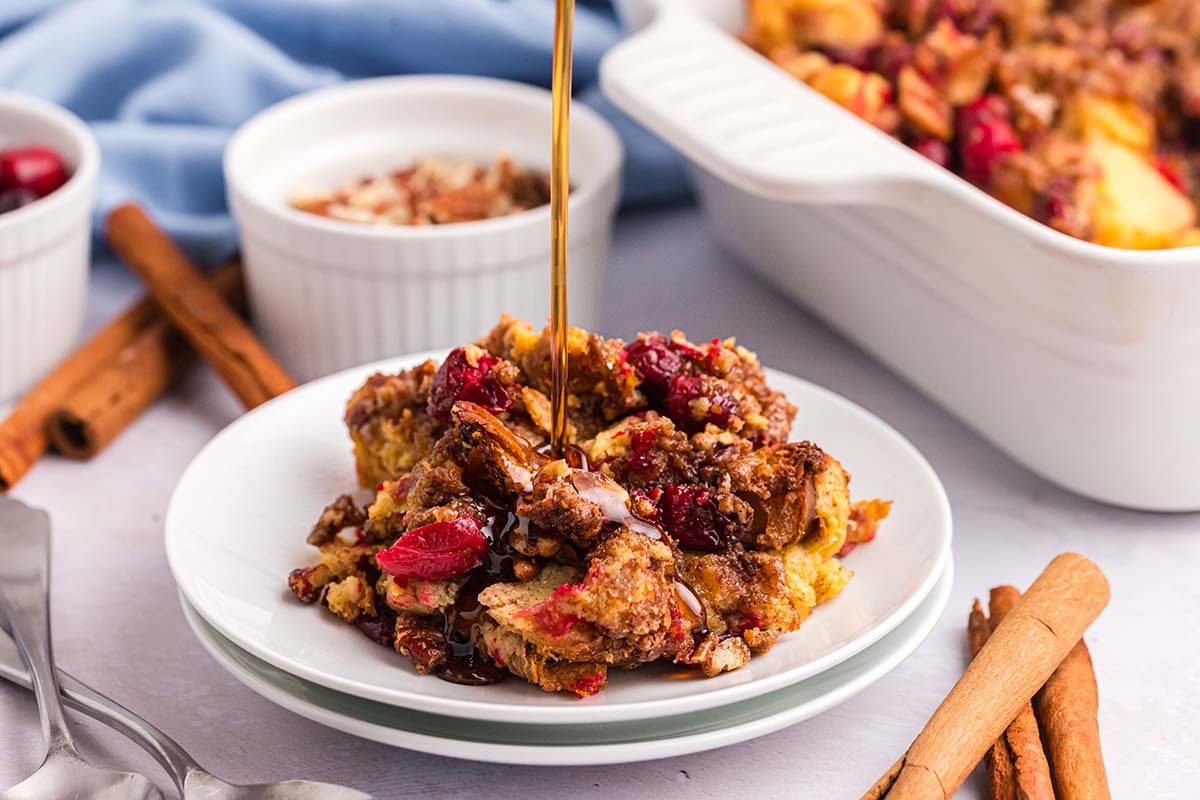 Storage & Freezing
To Store: If there are a lot of leftovers (highly impossible) cover with plastic wrap and store in the refrigerator. If there is a small amount, place into an airtight container and store in the fridge. Leftovers should last about 5 days.
To Reheat: Any leftover item that includes bread is best reheated in the oven. Bread tends to get rubbery and tough in the microwave. Place your leftovers in an oven safe dish and heat for 5-8 minutes at 350°F.
To Freeze: This breast fat casserole recipe is freezer friendly. Make and cook it and then freeze and then cover it well with aluminum foil. Freeze for up to 3 months. To cook, place into the oven fully frozen for about 1 hour. Remove the aluminum foil about 10 minutes before serving to get the topping to re-crunch. And if you need tips for freezing casseroles, check them out here!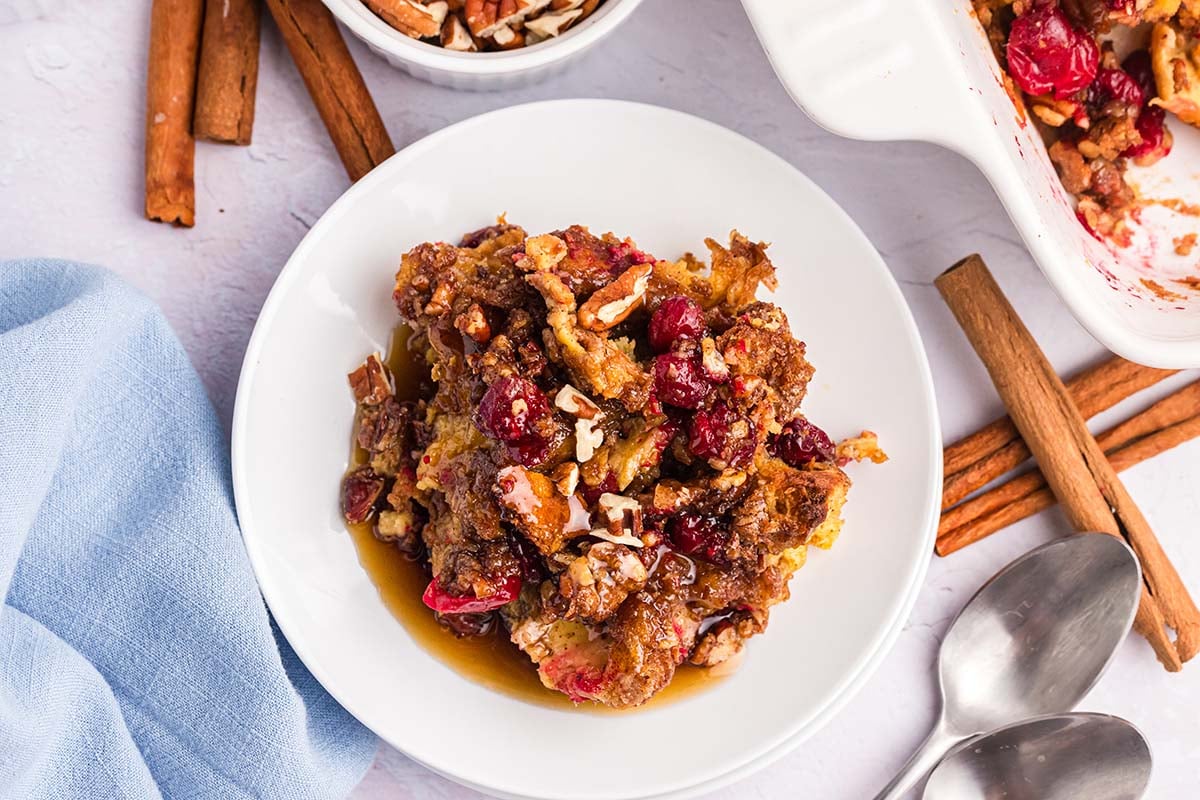 Frequently Asked Questions
Why is my French toast casserole soggy?
This usually means you used too much egg mixture or not enough bread. You also might just need to bake it a little longer.
What is the most common mistake in making French toast?
The most common issue it choosing the wrong bread. Italian bread and challah bread are both a great option, while white bread is not.
What is French toast casserole made of?
Each recipe will differ slightly, but check the section above for the exact ingredients for this easy french toast casserole recipe.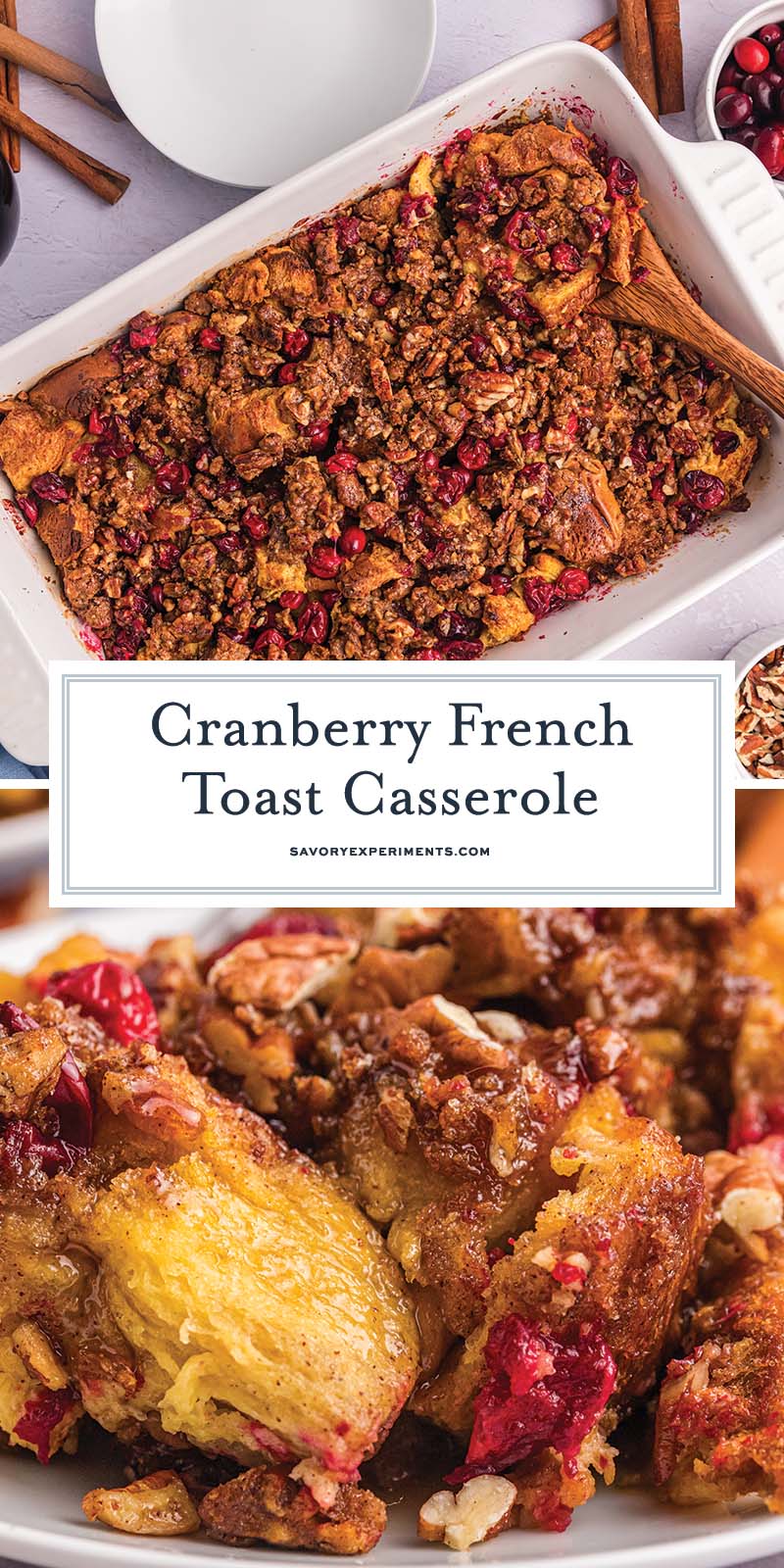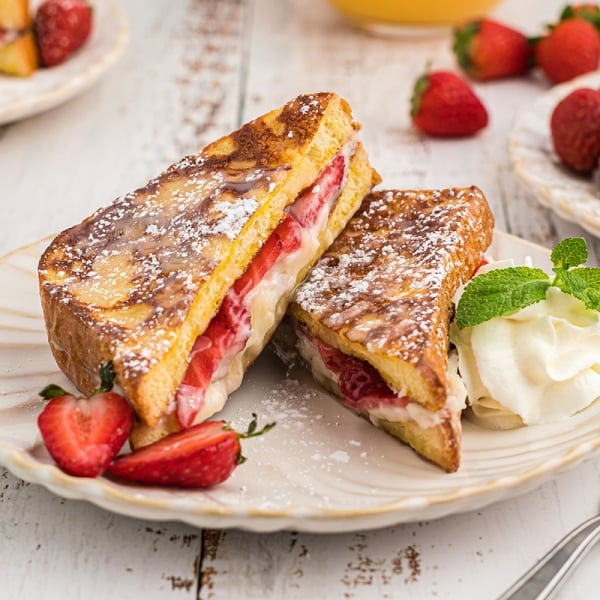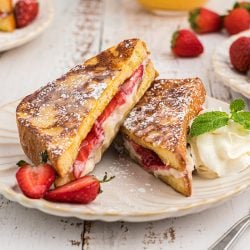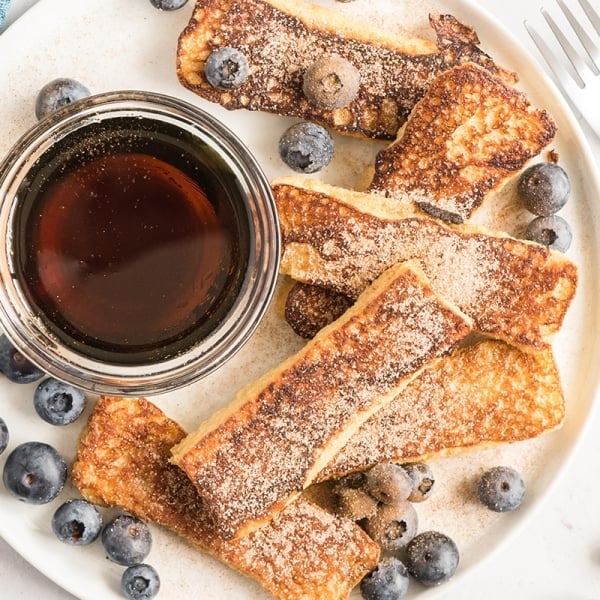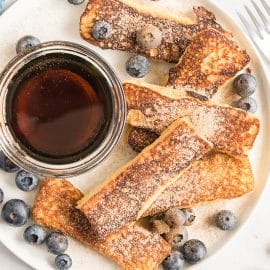 French Toast Sticks
Lightly crisp on the outside and soft on the inside, French Toast Sticks are a fun & delicious breakfast that both kids and adults will love!
See The Recipe!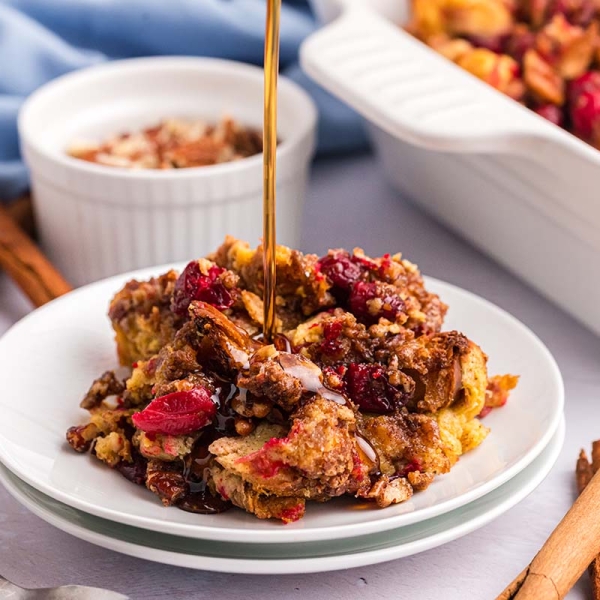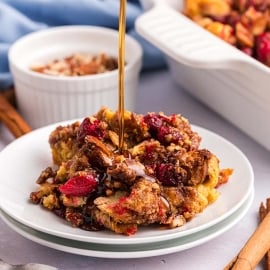 Cranberry French Toast Casserole Recipe
Make this Cranberry French Toast Casserole the same morning with fresh cranberries and a sweet custard over challah or brioche. 🍴 Perfect for Thanksgiving or Christmas Breakfast!
Instructions
Coat a 2-3 quart casserole dish with cooking spray. Set aside.

Tear the Challah bread into 2 inch pieces and place them in casserole dish. Top with 1 cup of the fresh cranberries (it will be piled high!). Set aside.

In a medium mixing bowl, whisk together the milk, eggs, brown sugar, vanilla, cinnamon and nutmeg. Whisk until little bubbles form.

Pour the custard mixture over the bread. Toss and lightly squeeze with your hands so the bread absorbs some of the custard. Cover and refrigerate for 1 hour.

Preheat the oven to 350°F. Remove the casserole from the refrigerator, toss again to coat with any custard that sunk to the bottom. Top with the remaining 1 cup of cranberries. Set aside.

In a mixing bowl or bowl of a stand mixer fitted with the paddle attachment, combine the cold butter, brown sugar, salt, cinnamon and pecans. Blend or cut using a pastry cutter until well combined.

Using two forks, drop pieces evenly on the top of the casserole.

Bake, uncovered, for 45 minutes.

Remove and allow to cool for 5-10 minutes before serving. Maple syrup is optional.

If you've tried this recipe, come back and let us know how it was in the comments or star ratings.
Notes
Overnight French Toast: If you are making an overnight French toast casserole, skip squeezing the bread and simple cover and place in the refrigerator overnight. Pick back up in the morning with tossing to get get any custard that fell to the bottom.
Nutrition
Calories:
330
kcal
,
Carbohydrates:
34
g
,
Protein:
7
g
,
Fat:
18
g
,
Saturated Fat:
7
g
,
Cholesterol:
98
mg
,
Sodium:
446
mg
,
Potassium:
179
mg
,
Fiber:
2
g
,
Sugar:
14
g
,
Vitamin A:
475
IU
,
Vitamin C:
2.3
mg
,
Calcium:
111
mg
,
Iron:
1.8
mg