Pierogi Casserole is a great weeknight dinner made with layers of pierogies, creamy ricotta cheese, smoky kielbasa and cheddar cheese. A fun meal that is also great for parties and potlucks. Always a family favorite.

Pierogi Casserole takes your favorite pierogi and layers them with creamy ricotta, smoky kielbasa and cheddar cheese. A family favorite and great for potlucks and parties!
Let me start this off by saying I am not Polish and in no way, shape or form am I claiming this recipe is authentic or in fact, Polish. So haters, keep on hating. Everyone else, please enjoy my delicious pierogi casserole!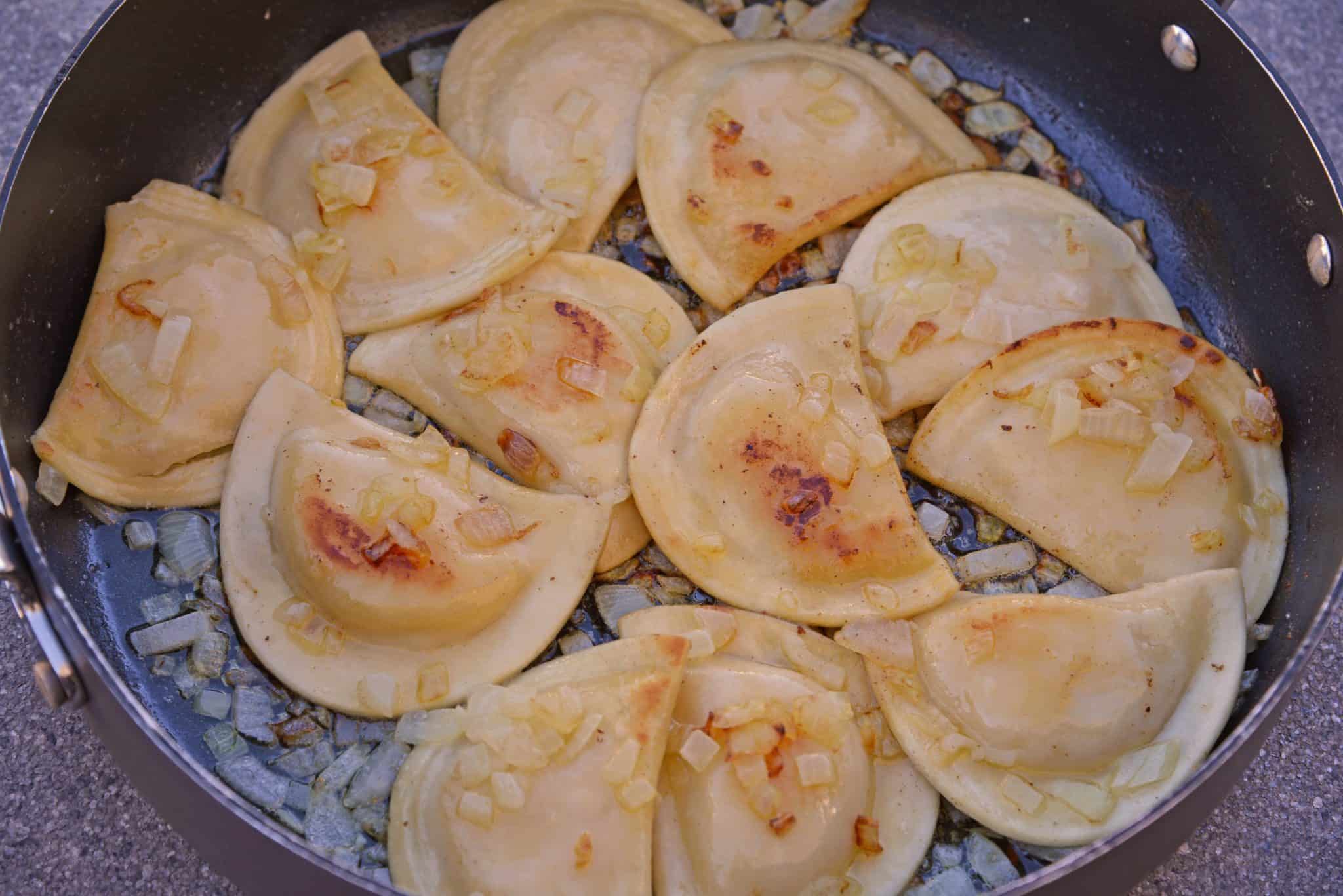 Can you believe that my first experience with pierogies wasn't until I was an adult? Yep! I can tell you exactly when, actually. My friend Nathalie, who is actually Polish, brought them over for our Friendsgiving celebration.
Here in Maryland, it is actually tradition to have a side of sauerkraut and sausage on Thanksgiving. And in some cases, pierogies.
She doesn't wimp out with Mrs T's (not throwing shade, Mrs. T's is perfectly fine), she heads down to a little, hole-in-the-wall Polish joint where they don't speak in English and points to the pierogies she wants.
She brings them over with freshly cased sausage and fries them up with butter and onions. As I am typing this, I'm craving the butter laden meal.
A few years ago I had an epiphany moment to try and make them into a Pierogi Casserole after seeing a similar concept, Ravioli Casserole or Ravioli Lasagna. Somehow I couldn't bring myself to call this dish Pierogi Lasagna since there isn't really a sauce.
To recipe test, I didn't go get the expensive, good pierogies. Instead I used the regular, old frozen ones. Pick your favorite pierogi flavor. I prefer plain old potato pierogies, but hubby likes them with sauerkraut or meat.
You can even use a mix; every bite will be a surprise!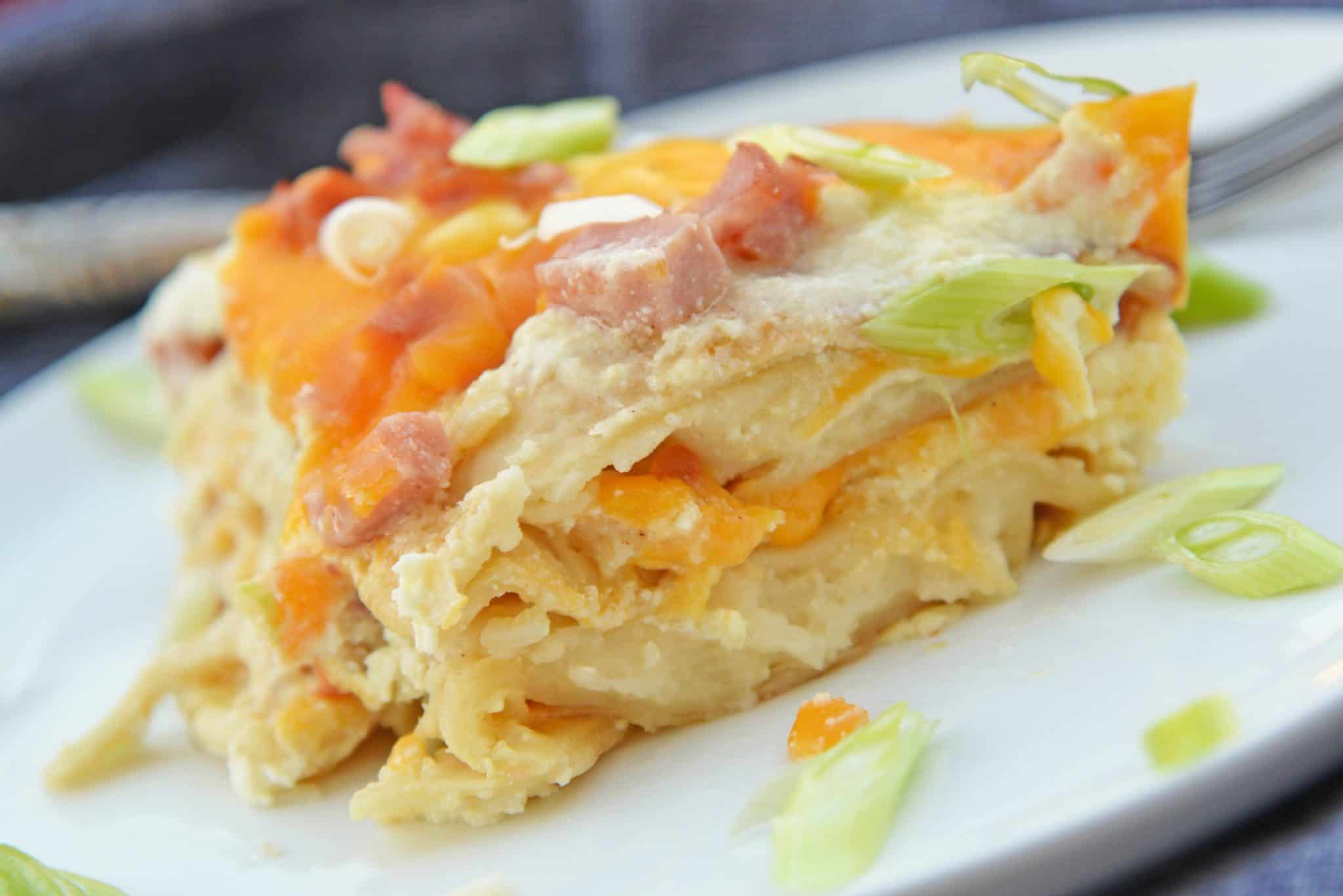 Serve your Pierogi Casserole with a nice leafy green salad and lots of veggies. And if you have leftovers to freeze, check out my tips for freezing a casserole here.
Tools for making Pierogi Casserole:
Heavy Bottom Frying Pan– this will be one of your most used kitchen tools. Having something that is heavy bottom will distribute heat better and prevent burning whether you are using an electric or gas range.
11 x 7 Casserole Dish
– Also known as a 2 quart casserole dish, you want something slightly smaller and deeper than a typical 9 x 13 baking dish.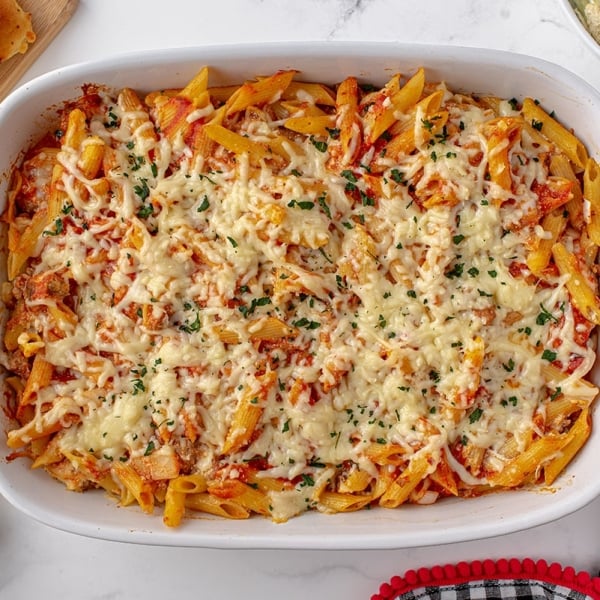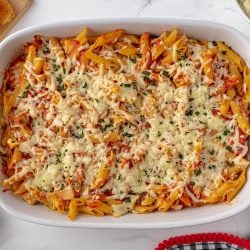 Baked Mostaccioli
A delicious one-dish meal with baked pasta, tomato sauce, cheese and sausage. Great for potlucks and as a freezer meal!
View this recipe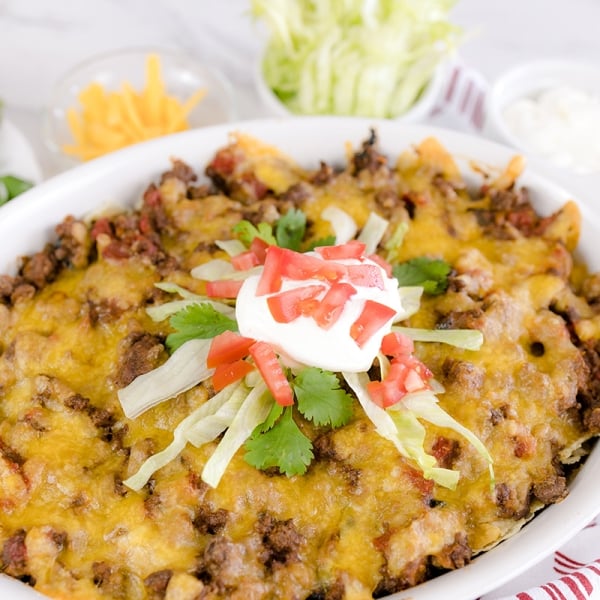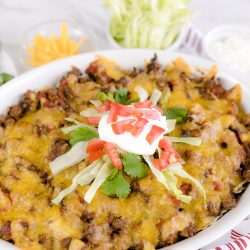 Taco Bake Casserole Recipe
This easy taco bake casserole recipe is a great cheesy recipe for an weeknight meal or potluck. Easily customizable with your favorite taco toppings.
View this recipe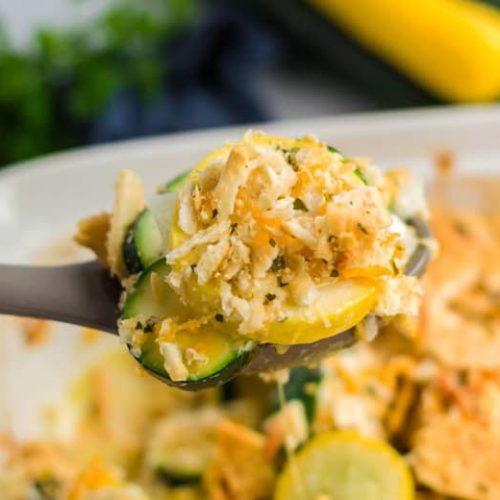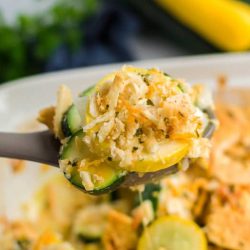 Cheesy Squash Casserole
The layers of freshly sliced squash with cheese and a buttery cracker topping in this Cheesy Squash Casserole are the easy side dish you having been searching for!
View this recipe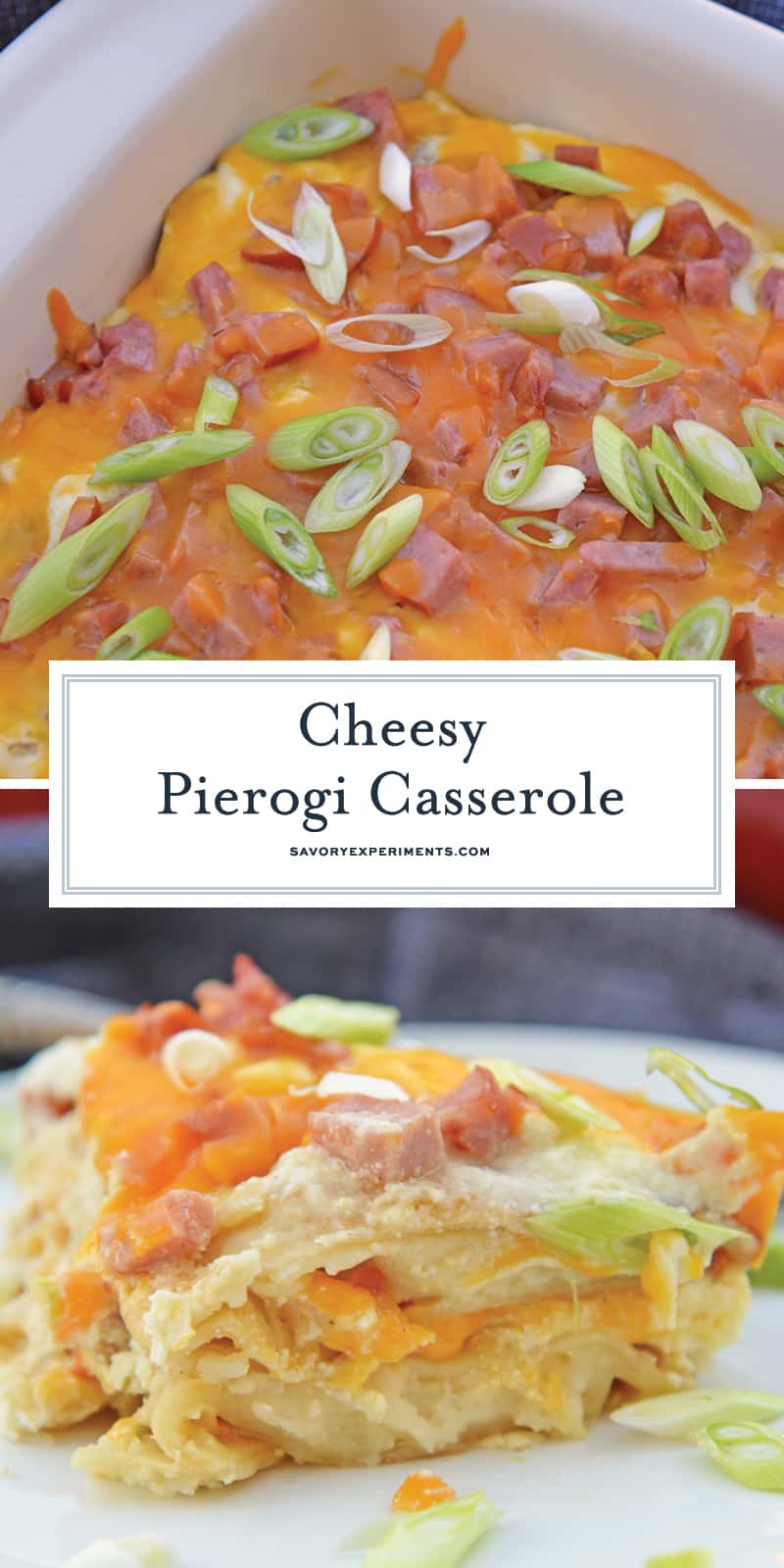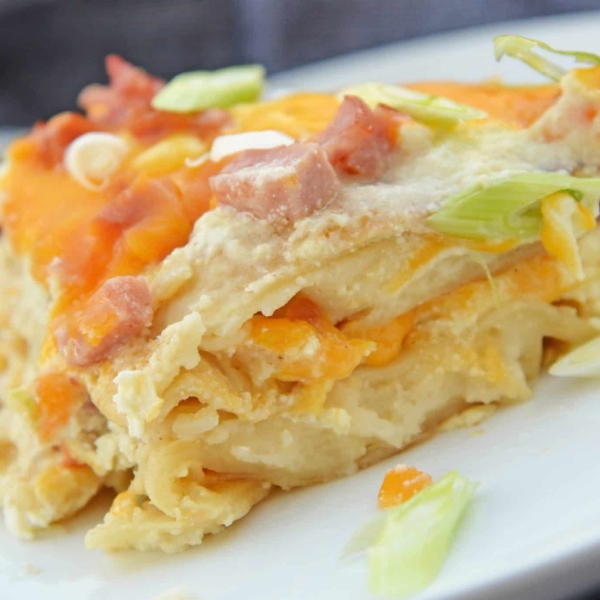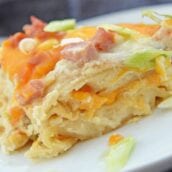 Pierogi Casserole
Pierogi Casserole takes your favorite pierogi and layers them with creamy ricotta, smoky kielbasa and cheddar cheese. A family favorite and great for potlucks and parties!
Instructions
Preheat oven to 350 degrees. Coat a 2 quart casserole dish with cooking spray.

In a large, heavy bottom skillet, melt butter over medium-high heat. Add half of the perogies and chopped yellow onion. When the first half is browned, remove and add second half.

Fry until lightly browned. Remove to a bowl and allow to cool while preparing other ingredients.

In a medium mixing bowl, stir together ricotta cheese, eggs fine sea salt and ground white pepper.

In casserole dish, place a layer of perogies on the bottom in a single layer, trying to place together and avoid gaps the best you can. Some gaps are inevitable.

Top with 1/3 ricotta mixture, 1/3 kielbasa and 1/3 shredded cheddar cheese. Repeat two more times ending with cheddar cheese and kielbasa.

Loosely over with aluminum foil. Bake for 40 minutes.

Remove aluminum foil and bake for an additional 10 minutes uncovered.

Remove and allow to cool for 5 minutes. Top with scallions and serve.

If you've tried this recipe, come back and let us know how it was!
Notes
If you are using frozen, don't worry if they aren't 100% thawed. If you use fresh, follow the same process, it will just take less time. Either way, they will heat all the way through during the baking process.
Nutrition
Calories:
497
kcal
,
Carbohydrates:
21
g
,
Protein:
20
g
,
Fat:
37
g
,
Saturated Fat:
19
g
,
Cholesterol:
132
mg
,
Sodium:
1023
mg
,
Potassium:
186
mg
,
Fiber:
1
g
,
Sugar:
2
g
,
Vitamin A:
775
IU
,
Vitamin C:
5.9
mg
,
Calcium:
295
mg
,
Iron:
1.8
mg