Mexican Beef and Rice Casserole has quickly become one of our family favorites and I can guarantee it will be yours too. An easy dinner recipe using browned ground beef, beans, rice and spices for a one dish meal that is out of this world!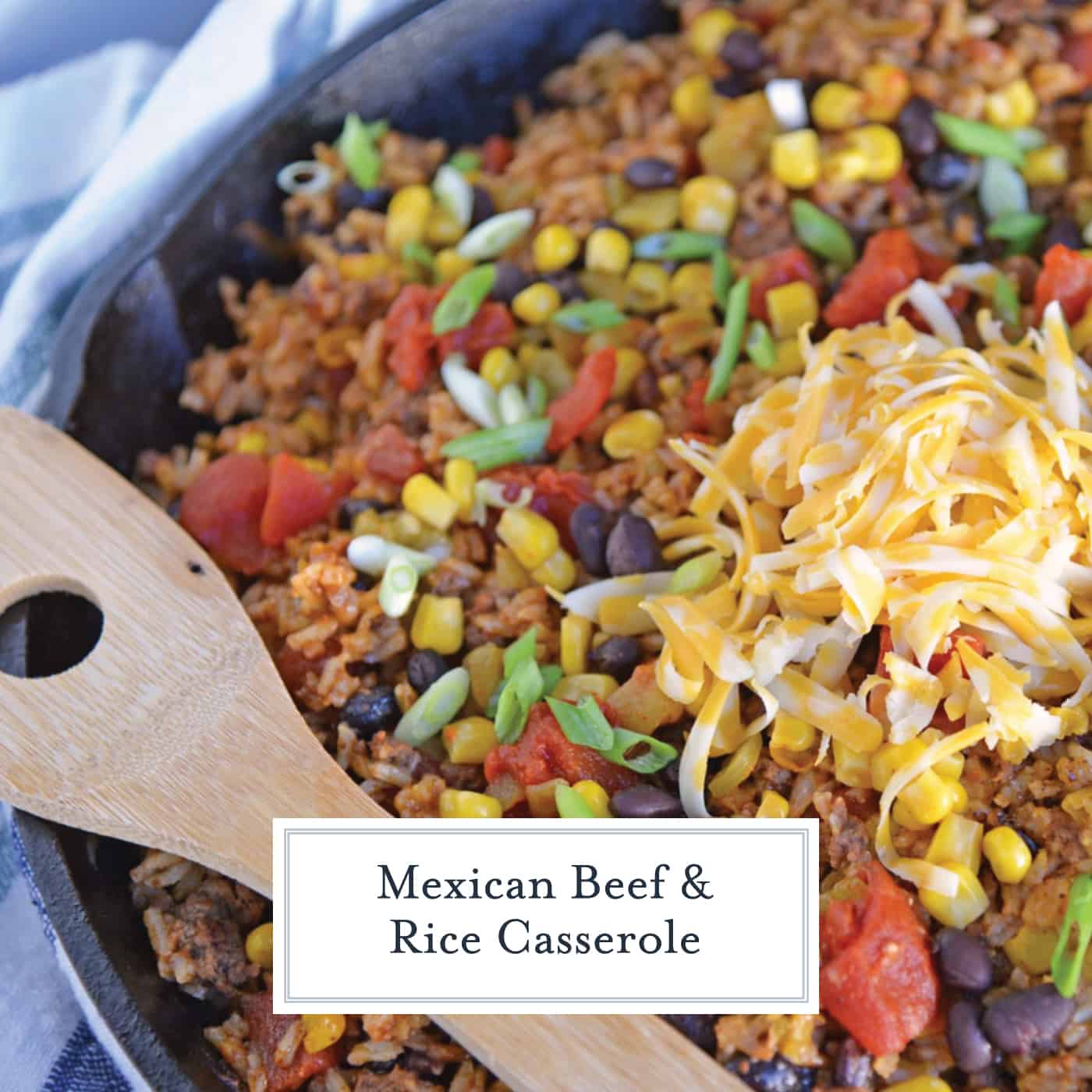 I find that Mexican food is the ultimate comfort food. Warm flavors with lots of cheese. Make that into a casserole dish and you've got pure magic.
Mexican Beef and Rice Casserole is an easy weeknight recipe using ground beef, taco seasoning and other easy ingredients for a one dish meal!
We all know I am cookbook hoarder. I love to challenge my culinary ability and try new things. I play a game called recipe roulette.
I take one of my beautiful cookbooks and turn to a random page. Whatever is on that page is what is for dinner.
It takes us out of our comfort zone, encourages me to try new techniques and ingredients and it's fun! If the recipe is terrible, we order a pizza.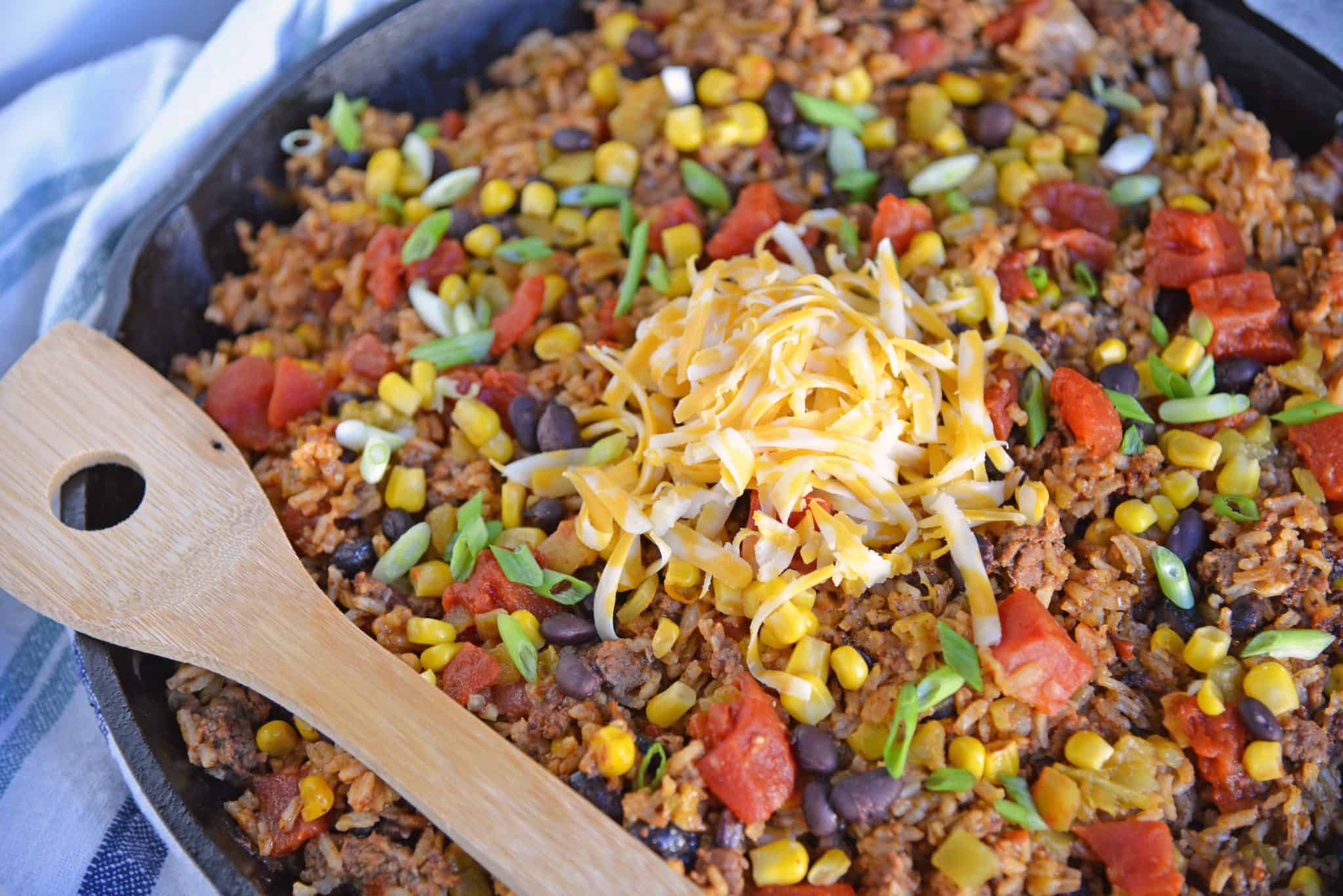 But every once and while we hit on a "keeper." One of those recipes that ends up being a part of our monthly rotation of tried an true meals. Mexican Beef and Rice Casserole ended up being one of those keepers.
It really was no surprise, Mexican Beef and Rice Casserole came from a The Simple Kitchen, a cookbook penned by fellow bloggers Chad and Donna Elick of The Slow Roasted Italian, known for their simple and flavorful dishes with bold, mouthwatering photography.
Also true to my kitchen, I never met a recipe I didn't alter just a little bit to make it my own. Mexican Beef and Rice Casserole is actually published using chicken, but I followed one of Donna's simple kitchen tips.
These tips are provided with each recipe for modifications or prep ideas, and used ground beef.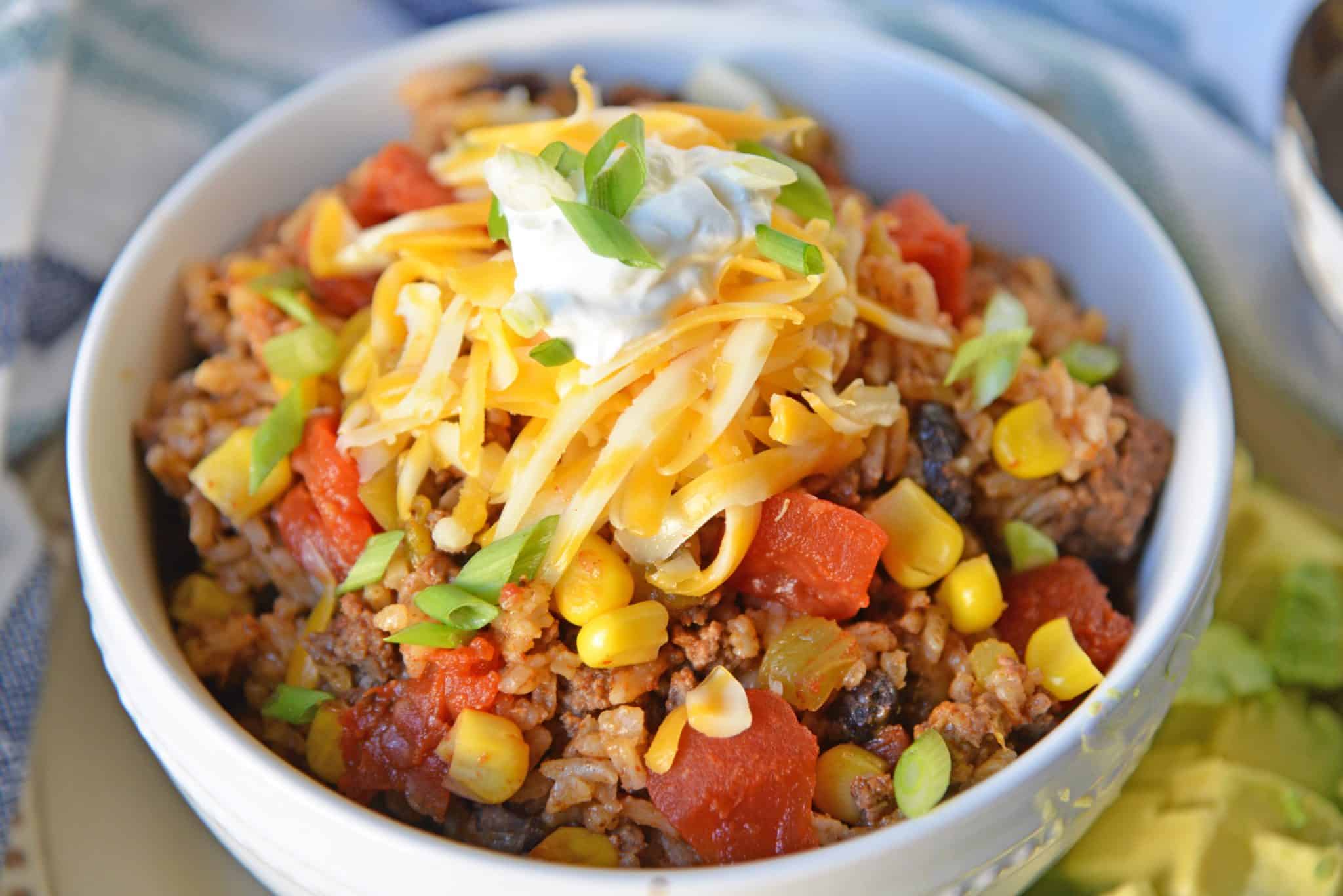 My readers always seem to be looking for new ways to use ground beef beyond meatballs, tacos and meatloaf. It is a hearty protein and easy on the wallet. Mexican ground beef recipes, to be specific.
I also put my own spin on the recipe by increasing the tomatoes, black beans, corn and green chiles, while adding diced onion and hot sauce.
The original also calls for cilantro and although I have nothing against cilantro, I forgot to buy it at the store. One of the beauties of this recipe is that it is super easy to omit and add as your taste buds dictate!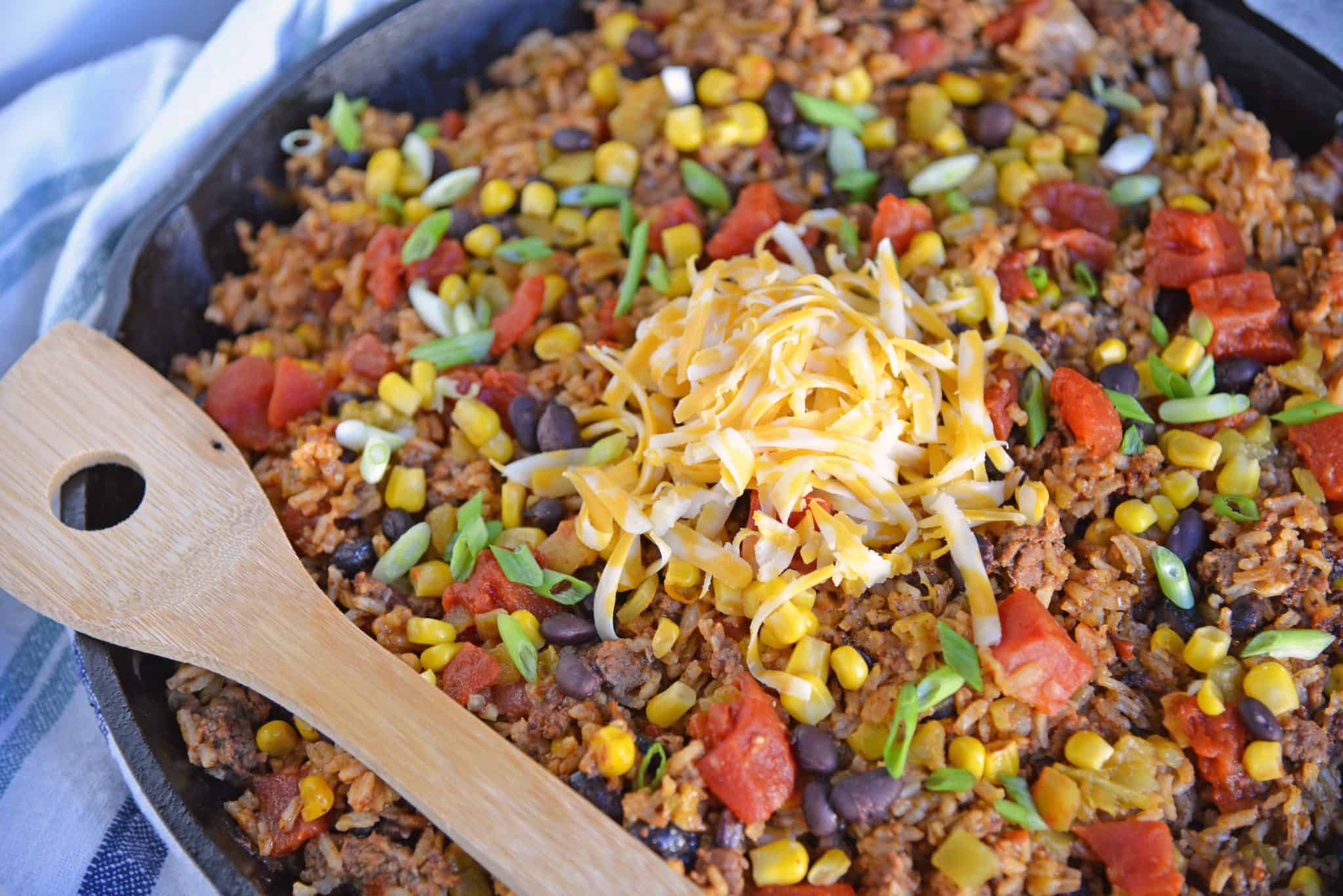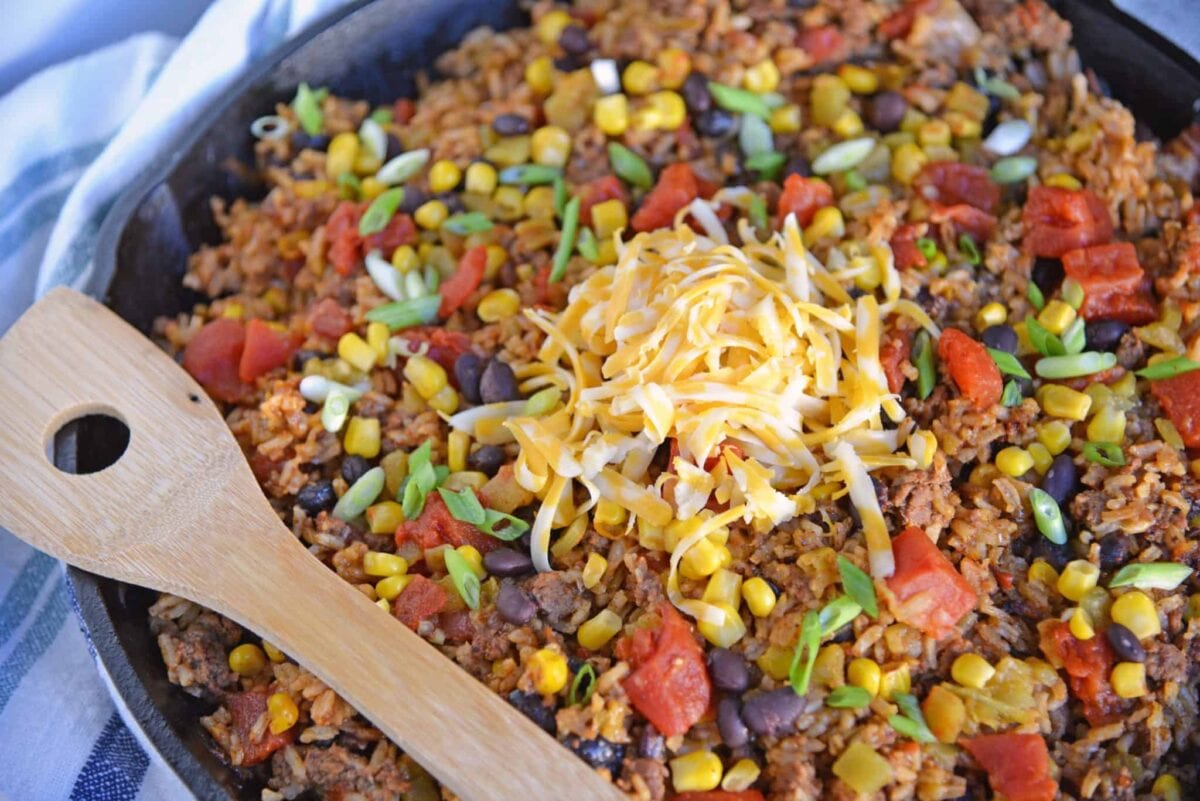 I garnished with avocado, sour cream and scallions for a colorful one dish meal. Hubby and I ate Mexican Beef and Rice Casserole for the next 3 meals and ended up making another double batch the next week to take for lunches!
Feel free to use lean ground beef, diced chicken or even ground turkey. You can also serve this dish with warm corn tortillas and make them into street tacos! Add a little tomato sauce or salsa to hold the whole thing together.
You can also check out my tips for freezing a casserole here!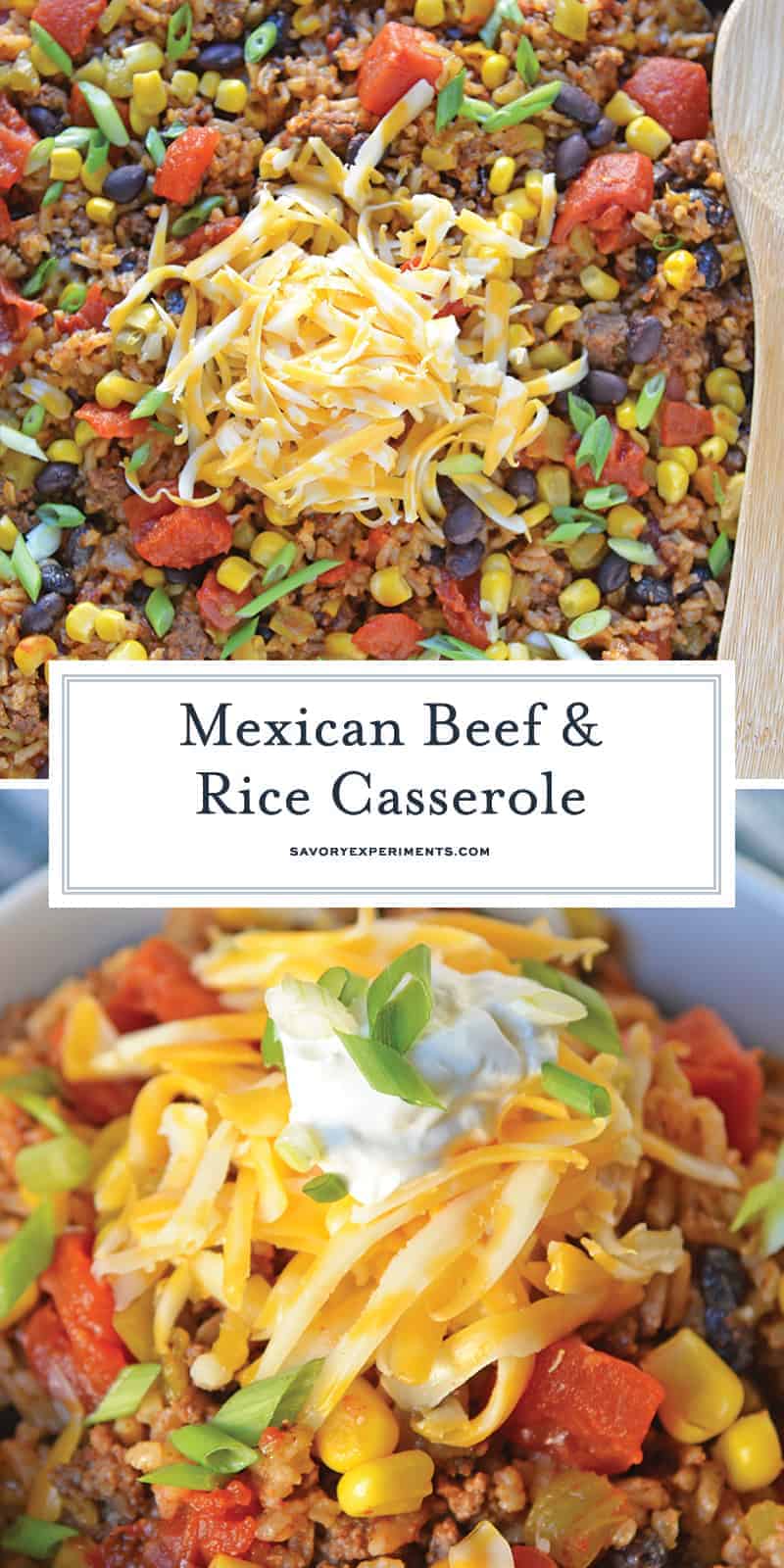 Tools for making this ground beef and rice casserole:
Heavy Bottom Frying Pan– this will be one of your most used kitchen tools. Having something that is heavy bottom will distribute heat better and prevent burning whether you are using an electric or gas range.
Wood cutting board – wood won't dull your knives like plastic and if treated properly, has natural antimicrobial properties.
Good knife – Global is my favorite! They are worth the price, I promise. I am kind of obsessed with them and store them tucked away so no one else can use them. Including hubby. Hands off my good stuff!
Cast Iron Skillet– Yes they are heavy, yes they take a little extra TLC. Are using cast iron pans worth it? YES!!! Just buy one and you'll thank me later! I have both pre-seasoned and unseasoned. I like them both for different reasons.
Hamburger Meat Chopper– Easily break up your meat using this nifty tool!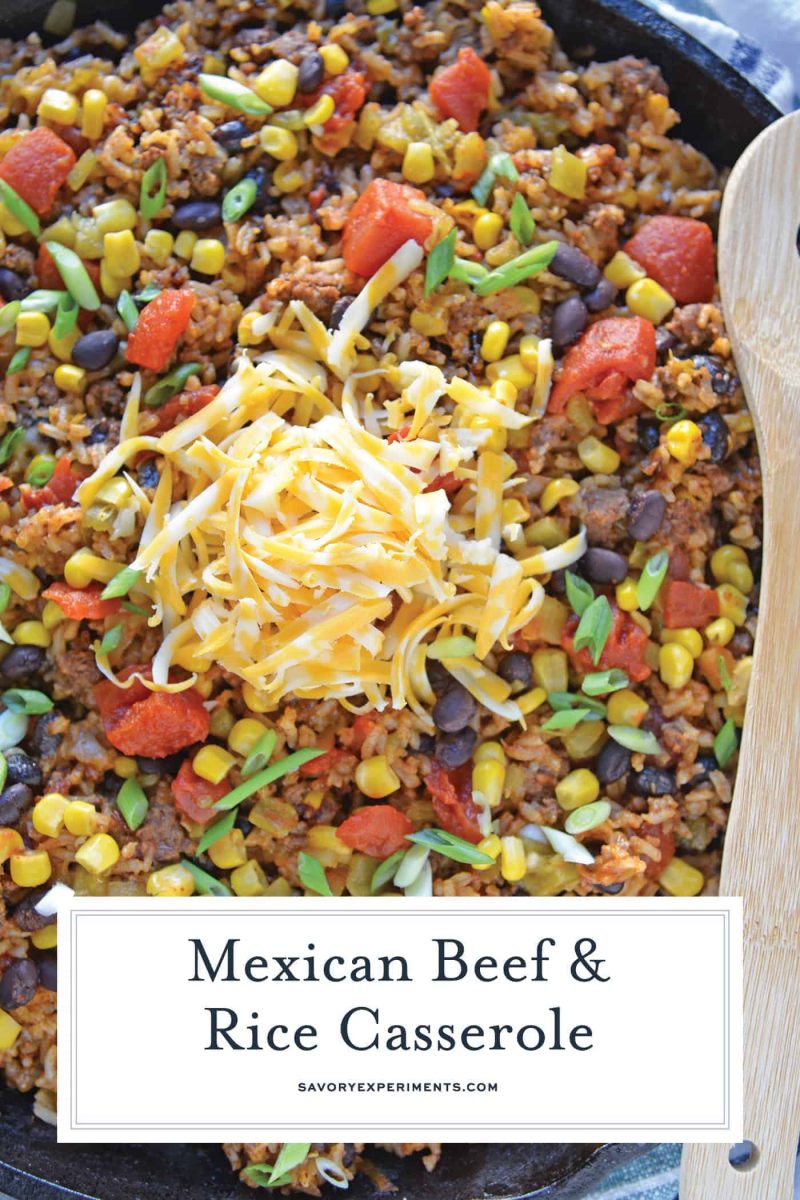 Before you get started, make sure you know how to properly season your cast iron and how to clean your cast iron!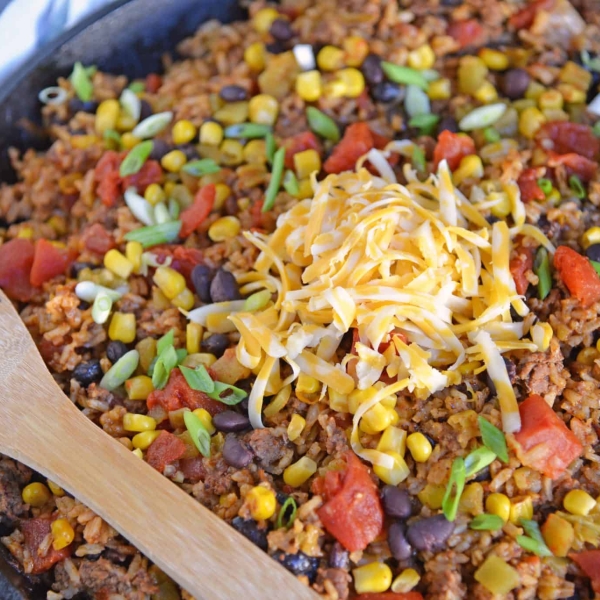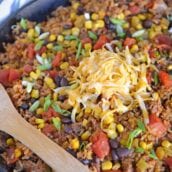 Mexican Beef and Rice Casserole
Mexican Beef and Rice Casserole is an easy weeknight recipe using ground beef, taco seasoning and other easy ingredients for a one dish meal your whole family will love!

Instructions
In an extra large skillet or cast iron pan, heat vegetable oil over medium heat. Add ground beef, breaking up pieces as it cooks. Cook until there is no pink. If you use anything above 90/10 mix, drain grease after meat has cooked.

Add taco seasoning, kosher salt and diced white onion, continue to cook for an additional 2 minutes.

Add chicken stock, jasmine rice, drained and rinsed black beans, diced tomatoes with juice, green chiles and hot sauce, toss to combine.

Cover and allow to cook for 15-20 minutes. Stir half way through to prevent rice from sticking to the bottom of the pan.

When nearly done, add frozen corn, cook for an additional 2 minutes.

Toss with colby jack cheese.

Serve with optional garnishes including sour cream, scallions, avocado and cilantro.

If you've tried this recipe, come back and let us know how it was!
Notes
I always keep instant rice in the pantry. The amount of liquid can vary greatly from one batch to the next and if the called for amount of rice isn't soaking up all the liquid, I can add 1-2 tablespoons of instant rice to compensate without ruining the recipe.
Nutrition
Calories:
883
kcal
,
Carbohydrates:
57
g
,
Protein:
79
g
,
Fat:
37
g
,
Saturated Fat:
21
g
,
Cholesterol:
203
mg
,
Sodium:
1806
mg
,
Potassium:
1588
mg
,
Fiber:
14
g
,
Sugar:
5
g
,
Vitamin A:
1300
IU
,
Vitamin C:
19.6
mg
,
Calcium:
543
mg
,
Iron:
9.6
mg
Make sure to grab your copy of The Simple Kitchen for even more flavorful and easy recipes!