Regardless of the time of year, one-dish meals are always in season and priceless. Modeled after a dish I used to make all the time in college, Southwest Chicken Casserole is one of my favorites!
Southwest Chicken Casserole is an easy one-dish meal using chicken, rice, black beans, tomato, corn and southwest spices.
One-dish recipes save time on the front end during preparation and the on the tail end for clean-up. Southwest Chicken Casserole is not only a simple one-dish meal, it is also fairly healthy.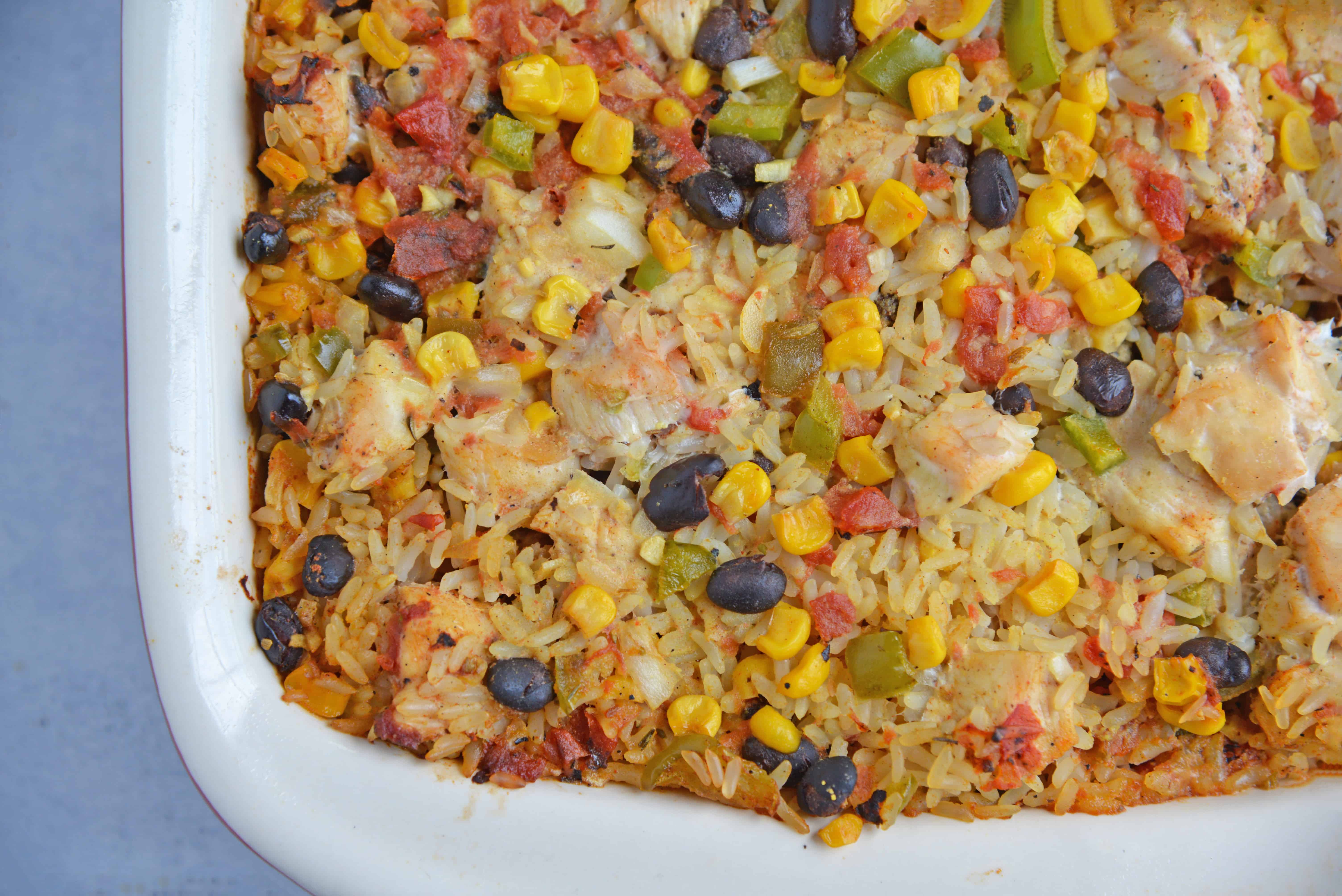 Using brown rice, vegetables and fiber rich beans adds color, texture and flavor. Southwest spices are full of antioxidants and flavor. There is also some evidence that suggests spicy and smoky flavors may help increase metabolism for an hour after being eaten.
I developed Southwest Chicken Casserole after craving a dish I used to make when I was in graduate school. It was a premade seasoning packet that only required the addition of canned tomatoes, beans, chicken and corn.
Southwest chicken and rice, yummy, yummy!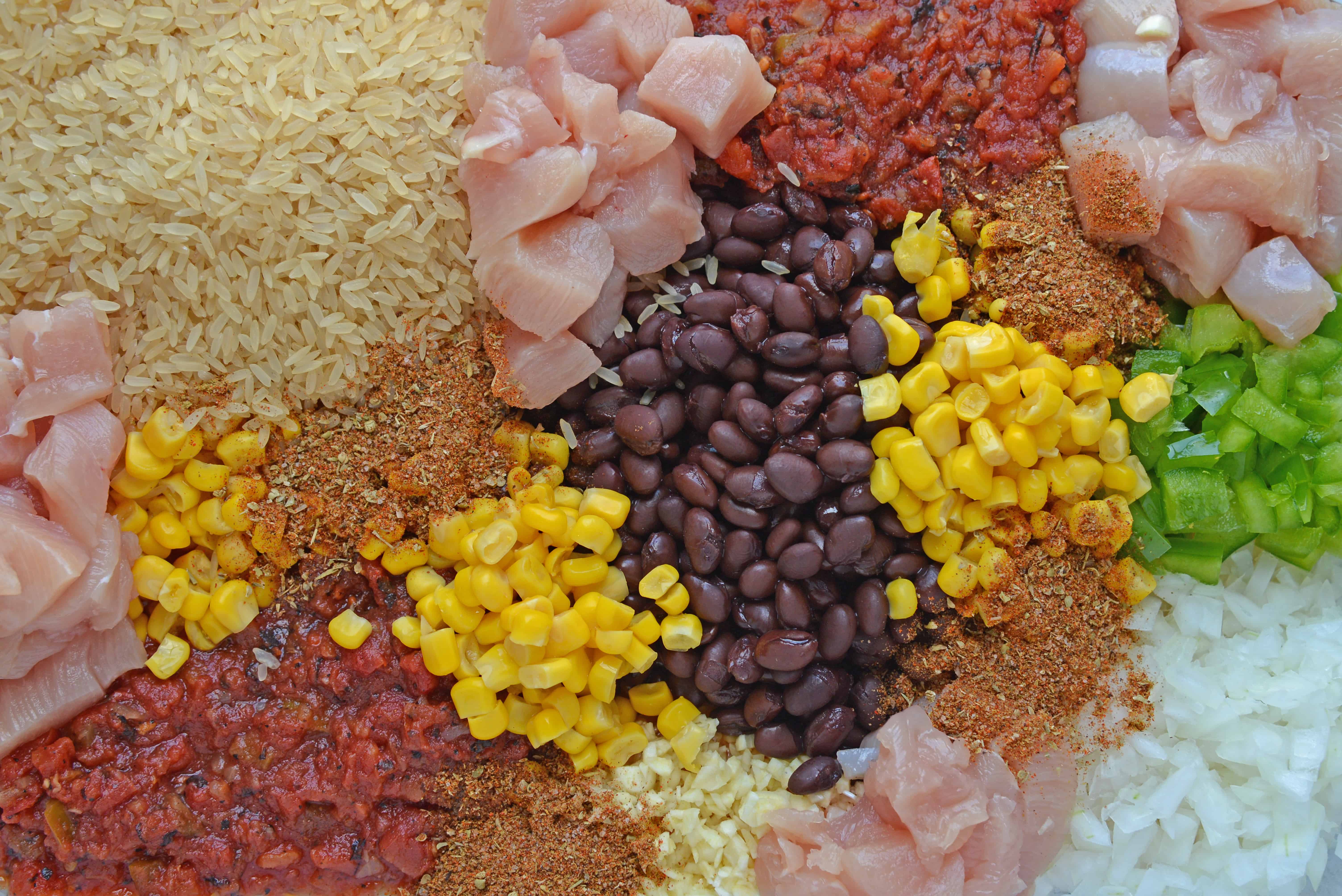 It was basically a shake and bake, coming with an oven bag. I realized it was no longer on the market and I'd need to develop my own version. It was actually quite simple and gave me the flexibility to add even more flavor and reduce the sodium. Win-win.
Did you know that rinsing canned vegetables can reduce the sodium by up to 90%? I rinse the beans and corns, but keep all of the flavorful juices from the tomatoes and zesty green chiles.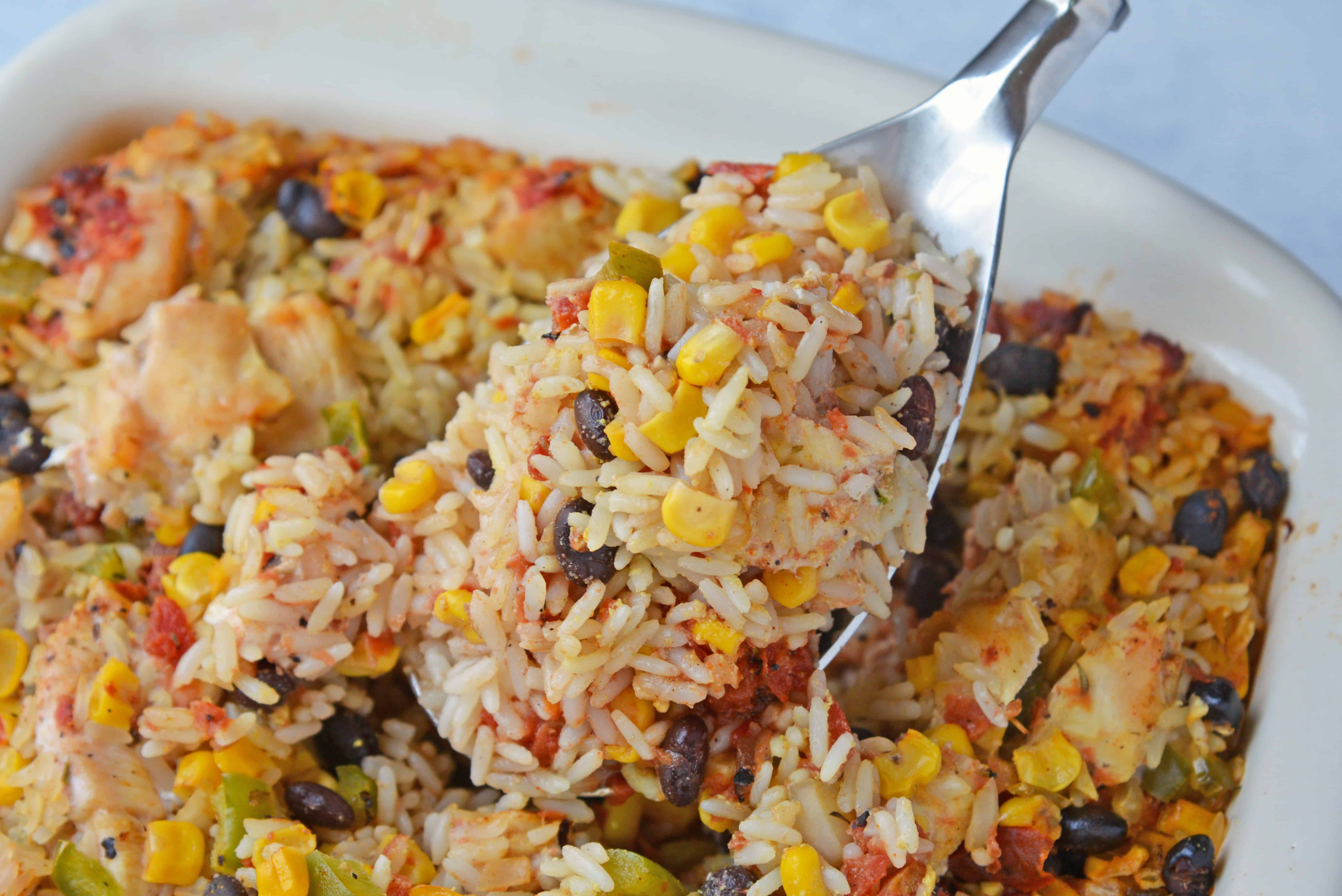 These liquids soak into the brown rice, which can be bland and usually requires additional salt. Also, making your own southwest seasoning with dried herbs you most likely already have at home, saves money and allows you to adjust the salt content to your own preferences.
Sealing the baking dish tight with aluminum foil creates the same type of steaming as you would get with rice in a saucepan, trapping the moisture in and keeping the chicken moist.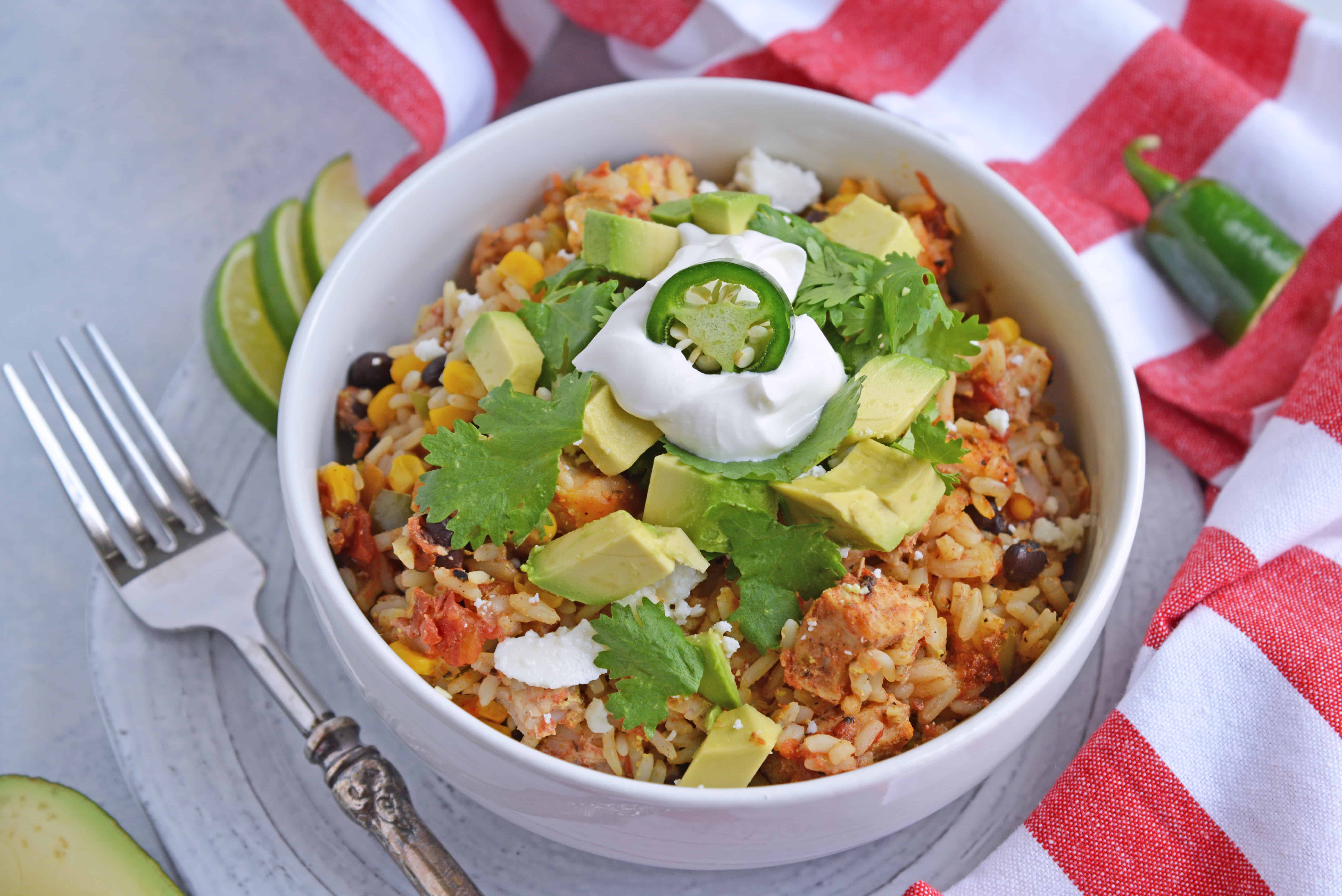 I was making Southwest Chicken Casserole as meal prep for the week before meal prep recipes were even cool! One batch accounted for an entire week of lunch or dinner.
PRO TIP: To save a few calories, substitute plain Greek yogurt for sour cream.
Topping your southwest chicken bowl with sour cream, avocado, cilantro and even fresh jalapeno slices will elevate it even more. You can also add cheese, if you'd like. Cheddar, colby and pepper jack work best!
Making an entire casserole can sometimes be too much and you have leftovers. If that's the case and you'd like to freeze the leftovers, here are some casserole freezing tips!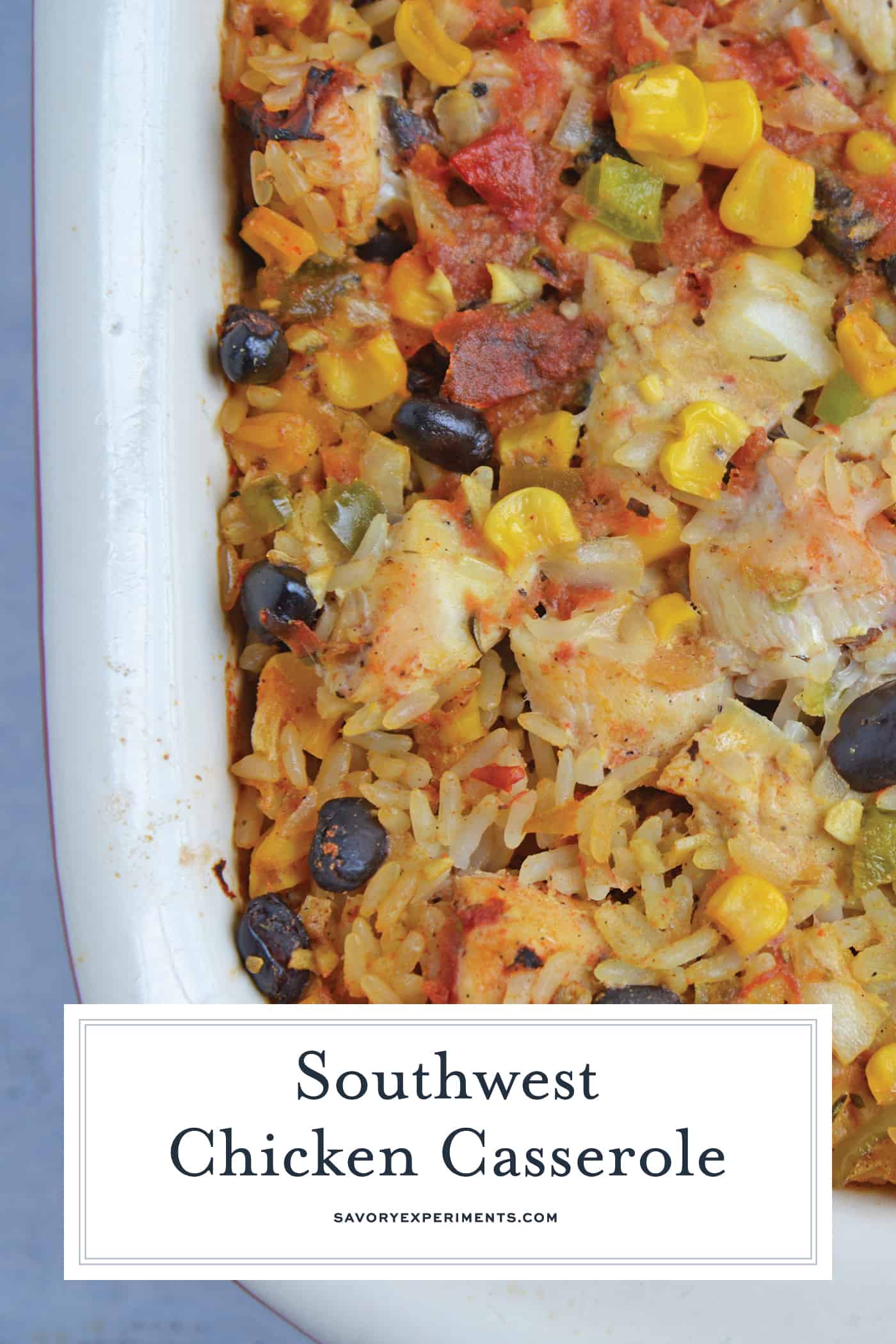 Tools you will need to make this southwest chicken recipe:
Mixing Bowls– make sure to check out my article on Using the Right Mixing Bowl, you'd be surprised how many people aren't!
9 x 13 Glass Baking Dish– an absolute essential for any kitchen! Use it for baking, marinating or storing. Get one with a lid, you'll thank me later.
Wood cutting board – wood won't dull your knives like plastic and if treated properly, has natural antimicrobial properties.
Good knife – Global is my favorite! They are worth the price, I promise. I am kind of obsessed with them and store them tucked away so no one else can use them. Including hubby. Hands off my good stuff!
Colander
– Another kitchen staple that every home should have.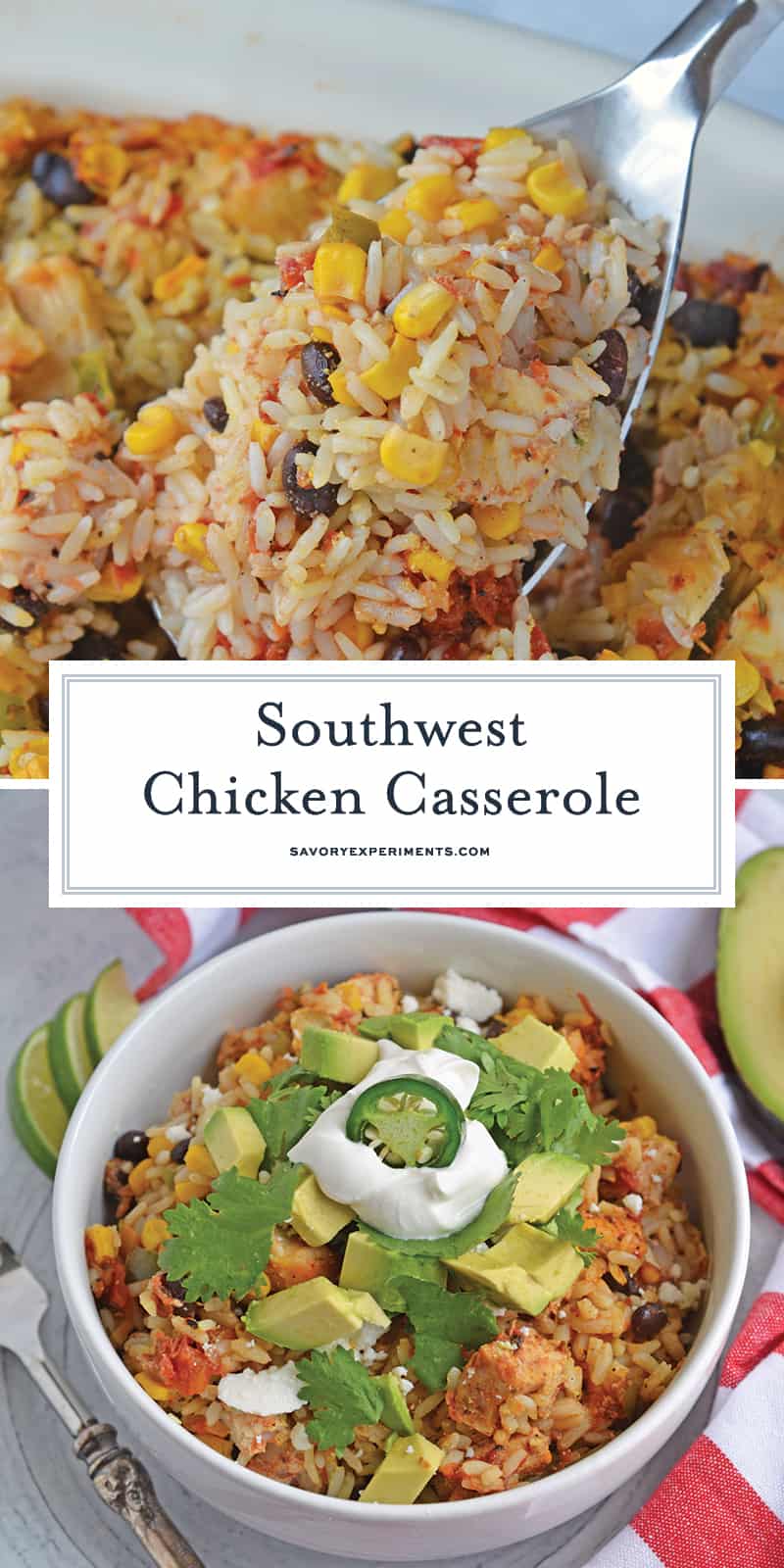 Southwest Chicken Casserole is an easy one-dish meal using chicken, rice, black beans, tomato, corn and southwest spices.
---
---