This creamy Mexican chicken casserole recipe combines tender chicken, chiles, vegetables, and beans with a cheesy creamy sauce all topped off with more cheese! It's an easy recipe that's perfect for taco Tuesday or busy nights during the week.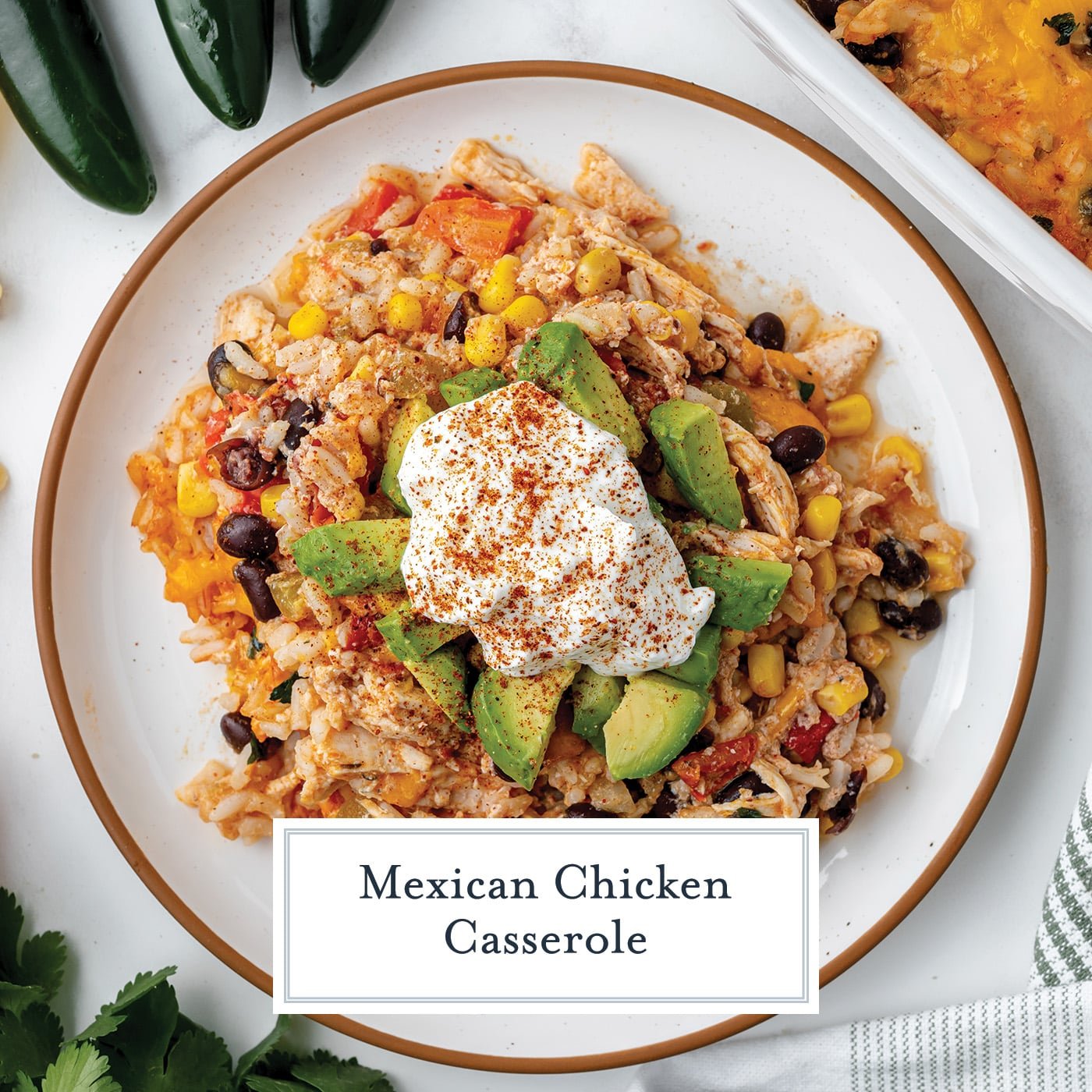 I like to serve the casserole with tortilla chips but you can serve it all on its own. Since it's a balanced meal you don't even need to make any side dishes.
The next time you're looking for a cheesy casserole that the whole family will be excited to dig into, try whipping up this easy Mexican chicken bake.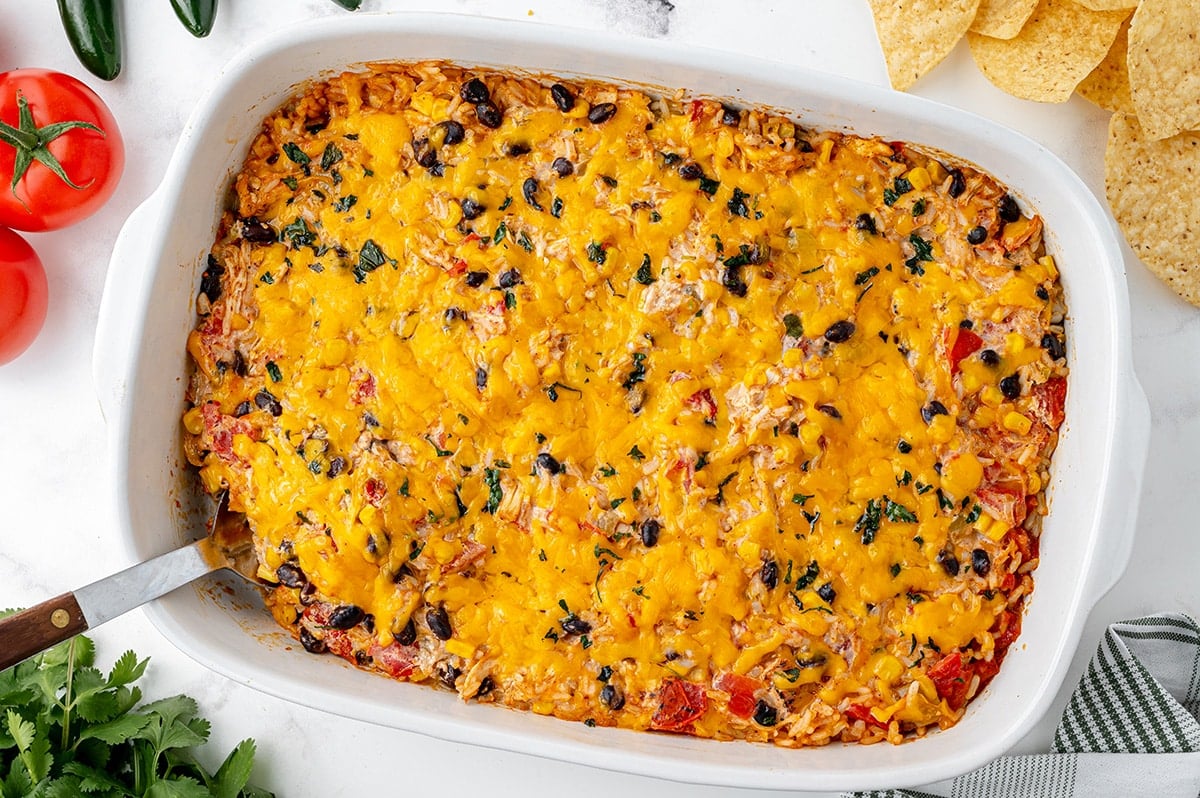 Why You'll Love Creamy Mexican Chicken Casserole
There are plenty of reasons to love this delicious casserole.
Easy – This quick casserole comes together in nearly no time since most of the simple ingredients are already sliced and diced.
Healthy – Packed with protein, veggies, beans, and healthy probiotics from the yogurt, this casserole is a well-rounded meal.
Customizable – You can make this dish spicy or mild, add other vegetables or beans, switch up the cheese, or make any other creative swaps you think of.
Affordable – Using primarily packaged ingredients, this is a cost-effective casserole.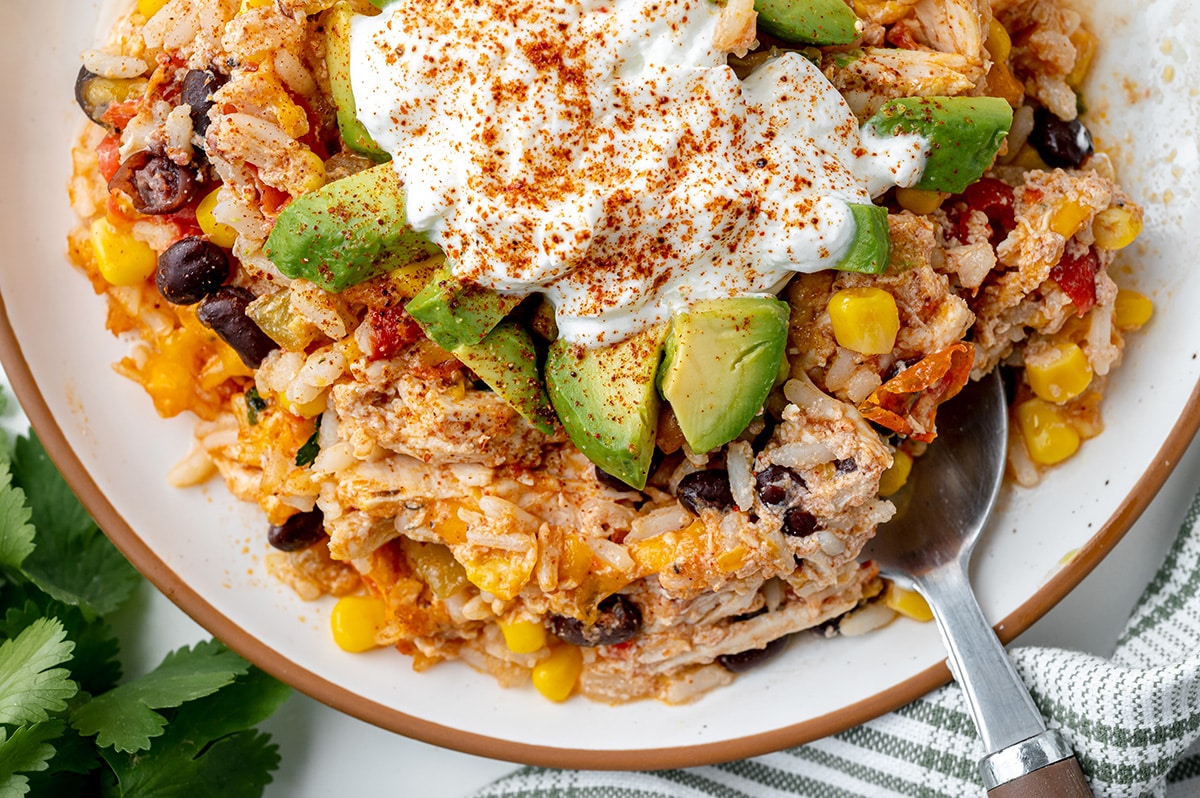 Ingredients
Make sure to drain any of the canned ingredients before adding them to the casserole.
Rice – Cook the rice ahead of time before adding to the casserole.
Chicken – Shred cooked chicken. You can make the chicken yourself or use shredded rotisserie chicken.
Red enchilada sauce – You can typically find this at the grocery store in the aisle that has salsa and taco shells.
Fire-roasted tomatoes – Unseasoned diced tomatoes work well too, but the fire-roasted variety add extra flavor.
Whole kernel corn – Canned corn is easiest to use but if you only have frozen corn you can thaw it before adding.
Black beans – If you prefer, you can use dried beans that have been soaked overnight.
Diced green chiles – These add spicy flavor to the casserole.
White onion – Make sure to chop the onion into small, uniform pieces. While we like using white onion, you can substitute red onion if you prefer.
Taco seasoning – It's easy to buy this pre-packaged at the grocery store but you can make your own blend, too.
Plain Greek yogurt – Make sure to use an unsweetened variety.
Cheddar cheese – Cheese is always better freshly grated but you can buy the shredded variety, too.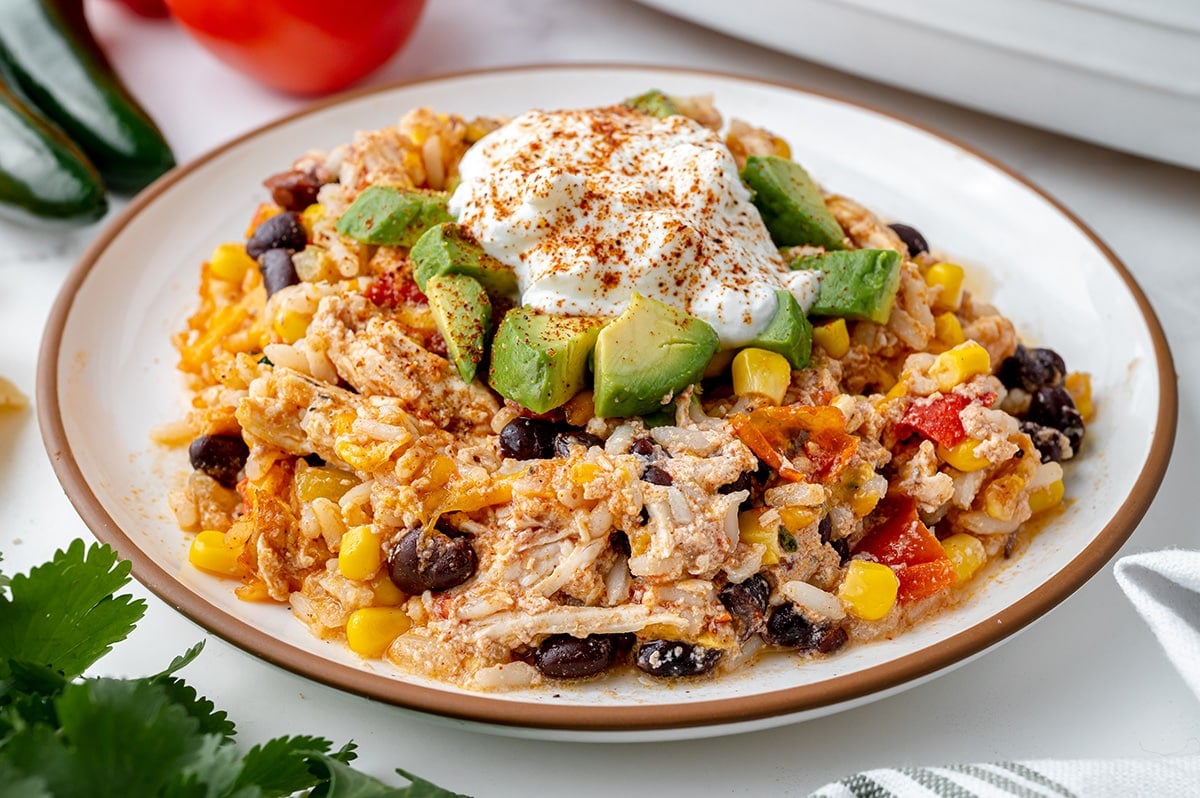 How To Make Creamy Mexican Chicken Casserole
It only takes a few quick steps to put this casserole together.
Place the rice, chicken, enchilada sauce, tomatoes, corn, beans, green chiles, onion, taco seasoning, yogurt and a portion of the shredded cheese into a large bowl.
Using a wooden spoon or rubber spatula, mix the ingredients together until combined.
Pour the chicken mixture into a prepared casserole dish that has been sprayed with cooking spray.
Sprinkle the remainder of the shredded cheese on top of the casserole.
Cover the dish with aluminum foil and bake.
About halfway through baking, remove the foil.
Continue to cook until the cheese has completely melted and the casserole reaches the recommended temperature.
After removing the casserole from the oven, allow it to rest before garnishing and serving.
Variations
There are lots of ways to add your own creative twists to this easy Mexican casserole.
Heat – If you want a spicy casserole, increase the amount of chiles or add hot sauce, chili powder, cayenne pepper, or other types of peppers.
Beans – Change the type of bean you use. Pinto beans, all work well.
Garnishes – Serve the casserole topped with green onions or alongside guacamole, salsa, sour cream, refried beans, or tortilla chips. You can also serve it with corn tortillas to wrap the meat, veggies and cheese in.
Protein – Use a different meat like ground beef or sausage. You can also try a plant-based alternative or leave protein out altogether for a meatless meal.
Soup – Swap out some or all of the yogurt for cream of chicken soup for a different flavor profile.
Spices – Add your favorite spice to the recipe. Garlic powder, ground cumin, onion powder, black pepper and even some fresh herbs all go well with this dish.
Cream cheese – Spoon dollops of cream cheese onto the casserole before adding the cheddar to add more creaminess to the casserole.
Rice – While we used white rice you can use any variety that you prefer.
Flavorful add-ins – Try adding black olives, a minced garlic clove, bell peppers, or fresh cilantro.
Cheese – Swap out the cheddar for another cheese like colby or monterey jack.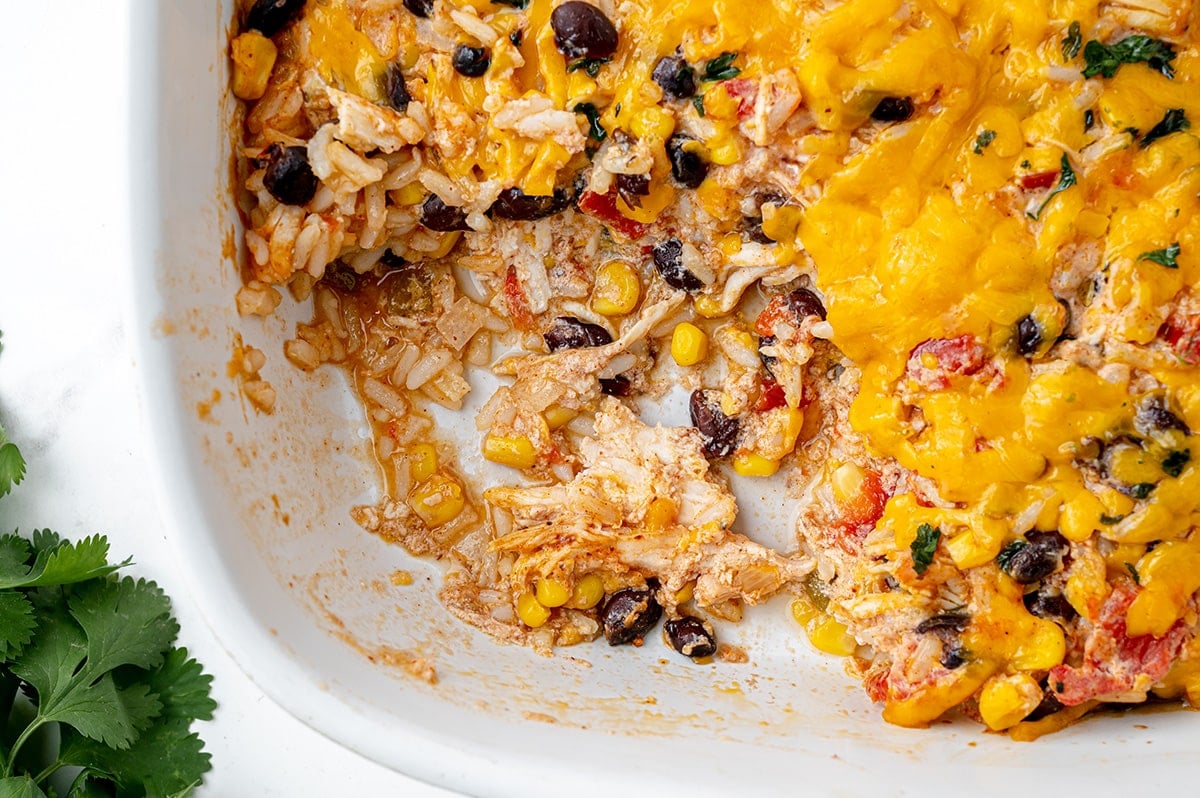 Storage, Make Ahead and Freezing
You can easily store leftover chicken casserole in the fridge and reheat the next day.
Make-Ahead: You can combine the ingredients ahead of time and refrigerate until you're ready to bake it.
Refrigerator: Store Mexican chicken casserole for 3-4 days in the refrigerator in an airtight container (or cover the baking dish with plastic wrap).
Freezer: Place the casserole in a freezer-safe container and store for up to 3 months.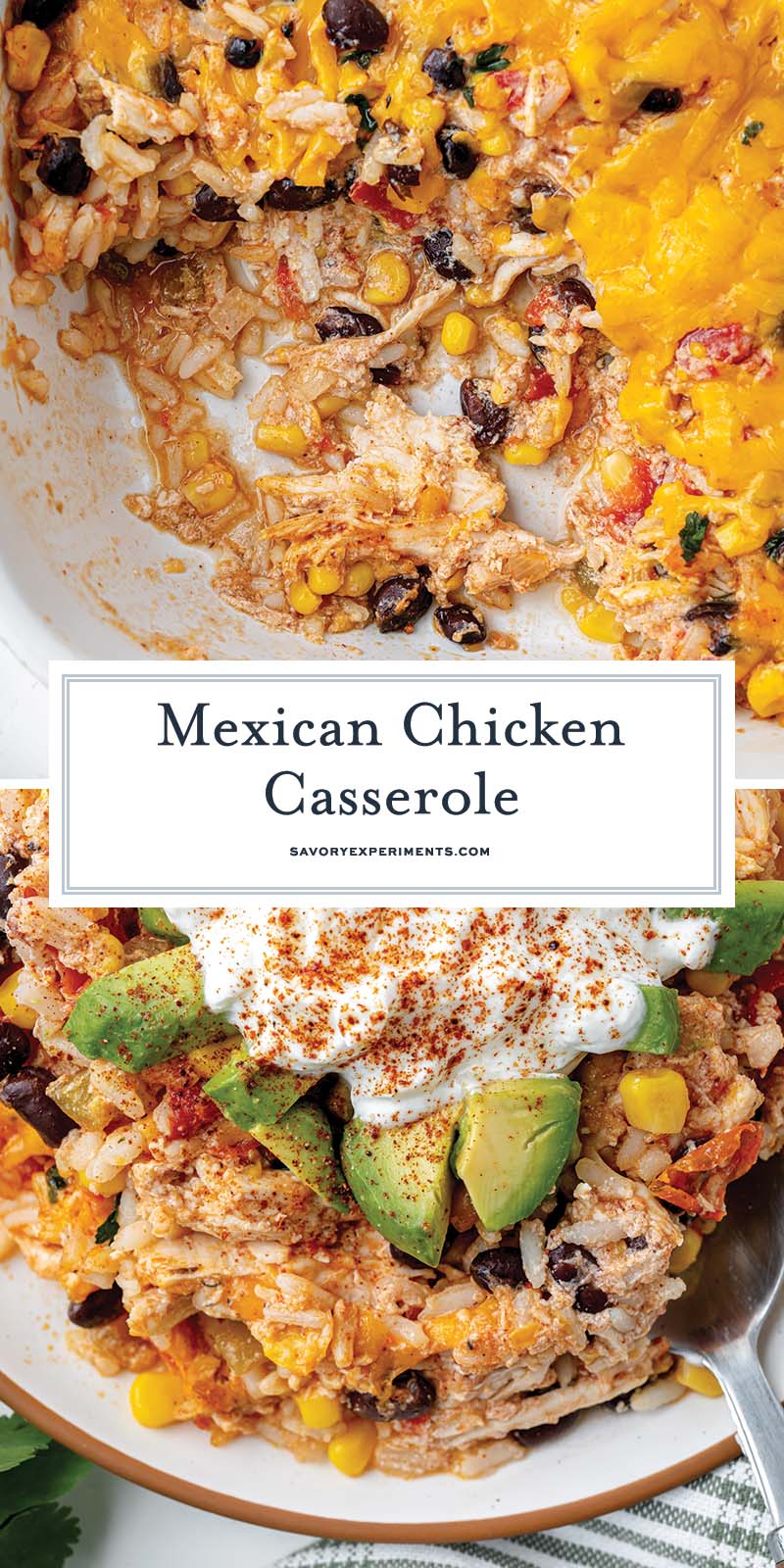 Other Easy Chicken Dishes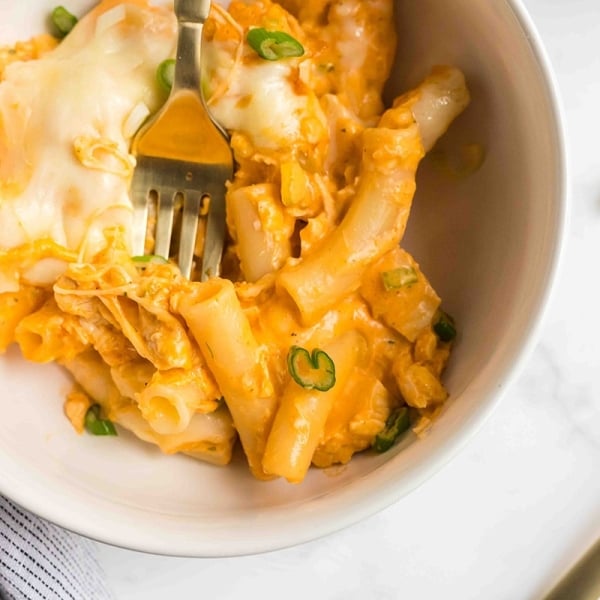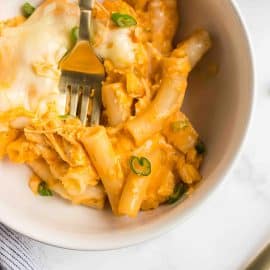 Buffalo Chicken Casserole
This creamy Buffalo Chicken Casserole combines spicy hot sauce and ranch-style flavor with chicken, cheese, and pasta to make a hearty meal!
View this recipe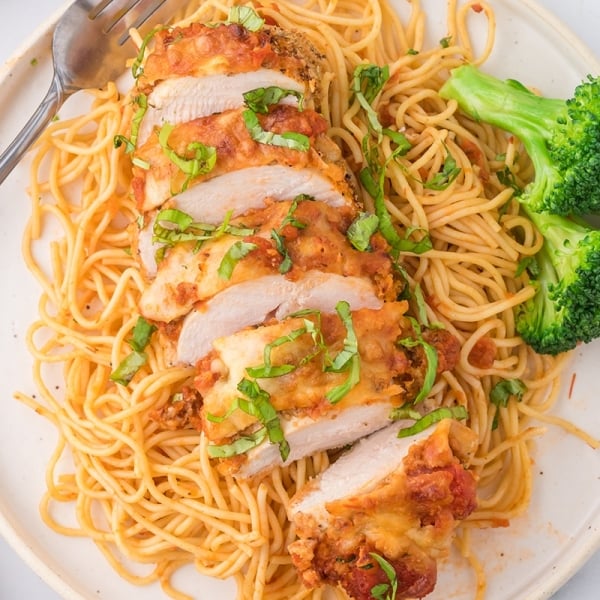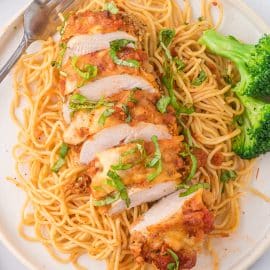 Air Fryer Chicken Parmesan
With fresh ingredients and full of authentic Italian flavor, this Air Fryer Chicken Parmesan recipe might be your new favorite method!
View this recipe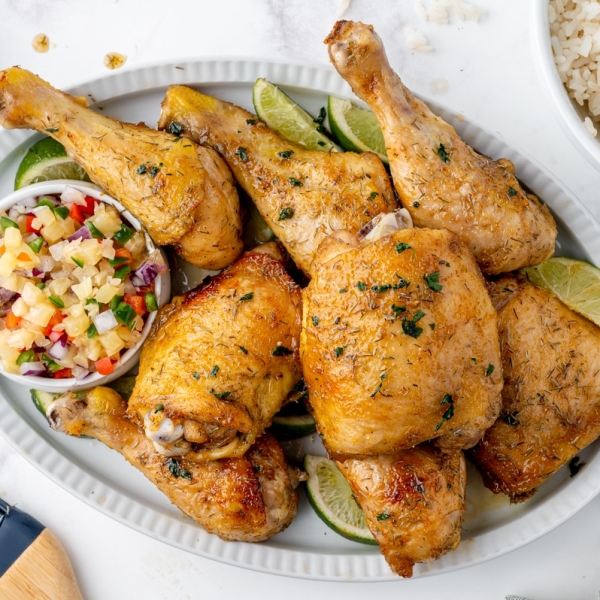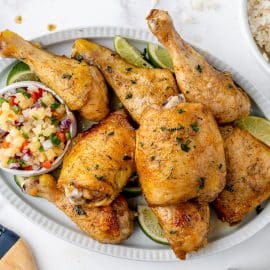 Jerk Chicken Recipe
This affordable Jerk Chicken recipe is perfect for parties as well as weeknight dinners. Make the easy rub and bake for spicy, moist chicken!
View this recipe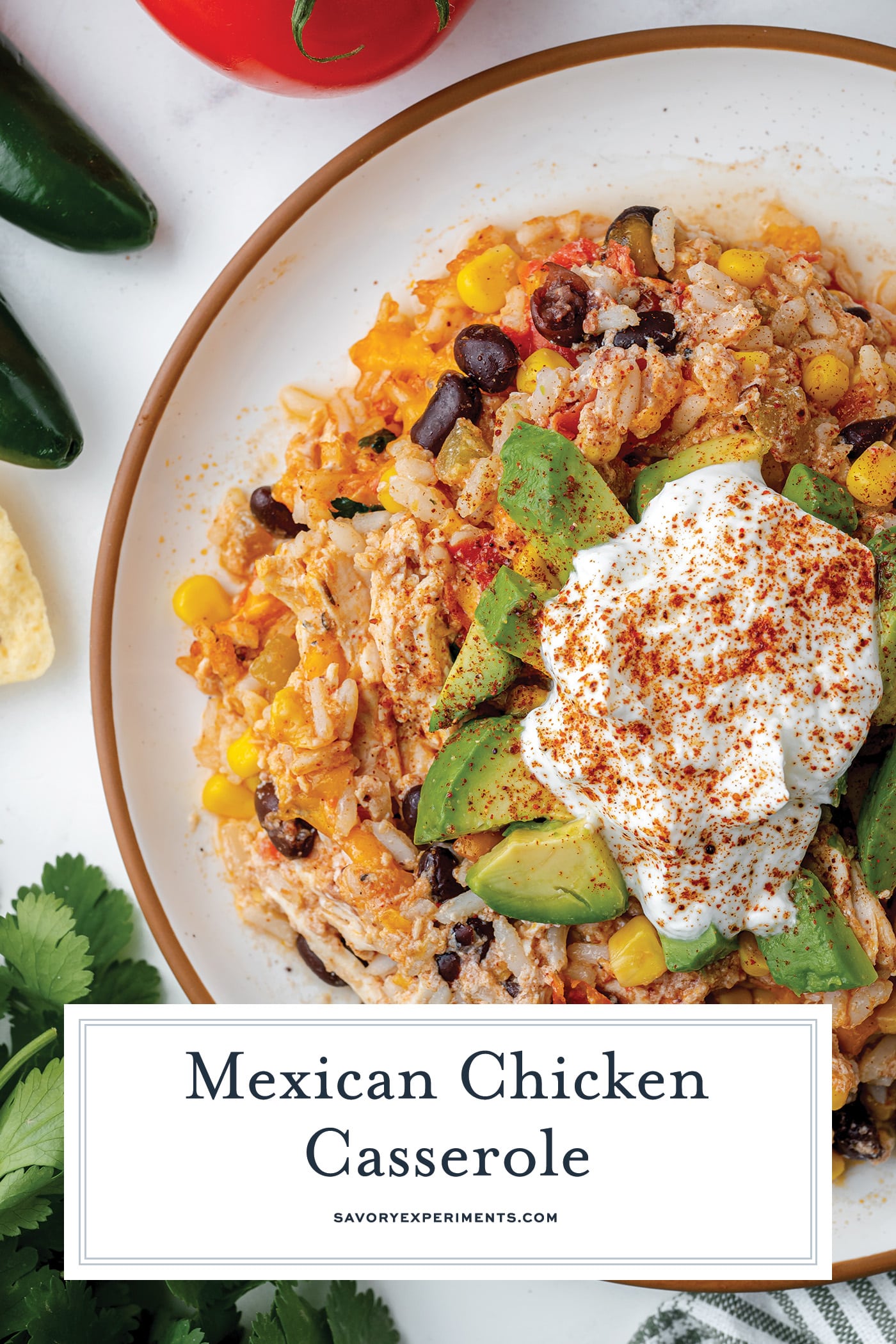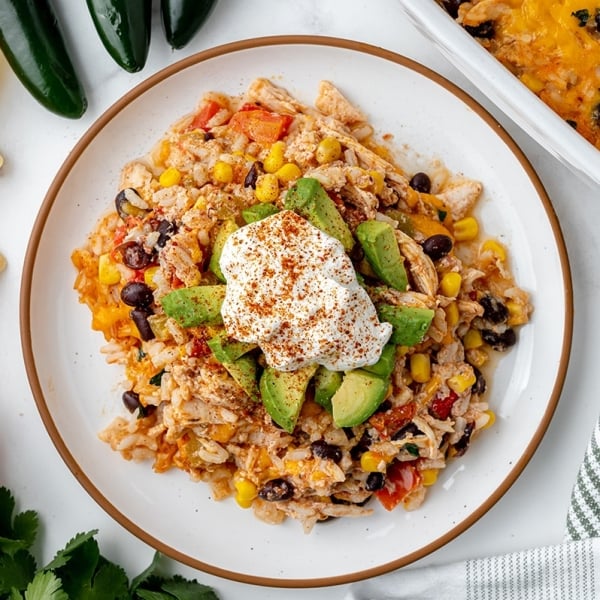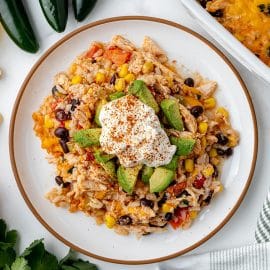 Creamy Mexican Chicken Casserole
This easy, creamy Mexican Chicken Casserole combines tender chicken, vegetables, and beans with lots of cheese for the ultimate easy dinner!
Instructions
Preheat the oven to 350°F and coat a large casserole dish with cooking spray. Set aside.

In a large mixing bowl, combine the rice, chicken, enchilada sauce, tomatoes, corn, beans, green chiles, onion, taco seasoning, yogurt and 1 cup of the shredded cheese.

Transfer to the prepared casserole dish. Top with remaining shredded cheese. Cover tightly with aluminum foil and bake for 20 minutes. Remove the aluminum foil and cook for an additional 10-15 minutes or until cheese is melted and bubbly and casserole registers at 145°F.

Remove and allow to rest for 10 minutes before spooning onto a plate. Garnish with desired toppings.
Nutrition
Calories:
495
kcal
,
Carbohydrates:
64
g
,
Protein:
24
g
,
Fat:
15
g
,
Saturated Fat:
7
g
,
Polyunsaturated Fat:
2
g
,
Monounsaturated Fat:
4
g
,
Trans Fat:
0.03
g
,
Cholesterol:
51
mg
,
Sodium:
691
mg
,
Potassium:
440
mg
,
Fiber:
6
g
,
Sugar:
5
g
,
Vitamin A:
808
IU
,
Vitamin C:
5
mg
,
Calcium:
279
mg
,
Iron:
3
mg