With only 5 ingredients, this Green Bean Casserole recipe is so easy to make! It will be your new go-to for Thanksgiving.
Who is ready for the days of traditional food that we all look forward to? Green Bean Casserole is always on my list of dishes to enjoy for Thanksgiving and Christmas.
I feel like every family makes it, but has their own spin. This recipe is the most basic of green bean casseroles. Feel free to add a signature ingredient or spice blend to make it unique.
In addition to this casserole, you better believe that homemade bread and deviled eggs are also on the table. Macaroni and cheese, mashed potatoes, and corn casserole are also very popular around our home.
Why You'll Love This Green Bean Casserole
Tender green beans topped with crispy fried onions and baked to golden brown- what's not to love!
A classic dish – My Thanksgiving table isn't complete without the best green bean casserole recipe. It's nostalgic and loved by al who tried it.
Great for the holidays – It's no secret that this delicious green bean casserole is perfect for any holiday table. But it's also great as a side any night of the week.
Simple ingredients – In fact, you only need a total of five ingredients to make this holiday season side dish.
Fresh Green Bean Casserole Ingredients
You only need a handful of fresh ingredients to make this classic holiday side dish.
Fresh green beans – I like using fresh green beans instead of canned. I do have notes in the recipe card if you prefer to use canned or frozen.
Kosher salt – Canned green beans tend to already have salt, so leave this ingredient out if using canned.
Cream of mushroom soup – If you have a great recipe, you could make homemade cream of mushroom soup. But the canned version works just as well.
Lemon juice – I like to think of this as my secret ingredient! A little acidity really brings the dish together and adds a bright layer. You can also substitute white wine or just omit it.
French fried onions – They might be my favorite part. You can make your own or buy them in a can.
How to Make Green Bean Casserole with Fresh Green Beans
Making this casserole is super easy!
Cook green beans. You will first want to bring water to a boil in a large pot. Add the salt and green beans to the boiling water, cooking for 6-8 minutes.
Combine beans with soup and lemon. Drain the beans, and then combine with cream of mushroom soup and lemon juice in a large bowl. Stir the bean mixture until everything is well combined.
Add to pan and bake. Next, coat a baking dish with cooking spray, and add the bean mixture to it. Bake until the mixture is bubbly.
Top with onions and bake again. Remove the baking dish from the oven and sprinkle with the crispy onions. Put it back in the oven and bake for an additional few minutes.
And that's it! You are ready to serve.
How to Serve Green Bean Casserole
Are you kidding? You can serve anything with this wonderful dish! You just can't go wrong with it.
You can serve alongside any other Thanksgiving side dishes you'd like. My personal favorites are sweet potato casserole and cranberry sauce.
To complete your Thanksgiving feast, you of course need a Thanksgiving turkey, especially our brine for turkey. But this homemade green bean casserole recipe also tastes great with a Christmas ham.
Don't forget dessert with vanilla custard or a sweet potato swirled cheesecake!
Variations
There are plenty of ways you can make this easy recipe your own.
Cheddar cheese – If you have cheese lovers in your family, you could certainly top with some shredded cheese to make this a cheesy green bean casserole, but I usually just stick with salt and pepper.
Topping – Instead of the onion topping, try using crushed potato chips or panko breadcrumbs. You still get the crunch, just not the onion flavor.
Homemade sauce – Instead of using canned soup, you could make your own creamy mushroom sauce. If that's the case, I recommend using cremini mushrooms.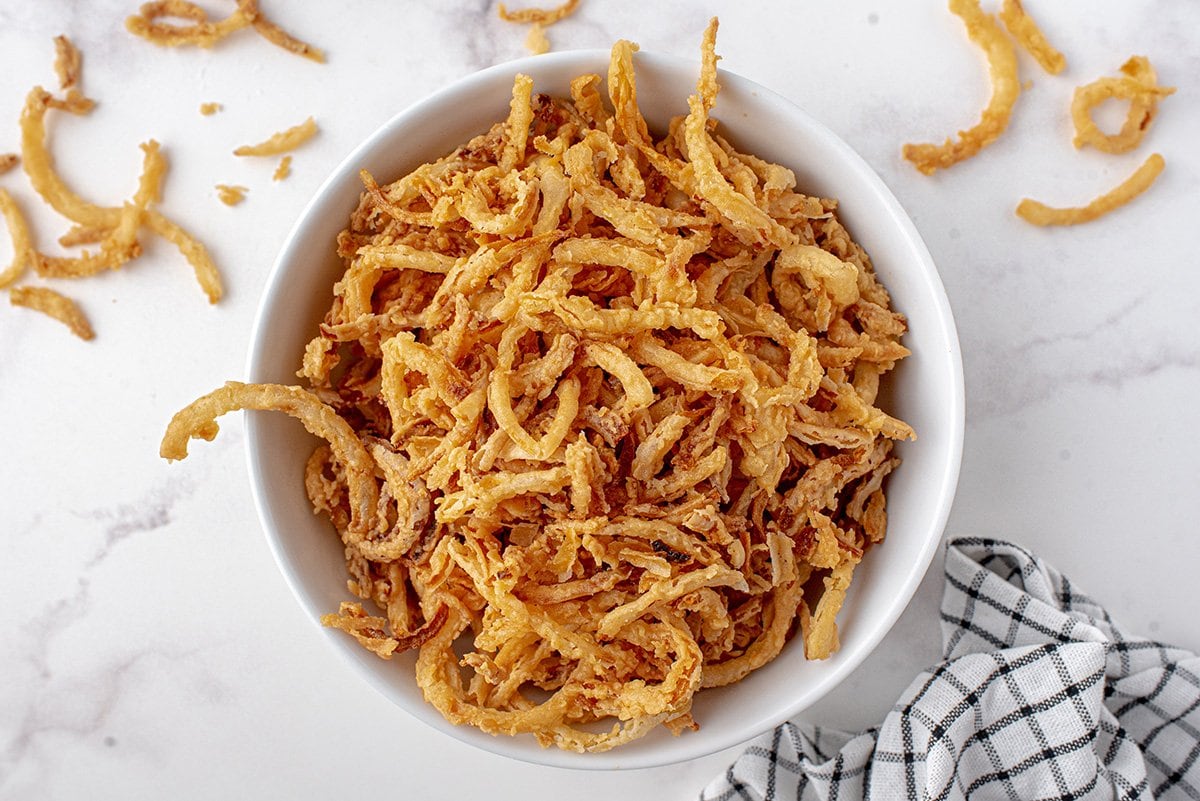 Storage and Freezing
Make ahead: Yes! Feel free to assemble the casserole up to one day in advance, cover and chill until ready to cook.
Storage: Store any leftover green bean casserole in an airtight container in the refrigerator. It should last up to three days.
Freezing: Green bean casserole is best frozen before being baked, but can be frozen after too. The creamy mushroom soup is the culprit to not thawing well and the crispy onions won't hold their crunch. It is still a classic comfort dish that tastes good when thawed.
Classic Green Bean Casserole FAQs
What Makes Green Bean Casserole So Tasty?
I think this question has a few answers. The creamy sauce has to be one of the reasons Americans find this dish to appealing. As the casserole bakes, the cream of mushroom soup breaks down into a velvety deliciousness.
But also the nogastia. I honestly don't see folks making this dish other than Thanksgiving and Christmas, which is silly. Why not?
Lastly, the fried onions on top make this dish super crunchy, which is why it's so popular.
Why is my green bean casserole soggy?
A green bean casserole can become soggy for a few reasons. The first being overcooking because green beans lose too much moisture, making the mixture watery. The second is the sauce wasn't thick enough to begin with. This will be determined by the brand of soup you use. The last is steam making the topping soggy. Add them last so the steam doesn't sog them up.
Should you prep green bean casserole the night before?
You can prepare the casserole the night before, but don't add the toppings until cooking.
Do fresh green beans need to be soaked before cooking?
No, fresh green beans do not need to be soaked, but they should be blanched, steamed or parcooked.
More Thanksgiving Recipes
Here are some of our favorites for Thanksgiving dinner.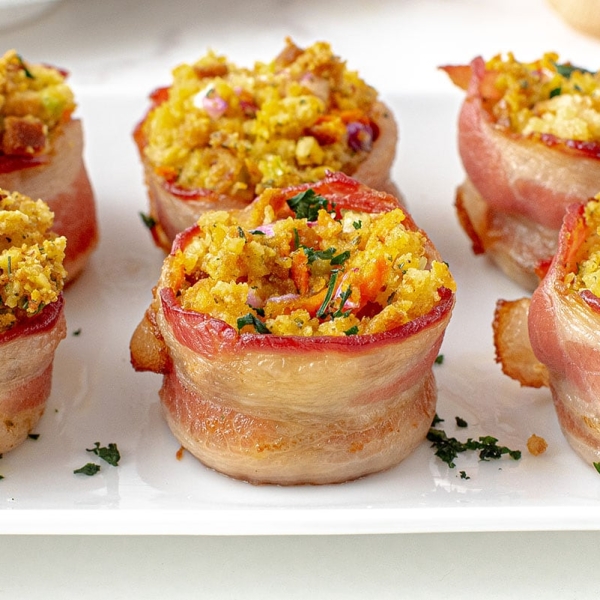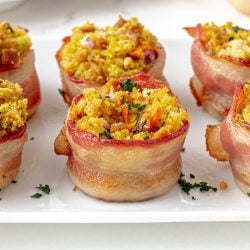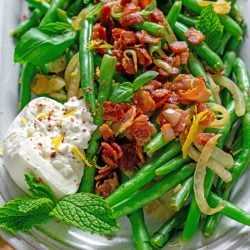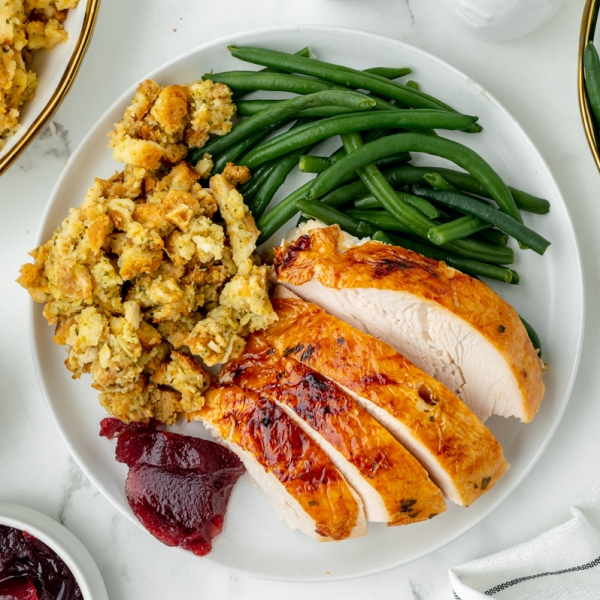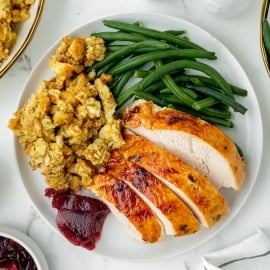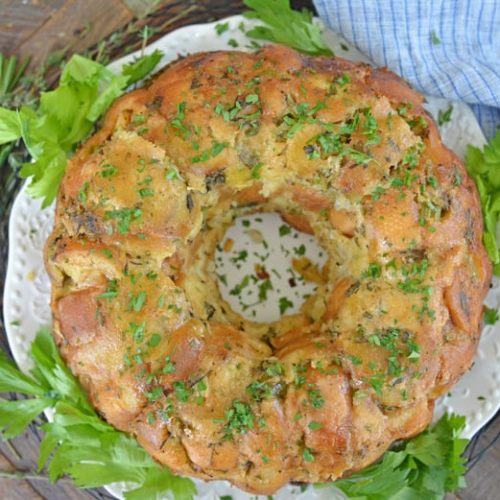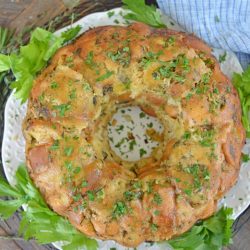 Herb Stuffing Wreath
Of all of the homemade stuffing recipes, this Herb Stuffing Wreath is the best! It will be the star of your Thanksgiving dinner!Of all of the homemade stuffing recipes, this Herb Stuffing Wreath is the best! It will be the star of your Thanksgiving dinner!
See The Recipe!
Fresh Green Bean Casserole Recipe
A classic green bean casserole doesn't get much better than this Green Bean Casserole recipe! Perfect for Thanksgiving!
Instructions
Preheat the oven to 350°F. Coat a 9×9 casserole dish with cooking spray.

Bring a large pot of water to a gentle boil. Add the Kosher salt.

Cook the green beans for 6-8 minutes or until tender. Drain well.

In a large mixing bowl, combine the beans, cream of mushroom soup and lemon juice.

Transfer the mixture to baking dish.

Bake, uncovered, for 35 minutes or until bubbly.

Remove and sprinkle with the French fried onions, bake for 5 additional minutes or until onions are crispy.

If you've tried this recipe, come back and let us know how it was in the comments or star ratings.
Notes
Canned beans – 30 ounces (2 small cans)
1. Drain beans
2. Mix in soup and lemon juice
3. Add mixture to baking dish
4. Bake at 350 degrees for 35 minutes or until bubbly.
5. Sprinkle with fried onions, bake for 5 additional minutes or until onions are crispy Frozen beans – 20 ounce bag
1. Thaw and drain frozen beans
2. Cook beans according to instructions on bag
3. Add beans to mixing bowl
4. Mix in soup and lemon juice
5. Add mixture to baking dish
6. Bake at 350 degrees for 35 minutes or until bubbly.
7. Sprinkle with fried onions, bake for 5 additional minutes or until onions are crispy
Nutrition
Calories:
96
kcal
,
Carbohydrates:
11
g
,
Protein:
2
g
,
Fat:
5
g
,
Saturated Fat:
2
g
,
Cholesterol:
1
mg
,
Sodium:
786
mg
,
Potassium:
350
mg
,
Fiber:
2
g
,
Sugar:
2
g
,
Vitamin A:
380
IU
,
Vitamin C:
7
mg
,
Calcium:
50
mg
,
Iron:
1
mg