Yep, this recipe title has two buzz words guaranteed to make your family NOT want to eat it: BROCCOLI and QUINOA. But I'll would also bet you that if you can bribe them to take just one bite, it will soon become a recipe your whole family will love.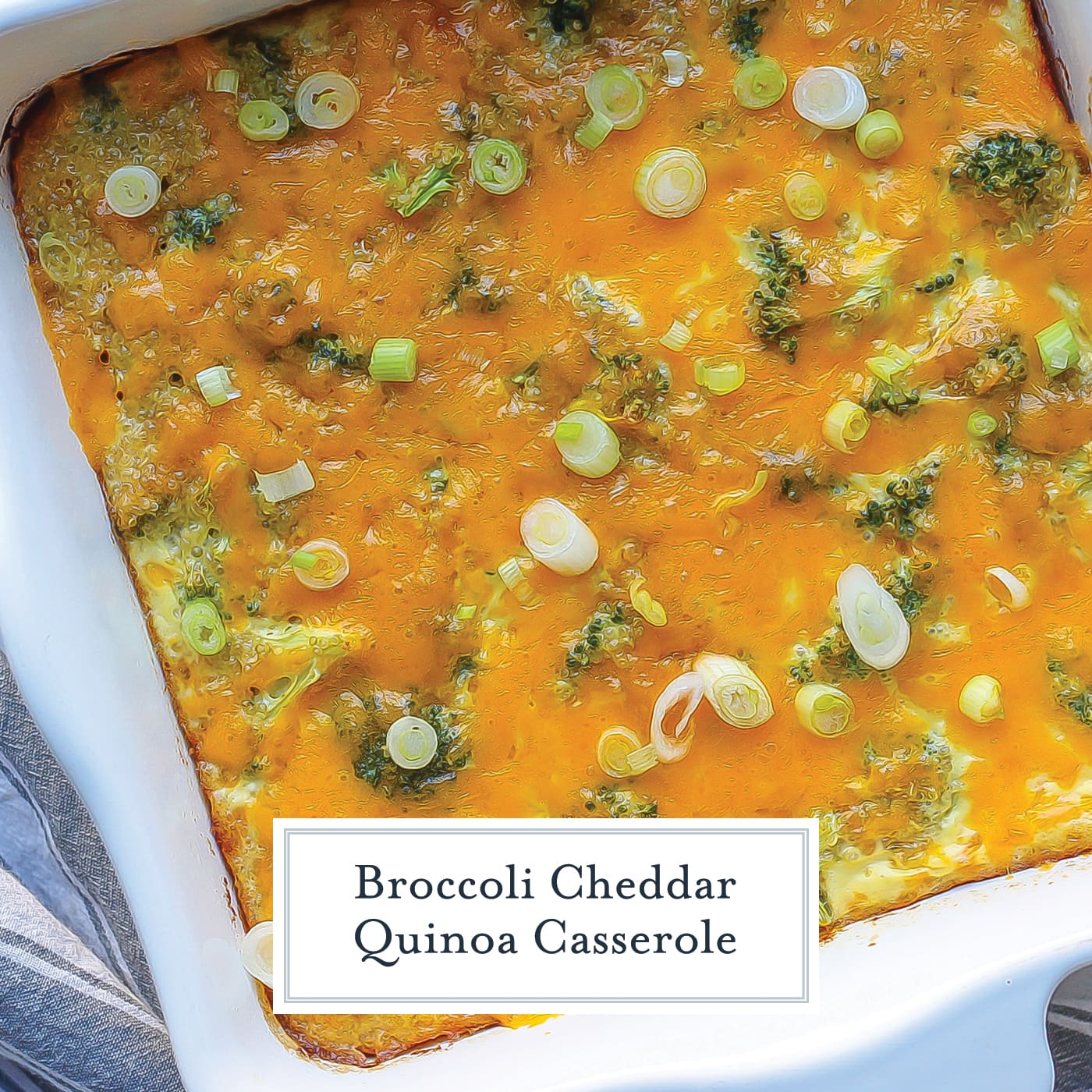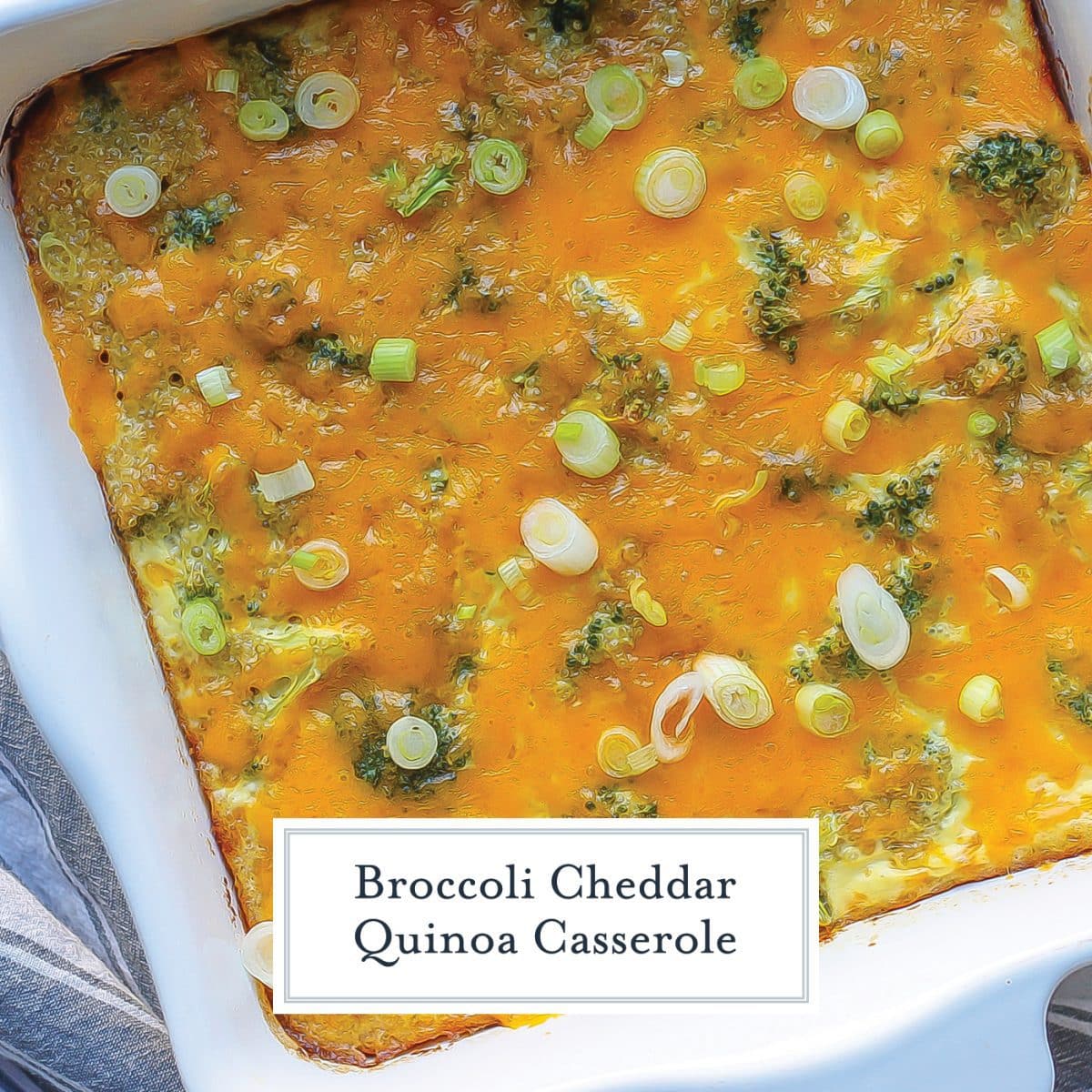 This is a healthier version of a class broccoli casserole recipe. All of the flavor in a casserole without a cream of mushroom or chicken canned soup. A healthier version of the classic comfort food.
What is Quinoa?
Quinoa is a grain that comes from the amaranth family. It is actually a seed, but when heated with liquid plumps up to a softer grain. It is a carbohydrate, but a healthy one since it is whole grain, low calorie, has 9 amino acids, it gluten-free and also fat free with high dietary fiber.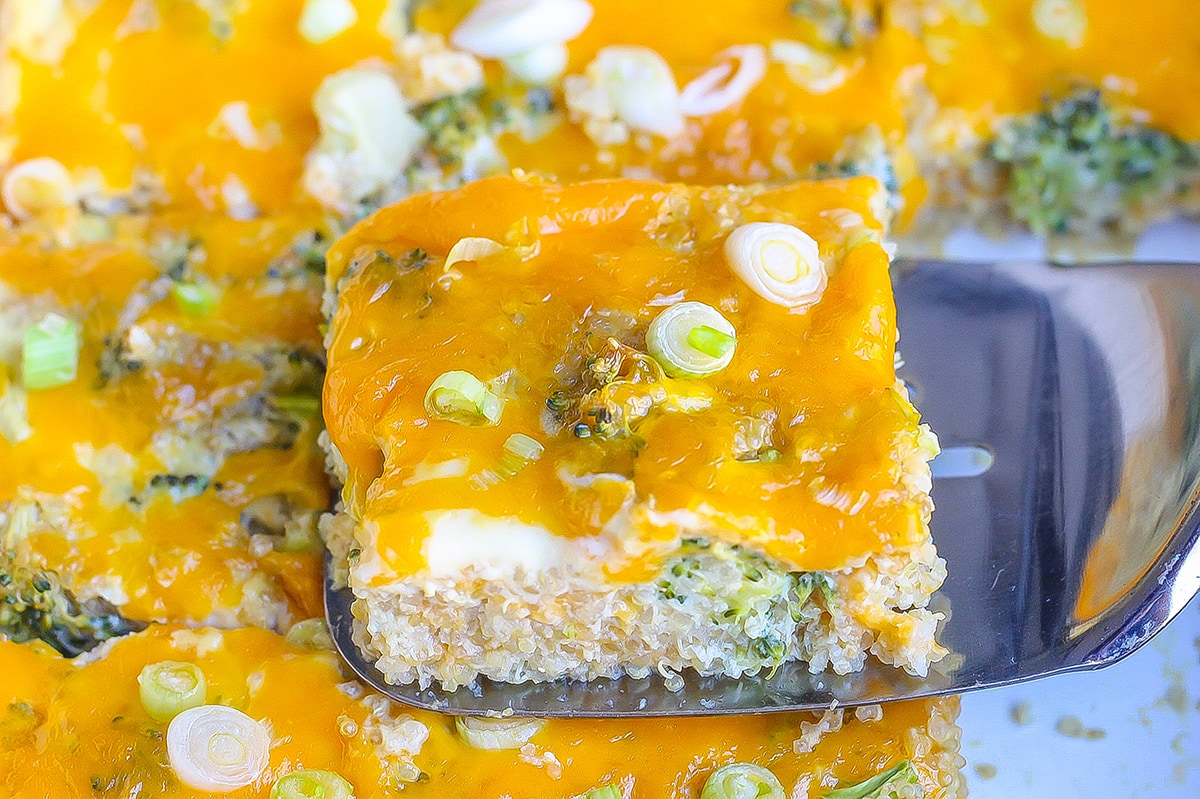 So it only makes sense that I then drench it in cheese… my attempt at humor, but honestly, the best way to introduce it to your family!
Quinoa can be substituted for just about any recipe that calls for rice and some pasta dishes. When cooked the granules almost pop in your mouth and provide a starchy taste.
How Do You Cook Quinoa?
The only thing more confusing than how to pronounce quinoa is how to cook it and have it actually taste good. There are a few tips and tricks for making quinoa taste good.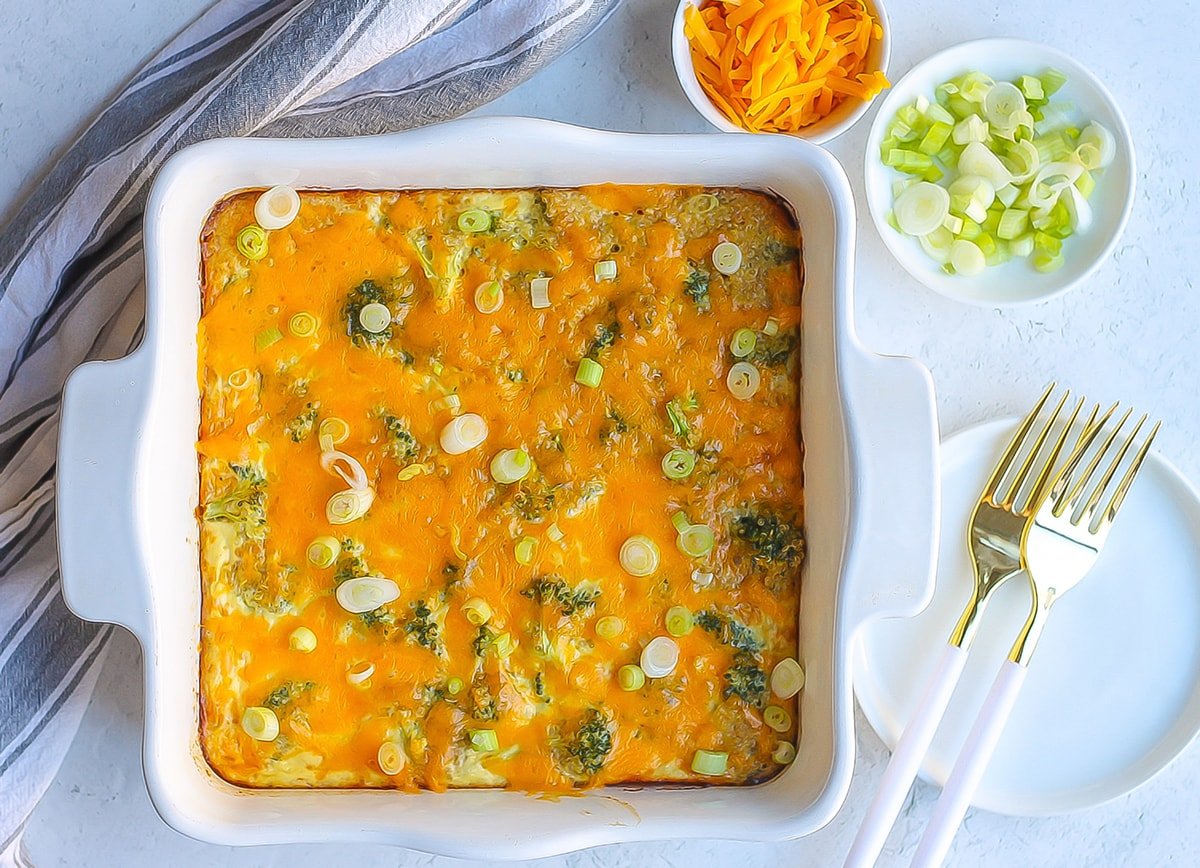 The biggest compliant with quinoa is that it lacks flavor, so it needs some tender loving care to taste good. Here are a few tips on how to make quinoa taste good.
Use stock, broth or wine instead of water.
Add salt! Salt enhances the flavor of all ingredients.
Toast raw, dry quinoa seeds before cooking.
Mix with big, familiar flavors like cheese, vegetables and fruits.
For my Quinoa Casserole, I used chicken stock instead of straight water. Quinoa is like a little sponge. It absorbs the flavor of chicken stock, onion powder and salt making them into little flavor and texture bombs exploding in your mouth.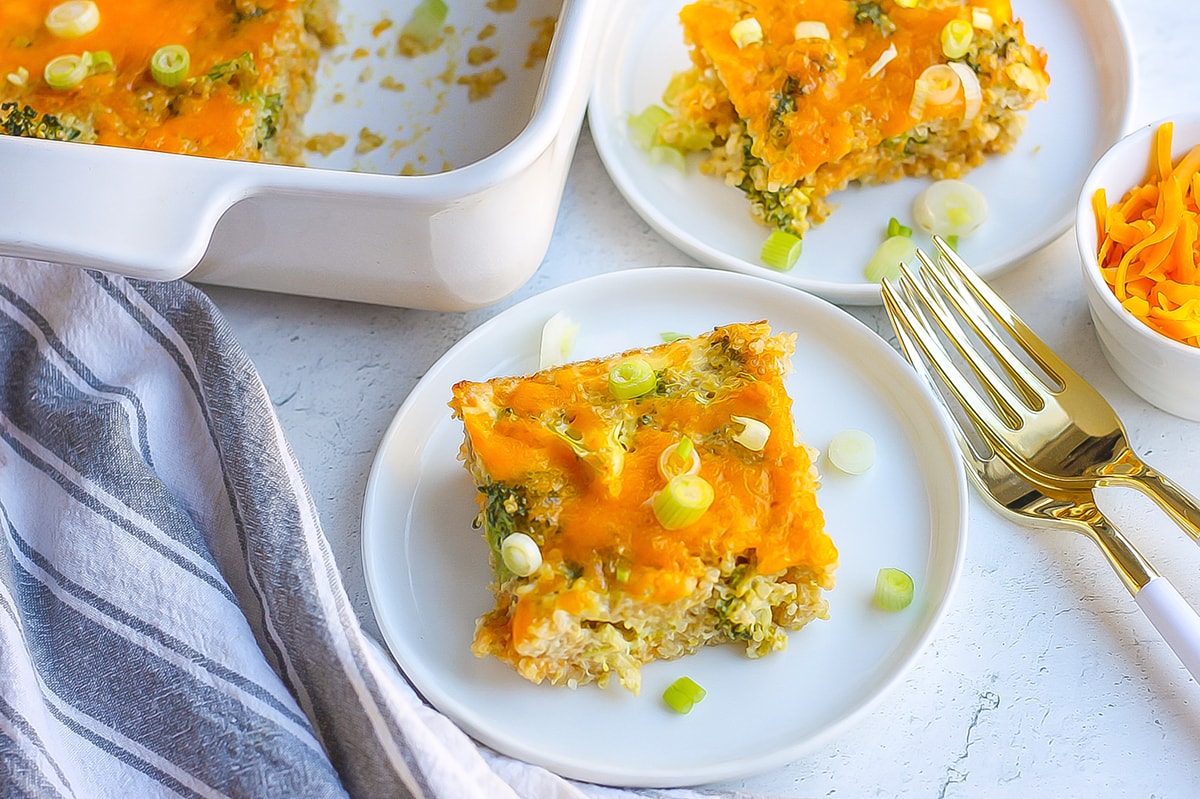 Ingredients
Most of these ingredients are pantry staples with the exception of the broccoli.
Raw quinoa – clearly this is a quinoa casserole, but if your family is really opposed, you can use rice.
Fine sea salt– if using a coarse salt, you might need a tad more.
Onion powder– for seasoning, but optional.
Broth– I like to use chicken broth, but if you are going for a vegetarian for vegan (using vegan butter), vegetable broth can also be used. I like low sodium so I can control the salt levels.
Fresh broccoli florets- I highly recommend using fresh broccoli opposed to frozen broccoli, which can get mushy while cooking. My family prefers florets, but you can use cuts too. Make sure they are cut into smaller pieces so they cook thoroughly.
Eggs- these are a binder and help keep the casserole together so you get a nice square cut.
Milk- whole milk will give the richest and creamiest result, but of course, lower fat contents or dairy alternative milks will work.
White pepper- white pepper has a more subtle pepper flavor than black pepper, either can be used.
Garlic- fresh garlic is always the best for real garlic flavor opposed to the bottle garlic that can be sweeter and less garlicky. Swap with 1 teaspoon of garlic powder if you don't have fresh.
Sharp cheddar cheese- I like sharp cheddar for the flavor and the color. Monterey jack, mozzarella cheese, white american, white cheddar or other semi-soft cheese can be used. We don't use a roux base cheese sauce, so make sure it is a good, melty cheese to achieve a creamy casserole. Vegan cheese also works.
Scallions (green onions)– optional, but provides a fresh crunch. Chives are a good alternative.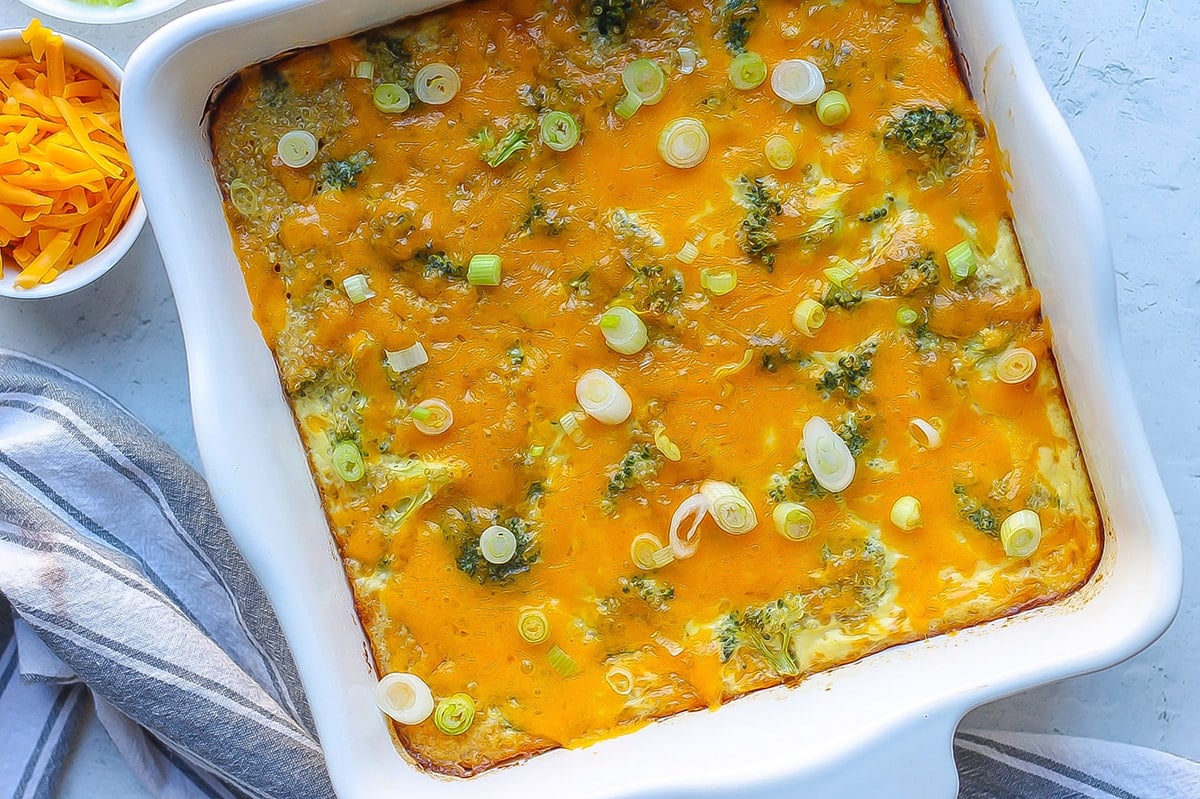 Variations include adding shredded chicken, like precooked rotisserie chicken, frozen peas, seasoned bread crumbs to the top of the mixture or serving with a dollop of plain Greek yogurt or sour cream. Red pepper flakes can be added for a little heat. You can also get crazy and try using black quinoa!
Make It!
Preheat the oven and prepare a casserole dish. Set it aside.
Make the quinoa with broth and seasonings. When cooked it will be taunt with plump, but not crunchy or mushy. Set aside and allow it to cool a little before combining with other ingredients.
Mix the eggs and other wet ingredients together well and then add the quinoa mixture. Since quinoa is a grain, you want to prevent over mixing and allowing the starches to release and get mushy. Toss it to combine, opposed to stirring. Transfer to the prepared baking dish.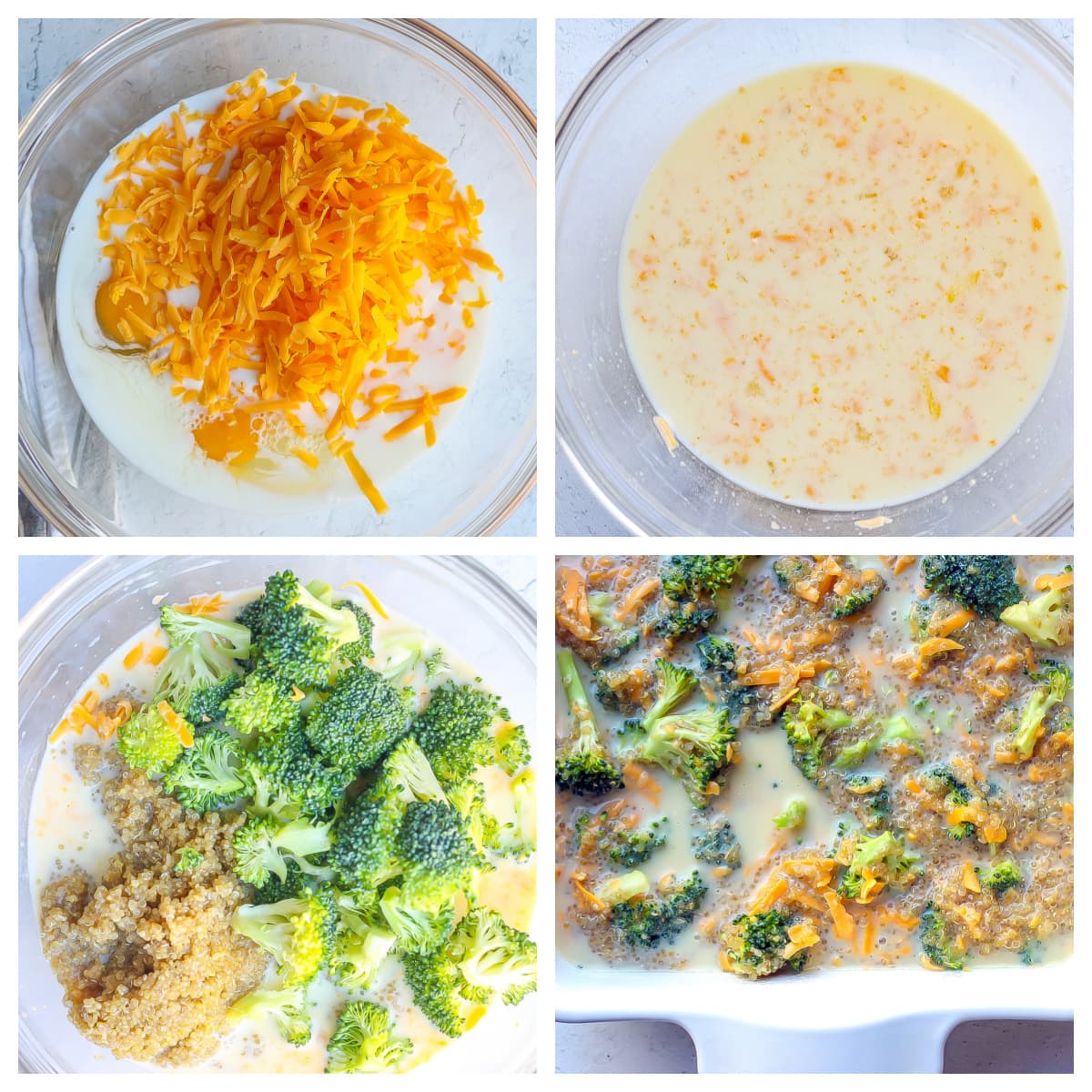 Bake, uncovered, so any residual moisture can evaporate. In the last minutes of cooking, top with remaining cheese.
Allow the casserole to settle for a few minutes before cutting and serving. The casserole should cut into nice little squares.
Make Ahead & Freezing
This casserole is both make ahead and freezer friendly. Perfect for making ahead on holidays, for dinner parties or for potlucks. My husband also swears it tastes better the next day and prefers to eat it cold than reheat it.
To reheat, it is always best in the oven, but the microwave is also acceptable. I would place casserole in a smaller dish and heat at 350°F for 10-15 minutes.
For freezing, heat the casserole from frozen. Do not allow it to thaw before heating. Place into the oven frozen and in a dish at 350°F. It might take 20-90 minutes to fully reheat, it will depend on if you froze it as a whole casserole or just a slice. Use your best judgement and keep an eye on it.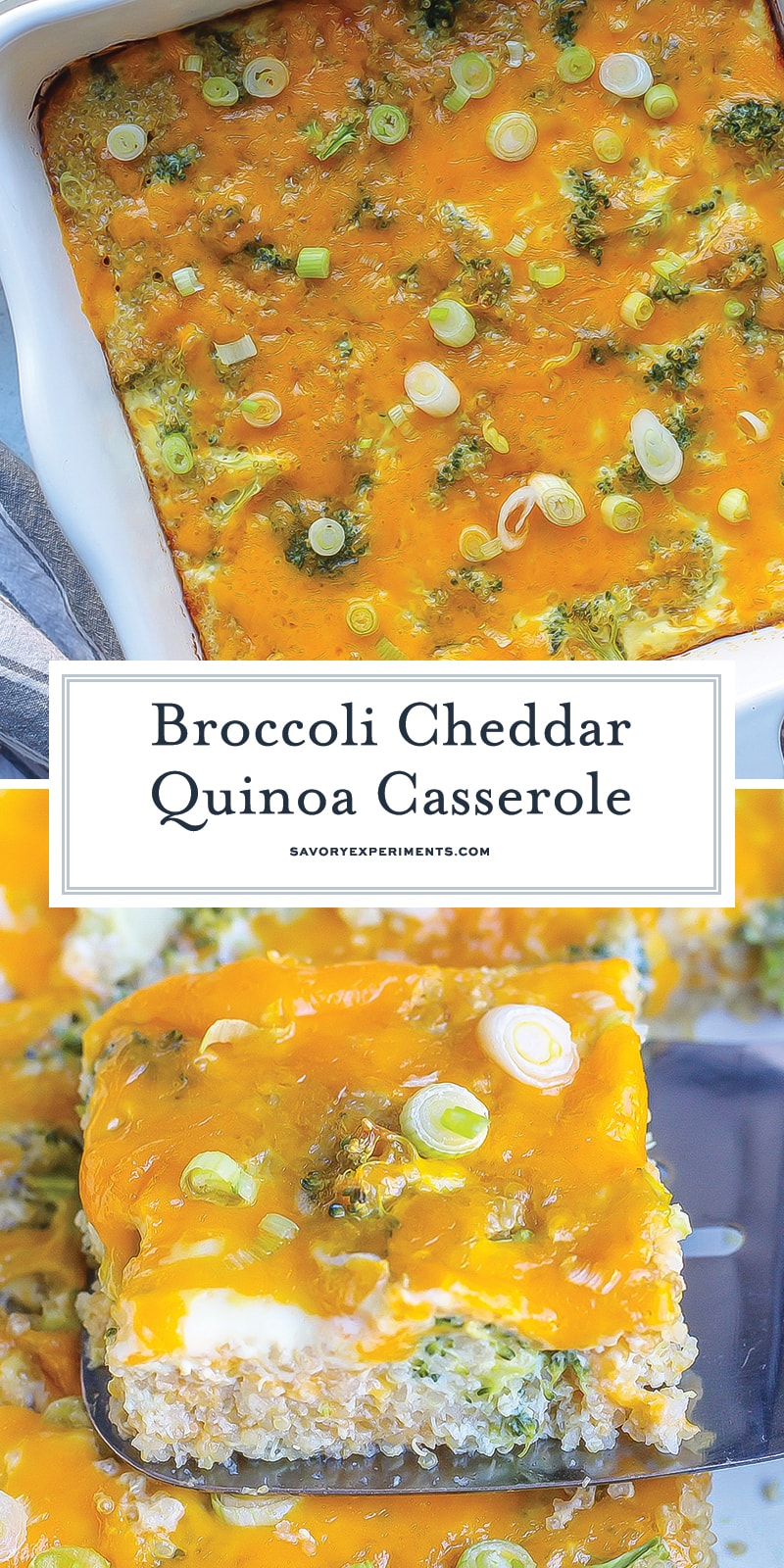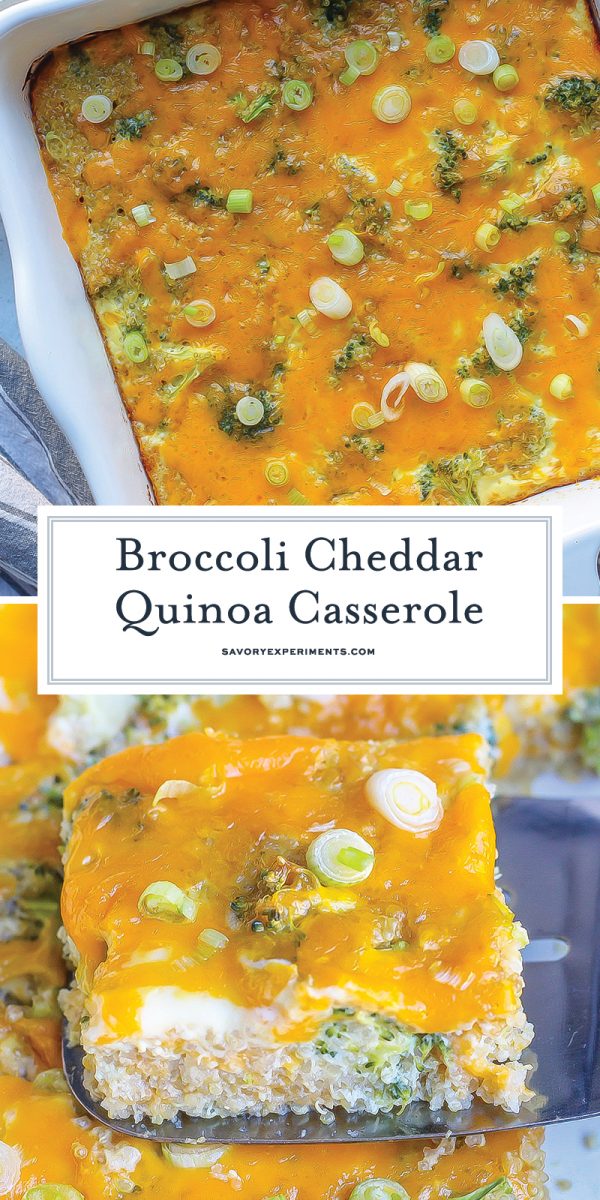 More easy side dish recipes: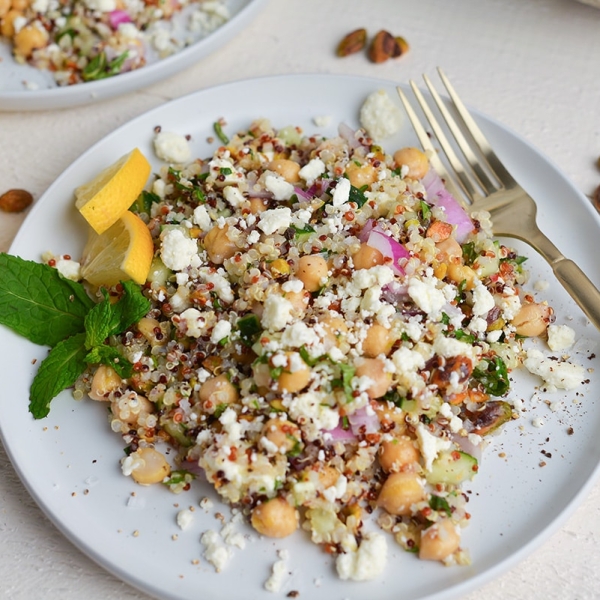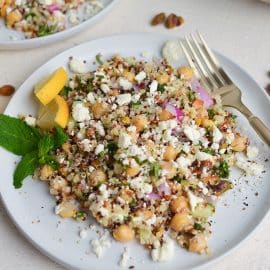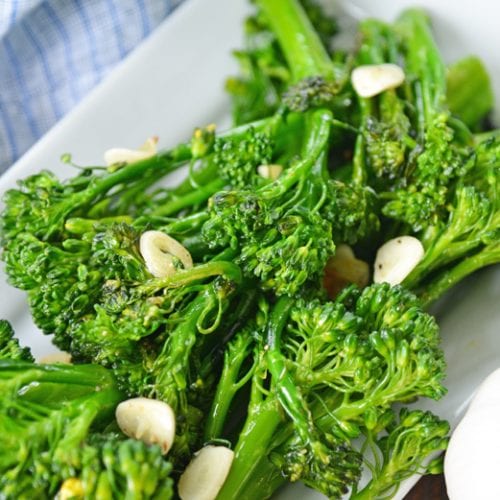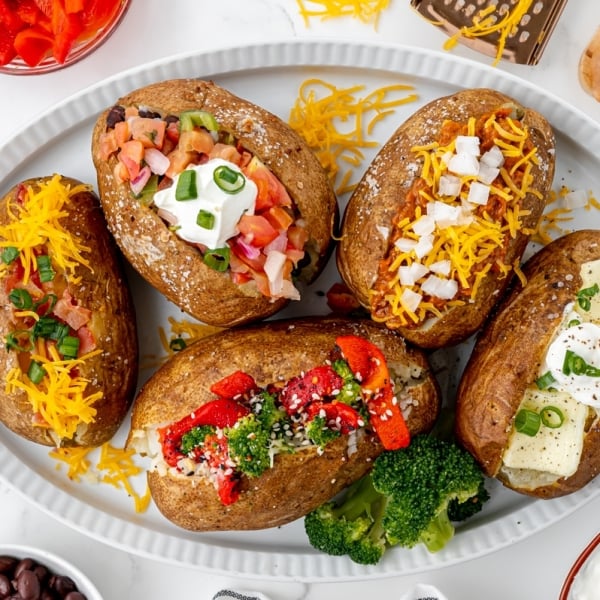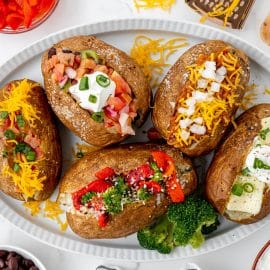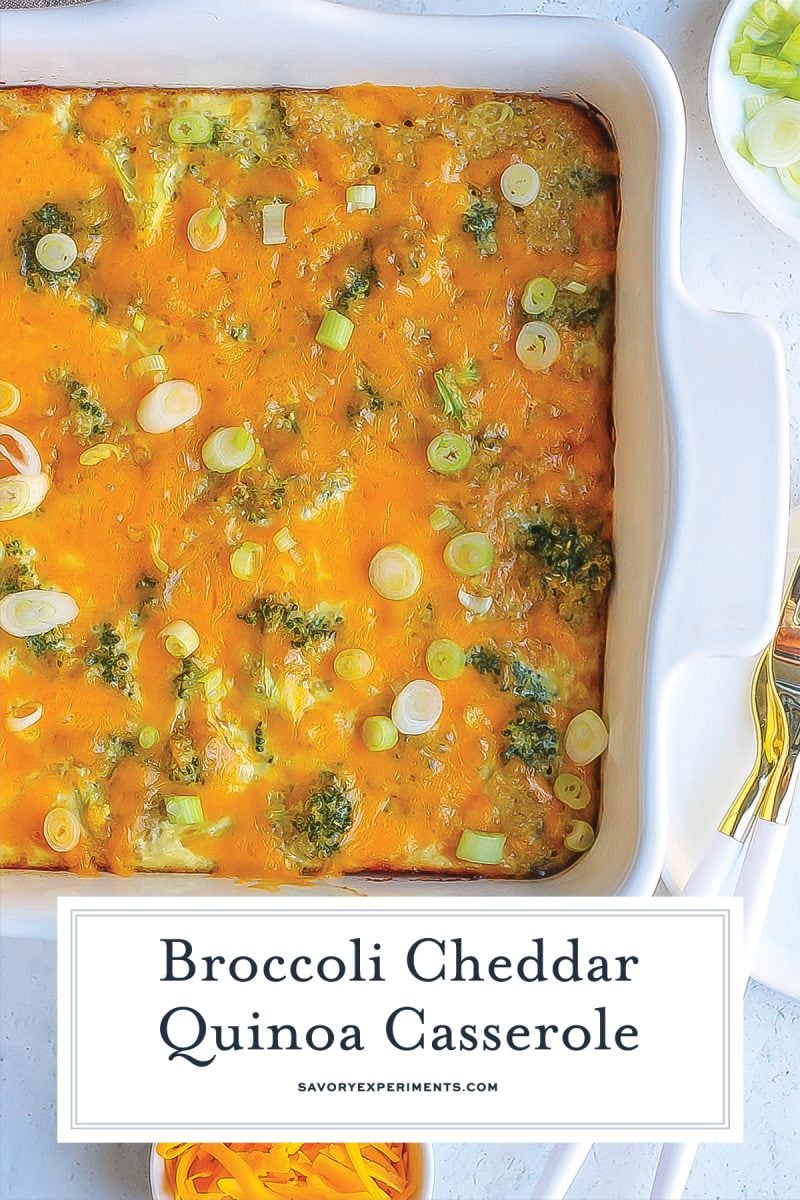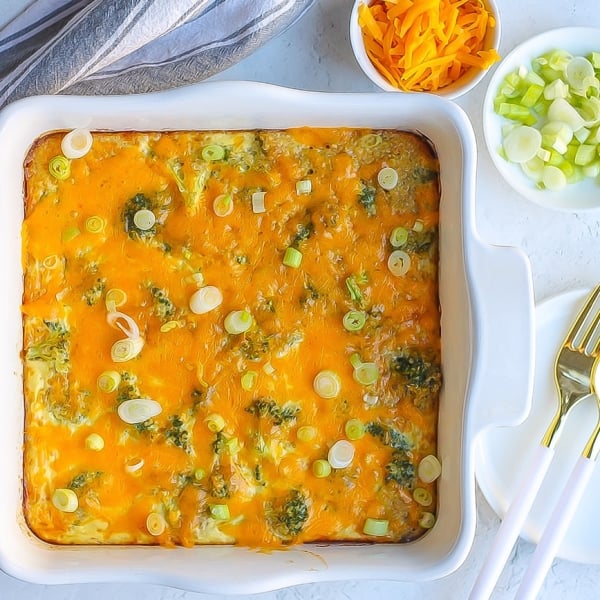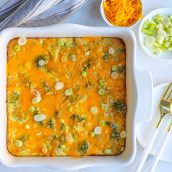 Broccoli Quinoa Casserole Recipe
This casserole takes the deliciousness of broccoli casserole and lightens it up by using quinoa. Top it with cheddar cheese and you've got a winning dish!
Instructions
Preheat oven to 350°F. Coat a 1 1/2 quart casserole dish with cooking spray. Set aside.

Combine the raw quinoa, salt, onion powder and broth in a medium saucepan. Bring to a boil, then reduce heat to a simmer. Cover and cook for approximately 15 minutes, or until cooked. Remove from heat and fluff with a fork.*

In a medium mixing bowl, combine the eggs, milk, pepper, garlic and 1 1/2 cups of the cheese. When mixed, add the quinoa and broccoli, toss (don't stir) until combined.

Transfer the mixture to a casserole dish. Bake, uncovered, for 40 minutes.

Remove and top the casserole with the remaining 1/2 cup cheese. Return to oven for 4-5 minutes or until the cheese has melted.

Remove and allow to sit for 5 minutes before serving. Garnish with the scallions, if desired.

If you've tried this recipe, come back and let us know how it was in the comments or ratings.
Notes
*If using rice, cook according to package directions, but swap water with broth and add the seasonings.
Nutrition
Calories:
240
kcal
,
Carbohydrates:
18
g
,
Protein:
13
g
,
Fat:
12
g
,
Saturated Fat:
7
g
,
Cholesterol:
73
mg
,
Sodium:
719
mg
,
Potassium:
321
mg
,
Fiber:
2
g
,
Sugar:
2
g
,
Vitamin A:
550
IU
,
Vitamin C:
24.9
mg
,
Calcium:
270
mg
,
Iron:
1.7
mg