This Chicken Pot Pie Casserole is the ultimate comfort food! Chock full of veggies and a creamy chicken mixture, you are going to instantly fall in love.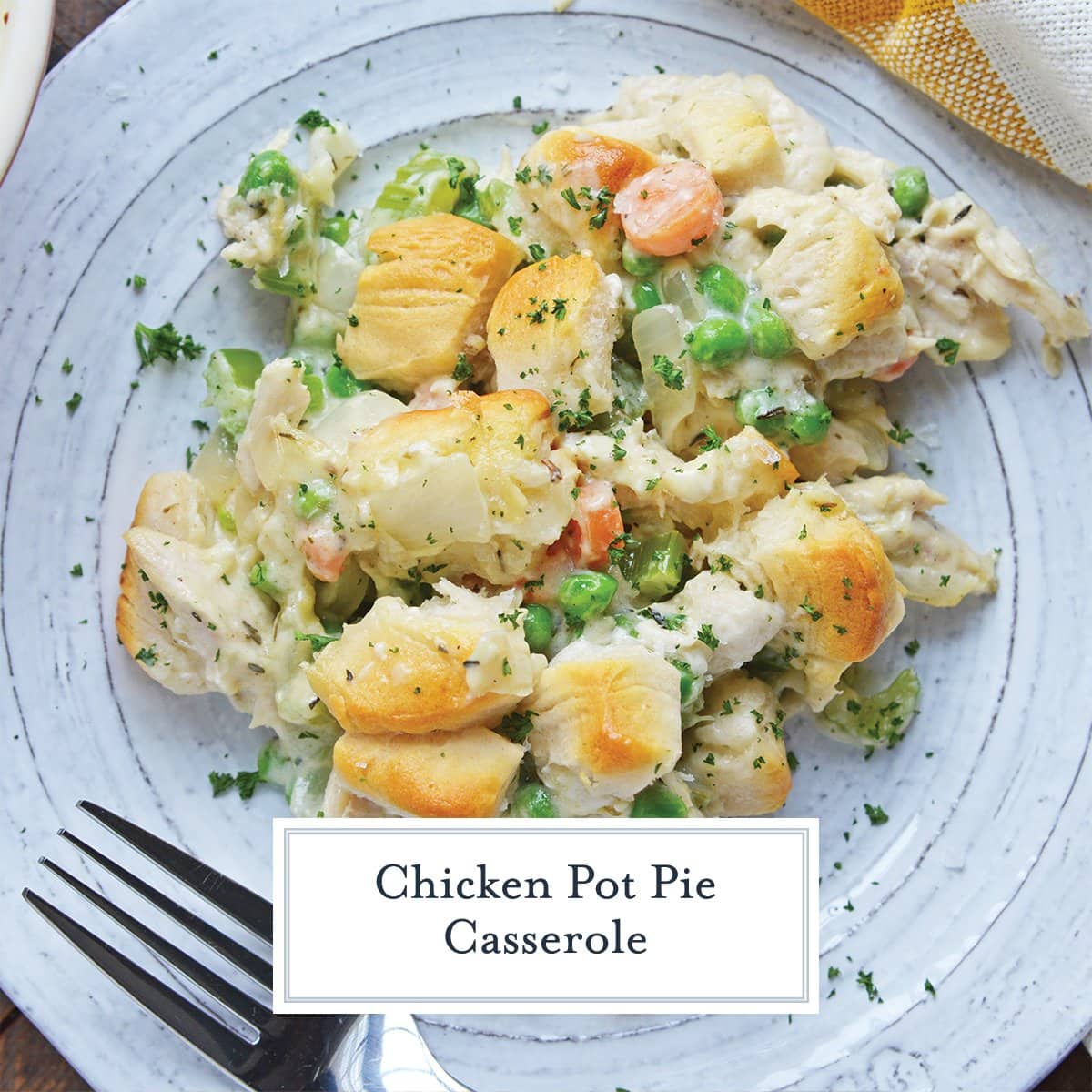 Do you have a favorite comfort food? It seems everyone has some sort of recipe that brings back fond childhood memories. I love the fact that some dishes, especially the smells, are nostalgic; the power of food is truly amazing. Casseroles and chicken pot pie does it for me.
Chicken Pot Pie Casserole
For all intents and purposes, most pot pie are actually casseroles. A savory mixture baked into flaky crust. What makes this chicken pot pie casserole recipe is different is that I make is in a larger casserole dish, like a 9×13 baking pan, so it feeds more.
This recipe feed 8-10 instead of a standard pot pie that might feed 2-4 depending on size, making it perfect for an easy weeknight meal for the whole family. Pair it with a nice green salad and voila, dinner is ready!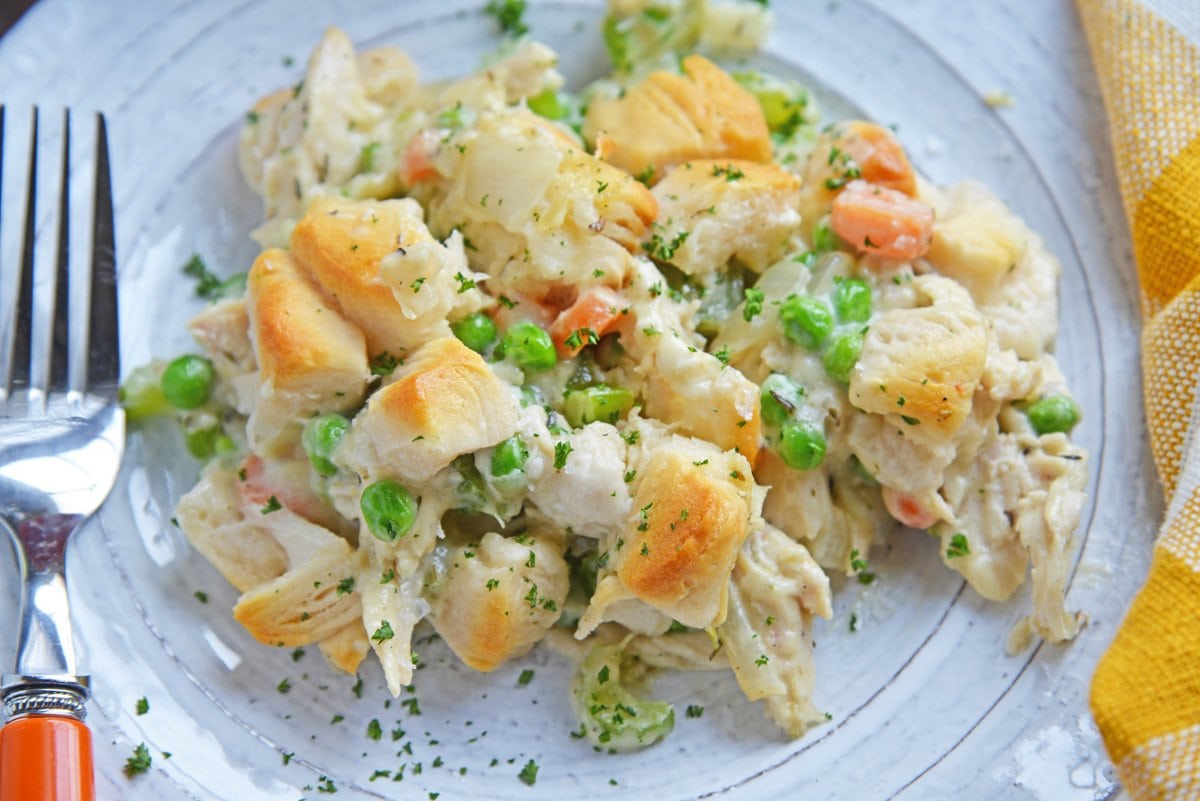 Pot Pie Crust
If we are being totally honest, one of the reasons I don't like making traditional pot pies is the crust. Pie crust, homemade or store bought, or puff pastry can be tedious to work with. I love a beautiful lattice, but it takes me just as long to make the pretty part as it does bake the whole gosh darn thing! It's no longer an easy chicken pot pie with all the work!
The bottom crust also has the tendency to get soggy- unless you prebake, pierce, then line with eggs… you see where I am going with this. Delicious, but a lot of work!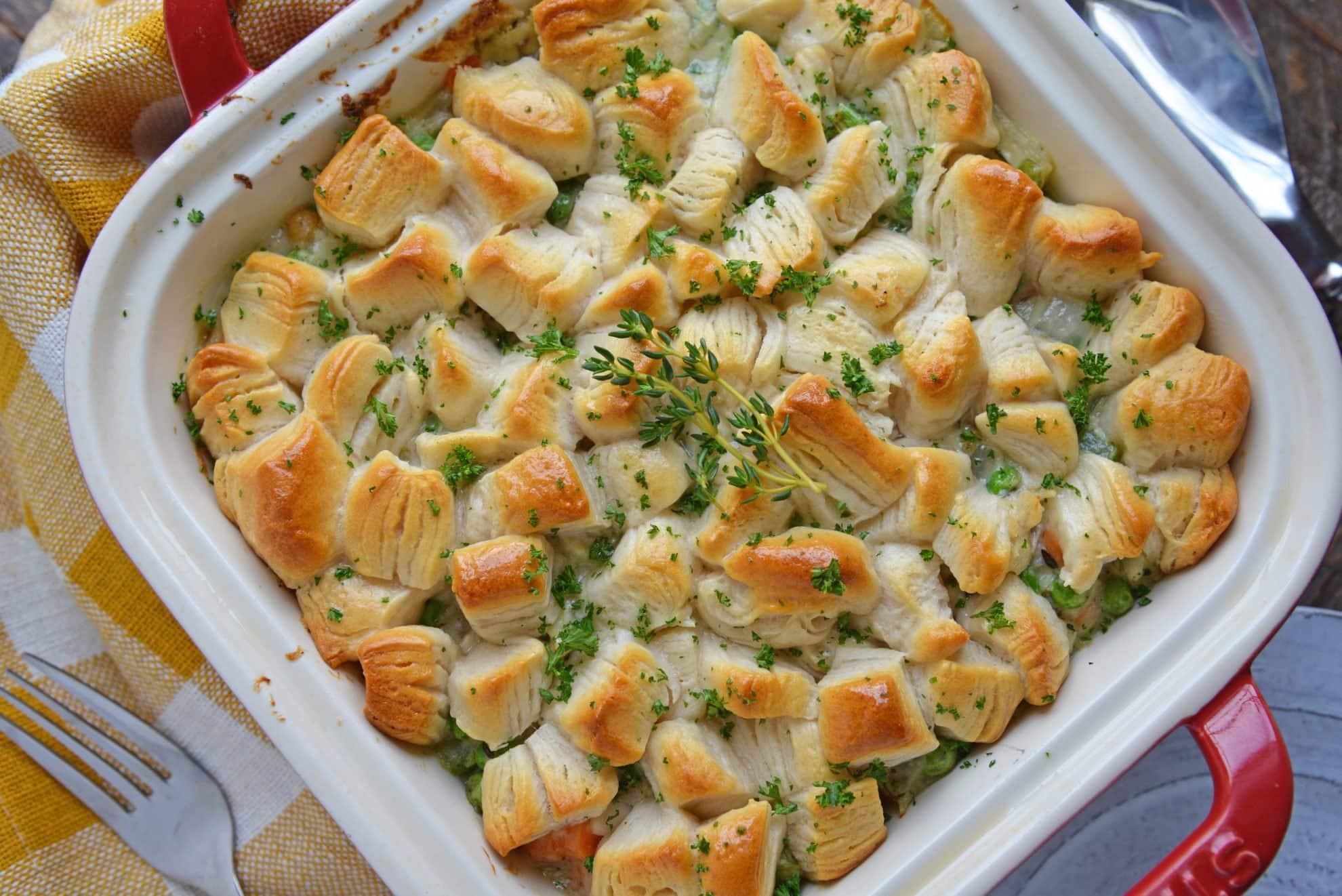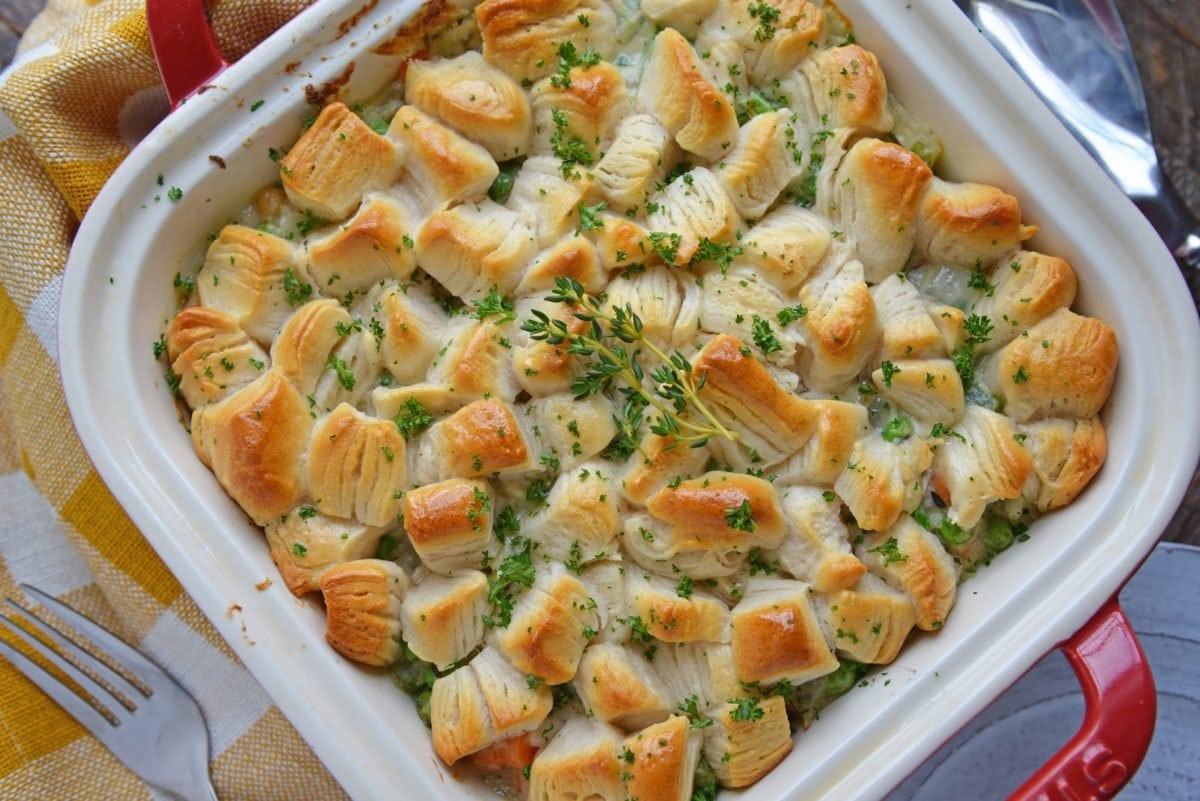 Some people prefer to unroll crescent rolls for the crust, but I don't care for the perforated lines left. I also want a big, fluffy, crusty topping. So I use refrigerated biscuits, super easy!
Seriously underrated, these bad boys can be used for anything from monkey bread to Amish apple dumplings and also a casserole topping.
How to Make Chicken Pot Pie Casserole (Step-by-Step)
You can choose to make Chicken Pot Pie Casserole in a 9×9 baking dish or a large 9×13 baking dish, it just depends on how many your are feeding. The same amount of filling is used and the same cook time is needed. If you do upgrade to the 9×13 baking dish, use all 8 refrigerated biscuits.
ONE. The first thing you need to do to make this recipe is sweat out the vegetables. The vegetables used in pot pies are very watery and will just make your pot pie filling into soup.
PRO TIP: Sweating out vegetables means to cook them on medium heat to release and evaporate much of the water. The vegetables will reduce in size after the water is released.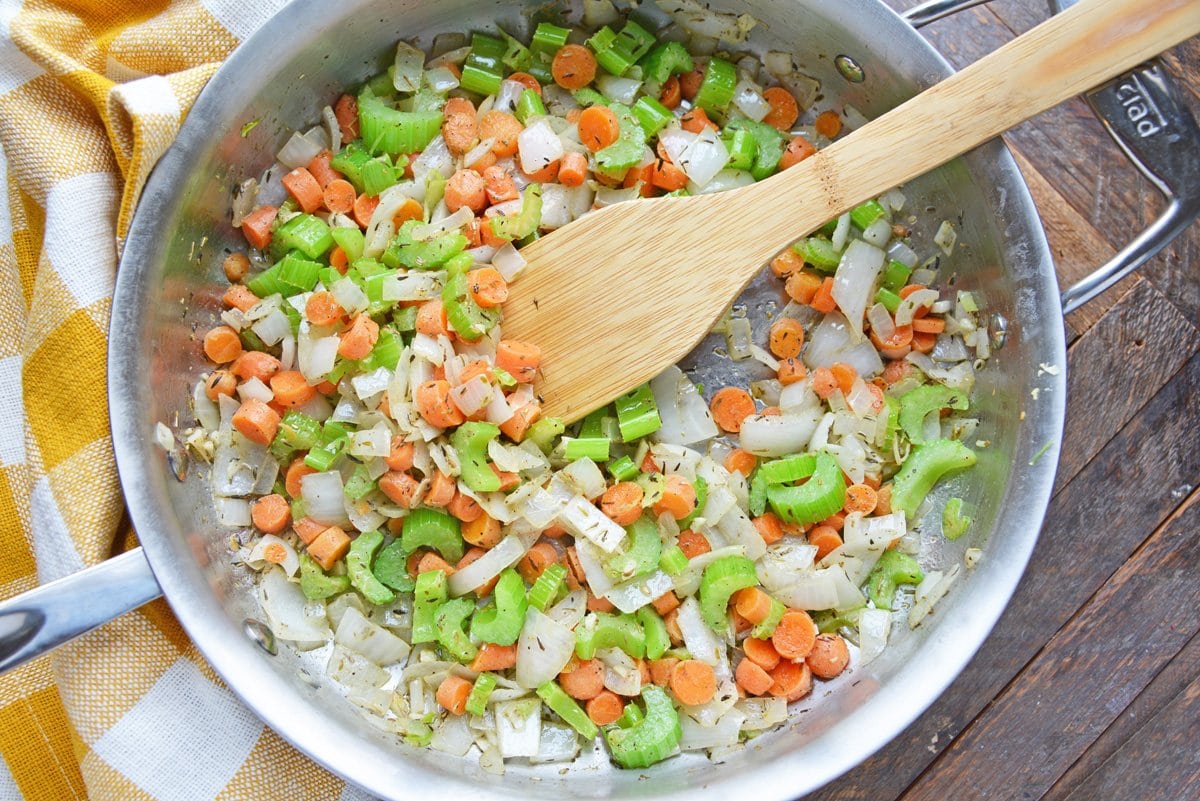 If I have fresh herbs, I use them, but sometimes I don't so dried will do just fine. The general conversion of fresh herbs to dried herbs is 1 tablespoon fresh to 1 teaspoon dried.
TWO. Secondly, you create a roux in the skillet. Toss the vegetables in flour, together they will form a paste which will be what thickens the whole pot pie filling. You can add a little bit of black pepper to the roux for extra flavor if you'd like.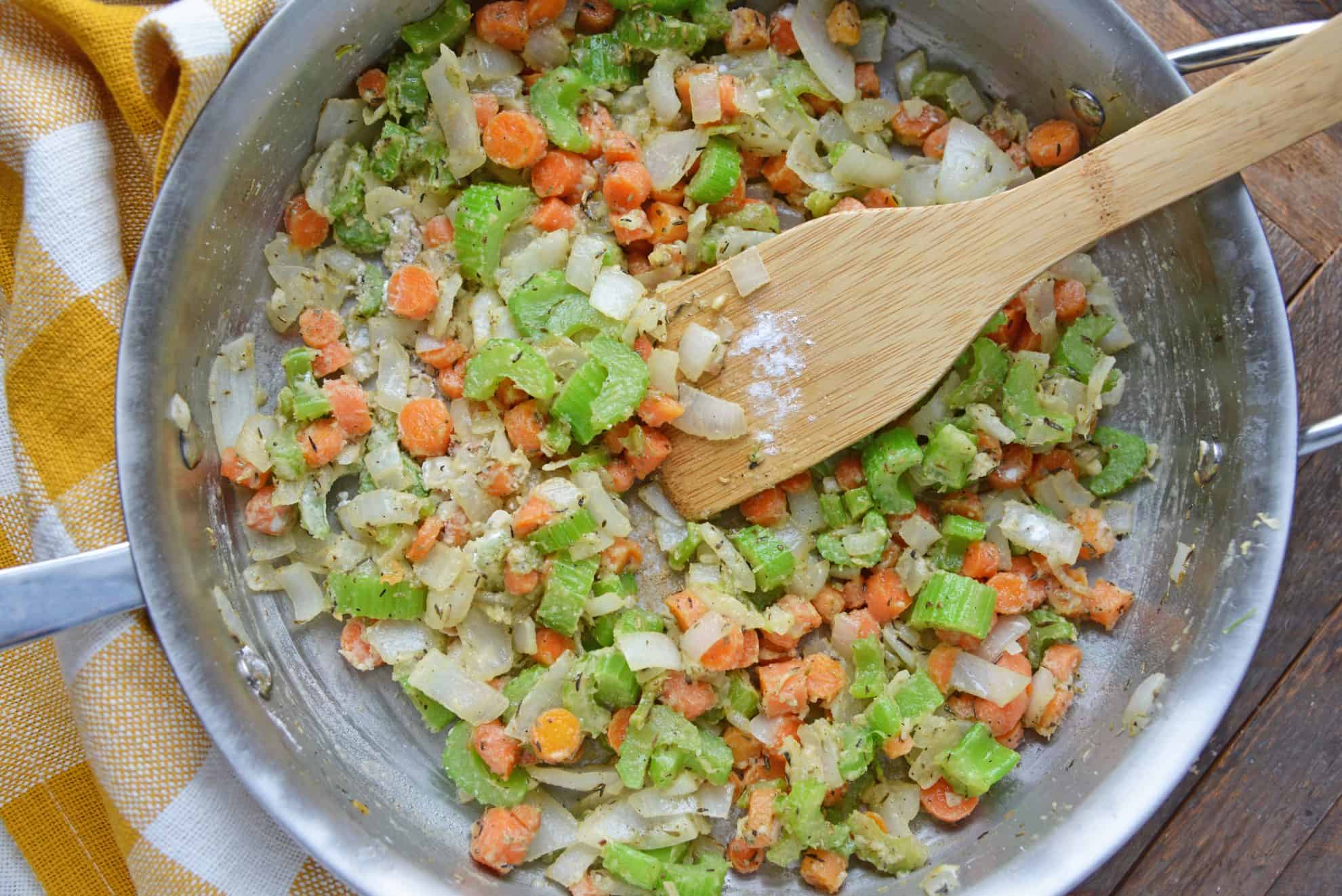 After stirring in the vegetables, pour in the cream and mix until it starts to thicken.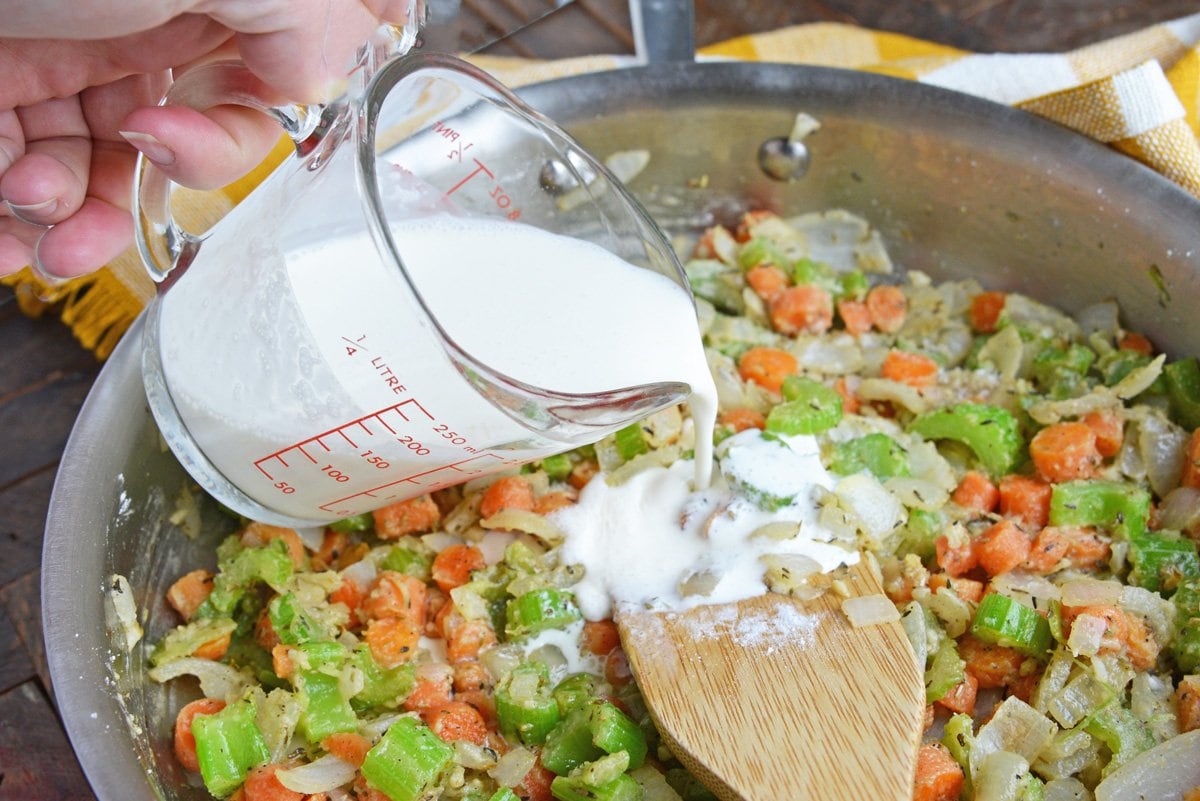 THREE. Next, add the chicken. I like to use a pre baked or store bought rotisserie chicken or cooked chicken breasts. It is already infused with flavor, so there is no need for poultry seasoning.
On this particular day, I used leftover chicken from my Instant Pot Whole Chicken. No need to be stingy about making sure you have exactly 2 cups of chicken. A little more or a little less won't make or break the recipe.
How to thicken chicken pot pie? If your filling is too thin, you might not have sweat out your vegetables long enough. You could also make a thicker roux next time out make it.
FOUR. Using frozen peas are just easier than shelling fresh peas and they are already cooked, so just dump them in at the end. If you were to add them first, they would be mush by the time you were done. I don't suggest using canned peas.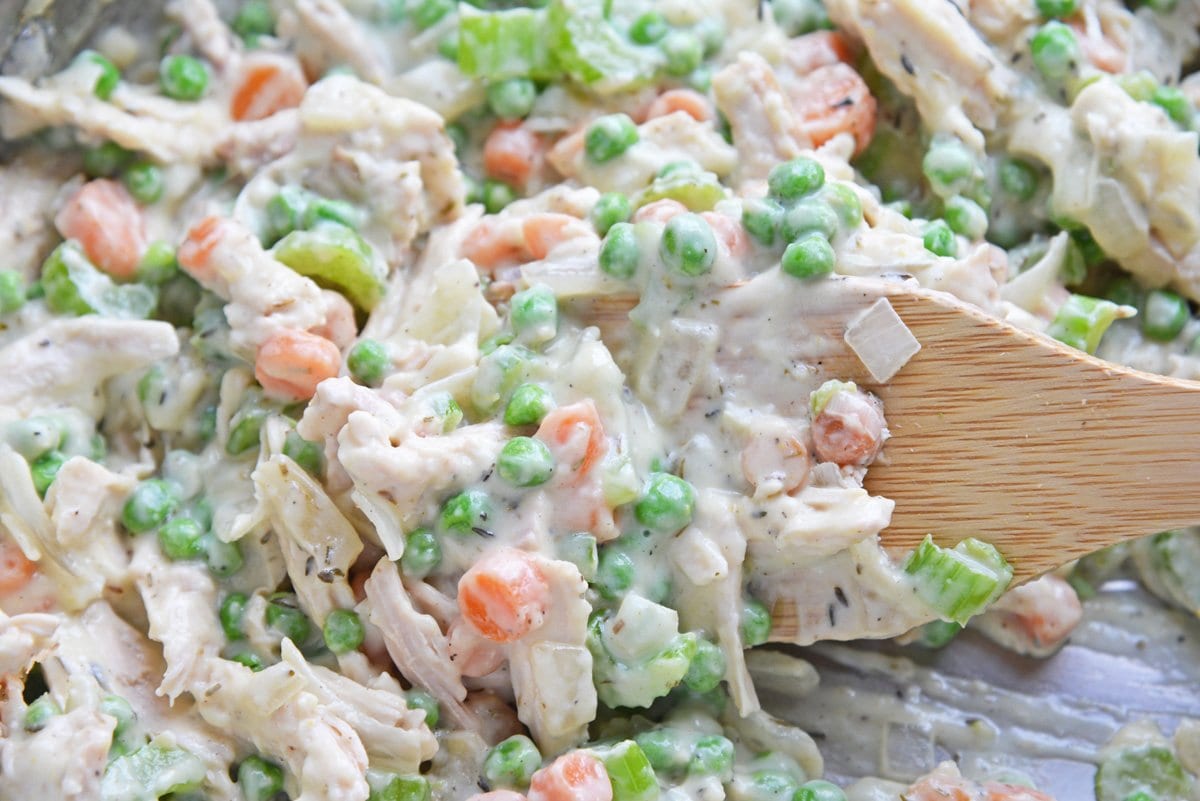 FIVE. Next, the pot pie "crust": buttermilk biscuits. So much easier than messing around with pie crusts. What a pain! Chicken pot pie with biscuits is just as tasty, but without all of the work!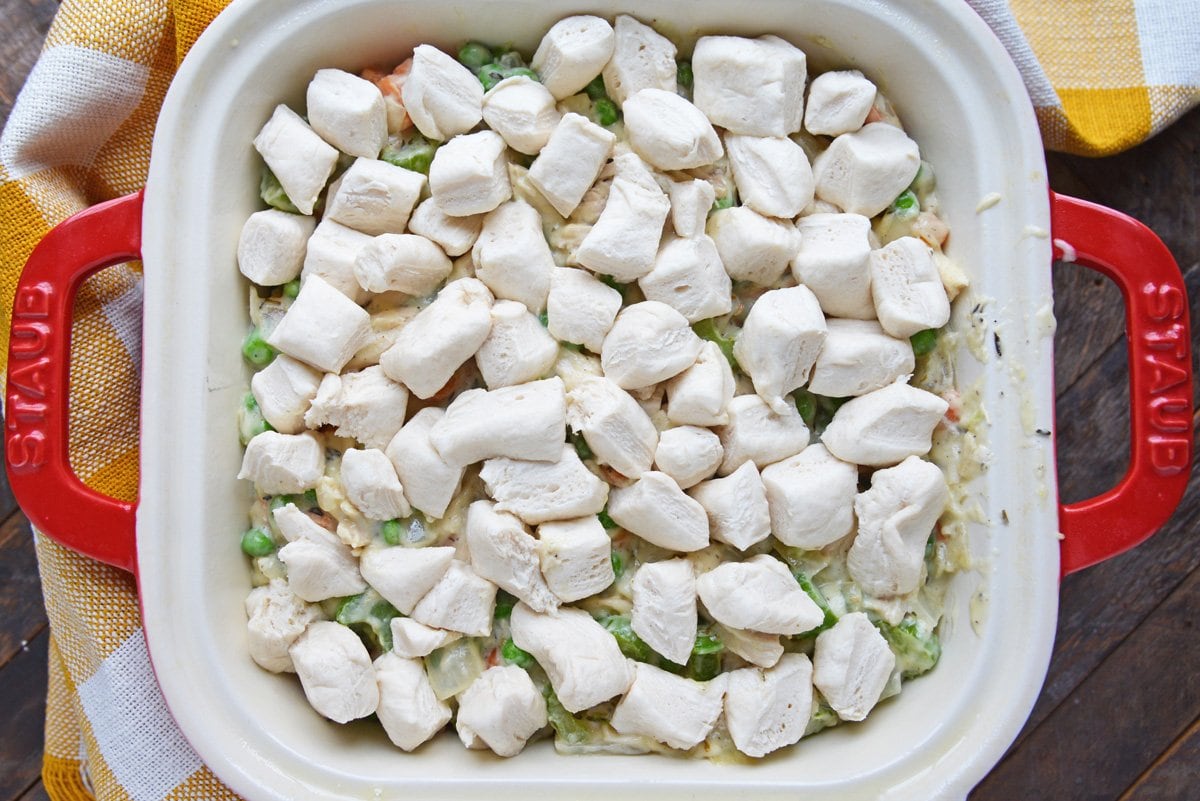 Pro Tip: Use kitchen shears to cut the biscuits right over the pot pie.
SIX. After baking for about 20 minutes, you will know when your casserole is finished when the biscuits are golden brown. If the tops are browning a little too fast, gently place a piece of aluminum foil over the top.
The casserole will continue to cook without burning the top.
PRO TIP: How to keep the top of your casserole from burning? Gently place a piece of aluminum foil over the top. The casserole will continue to cook without burning the top.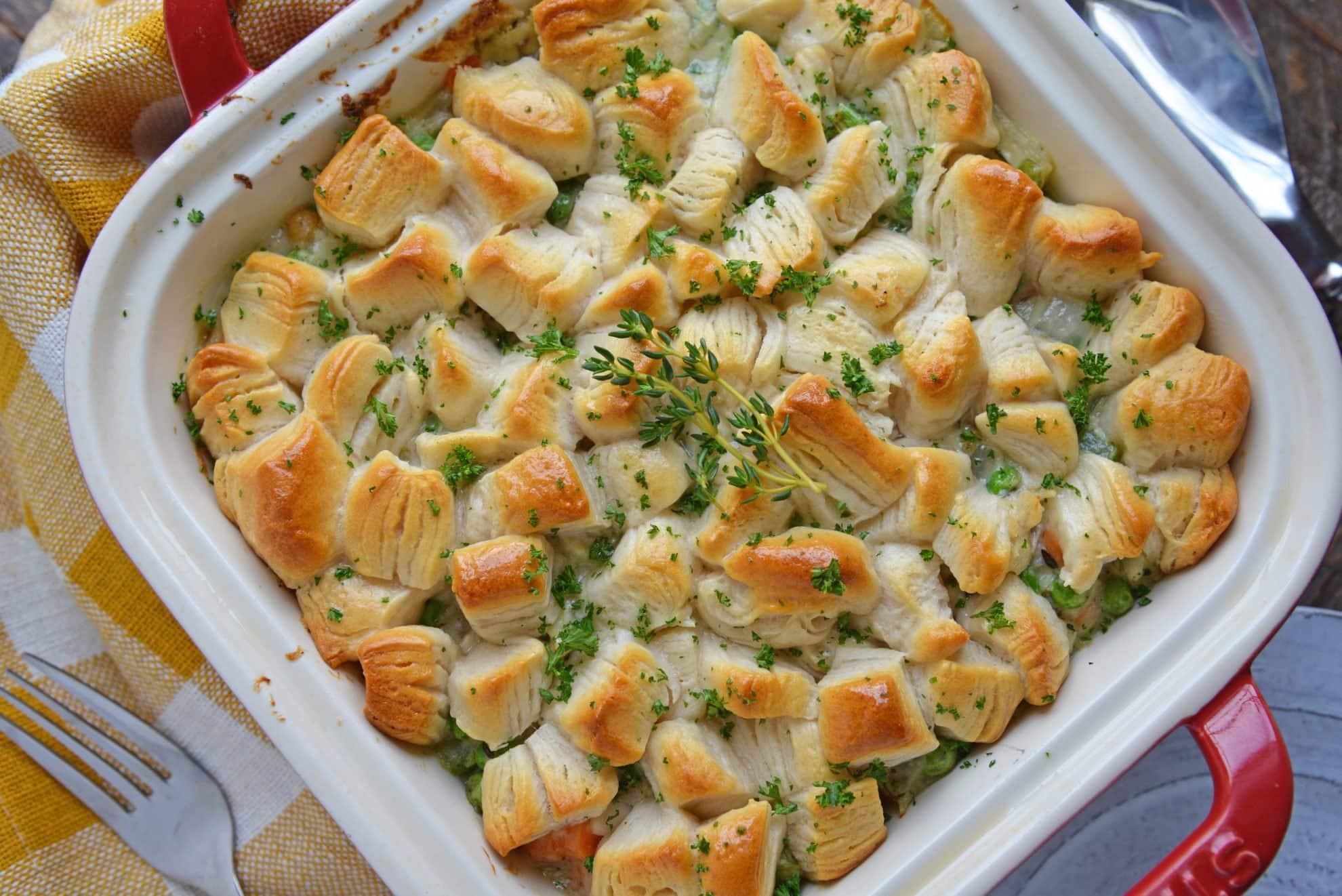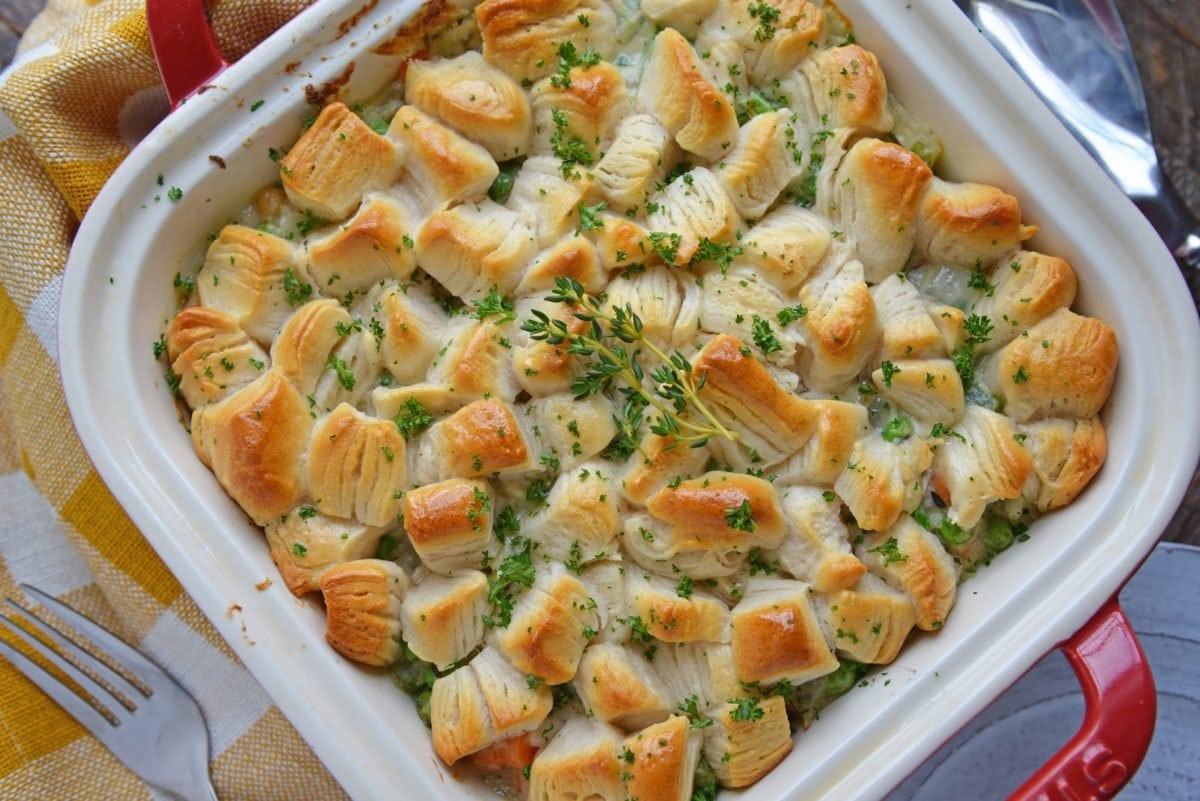 SEVEN. Allow to cool for 10-15 minutes, this lets the filling thicken up. If you cut in too soon, it can be a little watery.
For garnish, I baste the biscuits with melted butter and top with fresh parsley, but this is completely optional. You could also top with salt and pepper or even seasoned salt and garlic powder, if desired.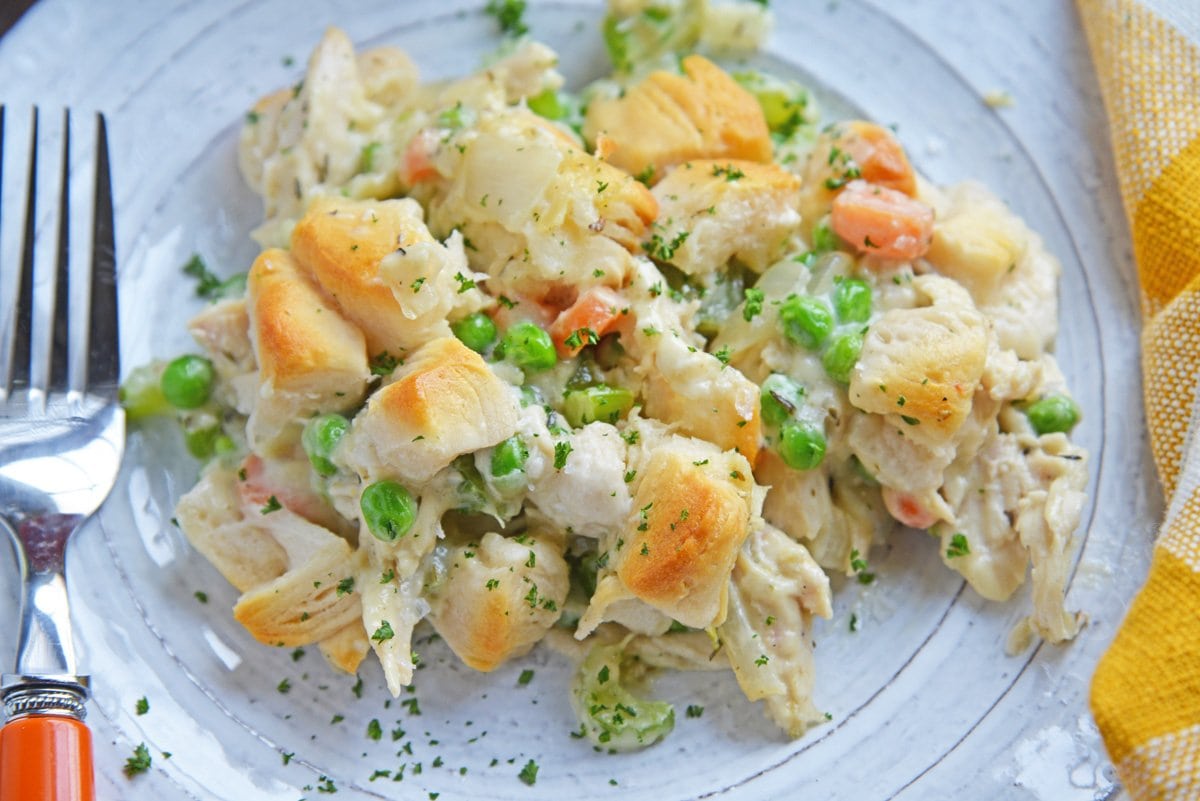 Make Ahead & Freezing
You can surely make this casserole ahead of time. Either assembled right up to baking or go ahead and bake it, although reheating in the oven takes nearly as much time as cooking it the first time.
Chicken pot pie casserole will be good in the fridge for up to 5 days.
Can chicken pot pie be frozen? Yes! I would just make sure it was completely cooled before freezing. Once cooled, seal in an airtight container and you are good to go! Check out my tips on freezing casseroles for more info.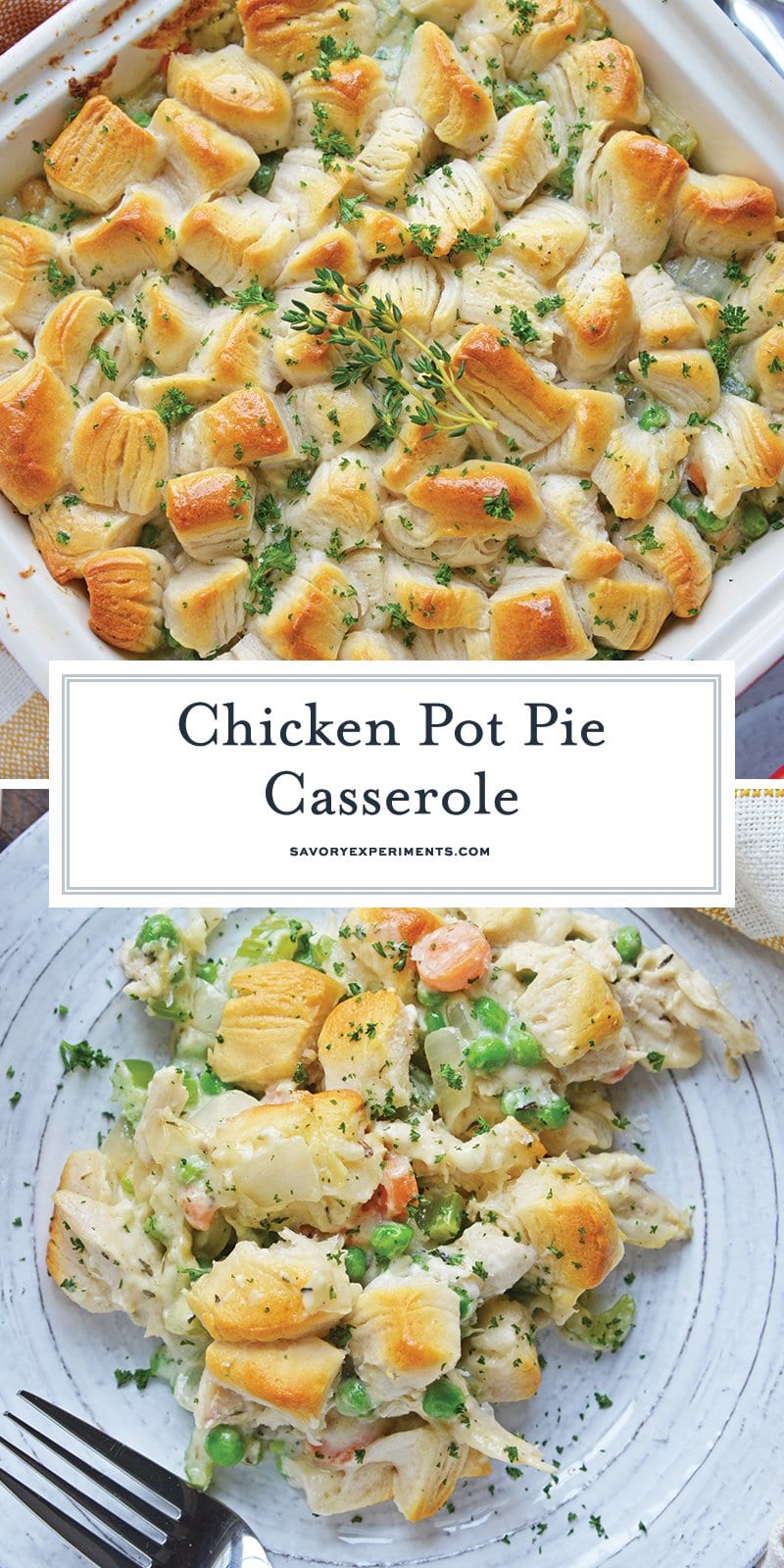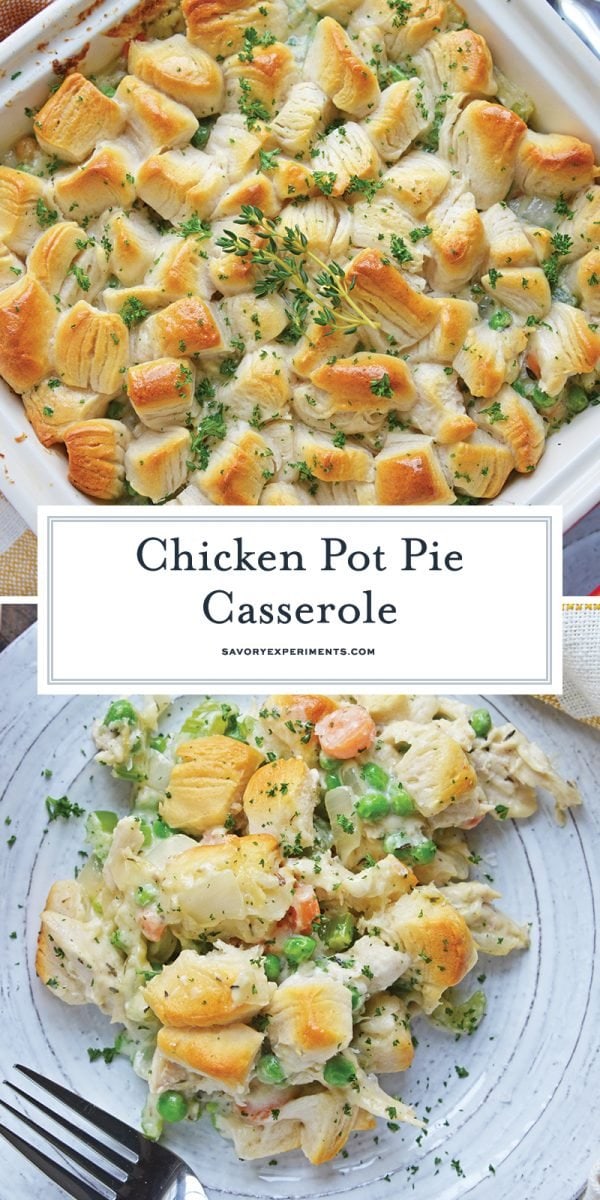 More comfort foods: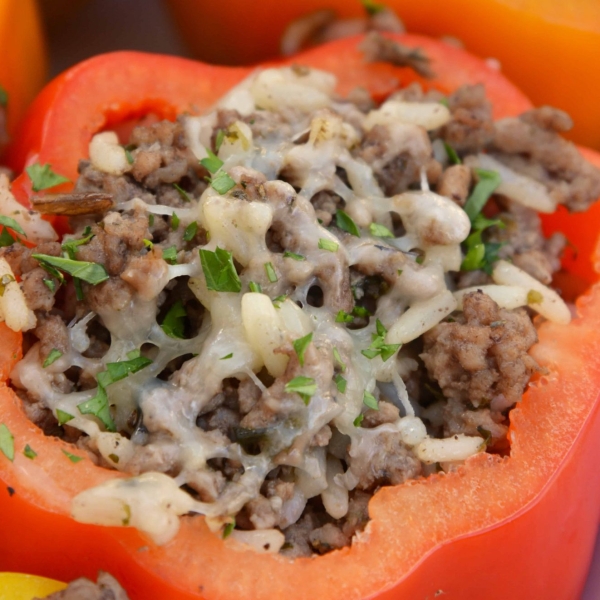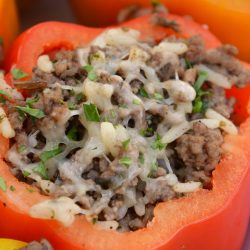 Classic Stuffed Peppers
Classic Stuffed Peppers are bell peppers stuffed with ground beef, rice, cheese and spices. A timeless meal ready in 30 minutes and easily made ahead.
View this recipe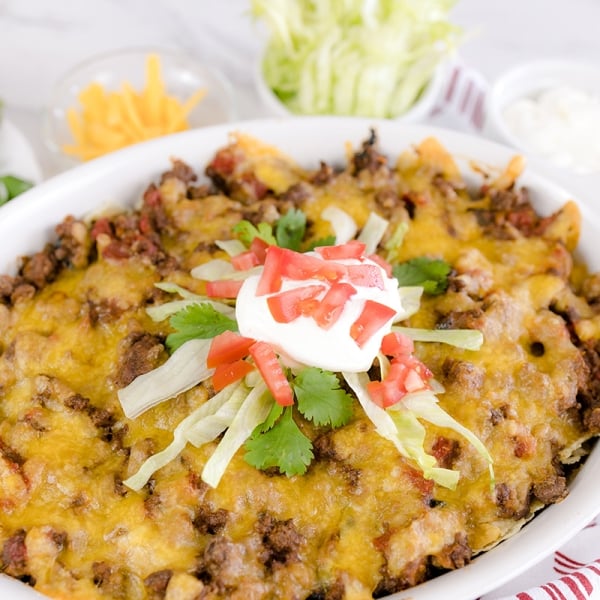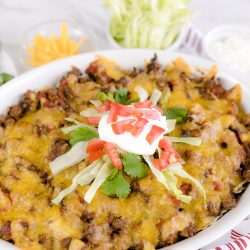 Taco Bake Casserole Recipe
This easy taco bake casserole recipe is a great cheesy recipe for an weeknight meal or potluck. Easily customizable with your favorite taco toppings.
View this recipe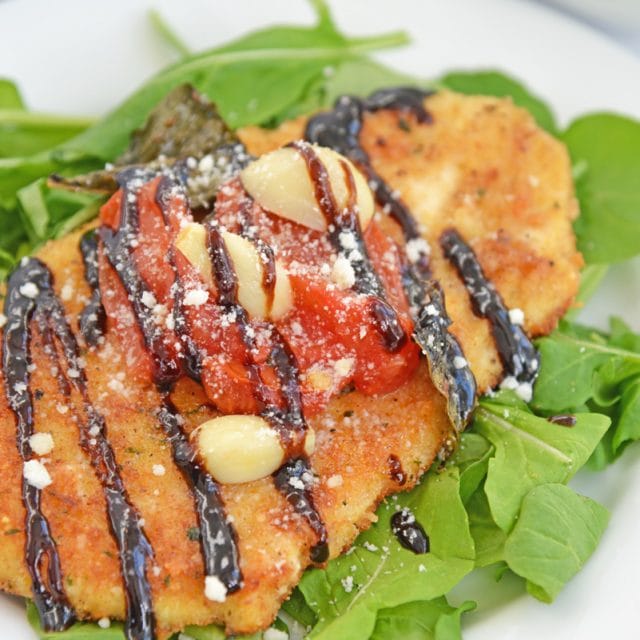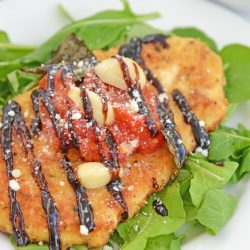 Chicken Cutlets with Roast Tomato & Garlic
Breaded chicken cutlets with a roast tomato and garlic topping and balsamic sauce served over arugula.
View this recipe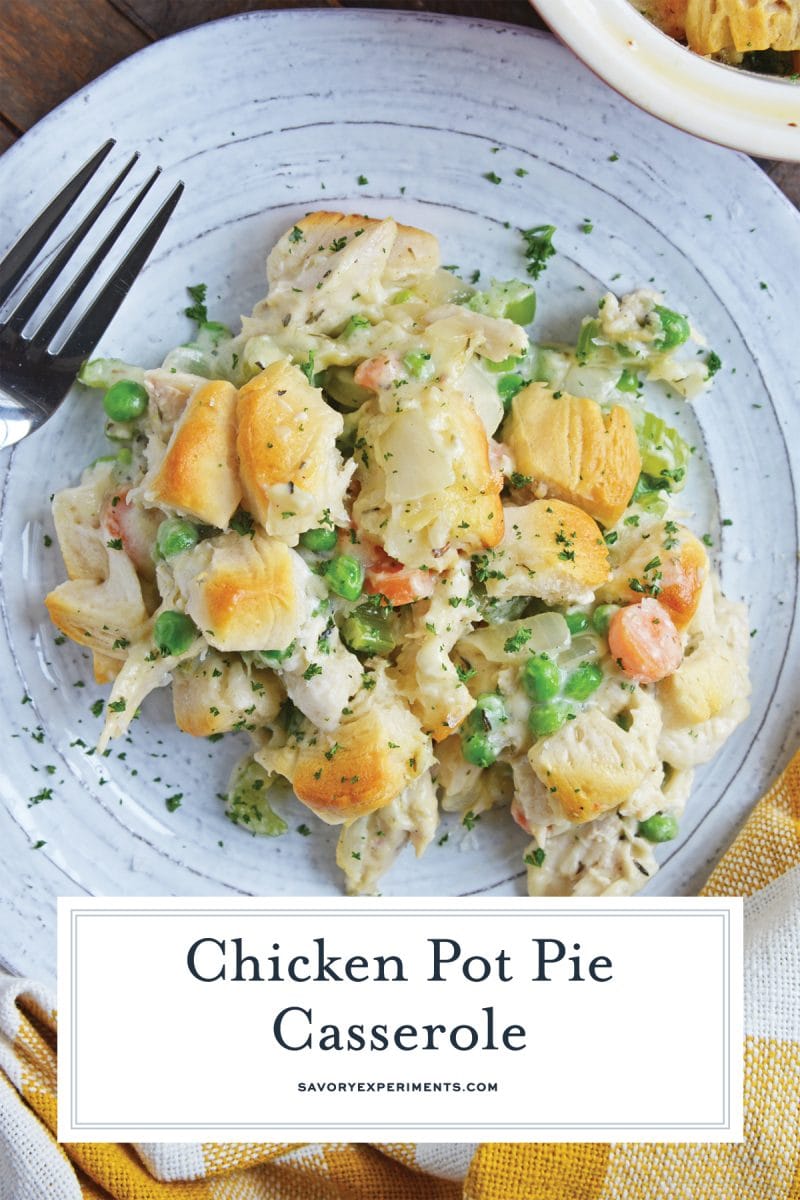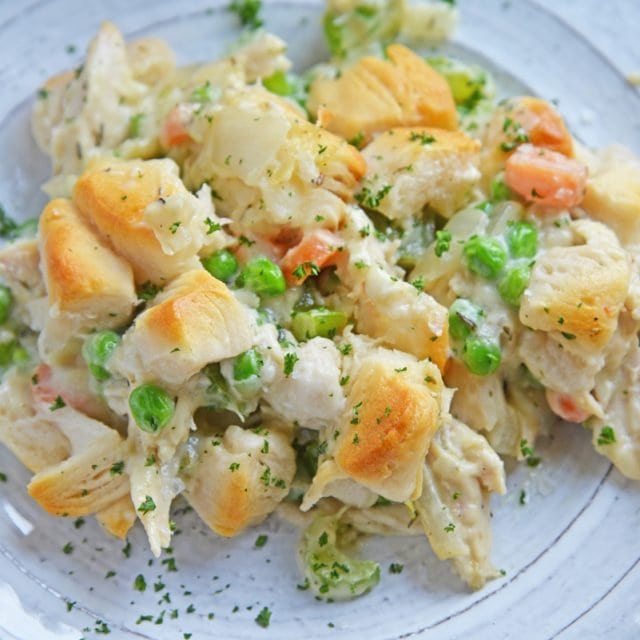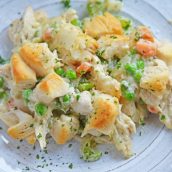 Chicken Pot Pie Casserole
Chicken Pot Pie Casserole using biscuits is an easy way to make a comforting chicken casserole. Easy pot pie filling with buttery topping.
Instructions
Preheat oven to 350°F. Coat a baking dish (see notes regarding sizwith cooking spray.

In a large skillet over medium heat, melt the butter and add the carrots, onion, celery, garlic, thyme and rosemary. Sauté for 3-4 minutes or until ingredients start to soften and reduce in size, but are not fully soft.

Add the poultry seasoning, pepper and flour to the mixture. It will form a paste, let brown for 2 minutes.

Slowly add both the chicken broth and heavy cream. Mixture should thicken while stirring. Toss vegetable-cream mixture with cooked chicken and frozen peas.

Transfer the mixture to coated baking dish.

Cut the biscuits into quarters, top in a single layer over chicken mixture. The size of your baking dish will dictate how many biscuits you need.

Baste with melted butter and top with minced parsley. Allow to sit for 10 15 minutes before serving.

If you've tried this recipe, come back and let us know how it was in the comments or ratings.
Notes
Use 1 teaspoon dried thyme and dried rosemary if you don't have fresh.
I used a store-bought rotisserie chicken. This would also be about 2 boneless, skinless chicken breasts cut into bite-size pieces and cooked.
If you use a 9×13 baking dish, use 8 biscuits instead of 4.
Nutrition
Calories:
396
kcal
,
Carbohydrates:
22
g
,
Protein:
11
g
,
Fat:
29
g
,
Saturated Fat:
15
g
,
Cholesterol:
94
mg
,
Sodium:
366
mg
,
Potassium:
370
mg
,
Fiber:
3
g
,
Sugar:
4
g
,
Vitamin A:
4685
IU
,
Vitamin C:
17.7
mg
,
Calcium:
66
mg
,
Iron:
2
mg