My favorite breakfast recipe EVER: Chile Relleno Casserole. This beloved recipe has received a lot of feedback, good and bad, read below to see why!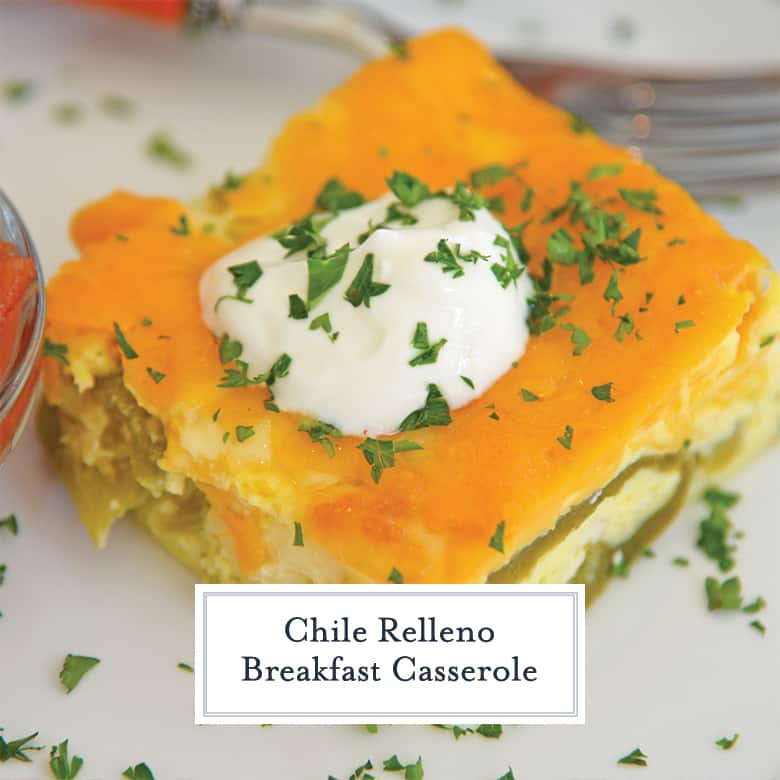 Chile Relleno Breakfast Casserole is a morning casserole with eggs, two types of cheese, and mild green chiles. A perfect breakfast recipe for feeding a crowd!
Chile Relleno Breakfast Casserole is a family, neighbor, and Pinterest favorite! Well, for the majority of folks.
There are a lot of haters out there too. It's okay, I have thick skin. But if you are a hater, read on for my answers to your burning chile relleno casserole questions…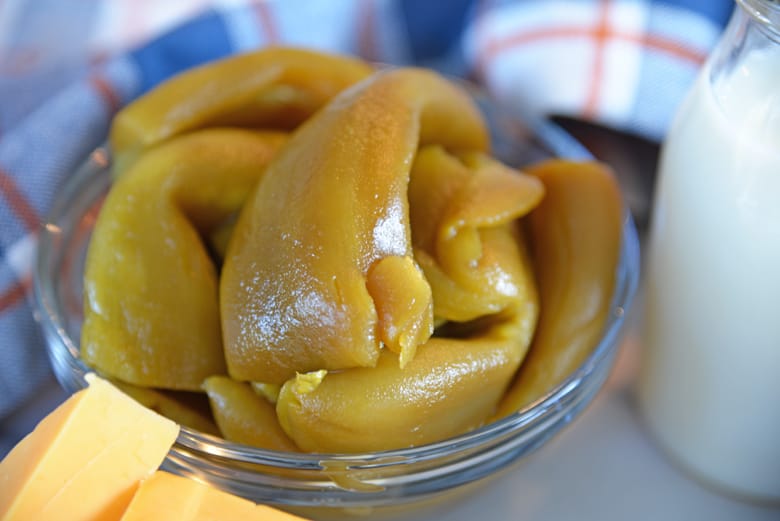 This egg bake uses two pounds of cheese, yes TWO! It is super cheesy, but bakes nicely into the egg to add flavor and texture rather than being stringy or overindulgent.
Patty says: "This recipe is amazing. I have made it 4 times already. Did it for Easter brunch. I did change it up a little. I used Mexican cheeses.

Which work so much better. Not a grease. And I even put chorizo in it own time. I recommend this recipe you won't be disappointed."
If you still think it is too much cheese, then reduce it to one pound. I guarantee you'll miss the missing cheese. The cheese is really what makes this casserole.
And the chile… LOL. Now a lot of folks have commented here and Facebook that two pounds of cheese is just TOO much cheese.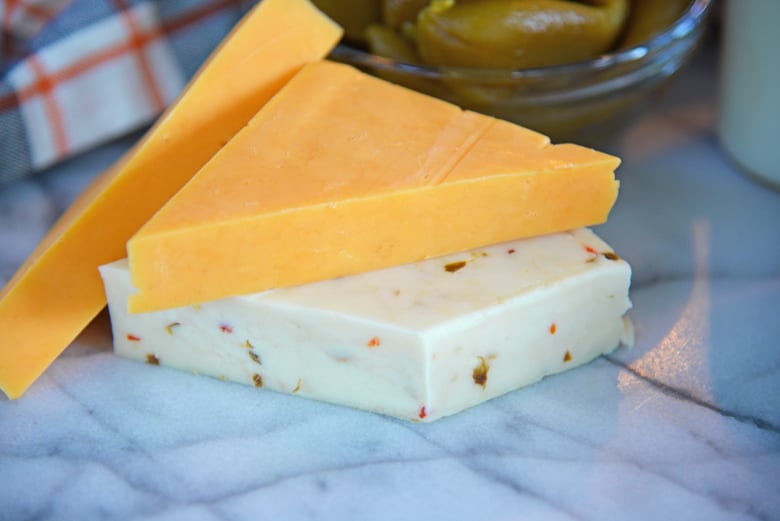 I promise you, it is not. After you pop it in the oven, you won't even get super cheesy pieces. Not any more than other breakfast casseroles, at least.
Susan says: "This was absolutely fabulous . Everyone loved it . I used canned HATCH chilies , used 6 eggs rather than five, and increased the flour and milk by a tablespoon"
I try to make Chile Relleno Casserole only when we have guests in town due to the copious amounts of cheese.
Only because despite my defense on oodles of cheese, I do try to eat fairly healthy on a regular basis and only allow dishes like this on special occassions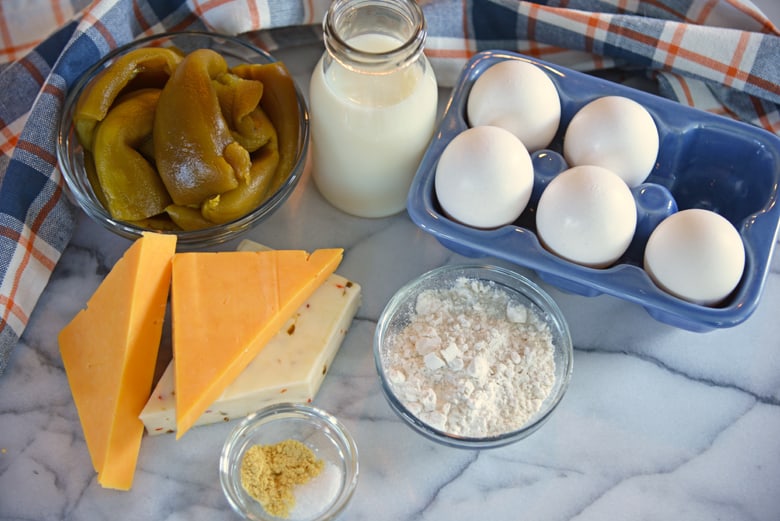 Is there really such a thing? And if you actually make the recipe, you'll see that although it is one heck of cheesy recipe, you hardly notice when you are eating it.
Susan B. says: "Super easy. Very yummy. One of my hubbies favorites."
I also get some individuals who think that this casserole is more of a green chili egg casserole, like a pork chili verde, but really it is just green chiles (I use poblano peppers).
Make ahead breakfast casseroles are perfect for feeding large groups. The chile is mild enough to not be spicy and it also vegetarian-friendly. (NOT vegan, many vegetarians are lacto-ovo).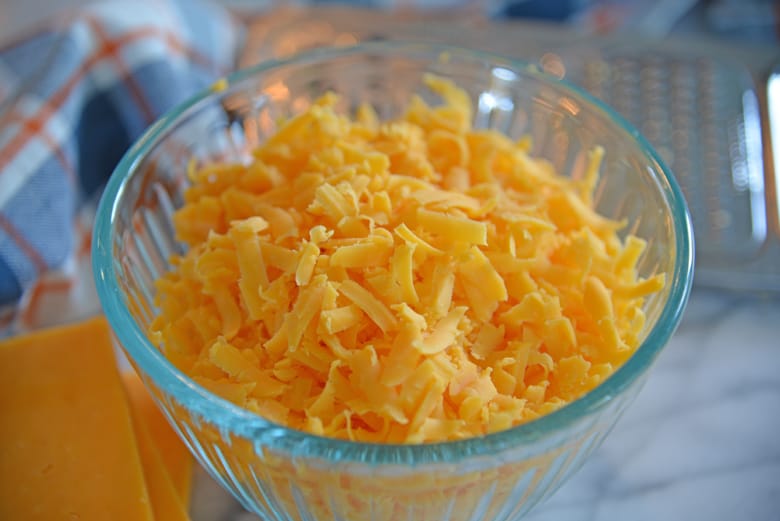 In some areas you can even buy mild or hot chiles to your preference.
And if you are a carnivore, you can easily have some meat on the side. Candied Bacon and Homemade Breakfast Sausage are good bets. Even just heat up some ham.
Joy says: "I love this recipe! It is great for any meal. I also like that I can reduce it down to 2 servings."
You can even add cooked, crumbled breakfast sausage, ground beef or bacon right into your Chile Relleno Casserole. Shredded chicken also works nicely.
Many of our readers have tried and loved these variations!
We are very aware that this delicious breakfast casserole recipe is NOT a real chile relleno. And that chile rellenos are battered and fried. We get it.
This is a deconstructed chili relleno. The original recipe appeared in a Junior League cookbook in Denver, Colorado and claimed to be from an authentic Mexican family.
Past that, I can't authenticate it. And I've never claimed it to be an authentic Mexican recipe or any other type of Mexican food.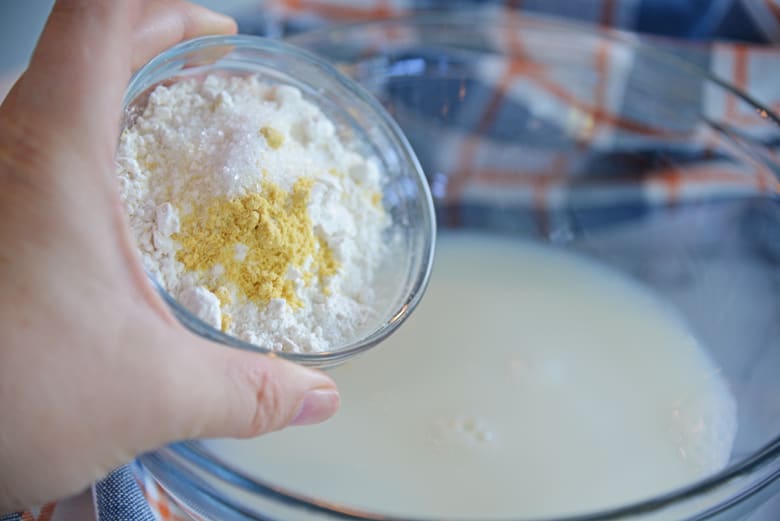 So before you throw stones, I didn't name it either. All I know is that this make ahead breakfast casserole is delicious! And if you try it, you'll probably agree.
And the last bashing it gets is if it is a chile relleno or chili relleno. Geez, the "i" or the "e".
Well, my friend who is an editor claims that the chile pepper is indeed with an "e" and the soup is with an "i".
Cheryl says: "Delicious! I used almond flour and gypsy peppers as I couldn't find chili peppers. It was very mild and quite tasty!"
Call it a chili Relleno Casserole if you'd like. It still tastes the same!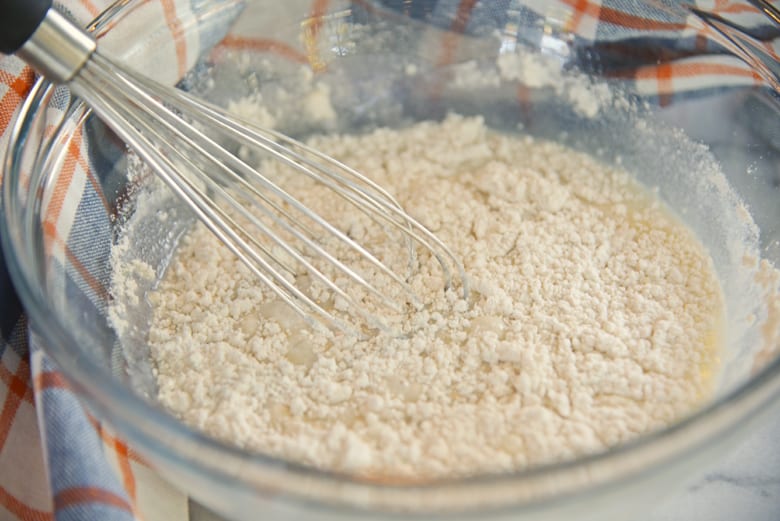 The original recipe for Chile Relleno Casserole calls for whole green chiles, however, these seem to be more and more difficult to find.
You can substitute those for three 4.5-ounce cans of chopped green chiles. Be sure to drain well and dry on a paper towel to reduce moisture.
Gina says: "I'm all about a recipe that calls for 2lbs of cheese and yes it IS required in this dish. We love chile rellenos but I always wind up with a greasy, soggy mess.

I let the top brown a little and get crispy, mmmm. This is a perfect deconstructed chile relleno recipe!"
You can also use fresh chiles, if they are in season or your grocer carries them.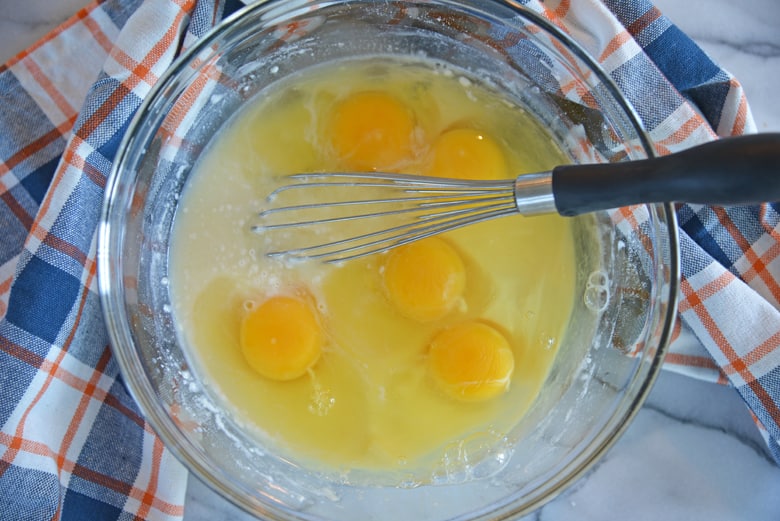 I use a mild chile, but you can, of course, also pick a hot variety.
Instead of using "fingers of cheese" to stuff the chiles, chop the cheese into 2-inch cubes. If I am feeding more than 12, I will add a few more eggs. No additional measurement changes are necessary.
Marlene says: "This recipe always gets raves for our annual breakfast buffet. It is perfect And is always a big hit!"
And the last most asked question for my Chile Relleno Casserole: Can you freeze chile relleno casserole or make it ahead of time? The answers are yes and yes.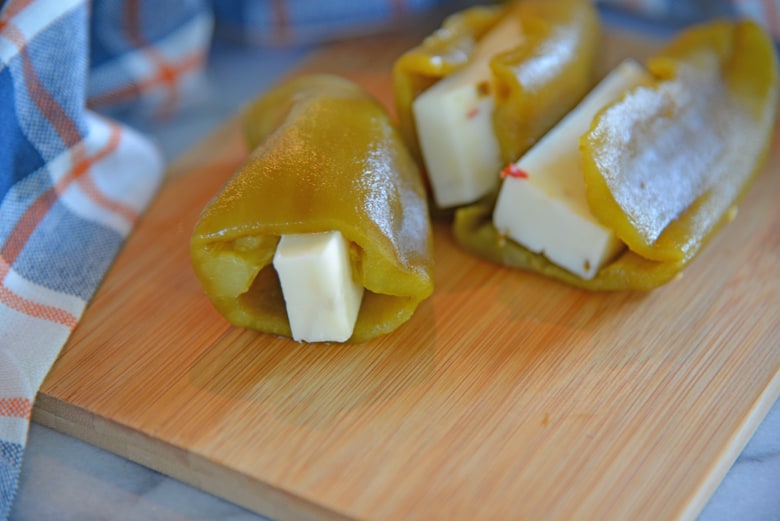 You can make Chile Relleno Casserole the night before you intend to bake it. It might take a few more minutes in the oven to come to temperture seeing that it will be chilled instead of room temperature. Use your best judgment.
John says: "This has become a family and friend favorite. It is so easy to make!"
If you freeze this casserole, cook it, then freeze it in small batches with as little air as possible.
Wrap in aluminum foil or freezer paper, then in an airtight bag. It should be good for up to 3 months. Also see our guide to freezing food, or more specifically how to freeze a casserole!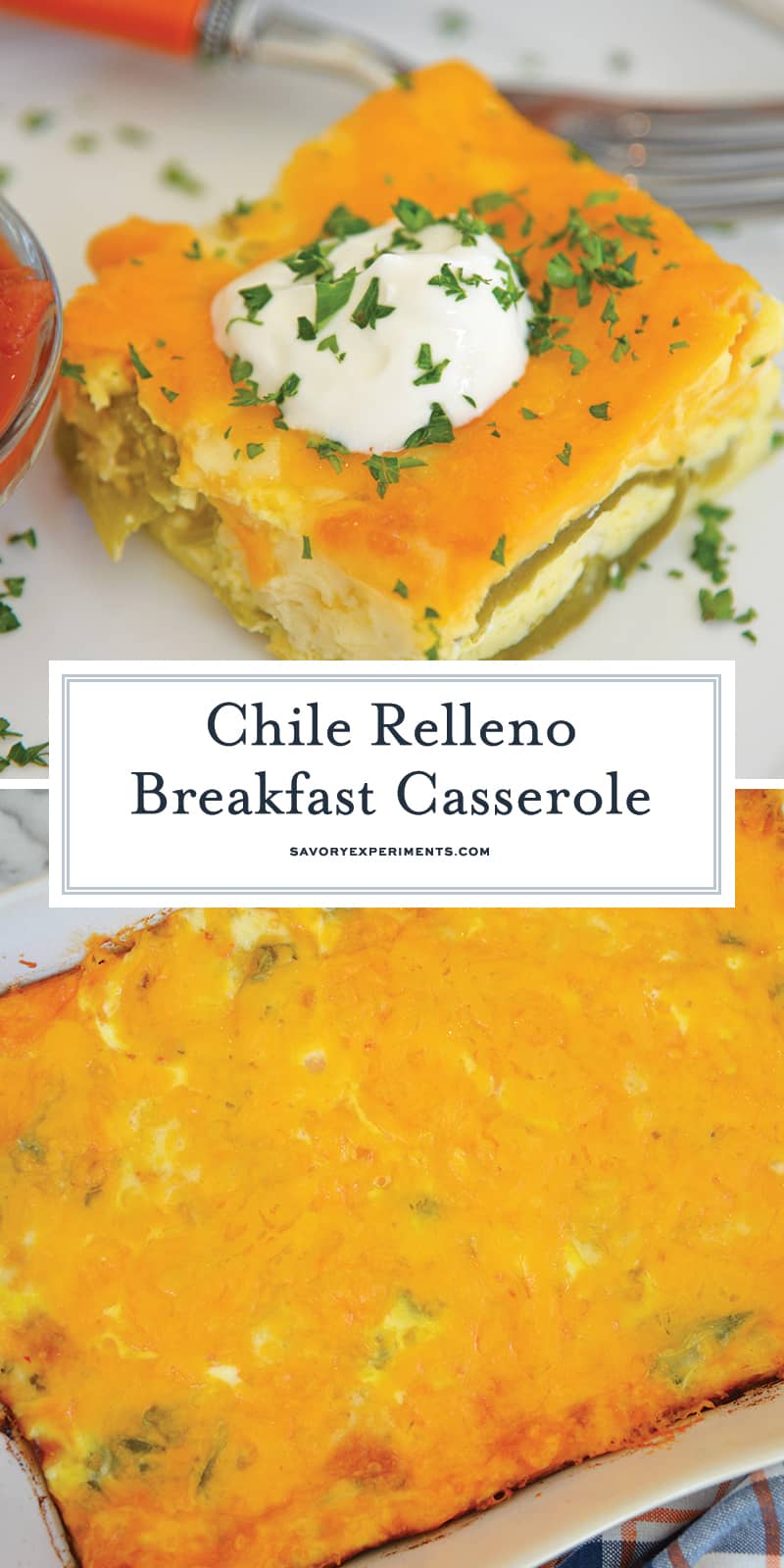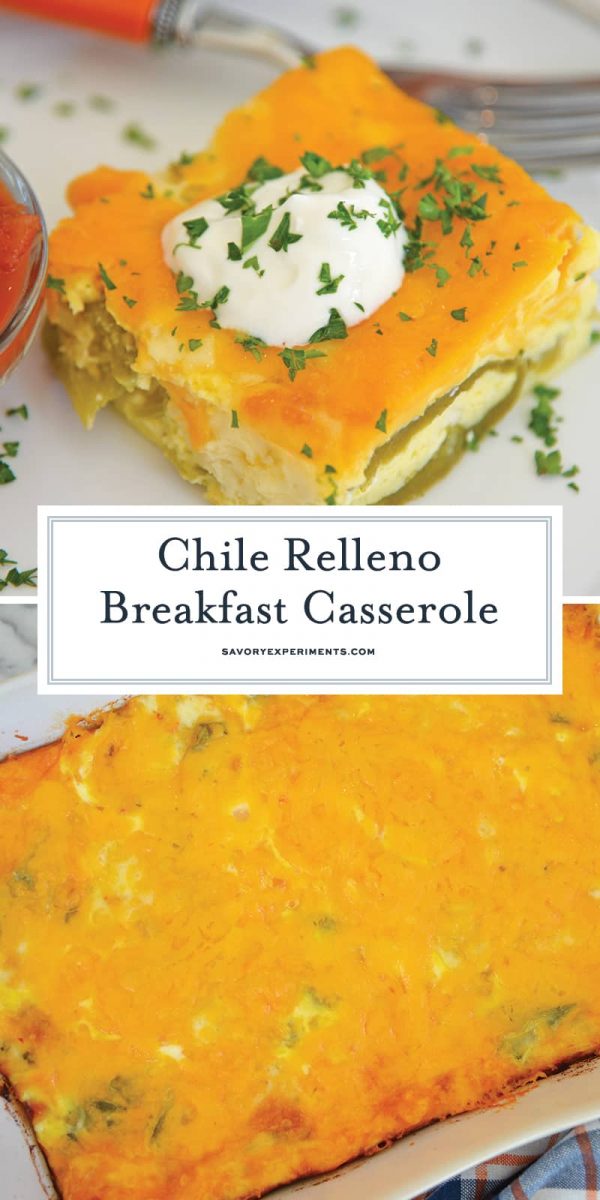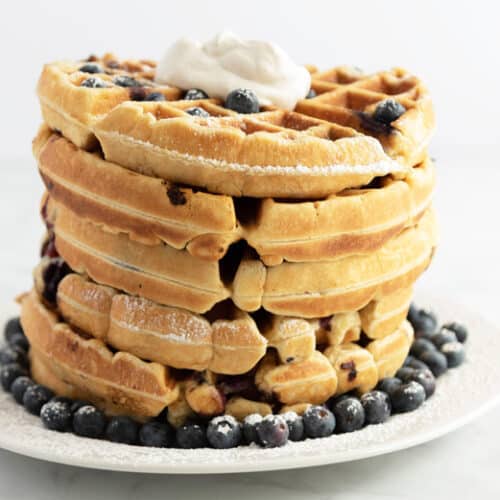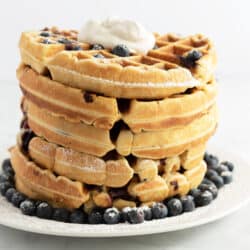 Blueberry Waffle Recipe
This light and fluffy Blueberry Waffles recipes are totally made from scratch! Made with simple ingredients and easy to whip up for a quick breakfast!
View this recipe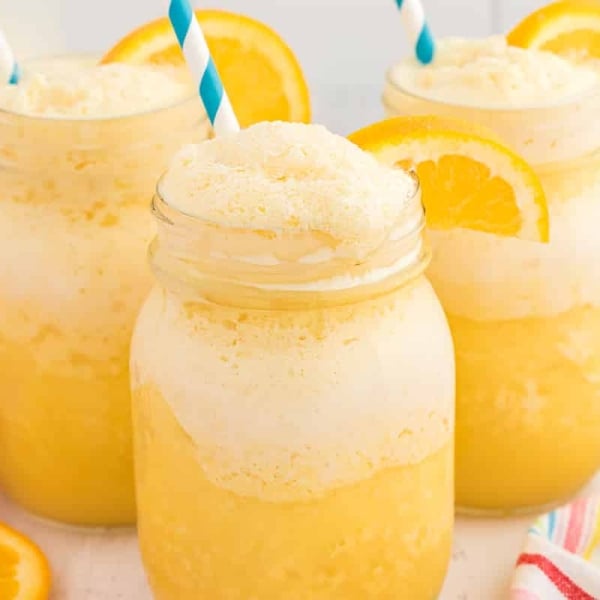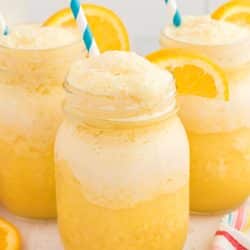 Copycat Orange Julius Recipe
Copycat Orange Julius is the REAL recipe they use at the store! A frothy, frozen orange drink that is perfect for sipping on a hot day.
View this recipe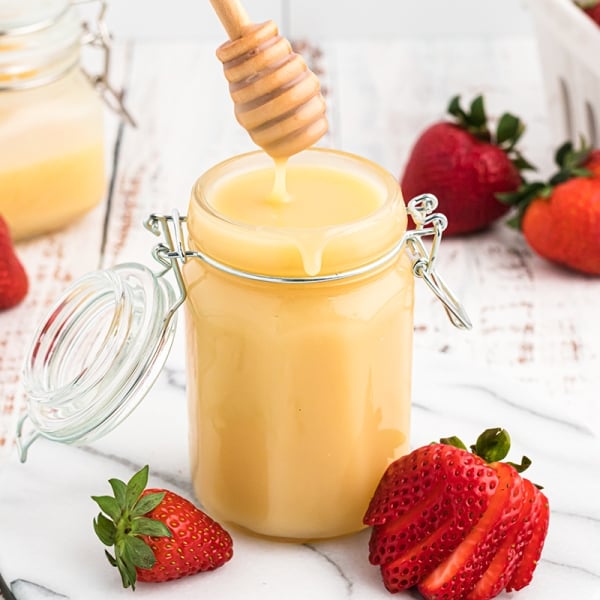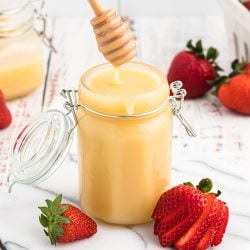 Dutch Honey Syrup (Vanilla Butter Syrup Recipe)
Dutch Honey Syrup Recipe is an easy homemade syrup for pancakes, waffles, French toast, biscuits or even vanilla ice cream!
View this recipe
Tools you might use for make ahead breakfast casseroles:
9 x 13 Glass Baking Dish– an absolute essential for any kitchen! Use it for baking, marinating or storing. Get one with a lid, you'll thank me later.
Mixing Bowls– make sure to check out my article on Using the Right Mixing Bowl, you'd be surprised how many people aren't
Whisks– I buy whisks in multiple sizes. You never know which one you will need.
Box Cheese Grater– Never underestimate the importance of freshly shredded cheese!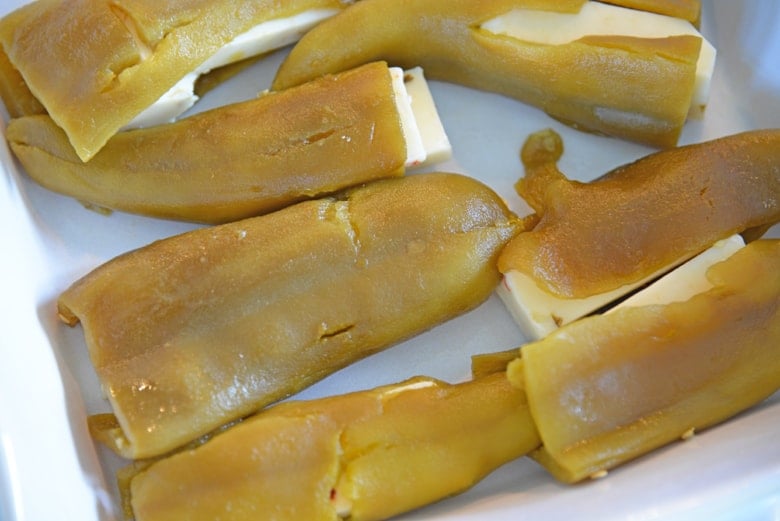 Questions you might have about how to make chile relleno breakfast casserole:
Can I omit the flour? You can omit the flour, it helps the eggs stay a little fluffier, but isn't necessary for the recipe to be successful.
What type of chile can I use? Many folks have successfully made this recipe with many varieties of chiles, so the answer is ANY! I like to use mild green chile or roasted Hatch chile.
Others have used poblano pepper, although they tend to have a thicker skin so are better when charred and skinned, jalapenos and even ghost peppers.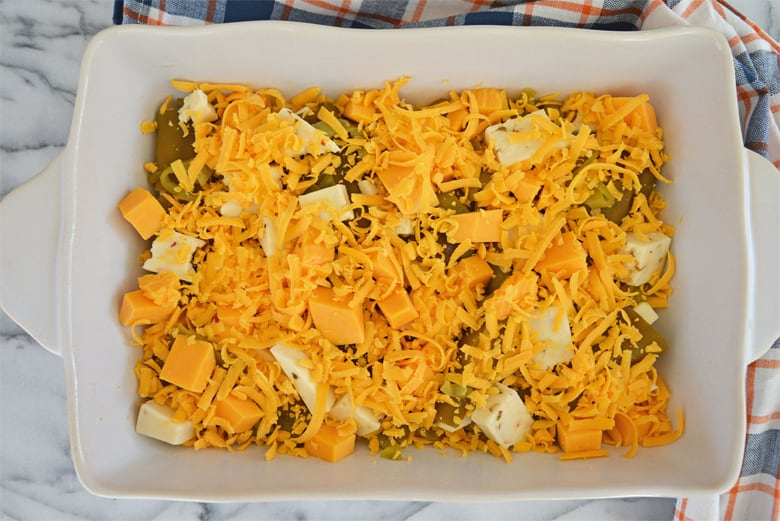 Can I reduce the amount of cheese? I agree, it seems like a lot of cheese, but I can promise you that after it bakes, it won't be a steaming dish of melted cheese (although I wouldn't be opposed to that).
Read a few of the comments and the cheese, they have vouched for me. That said, if you want to reduce the cheese, be my guest!
What types of cheese can use in this chile relleno casserole? I use pepper jack, colby and cheddar cheeses, but you can use whatever mix you'd like.
PRO TIP: Use freshly shredded cheese. Pre shredded cheese is great for so many things, but it lightly coated with a powdered starch to keep it from clumping. This can impact its meltability factor.
Cheddar pepper jack, jalapeno cheese, white cheddar, cotija, monterey jack cheese, queso fresco or any combination of them is alright by me! Some folks even go one step further and serve the cooked casserole with a side of cottage cheese.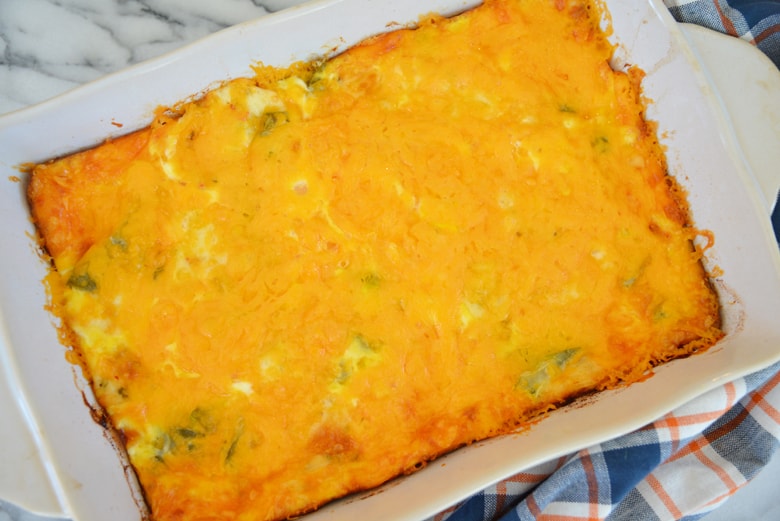 Can I add meat to this breakfast casserole? You are more than welcome to add a protein! The only key is to make sure it is cooked and drained before you add it. Bacon, sausage and ham seem to be the most popular.
Why do you add ground mustard? It just adds a little but of flavor. You can also use a dab of Dijon mustard or even yellow mustard. That little bit of acid will elevate the dish. You can certainly omit it if you like or don't have it on hand.
Can I freeze chile relleno casserole? You sure can! Make sure to package it correctly for the freezer and it will store for 3-4 months.
Can I make this green chile egg casserole into egg muffins? You sure can. Shred all of the cheese and used diced chiles instead of whole. Bake in a muffin tin on 350 for 12-15 minutes, or until the centers bounce back easily.
Is chile relleno casserole gluten free? If you omit the flour, it is gluten free. I am not a registered nutritionist or expert, this is just my basic understanding.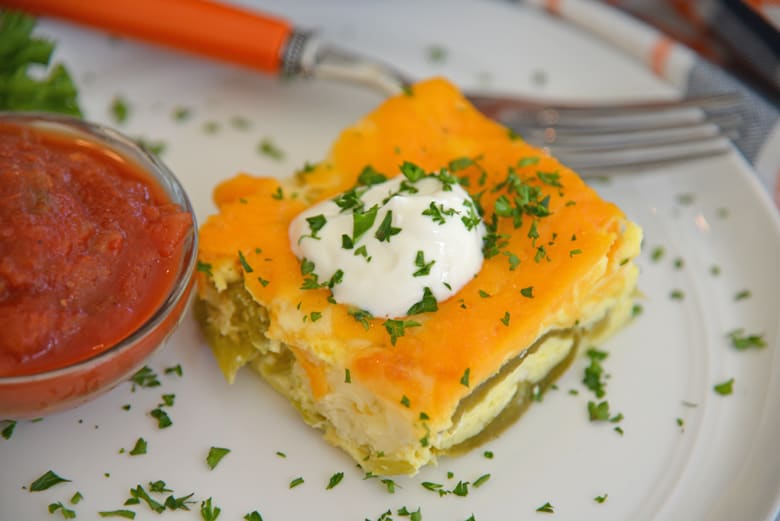 Is chile relleno keto friendly? If you omit the flour, it is keto. I am not a registered nutritionist or expert, this is just my basic understanding.
What do I serve with chile relleno casserole? I like to serve a bright and colorful fruit salad, crispy home fries or even scones.
Is it a chilE relleno casserole or a chilI relleno casserole? Well… I used to ask myself the same question and then I asked a friend who was a book editor.
Her response was that anything that made reference to fruit of a chile was with an "e" while anything that referenced the soup or stew was spelled with an "i". Since this recipe uses whole chile, it is a chile casserole.
Can I serve this casserole with salsa? Oh my goodness, YES! Salsa or any type of Latin tomato sauce (not an Italian marinara) will taste fabulous with this casserole. You can also check out my Green Tomatillo Salsa or even Chamoy Sauce.
Can I add hash browns? I am sure you can, but I would make sure the are fully cooked before incorporating them into the egg batter.
You might also need to increase the cooking time. If you do try this, come back and let us know how it went!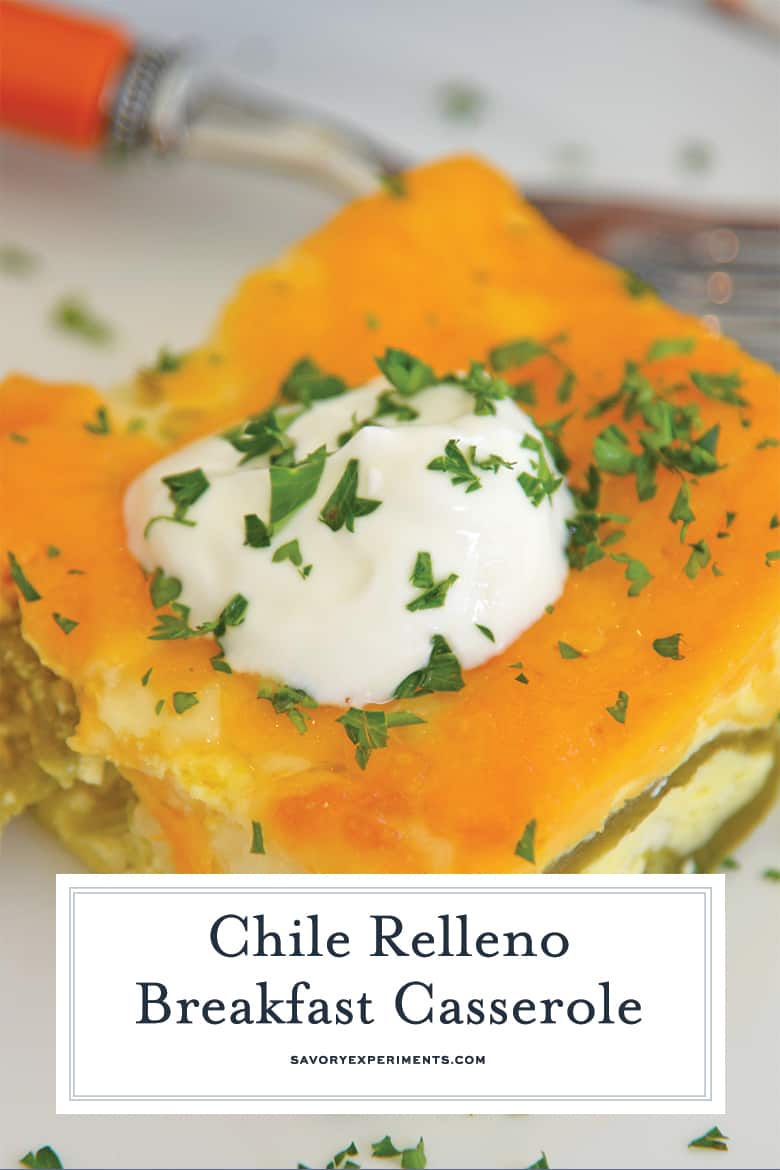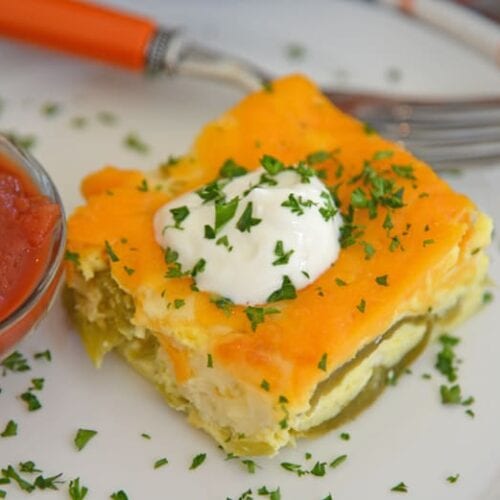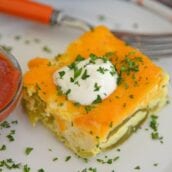 Chile Relleno Breakfast Casserole
Chile Relleno Breakfast Casserole is a cheese filled, Mexican style breakfast casserole. Perfect for feeding a crowd and special occasions.
Ingredients
2

14.5-ounce

cans whole mild green chiles or fresh green chiles

roasted and skinned*

1

lb

monterey jack cheese

whole brick, cut into finger sized long strips

1

lb

cheddar colby jack cheese

shredded

1/4

cup

flour

1 1/4

cup

milk

1

teaspoon

salt

1

teaspoon

powdered dry mustard
Instructions
Open and drain each can of chiles. Stuff each chili with finger sized pieces of monterey jack cheese and arrange in the bottom of the baking dish.

Sprinkle 1 ½ cups of shredded cheddar colby jack over chiles.

In a separate medium size mixing bowl combine eggs, flour, milk, salt, and dry powdered mustard and whisk until most of the clumps are gone (some may remain).

Pour egg mixture over chiles.

Bake uncovered for 40 minutes. Add remaining cheese to the top of the casserole and return to 350F degree oven for an additional 5 minutes or until firm.

Remove and allow to sit for 5 minutes before serving.

If you've tried this recipe, we want to hear about it! Come back and leave us a comment or rating!
Notes
If you prefer to use cream of tarter to fluff up the eggs instead of flour, use 1 teaspoon.
Flour can be omitted, if you are looking for gluten-free.
Nutrition
Calories:
410
kcal
,
Carbohydrates:
5
g
,
Protein:
25
g
,
Fat:
31
g
,
Saturated Fat:
19
g
,
Cholesterol:
168
mg
,
Sodium:
794
mg
,
Potassium:
164
mg
,
Sugar:
2
g
,
Vitamin A:
970
IU
,
Calcium:
696
mg
,
Iron:
1.2
mg