What is buttery, cheesy and egg-free? The ham and cheese breakfast casserole! With 5 minutes of prep and three ingredients, it will soon be your favorite breakfast casserole.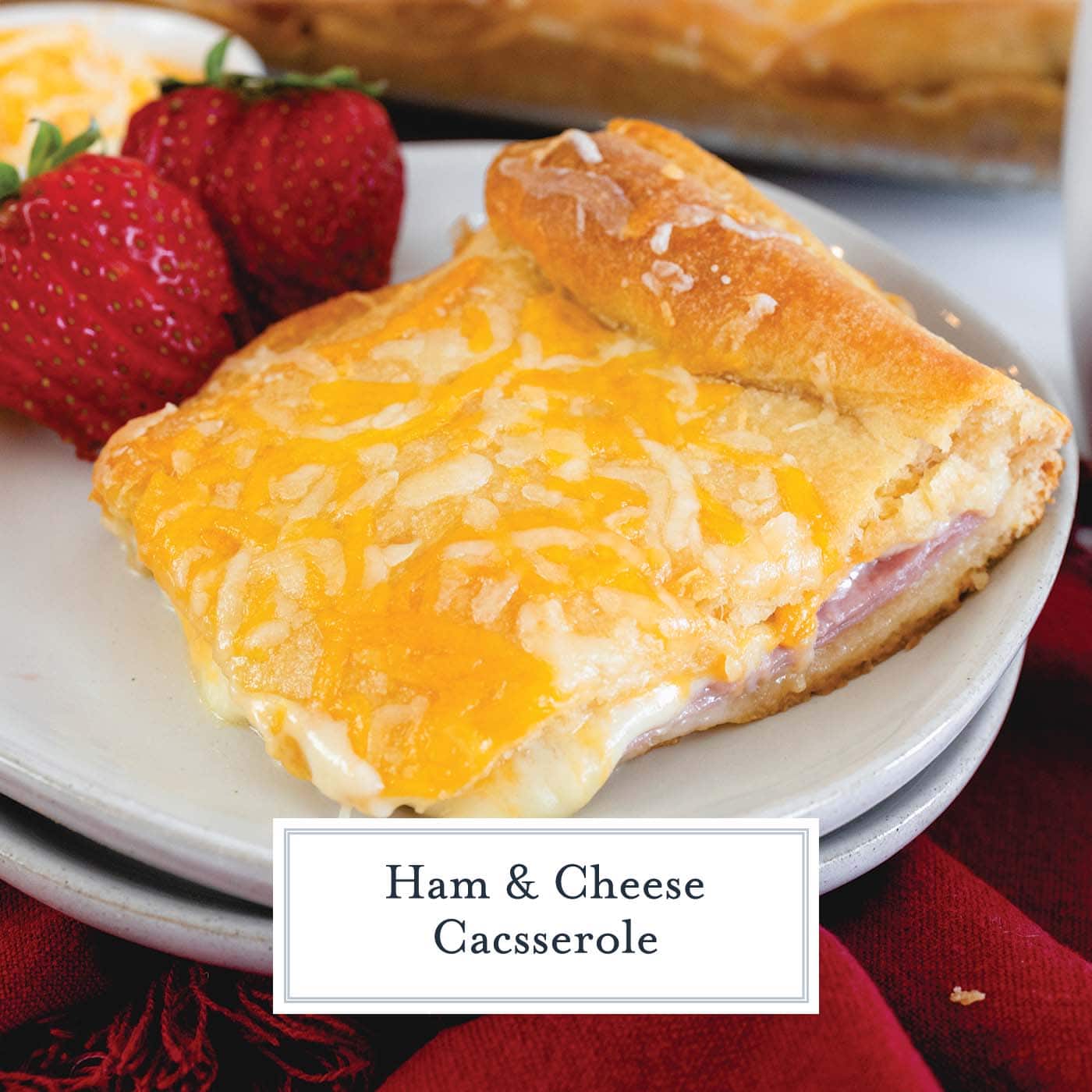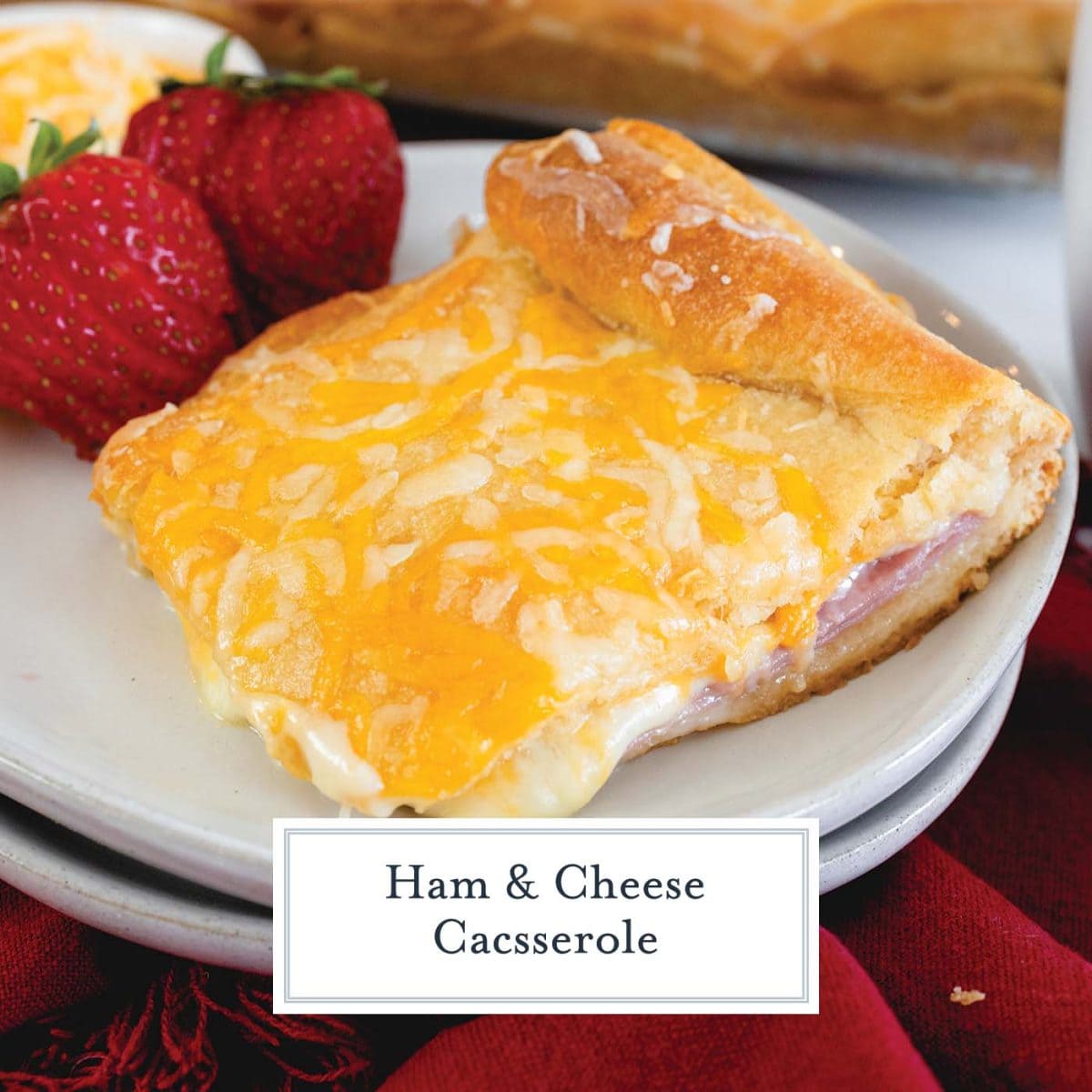 Kitchen Sink or Deli Drawer?
Ham and Cheese Casserole is also known as the Kitchen Sink Casserole or the Deli Drawer Casserole, however, I usually end up making mine with ham and cheese. I personally prefer to keep it more on the simple side but no matter how you prepare it, it's always satisfying and pleasing.
This dish derives its name exactly how you think it would. It is a "clean out your deli meat and cheese drawer" casserole. Now, it might sound like a bit of a throwaway, but it is worthy of any special morning.
The best part it? It is rarely the same, but always stellar.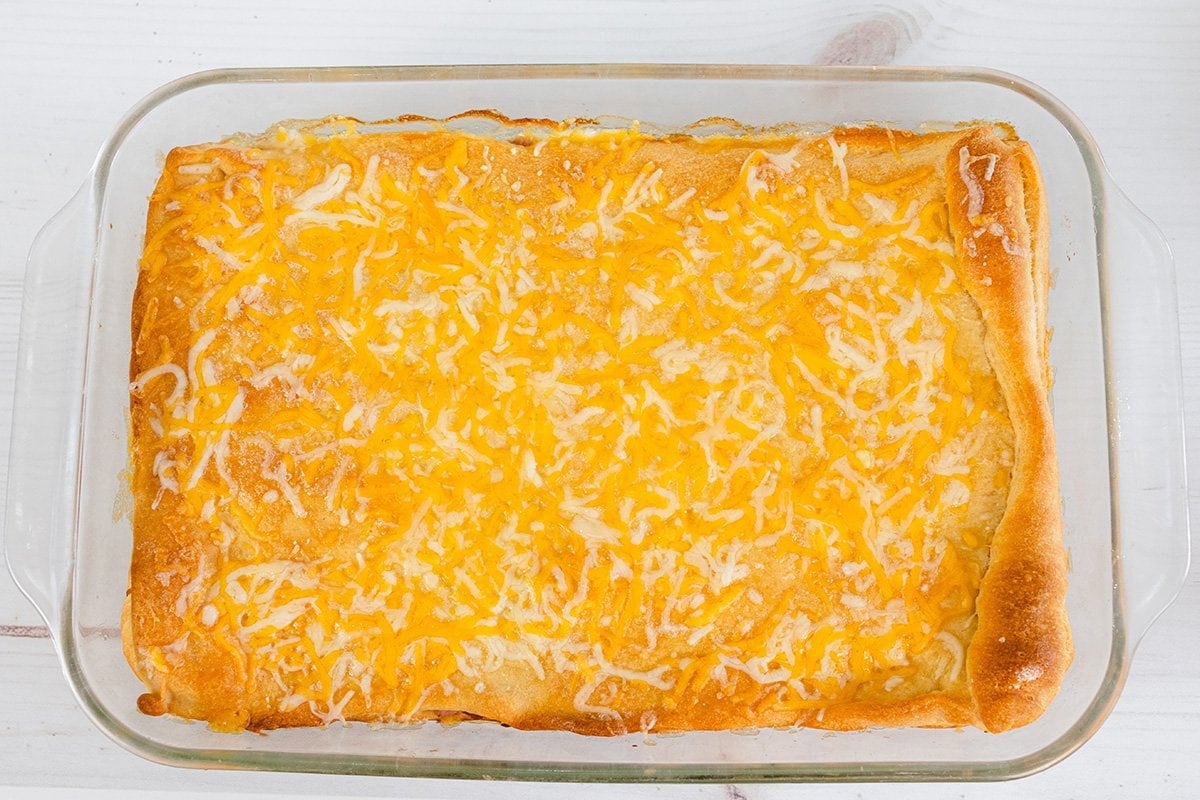 The second best part? It is super simple to build. The third best part? All of the ingredients are already in your house. Scratch that last-minute run to the store to figure out what is for breakfast.
If we are being honest, the holidays are tough when you are hosting or as a guest that wants to lend a hand. Plus, there are lots of meals eaten and even more leftovers in the fridge.
This recipe kills two birds with one stone. And even if you aren't cooking for a crowd, you probably have some deli meat and some cheese in the fridge at the very least.
The Old School Casserole
Casseroles may seem antiquated but don't let their old school name steer you away. They are a great way to feed a large family or visitors.
This recipe was first introduced to me by my mother while visiting her home in North Carolina, but since my usual go-to Chile Relleno Casserole isn't pleasing to my egg-hating sister-in-law, this has become the second "go-to".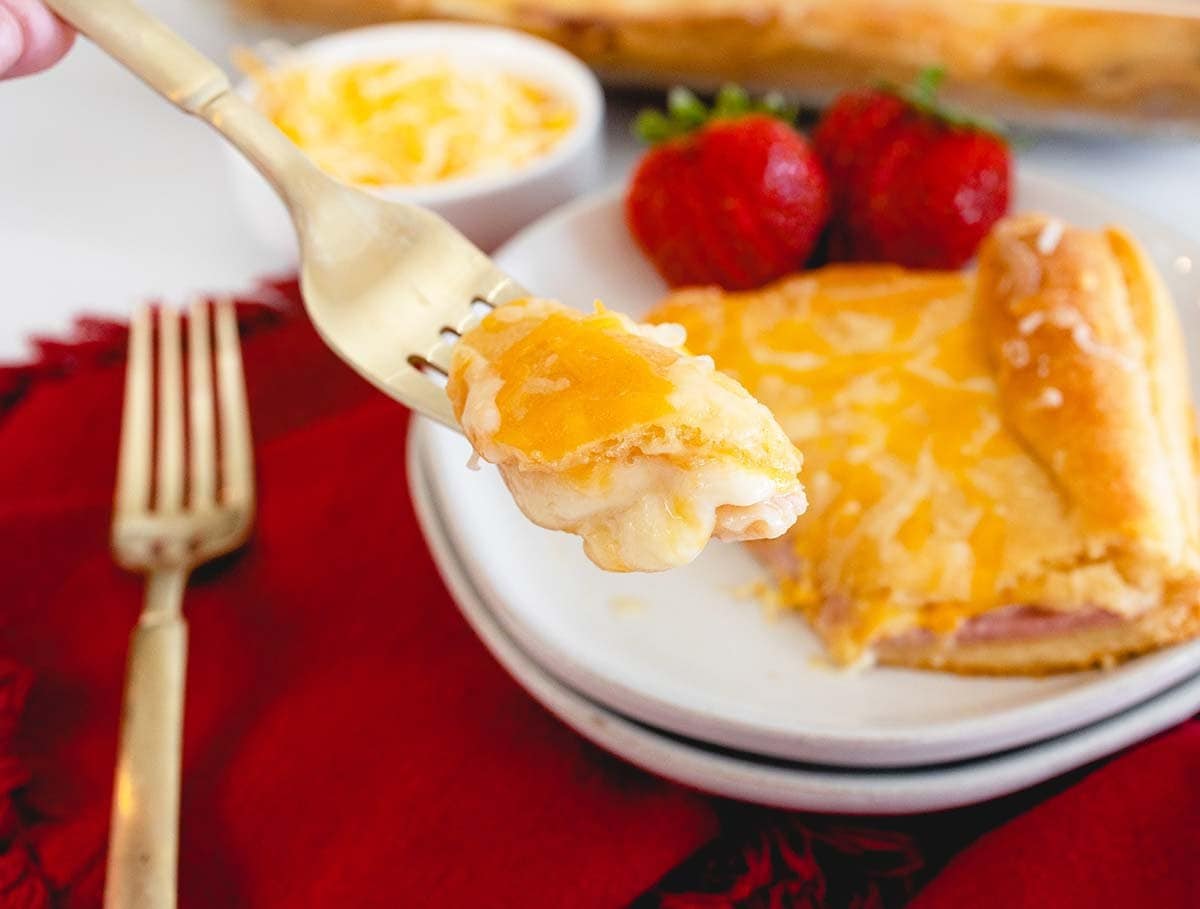 Easy, simple, and darn tasty! I mean who doesn't like layers of meat and cheese in flaky croissant dough?! The best part about this Ham and Cheese casserole is you only use 3 ingredients (excluding those that you may throw in,) and it still comes out of the oven smelling amazing and tasting delicious!
Basic Breakfast Casserole Ingredients
Think of this as the base for your own custom creation. It is hard to mess up, but easy to dress-up.
Crescent rolls– lighty, buttery and totally rich, two cans of refrigerated crescent dough make up the two bready layers.
Honey ham– I prefer to use the slightly sweetened deli ham, but salami or great for a little kick and prosciutto is also fun, as is cooked bacon or any other deli meat. Try using a blend of meats too. A little less or a little more, you really can't go wrong.
Cheese- I used sliced cheese because that is what is leftover in my cheese drawer, but shredded works too. Colby and cheddar are my go-tos, but Muenster and mozzarella are close seconds. I set aside a little more for sprinkling on top.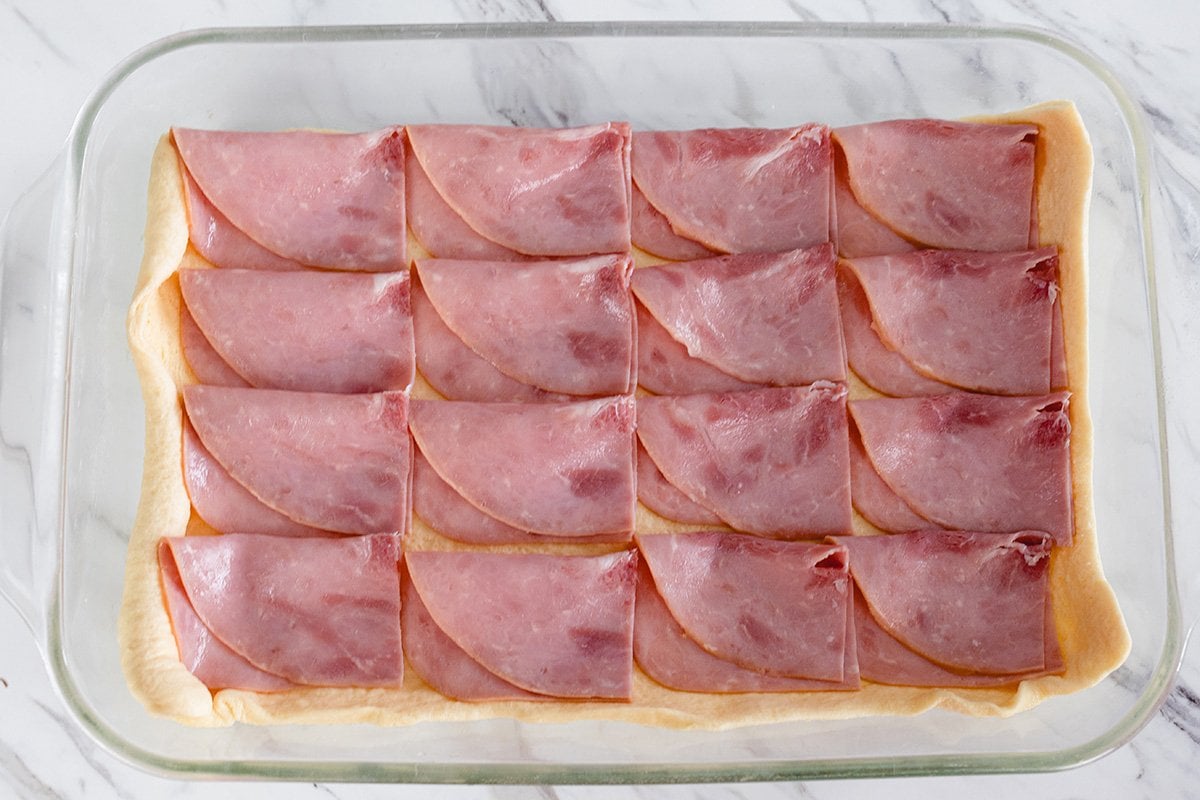 How to Make It
Making it is easy, try to leave a little space between layers for even cooking, meaning don't press it down.
Prep the oven and a 9×13 baking dish with cooking spray.
Start with a layer of crescent dough, spreading it out to the edges.
Layer ham and cheese and then ham and cheese (or whatever meat you are using). Reserve a small amount of cheese for topping, if desired.
Finish by spreading out the second can of crescent dough over the top.
Bake until golden brown. Sprinkle any reserved cheese over the top- the residual heat should melt the cheese.
Allow to rest and cool for at least 5 minutes before cutting and serving.
Variations
Veggies- Cooked veggies are wonderful in it. Think steamed or roasted broccoli or even potatoes. Lunch meat is a sinch. Cheese of almost any kind (not sure how I would feel about the blue variety) is fantastic. Throw in everything except the kitchen sink. You can use whatever you please.
Cheeses- Literally use any cheese you can think of. Hard cheese, soft cheese, a blend of anything between- go for it!
Meats- whether they are thinly sliced or cubed, throw it in!
Bread- If you don't want to use actual bread or pizza dough instead of crescent dough, go for it.
Also, check out my guide for freezing casseroles if you end up having leftovers!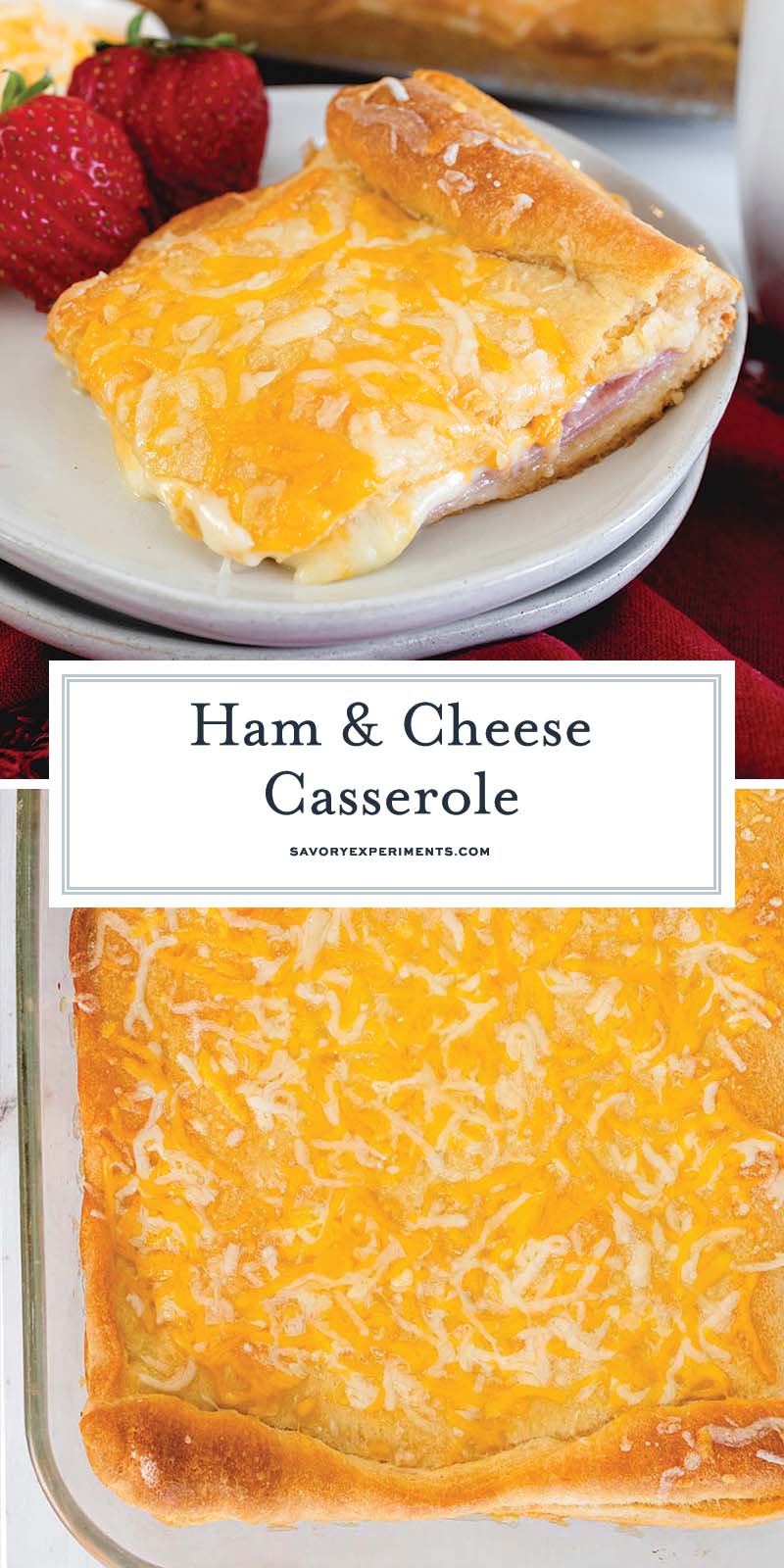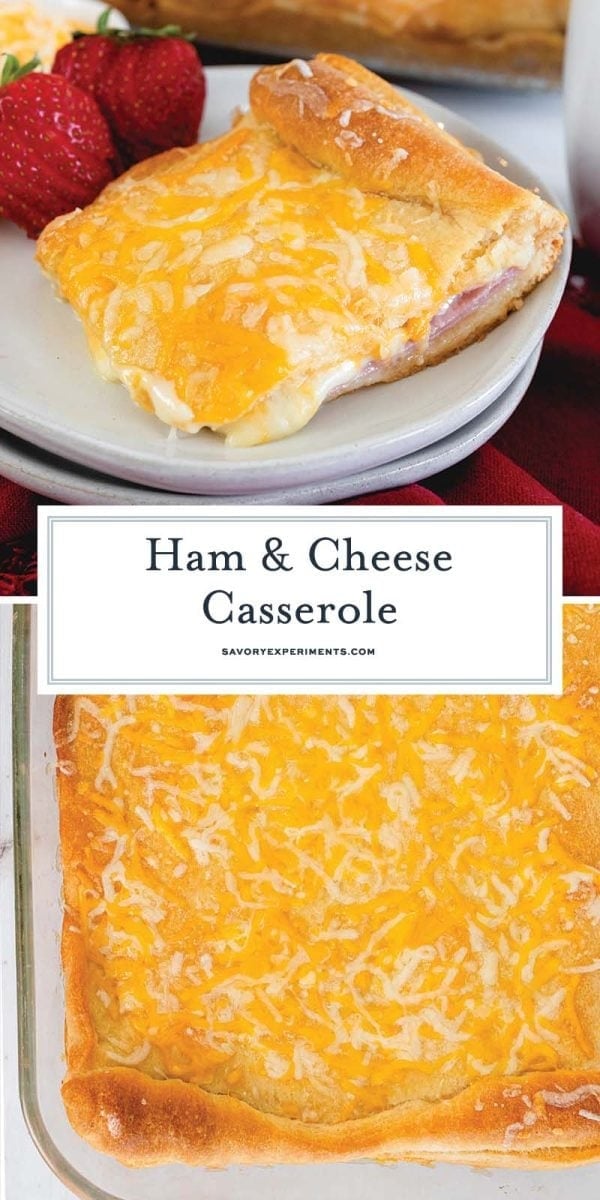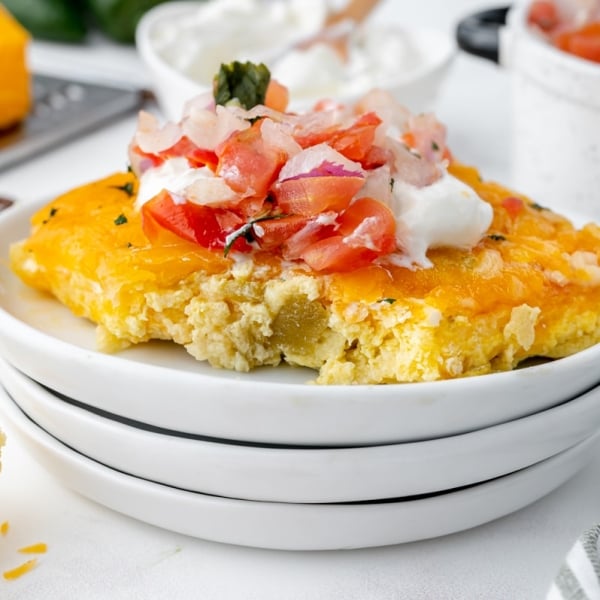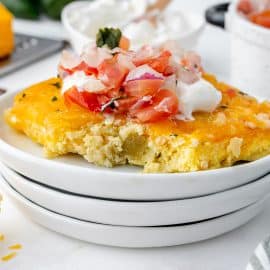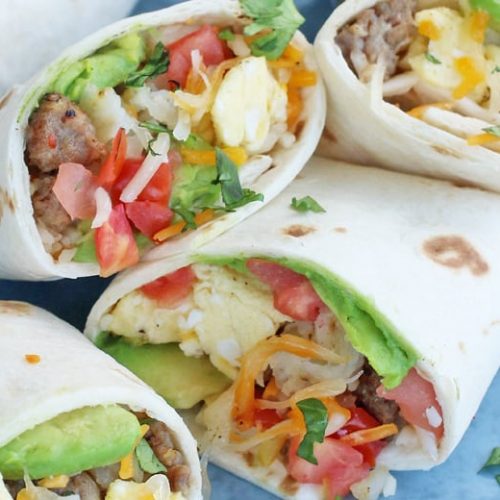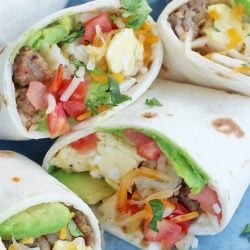 Easy Breakfast Burritos
If you're looking for the best breakfast burrito, you've found it with this easy, delicious breakfast burrito recipe! Easy to make and delicious to eat!
See The Recipe!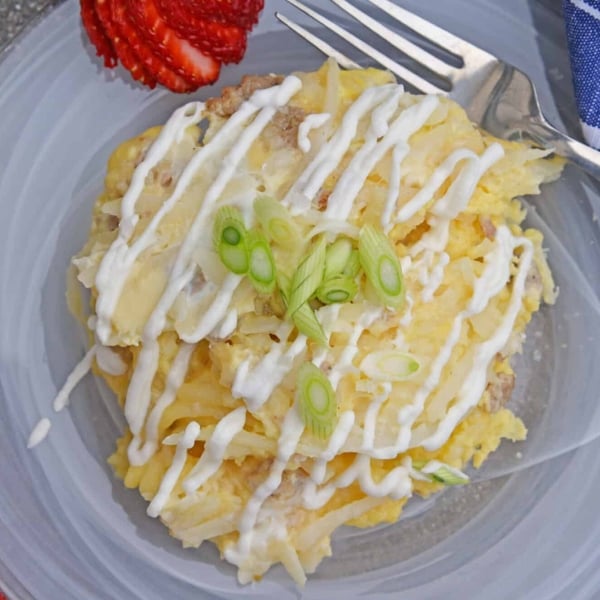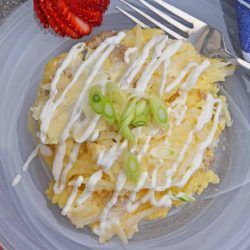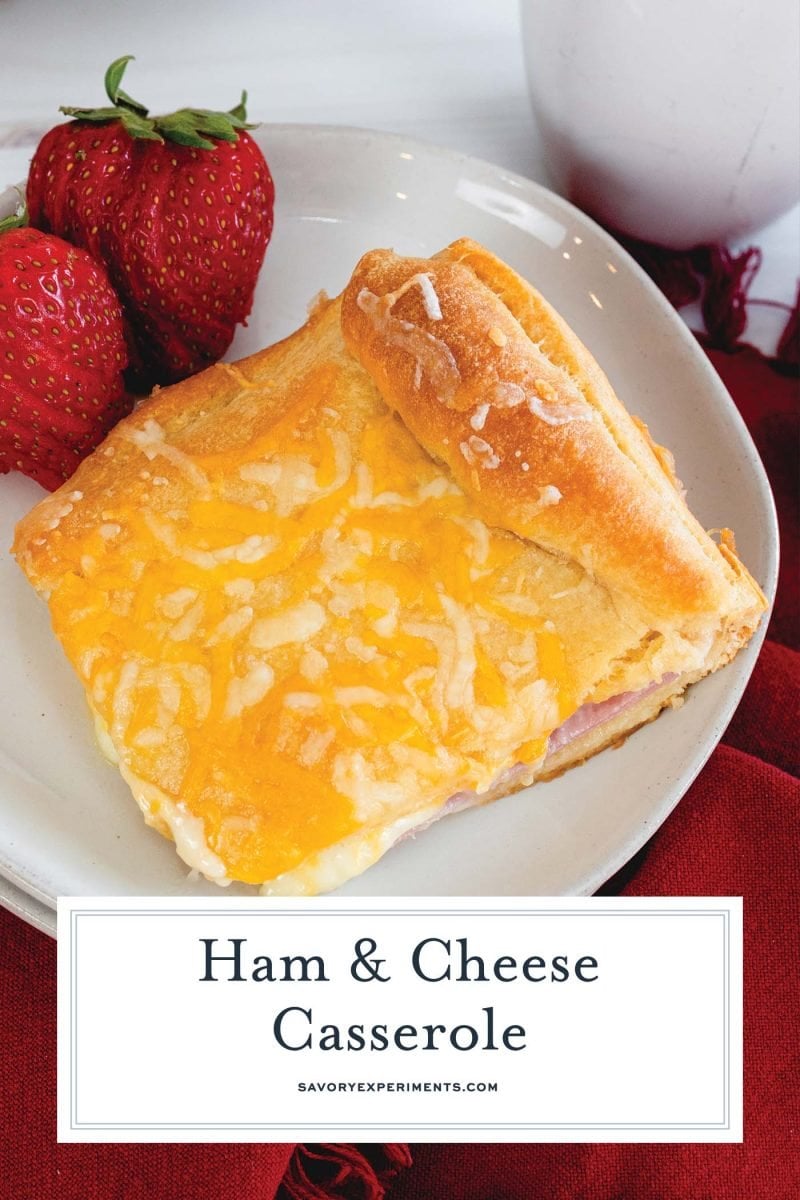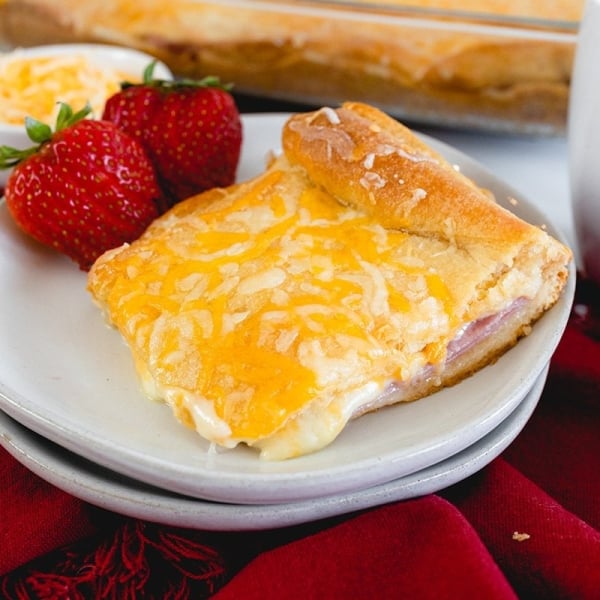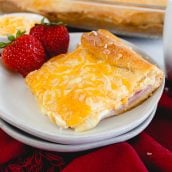 Ham and Cheese Breakfast Casserole
With only 3 ingredients and 5 minutes of prep, this eggless Ham and Cheese Breakfast Casserole is a perfect easy breakfast.
Instructions
Preheat oven to 350°F. Coat a 9×13 baking dish with cooking spray.

Place 1/2 crescent dough (1 can) in a single layer.

Layer the cheese, ham, cheese and ham. Finish with a single layer of crescent dough. Reserve a small amount of cheese for sprinkling on top, if desired.

Bake for 20-25 minutes. If the tops starts to brown, loosely place a sheet of aluminum foil over top so the bottom layer has time to cook as well.

If you are sprinkling cheese on top, sprinkle right after removing from the oven. Cheese should melt with heat from the top layer.

Remove and allow to sit for 5 minutes.

If you've tried this recipe, come back and let us know how it was in the comments or ratings.
Nutrition
Calories:
373
kcal
,
Carbohydrates:
16
g
,
Protein:
19
g
,
Fat:
27
g
,
Saturated Fat:
13
g
,
Polyunsaturated Fat:
4
g
,
Monounsaturated Fat:
8
g
,
Cholesterol:
62
mg
,
Sodium:
971
mg
,
Potassium:
143
mg
,
Sugar:
4
g
,
Vitamin A:
374
IU
,
Calcium:
272
mg
,
Iron:
1
mg