The beauty of cornbread is that is a blank canvas that allows you to play with flavors and textures. I love a good basic cornbread casserole, so adding cheese and green chiles seems like a no-brainer.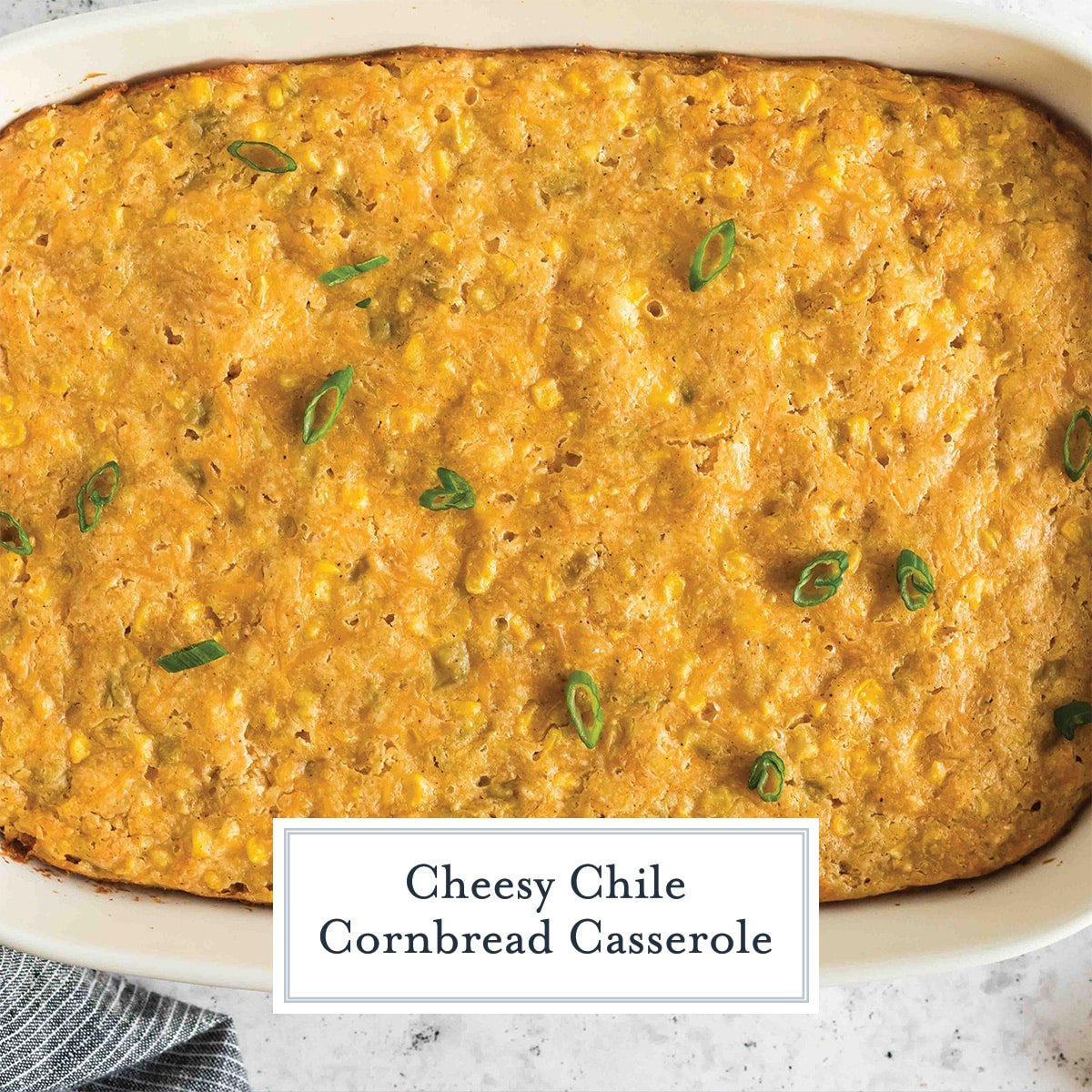 Cheesy Chile Cornbread Casserole, sometimes called corn pudding, Mexican cornbread casserole, Jiffy corn casserole or cowboy cornbread casserole, pairs the sweetness of cornbread with the subtle heat chiles and the top crunch of hush puppies and for a great side dish the whole family will love.
What is Cornbread Casserole?
Instead of being "bready", a cornbread casserole is more like stuffing or pudding consistency. It is moist and served with a spoon or cut into squares. When it is cooked, the center will be set, but it won't be jiggly or wet.
This version also includes loads of cheese spiked with green chiles, chile powder, perfect for pairing with any Tex-Mex or Mexican food meal.
Cornbread casseroles recipes have even started to be a family favorite for a holiday meal, like Thanksgiving.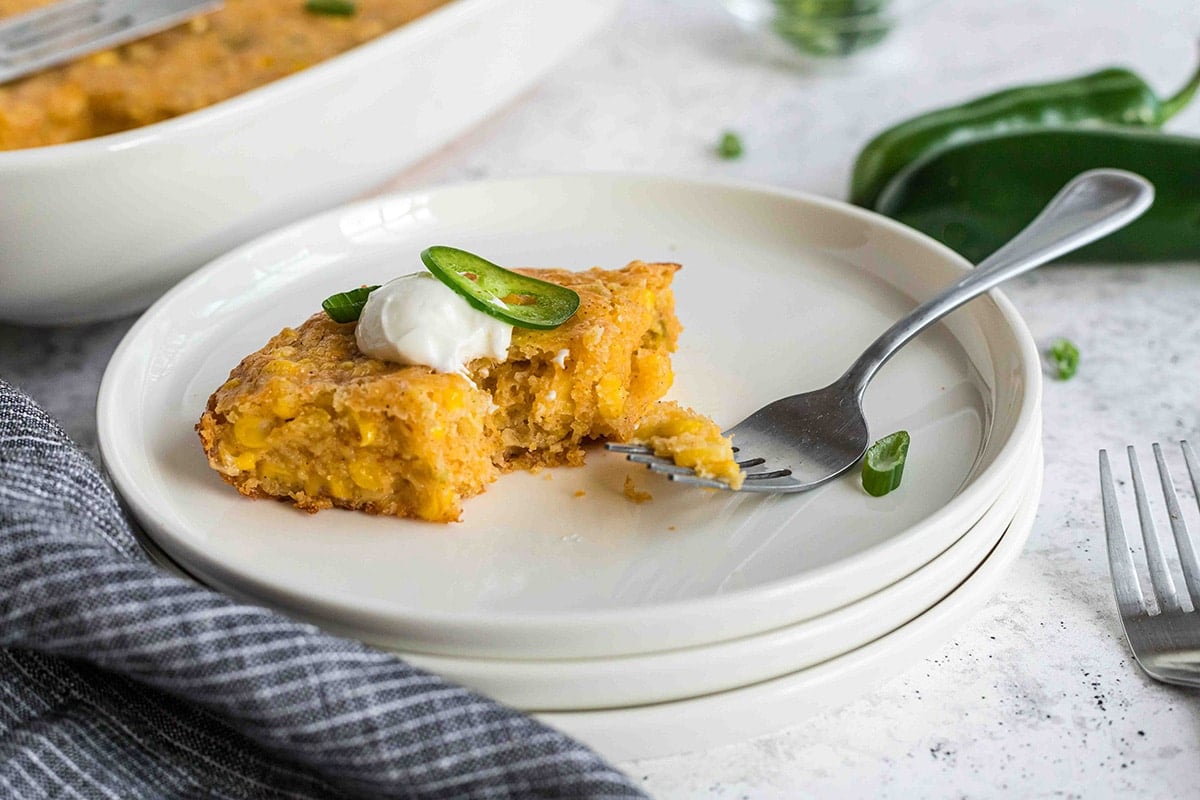 Ingredients
Use these simple ingredients to make a delicious side dish for your family.
Jiffy Corn Muffin Mix– This is one small box of Jiffy Cornbread Mix that would typically only make 6 muffins. You can make your own or buy a box for less than a dollar.
Corn Kernels– Corn can be fresh cooked corn, canned or frozen (thawed). Grilled corn adds a smoky element, but you can also make corn in the oven or boil it for a sweet element. Even if the corn has seasoning on it, it will just further flavor your cornbread casserole, making it even more delicious! You can even use Mexican street corn and throw in the cilantro and cheese.
Diced Green Chilies- These come in a can. I like the diced ones because it saves me a step, but if you only have whole, chop them yourself. There is usually a small scoville scale on the side of the can- for casserole I go for a milder chile, but if your family likes to bring the heat, grab the hot ones!
Heavy Cream- Adds richness and of course, creaminess!
Eggs– The binder to this corn pudding.
Melted Butter– I do use salted butter in this recipe, if you only have unsalted, throw in 1/2 teaspoon of coarse kosher salt.
Sour cream– In combination with the cream, this is what provides the signature texture.
Chile powder- In small doses, this will add smoky flavor, not overwhelming fire. It can be omitted if you are going soley for sweet.
Cheddar cheese– A nice sharp cheddar is perfect, but also use pepper jack, monterey jack or colby. Whatever cheese or blend you choose, freshly shred it. Prepackaged cheeses are great for saving time, but are tossed in starch that can impact the overall texture of the casserole.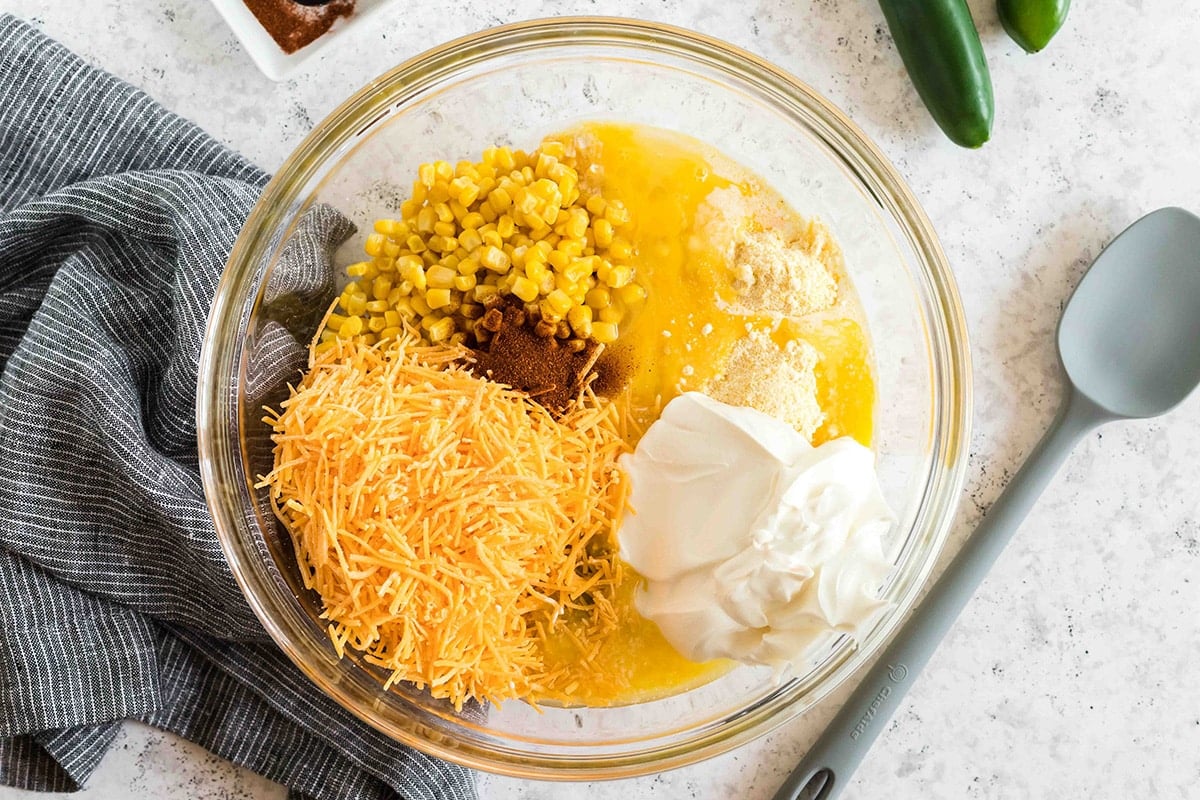 How to Make Cornbread Casserole
Making this dish is easy and comes together with just one bowl and one casserole dish.
Preheat the oven and prepare an 8×11 casserole dish with cooking spray.
Blend together all of the ingredients in a large mixing bowl until no wet spots remain. Do not over mix the casserole batter. Whisking or sifting the Jiffy mix beforehand can help preventing this. I do save time by doing this in one large bowl instead of wet ingredients and dry ingredients separately.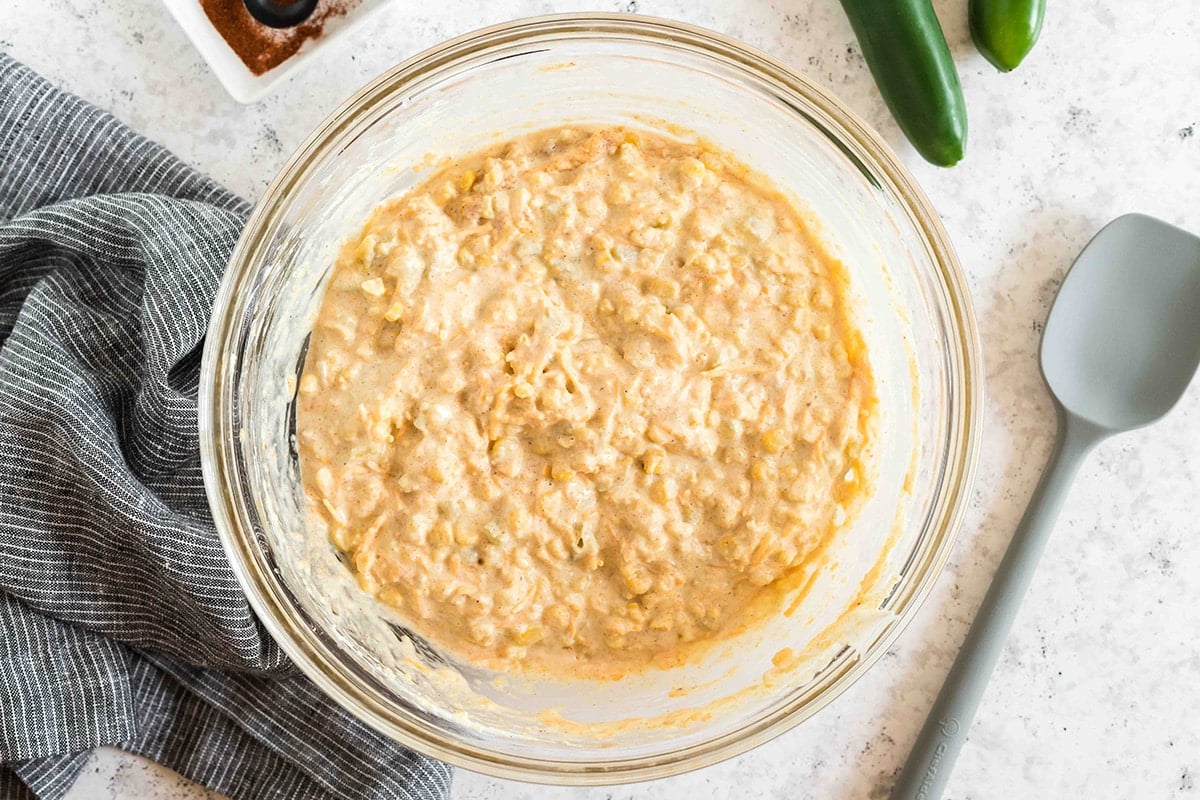 Pour the cornbread batter into the prepare casserole dish.
Bake until the top turns a golden brown. If you want a cheesy topping, sprinkle with the additional cheese and return until cheese is just melted.
Remove and allow to rest for a few minutes before serving.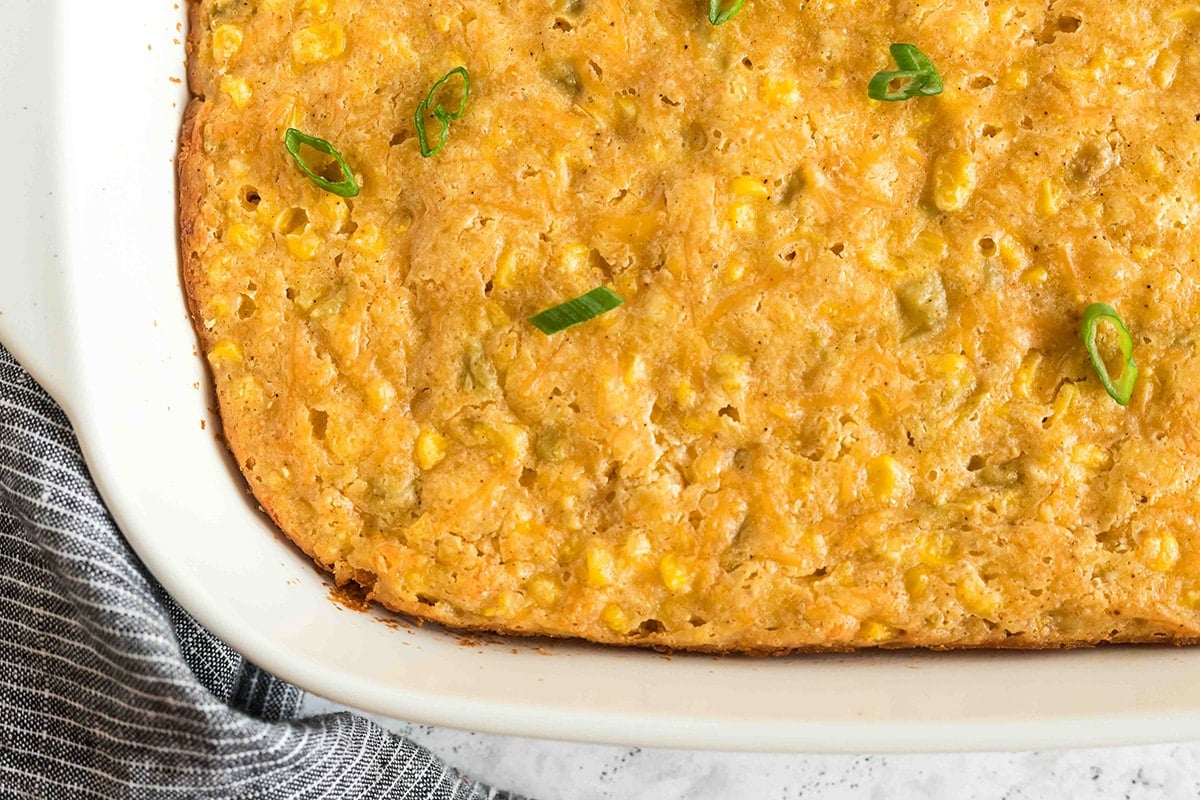 Tips & Variations for Corn Pudding
There are so many ways to put your personal stamp on this recipe and make it so good that everyone will beg for the recipe.
Make this a one-dish meal by adding protein. Fold 1 cup of any meat mixture )ground beef mixture , ground turkey, ground chicken or shredded chicken) into the cornbread mixture right before placing into the cooking dish.
Make it spicy by swapping mild green chiles for fresh jalapenos or habaneros.
Do not over mix the batter. The number one issues with cornbread is that it is dry and crumbly. This often happens when the batter is overmixed. A few lumps is fine.
Do not over cook. Another reason why cornbread ends up dry. The center should be set, but just barely.
Use creamed corn and omit the heavy cream.
Add 1/2 cup of black beans or pinto beans.
Add a packet of taco seasoning and omit the chile powder.
Bake in a large skillet, like cast iron.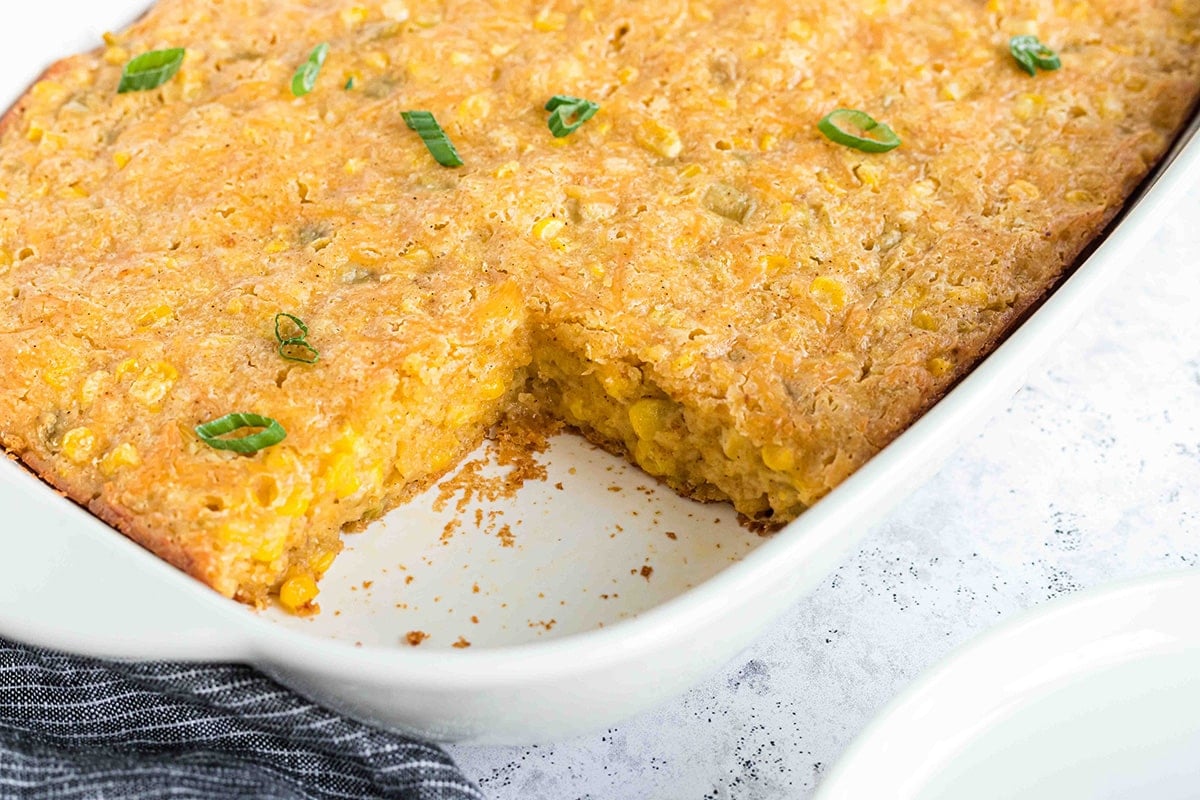 Cornbread Pudding Toppings
Dressing your cornbread might be the best part! My favorites are:
Sour cream
Plain Greek yogurt
Scallions (green onions)
Chives
Green beans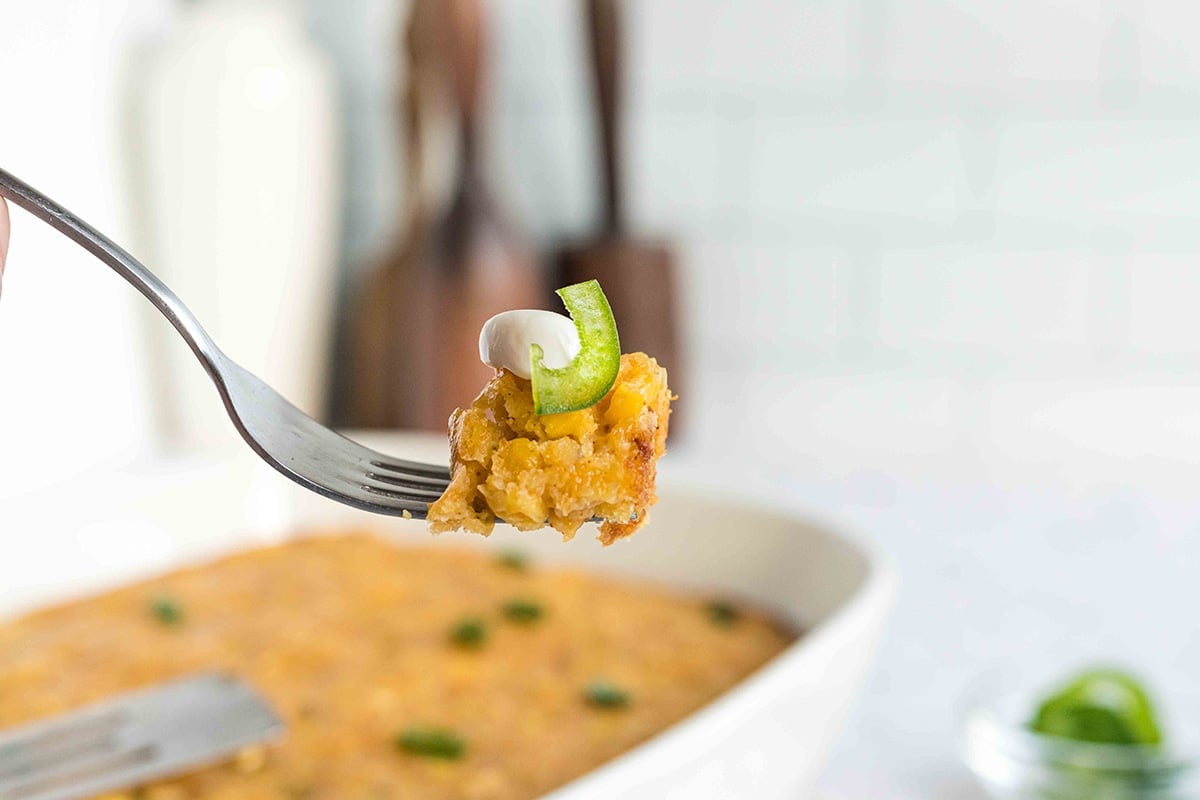 What Do You Serve With Cornbread Casserole?
Cornbread casserole can be served as a vegetarian entree or a creamy side dish.
This batch of Cheesy Chile Cornbread Casserole was the perfect item to bring to my neighborhood chili cook-off. Instead of making my award winning chili, sweet potato chili or steak chili, I opted for a side dish that went with them all!
It can be served with or without a cheese topping and also blended with chicken or even ground beef to serve as an entree.
Here are a few other favorites: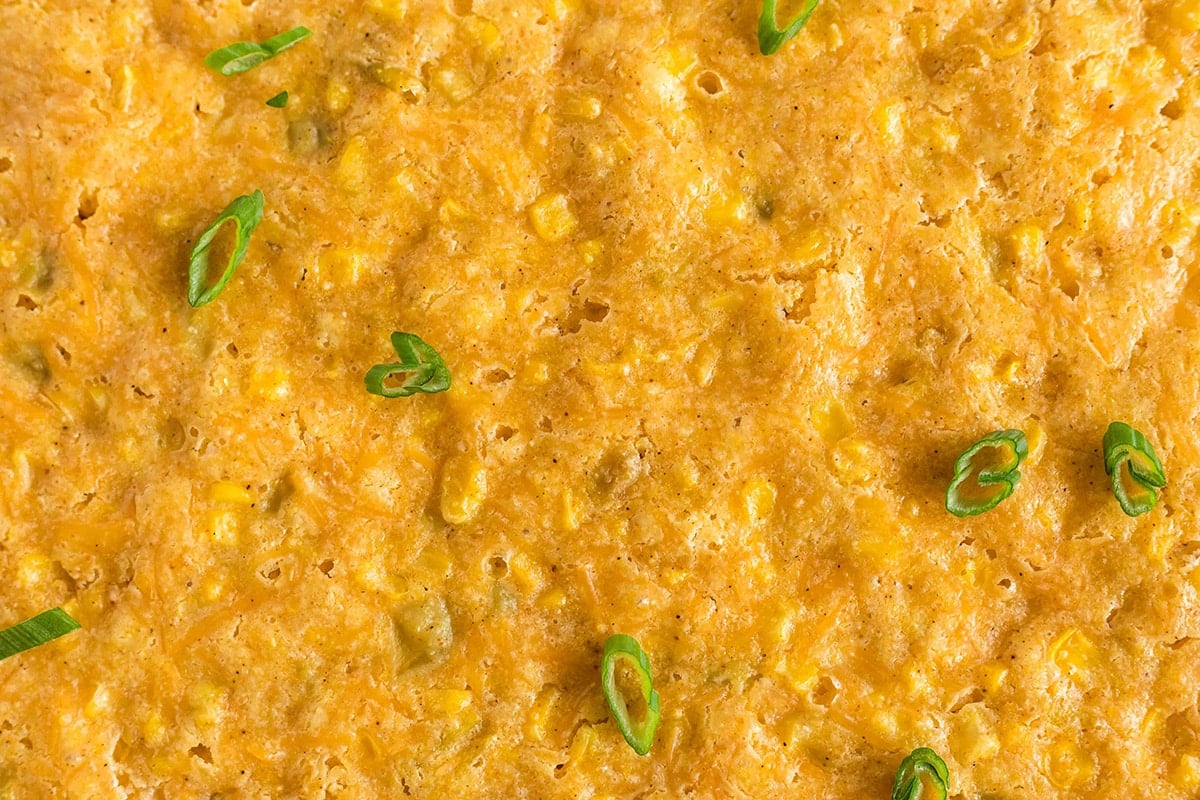 What Keeps Cornbread Moist?
This easy recipe is already primed to stay super moist and not dry out. But, in general, here are some tips.
Do not overmix.
Do not overcook.
Use whole milk, cream or buttermilk.
Add fats (butter or oil).
Add sour cream or plain Greek yogurt.
Add corn, slightly wet.
Add enough eggs.
Whisk egg before adding.
Whisk or sift the cornbread mix.
Do not use an electric mixer.
How to Store Cornbread Casserole
To store leftover cornbread casserole, allow it to cool fully to room temperature and then place in an airtight container or wrap the top of the vessel tightly with plastic wrap. Refrigerate for up to 5 days.
To reheat cornbread casserole, place the casserole in an oven-safe dish and cover with aluminum foil. Cook in a 350°F oven for 10-15 minutes, depending on how much you are reheating. For a single serving, it might only take 4-5 minutes.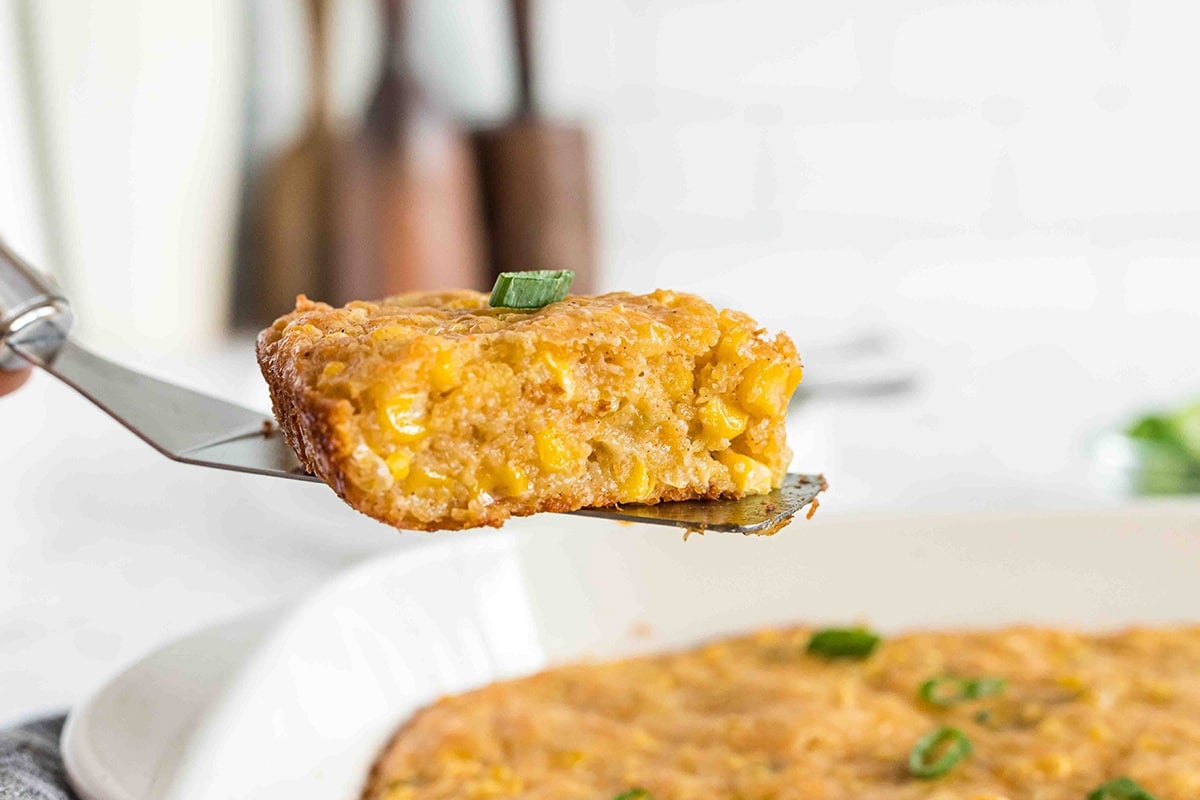 Can You Freeze Cornbread Casserole?
Cornbread casserole is freezer friendly as a whole dish or single servings. As with freezing anything, air is the enemy so wrap tightly with plastic wrap or freezer paper and then put into a freezer bag. Keep frozen for up to 6 months. Defrost overnight in the refrigerator. And if you'd like to learn how to freeze a whole casserole, check out my tips!
Follow the same instructions to reheat thawed casserole as you would leftovers (above).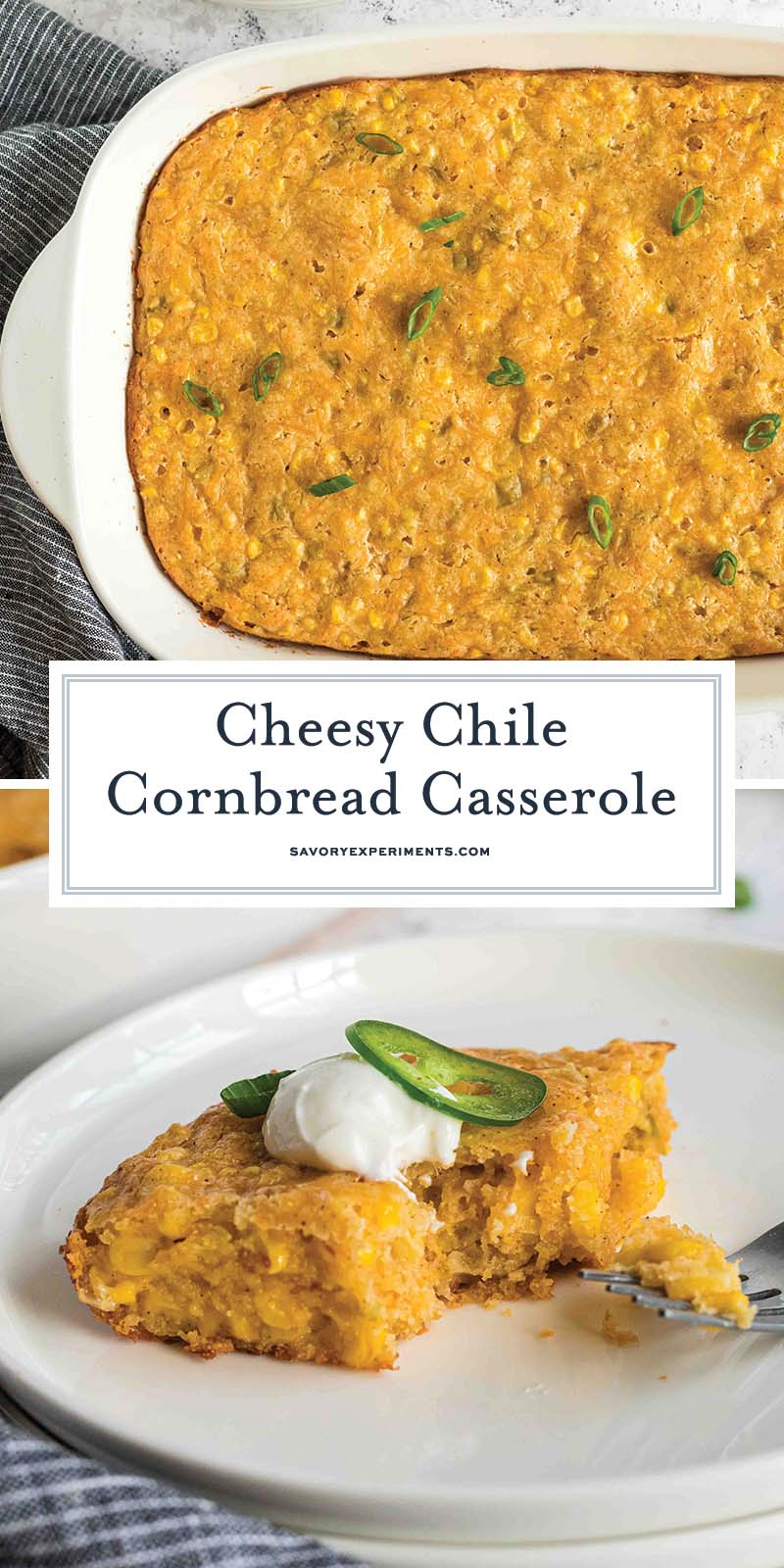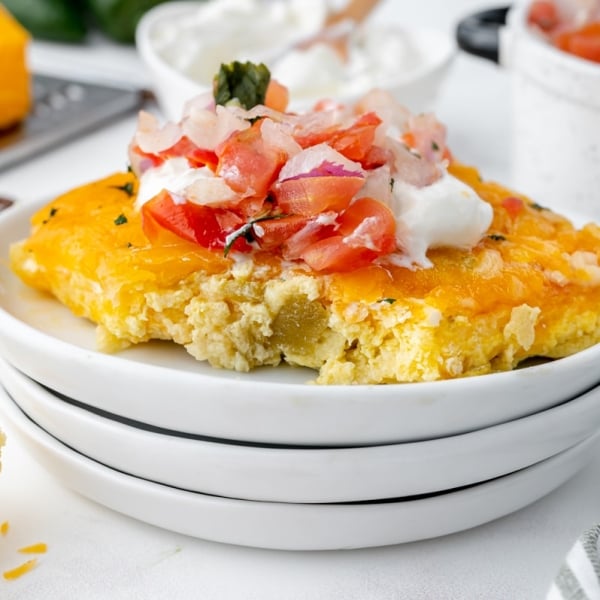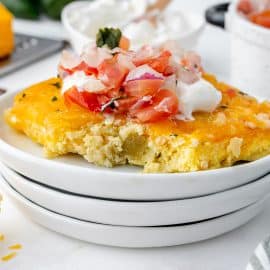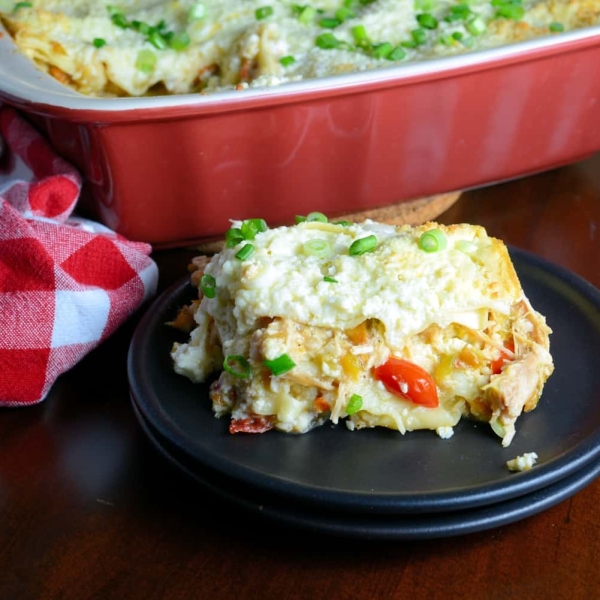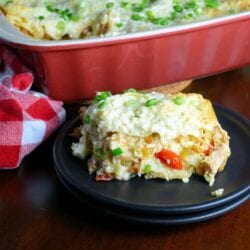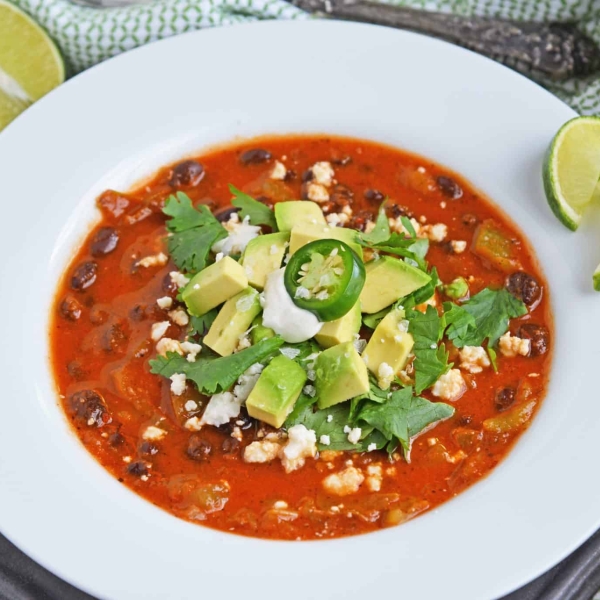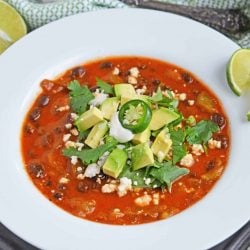 Black Bean Green Chile Soup Recipe
Black bean Green Chile Soup is a tomato based soup with smoky chipotle peppers and robust flavors. Top with avocado, cilantro and queso fresco! Hearty enough for an entree, but can also be an appetizer!
See The Recipe!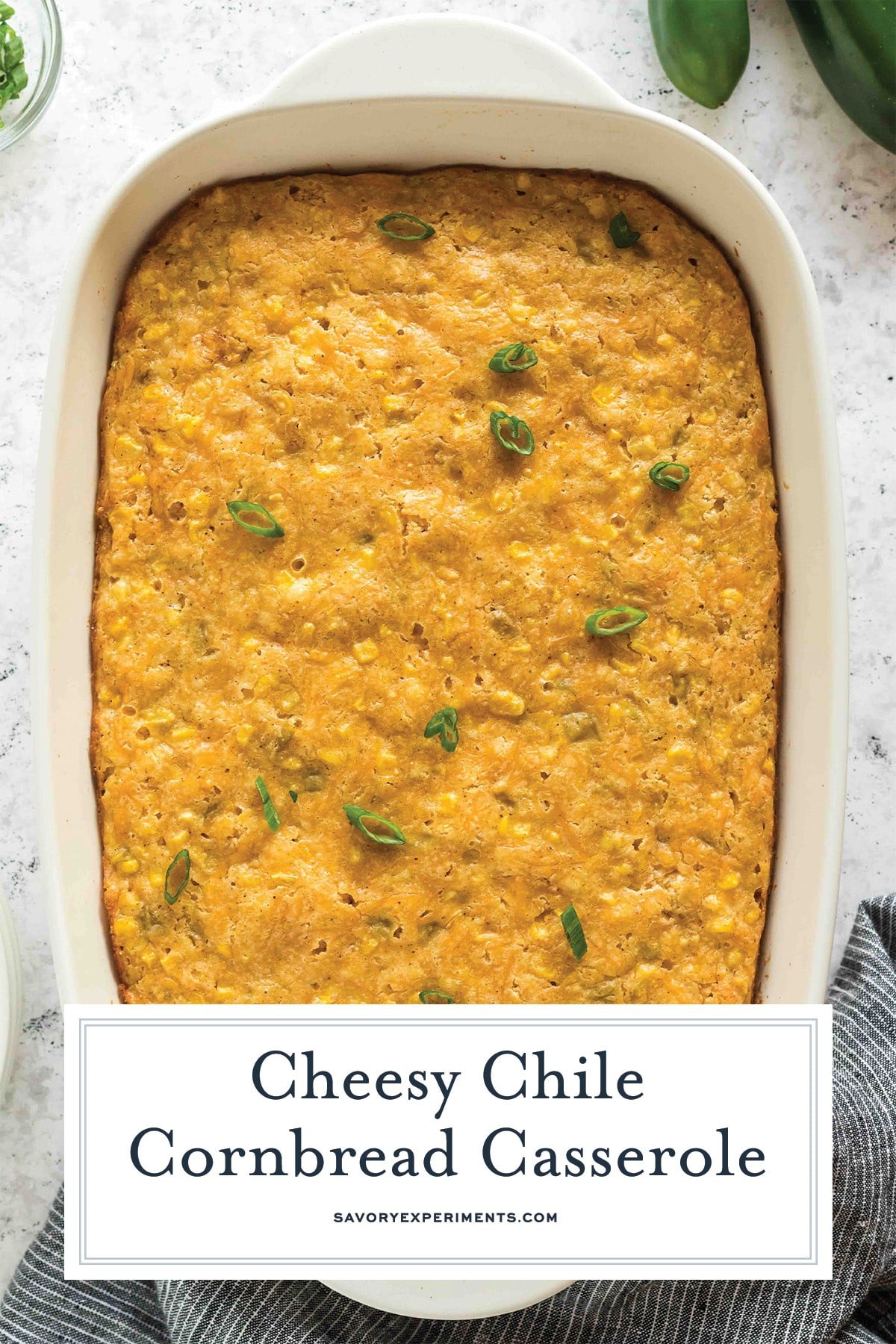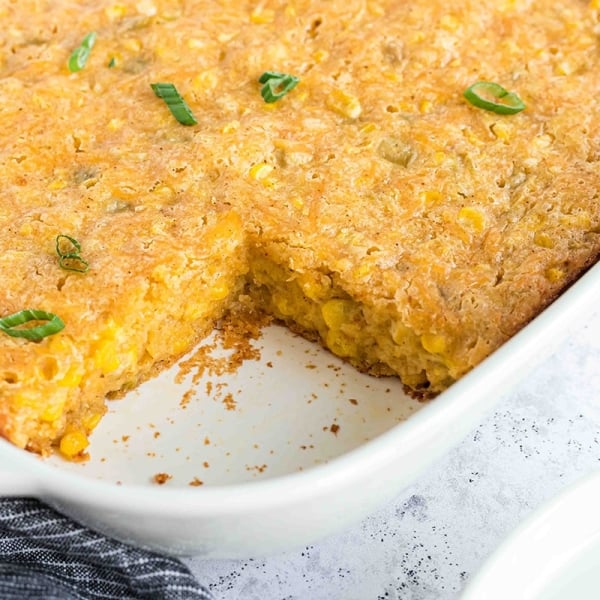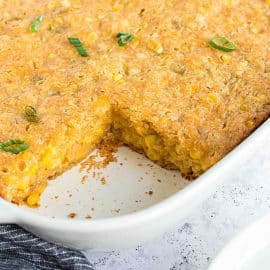 Cheesy Chile Cornbread Casserole Recipe
Cheesy Chile Cornbread Casserole pairs the sweetness of cornbread with the subtle heat of hatch chiles and chile powder for an incredible side dish.
Instructions
Preheat the oven to 350°F and lightly coat an 8×11 casserole dish with cooking spray.

Blend together the cornbread muffin mix, corn, chiles, cream, eggs, butter, sour cream, chile powder and cheese until just combined and no wet spots remain. Do not over mix the casserole batter.

Pour the batter into the prepare casserole dish. Bake for 55 minutes, or until top turns a light brown. If you want a cheesy topping, sprinkle with the additional cheese and return until cheese is just melted.

Remove and allow to cool for 5 minutes before serving.

If you've tried this recipe, come back and let us know in the comments or star ratings.
Notes
You can use any type of cheese desired. If you like it hot, use Pepper Jack or a habanero laced cheese.
Add one cup of cooked, shredded chicken or ground beef, drained.
If using Jiffy Cornbread Muffin Mix, sift before adding to avoid clumps in your batter.
Nutrition
Calories:
287
kcal
,
Carbohydrates:
14
g
,
Protein:
9
g
,
Fat:
22
g
,
Saturated Fat:
12
g
,
Cholesterol:
102
mg
,
Sodium:
272
mg
,
Potassium:
220
mg
,
Fiber:
1
g
,
Sugar:
4
g
,
Vitamin A:
1005
IU
,
Vitamin C:
22.6
mg
,
Calcium:
207
mg
,
Iron:
0.9
mg