Cheesy and delicious, this Chicken Broccoli Casserole is the ultimate comfort food. It is make ahead and freezer friendly and is sure to become one of your favorite one pan casserole meals.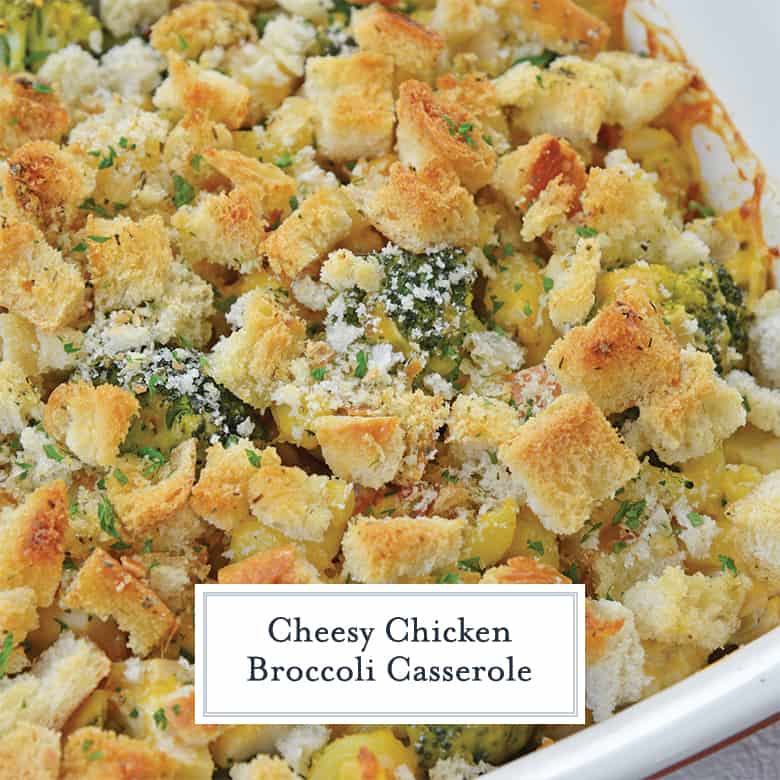 Chicken and Broccoli Casserole Recipe
What sort of fridge staples do you keep stocked at all times? No matter what I have going on or what is on the menu for dinner on a given week, my refrigerator is 100% guaranteed to have some sort of meat (chicken, ground beef or pork,) cheese, bacon, eggs, butter, and milk.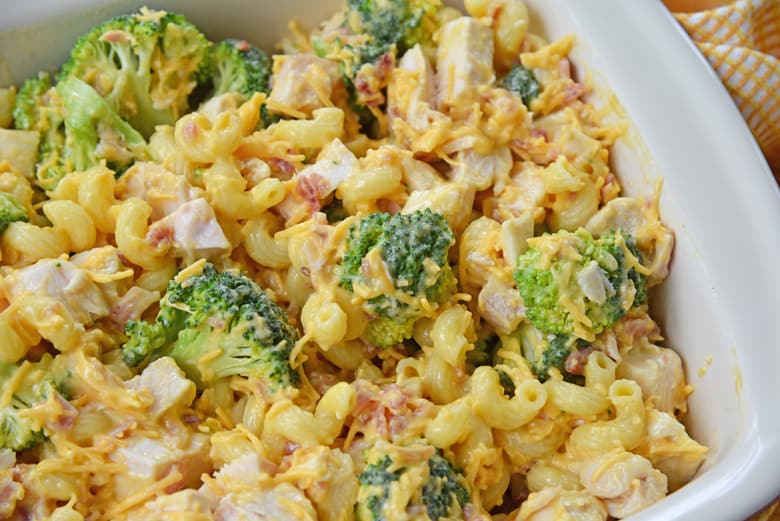 My pantry is similar in that there are some mainstays. I am always sure to have at least a few types of pasta, a loaf of bread, some sort of rice, and probably some chicken broth or vegetable broth to boot.
Why? There are just some ingredients that you just can't go wrong with because they are building blocks for so many meals. To prove my point, this casserole has a fair number of them. Most chicken and broccoli casseroles use rice, but I am a pasta lover at heart.
Cheese? Check. Bacon? Check. Chicken? Check. Pasta? Yup.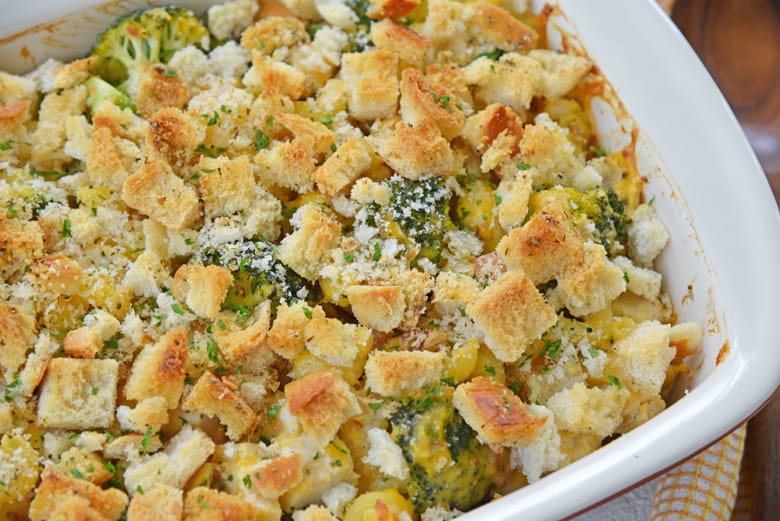 Mix them all together (with a few other favorite ingredients,) and you've got one easy to throw together casserole.
Chicken Broccoli Casserole Ingredients
This recipe has been modified from its original version after a few folks asked for different instructions. The original version used 3 cups of leftover mac and cheese (already made).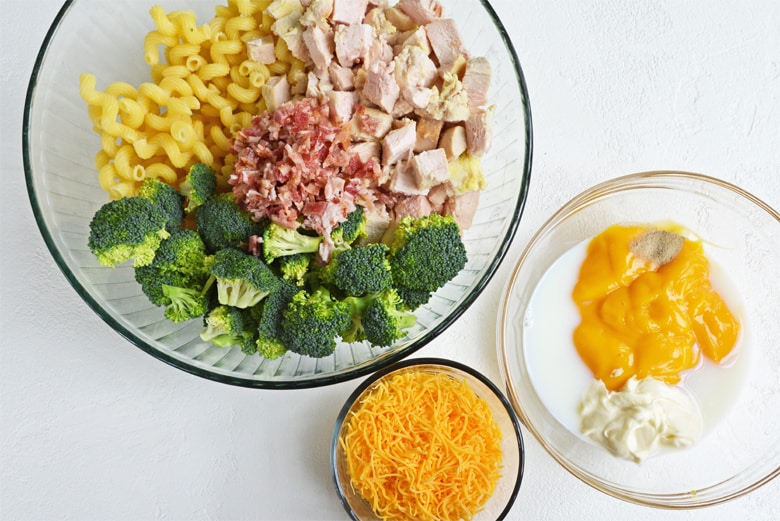 I have since made the verison in the printable card below to make it from scratch. The old version is included below it, in case you you need it 🙂
Pasta– any mac and cheese or casserole with thick sauce does best with a textured and shaped pasta. Cavatappi, fusilli, farfalle, rotini are my favorites with penne and ziti coming in second. You can also use gluten free pasta. Make sure it is cooked al dente or slightly under because it will continue to cook while baking.
Cooked Chicken– you can get cooked chicken several different ways. This casserole was developed with leftover chicken, so that is a possibility. See below for options on cooked chicken.
Cream of Cheddar Soup– the original recipe used pre-made mac and cheese. Instead of doing that we are using the condensed cheddar soup as a makeshift for the cheese sauce.
Bacon– um, because who doesn't like bacon? I also like how it adds a bit of salt and chew. It is optional and can be omitted if you are trying to cut calories or just don't like bacon.
Cheddar Cheese- I highly recommend freshly shredding cheese because pre-shredded it tossing in a light starchy mixture to prevent clumping, however, this is meant to be a quick casserole and therefore bring on the pre-shredded cheddar! I like a sharp cheddar, but if you are making it for kiddos or picky eaters, use a mild cheddar or even white cheddar.
Milk- When cooking, I use whole milk but you can use skim or reduced fat. To get the same impact as whole milk, try adding 1 tablespoons of melted butter for every cup. The milk will mix with the cheese to make it extra creamy.
Mayonnaise– Mayo is made with egg and that is going to be the glue that holds this whole casserole together.
Crunchy Topping– listen, no casserole is complete without a topping whether it be cheese or crunchies. I am about to give you way more information on what options you have for toppings below. I would bet dollars to donuts you have at least one hidden in your pantry.
Broccoli– I strongly recommend using fresh broccoli here. It is the only fresh ingredient and can even be left out if you are anti-vegetables. Frozen broccoli will be limp and watery.
Optional Seasoning– You can go totally basic or add a teaspoon of one of these optional seasonings: poultry seasoning, Italian seasoning, smoked paprika, cajun or creole seasoning.
How to Make This Casserole
It is really simple. As in my 2-year-old helped me make it.
As long as you have the pasta and chicken cooked, you are good to go.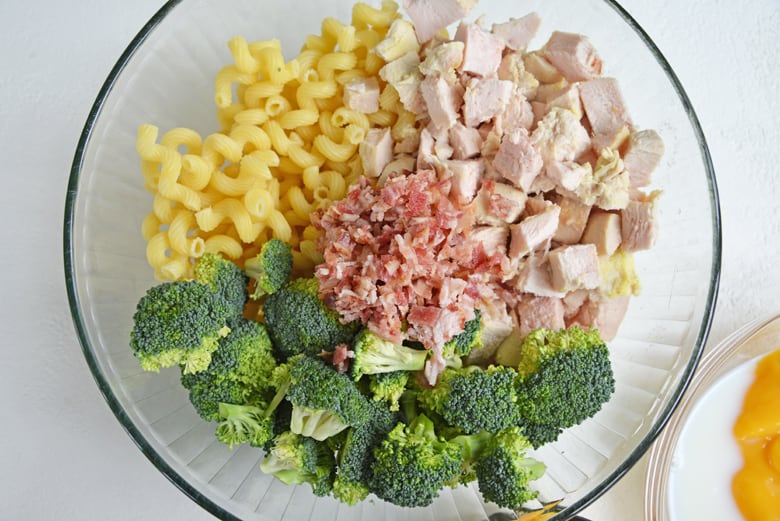 Combine all ingredients (except topping) in a mixing bowl and then pour into a casserole dish. You can use an 8×8 or 9×9 dish (or some variation) of these for a thicker casserole. Or if you prefer a higher crunchy to casserole ratio, opt for a 9×13.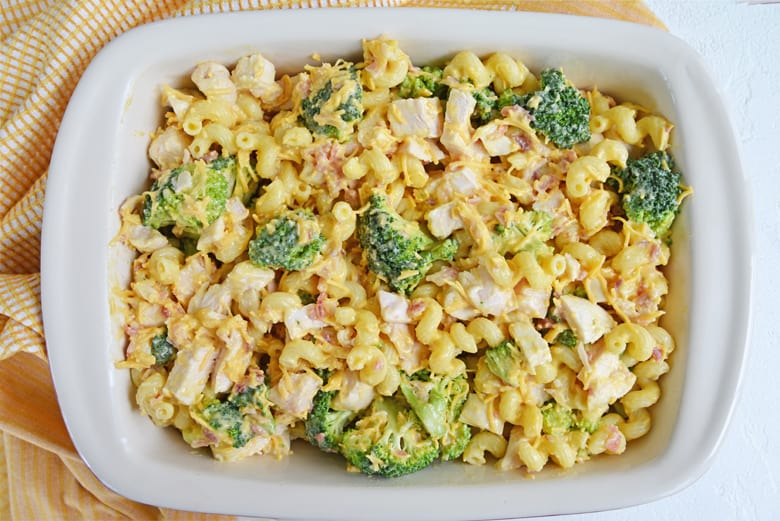 All of the ingredients are cooked, so you don't really need to worry about anything cooking, only that it has the chance to warm (and melt for the cheese).
Crunchy Casserole Topping
Now for the fun and a way to further customize your chicken broccoli casserole. The topping!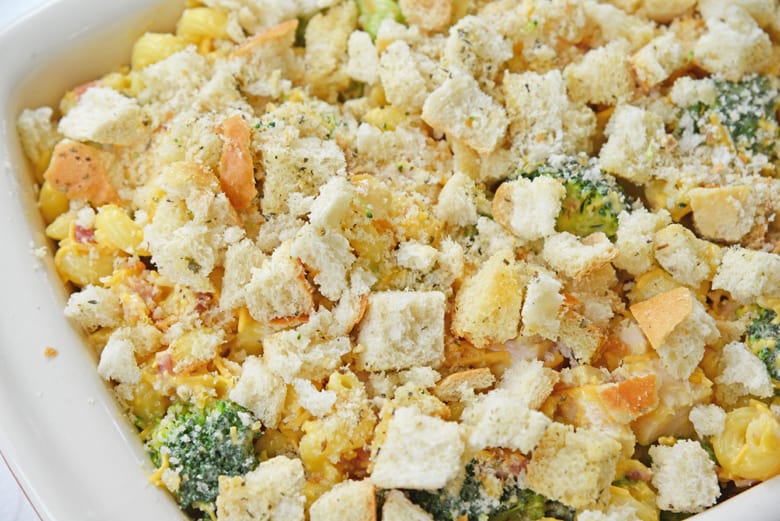 Most people just use bread crumbs, but I am here to tell you that bread crumbs are boring and there are lots of other fun options.
Panko Bread Crumbs– a little crunchier and larger, toss these with melted butter or olive oil and then sprinkle 1/2 – 1 cup on top.
Dry Stuffing Mix– You heard me right. This was popularized with the stove top stuffing casserole. Use the seasoned dried bread as your delicious crunchy topping!
Croutons– My topping of choice are buttery, crunchy croutons. You will probably need to chop them up a bit further, but they pack a punch. Feel free to get flavored ones too!
Crushed Crackers– have a few leftover crackers? Crush them in a plastic bag and sprinkle them on top. Buttery club crackers, Ritz, saltine and oyster crackers are awesome choices. Seasoned oyster crackers like ranch or dill are also good options.
Cereal– I used cornflakes to top my sweet potato casserole, so why not my broccoli casserole? Wheaties can be used too!
Potato Chips– The standard for tuna noodles casseroles, the same is true here if you like salt.
French Fried Onions– Staple on green bean casserole, use them on chicken casseroles as well!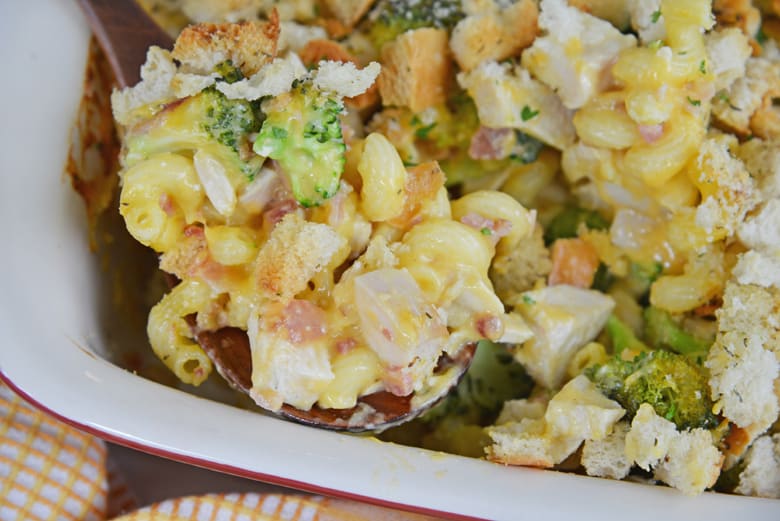 Cooked Chicken
There are many ways to get to the end result of cooked chicken. You can used leftovers from the night before. This recipe is very forgiving, so even if you only have 1 chicken breast, use it and just add a bit more pasta or broccoli to make up for it.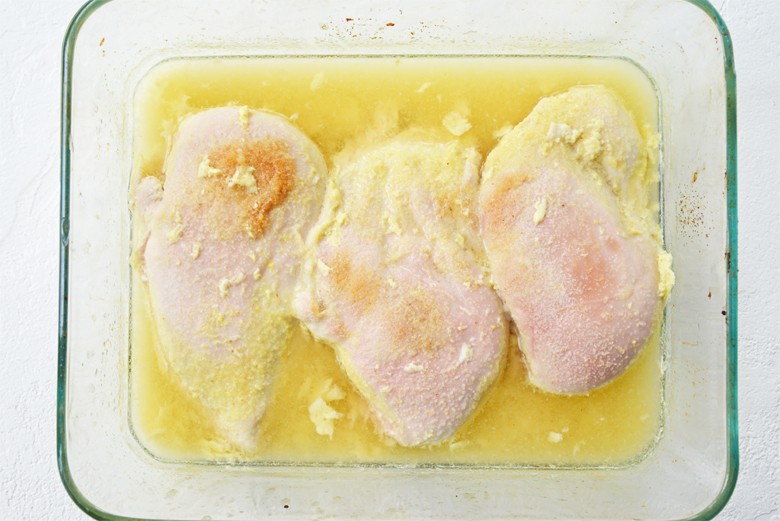 Flavored chicken like blackened, lemon pepper or Cajun will only add to the flavor.
You can even just make this a broccoli casserole, if you want and omit the chicken altogether. Otherwise, here are the best ways to get cooked chicken for casseroles.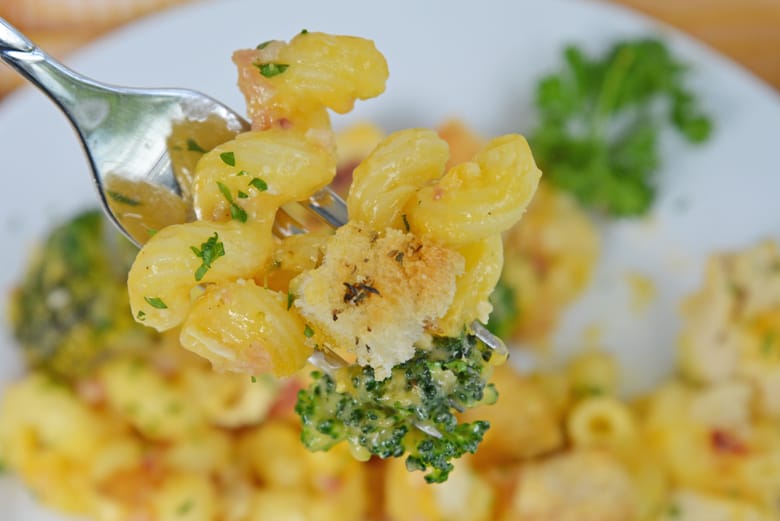 Rotisserie Chicken– One of my favorite time saving hacks: store bought chicken. It is juicy, pre seasoned and most importantly, COOKED! And cheap- usually cheaper than buying a whole raw chicken or even a pack of chicken breasts.
Bake Your Own- Boneless skinless chicken breasts or boneless chicken thighs are the best cuts for this purpose. Simply heat the oven to 350 degrees and place the chicken in a baking dish with 1 cup chicken or vegetable broth. Bake for 20-25 minutes (depending on how thick they are). Remove from liquid and chop.
Instant Pot/Slow Cooker– Cooking chicken in a pressure cooker or slow cooker is a snap. Place in the pot with 1 cup chicken or vegetable broth. For pressure cooker, set to manual high pressure for 7 minutes then use quick release. For slow cooker, set to high for 2 hours. Remove and either chop or use 2 forks to pull apart.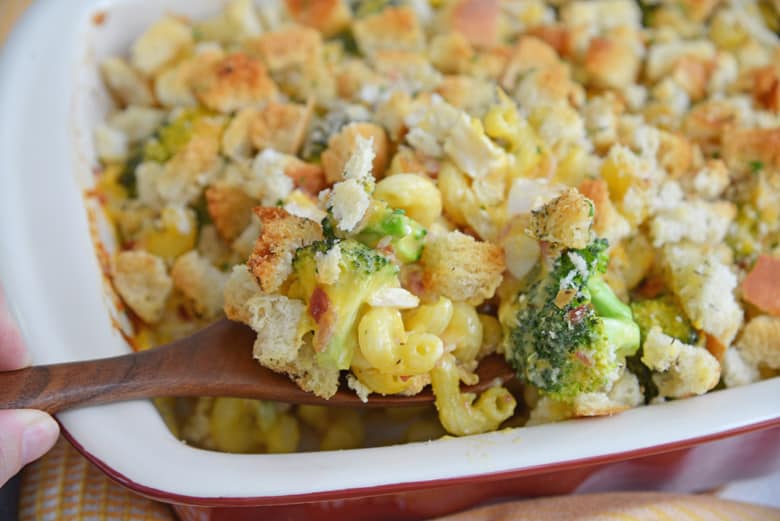 Make Ahead, Storage and Freezer Instructions
This is a great dish (sometimes called a hotdish in some parts of the US) for potlucks, meal train for new moms or grieving families or for putting in the freezer.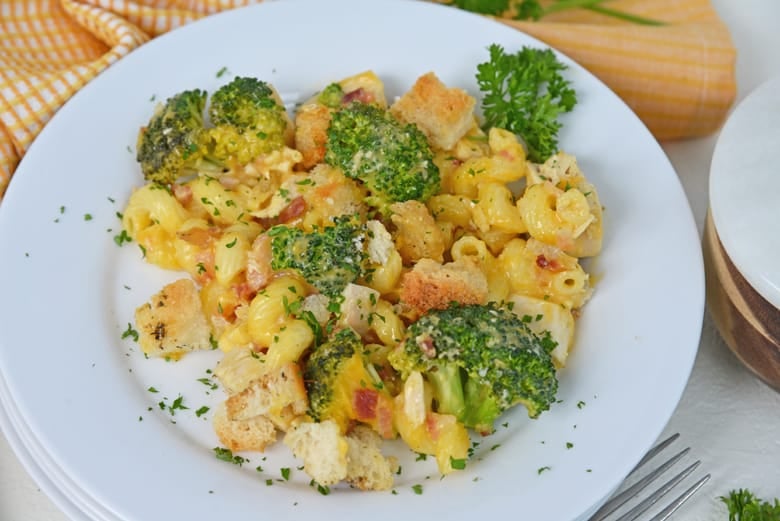 Make Ahead– You can mix all the ingredients together and then place in the fridge for 24 hours until you are ready to bake it. Or bake it and then reheat at 350 for 10 minutes. Your choice, but either way, wait to add the croutons until you are ready to cook. They will get soggy if you add them ahead of time.
Storage– Store, covered, in the refrigerator for up to 5 days.
Freezer Meal– Make the casserole through step 2 (mixing all the ingredients and placing them in a casserole dish). I tend to use disposable aluminum pans for freezer meals. Defrost the casserole in the fridge for 24 hours. Bake at 350 for 10 minutes longer to account for any pieces that still might be frosty. It might also need a fresh sprinkling of cheese.
Wait to add croutons until you are ready to bake. If you are bringing the dish to someone, place croutons in a plastic bag and tape them to the top with instructions.
Here are some general instructions on how to freeze a casserole, too!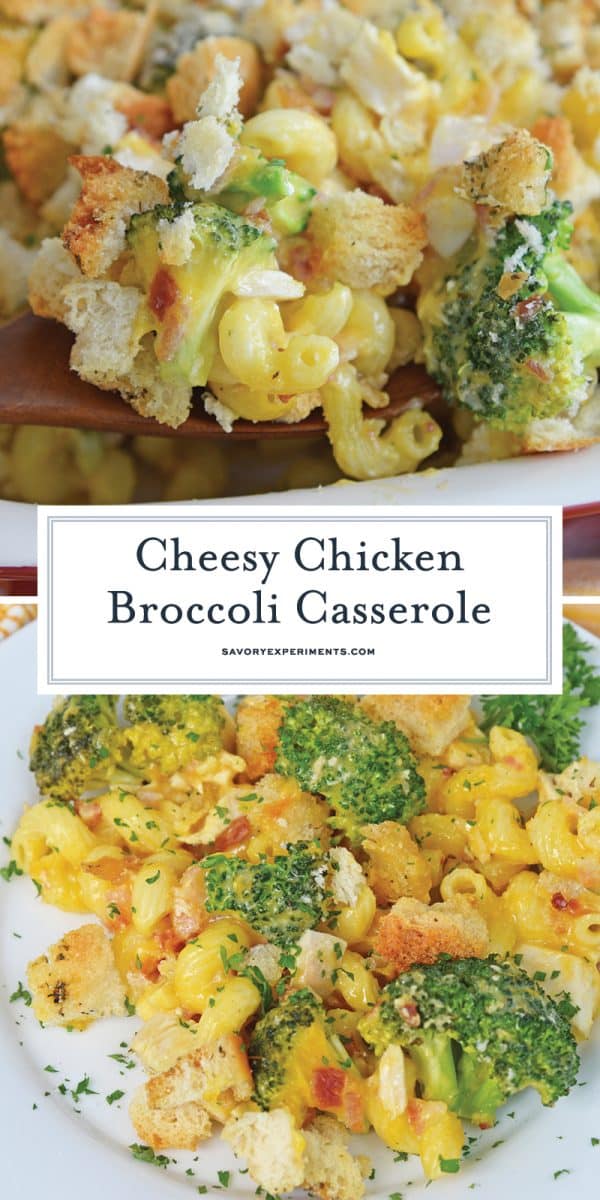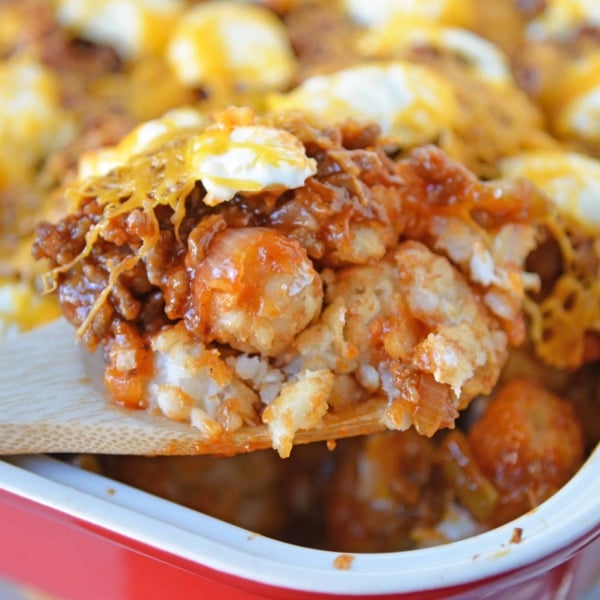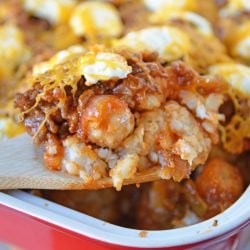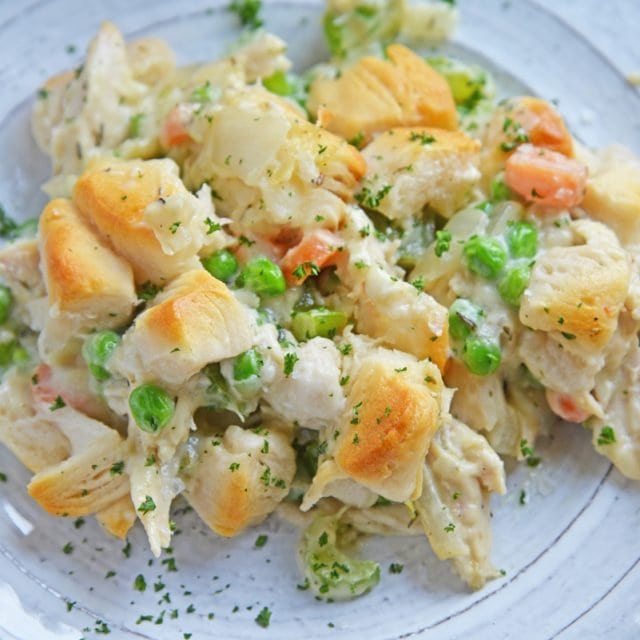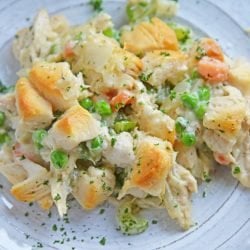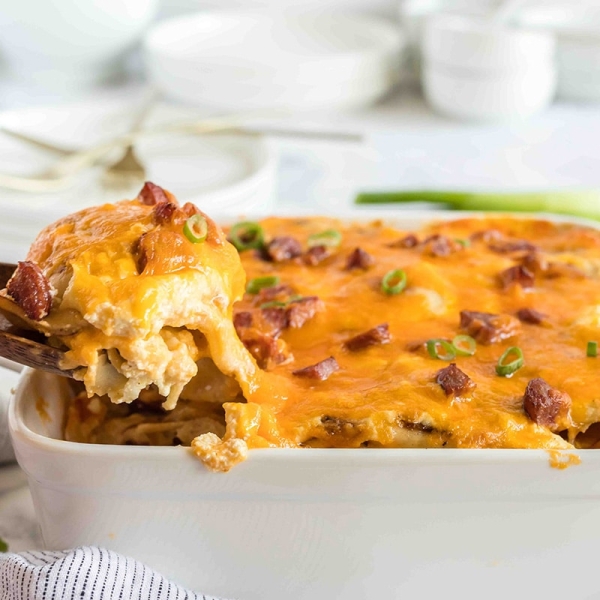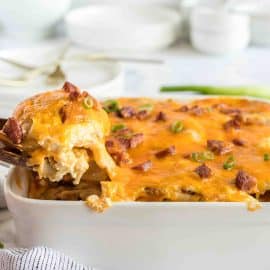 Pierogi Casserole
Pierogi Casserole takes your favorite pierogi and layers them with creamy ricotta, smoky kielbasa and cheddar cheese. A family favorite and great for potlucks and parties!
See The Recipe!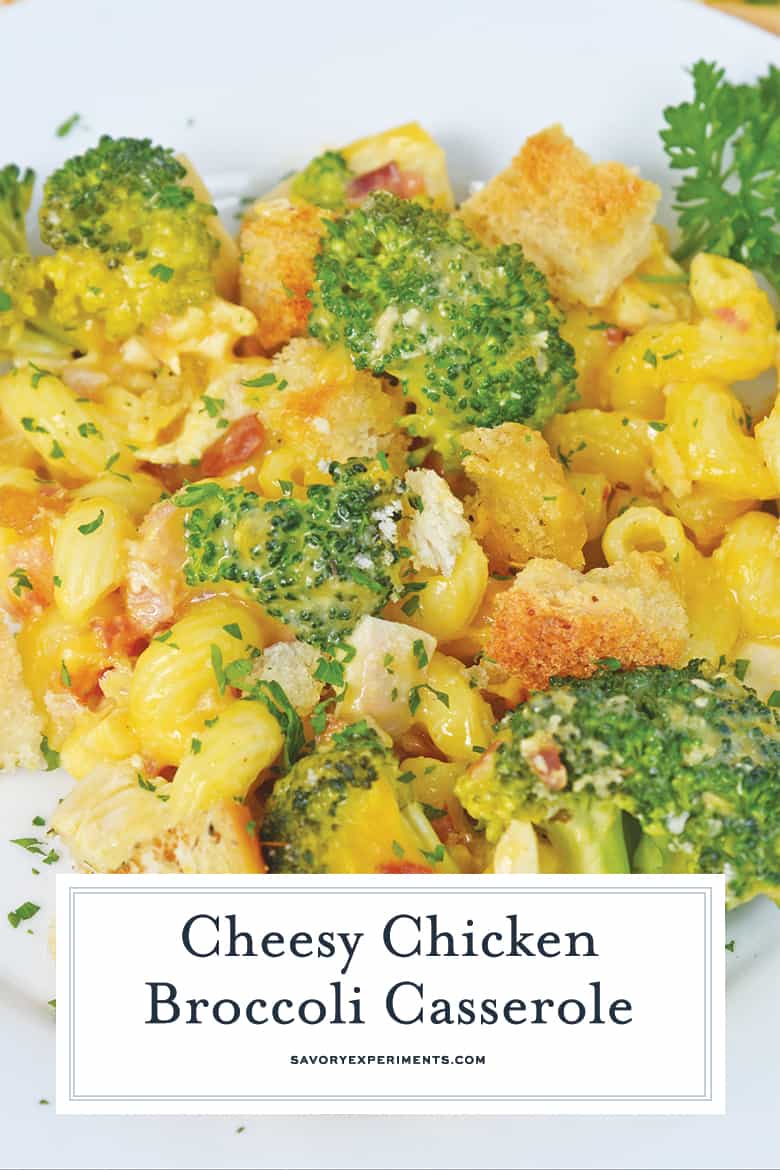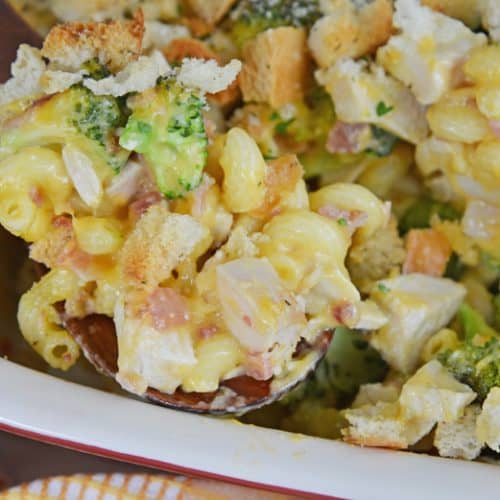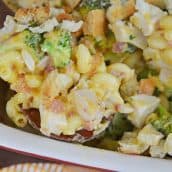 Chicken Broccoli Casserole
This award winning cheesy chicken broccoli casserole is the easiest one-dish dinner that is perfect for make ahead, freezer and parties!
Ingredients
2

cups

cavatappi pasta

, cooked al dente

2

cups

chicken

, cooked and chopped or shredded

2

cups

fresh broccoli florets

, trim ends

1/2

cup

whole milk

1

cup

cheddar cheese

, shredded

10

ounces

condensed cheddar soup

1/2

cup

bacon

,cooked and crumbled

1/4

cup

mayonnaise

1/4

teaspoon

white pepper

1

cup

seasoned croutons

, roughly chopped
Instructions
Preheat oven to 350 degrees. Coat a 2 quart casserole dish with cooking spray.

Combine cooked pasta, cooked chicken, raw broccoli, shredded cheese and bacon in a large mixing bowl.

In a small mixing bowl, whisk together whole milk, shredded cheddar cheese, condensed cheddar soup, mayo and white pepper.

Bake, uncovered, for 25 minutes.

Remove and allow to cool for 5 minutes before serving.

If you've made this recipe, make sure to come back and let us know how it went in the comments section or leave a rating!
Nutrition
Calories:
532
kcal
,
Carbohydrates:
51
g
,
Protein:
26
g
,
Fat:
24
g
,
Saturated Fat:
6
g
,
Cholesterol:
51
mg
,
Sodium:
962
mg
,
Potassium:
414
mg
,
Sugar:
1
g
,
Vitamin A:
465
IU
,
Vitamin C:
27.6
mg
,
Calcium:
326
mg
,
Iron:
2.9
mg
Leftover Mac and Cheese Instructions
Instructions
Preheat oven to 350 degrees. Coat a 2 quart casserole dish with cooking.
Combine all ingredients in a large mixing bowl. Toss to combine and spread into prepared casserole dish.
Bake for 25 minutes.
Remove and allow to cool for 5 minutes before serving.
If you've made this recipes, make sure to come back and let us know how it went!
[mv_video doNotAutoplayNorOptimizePlacement="false" doNotOptimizePlacement="true" jsonLd="true" key="rtgambj8mecpjvqt54qc" sticky="false" thumbnail="https://mediavine-res.cloudinary.com/v1535759985/cwxkvtcaxsr0apy9rnfv.jpg" title="Chicken Broccoli Casserole" volume="70″]