This is a easy tuna noodle casserole that can be made during the week for your family! It's a delicious twist on the classic tuna noodle casserole that you're used to! A more sophisticated and classy dish!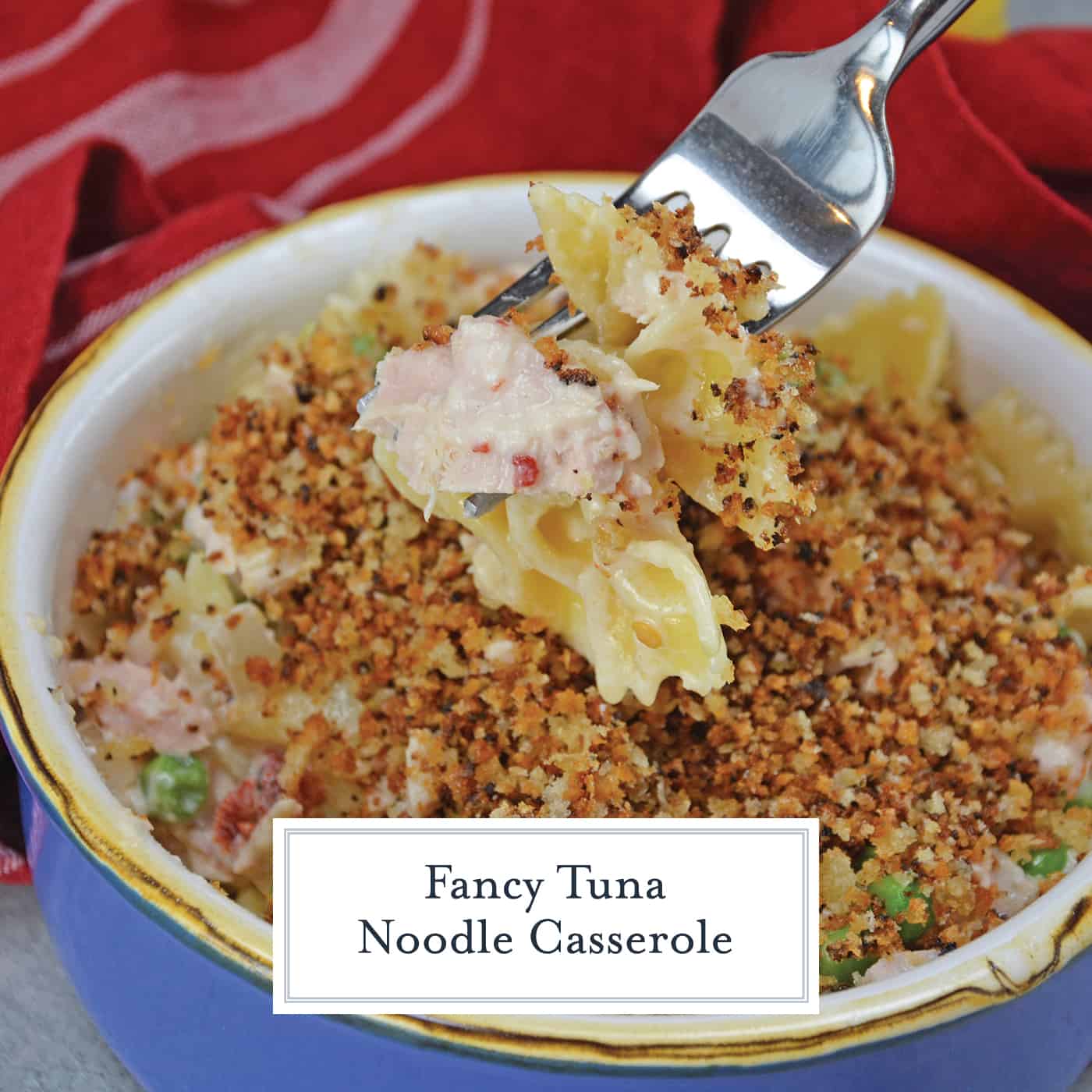 Fancy Tuna Noodle Casserole comes packed with bow tie pasta, seasoned panko, fresh vegetables and sun dried tomatoes. This recipe will help you make a delicious tuna noodle casserole from scratch that is just to die for!
This was a request from Ms. Terra. I had trouble with this one because I am not a big fan of casseroles in general and especially tuna noodle casserole.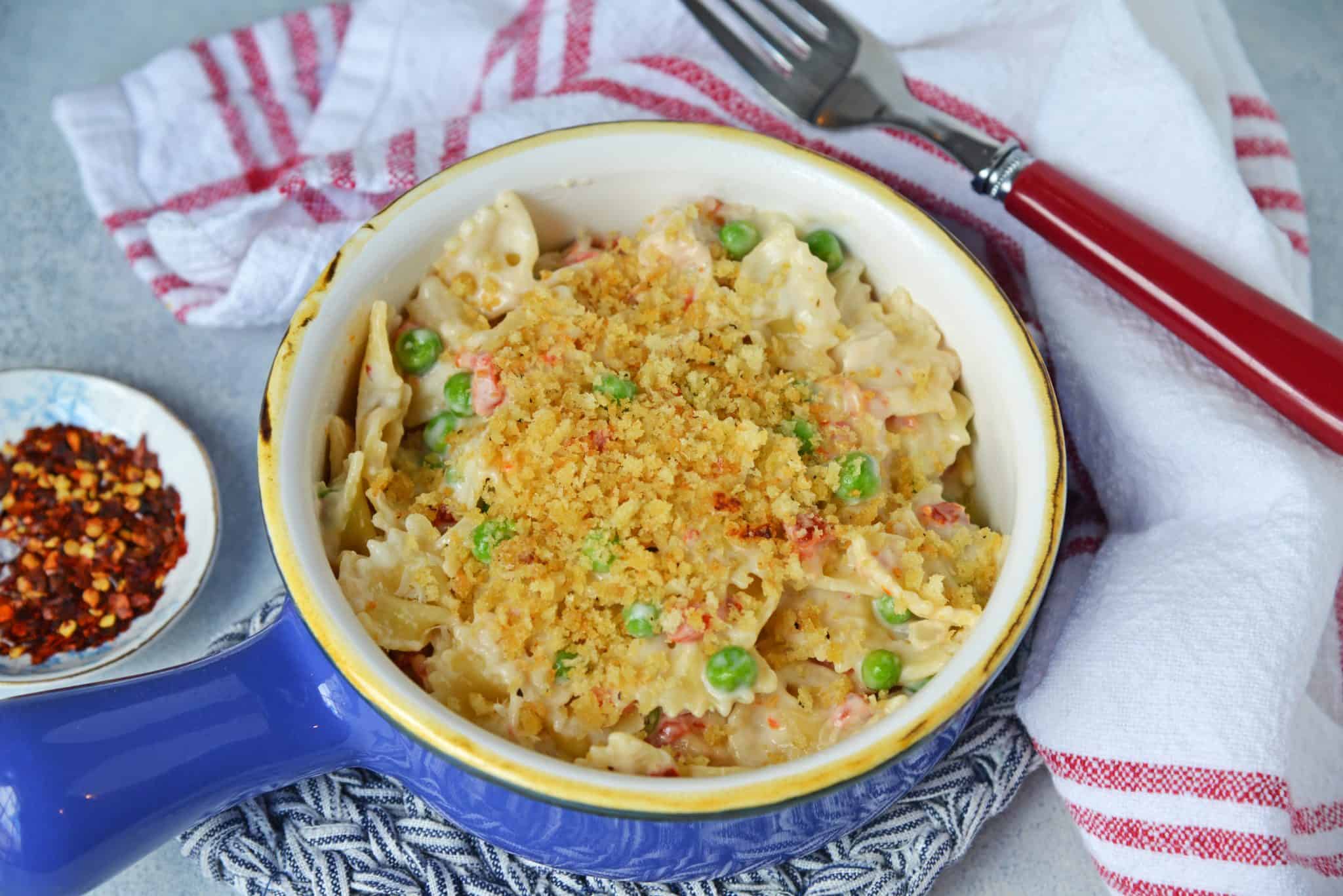 I have a serious fear of all condensed "cream of something" soups and any meat or seafood that can be canned, left on a shelf for months and not refrigerated.
How can a dairy product not need refrigeration? It isn't right. It isn't natural.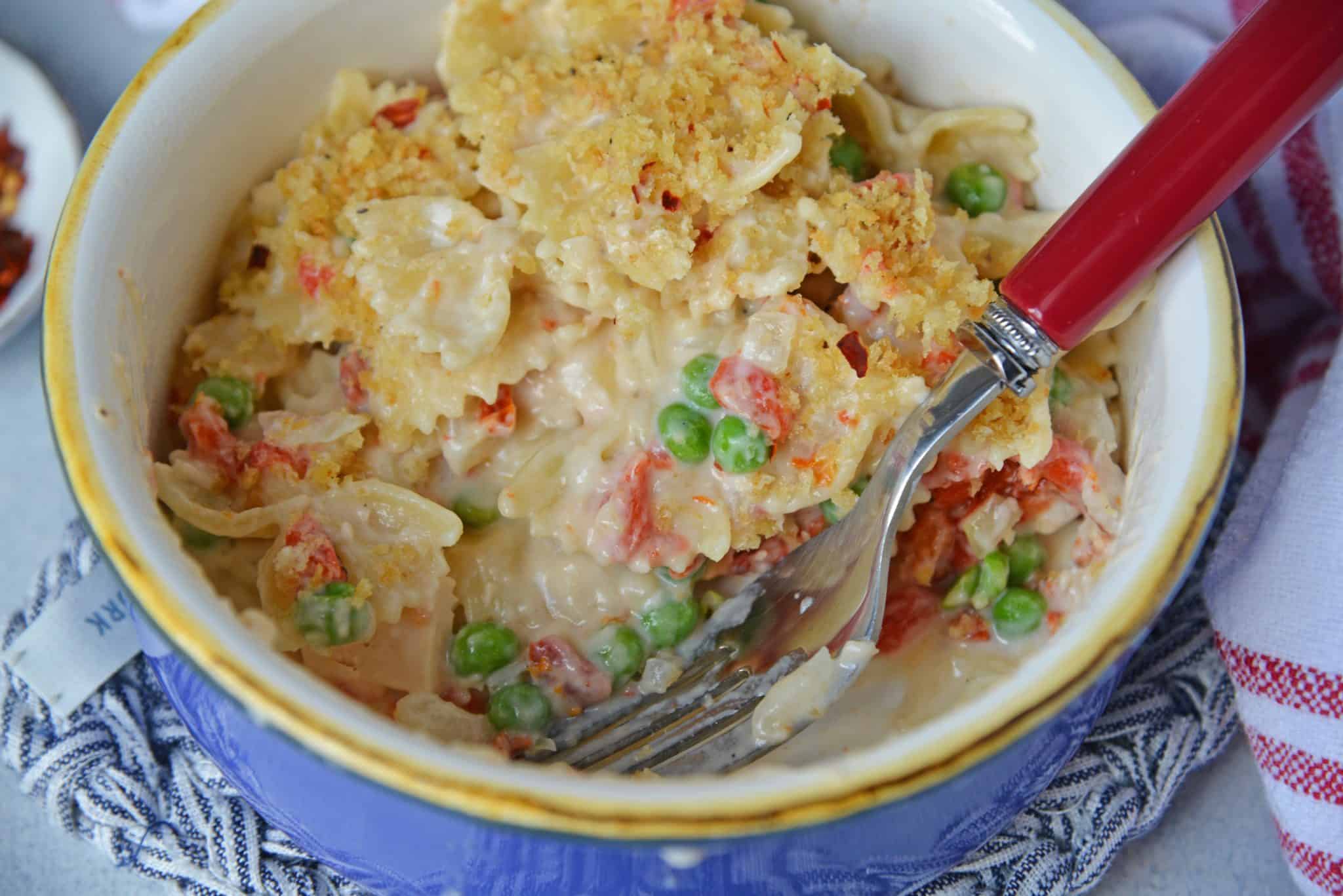 Leaving me to come up with creamy concoctions using the basics: cream, butter, milk and to overcome my phobia of canned meats and fishes. Easy to put together, so why in the world do people do the "cream of something" soup? I have no idea!
This tuna noodle casserole recipe also adds peas for texture and tangy sun dried tomatoes. Seasoned bread crumbs give it the buttery crunch you love from your best tuna noodle casserole recipe.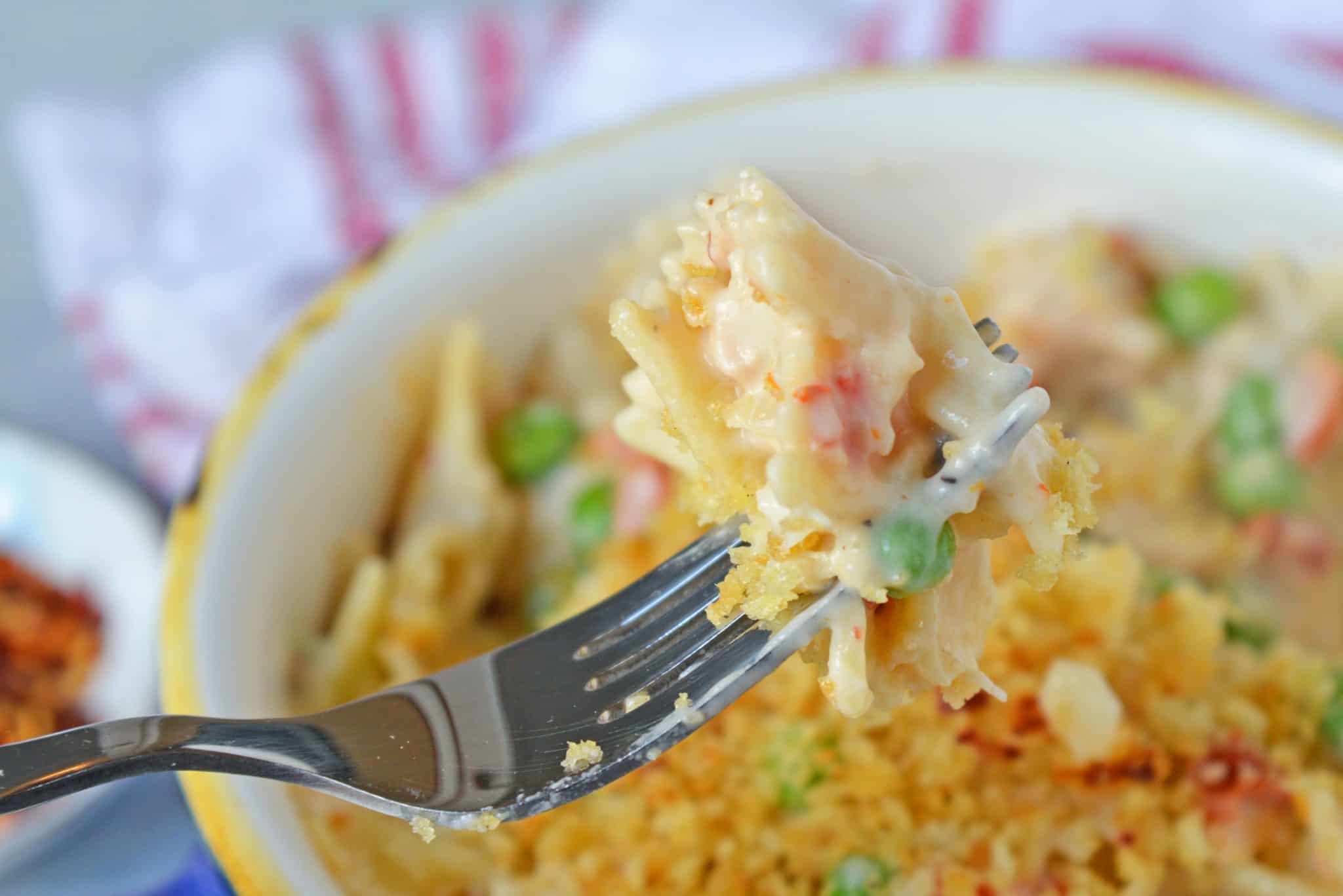 The end result was not your mother's can of tuna + cream of mushroom soup + potato chips. Instead it was more of a baked Alfredo with sophisticated flavors and a variety of textures.
Regular tuna can be substituted for tuna in oil with sun dried tomatoes if you choose. I also recommend pairing it with a simple side salad to balance out the heavy cream!
If you'd like to learn to freeze casseroles, check out my guide!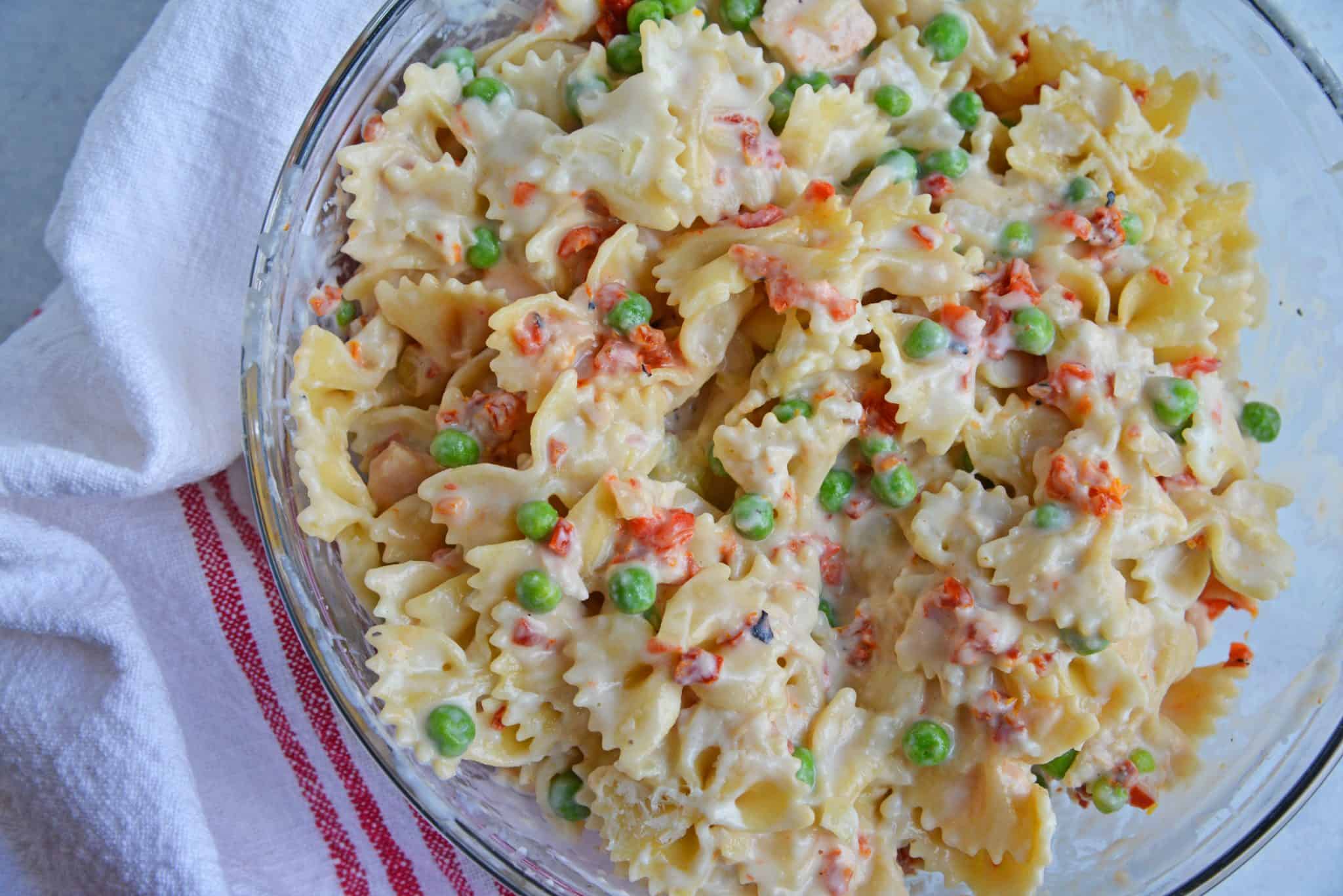 C
heck out some of these other easy pasta recipes:
Pierogi Casserole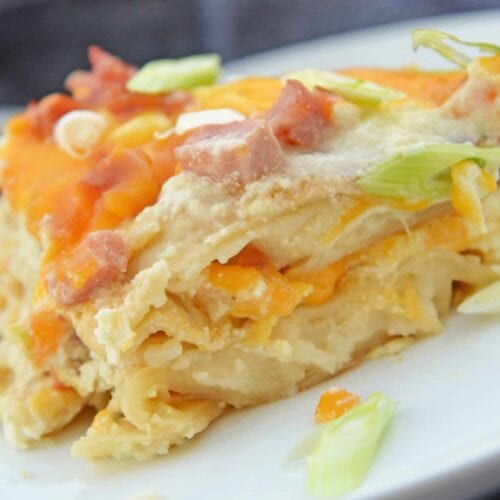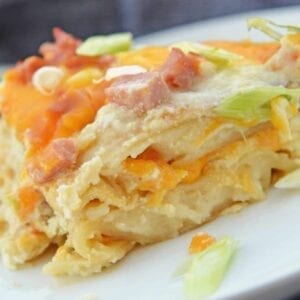 Pierogi Casserole takes your favorite pierogi and layers them with creamy ricotta, smoky kielbasa and cheddar cheese. A family favorite and great for potlucks and parties!
Cheesy Chicken Casserole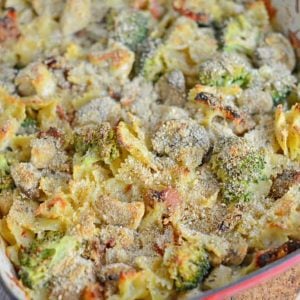 Cheesy Chicken Casserole is an easy casserole recipe perfect for feeding a large family on a budget. Chicken, cheese, pasta and vegetables- delicious!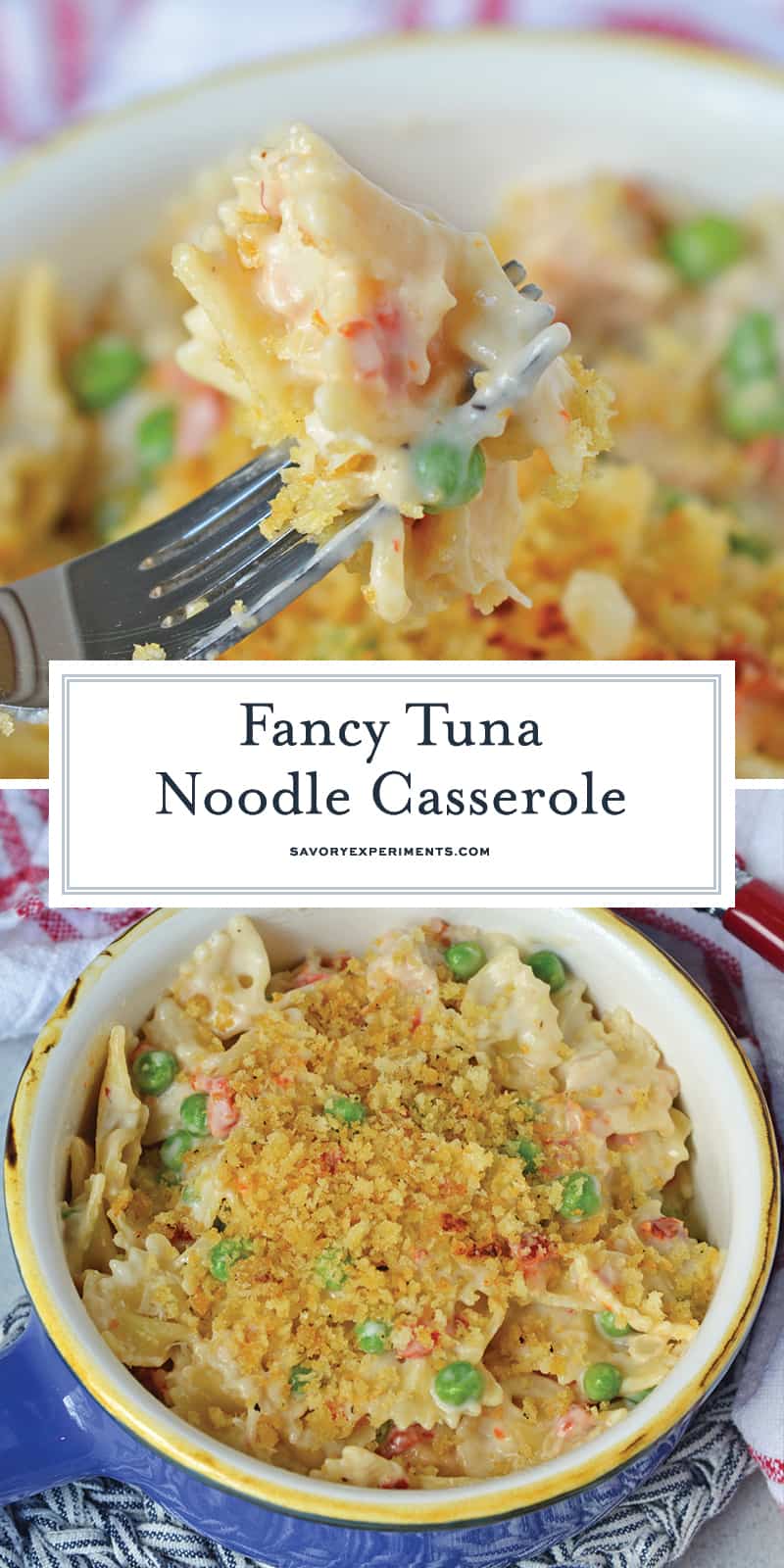 ---
---
Fancy Tuna Noodle Casserole
Fancy Tuna Noodle Casserole comes packed with bow tie pasta, seasoned panko, fresh vegetables and sun dried tomatoes!
Instructions
Preheat oven to 450 degrees. Cook farfalle pasta according to package directions for "al dente". Drain well and set aside.

In a medium skillet, heat 2 tablespoons extra virgin olive oil. Add pressed garlic, cook 1 minute. Add panko bread crumbs. Continue to cook for 3-4 minutes over medium heat while continuously stirring. When olive oil is absorbed and panko is lightly browned, remove from heat and set aside.

In a medium saucepan, melt unsalted butter over high heat. Add onion and saute until it is soft and opaque. Add flour and continue stir until flour is light brown. Pour in cream, stir well and bring to a boil. Add frozen peas, sun dried tomatoes and roasted red peppers, continue to cook for 3 minutes.

In a large mixing bowl, combine cooked al dente farfalle pasta, cream mixture, drained canned tuna, and parmigiano-reggiano cheese. Mix until all ingredients are fully combined.

Lightly coat individual gratin dishes or a large casserole dish with cooking spray. Evenly distribute mixture into baking dish(es). Lightly season tops with fine sea salt and freshly ground pepper. Finish with a thick coating of seasoned panko bread crumbs.

For individual gratin dishes, bake at 450 degrees for 5 minutes, or until tops are browned. For large casserole dish, bake at 450 degrees for 10-15 minutes or until top is brown.

If you've tried this recipe, come back and let us know!
Nutrition
Calories:
1351
kcal
|
Carbohydrates:
95
g
|
Protein:
40
g
|
Fat:
90
g
|
Saturated Fat:
51
g
|
Cholesterol:
303
mg
|
Sodium:
702
mg
|
Potassium:
677
mg
|
Fiber:
6
g
|
Sugar:
7
g
|
Vitamin A:
3450
IU
|
Vitamin C:
25.3
mg
|
Calcium:
416
mg
|
Iron:
3.7
mg