This Sausage Hash Brown Breakfast Casserole is one of my favorite recipes to make for brunch with family or friends. All of your favorite breakfast ingredients in one dish!
Nellie says: "Such a perfect breakfast recipe! Delicious!"
This Sausage Hash Brown Breakfast Casserole is loaded with delicious breakfast sausage, hash browns, and lots of cheese. One of the best breakfast casserole recipes for holiday breakfasts, Sunday brunch, or any other occasion.
Hearty breakfast casserole recipes are something that I love but don't get the opportunity to indulge in very often. Breakfast just isn't a big deal in our house.
Mornings are hectic already so I tend to just stick to with the quick and easy basics. Eggs, smoothies, toast and fruit, those things.
But sometimes on the weekends I let myself indulge, like in this hashbrown breakfast casserole. It's a hearty and filling breakfast casserole, packed with two of my favorite breakfast foods – sausage and hash browns.
And cheese, lots of cheese. ALL THE CHEESE!!!!!
Samantha says: I LOVE how many hash browns are in this recipe. It's perfect for a big cozy family brunch. I can't wait to make it again!"
To keep this Sausage Hashbrown Casserole quick and easy, I use cooked and crumbled breakfast sausage and refrigerated hash browns.
I'm talking real hash browns here, not the hash brown patties like those served at McDonald's.
Frozen hash browns would also work in this recipe but you need to cook them first according to the instructions on the package so I just like to save time by using refrigerated hash browns.
PRO TIP: Frozen hash browns have additional water from the freezing process. Before using them in any recipe, making sure to cook them according to package instructions.

Usually this just means heating them in a large skillet.

Adding them frozen could lead to a soupy, soggy breakfast casserole.
This hashbrown breakfast casserole makes a great brunch to share with friends and family. Perfect for Christmas morning or Christmas brunch, Easter brunch or any time you need to feed a large group.
It's definitely kid-approved too! And we all know how hard it is for that to happen.
I think this Sausage Hash Brown Breakfast Casserole makes a great breakfast or brunch on its own but you could also serve it with a side of eggs.
PRO TIP: Freshly grate your cheese. Pre shredded cheese is great for so many things, but when you need a melty cheese, it just isn't it.

Pre shredded cheese is tossed in a light starch mixture to prevent clumping. This can add a funky texture to your finished dish.
And, like all breakfast foods, it tastes even better when served with a mimosa or an orange crush!
Easy breakfast casserole is great because even though it requires baking time, the hands-on time is minimal, which means I get to relax with a cup of coffee or finish getting ready for the day while breakfast is cooking.
Super easy and no fuss!
Since you like this Sausage Hash Brown Breakfast Casserole, you may like these other easy breakfast ideas:
Creamed Chipped Beef Recipe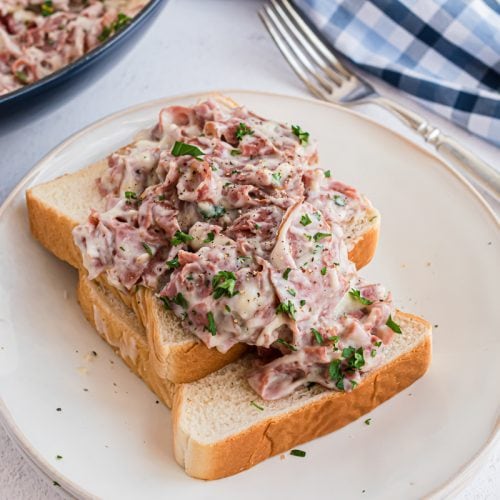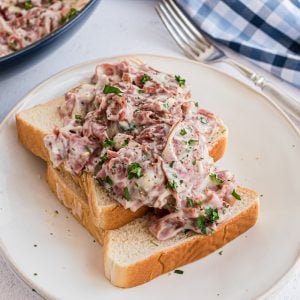 Creamed Chipped Beef, also known as SOS, consists of thinly sliced beef in a velvety creamy gravy. This easy recipe is the BEST!
Ham and Cheese Breakfast Casserole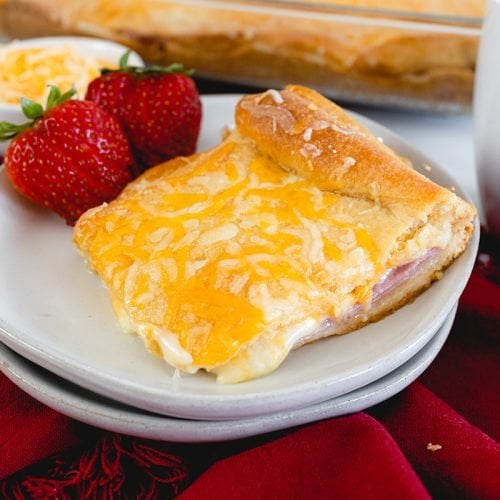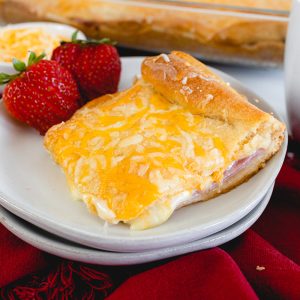 With only 3 ingredients and 5 minutes of prep, this eggless Ham and Cheese Breakfast Casserole is a perfect easy breakfast.
Crockpot Breakfast Casserole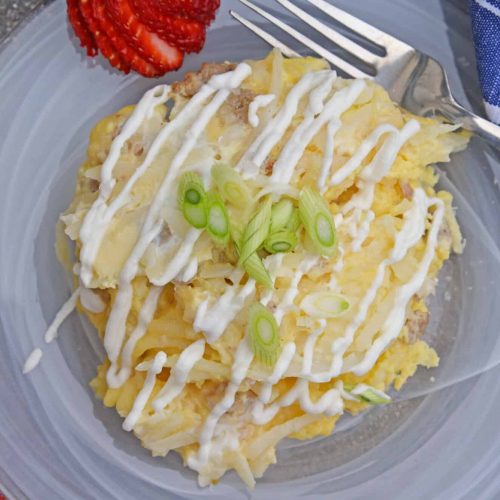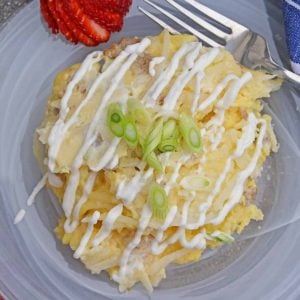 Easy breakfast recipes don't get any better than this Crockpot Breakfast Casserole! Whip it up before you go to bed and breakfast is ready in the morning!
Tools for making this breakfast casserole:
Mixing Bowls– make sure to check out my article on Using the Right Mixing Bowl, you'd be surprised how many people aren't!
Square Glass Baking Dish– I prefer glass to metal any day of the week. It looks nicer longer and usually comes with a lid.
Box Cheese Grater- See my notes above on the importance of grating your own cheese. Use a low moisture cheese and grate right before adding for best results!
Questions you might have about how to make Sausage Hash Brown Casserole:
Can this be a make ahead sausage hashbrown casserole?
Sure! You can assemble the whole casserole and put it in the fridge the night before so all you need to do is take it out and bake it OR bake it and reheat it when needed.
I prefer to bake it fresh in the morning. Fresh is always better. However, be mindful to take the casserole out and let it warm while the oven is heating. It might also need a few more minutes to bake since it is starting at a lower temperature.
You can also make the whole casserole and just pour egg mixture over the top when ready to cook. I find this the best option before then the cheese and sausage don't have time to settle to the bottom, making it more uniform throughout.
Can you freeze a breakfast casserole?
You sure can! Bake it and then cut into squares. Package in an airtight container or plastic bag with as little air as possible. It will be good in a standard freezer for 3-4 months.
I do not recommend freezing this casserole with raw uncooked eggs.
Or you can freeze it whole by covering tightly with plastic wrap and aluminum foil. Freeze for up to 2 months. Defrost in the fridge overnight and then bake at 350 degrees for about 20 minutes, or until the center is warm.
You can bake it totally frozen as well, at 350 degrees for about 50 minutes. Check to make sure the center is warm. The center of the casserole should be 160 degrees.
Check out my whole post about how to freeze a casserole!
How long can breakfast casserole be refrigerated before cooking?
If kept at the correct temperatures, in the fridge, up to 24 hours before it needs to be baked.
After baking, reheat to 160 degrees at the center. If refrigerated, it will stay good for 3-4 days.
Can I make these into hash brown casserole cups or muffins?
Sure! I would estimate it would make about 24 hefty egg muffins. Bake for 15-20 minutes or until the egg is set and cheese is melted.
If you are using a giant muffin tin, it might take up to 30 minutes. These are also super freezer friendly.
Can I substitute a different type of cheese?
Use whatever cheese your heart desires. You can even add more, use less or use a blend. Even add more cheese on top! Cheddar cheese is my favorite.
Can I use skim milk or 1% milk?
I find that for these types of casseroles whole milk or half and half work best for texture and flavor.
You can surely use skim or 1%, or even whole cream, if you'd prefer or that is all you have on hand. It is really a hard casserole to truly mess up.
Is this gluten free?
Always check your individual ingredients, but the ones that I used did make this into a gluten free breakfast casserole.
How long can breakfast casserole sit out?
The FDA recommends that no foods be left out longer than 2 hours before being refrigerated.
Is this a keto breakfast casserole?
Nope! It has hash browns and potatoes, as far as I understand, are not keto friendly. Keto experts, correct me if I am wrong!
Do I use sausage links or bulk sausage?
You can use either as long as you cook sausages and use the right amount weight wise. You can use more, if you desire.
Can I use tater tots instead of shredded hash browns?
I prefer hash browns, but feel free to use tater tots. They do need to be cooked (baked or fried) before adding to the recipe.
Can I use cubed home fries instead of hash browns?
Same answer as above- sure! Just some sort of potato and use the same amount.
Sometimes these are referred to as Potatoes O Brien and has diced bell peppers and onions in them. These are fine to use too.
How do I keep frozen hash browns crispy?
Don't crowd the pan! Add the frozen hash browns in a thin layer. Cook until browned and crispy on the bottom without moving them all over and around.
Flip and cook until the other side is crispy and the potatoes are cooked through.
Remove to a paper towel lined plate to remove any excess oil or grease. Be mindful that when you add these to any breakfast casserole, you run the risk of them getting a little less crispy just due to the other ingredients adding moisture back in.
CONNECT WITH SAVORY EXPERIMENTS!

Be sure to follow me on social media, so you never miss a post!

Facebook | Twitter | Youtube
Pinterest | Instagram
Get our FREE 8 Day E-Course on How to Be a Better Home Cook. Sign up HERE!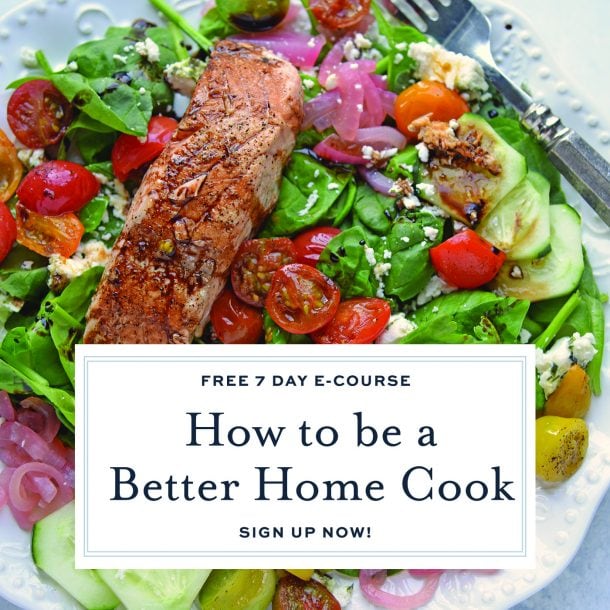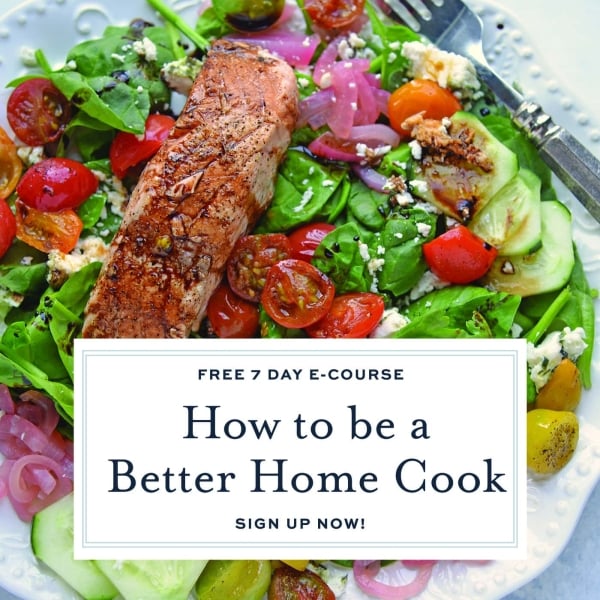 Come back and let us know how you made your hash brown casserole- we love when you give us your unique spins! Leave a comment!
Sausage Hash Brown Breakfast Casserole
This Sausage Hash Brown Breakfast Casserole is loaded with delicious breakfast sausage, hash browns, and lots of cheese. One of the best breakfast casserole recipes for holiday breakfasts, Sunday brunch, or any other occasion.
Instructions
Preheat oven to 350 degrees.

Coat a 3 quart casserole dish with cooking spray. Set aside.

In a small bowl, whisk together eggs and milk (or half & half).

In a mixing bowl, combine crumbled sausage, hash browns, 3/4 cup cheddar cheese, sour cream, onion powder, fine sea salt, ground white pepper and egg mixture.

Spread evenly into casserole dish.

Top with remaining 1/4 cup shredded cheddar cheese.

Bake, uncovered, for 30 minutes, or until cheese melted and lightly browned.

Remove and allow to sit for 10 minutes before serving.

If you've tried this recipe, come back and let us know how it was!
Notes
*Using refrigerated (not frozen hash browns) cuts down on cooking time. If you want to use frozen, you will need to cook them according to package directions and then add them to the mix. 
I highly recommend using full fat half & half and sour cream, the lower fats don't gel as well. 
Nutrition
Calories:
305
kcal
|
Carbohydrates:
14
g
|
Protein:
14
g
|
Fat:
21
g
|
Saturated Fat:
9
g
|
Cholesterol:
115
mg
|
Sodium:
560
mg
|
Potassium:
384
mg
|
Sugar:
1
g
|
Vitamin A:
375
IU
|
Vitamin C:
6.3
mg
|
Calcium:
155
mg
|
Iron:
1.6
mg