I've said it before and I will say it again: I could live the rest of my days and eat nothing but potatoes. They are a blank slate just waiting to be painted into a delicious meal. Home fries are a regular in my home. I rarely set out to make them by themselves, but do make them whenever I have left over baked potatoes or in this case, the insides of Stuffed Breakfast Potatoes. Adding just a little bit of flavor, but allowing the starches to evaporate leaves you will a slightly crunchy and tongue tingly side dish for breakfast or any other meal.
Time: 20 minutes
Serves: 2
Ingredients for Traditional Home Fries
1- 1/2 cups plain cooked potatoes (leftovers or baked for this purpose)
1 tablespoon light extra virgin olive oil
2 tablespoons white cooking wine
1/2 tablespoon minced dried onions
1/4 teaspoon table salt
1/4 teaspoon black pepper

1. Cut cooked potatoes into 1/2 inch cubes. They do not need to be perfect as they will probably get mushed anyway. Heat light extra virgin olive oil in a medium skillet over medium heat. Add potatoes.
2. Brown potatoes for 10 minutes, flipping half way through. At 10 minutes add white cooking wine through black pepper. Continue to brown for an additional 10 minutes, flipping half way through.
3. Potatoes should be lightly browned with liquid absorbed. If they are not at this state, continue to brown for another 5 minutes.
4. Serve immediately and enjoy!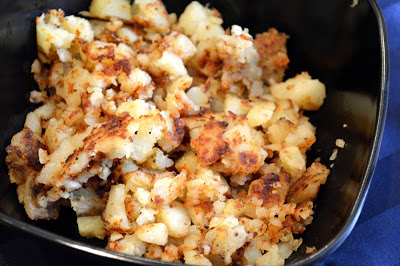 If you like this recipe, make sure to follow me on Pinterest for even more! 
Visit Savory Experiments's profile on Pinterest.
If you liked this recipe, you'll love these!