Times have changed and we've all gotten a little lazy making mashed potatoes from a box. And while this is a great option for quick weeknight meals, I am going to show you how to make Homemade Mashed Potatoes with real potatoes.
Making Homemade Mashed Potatoes has never been simpler, thanks to my basic mashed potatoes recipe! And you can jazz them up with your favorite toppings!
What You'll Need
A basic mashed potatoes recipe only has a few ingredients. There aren't any magic ingredients, just a short list (and then a whole bunch of ways to customize them!)
Potatoes – See our notes about the types of potatoes below.
Milk or Heavy Cream – If using milk, opt for whole milk, the fats help to enrich the starchy potato and make then silker. Of course, lesser fat contents can be used too, as can non-dairy milks like oat milk, almond milk or soy milk.
Butter – I use unsalted butter so I can control the saltiness by adding more (or less) to the finished product. If using salted butter, taste test before adding more.
Salt & Pepper – For seasoning! Try using seasoned salts, different types of peppercorns or even smoked salt or pepper for a fun twist. Black pepper and coarse kosher salt are the most traditional, but I like white pepper. It's a little milder and keeps the potatoes white and fluffy.
It is that easy. Now, of course you can get fancy with your spuds and liven them up a bit. I'll be including a list of ways to customize your perfect side dish a little later in the post. Let's get to some other burning mashed potato questions.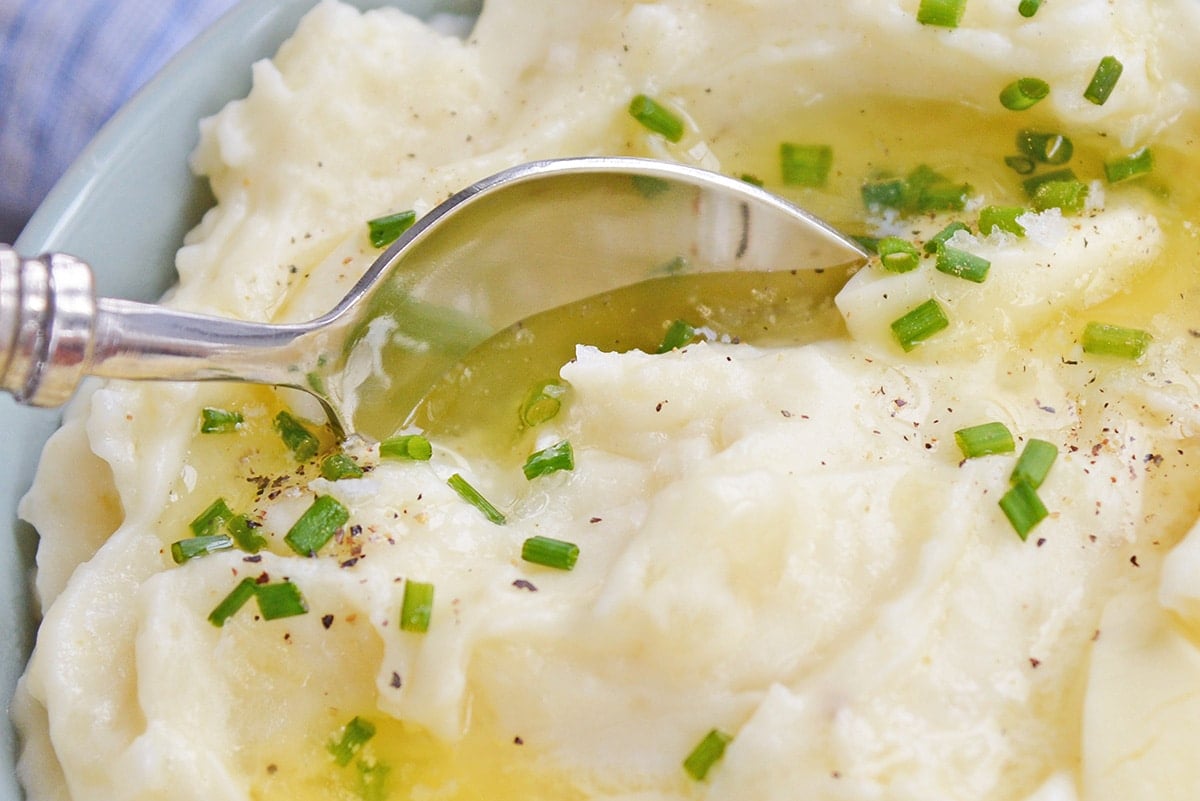 Best Type of Potato for Mashed Potatoes
The number one question I get when someone asks how do I make homemade mashed potatoes is about the potato itself. What are the best potatoes for mashing?
Russet Potatoes – Russets are probably the potato that 90% of mash is made from due to a higher starch content.
Yukon Golds– Yukon Gold Potatoes are also high in starch, these come in second.
Idaho Potatoes- Similar to russets, but slightly less leathery skins, they are also a good pick.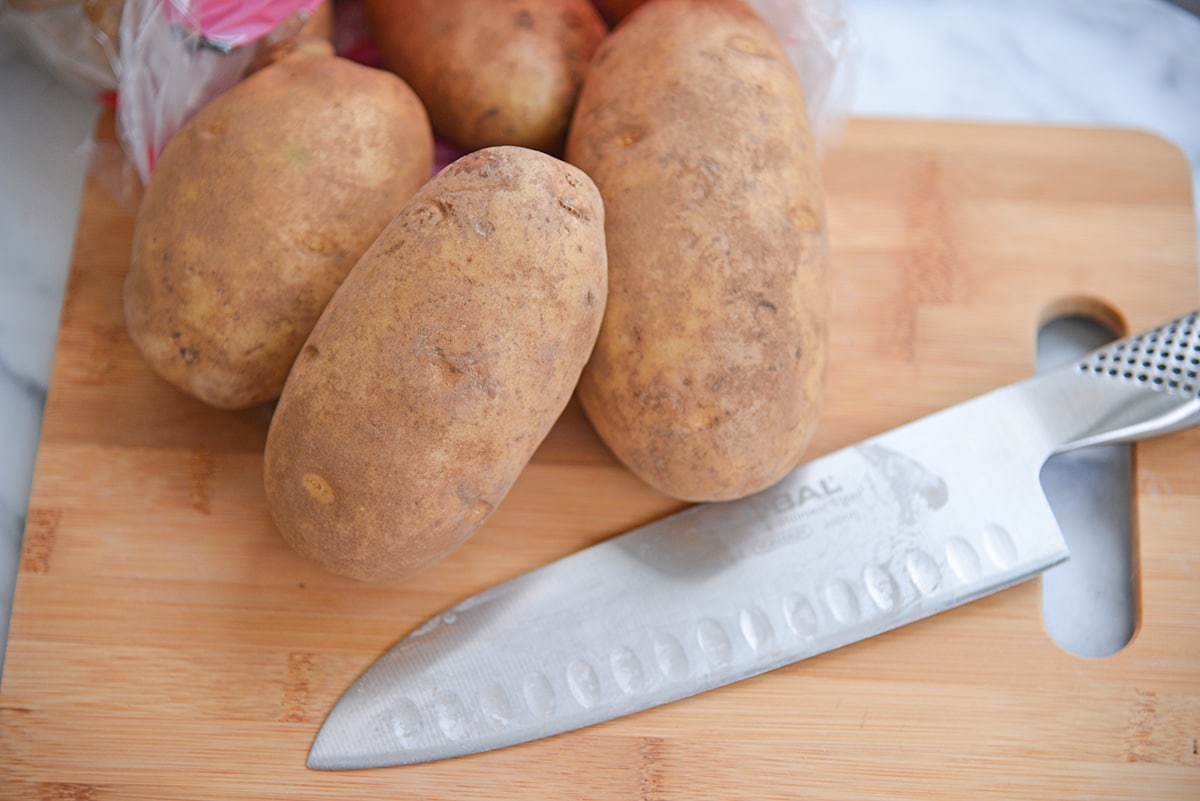 Other types of potatoes, like red potatoes, are lower in starch and waxy, which can result in gummy potatoes. Plain white potatoes are also low in starch so taste grainy when used in a homemade mashed potatoes recipe.
To Peel or Not To Peel…
The next question is undoubtable about whether you should peel the potato or not. For me, it depends on the type of potato I am using.
One thing remains the same for all though, there is an abundance of nutrients in the potato skin, including dietary fiber.
For Russets, I peel my potatoes. The skin is leathery and rough, making a weird texture that I don't care for. But for thinner, more buttery skin, like red or yukons, feel free to leave them on, if desired.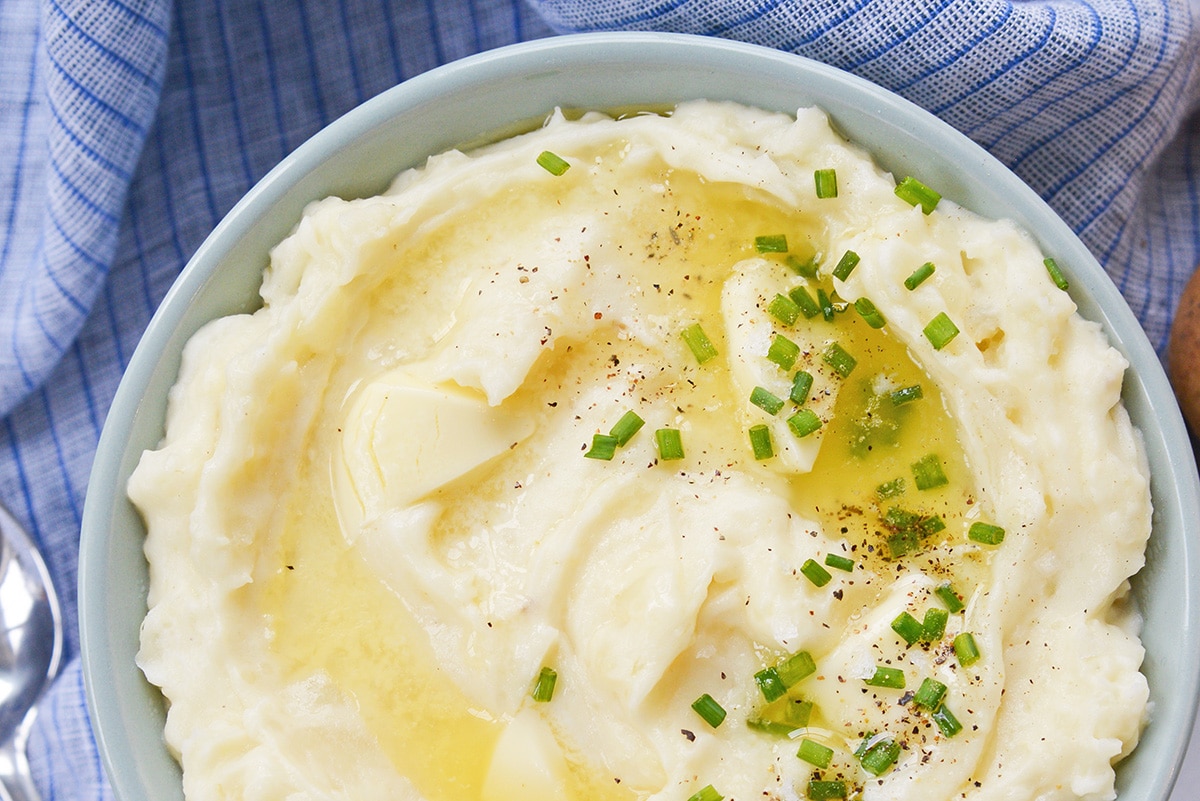 How to Make Homemade Mashed Potatoes
Add the potatoes to a large saucepan or Dutch oven, cover the potatoes with cold water. The size of the pan varies by the volume and size of the potatoes.
When boiling, continue to cook for 10 minutes, or until the potatoes are easily pierced with a fork. The exact times can vary greatly, make sure they are fork tender. Do not come to a rapid boil, keep it at a medium simmer. Super high heat can harm the cellular makeup of the potatoes and they will start to disintegrate and get waterlogged.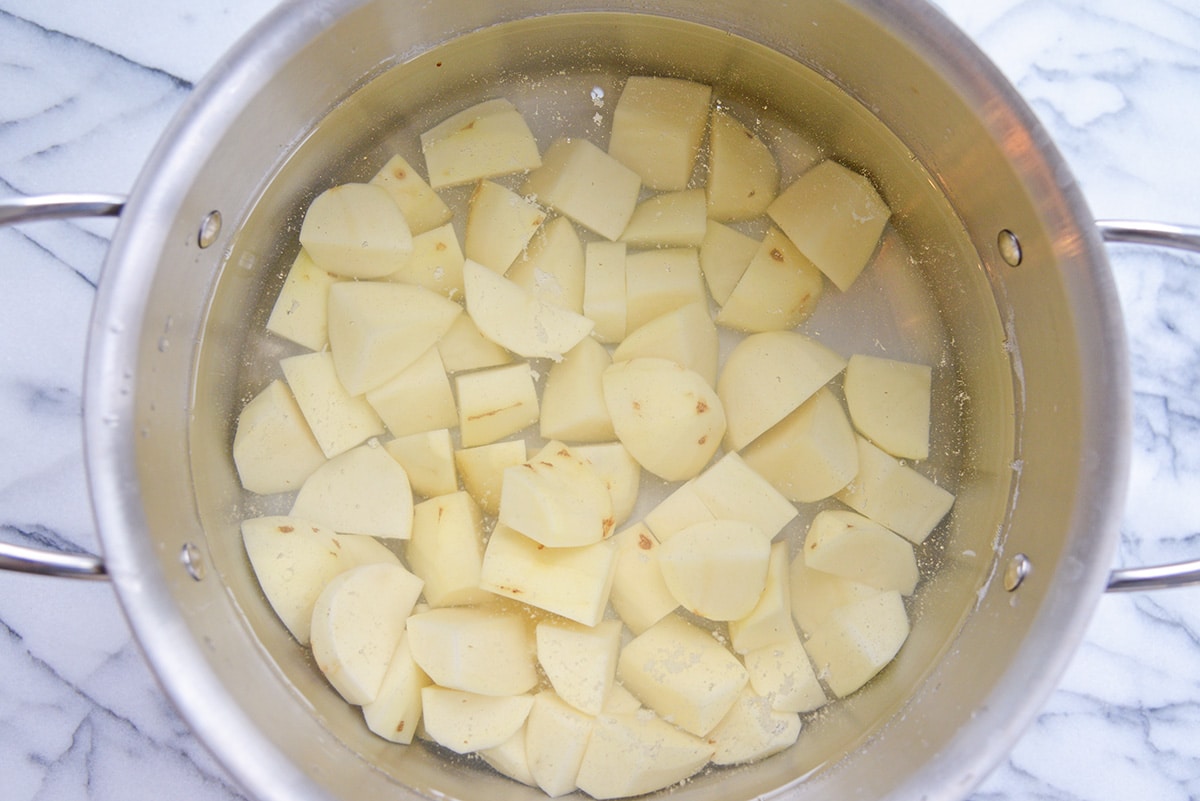 Drain the potatoes in a colander and return to the cooking pot.
Add the milk or cream, butter, pepper and fine sea salt.
Using a potato masher, hand held electric mixer or potato ricer, mash the hot potatoes to desired consistency, being mindful to not overmix. Add the cream (or milk), 1 tablespoon at a time, if needed. Overworking potatoes can lead to gluey, gummy mashed potatoes. If using a hand mixer we suggest initially mashing with just the beaters while it is turned off. Only turn on the whip in the other ingredients, this gives you a less likely chance of overworking them.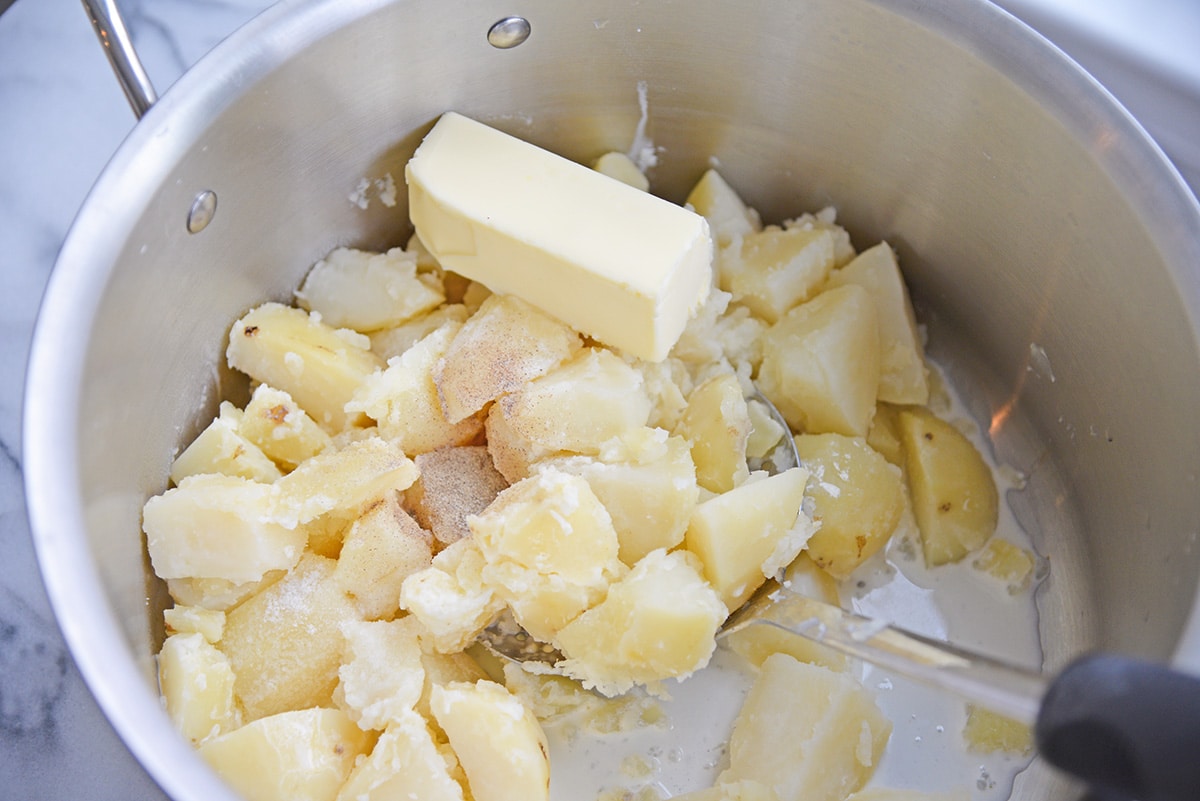 Garnish with chives, scallions (green onion), sour cream or additional butter. Or add any of these wonderful variations!
How Many Potatoes Per Person
This really depends on your audience. The internet will tell you about a half pound per person (.5 lbs) but let's be honest, potatoes are delicious and you likely won't have a smallish portion.
Plan for one large potato per person or around .75 pounds. The worst case scenario is that you have leftovers.
Mashed Potato Variations
Now to the fun part, the creative part! What can you put on top of your homemade mashed potatoes? A LOT!!!! As long as you have the base recipe (this one), you can make potatoes every day of the year and never repeat a recipe! Here are our favorite ideas:
Scallions
Chives
Sour cream
Creme fraiche
Cream cheese
Minced roasted red peppers
Blend in 3-6 ounces cream cheese or mascarpone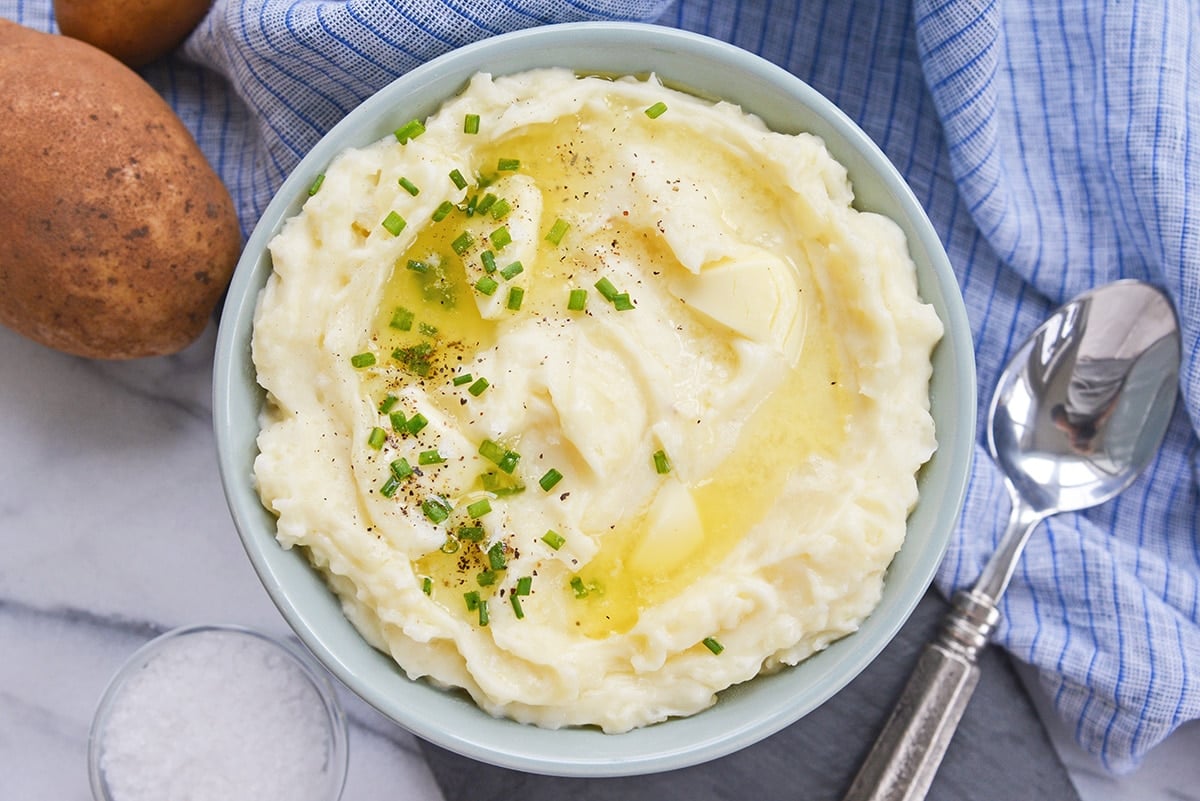 Best Tools (Pros and Cons)
People also want to know what is the best way to mash potatoes. As in, what tool to use. You have a few options:
Classic potato ricer– stimulates the least starch, medium texture, manually operated can be challenging.
Crank ricer- Larger and therefore harder to store, but the benefits of a classic ricer with less work.
Hand potato masher– requires the most work, stimulates minimally starch, slightly larger texture
Blender/Food Processor– Easiest and fastest, but can easily over mix and creates more dishes, least texture, most fluff
Handheld Electric Mixer– Can use right in the pot, easy and creates smooth potatoes
Two forks- go old school for chunkier mashed potatoes and just use two forks
Immersion blender– in theory this should work great, but doesn't for such a thick mixture.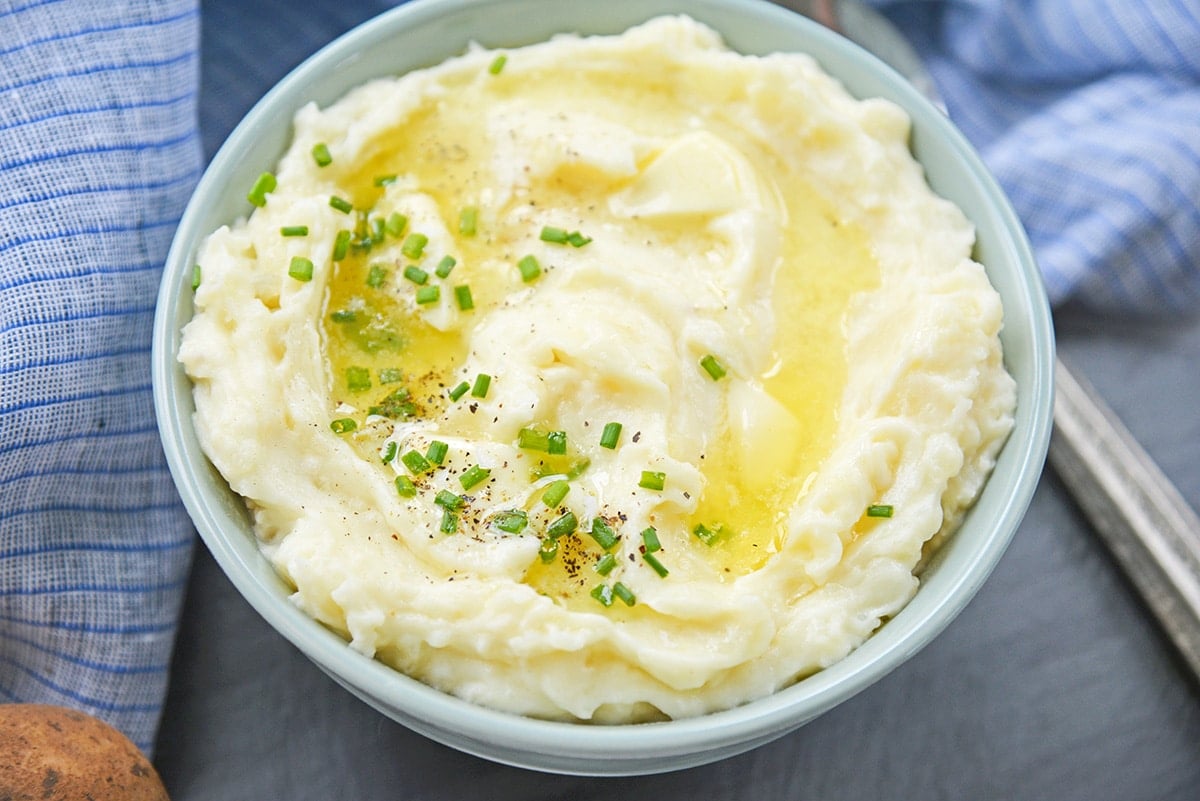 Serving Suggestions
Mashed potatoes are one of the best comfort foods. They are so versatile and can pair with nearly any meal, but here are a few of the most traditional.
Meatloaf, Salisbury steak and even BBQ meatballs are all delicious paired with spuds. Pork chops, roast turkey and of course whole chicken.
Fried chicken, corned beef and pan seared steak are others.
What to Do With Leftover Mashed Potatoes
Of course you can just eat leftover mashed potatoes straight up, but you can also make them into another delightful dish. My Mashed Potato Cups are a great choice or you can use them as topping for Shepherd's Pie.
Make the base of a "bowl" and top them with pulled pork or even taco meat and make a potato taco bowl. Or make half a dish of my Twice Baked Potato Casserole. Potato Rolls or Potato Pancakes are tasty for a totally new makeover.
Make Ahead, Storage & Freezing
Make Ahead- Mashed potatoes can be made up to 1 day ahead of time, but risk being overworked when reheating, so keep that in mind.
Storage- Store leftovers in an airtight container in the refrigerator for up to 5 days. Reheat in the microwave or on the stovetop, adding 1-2 tablespoons of additional liquid. Take care to not overwork the potatoes and risk being gummy.
Freezing- Mashed potatoes do not freeze well.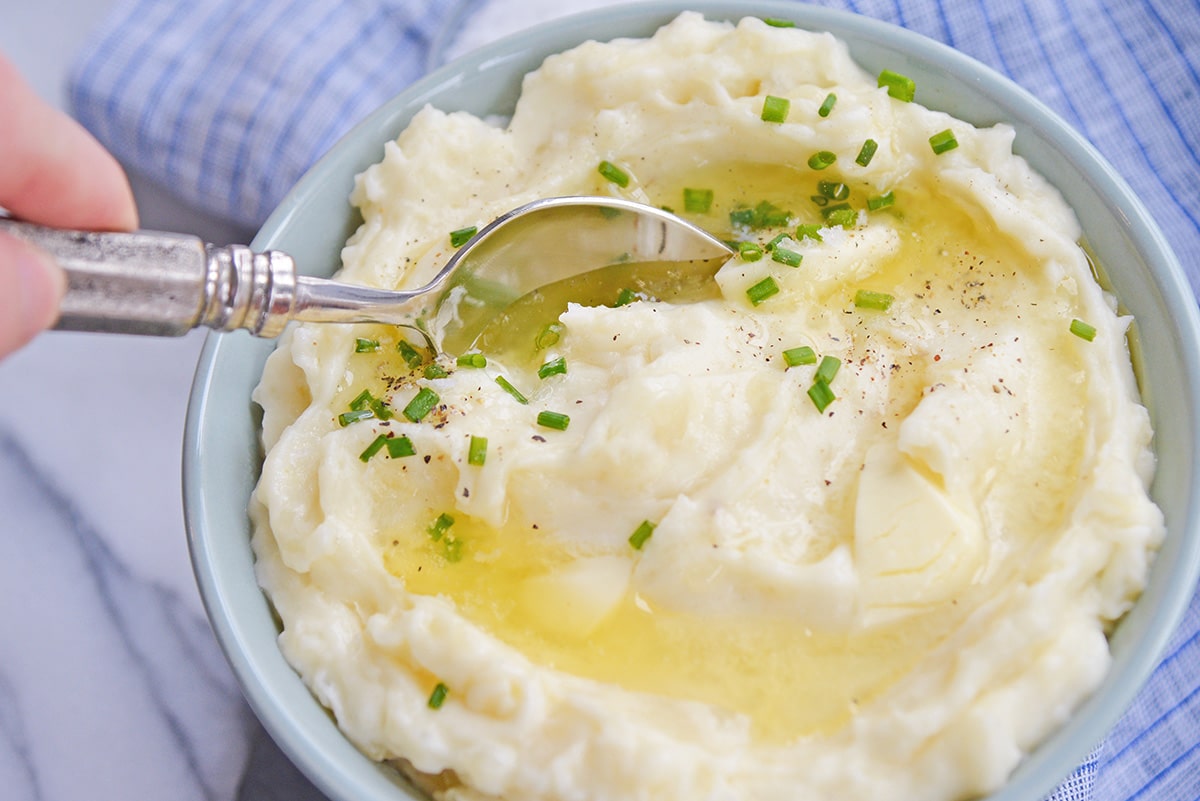 Mashed Potato Questions
Can I use purple potatoes?
Yes! Purple potatoes make excellent mashed potatoes and are linked to life longevity. Plus, they are pretty.
What if I don't want to milk or cream?
To lighten your homemade mashed potatoes, feel free to use chicken stock instead of cream or milk. Start with half and add in as needed. It isn't as thick, so you might not need as much.
Why are my mashed potatoes so sticky?
You probably overworked them. It is a common mistake since people think the more they whip them, the fluffier they will get.

When potatoes are agitated, starch is released. The more you agitate, the more starch. The result is gummy, gluey, sticky, plasticy potatoes.
How do I fix sticky gluey potatoes?
I hate to tell you this, but no you can't. After the starch is released, there is no way to bring it back.
What you can do is top them with as much stuff and butter as you possibly can to cover up the sticky texture.
How do I thicken my homemade mashed potatoes?
You can thicken mashed potatoes (you probably added a tad too much liquid!) by adding adding 1 tablespoon of either flour, cornstarch, powdered milk, arrowroot or Pecorino Romano cheese.

Mix this with 1 tablespoon water and then fold in by hand to prevent overworking the mixture. Sometimes these can be a little grainy. Add sparingly.

I also keep a box of instant mashed potatoes around at all times. It might be considered cheating by some, but I'll add a tablespoon or two of dried potatoes, if needed.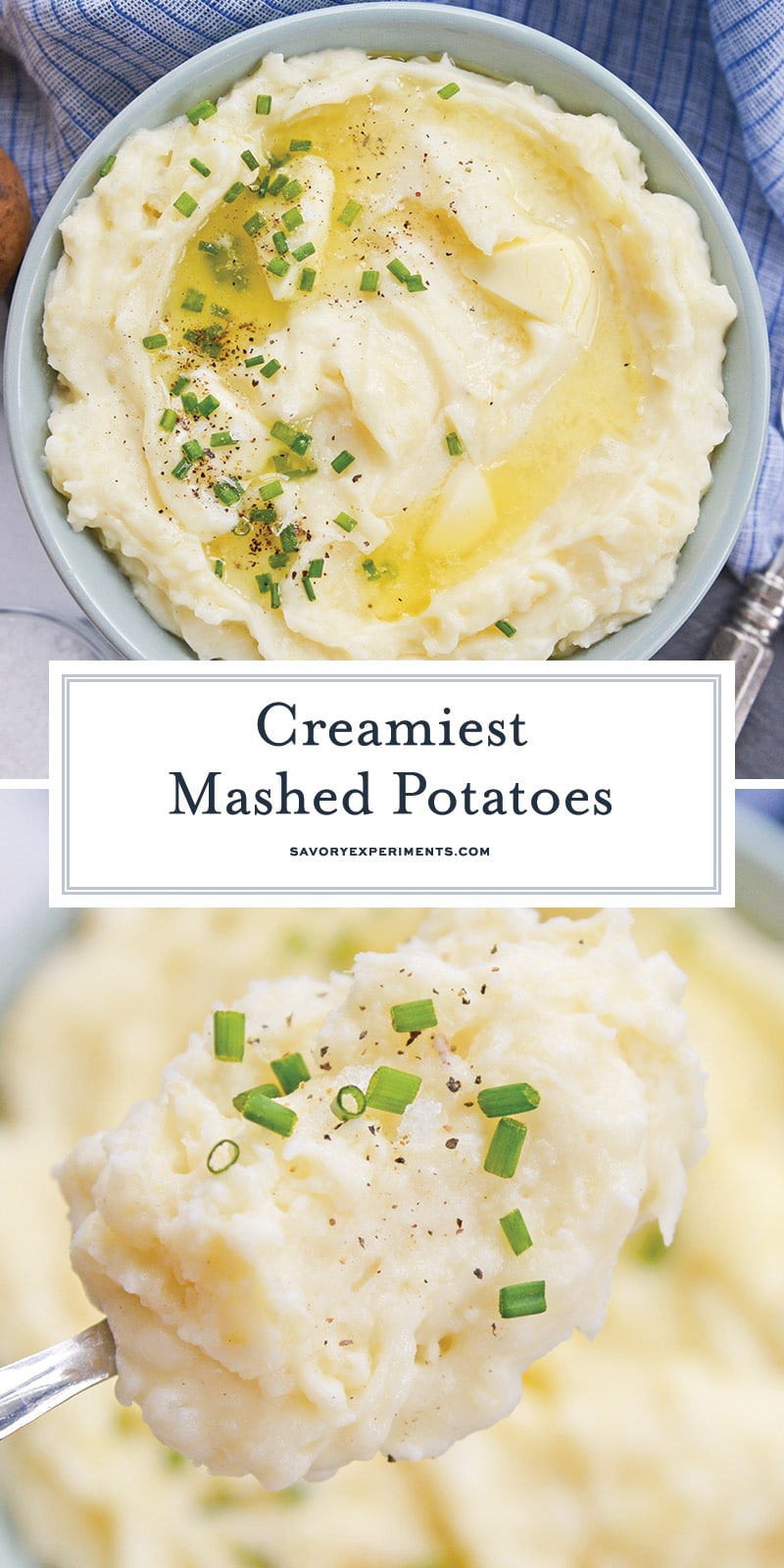 More Potato Recipes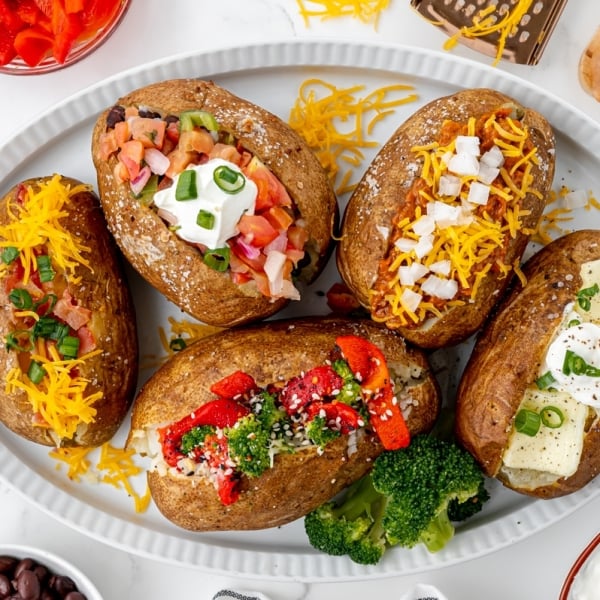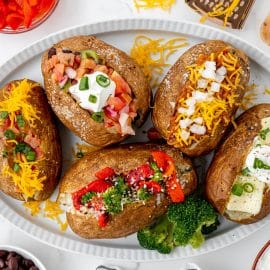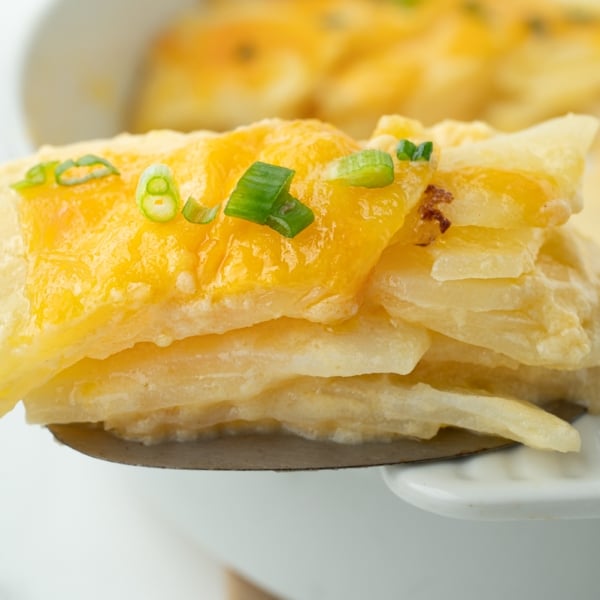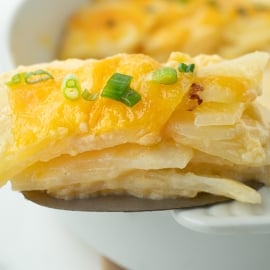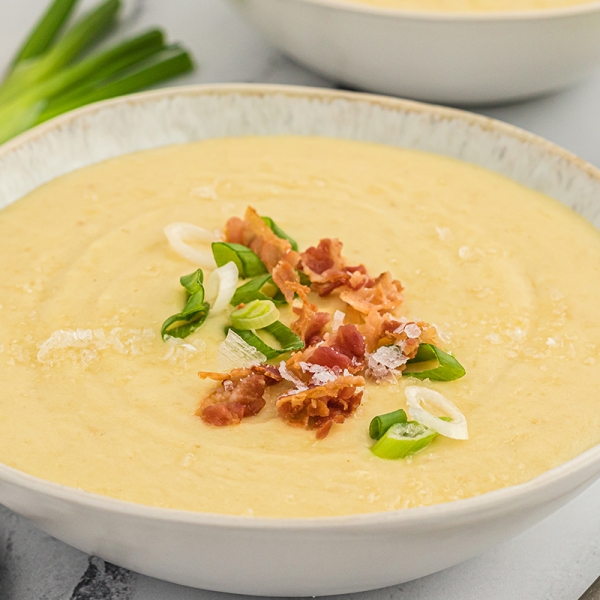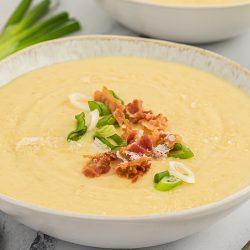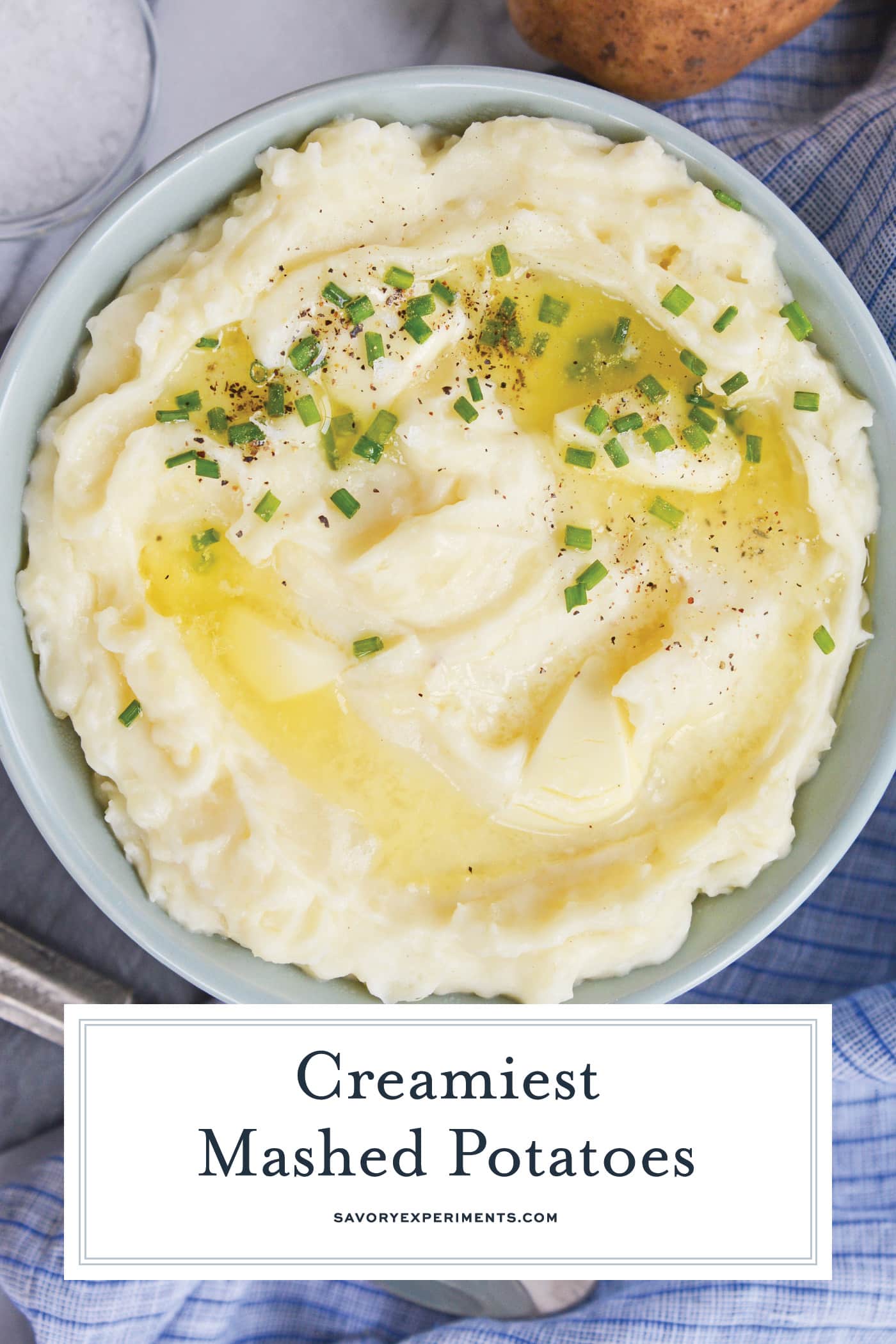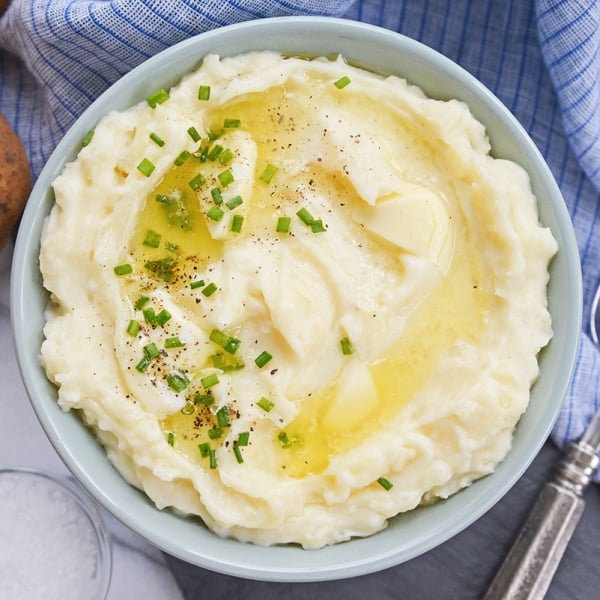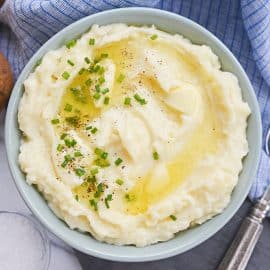 Easy Homemade Mashed Potato Recipe
The creamiest homemade mashed potatoes with over 40 delicious variations! What type of potato to use and how to prevent gluey potatoes.
Instructions
Place the potatoes in a large saucepan or Dutch oven, cover with cold water and bring up to a low boil.

After boiling, continue to cook for 10 minutes, or until the potatoes are easily pierced with a fork.

Drain the potatoes in a colander and return to the cooking pot.

Add the cream, butter, white pepper and fine sea salt.

Using a potato masher or hand held electric blender, blend to desired consistency, being mindful to not overmix. Add the cream (or milk), 1 tablespoon at a time, if needed. DO NOT OVERMIX!

Garnish with chives, scallions or additional butter.

If you've tried this recipe, come back and let us know how it was in the comments or star ratings.
Notes
Potatoes will vary greatly in size and water content, therefore it can be tricky to get exact amounts of the liquid needed in a recipe. Use this as a jumping off point and then add sparingly until the desired texture.
Nutrition
Calories:
319
kcal
,
Carbohydrates:
35
g
,
Protein:
5
g
,
Fat:
19
g
,
Saturated Fat:
12
g
,
Cholesterol:
57
mg
,
Sodium:
212
mg
,
Potassium:
803
mg
,
Fiber:
3
g
,
Sugar:
1
g
,
Vitamin A:
641
IU
,
Vitamin C:
11
mg
,
Calcium:
41
mg
,
Iron:
2
mg