These Quiche Florentine Egg Muffins are flavor packed with spinach, garlic white cheddar and parmesan cheese and are a quick easy way to make crustless quiche florentine you can grab on the go!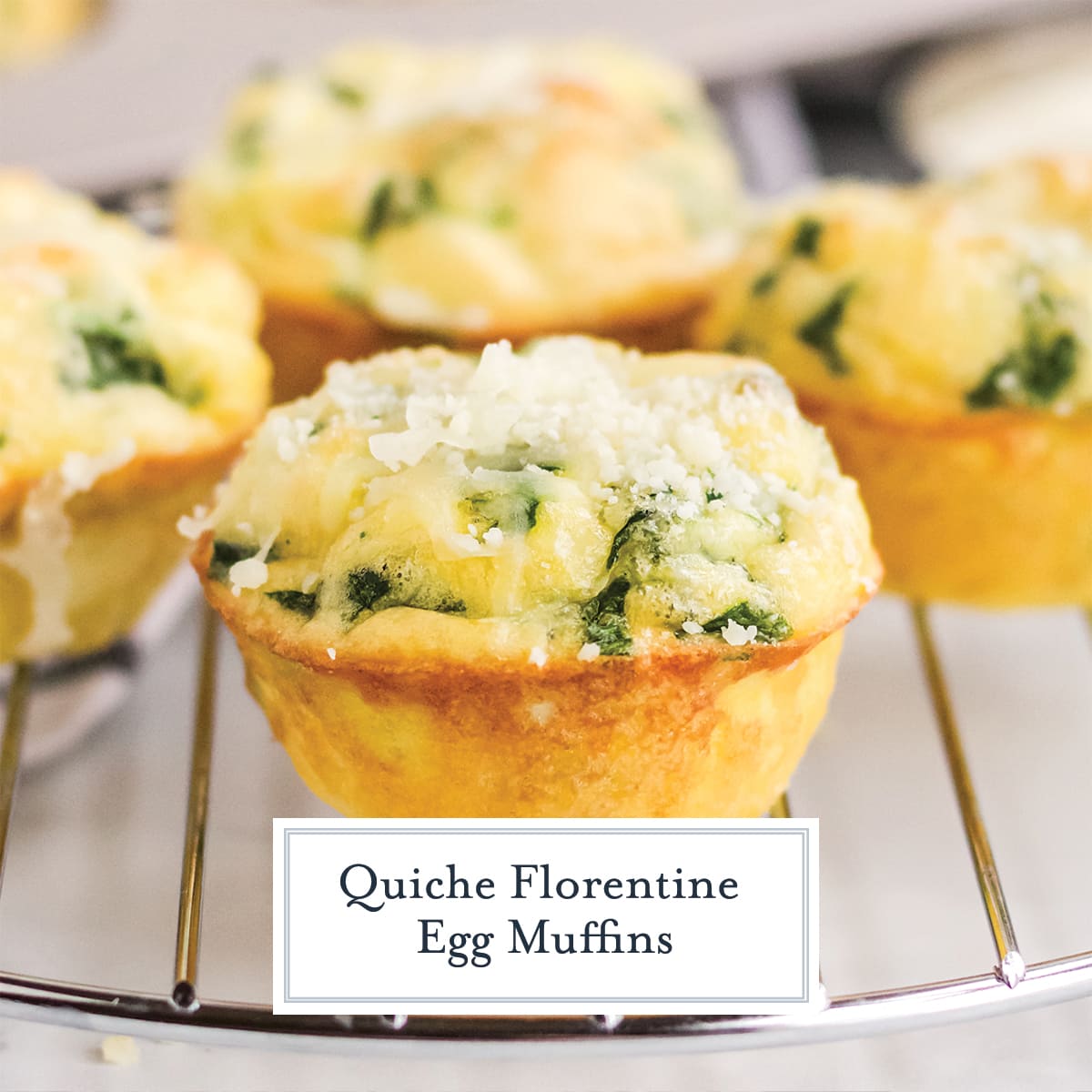 If you are ever craving quiche on a busy weeknight, I've got you covered. These easy quiche florentine egg muffins are the perfect solution to a nutrient packed breakfast you can make in advance.
What is quiche florentine?
Traditional quiche florentine is a traditional french dish made with spinach, various white cheeses, cream and usually baked in a flaky, buttery crust.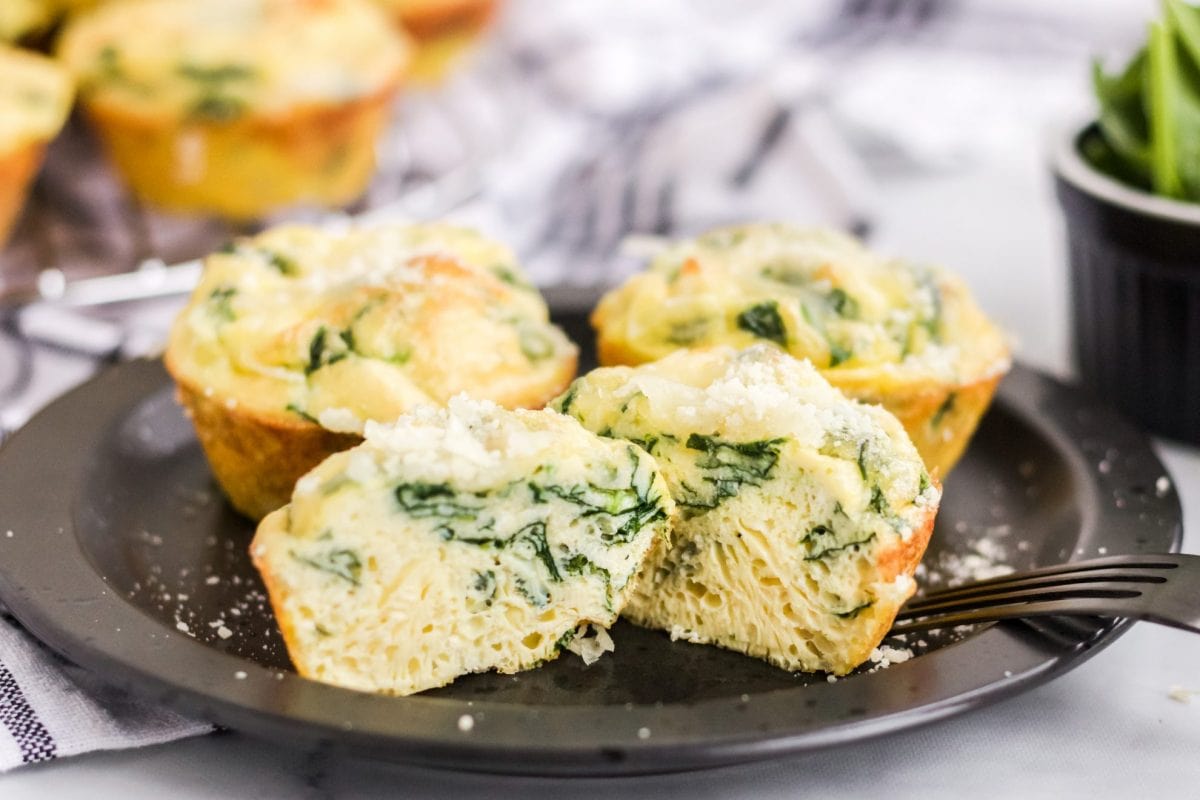 This breakfast egg muffin version of the classic french breakfast hero is crustless, making it super quick and easy to prepare and even easier to grab and eat on the go.
How to make egg muffins
Start by gathering your ingredients. For this recipe, you will need 12 eggs, cream, spinach, garlic, white cheddar and parmesan cheeses and a little bit of salt and pepper.

12 eggs – Choose large sized eggs for this recipe. If you are using only egg whites, double the amount of eggs and save the yolks for hollandaise sauce or homemade mayonnaise.
Cream or whole milk – traditional quiche florentine is made with heavy cream but whole milk will be fine in a pinch.
Spinach- Fresh spinach is best for this recipe, but you can use frozen. If using frozen, be sure to remove all access liquid before adding to egg mixture. Wring it out in a paper towel or tea towel. Excess water will lead to soggy egg muffins.
Garlic- One fresh garlic clove brings a wonderful rich depth of flavor, but you can also add about ¼ teaspoon garlic powder instead.
Cheese– Quiche Florentine is usually made with white cheddar, parmesan, gruyere or Swiss cheese. You can use whatever combination you prefer, just make sure it totals about 1 ½ cups. This is an excellent (or EGGcellent) way to use up leftover tidbits of cheese in your fridge.
Salt and pepper – you can adjust the quantities of these ingredients to suit your taste.
Cooking the spinach and garlic
For this recipe, you are going to wilt the spinach and sweat the garlic with a quick spin in the microwave. This will help protect the texture of the muffins, and also add a nice deep garlic flavor in the background.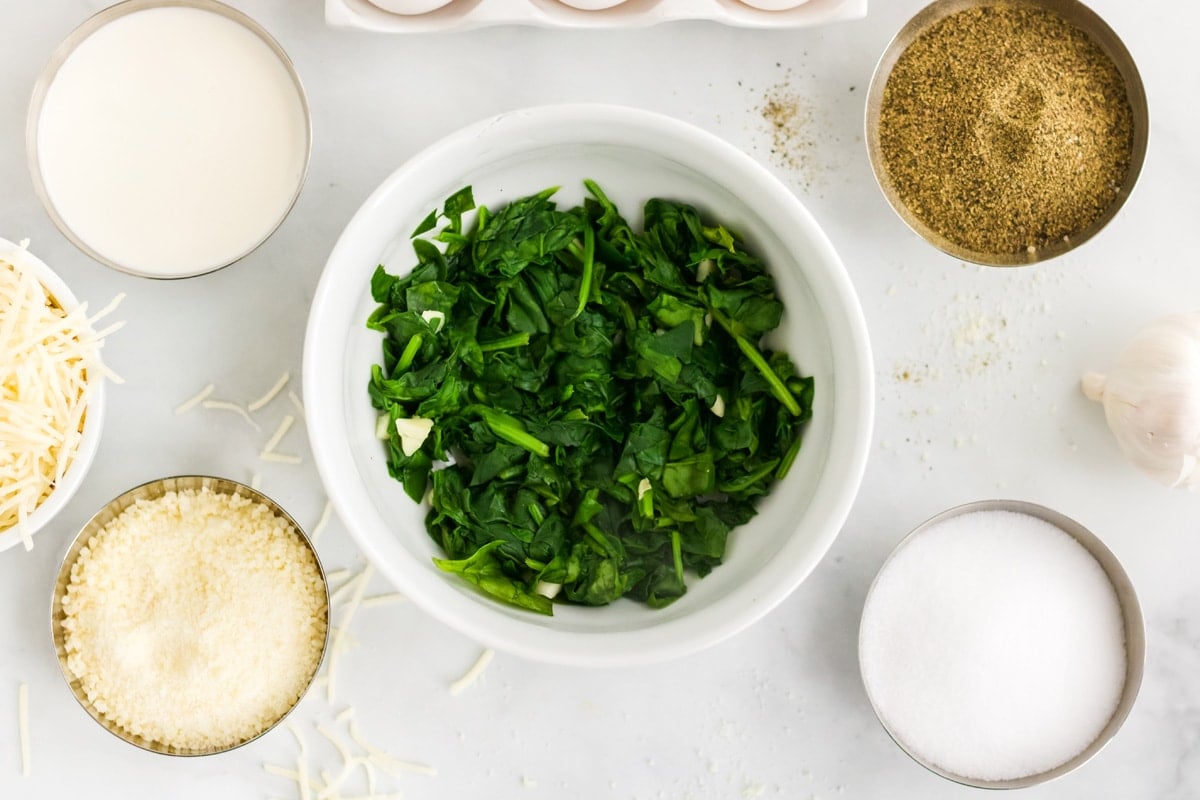 You can also wilt the garlic on the stove top. The general idea is to get the cooking process started so both the spinach and garlic finish cooking in the oven, but don't retain a lot of water.
This recipe is the perfect quantity to fill 12 muffin cups right to the top. Don't be shy and fill those cups all the way up. While cooking, they will puff up a bit like a cupcake but as they cool, they will settle down quite a bit and deflate.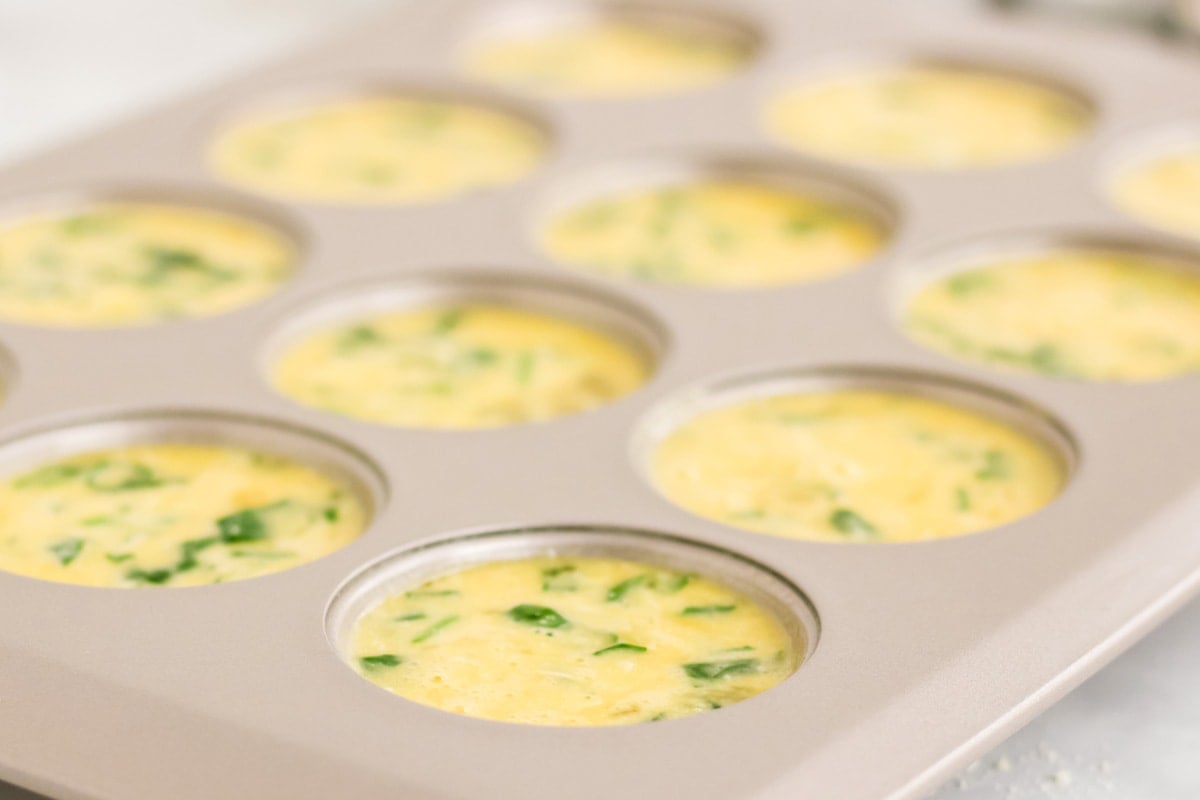 Make Ahead
One thing I love about this recipe is that it is super easy to make ahead of time and bake fresh for busy mornings. To make ahead of time, simply prepare as directed and store the filled muffin pan covered in the fridge overnight.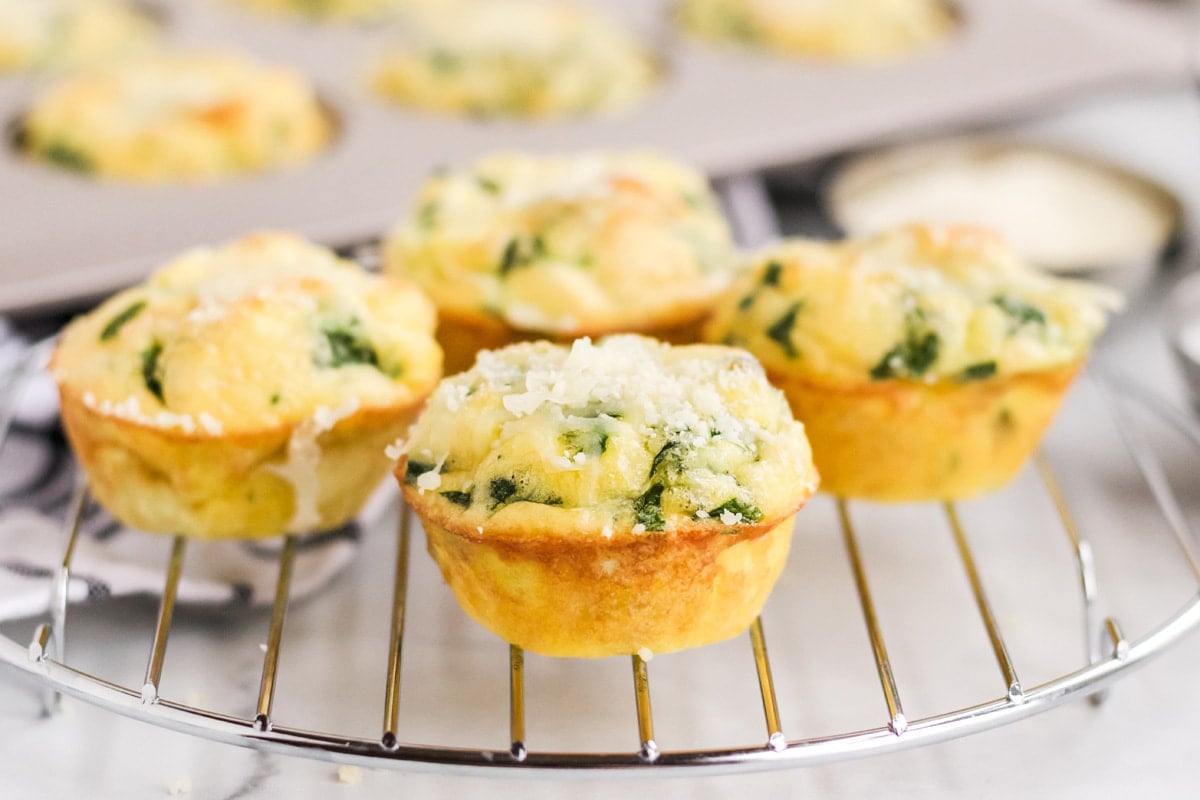 The next morning, bake as directed and you will have fresh egg muffins that taste like they were prepared the same day.
This quiche florentine recipe is also great for meal prepping. The muffins store really nicely and heat up great as well. To store, place in an airtight storage container in the fridge for up to 5 days.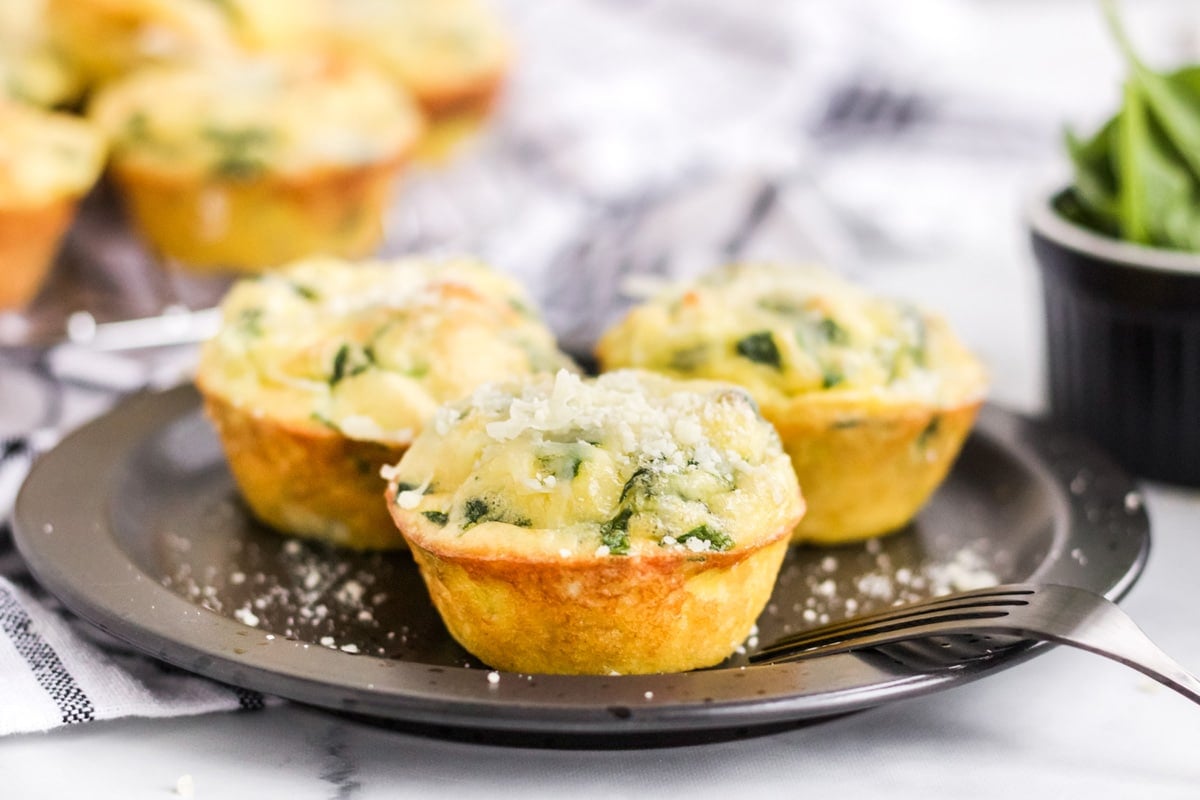 To reheat, I like to cut them in half and microwave in 30 second intervals and on 50% power. They heat up really quickly and you want to make sure not to overcook as they will get rubbery if you cook them in the microwave too long.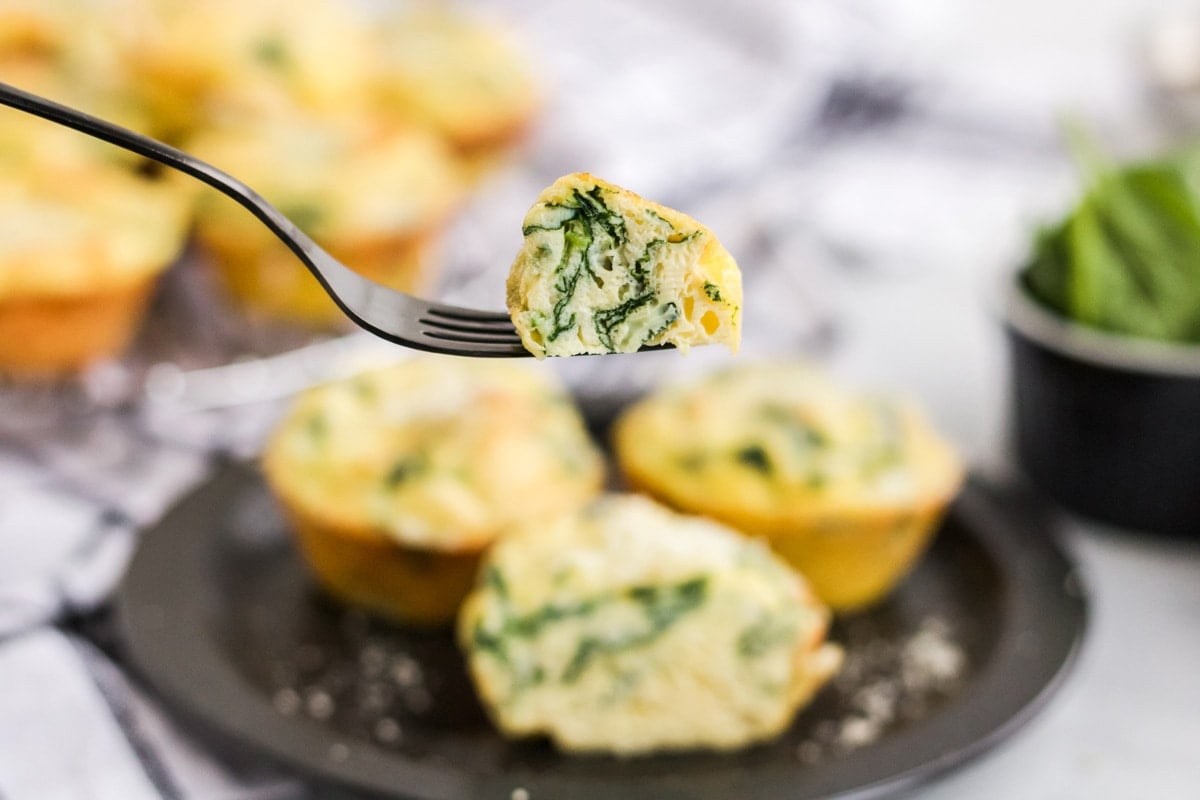 Freezing Spinach Quiche Florentine
These quiche florentine muffins freeze very well. Make them as directed and allow to cool completely. Then, store in an airtight freezer safe container or bag and store up to a month.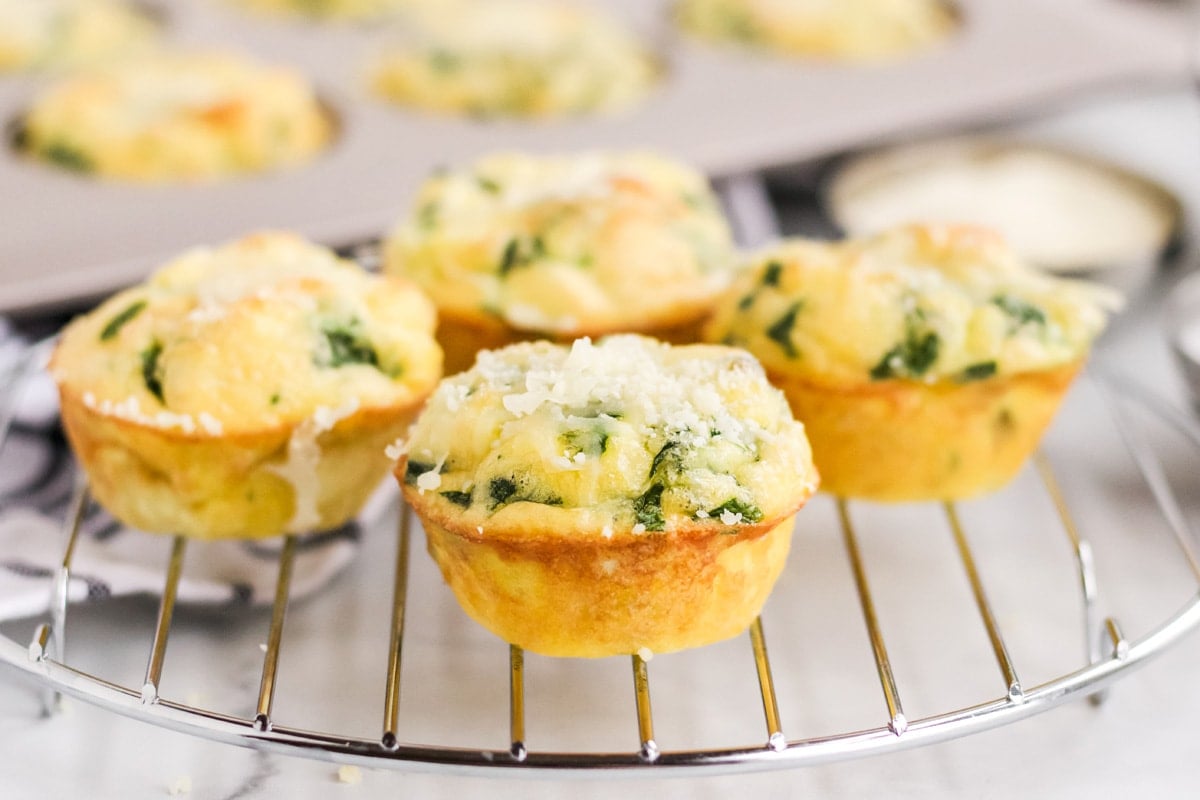 I like to portion mine out. I place two egg muffins in a small storage bag, filling six bags with two muffins each. Then I place those servings in a larger freezer bag to protect against freezer burn.
How to Reheat Quiche Florentine Egg Muffins
To reheat the frozen egg muffins, cook the same way as you would to reheat leftovers. Cook on a microwave safe plate in 30 second intervals checking often and cooking just until they are warmed through.
If cooked too long, the muffins will get rubbery and tough. So keep a close eye on them.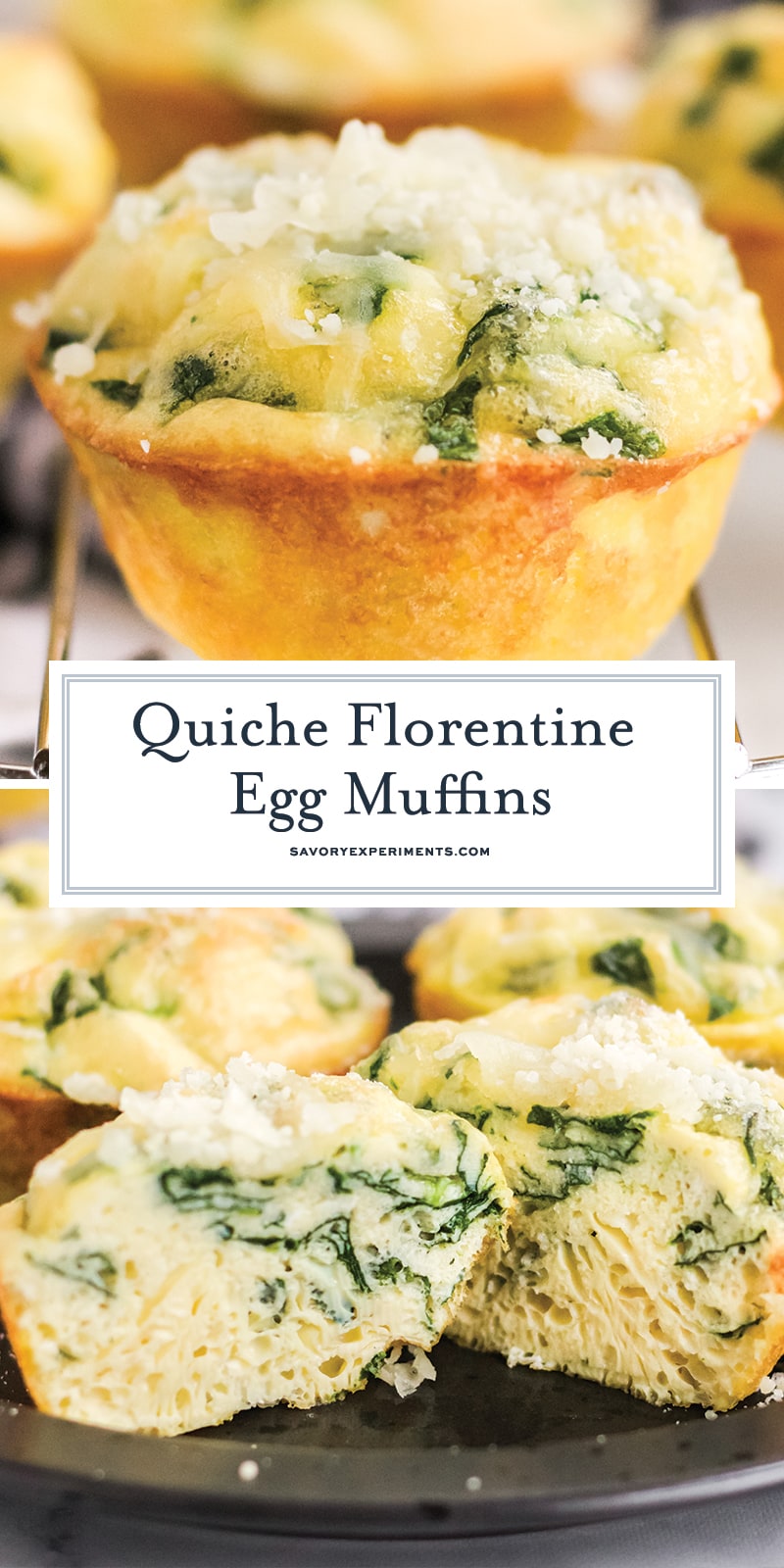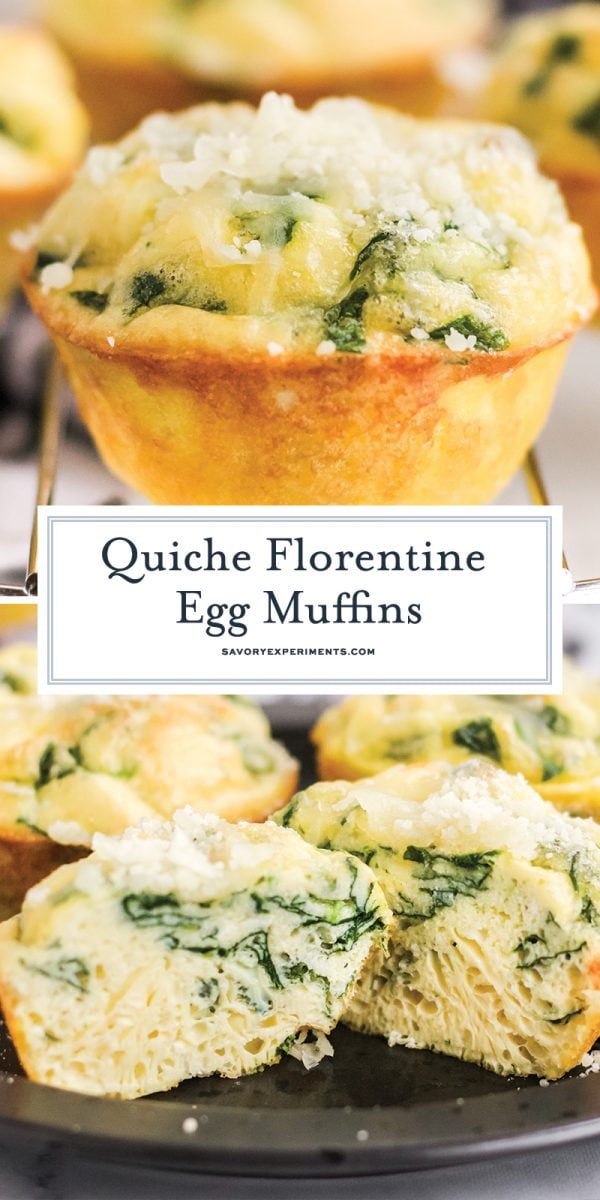 More egg breakfasts: