Recently made famous by KFC Nashville Hot Chicken, Nashville Hot Sauce is the sauce used on the regional dish that has been around way longer than KFC has been selling it.
The hot sauce is more of a paste or spicy oil than a sauce, thick and grainy, it is full of flavor.
Nashville Hot Sauce is a regional hot sauce made from cayenne pepper, other spices and brown sugar. Served on fried chicken to make Nashville Hot Chicken.
Have you ever been to Nashville? Hubby and I love it! We stay down on lower Broadway and hop from bar to bar listening to the stellar live music all day long.
Add a few good ole southern iced teas, moonshine, BBQ and Nashville Hot Chicken and you have yourself a nice little weekend.
In fact, it has been nearly a year since we have been which means we are due for a trip. But since we have two little running around, I'll have to settle on making myself a Nashville reminiscent meal.
Nashville Hot Sauce can be made with vegetable oil, butter base or straight up lard.
Although a vegetable oil base won't harden as easy and lard is much more stable, I personally like a butter base. You can use a smidge of honey or agave nectar to stabilize the sauce.
Julie says: "Soooo good- we loved it. Make sure you stir it every time you use it to mix well."
It just requires the sauce to be warmed up slightly before using, because butter solidifies when chilled.
Use clarified butter, butter without fat solids, works best. If you don't have time to whip up your own batch of clarified butter, grab a jar of ghee at the grocery store.
PRO TIP: Grab a jar of GHEE at the grocery store instead of making your own clarified butter!
Ghee is pantry stable clarified butter that doesn't require refrigeration. You can find it in the International aisle near Indian foods.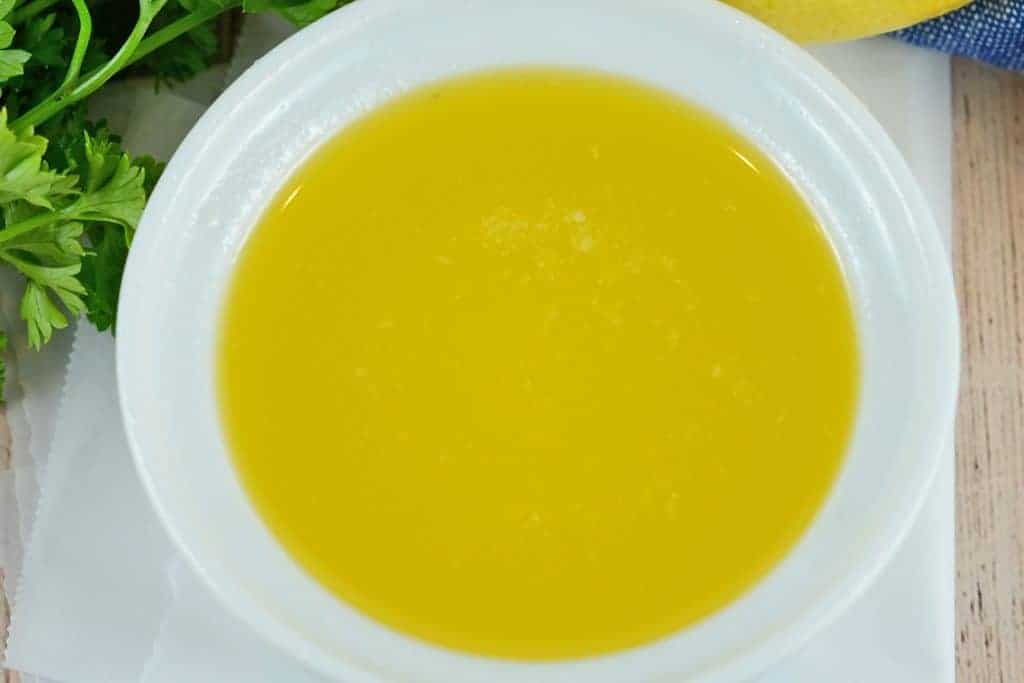 All butter sold in the United States must contain a minimum of 80% milkfat, the white, frothy stuff that comes up when it is heated.
Grades, ranging from the best grade AA to grade B, are based on flavor, body, color and salt and water content.
You can also vary the amount of cayenne pepper used to adjust the heat. We like it hot, so I use a lot!
Traditional Nashville Fried Chicken is served on white bread with pickles. However, I wanted something a little more hearty and sweet to compliment my Nashville Hot Sauce, so I opted for buttermilk biscuits.
Who doesn't love biscuits?
Hattie B's Hot Chicken is probably the most popular, but nearly everywhere has their own version. If you have a favorite, I'd love to hear it in the comments!
Jeff says: "So good thank you. I added a tablespoon of honey as well to get more of a glaze and it helped with stabilizing the spices in the butter. I served home fried chicken smothered in nashville hot sauce on ciabatta rolls.

Reminds me of a American version of hot chilli oil for Chinese dumplings. My new favorite way to eat chicken. Might try it on dumplings too."
But according to Nashville historians, Nashville Hot Chicken didn't originate there. Although it had been around for decades, it was Prince's Hot Chicken Shack that brought it to popularity.
And, of course, KFC has now brought it to the masses. I would be hard pressed to find a true hot chicken eater to say it even comes close to comparing to the read deal though.
Also served with vinegary pickles, I used my honey habanero pickles.
Serve over my:
You can also freeze your Nashville Hot Sauce! Simply put it in an airtight container or plastic bag with as little air as possible.
Freeze it for 3-4 months. Make a double batch!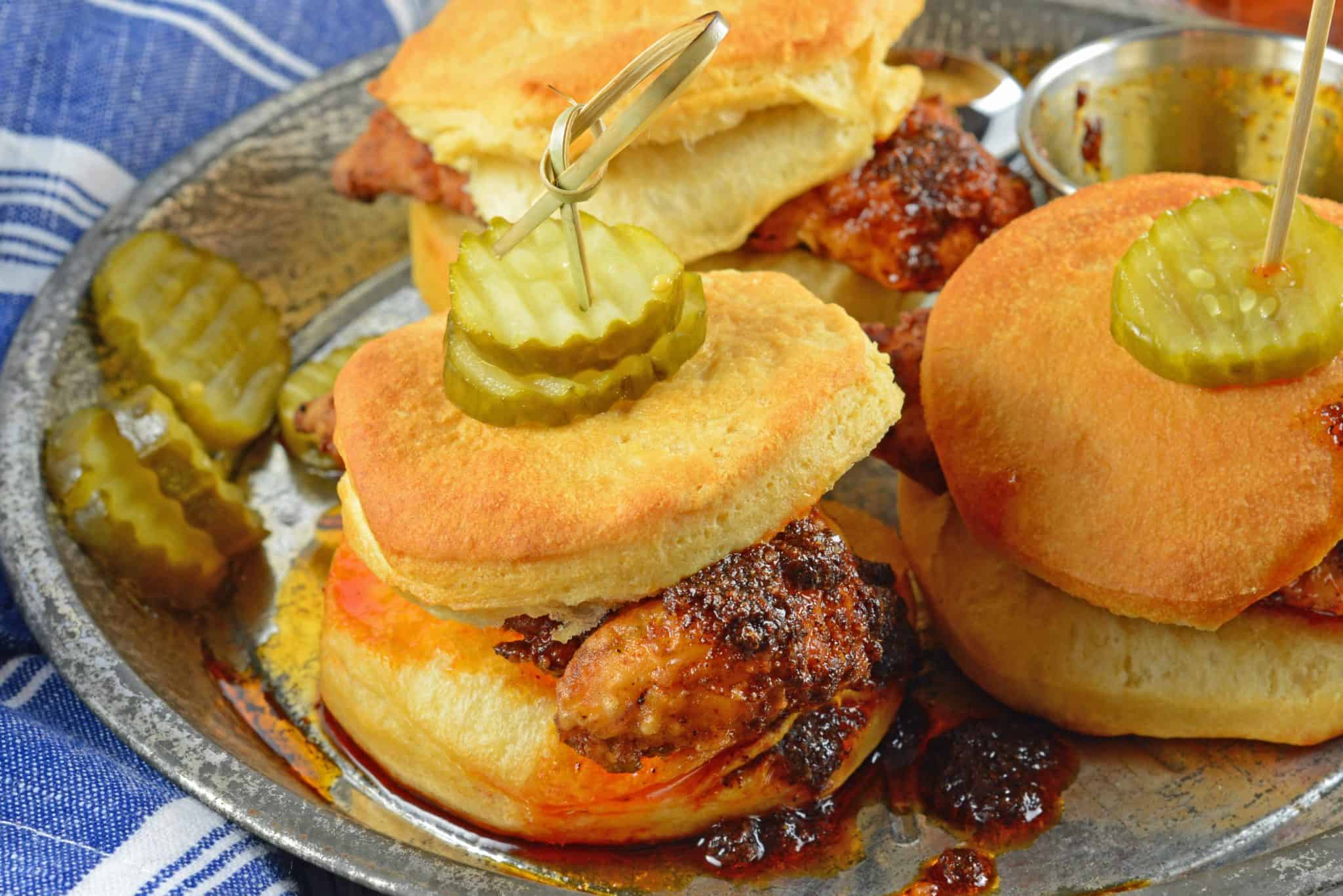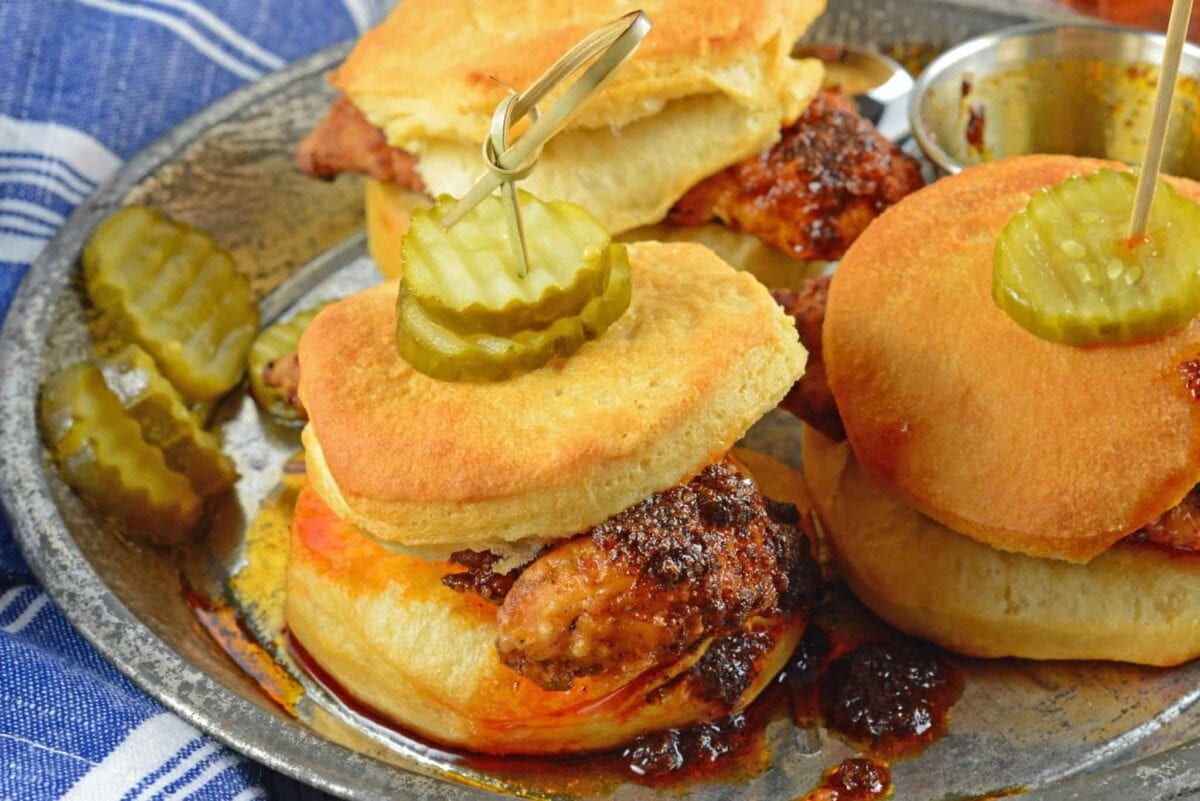 More spicy food!
Sriracha Aioli Recipe (Spicy Aioli(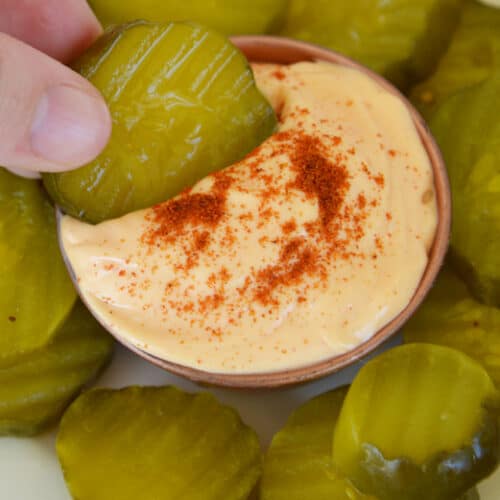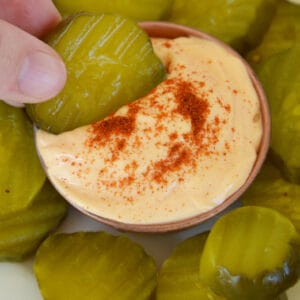 With only 4 ingredients and a few minutes, you can have a spicy sauce that is amazing! Sriracha Aioli is great on sandwiches or as a dipping sauce!
Spicy Thai Chicken Pizza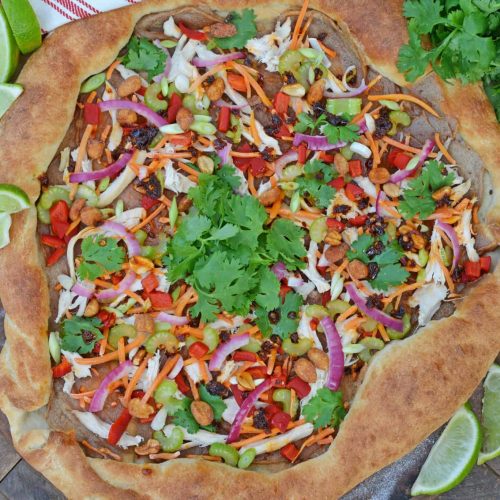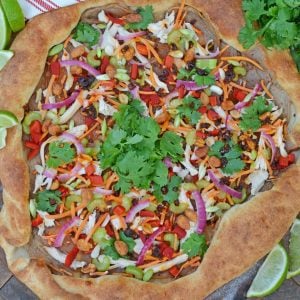 Spicy Thai Chicken Pizza uses a rich peanut satay sauce with shredded chicken, colorful vegetables and topped with sweet honey roasted peanuts and spicy chili oil.
Tools you'll need to make Nashville Hot Sauce:
Heavy Bottom Saucepan – a heavy bottom will ensure even heating regardless of what type of heating element you are using.
Airtight Plastic Containers– Great for store any leftovers. Make sure you have a large enough set.
Questions you might have about how to make Nashville Hot Sauce:
What makes it Nashville Hot Chicken? The preparation of the chicken, which is generally a buttermilk brined fried chicken, and of course, the sauce.
Many other hot sauces are simply ground chiles and a vinegar base, while Nashville hot sauce uses lard, oil or butter.
The cayenne pepper stays grainy instead of blended smooth. The other spices are proprietary to each restaurant or recipe. None of them are right or wrong, but personal preference.
Can I freeze hot sauce? Nashville Hot Sauce doesn't freeze so well because of the butter. You can surely try and it should be okay, but I've never tried it personally.
Do I have to use clarified butter? You don't have to and I know that step seems unnecessary, but getting all that butter fat out for a liquid gold is totally worth it for texture and flavor.
What flavor is Nashville Hot? It is a spicy chile powder flavor. Some are a little more sweet and others spicier. It depends on the recipe and all are acceptable.
What can I substitute for butter? Many Nashville joints don't use butter at all, they use vegetable or canola oil. You can use either.
What can I substitute for honey? You can omit the honey or substitute it with agave nectar.
What should I serve with my Nashville Hot Chicken? Traditional sides are the same for all BBQ. My favorite include: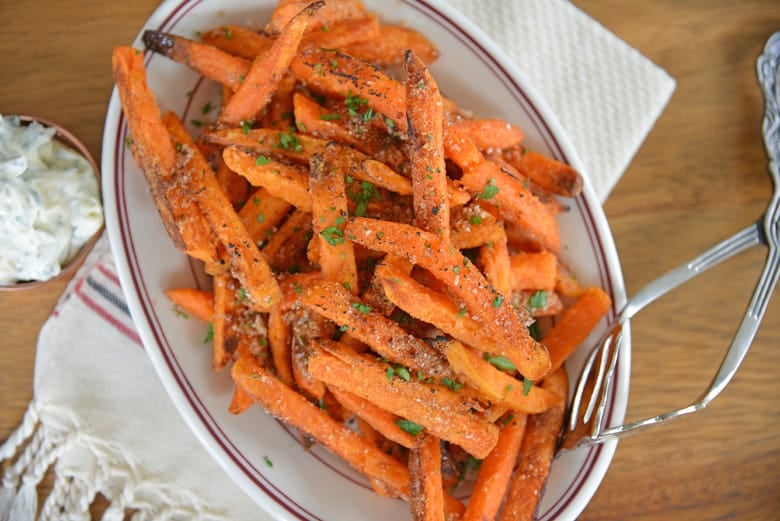 Nashville Hot Sauce is a regional hot sauce made from cayenne pepper, other spices and brown sugar. Served on fried chicken!
Check out even more popular recipes on our site:
CONNECT WITH SAVORY EXPERIMENTS!

Be sure to follow me on social media, so you never miss a post!

Facebook | Twitter | Youtube
Pinterest | Instagram

Get our FREE 8 Day E-Course on How to Be a Better Home Cook. Sign up HERE!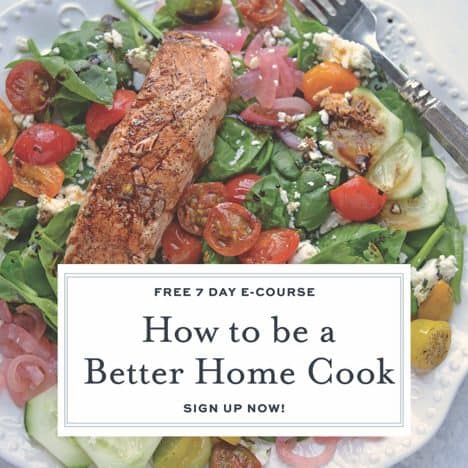 Nashville Hot Sauce
Nashville Hot Sauce is a regional hot sauce made from cayenne pepper, other spices and brown sugar. Served on fried chicken!
Instructions
Combine clarified butter with the rest of ingredients in a heavy bottom saucepan. Stir over low heat until combined.

Make sure to come back and let us know how you liked this recipe. We love comments and ratings!
Nutrition
Calories:
263
kcal
|
Carbohydrates:
14
g
|
Protein:
1
g
|
Fat:
23
g
|
Saturated Fat:
14
g
|
Cholesterol:
61
mg
|
Sodium:
1369
mg
|
Potassium:
118
mg
|
Fiber:
1
g
|
Sugar:
10
g
|
Vitamin A:
2515
IU
|
Vitamin C:
2.9
mg
|
Calcium:
22
mg
|
Iron:
0.6
mg