Maître d'hôtel butter. Chances are you've had it, whether you realized it or not. You might also see it called just maitre d butter, either name is acceptable.
Maitre d'Hotel Butter is a simple compound butter recipe that elevates food with basic flavors: lemon, parsley and mustard. Use it as a finishing butter on meats and vegetables for added pizzazz or just slather it on crusty bread for an extra umph.
What Is Maitre d'Hotel Butter?
The history is even more impressive than its wide range of uses, Maitre d'Hotel Butter is literally translated from French as "master of the hotel." In hotels, this usually meant the head waiter, would whip up his special blend of compound butter to be used as a finishing lather on dishes.
Most are made of a good quality butter, salt, parsley and lemon, but I once saw a chef also add a dab of Dijon mustard and sprinkle of smoked paprika to make it more jazzy and a little bit of color.
One common misconception is that they are all garlic herb butters. While some do contain fresh garlic, not all do and many don't to not compete with the flavor profile it is trying to complement.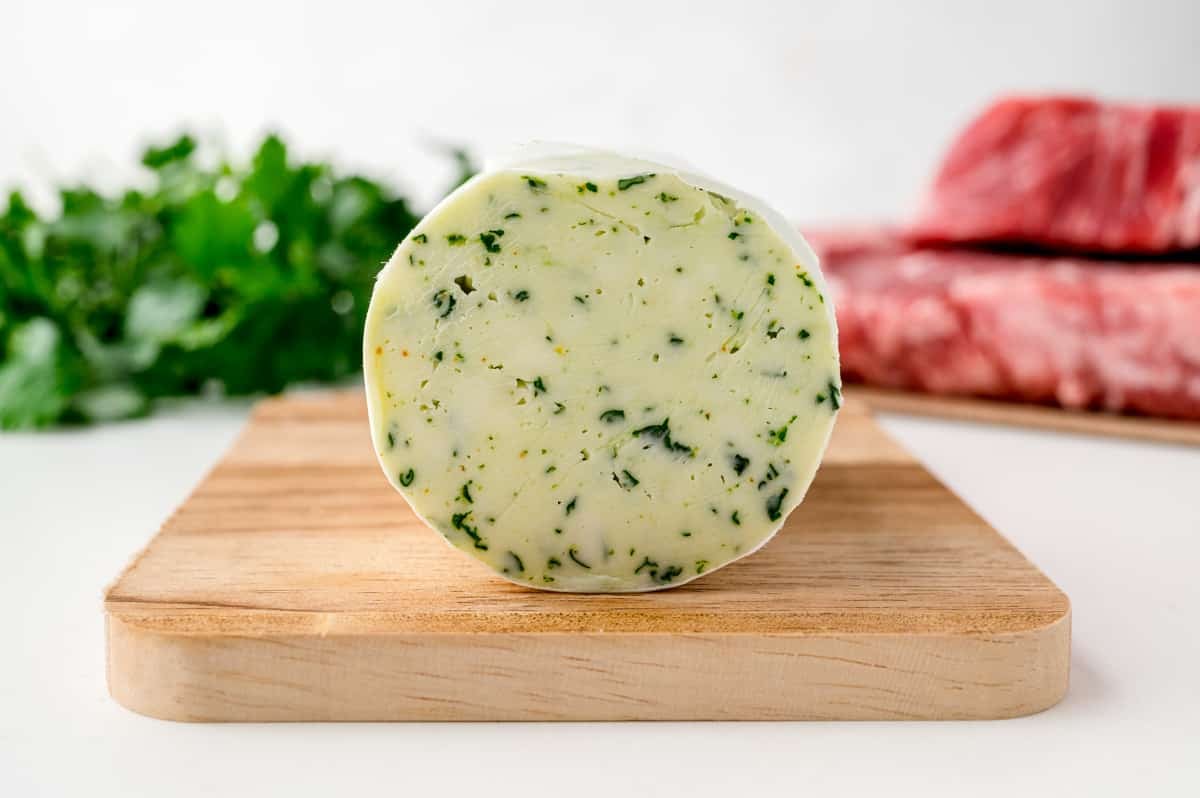 What You'll Need
The ingredients are basic and very versatile, so feel free to make minor adjustments or omit anything that doesn't float your boat.
Good quality unsalted butter- Butter comes in grades and for this type, you want a really good flavored butter. I like using European grass fed butters with a deep yellow hue. I prefer unsalted so I can control the saltiness myself, but if you use a salted butter, you might need to adjust the amount of additional salt or omit it altogether.
Fresh lemon juice & zest– Juice and zest give markedly different flavors of lemon. Juice is tart and acidic while zest is bright and offers a pure lemon flavor without the pucker.
Flat parsley (Italian parsley)– This type of fresh parsley is better for actual cooking while curly parsley is better for garnish. Any type of fresh herb can be used.
Dijon Mustard- You can get as crazy as you want and use whatever type of mustard you fancy, but I will tell you that Dijon is the most verstile.
Fine sea salt– Sea salt doesn't have a potential metallic aftertaste. Fine salt will distribute more evenly and dissolve into the mixture faster. Kosher salt can also be used.
Smoked paprika– I love the smokiness and rosy hue this gives the butter. Sweet or Hungarian paprika can be used, or it can be omitted.
Blend all of the ingredients together and allow them to chill and the flavors to marry. Some like to roll it in a piece of parchment paper, wax paper or plastic wrap and then slice it. If you plan to pipe it, just let it chill in the mixing bowl.
Alternately, use a small food processor and blend it this way.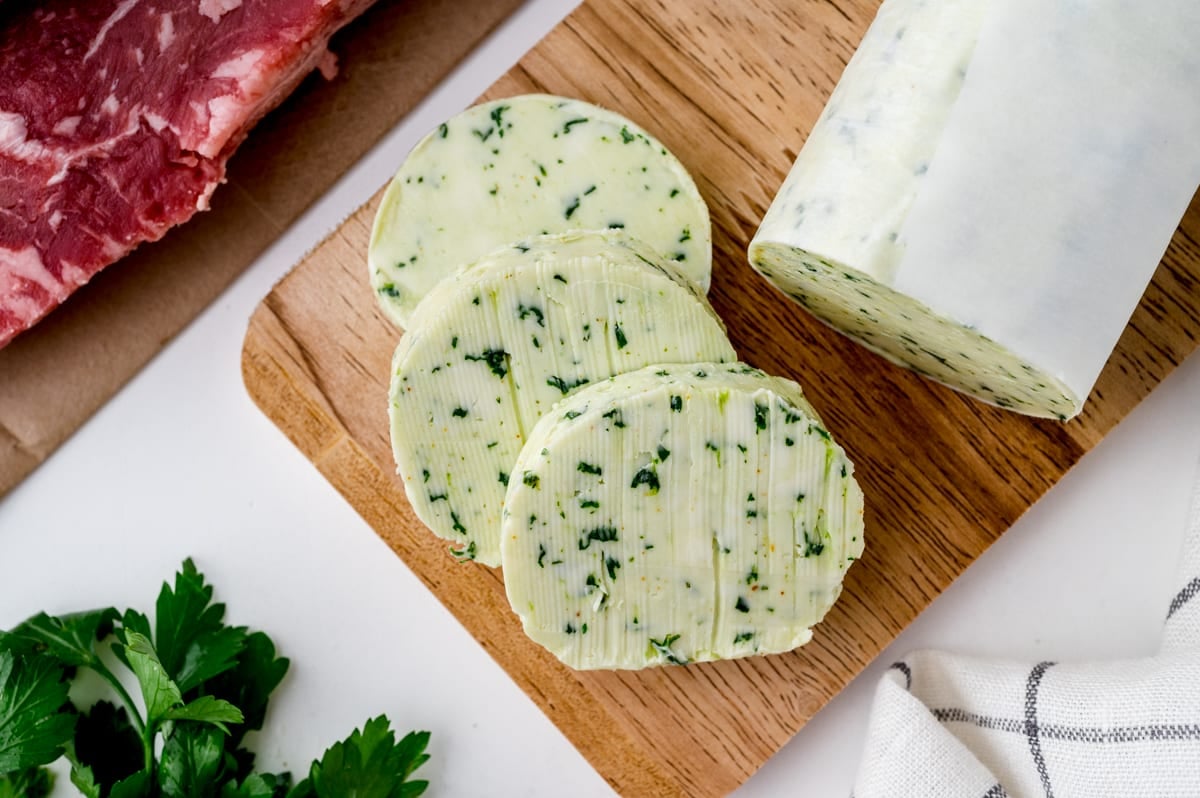 Variations
One of the things I love about homemade fresh herb butters is that every batch is slightly different and it is easily customizable. Some of my favorites include:
Capers, chopped
Red onion, minced
Anchovies, minced
Fresh herbs, minced- such as basil, cilantro or thyme
Fresh garlic, grated
Horseradish, grated and drained
Freshly ground black pepper
Dash of Worcestershire sauce
Blue cheese crumbles
How to Use It
Maitre d'Hotel Butter can be used to saute mushrooms or onions, really any vegetable, but it also perfect for the last sheen on an omelet or steak frites, a technique used by many high end steak houses. You can use it for nearly anything that you would use a flavored olive oil.
Bread
Grilled or roasted vegetables
Paninis
Mac and cheese
Poached fish and seafood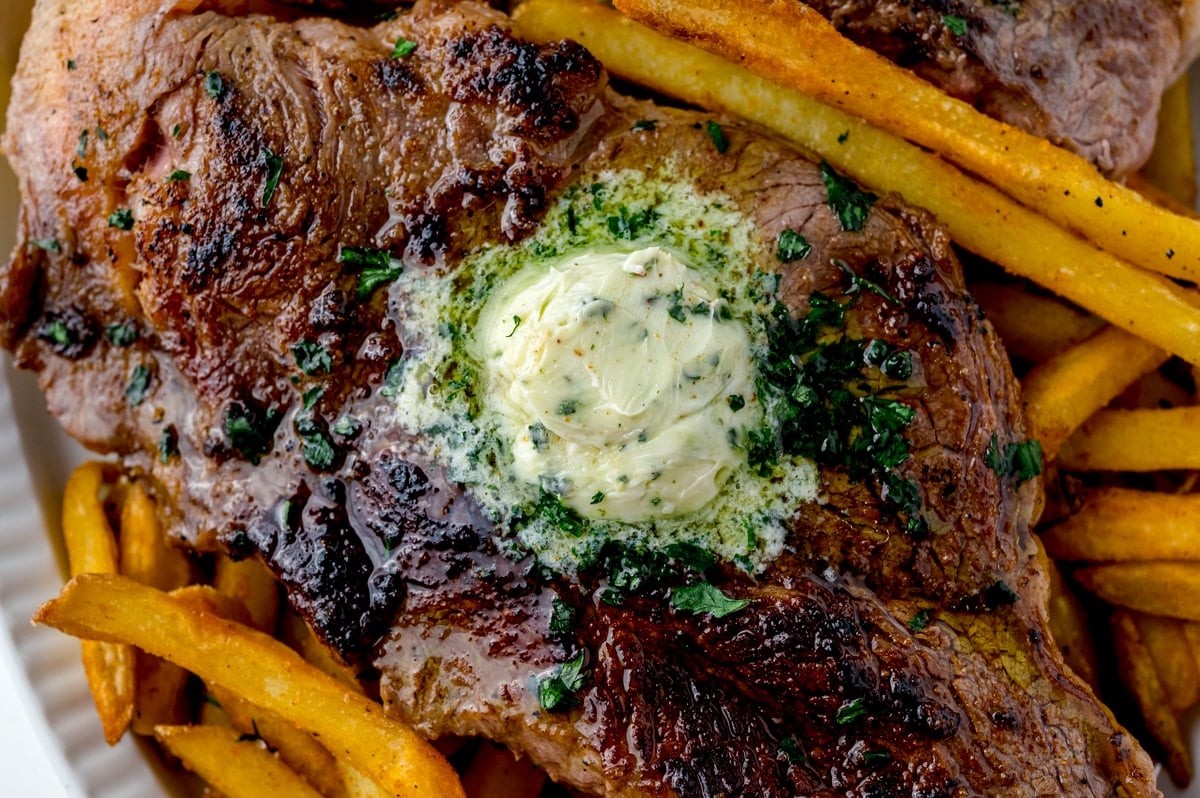 Special Occasion Butter
For special occassions, allow butter to come to room temperture, place it in a frosting piping bag, and make rosettes on parchment or wax paper.
Place back into the refrigerator or freezer and transfer to individual plates when ready to serve.
If you wait for it to hit room temperature, you can even use a pastry bag and frosting tip to pipe out small amounts onto a piece of wax paper or use a small scoop for butter balls.
Easy compound butters are perfect for taking an ordinary meal to amazing. Make sure you check out my whole list of flavored butters!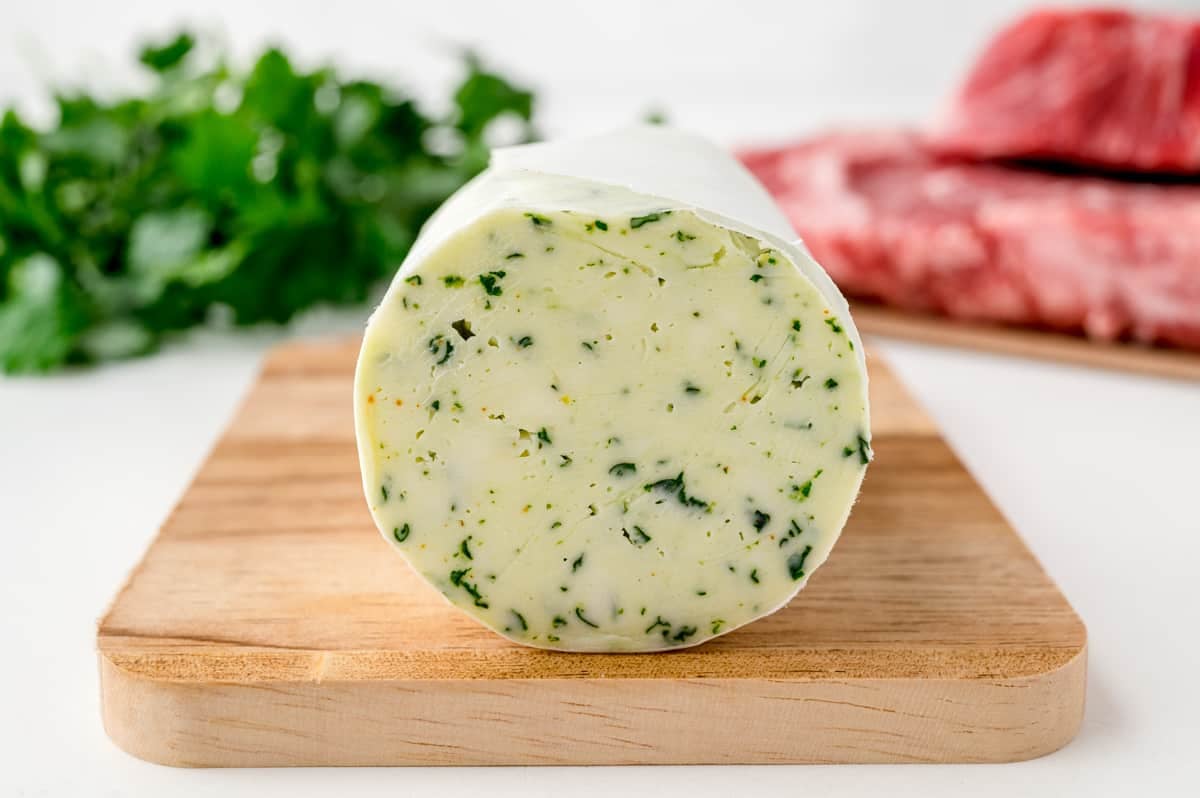 Storage & Freezing
How long does maitre d butter last? The same amount of time as regular butter if kept chilled and properly stored. Store in an airtight container in the fridge.
Why does my butter taste funny? Chances are that you stored it near something else particularly pungent. Butter has the tendency to take on other smells and flavors.
To prevent this, cover well and don't store near super smelly foods. This is why most fridges have their own dedicated butter compartment.
Butter is also great for freezing. Wrap well or place into an airtight plastic bag and freeze for up to 6 months.
More Butter Recipes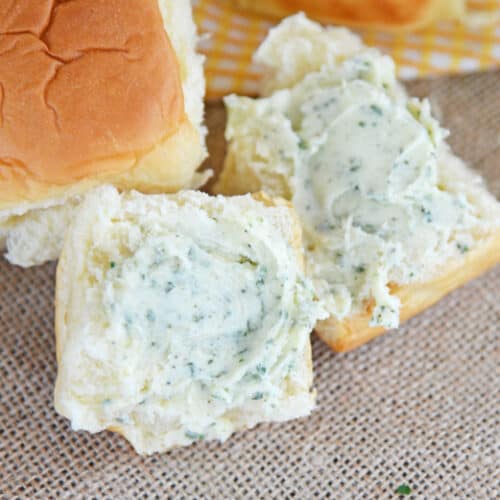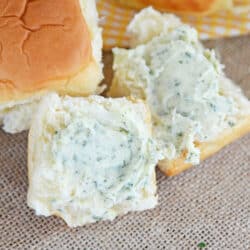 Ranch Butter
Ranch butter is easy homemade seasoned butter perfect for taking any dish using regular butter to the next level. Baked potatoes, pasta, seafood & poultry!
See The Recipe!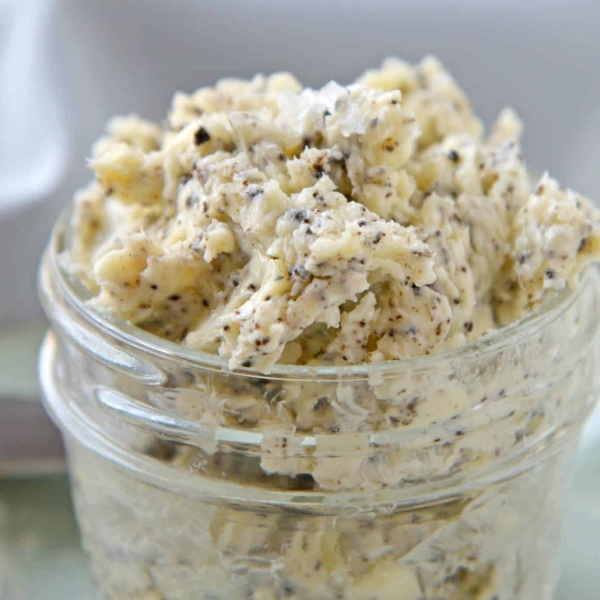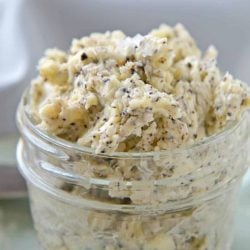 Truffle Butter
This Homemade Black Truffle Butter is so easy to make! Only 3 ingredients and a few minutes needed. You'll never get it at the store again!
See The Recipe!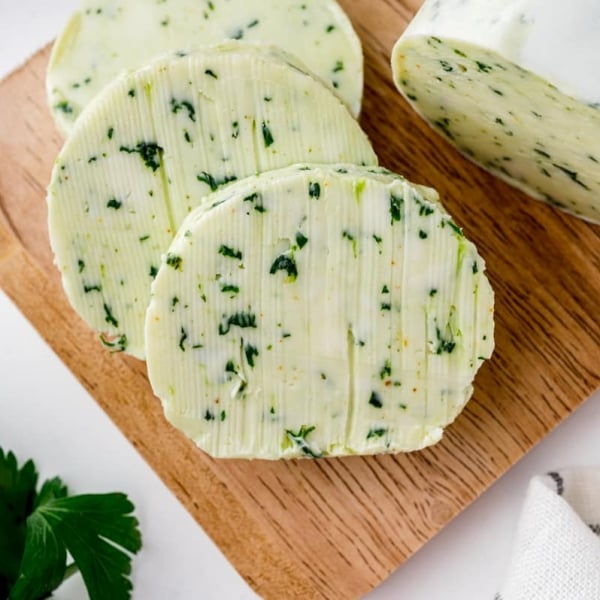 Maitre d'Hotel Butter Recipe
Maitre d'Hotel Butter is a simple compound butter recipe that elevates food with basic flavors: lemon, parsley and mustard. Use it as a finishing butter on meats and vegetables for added pizzazz.
Equipment
Heat Resistant Rubber Spatula
Instructions
Use a fork or spatula, mash together the butter, parsley, lemon zest and juice, mustard and salt.

Transfer the butter to a piece of wax paper, forming into a log. Roll up like a piece of candy, twisting both ends.

Refrigerate until hard, allowing flavors to infuse, a minimum of 1 hour.

Use on steaks, vegetables or even bread.

If you've tried this recipe, come back and let us know how it was in the comments or star ratings!
Nutrition
Calories:
814
kcal
,
Protein:
1
g
,
Fat:
92
g
,
Saturated Fat:
58
g
,
Cholesterol:
244
mg
,
Sodium:
1108
mg
,
Vitamin A:
2835
IU
,
Calcium:
27
mg