Whether for Taco Tuesday or any time you're craving tacos, this taco seasoning recipe is always good to have on hand. You won't believe how easy it is to make and how many other uses it has well beyond tacos.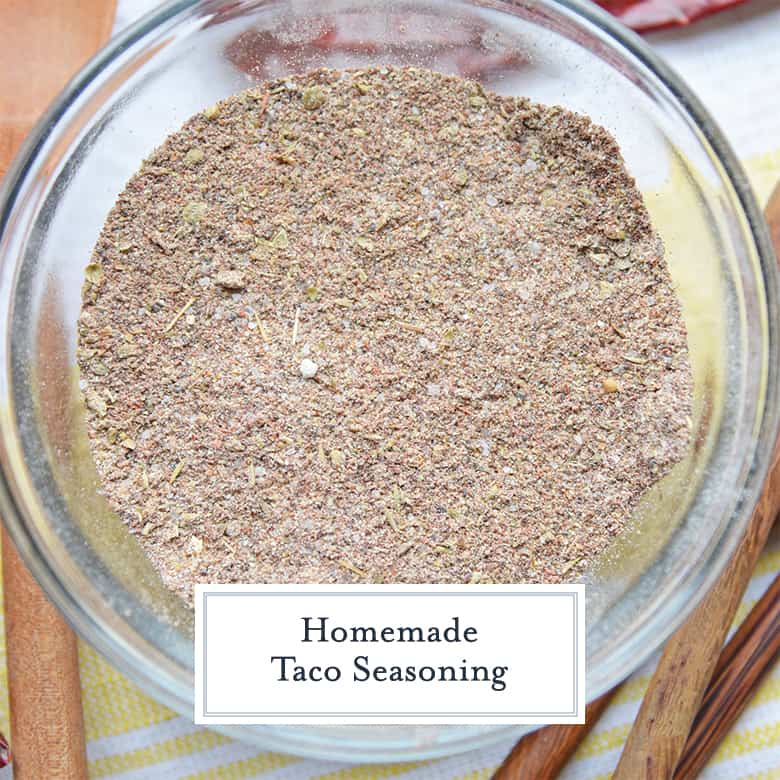 I'm not going to sit here and tell you that buying packaged taco seasoning at the grocery store isn't easy or cheap, but I will tell you that homemade taco seasoning is also easy and even cheaper and this is a great recipe for it.
The best part about it? There are no preservatives, no crazy ingredients you can't pronounce.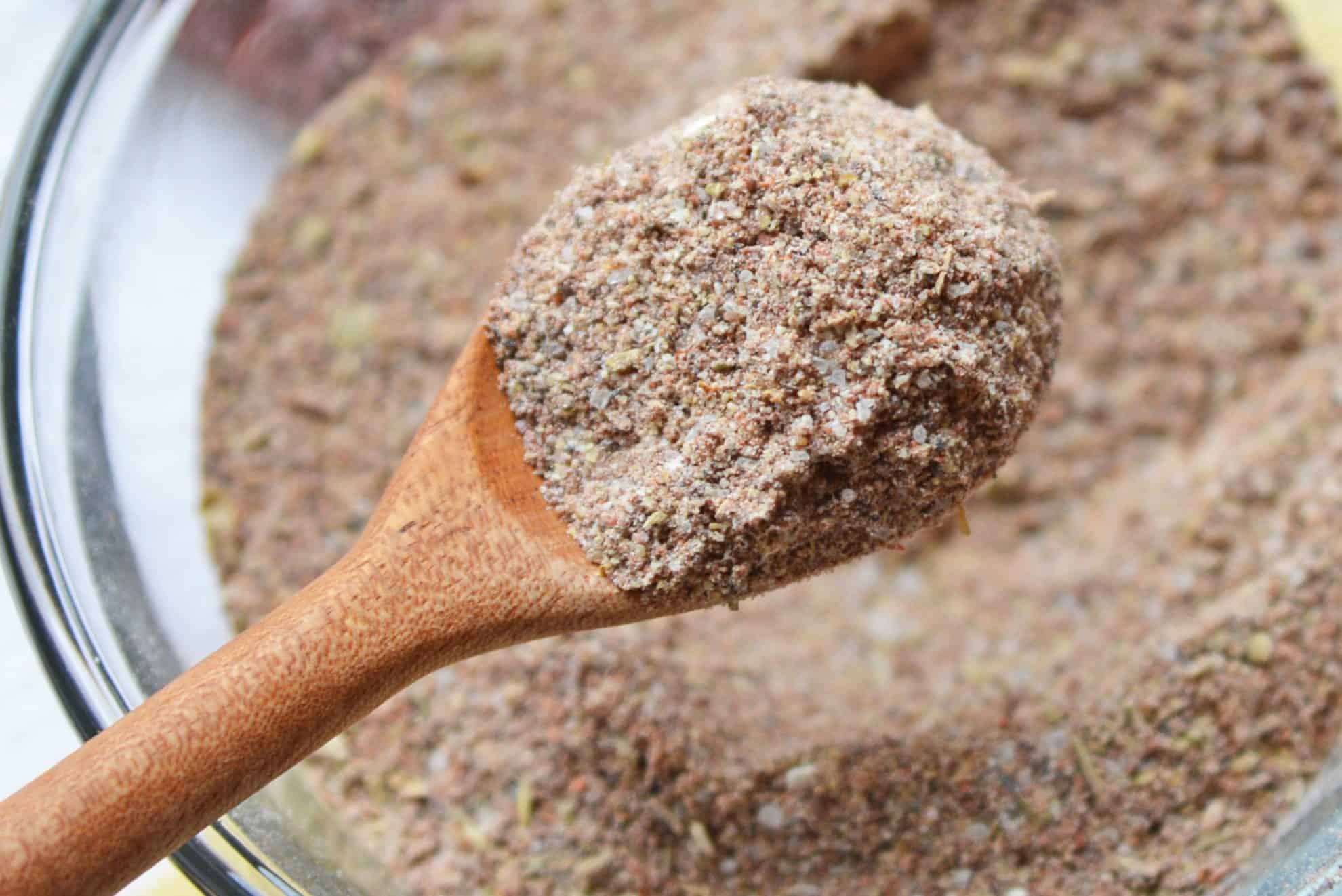 Why Should You Make It?
Creating your own homemade seasoning has numerous advantages over store-bought packets.
Control: You have full control over the ingredients, ensuring there are no additives or preservatives. This also includes salt if you are watching salt intake.
Heat & Spice: You can customize the spice level to your liking, making it as mild or as fiery as you desire for your family's taco night.
Budget Friendly: it's a more cost-effective option, allowing you to whip up multiple batches at a fraction of the cost of store-bought versions. While it seems fine if you just need one, it can break the bank if you are making big batches!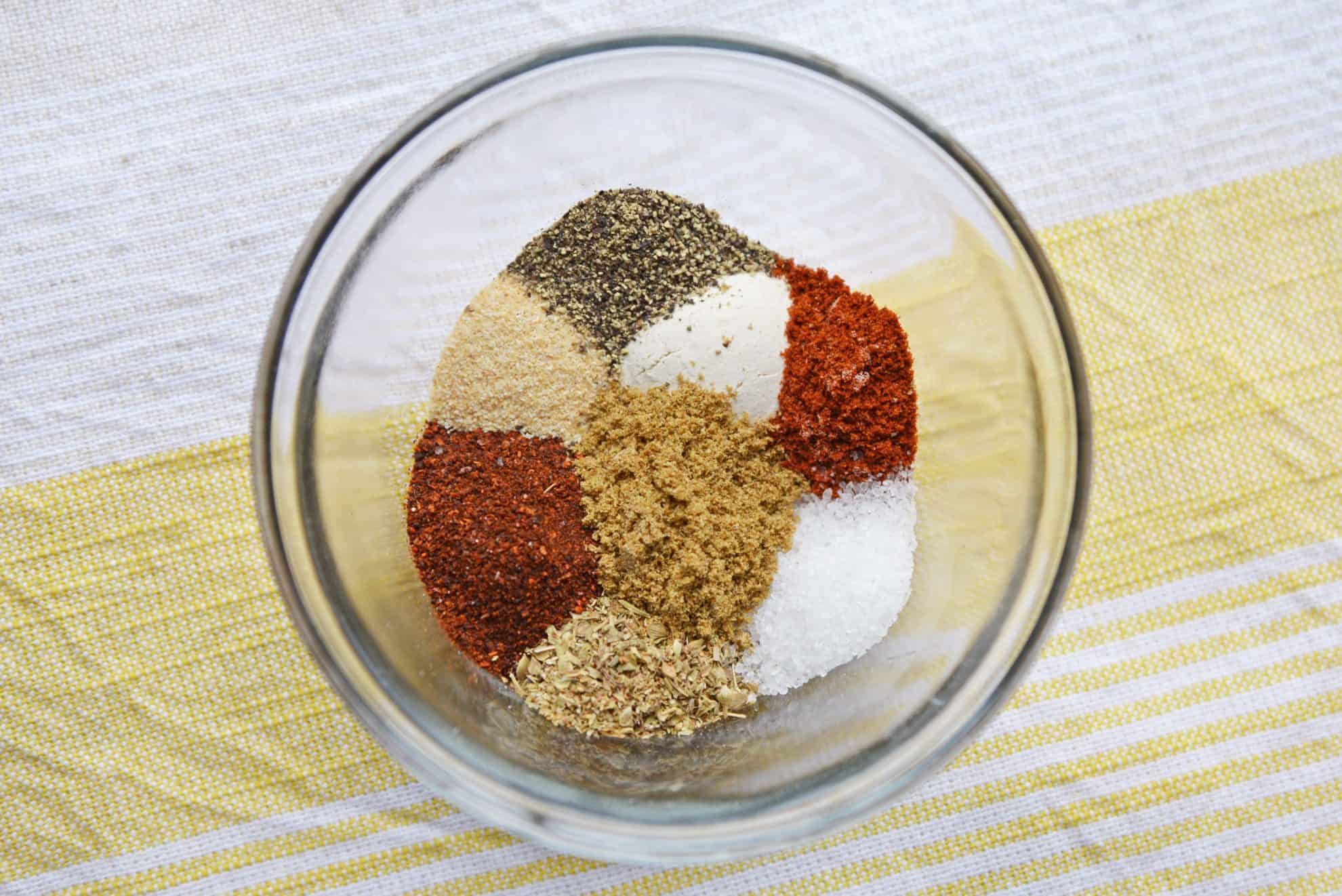 What's In Taco Seasoning
Store bought packets can contain over 100 ingredients, some of them aren't even listed because they have trace amounts. Some are to prevent caking and others to perserve flavor.
More than likely, you already have all of the ingredients for this recipe in your spice cupboard. Better yet, it is easily adjustable based on availability and personal preference.
Chili Powder: A blend of ground dried chili peppers, it offers a rich, earthy, and slightly smoky flavor with a moderate level of heat, adding depth and warmth to dishes. Chili powder is a blend of different chiles meant to season the stew dish, chili. If you prefer a particular type of chile, like chipotle or ancho, feel free to use those instead of a blend.
Ground Cumin: Cumin boasts a warm and aromatic taste with a slightly nutty undertone. It is a key spice in many cuisines worldwide and provides a unique combination of earthiness and citrusy notes, adding a distinct and flavorful touch to various dishes.
Coarse Kosher Salt: Less salty than table salt due to its larger crystal size. It offers a clean and pure salty taste without any bitterness, enhancing the natural flavors of the ingredients in a dish while providing a satisfying seasoning effect. It is also naturally preserves this blend so it is shelf stable for long periods.
Garlic Powder: A convenient alternative to fresh garlic, offering a concentrated and mellow garlic flavor. Fresh garlic can also be used, but it not shelf stable, so this is a winner.
Onion Powder: A concentrated onion flavor that is both sweet and savory without the sharpness of fresh onions.
Dried Oregano: Oregano brings a distinct herbal flavor to dishes and is commonly used in Latin cuisines.
Paprika: Made from dried and ground sweet red bell peppers or mild chili peppers. It offers a sweet and mildly smoky flavor with a vibrant red color. While it adds a hint of spiciness, its primary contribution is the rich, sweet undertones it imparts to dishes. Use a spicy, sweet or smoked version.
Ground Black Pepper: A staple spice known for its pungent and warm flavor with a subtle earthiness.
Next all you have to do is combine these seasonings together and use them in the recipe that calls for taco seasoning!
If you want a super fine blend, like you would get in a packet, place it all in the spice grinder (or clean coffee grinder) and give it a few whirls.
Using Taco Seasoning Beyond Tacos
While this seasoning blend is perfect for tacos, it's incredibly versatile and can be used to enhance a wide array of dishes; much more than just Mexican food. Try it in:
Roasted Vegetables
Popcorn
French fries
Tater tots
Eggs
Fish
Crab boil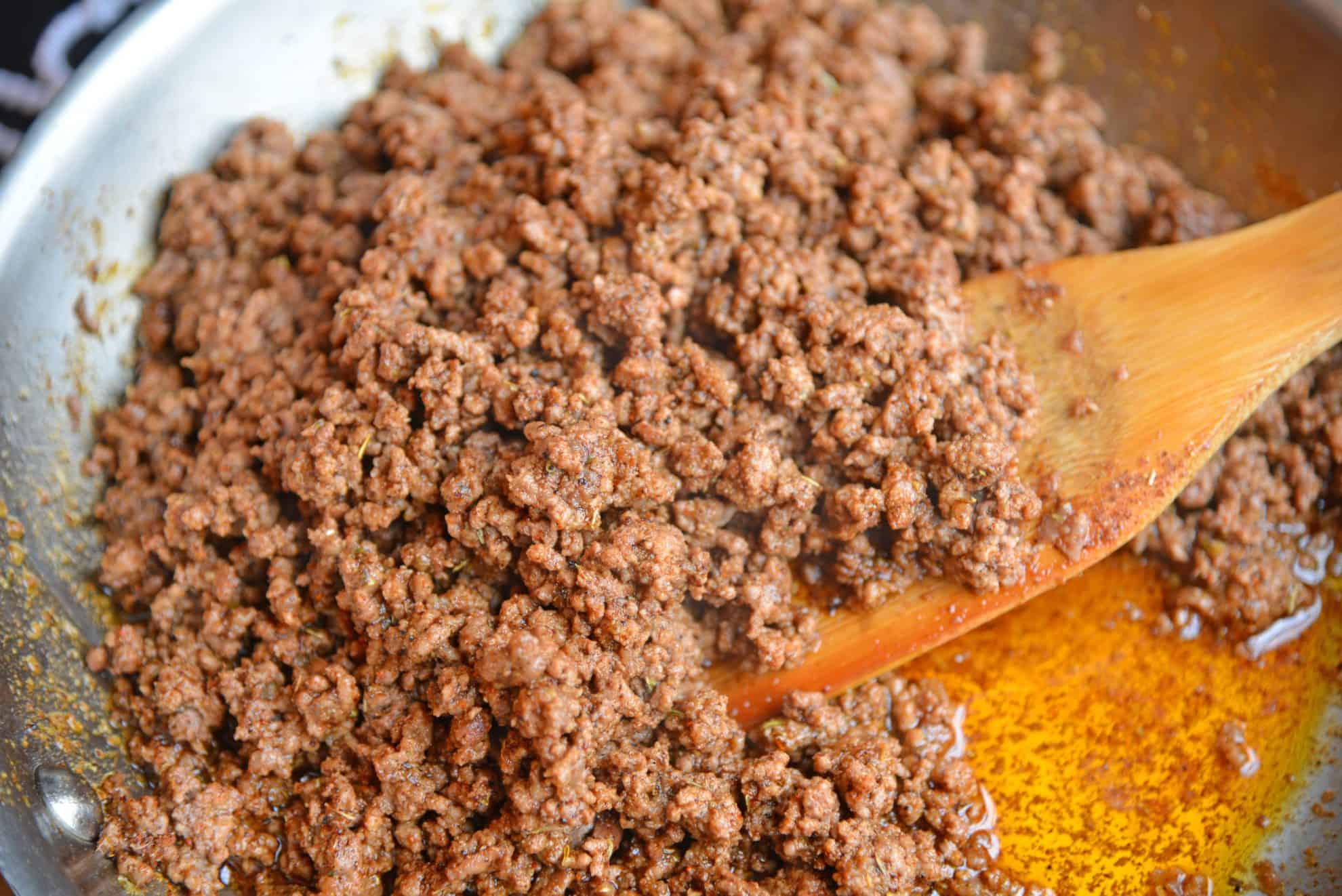 How to Make Ground Beef with Taco Seasoning
Heat a large skillet over medium-high heat and add the ground beef. If using a lean blend, add 1-2 teaspoons of a neutral oil to prevent sticking.
Cook the ground beef, breaking it into small crumbles with a spatula, until it's fully browned and no longer pink.
Once the beef is cooked, drain any excess fat from the skillet.
Sprinkle the taco seasoning evenly over the ground beef and stir to combine, ensuring all the meat is coated with the seasoning.
Pour 1/4 cup of water or low-sodium beef broth into the skillet, and stir it into the beef and seasoning mixture.
Reduce the heat to medium-low and let the mixture simmer for about 5 minutes or until the liquid has mostly evaporated, allowing the flavors to meld.
Taste the beef and adjust seasoning if needed, adding more taco seasoning or salt to suit your taste preference.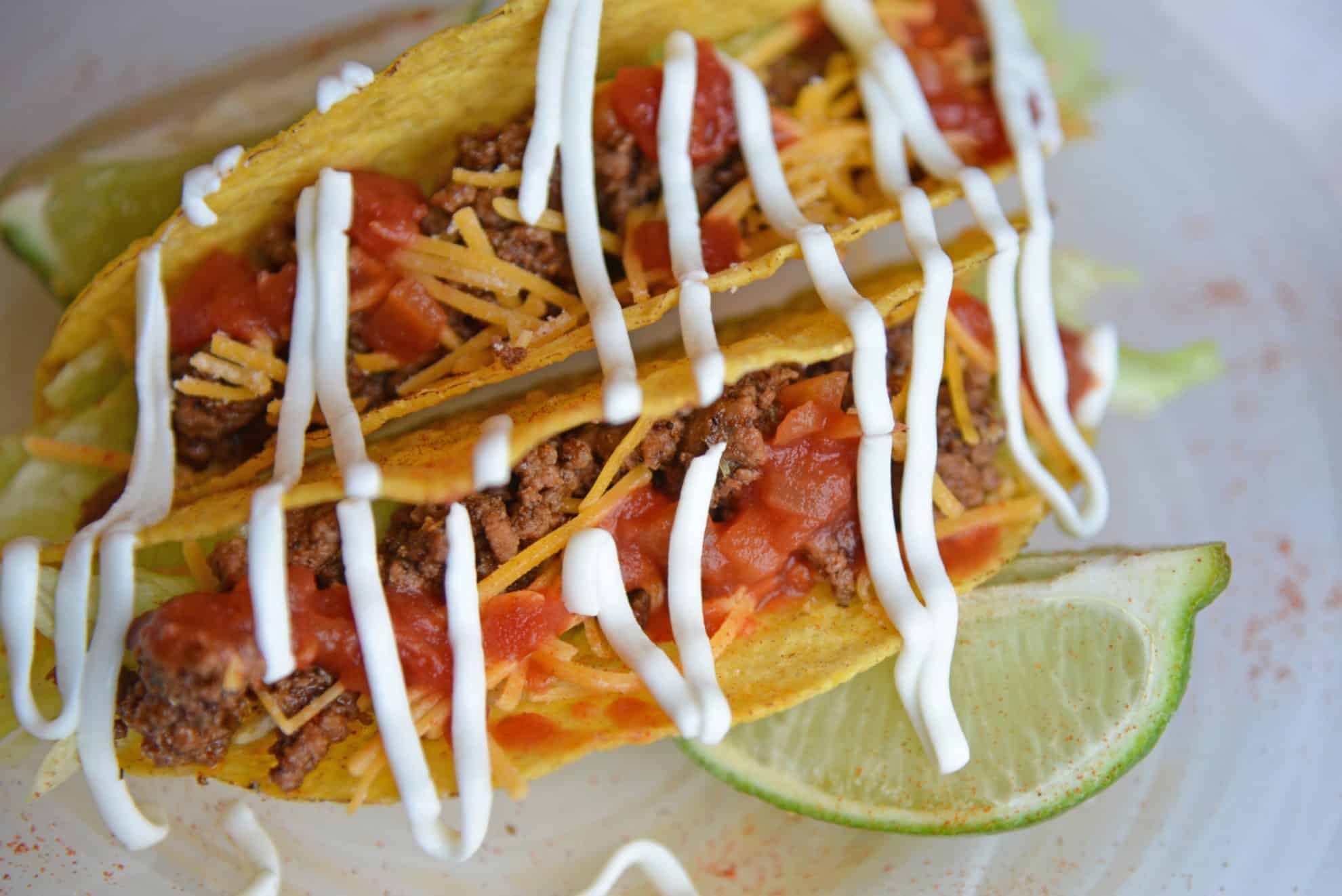 For every 1 pound ground beef, use 2 tablespoons of this DIY taco seasoning. You can use less if you'd like, but I like a lot of flavor.
You can even make it in the Instant Pot or Crockpot!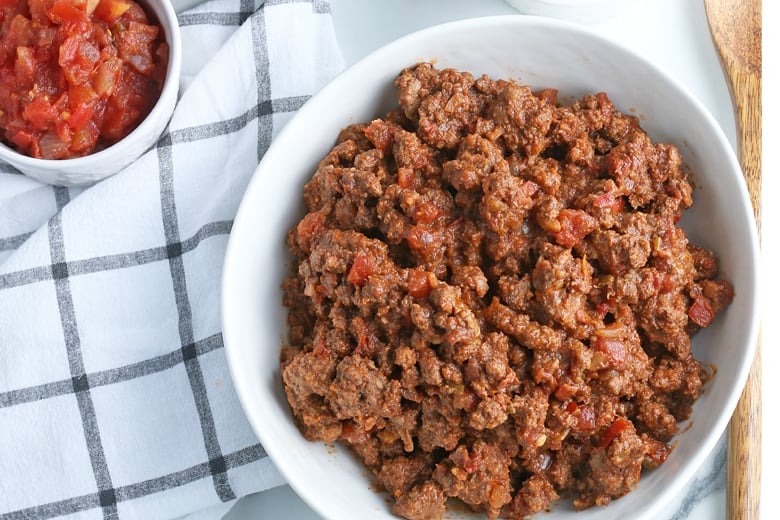 You can use this same procedure with ground chicken, ground turkey or even ground pork.
How to Make Chicken Breasts with Taco Seasoning
You have two choices here, you can either use the seasoning as a spice rub or as a marinade.
Taco Seasoning Marinade
If using as a marinade, add 2-3 boneless skinless chicken breasts, chicken thighs or drumsticks to an airtight plastic bag along with 1/4 cup vegetable oil, 1/2 cup water and 2 tablespoons taco seasoning.
Marinate for 2-24 hours. From here you can bake, fry or grill the chicken.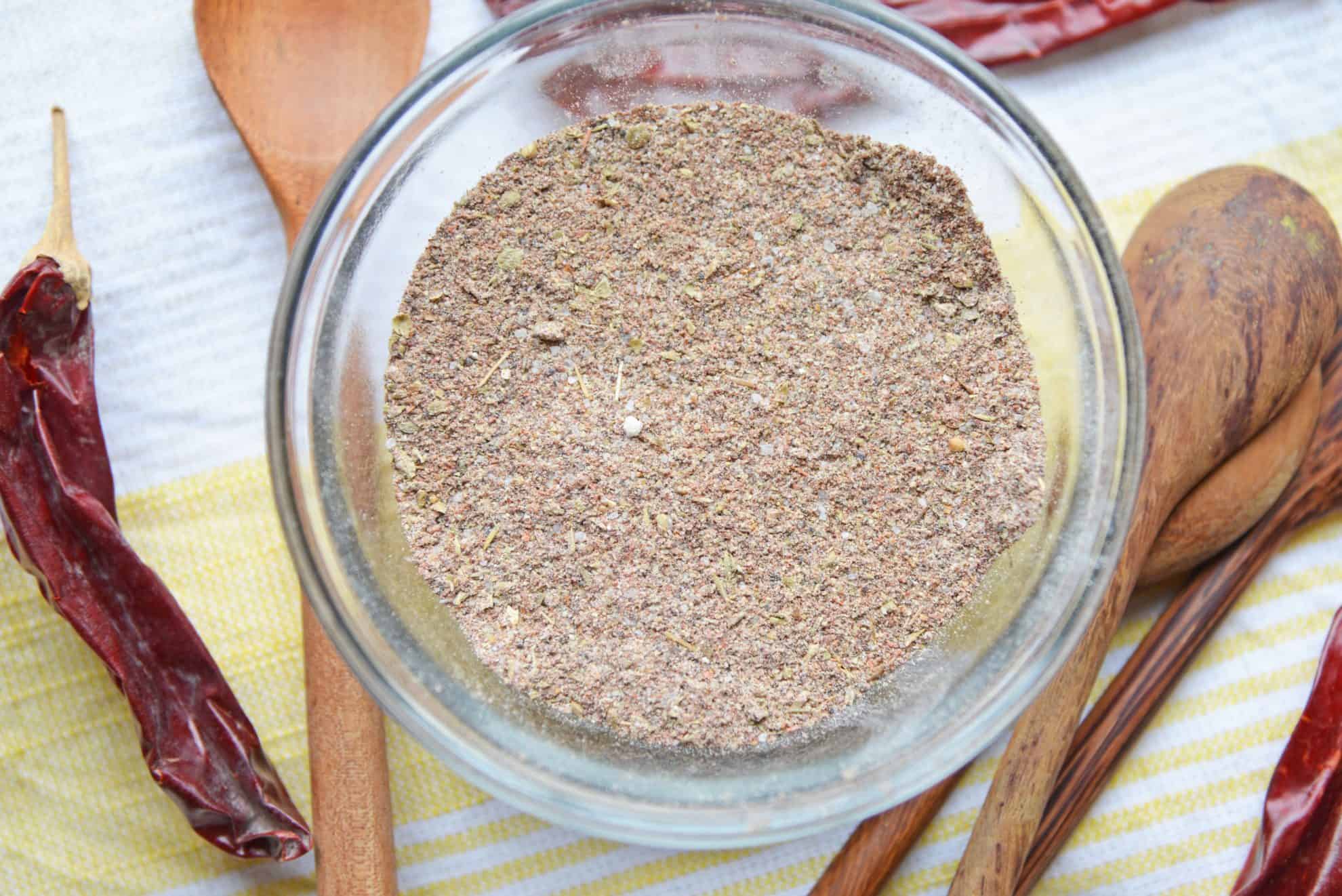 Taco Seasoning Dry Rub
As a seasoning, blend the spice mixture with 1-2 tablespoons or water, vinegar or hot sauce and then smother over the chicken pieces. Allow them to sit so the flavors can penetrate.
Continue to cook how desired.
How to Make Vegetables with Taco Seasoning
The best vegetables to roast and pan fry are hearty and flavorful options like potatoes, carrots, bell peppers, zucchini, and broccoli, which caramelize beautifully and develop a rich taste and texture when roasted. If adding less hearty options, start with the ones that take longer to cook and then add in things like tomatoes and herbs like cilantro.
Add your chosen chopped vegetables to a large skillet with 1 tablespoon of neutral oil, trying to keep them all in a uniform size so they cooked evenly.
Heat over medium high heat.
When hot, sprinkle 1-2 tablespoons of taco seasoning over the vegetables and cook until desired texture.
Spicer Recipe for Taco Seasoning
If you crave an extra kick in your dishes, there are several ways to amp up the spice level in our homemade version or a store-bought packet.
Increase the chili powder by doubling it, add a pinch of cayenne pepper for a fiery touch or try swapping the regular chile powder for ghost chile powder. Add crushed red pepper flakes or aleppo pepper. Experiment with different chili powder varieties to find the level of heat that suits your palate.
You can also add liquid hot sauce to the marinade or rub, to make a paste, on whatever you are using it on.
Taco Seasoning Packet Equivalent
Typically, a standard taco seasoning packet from the store contains about 2 tablespoons of seasoning. So, for a recipe that calls for one packet, you can use approximately 2 tablespoons of your homemade taco seasoning.
The general rule is 2 tablespoons of taco seasoning for every 1 pound of meat.
Taco Seasoning Mix Storage
How to Store Taco Seasoning
Homemade taco seasoning can last for several months when stored in an airtight container, small mason jar or glass spice jar in a cool, dry place. Remember than any dried and ground herb and spice starts to lose potency around 6 months and so will this zesty blend.
Can I Make a Big Batch?
This spice blend is easy to make into a large batch so you always have some made. Our recipe cards allow you to change the serving sizes and the volumes of ingredients will automatically populate so you can make as many as you need to replace taco seasoning packets.
Should You Freeze Taco Seasoning?
To extend its shelf life even further, consider storing it in the freezer, where it can stay fresh and flavorful for up to a year.
Commonly Asked Questions
Can I omit salt from taco seasoning?
Yes, you can omit the salt. Salt enhances the other flavors and helps to preserve the blend, but it is will still pack a punch as a low sodium taco seasoning.
How much taco seasoning is in one packet?
There is roughly 2 tablespoons of taco seasoning in a packet. This recipe yields about the same amount.
How long does taco seasoning stay good?
This easy taco seasoning will last for 6 months to 1 year when stored in an airtight container in a dry place.
Can I use taco seasoning for fajitas?
You can use taco seasoning for fajitas, as the recipes are very, very similar, but I also have a super easy homemade fajita seasoning recipe you can check out!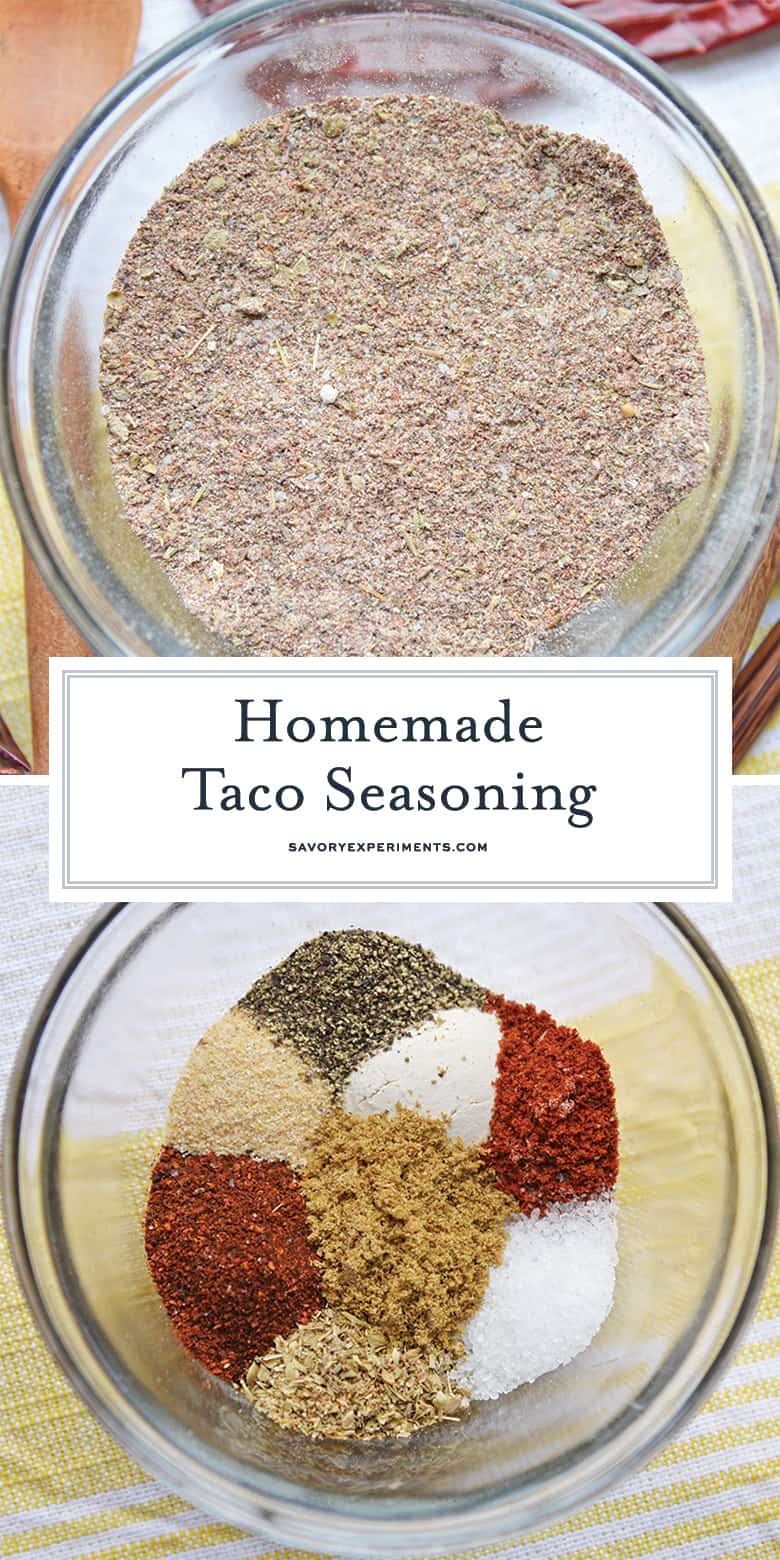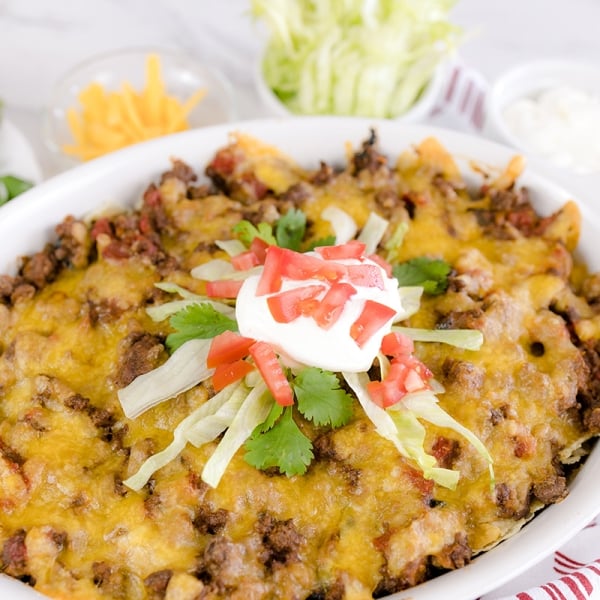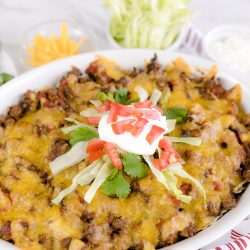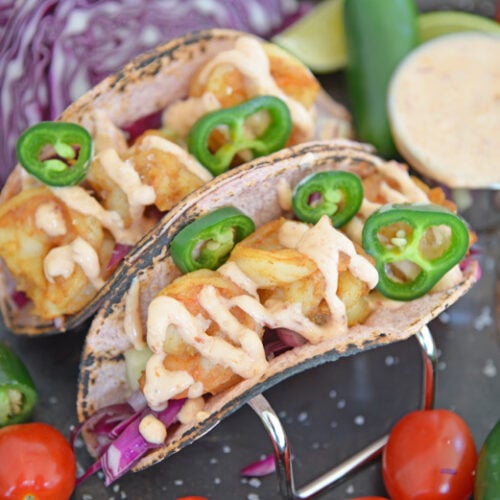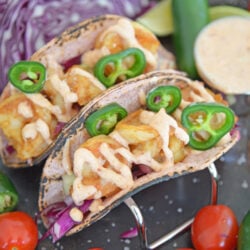 BOMB Shrimp Tacos
Easy shrimp tacos don't get any better than these Shrimp Tacos with Cabbage Slaw! Taco Tuesday will never be the same! Full of fresh flavor and seasoning!
See The Recipe!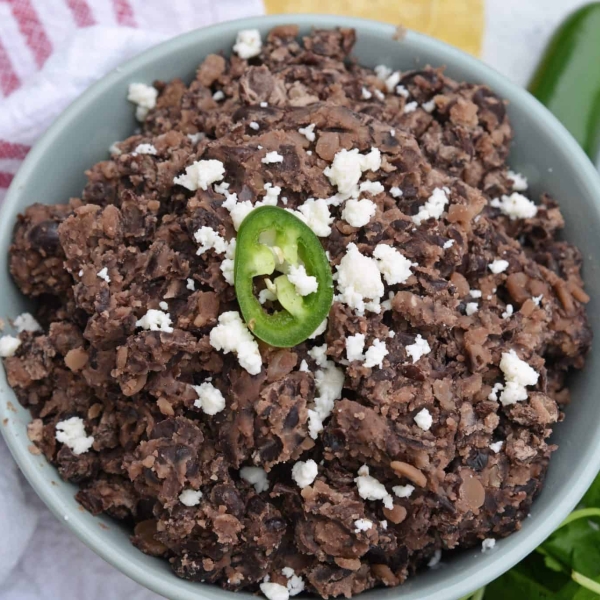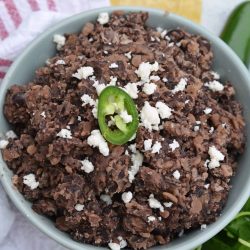 Refried Black Beans
These homemade refried black beans are simple and easy to make and so versatile! Serve as a dip, on tacos, burritos or nachos or as a side to any dish!
See The Recipe!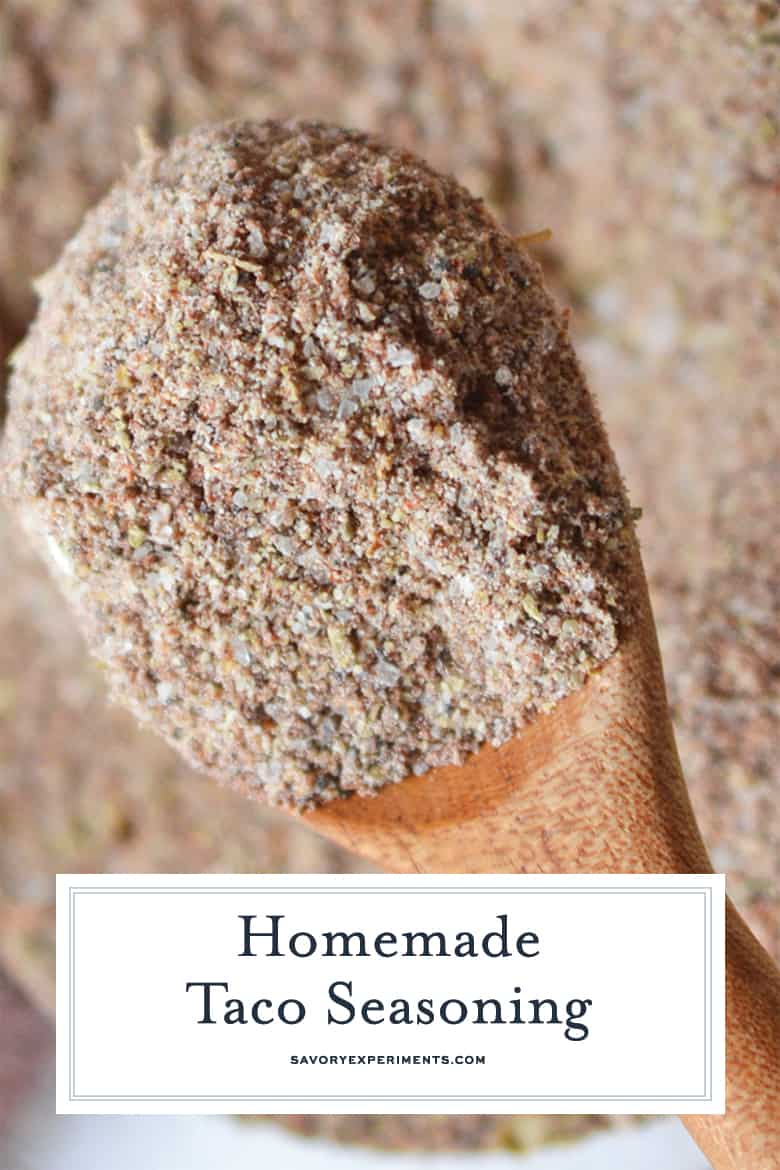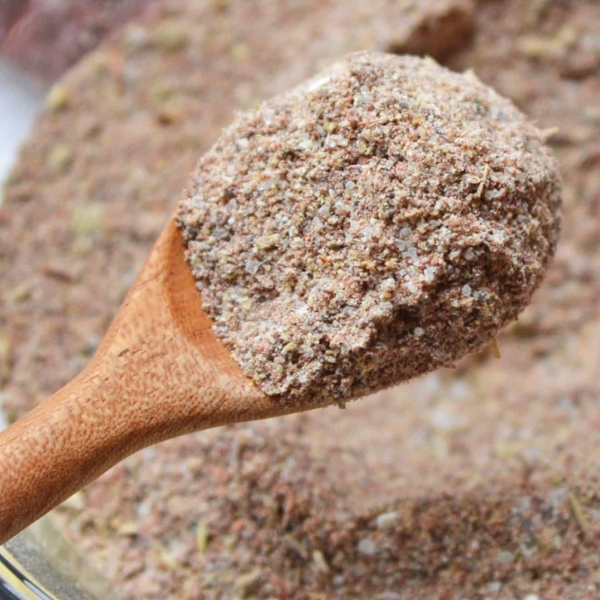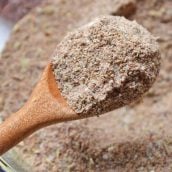 Taco Seasoning Recipe
If you've ever wondered how to make taco seasoning, this easy Homemade Taco Seasoning is for you! Made with simple ingredients already in your pantry.
Instructions
Stir together the chili powder, cum, salt, garlic powder, onion powder, oregano, paprika and pepper in a small bowl.

Store dry in an airtight container or use immediately.

If you've tried this recipe, come back and let us know how it was in the comments or star ratings.
Notes
This easy taco seasoning will last for 6 months to 1 year when stored in an airtight container in a dry place.
Nutrition
Calories:
46
kcal
,
Carbohydrates:
8
g
,
Protein:
2
g
,
Fat:
1
g
,
Sodium:
2462
mg
,
Potassium:
191
mg
,
Fiber:
3
g
,
Vitamin A:
2865
IU
,
Calcium:
61
mg
,
Iron:
3.3
mg