I hope I am not the only that considers a baked potato to be a whole meal. I mean, when paired with a steak it is certainly an expectable side dish, but I am not complaining with a spud alone. A the best baked potato is actually a super easy recipe, double win!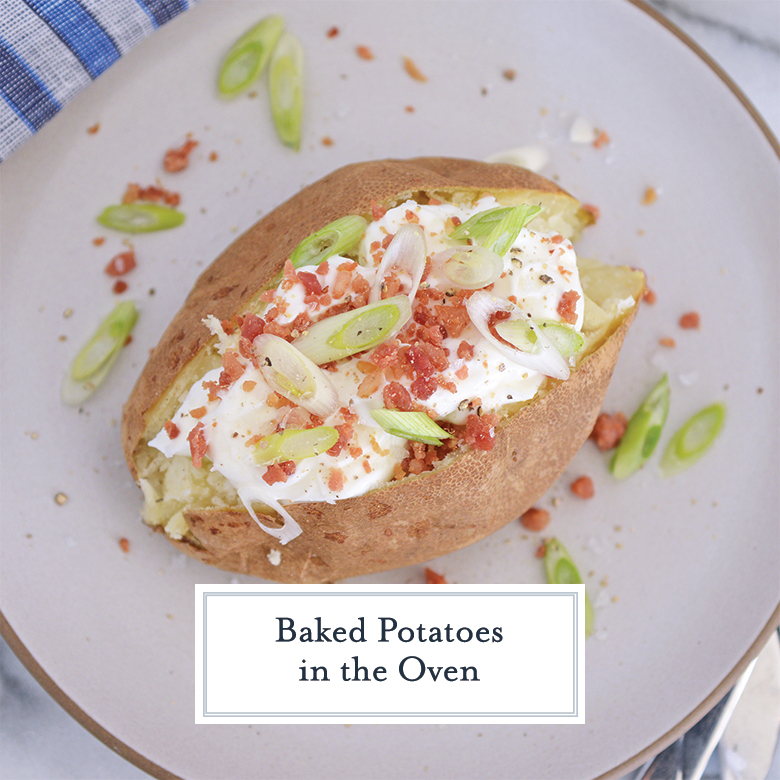 This is the perfect baked potato in the oven has a crispy skin with fluffy inside. Top with butter, sour cream and chives…. or any other toppings you can dream up.
Hot Potato!
Baked potatoes in the oven are a wondrous things. Fluffy potatoes with a nice crispy skin. When cut open they are a blank canvas waiting to be painted with anything from a sprinkle of salt to leftover pulled pork.
Jacket potatoes is another common term for a baked potato. They are typically served "loaded" which means topped with butter, sour cream, bacon and chives. Some places would also argue this means cheese too.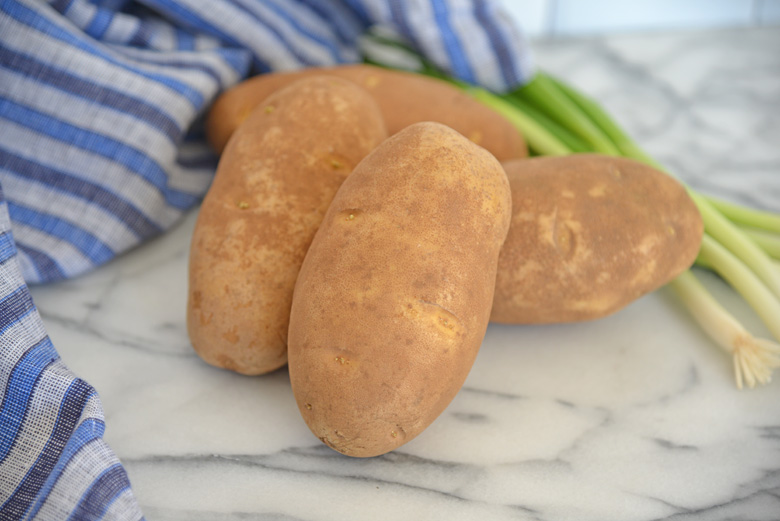 A basic baked potato is a simple side dish that pairs with nearly any dinner recipe. I can make them ahead of time, seeing they take a while, and reheat in the oven for perfectly crispy skin all over again when I am ready to serve. Store leftover potatoes in an airtight container for up to a week.
PRO TIP: Don't be afraid to eat potato skins. There are tons of nutrients there!
And one last reason I make baked potatoes all the time: my daughter demands them. I know people are tired of hearing about bloggers personal stories, so I'll keep this one to two sentences.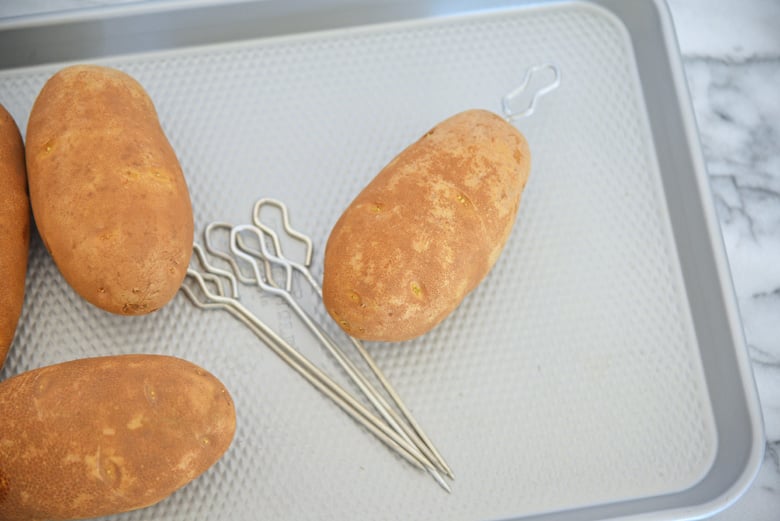 My 2-year old calls her old school Mr. Potato Head a "baked potato" and she is obsessed with the thing. She often requests baked potatoes for dinner and since she is quite the foodie, she also prefers a crunchy skin.
What are the best potatoes for baked potatoes?
Really any kind of potato can be baked. Russet Potatoes seem to be the number 1 choice. They have a thick skin and the starchy interior has a sweet flavor and fluffy insides.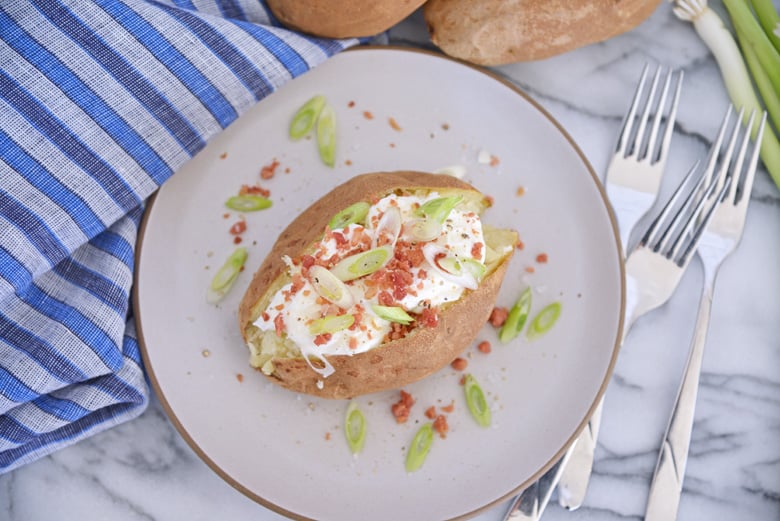 They are hardy and can hold lots of toppings (or none at all). They are also fairly large, so one can suffice for a whole meal or a solid side dish. Idaho potatoes come in second, Yukon gold is third and while they are a little bit more waxy, I actually like red potatoes too, but they don't have the crunchiest of skins.
Other types of potatoes can be baked, but they have less starchy flesh or a thinner skin that makes them not as ideal.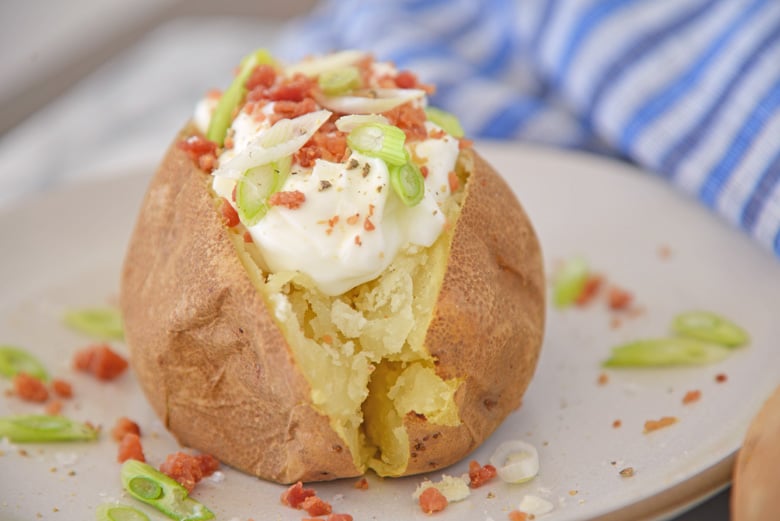 Best Baked Potato Recipe
Like so many things in life, there are many right ways to get the same results. The best baked potatoes will depend on your lifestyle- if you are trying to be a little healthier or omit sodium.
Wash your potatoes.
Using a potato nail or fork, poke holes all over to prevent them from exploding.
Roll potatoes in olive oil (or other neutral oil with smoke poke above 400°F) and then coarse Kosher salt. You can do just olive oil, but salt will not stick without oil. This step can also be omitted and you will still get a pretty crunchy skin without the calories and salt. And sometimes… I roll in oil and salt and then dust the salt off after cooking (pictured).
Place potatoes in the oven. Baking time will depend on size (see below).
Remove carefully with an oven mitt or tongs and allow to cool slightly before dressing with favorite toppings.
Do I need to wrap my baked potato in foil?
If you want a softer skin on your baked potato, wrap them in foil and skip the potato nail. You won't get a crispy skin because the skin steams instead of crisps regardless of whether you've rolled it in salt or not.
But you are rubbing and seasoning your potato, this helps to really get those flavors to sink in. For best results for a crispy skin, I don't suggest it.
How Long To Bake A Potato?
There are several variables about how long it takes to bake a potato. First is the size of the potatoes, second is type of potato and third is the oven temperature. While I am giving you instructions, this recipe is super forgiving and the temp can be adjusted based on other items you might be cooking.
On average, a medium size Russet potato will take 45-60 minutes in the oven at 400°F. Small potatoes will take about 30 minutes while larger potatoes can take upwards of 90 minutes for cooking time.
The great thing about baked potatoes is they can be baked at any temperature and can be placed right on the oven rack (although putting them on a baking sheet can make getting them in and out a little easier), so they are easy to make alongside other dishes cooking in the oven too.
The internal temperature of a baked potato should be between 200°F and 210°F. Remember carryover cooking will account for a 5° increase in temp, so remove them from the the oven slightly before they reach the desired doneness.
Cooking Times for medium size potatoes:
350°F 60 to 75 minutes
375°F 50 to 60 minutes
400°F 40 to 50 minutes
Microwave Baked Potatoes:
First, let's say this technically isn't baked if you nuke it. But sometimes you have a craving and need a potato FAST!
The second warning I will give you is that the skin will not be crispy. There is no trick or secret. Microwaved potatoes do not have crispy skin.
Do not wrap your potato in aluminum foil or use potato nails if you plan to microwave it.
Here is how you bake a potato in the microwave:
Scrub the potato, pat it dry and poke holes with a fork. Remove any blemishes with a paring knife.
Roll in olive oil and Kosher salt just like the oven instructions.
Wrap it loosely in a paper towel and place it on a microwave-safe plate.
Place the potato in the microwave it on HIGH for 5 minutes.
Turn it over, and microwave it for 3-5 minutes longer or until fork-tender.
You can also make baked potatoes in the Instant Pot or Air Fryer Baked Potatoes!!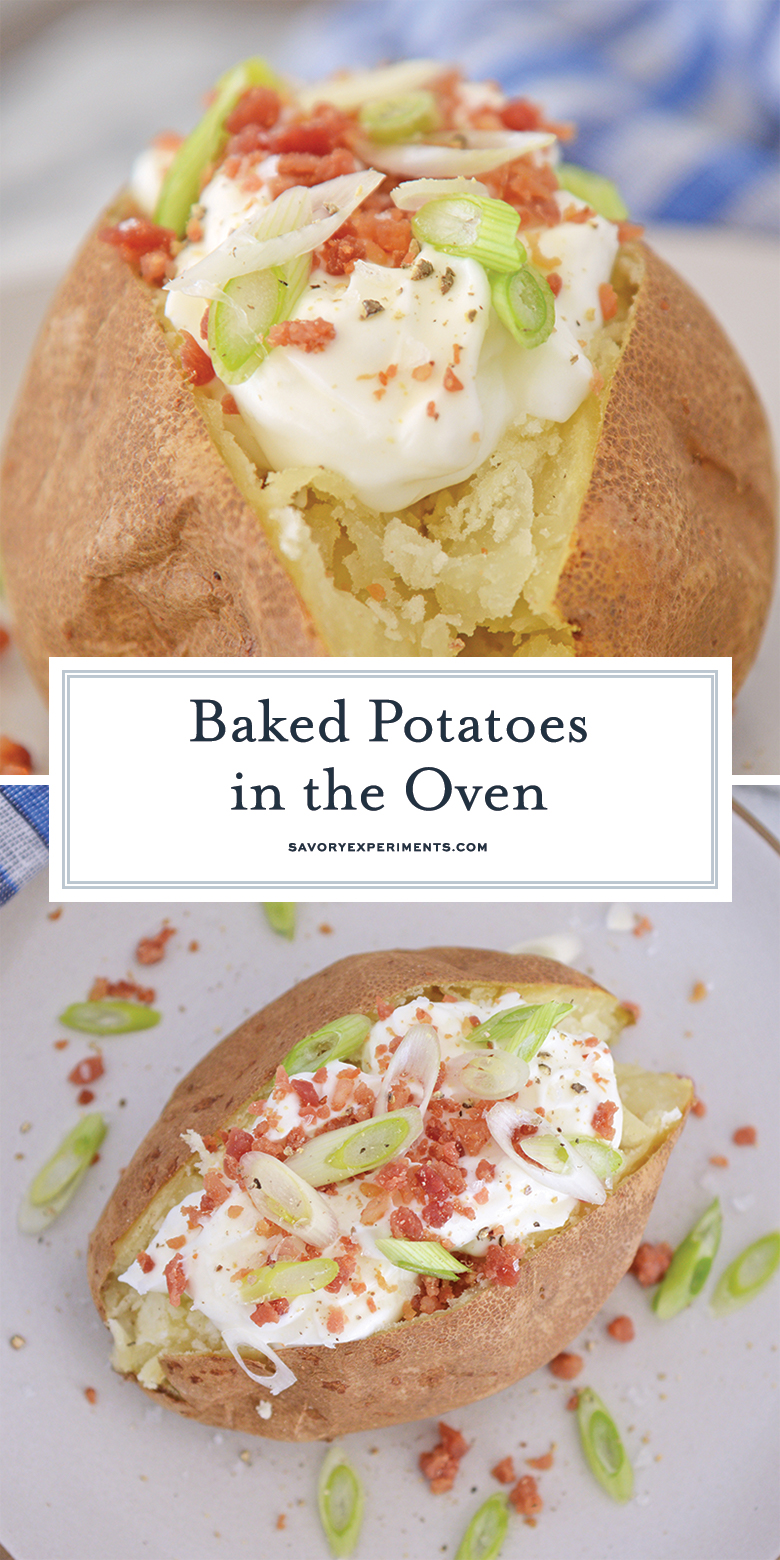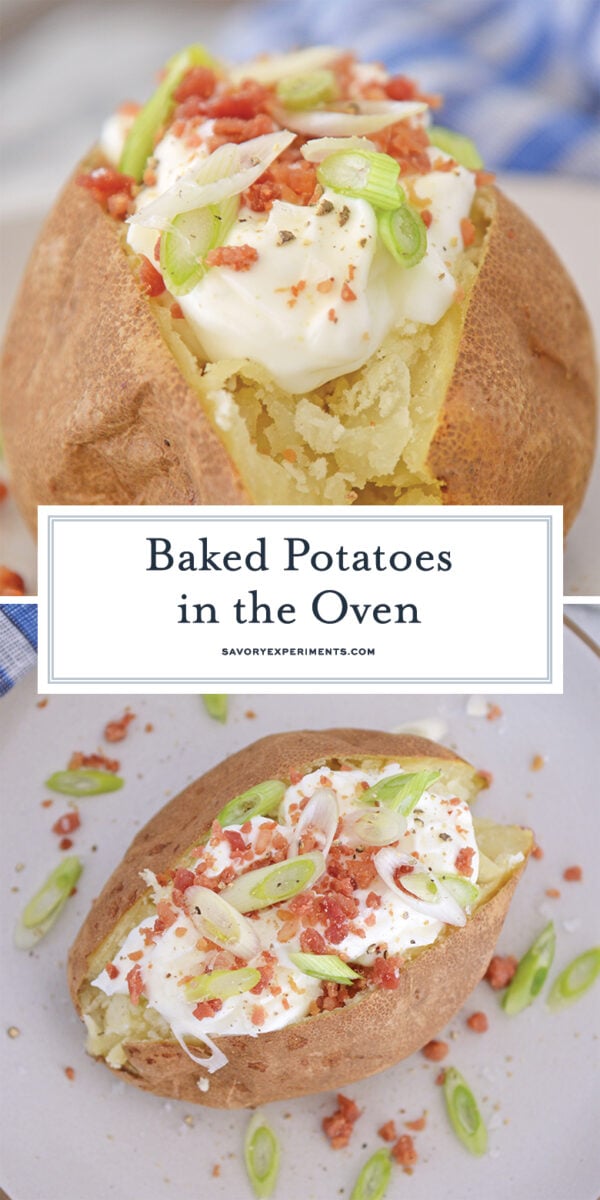 Baked Potato Toppings
Of course the usual easy recipe: butter, shredded cheese, chives or scallions (green onions), crumbed bacon and sour cream. But what are some others that are perfect for a baked potato bar?
We'd love to hear about your favorite baked potato recipe- leave it in the comments!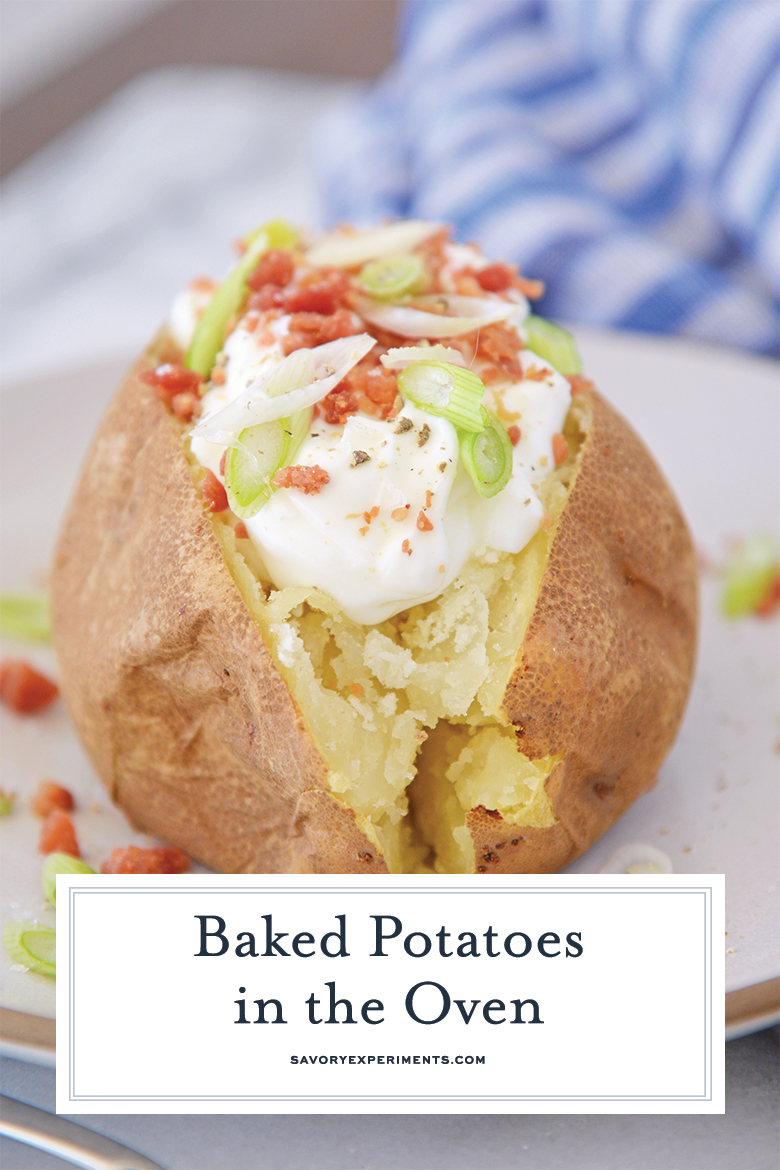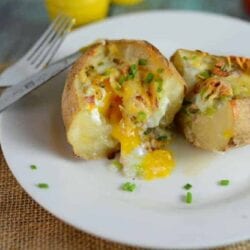 Stuffed Breakfast Potatoes
Stuffed Breakfast Potatoes are scooped baked potatoes stuffed with cheese, your choice of veggies, bacon and an egg. Perfect for feeding a crowd.
View this recipe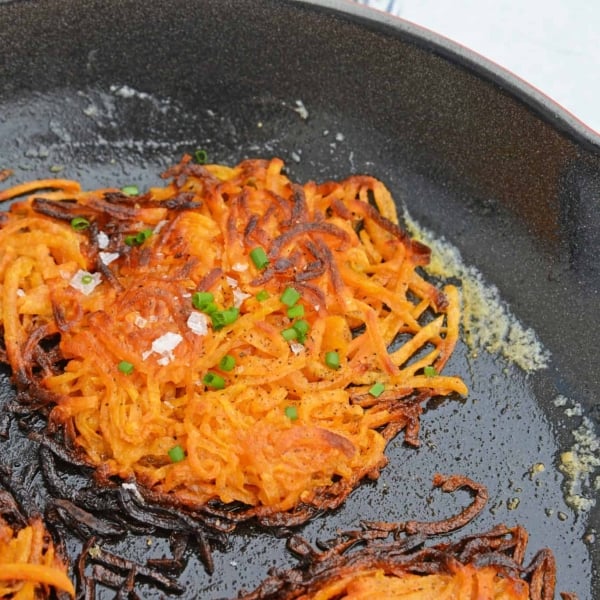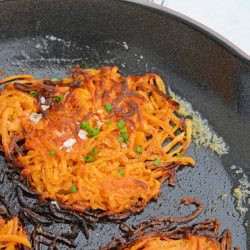 Sweet Potato Hash Browns
Sweet Potato Hash Browns are a simple breakfast recipe made with shredded sweet potatoes. Only 3 ingredients and a few minutes to cook!
View this recipe
What to Serve with Baked Potatoes: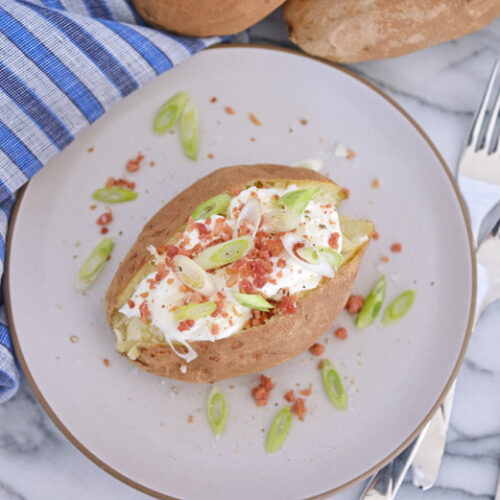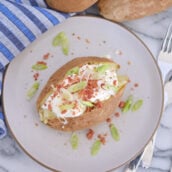 Baked Potatoes in the Oven
The perfect baked potato in the oven has a crispy skin with fluffy inside. Top with butter, sour cream and chives!
Instructions
Heat the oven to 400°F. Arrange a rack in the middle of the oven.

Trim any blemishes with a paring knife.

Pierce the potatoes in a few places a fork. This allows steam to escape from the baking potato. If you are using potatoes nails, skewer them here.

Roll potatoes in oil and then salt. They don't need to be fully coated, but do the best you can. This step is also optional if you are looking for a healthier or less salty version.

Bake the potatoes directly on the oven rack on an aluminum foil-lined baking sheet.

Bake for 45-60 minutes, turning them once or twice. Exact cooking time will depend on the size of your potatoes. Pierce them with a sharp knife or fork to determine doneness.

Remove potatoes. Serve and dress immediately.

If you've tried this recipe, come back and let us know how it was in the comments or ratings.
Notes
To speed up baking a potato, pierce it and then microwave for 3-4 minutes. Microwaving cooks from the inside out, so this will soften the interior. DO NOT MICROWAVE WITH A POTATO NAIL IN THE POTATO. Next, bake for 25-35 minutes.
Nutrition
Calories:
168
kcal
,
Carbohydrates:
38
g
,
Protein:
5
g
,
Fat:
1
g
,
Saturated Fat:
1
g
,
Sodium:
11
mg
,
Potassium:
888
mg
,
Fiber:
3
g
,
Sugar:
1
g
,
Vitamin C:
12
mg
,
Calcium:
28
mg
,
Iron:
2
mg