Portable and perfect as a snack, appetizer or party dish, Walking Tacos are all the rage and totally delicious! Just pile taco toppings on top of your favorite bag of chips!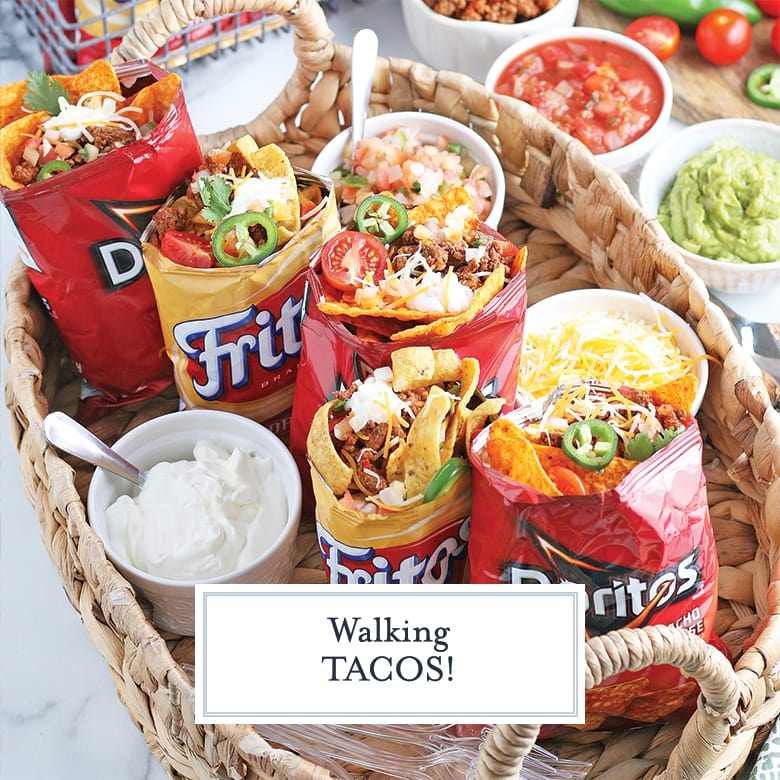 What is a walking taco?
I had no clue when I first heard the term. I figured it referred to a taco cartoon character with legs. But I was corrected and now I'm here to share my portable taco knowledge.
Walking tacos are simply all the ingredients for tacos, ground beef seasoned with taco seasoning, in a convenient bag. They are eaten with a spoon, fork or spork, if you are lucky enough to get your hands on some! Almost like a Frito Pie.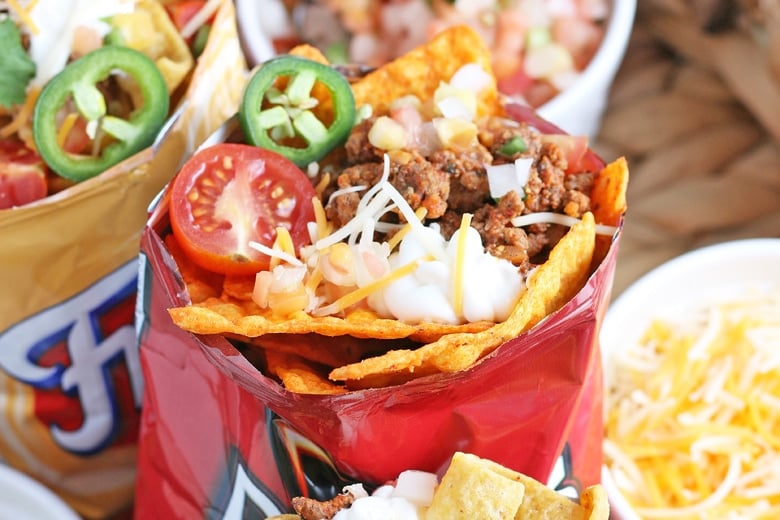 This makes them superior to the classic crunchy taco. We've all been there. You nosh into your hot , crispy taco shell to find fresh, luscious lettuce, taco meat and more and what happens?
The whole shell breaks. Not just into your mouth, but the rest of it too and now you've got a taco salad. Not a bad thing, but not what you wanted.
Walking Tacos prevent the inevitable from happening and just start with a deconstructed taco from the very beginning.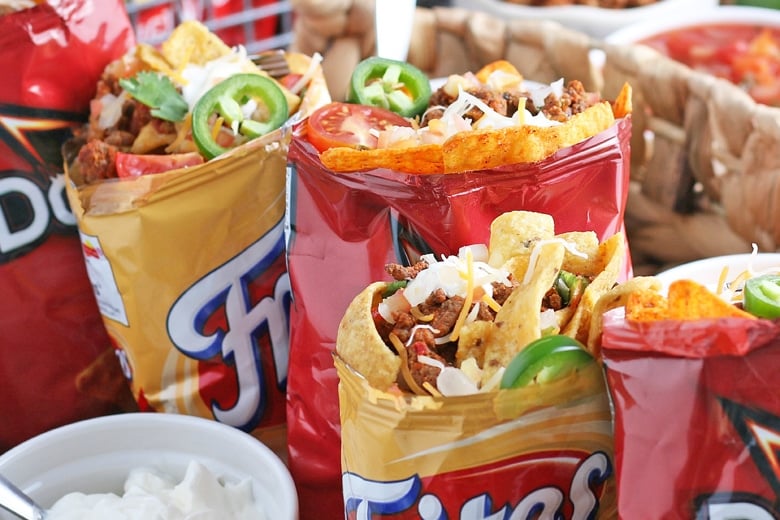 Taco Meat
I like to use ground beef, but ground chicken or turkey works well too. Feel free to use my homemade taco seasoning or store bought. Make it on the stovetop, but also think about Instant Pot or slow cooker versions if you are feeding a crowd for football games.
Or just a lively Taco Tuesday…
Chips
The type of chips you use is totally up to you and if you are making a walking taco bar (more on that below) you can use a variety.
Fritos and Doritos seem to be the most popular, but try other flavors like Cool Ranch or even Spicy Cheetos!
Individual snack size bags work best because you can just cut off the top and be ready to assemble, but if you are serving a crowd you can also set up a taco bag station.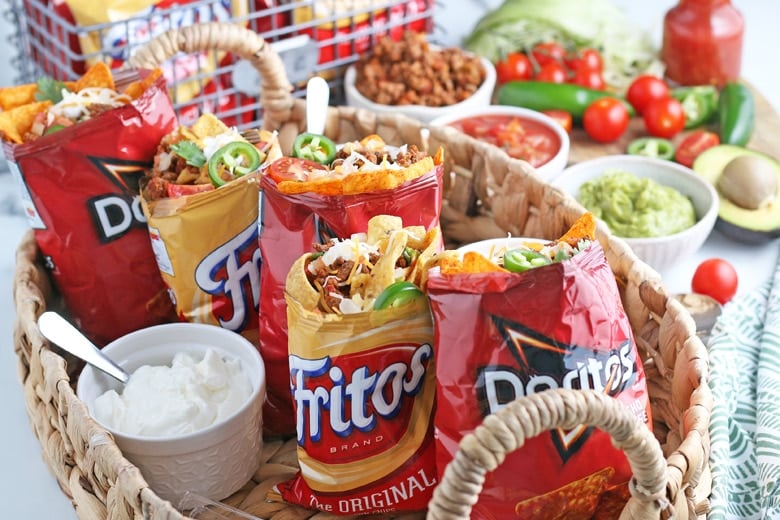 Offer individual plastic bags and place your chips of choice in bowls. Just make sure your bags are big enough to include lots of yummy toppings! Then people can make their own tacos in a bag and mix and match chip options.
I've even seen walking taco bags for sale online. They come in a range of different chip options like Tostitos, Doritos, Fritos and more.
Walking Taco Bar
Making a walking taco bar is exactly like making a regular taco bar, but instead you can offer snack size bags of chips, or as described above, other baggie options with a mix-and-match feature.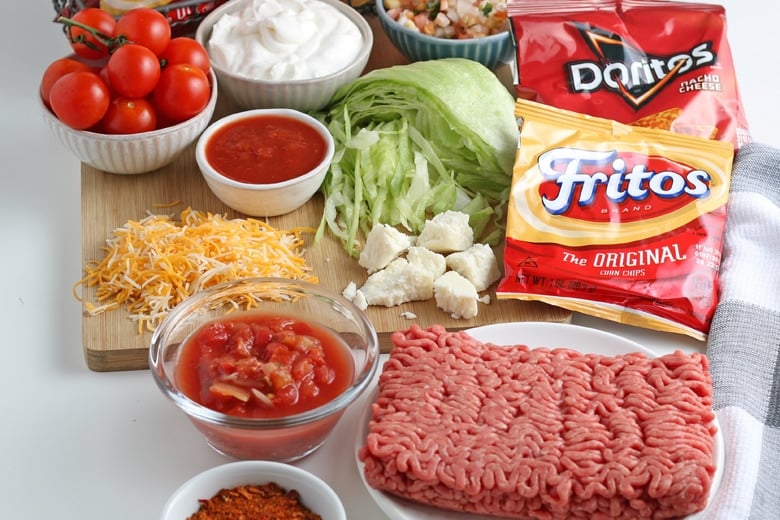 Some of our favorite taco toppings include:
Shredded cheese- Cheddar, Colby, Jack
Sour cream, Crema Mexicana, Sweet Sriracha Sour Cream
Lettuce- iceberg works best
Tomatoes- chopped roma or beefsteak
Black beans- rinsed and drained
Fresh or Pickled Jalapenos
Green onions (scallions)
Sliced Black Olives
Avocado (toss in lime juice to prevent browning)
Fresh Cilantro
Taco Meat- Recipe below or use the crockpot or Instant Pot
Once you've got your toppings figured out, it follows like an assembly line from there. You start with your bag of chips. Put your taco m eat on top (you could even use shredded chicken instead of or as well as beef.)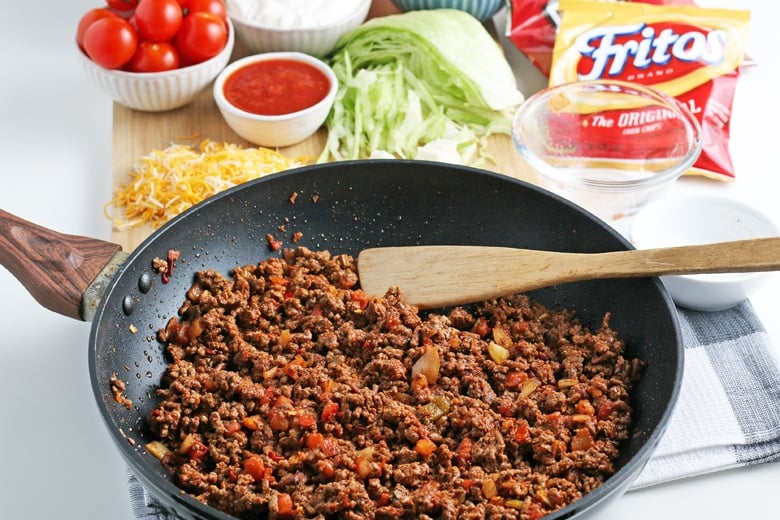 Then load that baby up with all of the toppings your heart desires! And voila! You've just made your first walking taco.
This is a great option for a fun way to mix up taco night at home. But it's also perfect for parties and picnics.
It's not exactly easy to walk around and mingle while trying to eat a taco. But if you can eat it with a fork out of a bag? Genius!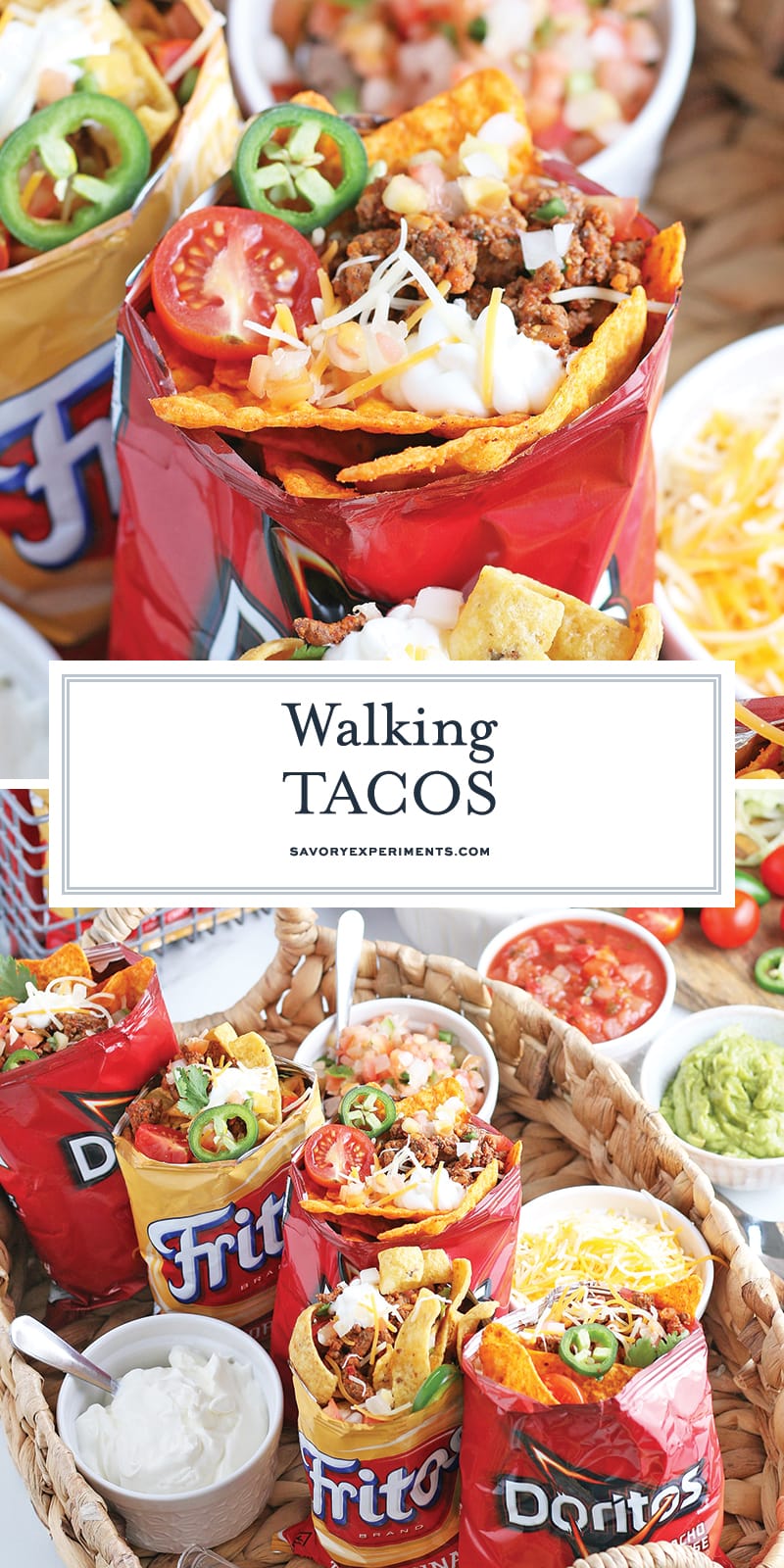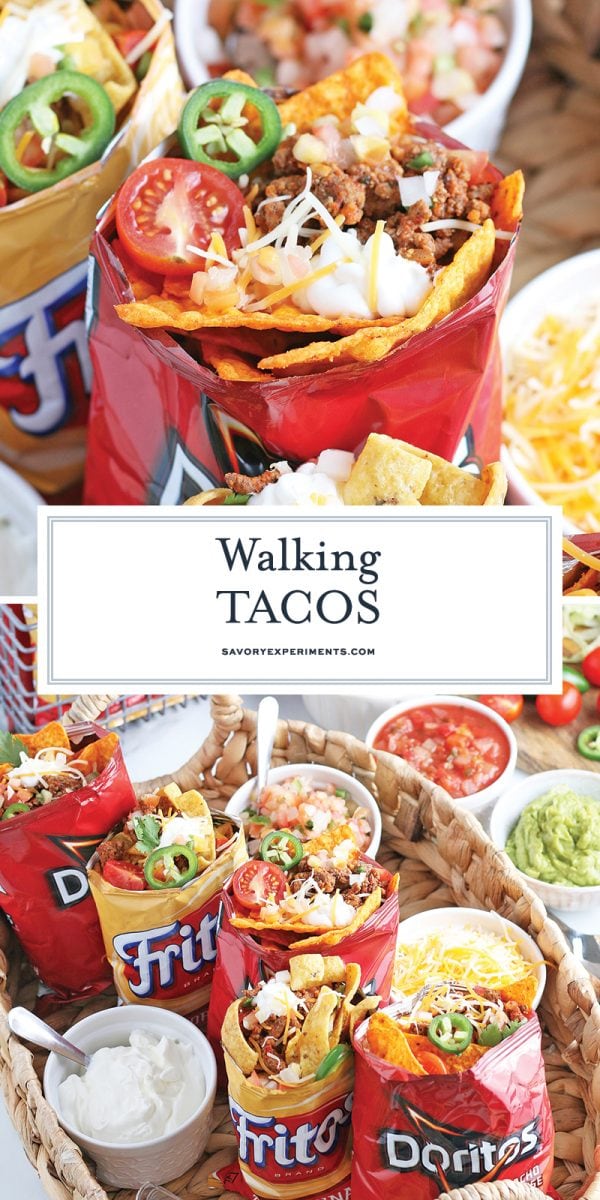 More fun ways to mix up taco night: