Have you tried ranch on pizza? Ranch on fries? Do you like ranch on everything? This Homemade Ranch Dressing Mix is perfect all of my ranch fanatics!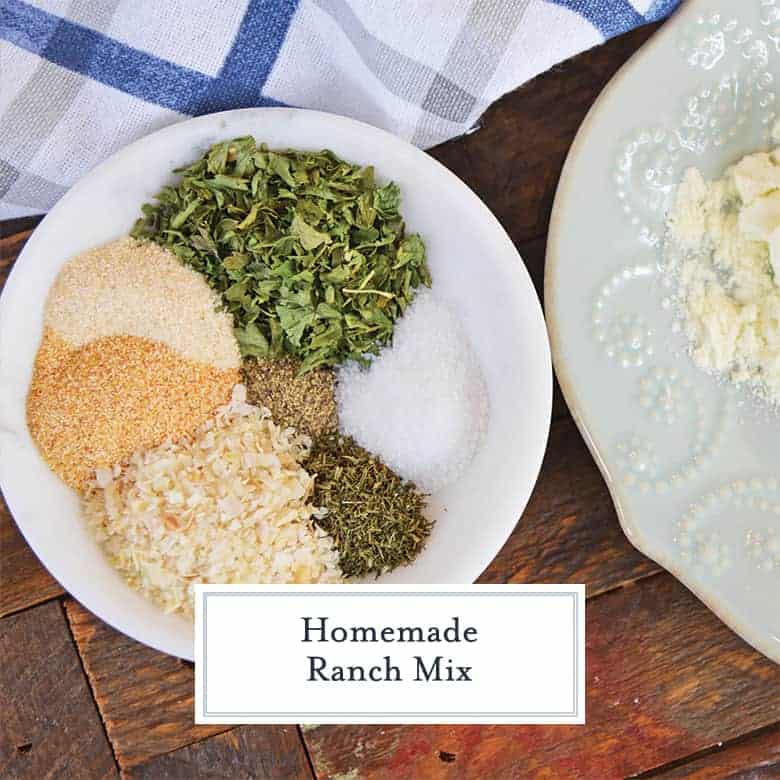 Ranch Seasoning Recipe
Ranch is one of those funny, polarizing things. People either love it or hate it.
And not just "yea, I like ranch" they are OBSESSED. I have a friend who even owns shirts and coffee mugs dedicated to her love of ranch dressing.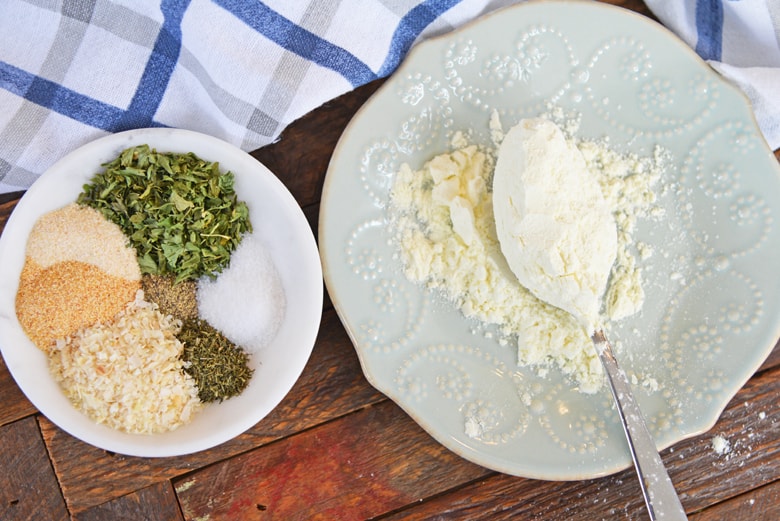 I, however, am not a huge fan of the dressing. Not sure why considering I like all of the individual ingredients.
Dry Ranch Mix
But the dry ranch seasoning mix is another story. I love the flavors mixed into other things. Potatoes. Fries. Chicken. Seafood. It is all good!
Have you ever read the store bought ranch dressing mix ingredients? Let me enlighten you: maltodextrin, monosodium glutamate, lactic acid, calcium stearate, etc.
Don't have those ingredients in your pantry? Why don't you check out my recipe for ranch mix.
What is in ranch seasoning?
dry powdered buttermilk
dried parsley flakes
dried dill
garlic powder
onion powder
dried onion flakes
ground black pepper
dried chives
fine sea salt
You are probably familiar with all of the ingredients with the exception of maybe one. Dry powdered buttermilk.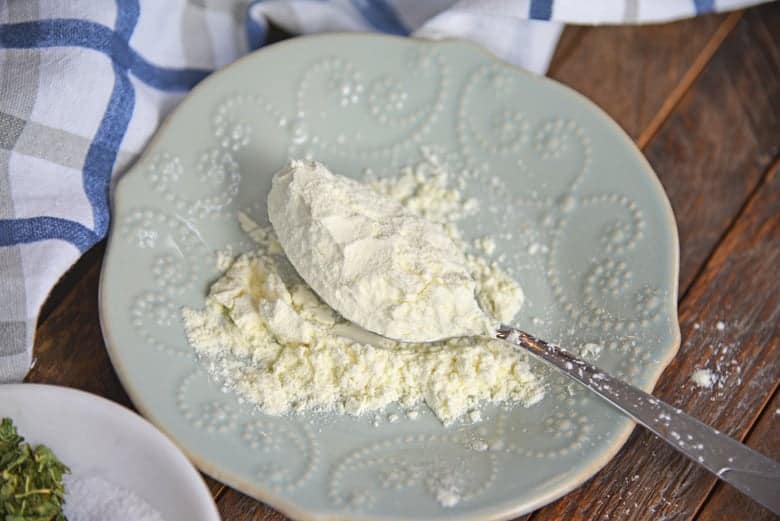 Dry powdered buttermilk is just like any other dry powdered milk. It is made from actual buttermilk, which is the liquid left behind after churning to milk butter, but fermented so it is a little funky.
PRO TIP: Many Ranch dressings are a little chunking, but if you prefer a smoother dressing, take your dried spices for a spin in the spice grinder before you mix it with buttermilk and wet ingredients.
But then dehydrated so it has a much longer shelf life. Let's be honest, I don't use that much buttermilk. Maybe here and there for fried chicken, pancakes and waffles, but not on the regular.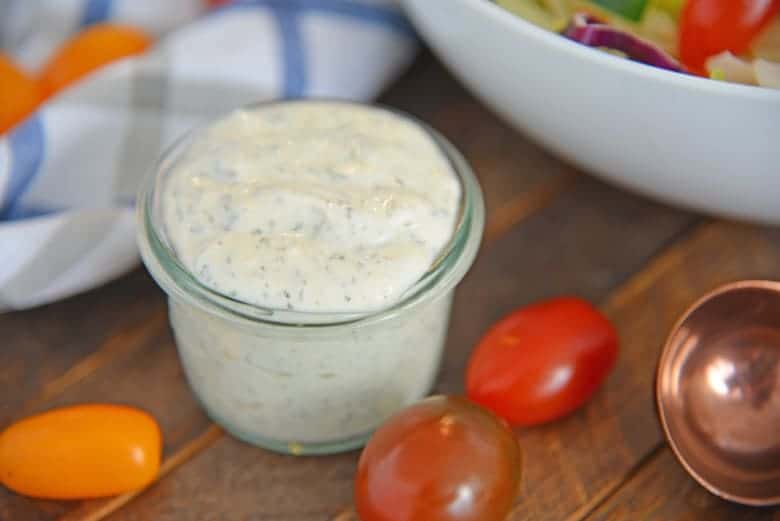 So keeping a canister of buttermilk powder in the pantry is my solution for a last minute breakfast or batch of ranching seasoning.
Ranch dressing was invented by a man named Steve back in the 1950s while cooking for friends. The buttermilk based salad dressing went on to become the company Hidden Valley Ranch, who is credited with the original dressing.
It tastes great for seasoning on so many things. Here are my favorite ways to use dry ranch salad dressing mix:
Blended into mashed potatoes
Toss on French Fries or Tater Tots
Marinade for chicken, fish or pork
Rub for beef or steak
Add to butter for compound butter
Sauteing vegetables
Grill baste with olive oil or butter
Mix with sour cream for a potato chip dip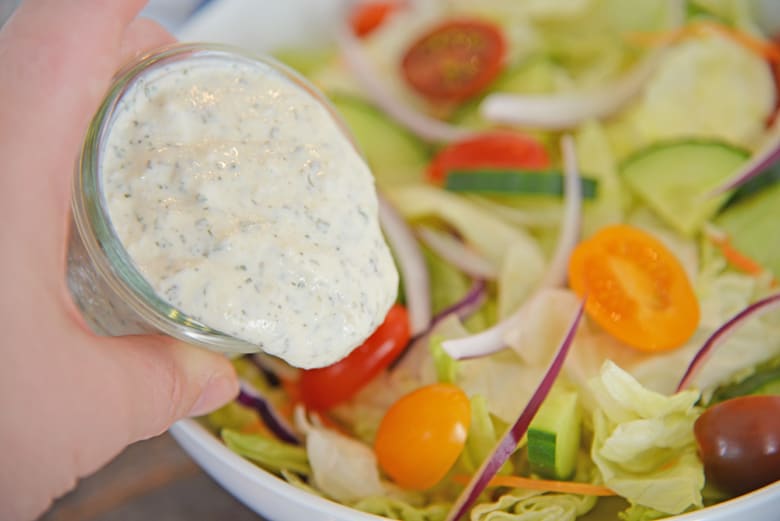 More seasoning mix recipes:
If you're looking for more homemade sauces and condiments, check out these: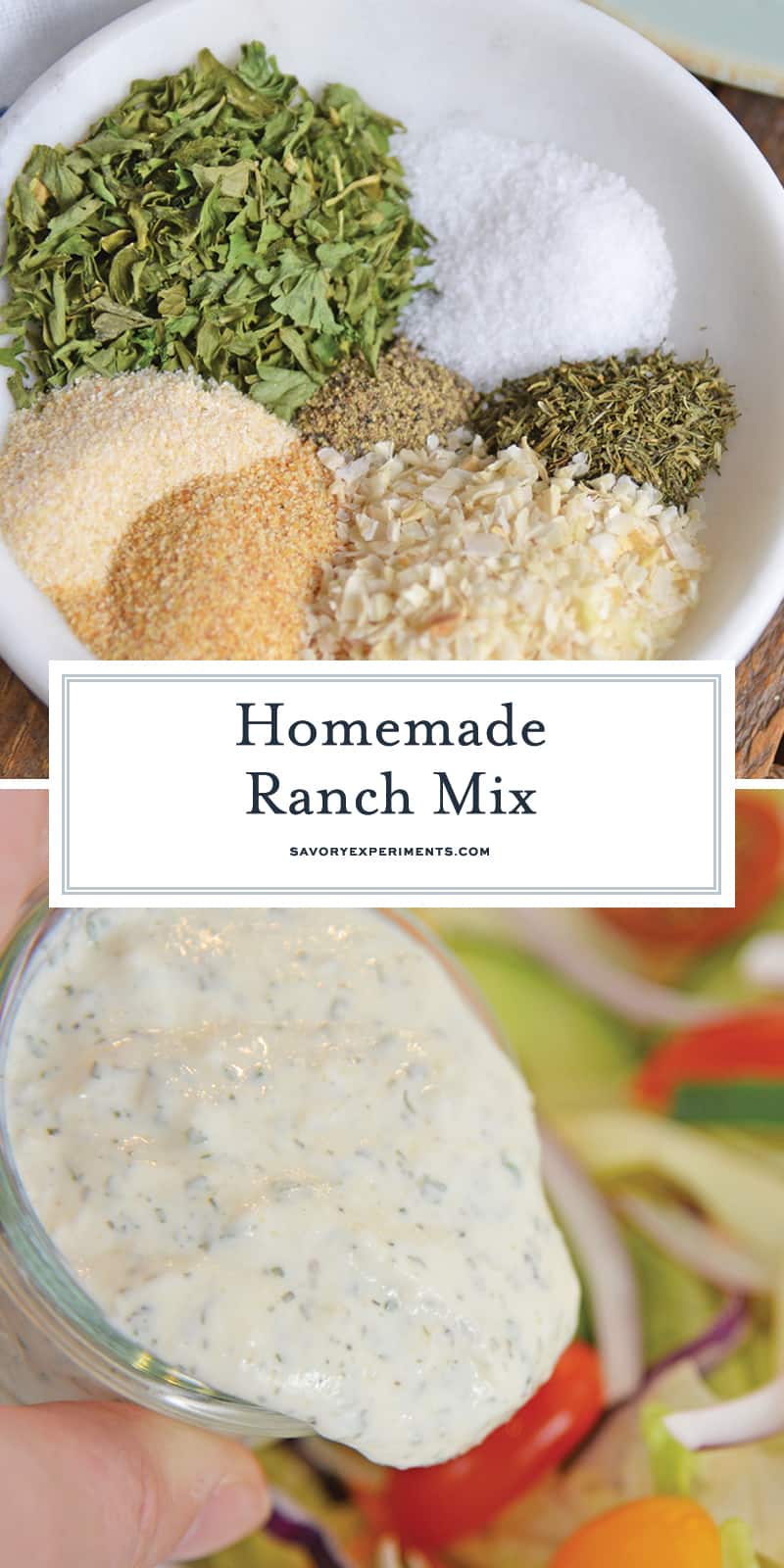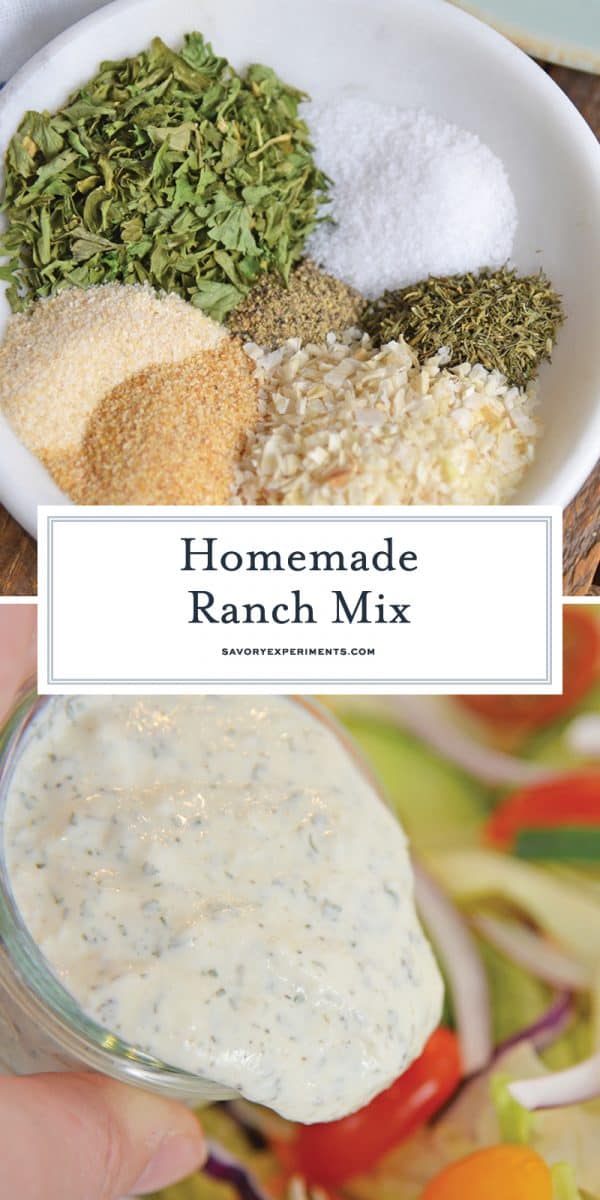 Can I substitute ranch dressing for dry ranch mix?
In most recipes, no. Because ranch dressing has more volume per seasoning. The seasoning packs more of a punch and generally recipes that call for it don't need the extra creamy of dressing.
How do I make dry ranch mix into dressing?
Combine 2 tablespoons of seasoning with 1/2 cup of mayonnaise and 1/2 cup whole milk, whisk to combine and then store in the refrigerator. You can also use plain Greek yogurt to make it a "skinny" dressing.
How much is in a ranch seasoning packet?
Two tablespoons. This recipe makes about 1/2 cup so you won't need the whole thing when a recipe calls for "1 packet".
How do I store dry ranch seasoning?
In an airtight container at room temperature.
Can I use fresh herbs?
You sure can! The general conversion is 1 teaspoon of dried for every tablespoon of fresh. You can even use freshly grated onion instead of flakes if you prefer.
You can also substitute 1 tablespoons of fresh chopped scallions or chives for the dried, which are optional.
Tools for making homemade salad dressing:
Mini Food Processor– I use this thing daily! It is by far my most used kitchen appliance, it is small and I throw all the parts into the dishwasher, well except the base and cord, of course!
I love it for salad dressings so they are equally blended with no chunks of herbs and spices. Unless you are into that sort of thing, which is fine too.
Measuring Utensils– While I like to eyeball it, most folks prefer to measure. Suit yourself 🙂
Whisks– I buy whisks in multiple sizes. You never know which one you will need. If you don't have a food processor, I recommend using a whisk.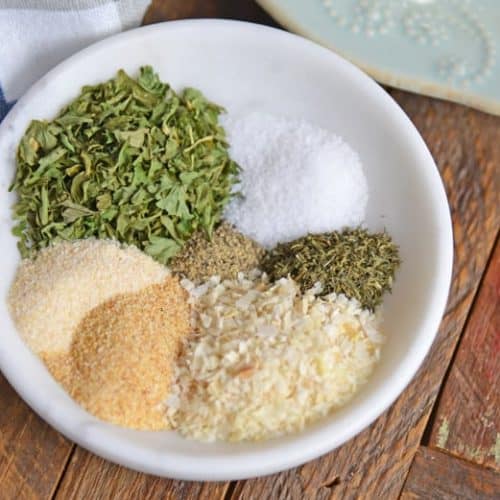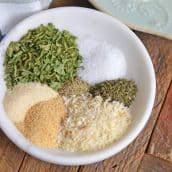 Homemade Ranch Mix
If you're a ranch lover, This EASY Homemade Ranch Dressing Mix is just what you need. You just can't beat homemade dressing!
Instructions
Mix all dry ingredients together in a small container until ready to use.

To make into dressing: Combine 2 tablespoons of seasoning with 1 cup of mayonnaise and 1 cup whole milk, whisk to combine and then store in the refrigerator.

If you've tried this recipe, come back and let us know how it was!
Notes
For skinny Ranch dressing, use plain Greek yogurt instead of mayonnaise.
Dried chives are optional, you can also use 1 tablespoon of fresh chopped chives.
Nutrition
Calories:
239
kcal
,
Carbohydrates:
39
g
,
Protein:
17
g
,
Fat:
3
g
,
Saturated Fat:
2
g
,
Cholesterol:
28
mg
,
Sodium:
2561
mg
,
Potassium:
1015
mg
,
Fiber:
3
g
,
Sugar:
24
g
,
Vitamin A:
206
IU
,
Vitamin C:
16
mg
,
Calcium:
578
mg
,
Iron:
2
mg