This delectable breakfast recipe switches up your typical breakfast or brunch meal by throwing in a gourmet feel. Your family and friends will be impressed by how great this Tomato Spinach Frittata looks and tastes!
This Tomato Spinach Frittata recipe is excellent for breakfast or brunch and it's packed full of the delicious flavors of tomatoes, spinach, shallots, and parmesan cheese!
Does anyone else watch The Real Housewives of Beverly Hills? I will admit it… I do. It is my guilty pleasure TV; one hour for me to escape from the real world and delve into the problems of the ridiculously wealthy and the over the top dramatic.
The point of this ramble? Lisa from RHOBH has been doing I Can't Believe It's Not Butter Commercials with a very attractive chef and they are always making frittatas.
Those don't typically grace my table, but I found myself thinking about them every day at breakfast while eating my cardboard protein bar. Finally, it became too much and I decided to make a breakfast item for dinner. Brinner, ya know?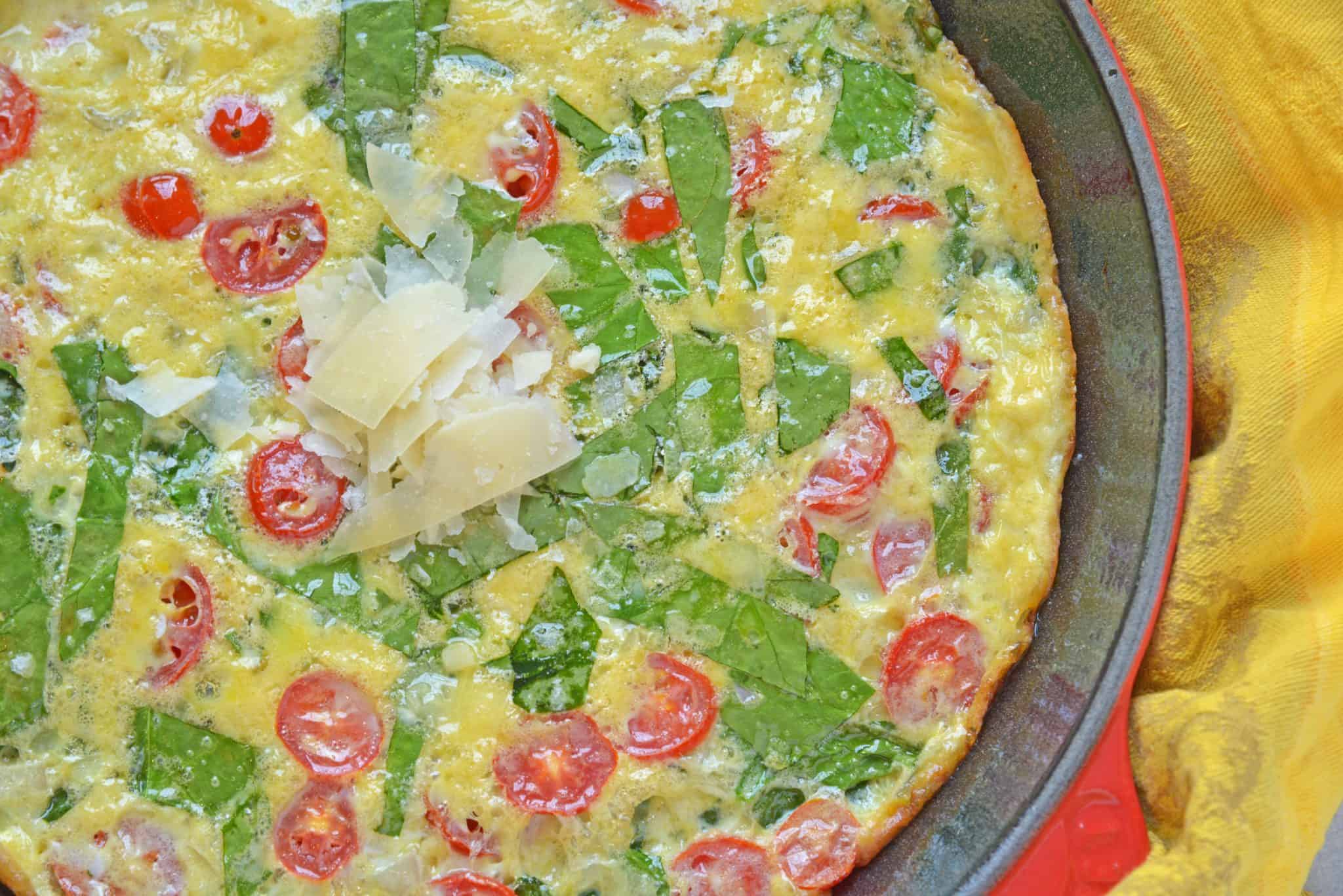 Some of you might be asking yourself, so what is a frittata exactly? That's what I'm here for; to keep you well informed. A frittata is an Italian, egg-based dish. Think of it kind of like a mix between an American omelet and a Spanish tortilla.
With the addition of dairy, it almost makes a custard of sorts. And the ingredients being added to it are mixed in before it begins cooking.
While this is my favorite mix, you can put literally anything into a frittata. Options are great, aren't they?
My husband's family has a frittata every Easter. They make a meat frittata which is exactly like it sounds. Four or five different types of cured meats floating suspended in a fluffy egg mix.
I like to make mine vegetarian, using up leftover odds and ends from the vegetable crisper. Then I add even more flavor by using some capers, fresh herbs, and/or cheese.
Cooking can be done on the stovetop OR in the oven. Again, options baby! I prefer the oven method. You will need a good cast iron pan or oven-safe skillet, as it starts on the stovetop, but moves to the oven.
One of the benefits of a frittata is that you don't have to flip it! I've never been a good flipper. I get all anxious and undoubtedly mess it up when I go for the big show.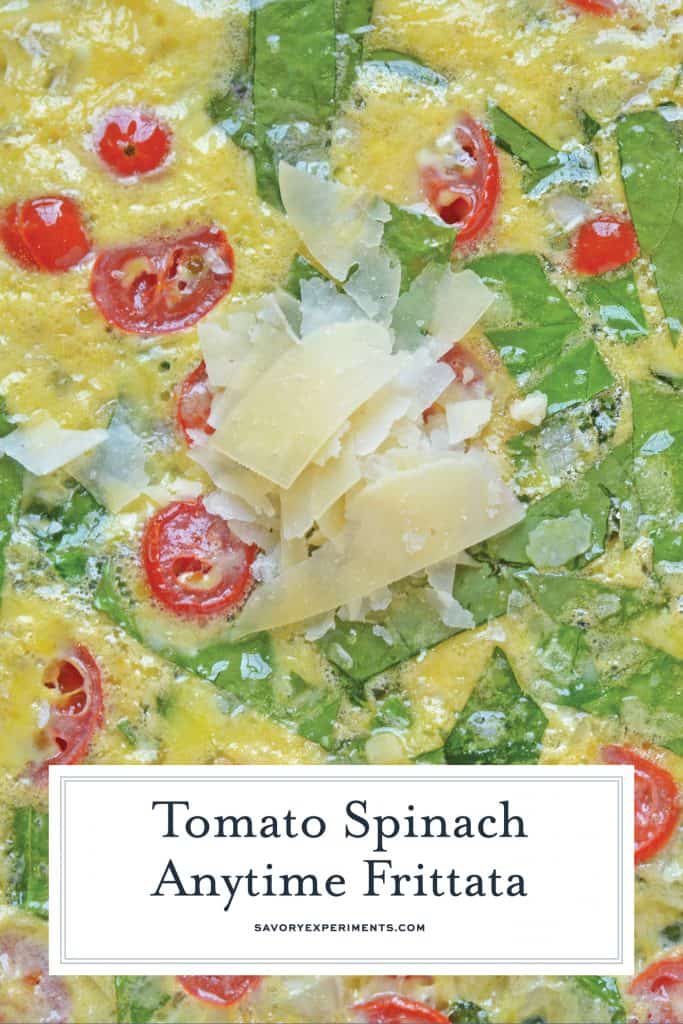 The other great thing is serving up. While most omelets are single-serve, a frittata is like multi-serve. Think of it as an eggy pizza of sorts.
You only need to make one frittata and then slice it like a pie. Talk about an easy way to feed a crowd for breakfast, lunch or dinner.
You can serve it on its own or do like I do and plate it up with a nice side salad. It's the perfect meal and I am sure you will start to make them a mainstay in your house after you try it.
If you liked this veggie frittata, check out these other easy breakfast recipes:
Bacon, Egg and Cheese Breakfast Bread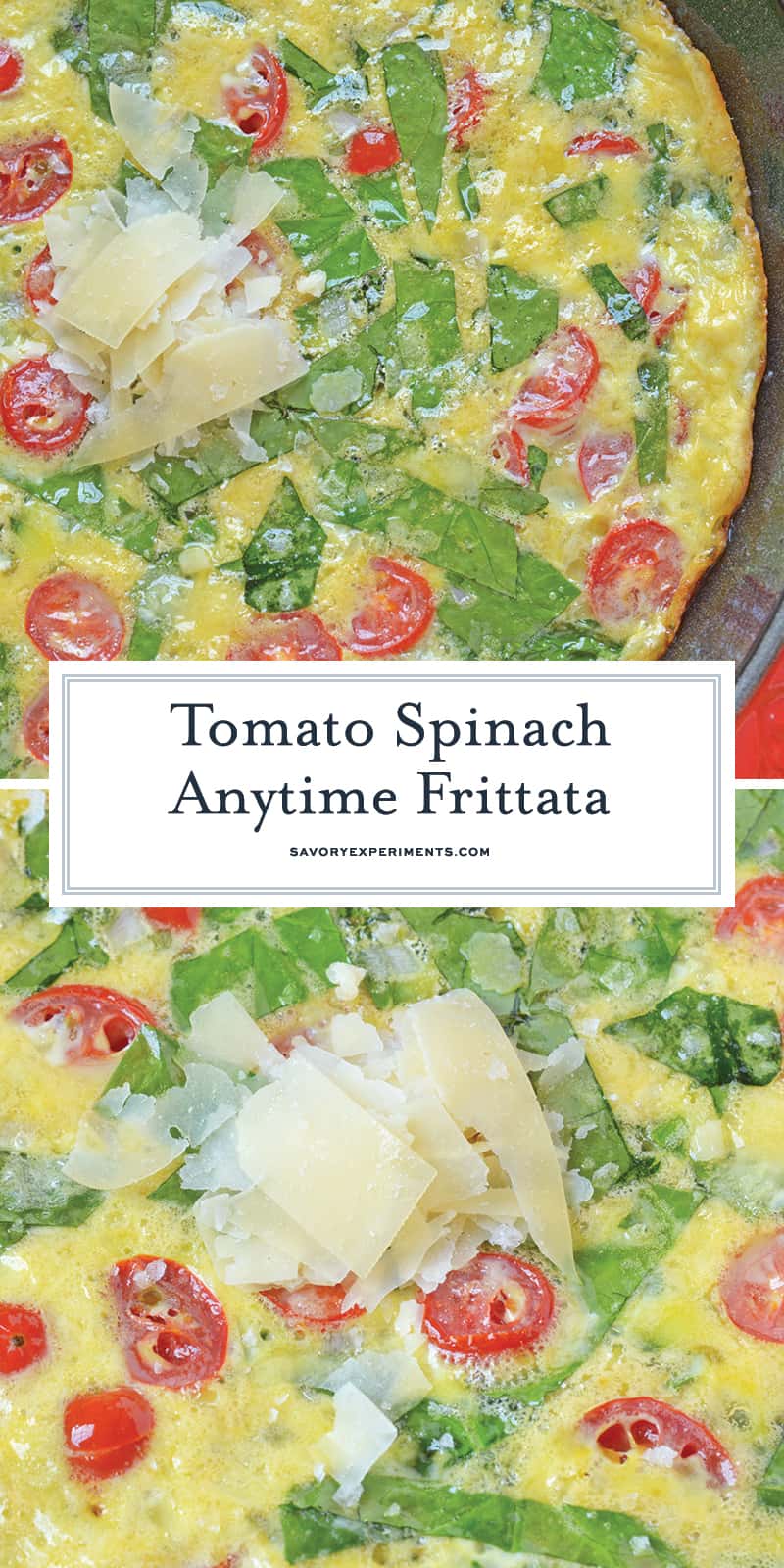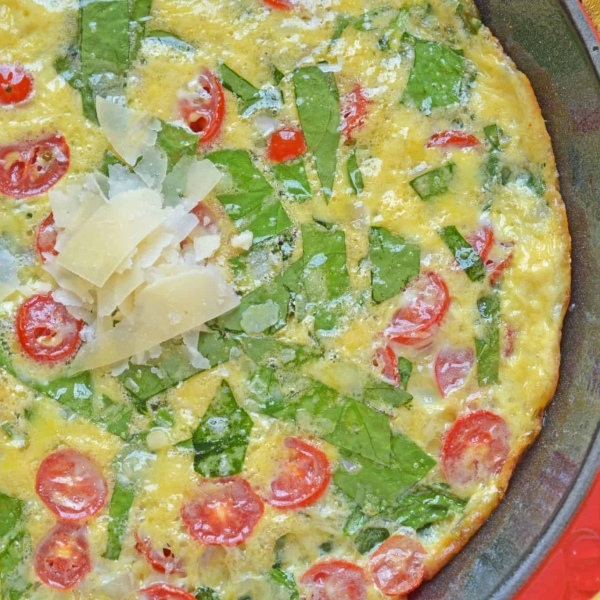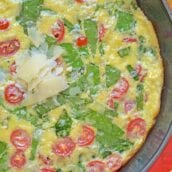 Tomato and Spinach Frittata Recipe
This Tomato Spinach Frittata recipe is excellent for breakfast or brunch, packed full of delicious flavors from tomatoes, spinach, shallots, and parmesan cheese!
Instructions
Preheat oven to 350 degrees. Melt butter in cast iron pan or oven safe skillet over medium heat.

Saute shallots for 1-2 minutes until they start to turn opaque.

In a medium mixing bowl, crack eggs and whisk with 1/8 cup Parmesan cheese and cream.

Add tomatoes and spinach to cast iron pan, stir continuously until spinach starts to wilt.

Pour egg mixture directly over vegetables. Cook untouched for 3-4 minutes.

Top with remaining cheese and place in oven for 5 minutes. Increase heat to broil and allow top to lightly brown, maybe only 30 seconds to 1 minute.

If you've tried this recipe come back and let us know how it was!
Nutrition
Calories:
149
kcal
,
Carbohydrates:
2
g
,
Protein:
9
g
,
Fat:
11
g
,
Saturated Fat:
5
g
,
Cholesterol:
221
mg
,
Sodium:
209
mg
,
Potassium:
161
mg
,
Sugar:
1
g
,
Vitamin A:
995
IU
,
Vitamin C:
4.1
mg
,
Calcium:
109
mg
,
Iron:
1.2
mg