With only 4 ingredients and a few minutes, you can have a homemade, spicy sauce that is out of this world. Sriracha Aioli is great on sandwiches or as a dipping sauce!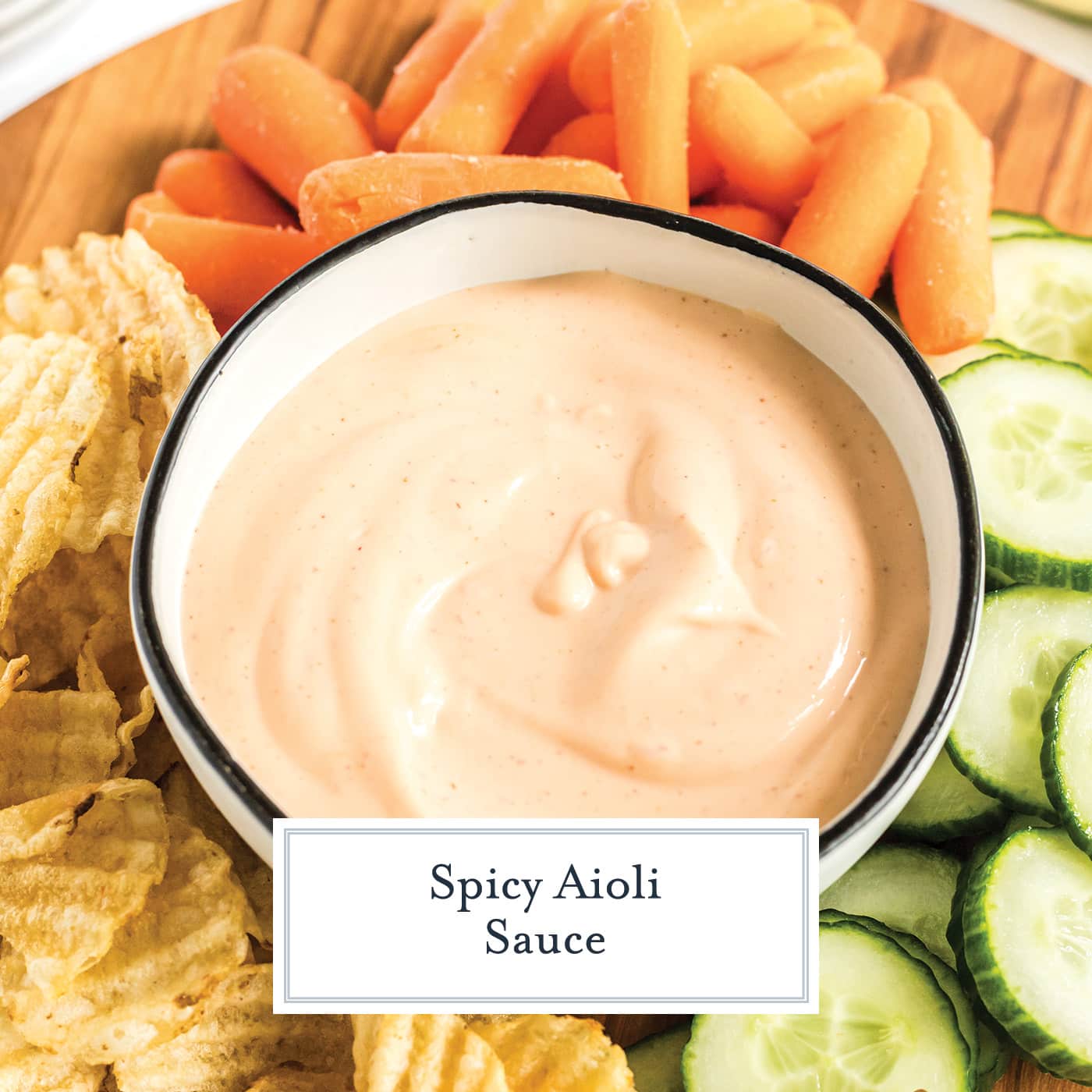 There are many ways to make an aioli spicy. Chipotle peppers, Sriracha, chile powder, hot sauce, buffalo sauce, aleppo pepper, jalapenos, wasabi, horseradish.
The list is pretty lengthy, but typically speaking, spicy aioli refers to a Sriracha aioli sauce and here is the recipe- no need to overpay for it in the store.
What is aioli sauce?
Aioli is a sauce popular in Mediterranean cuisine. It's made of garlic, olive oil, lemon juice, and egg yolk, which makes it sneakily similar to a garlic mayo. It is the most popular in Spain, France and Italy.
This is also why you can make aiolis like this easy Sriracha Aioli at home. Just use a store bought mayonnaise.
You can also make homemade mayonnaise in a blender super easily. You can use any type of mayonnaise, but to be more authentic, look for one made with olive oil opposed to vegetable or other types of oil.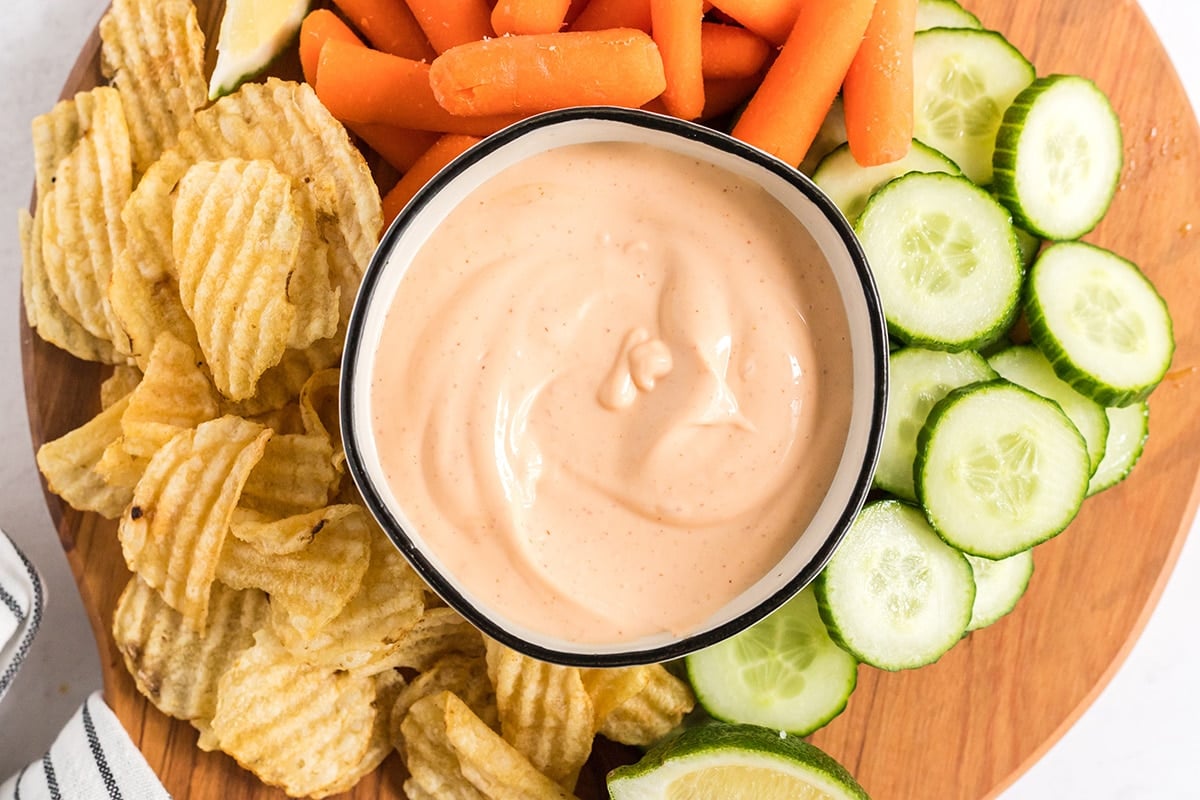 Sriracha?
What is sriracha? Sriracha is a type spicy chili sauce made from a paste of chili peppers, white vinegar, garlic, sugar, and salt. It has an initial heat followed by a sweet aftertaste, which makes it great for this homemade Sriracha Aioli!
It is commonly called cock sauce for the signature rooster on the label. Sriracha started to gain even more popularity in the past decade. Because of this, nearly all hot sauce brands have a similar product.
If you like the flavor of sriracha, you might also like my Sriracha Sour Cream! It is very similar to a yum yum sauce, just with a kick!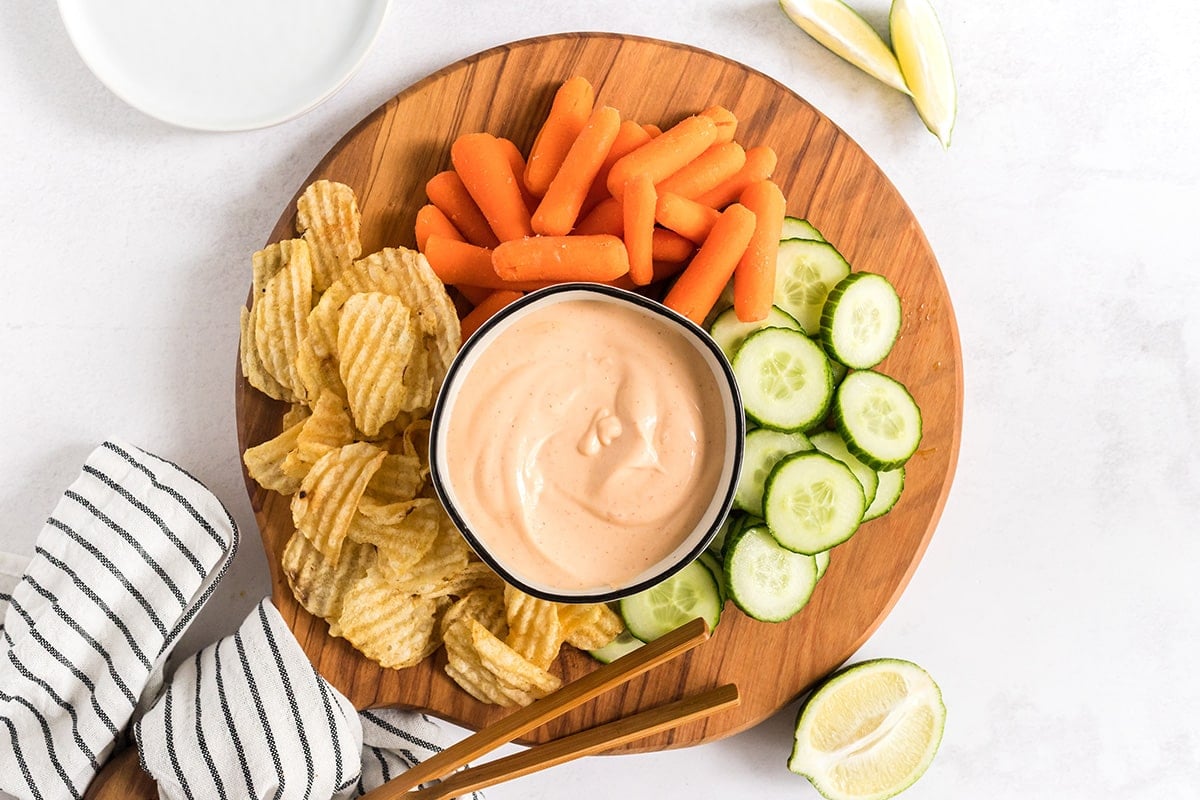 Why You'll Love This Sriracha Aioli
There are plenty of reasons that people love this creamy and smooth sauce, but here are just a few of our favorites:
Only 4 ingredients – The simple ingredients of this sauce makes it not only easy, but could save you a trip to the grocery store if you already have all of them on hand.
Quick and easy – There are only two basic steps to making this sauce, and besides chilling time, it's ready in only 5 minutes.
Versatile – You can use this sauce as a dip, a sandwich spread or pretty much anything you can think of.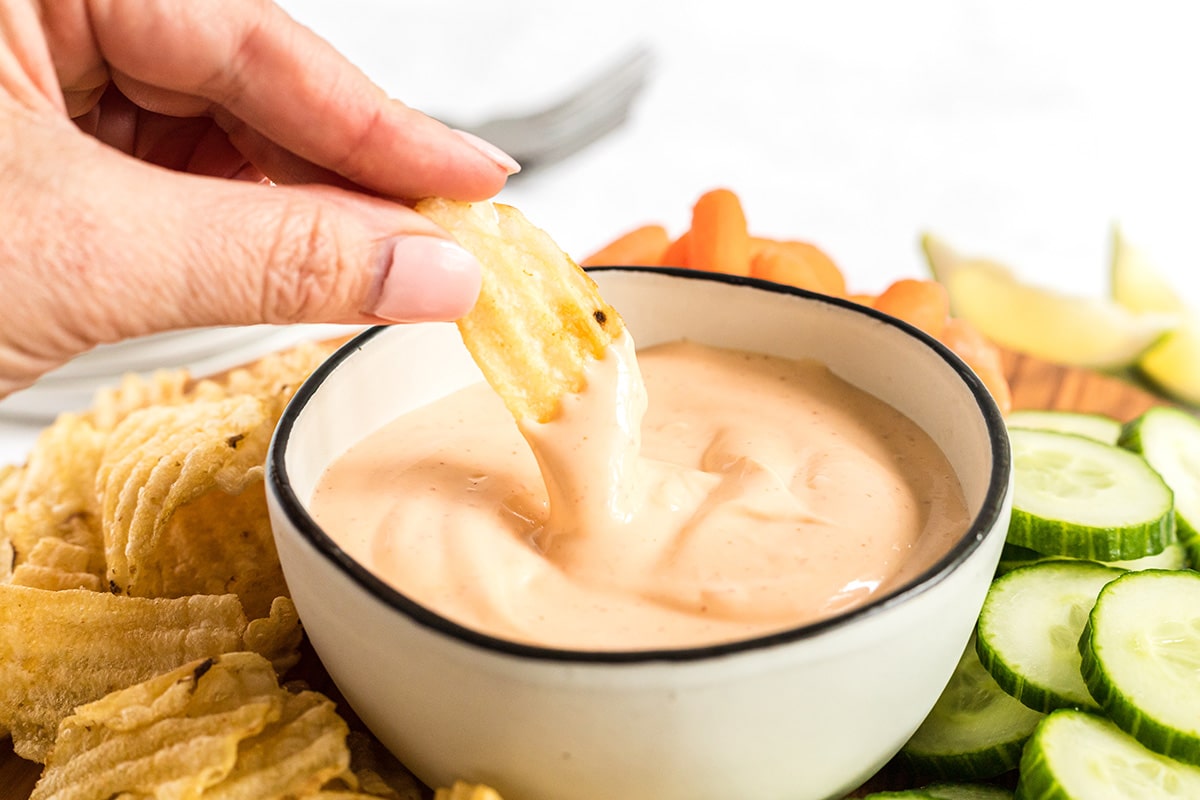 Sriracha Aioli Ingredients
You can easily find all of the ingredients for this delicious dipping sauce at your local grocery store if you don't already have them on hand.
Mayonnaise – grab your favorite store-bought mayonnaise or make your own!
Chile sauce – you can use sriracha or your own favorite sauce.
Lime juice – squeeze your own or just get it from the store.
Kosher salt – just use a pinch! The hot sauce and mayo will do their jobs bringing the saltiness to the table.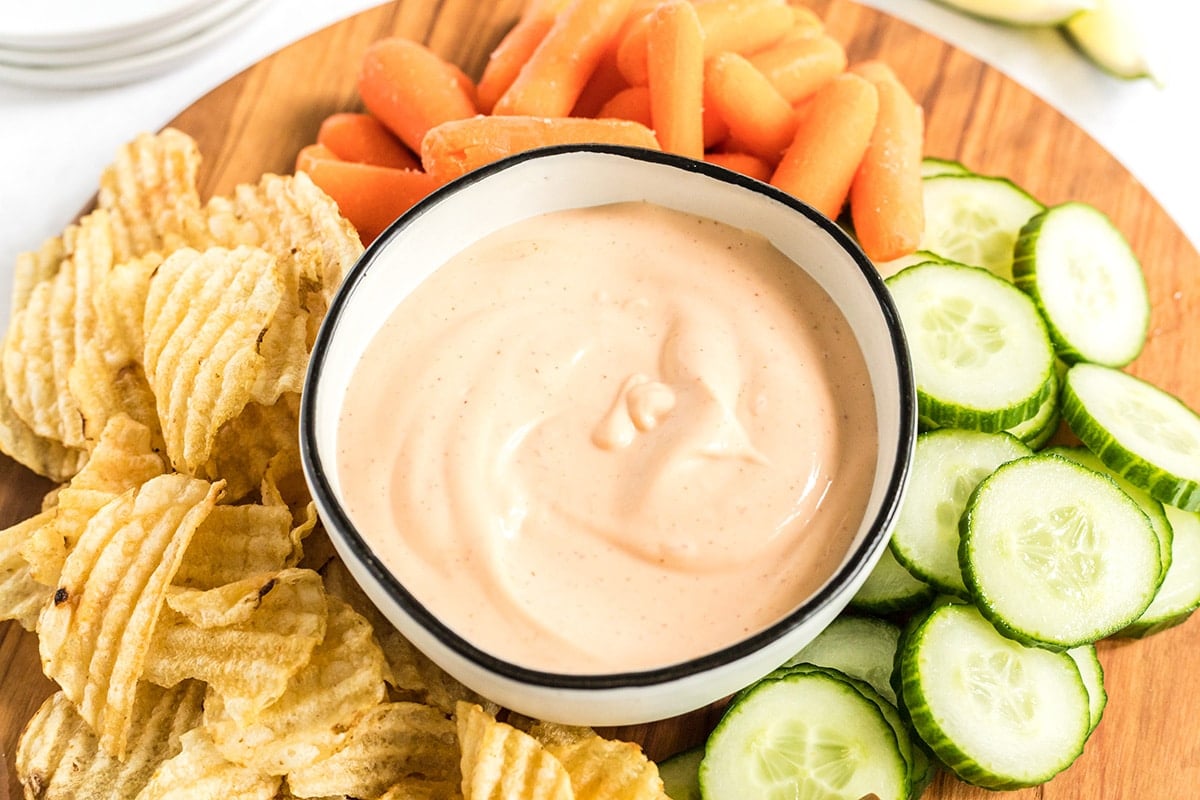 How To Make Spicy Aioli
This sriracha aioli recipe could not be more simple! First, gather your ingredients:
mayonnaise
chile sauce (sriracha)
fresh lime juice
kosher salt
Next, combine all of the above ingredients in a small bowl, and whisk until combined. Allow the sauce to sit for 30 minutes before serving, and you're done!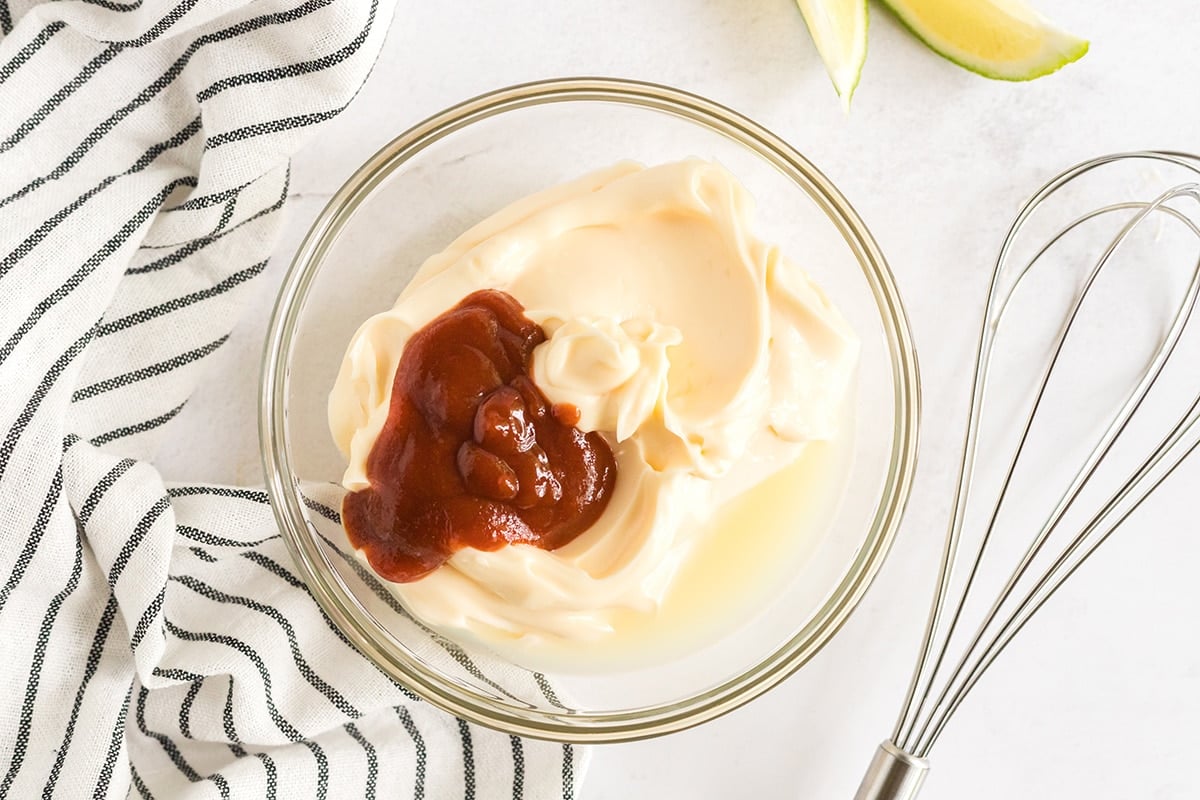 Ways to Use This Spicy Sriracha Aioli
Aioli, in general, is a great dipping sauce or condiment to slather on sandwiches, hot dogs and burgers. You can dip olives, carrots, red peppers, onion rings, crab cakes, french fries or potato chips.
Spicy aioli can be used in the place of anything requiring hot sauce and is especially good on buffalo chicken sandwiches. I also happen to like mine on boiled corn.
It's a great condiment for just about anything. You can also check out my whole collection of aioli recipes!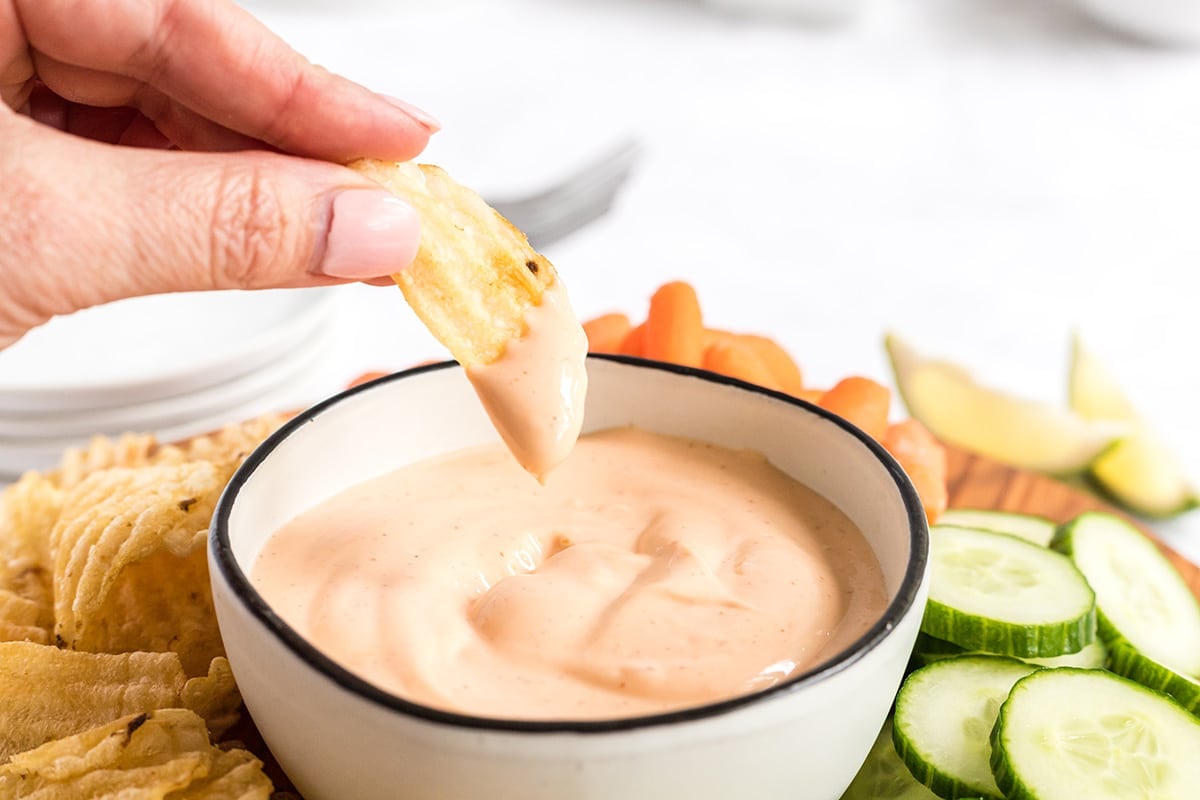 Variations
There are many ways to make this delicious sriracha aioli your own. Here are a few of our favorite suggestions:
Spice – toss some extra cayenne pepper or crushed red pepper or even Old Bay to take the spice level up a notch.
Pickle juice – spill a little pickle juice into this sauce to give it some tang.
Lemon – squeeze some fresh lemon juice, or pour a little in, to give this a citrusy tang.
Spicy garlic aioli – You could add some garlic powder or even fresh garlic cloves into the mix to give this sriracha aioli sauce recipe a garlicky flavor.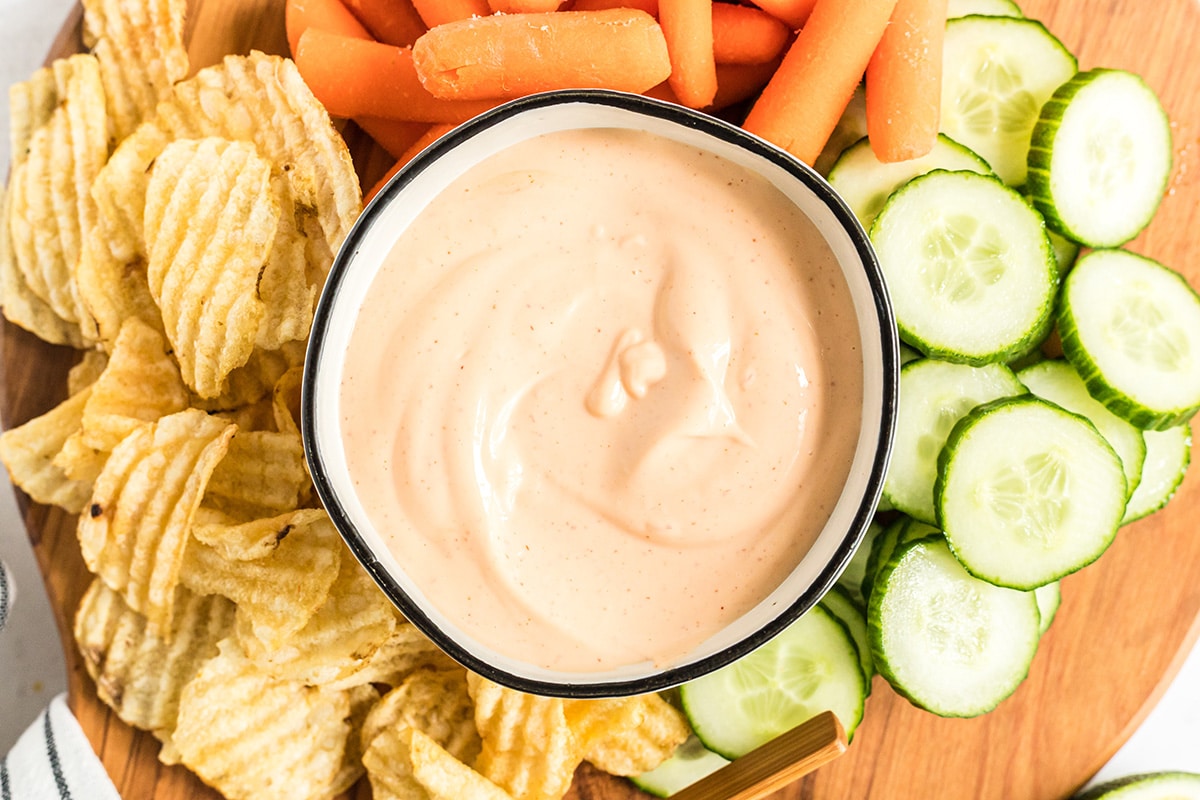 Storage and Freezing
Storage: You can store this homemade aioli in the refrigerator in an airtight container for up to one week.
Freezing: I do not recommend freezing this creamy sauce as the ingredients will separate.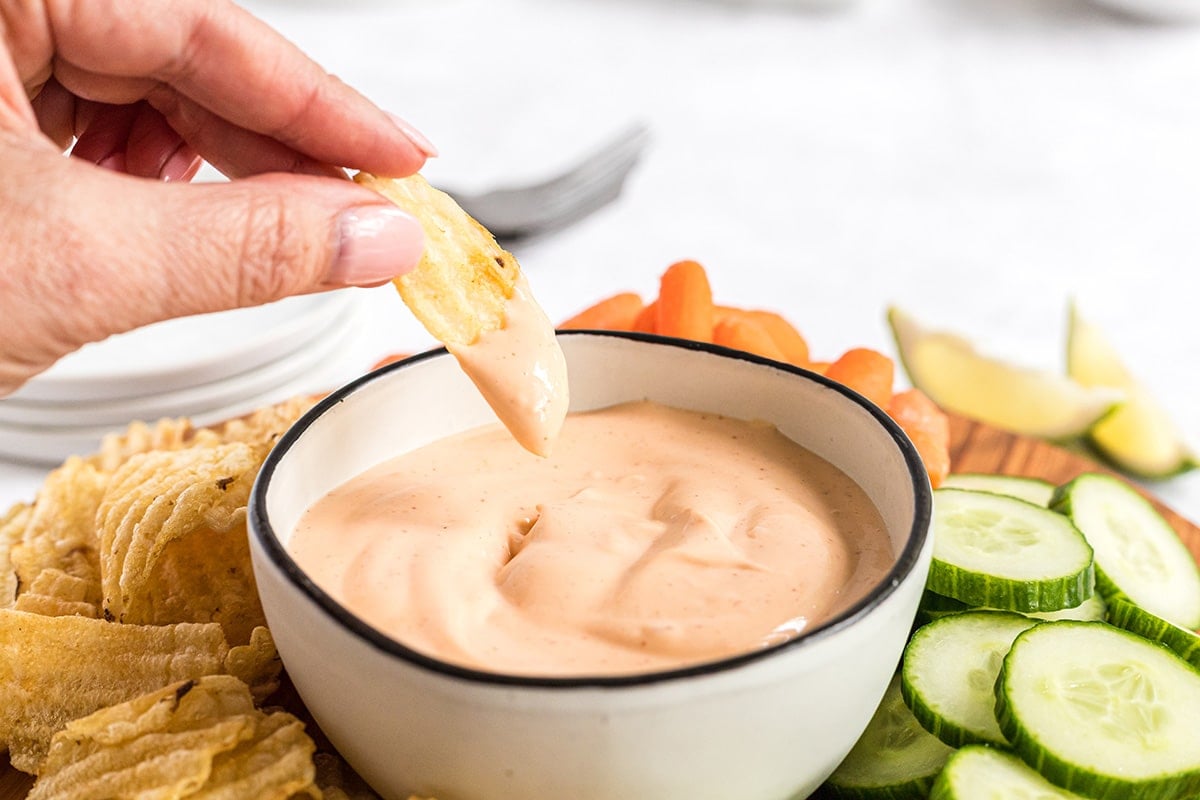 Frequently Asked Questions
What is spicy aioli made of?
Check the ingredient section above for specifics, or the recipe card for exact measurements. But the simple ingredients of this spicy aioli recipe are mayonnaise, sriracha sauce, lime juice and kosher salt. That's it!
What does aioli sauce taste like?
The best way to describe the taste of spicy aioli is like a creamy, tangy hot sauce. The temperature is more mild because it's cut with the mayonnaise, but has a slight spicy kick all the same.
How is aioli different from mayo?
While the base of an aioli is mayo, the main difference is that other ingredients are added to it to take the flavors up a notch; like the chile sauce in this sriracha mayo for example.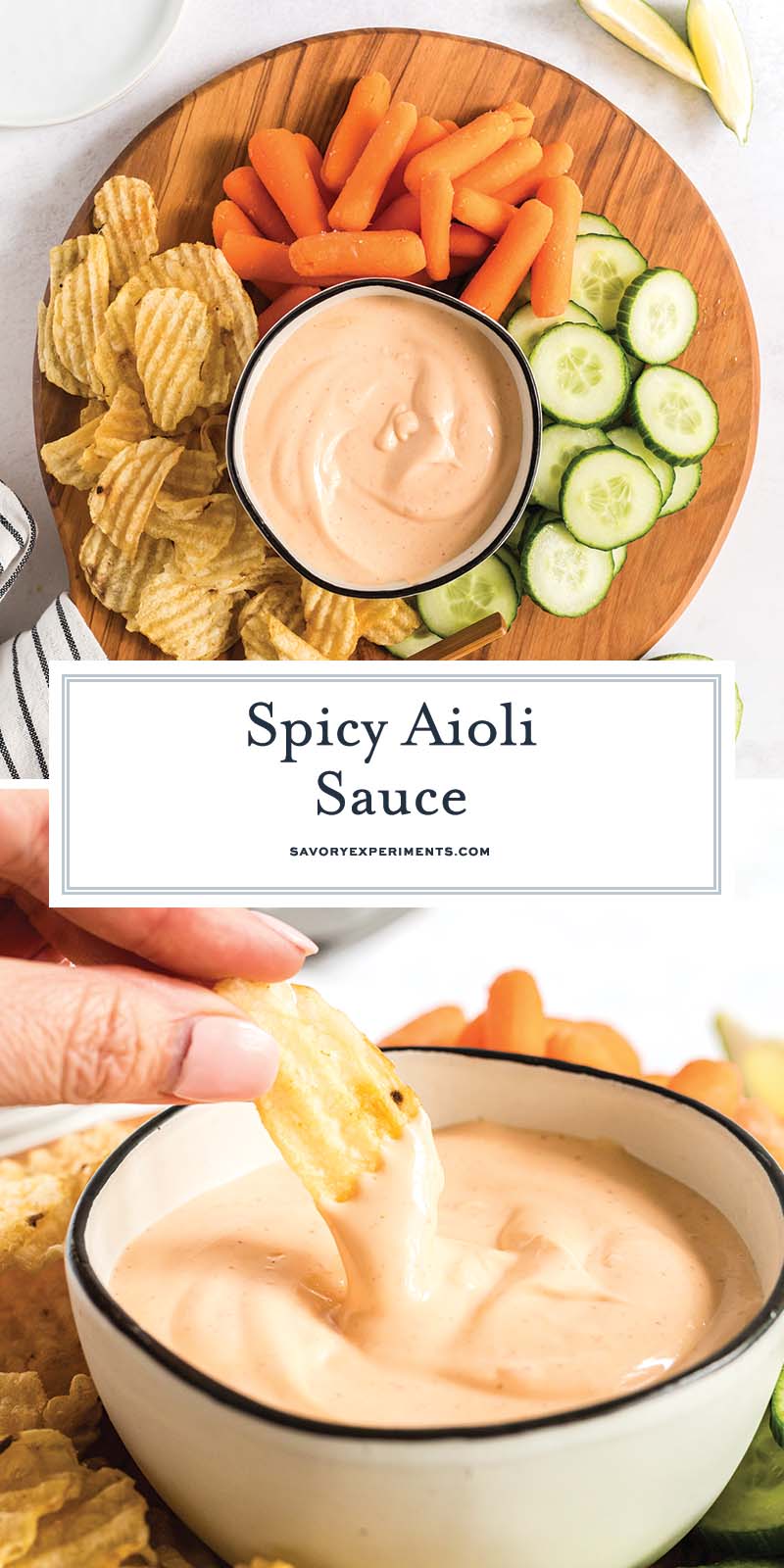 More Spicy Dishes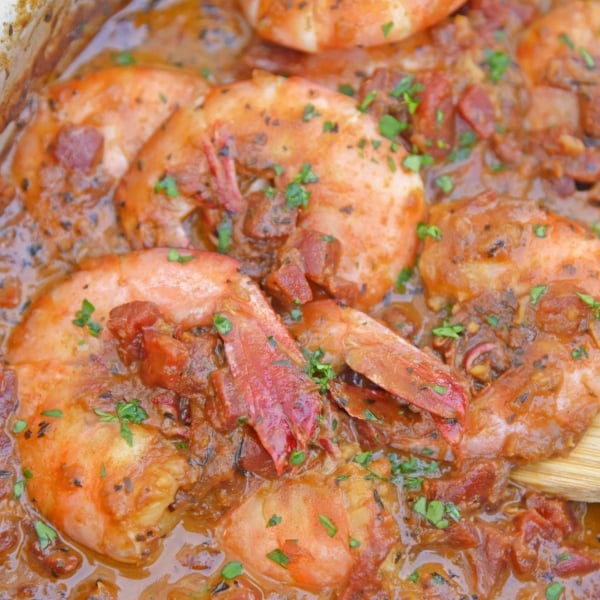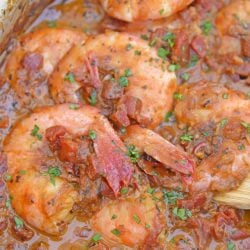 Voodoo Shrimp Creole
Voodoo Shrimp Creole is a tomato-based dish using shrimp and beer to make a sweet and spicy broth. Serve over rice or grits for a full meal.
See The Recipe!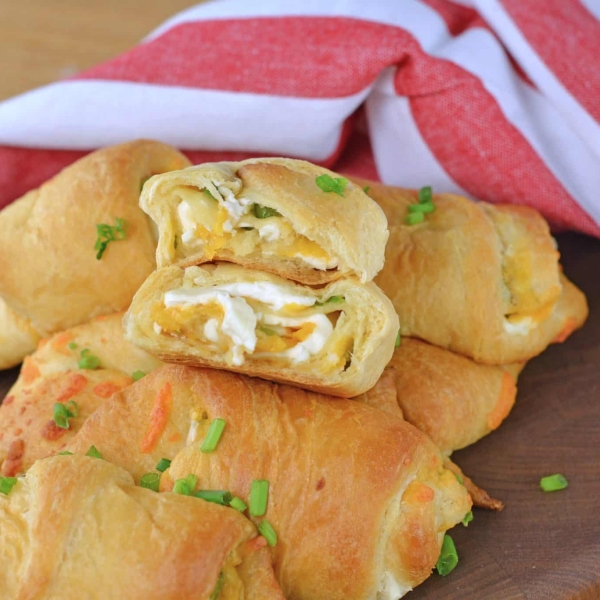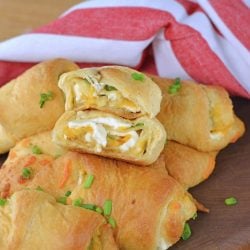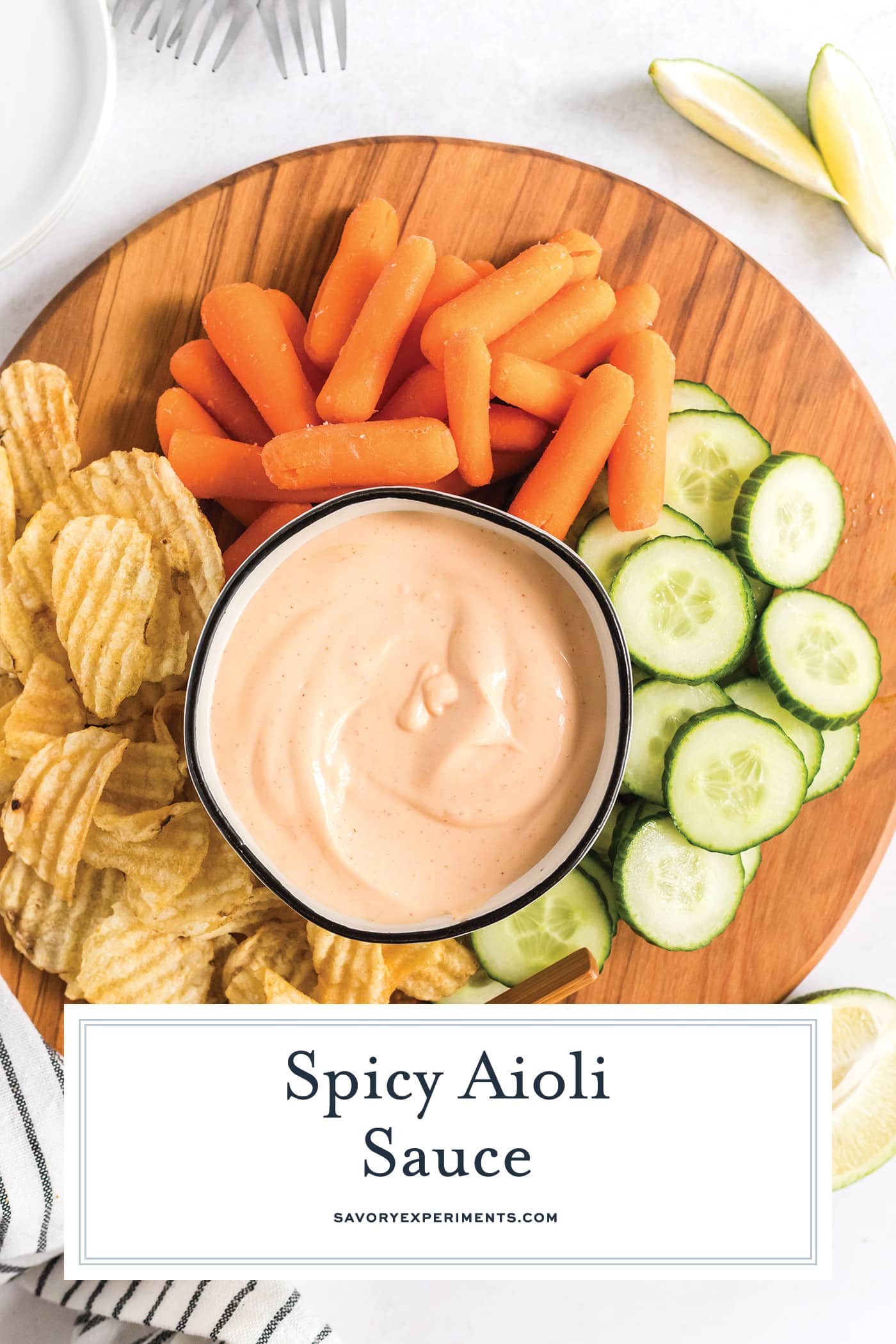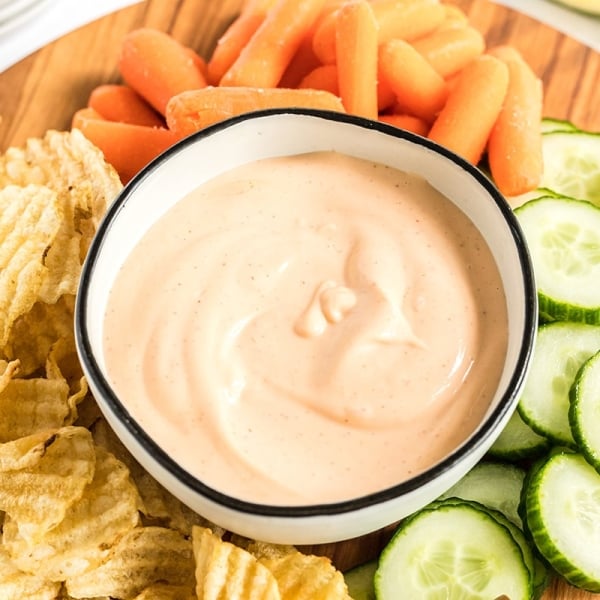 Sriracha Aioli Recipe (Spicy Aioli)
With only 4 ingredients and a few minutes, you can have a spicy sauce that is amazing! Sriracha Aioli is great on sandwiches or as a dipping sauce!
Instructions
Combine all ingredients in a small bowl and whisk until combined.

Allow to sit for 30 minutes before serving.

If you've tried this recipe, come back and let us know how it was!
Nutrition
Calories:
1566
kcal
,
Carbohydrates:
10
g
,
Protein:
2
g
,
Fat:
168
g
,
Saturated Fat:
26
g
,
Cholesterol:
94
mg
,
Sodium:
3093
mg
,
Potassium:
45
mg
,
Fiber:
1
g
,
Sugar:
10
g
,
Vitamin A:
146
IU
,
Vitamin C:
5
mg
,
Calcium:
18
mg
,
Iron:
1
mg