This post is sponsored by Smithfield, however all thoughts and opinions are 100% my own.
Seriously? How is it already that time of the year again? It seems like we were just buying pool noodles and now we are looking for backpacks.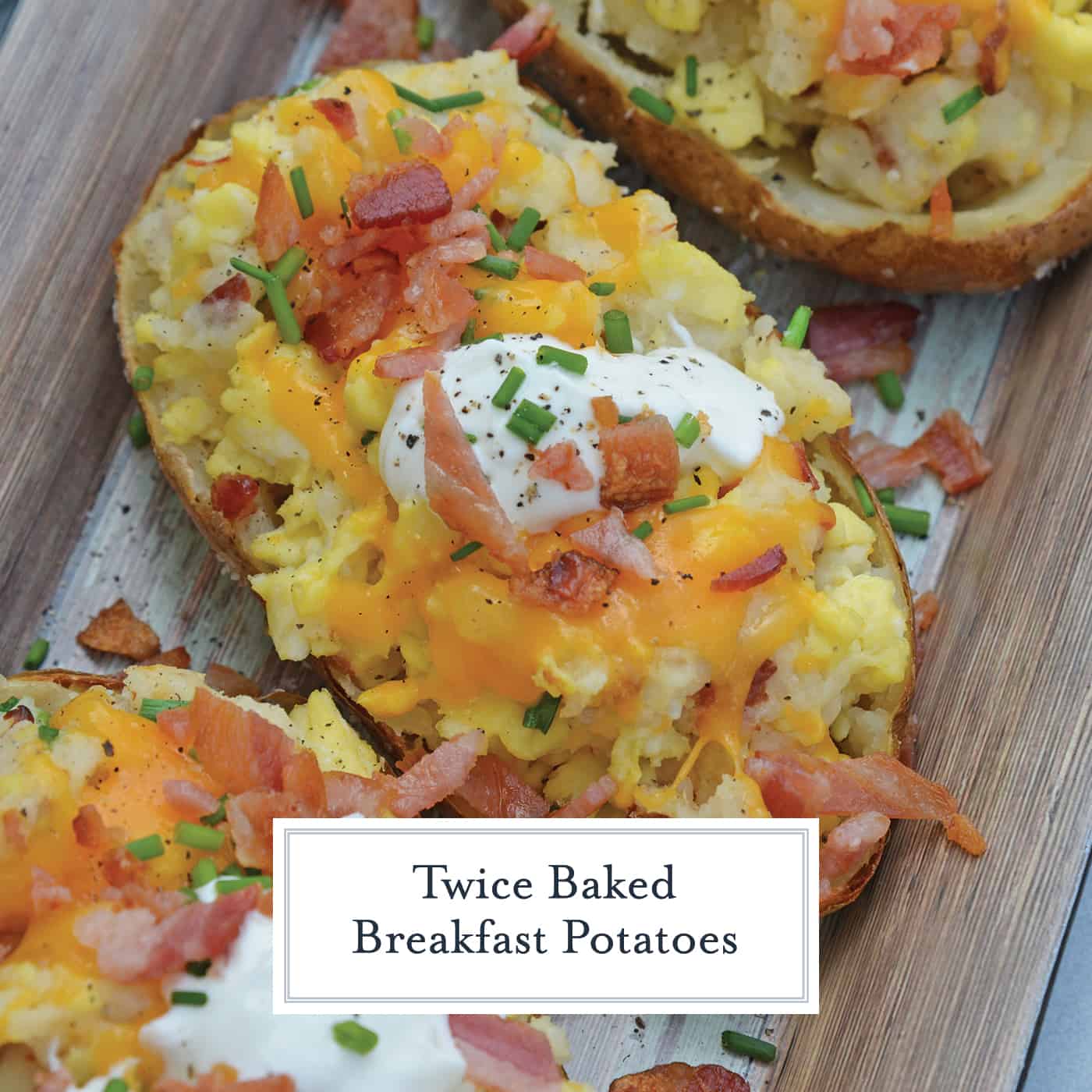 Twice Baked Breakfast Potatoes use leftover potatoes with scrambled eggs, cheddar cheese, chives, sour cream and BACON for the perfect easy breakfast recipe.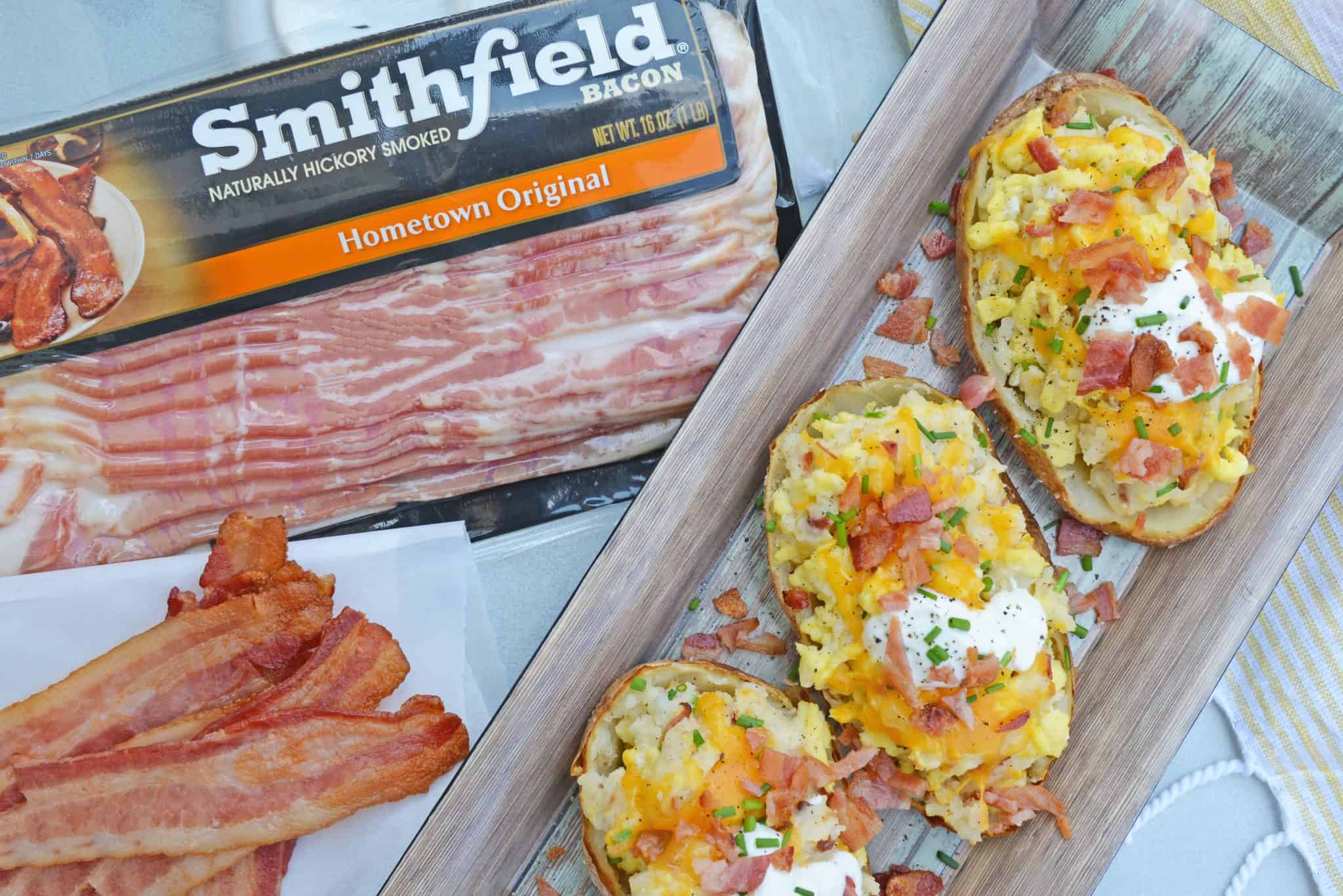 And with back to school comes the rigmarole of meal planning. Every meal of the day has its own challenges for different reasons, but one thing stands true, breakfast is the most important meal of the day!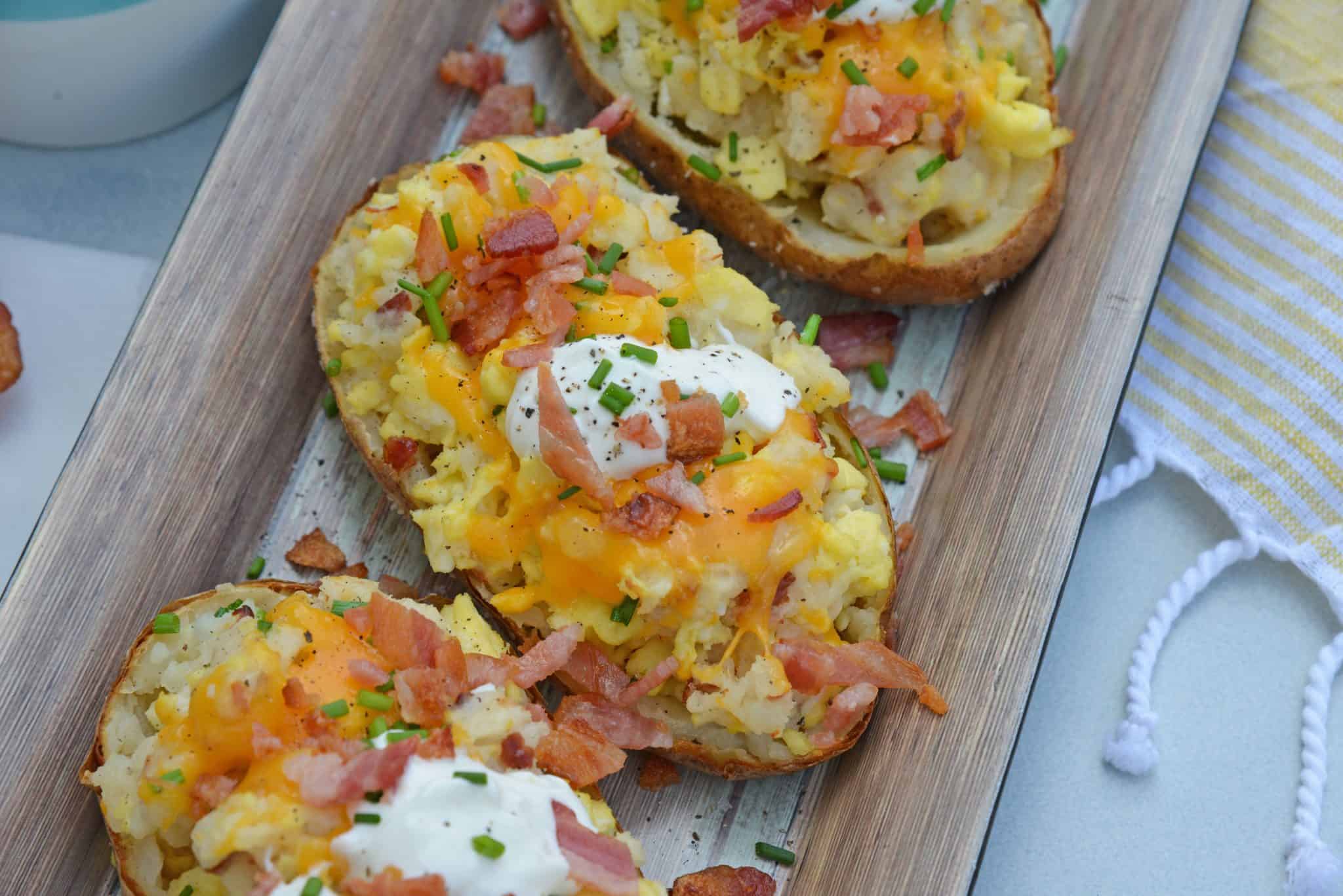 Studies show that when students have a hearty and wholesome breakfast in the morning, they are more likely to attend school and perform better on standardized tests making breakfast a powerful learning tool.
Here are some foolproof tips on making baked potatoes in the oven. You can also make your potatoes in the Instant Pot or Air Fryer!
In fact, when students don't get the food they need, 76% of teachers see poor academic performance and 80% see the students lose the ability to concentrate (source: No Kid Hungry).

Quality of breakfast is just as important as having breakfast, but with a little bit of planning, you can be serving your little ones (or big ones!) a protein-packed breakfast that will fuel them through the morning.
My favorite: Twice Baked Breakfast Potatoes! This is my favorite for several reasons. First, I can use leftover baked potatoes to make breakfast. I hate wasting food and also hate eating the same thing, so I can make two meals with the same set of baked potatoes.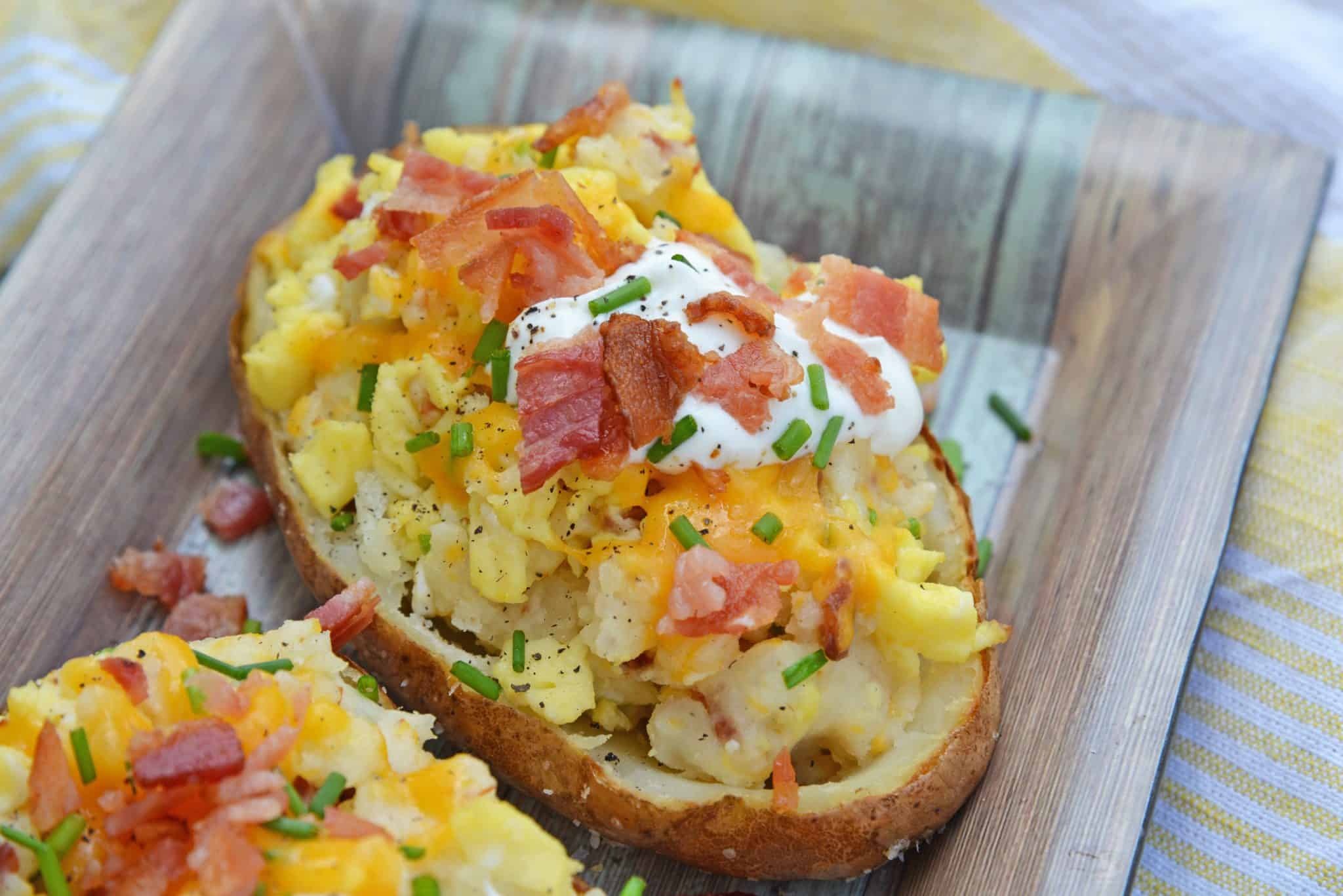 The second is how easy they are to make and how they can be prepared ahead of time. I go ahead and assemble the whole stuffed potato and then just pop it in the oven for a few minutes to warm them up!
Smithfield Hometown Original Bacon provides the protein boost you need as well as scrambled eggs and cheddar cheese, while potatoes give complex carbohydrates and dietary fiber.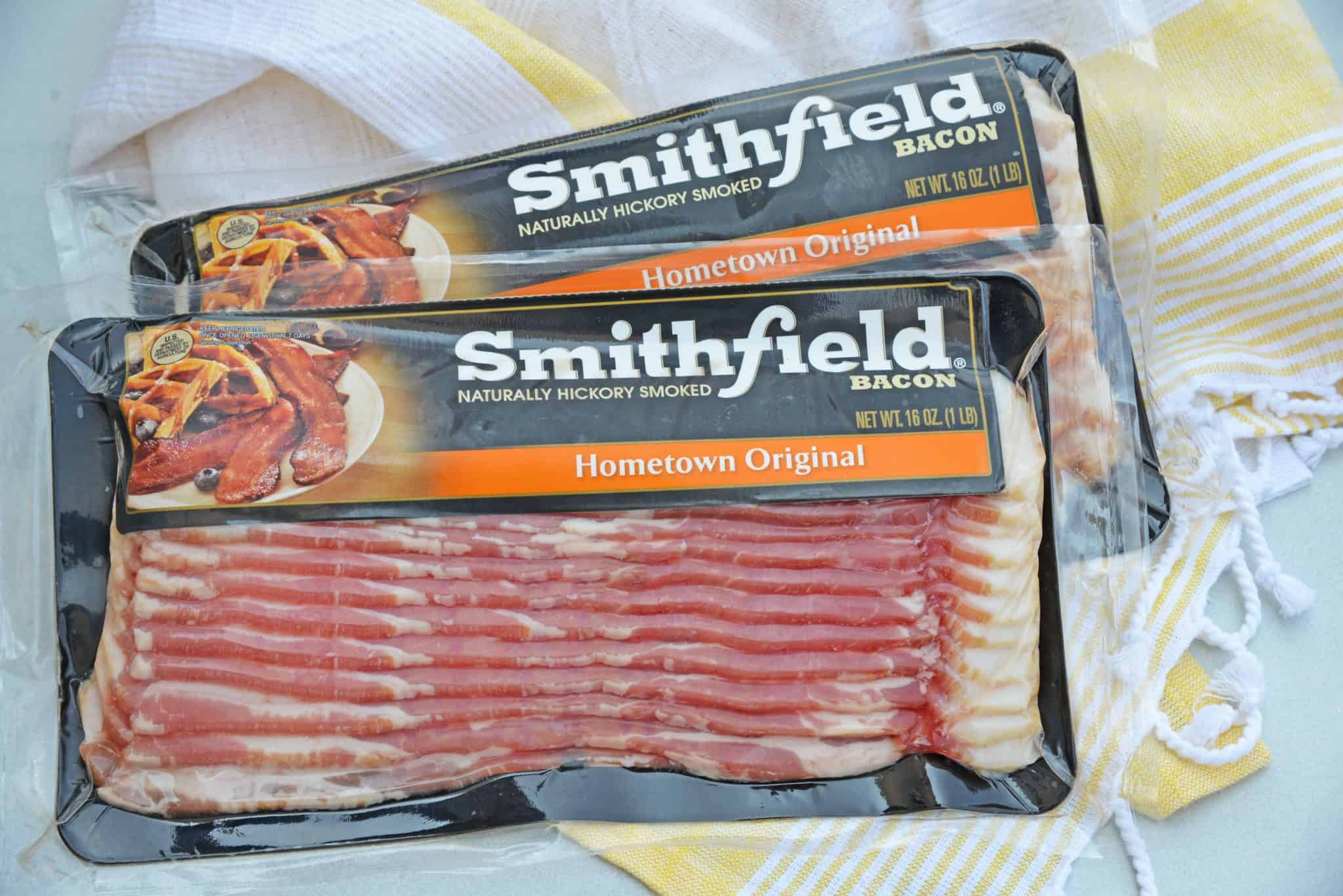 Smithfield Hometown Original Bacon is smoked and cured and comes in different flavors and cuts like Cherrywood and Thick Cut so you can customize your Twice Baked Breakfast Potatoes.
And since bacon makes everything better, I usually make a few extra crispy strips to serve on the side of my potato.
If you liked our Twice Baked Breakfast Potato, you'll love these other breakfast recipes that use bacon too!
So really the only question left is do you like your breakfast potatoes and eggs with ketchup, hot sauce or plain? Personally, I like mine plain so I can really taste ALL the flavors!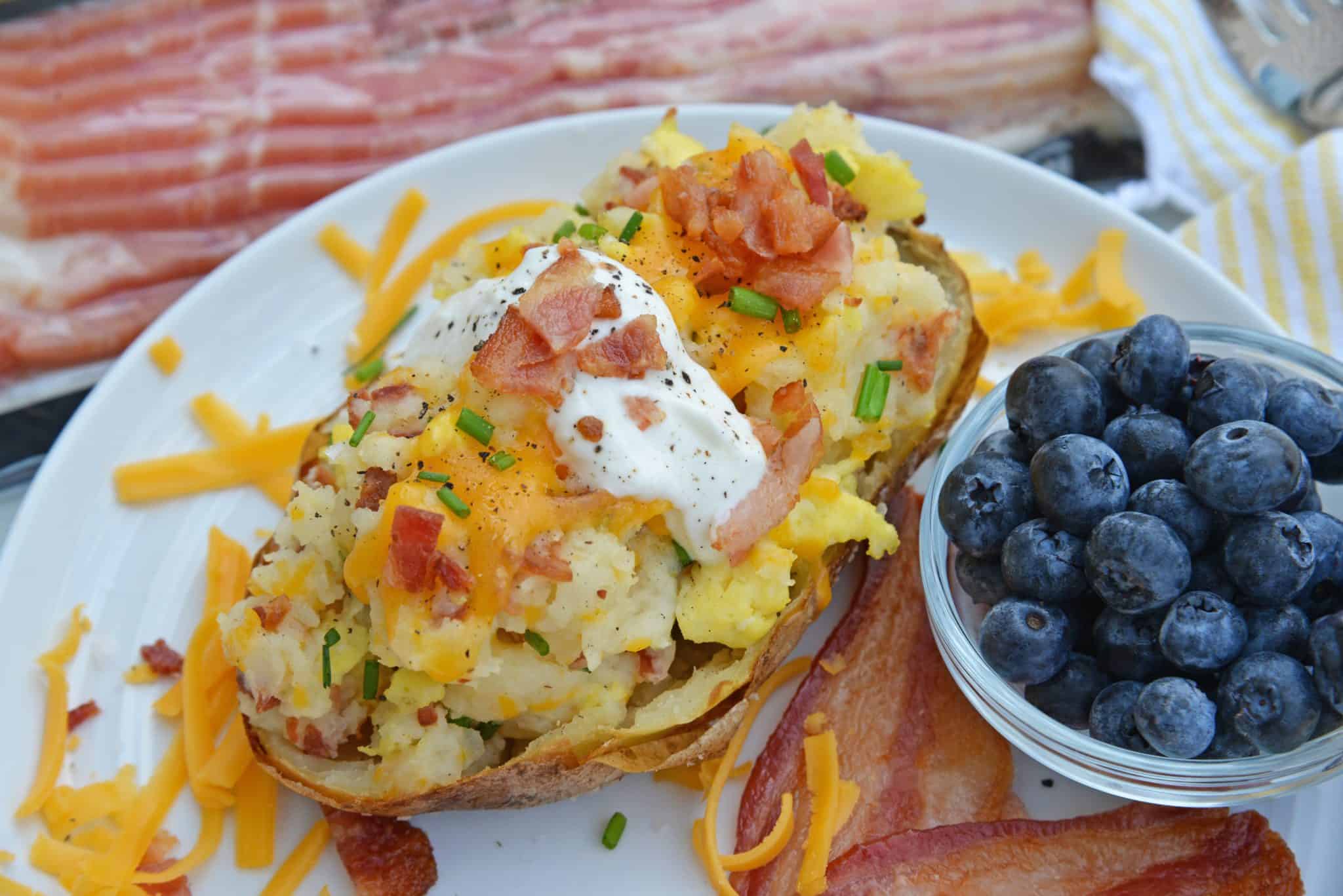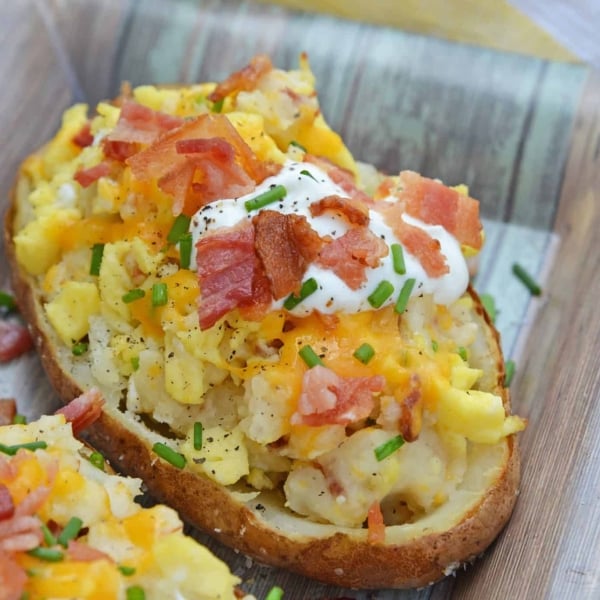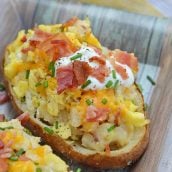 Twice Baked Breakfast Potatoes
Twice Baked Breakfast Potatoes use leftover potatoes with scrambled eggs, cheddar cheese, chives, sour cream and BACON for the perfect easy breakfast recipe.
Instructions
Preheat oven to 350 degrees.

In a small skillet, melt 1 tablespoon butter. Add lightly beaten eggs, stirring until scrambled and just cooked. Do not overcook. Set aside.

Cut large, cooked potatoes in half lengthwise. Using a spoon, hallow out skins. Place potato pulp in a medium mixing bowl. Place potato skins on a baking sheet.

Mash potato pulp with sour cream and 1 tablespoon butter.

Stir in shredded cheddar cheese, chives, garlic powder and ground black pepper, mix well.

Using two forks, toss scrambled eggs with potato mixture. Do not over mix, just lightly toss.

Fill potato skins, mixture will be heaping.

Place back into oven for 10 minutes, or until hot all the way through.

Immediately top with additional cheddar cheese, crumbled bacon, chives and any additional condiments you desire.

If you've given our Twice Baked Breakfast Potatoes a try, make sure to come back through and let us know how they were!
Notes
*Use leftover baked potatoes or pierce your potato several times and microwave for 4-5 minutes. The size of potato and power of your microwave will make cooking time vary greatly, please keep an eye out while it cooks! *Hot potatoes tend to work better. If you are using leftovers, scoop out the potato and heat in the microwave before mashing.
Nutrition
Calories:
237
kcal
,
Carbohydrates:
20
g
,
Protein:
8
g
,
Fat:
13
g
,
Saturated Fat:
7
g
,
Cholesterol:
150
mg
,
Sodium:
174
mg
,
Potassium:
489
mg
,
Fiber:
1
g
,
Sugar:
1
g
,
Vitamin A:
495
IU
,
Vitamin C:
6.5
mg
,
Calcium:
90
mg
,
Iron:
1.5
mg
You can find your own Smithfield Bacon at your local retailer or grocery store!