As a kid I always thought "blackening seasoning" was just culinary code for burnt. When I finally tried this sublime mix of spices, I realized it was much more than a fake char and could be utilized in so many dishes.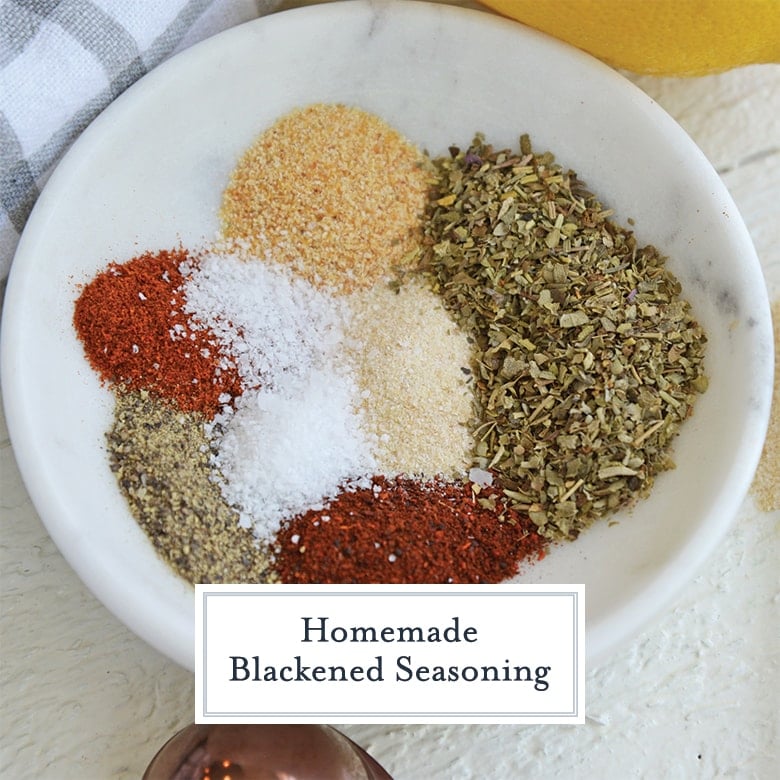 History of Blackened Seasoning
The process of blackening is to dip protein in butter, dredge in a spice mix like the one here and then sear it at high temperatures in a cast iron pan.
It is based in Louisiana and therefore is very similar to Cajun and Creole seasoning (which are also different). Blackening is actually a process and technique cooking rather than a spice blend.
For this recipe, we are skipping the cast iron and using the oven at a high heat instead. It doesn't yield the exact same results, but it is close enough to still be in the blackened family.
Blackened Seasoning Uses
What can I use blackened seasoning on?
The bold flavors of this seasoning taste good on many things, but get a good grounding for exactly how you like it before you go spicing up everything.
Fish, shellfish, beef, pork and chicken are all favorites. The flavor profile will change if you add it to water and oil for a marinade and again if you use it as a rub and sear the spice mix directly on high heat.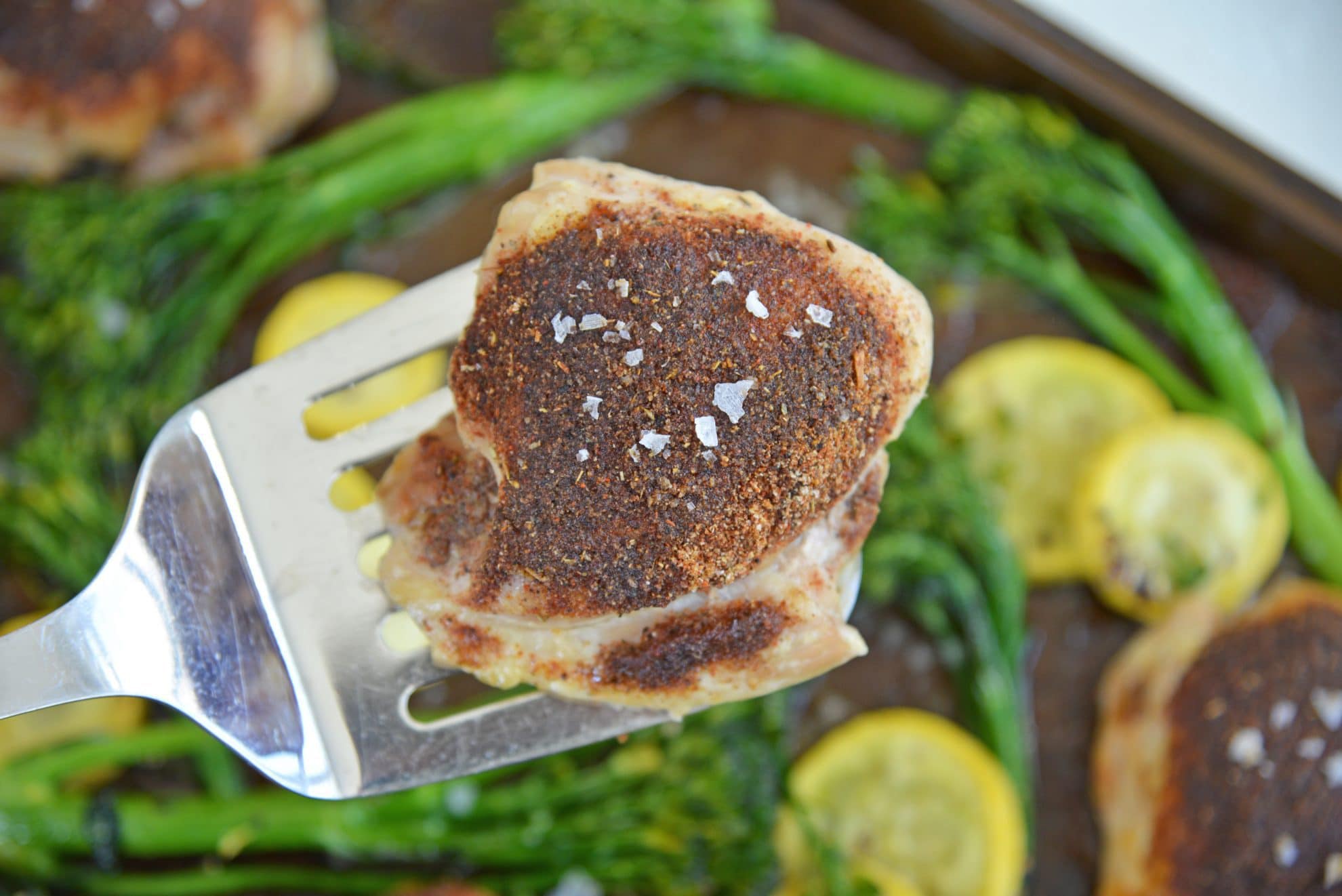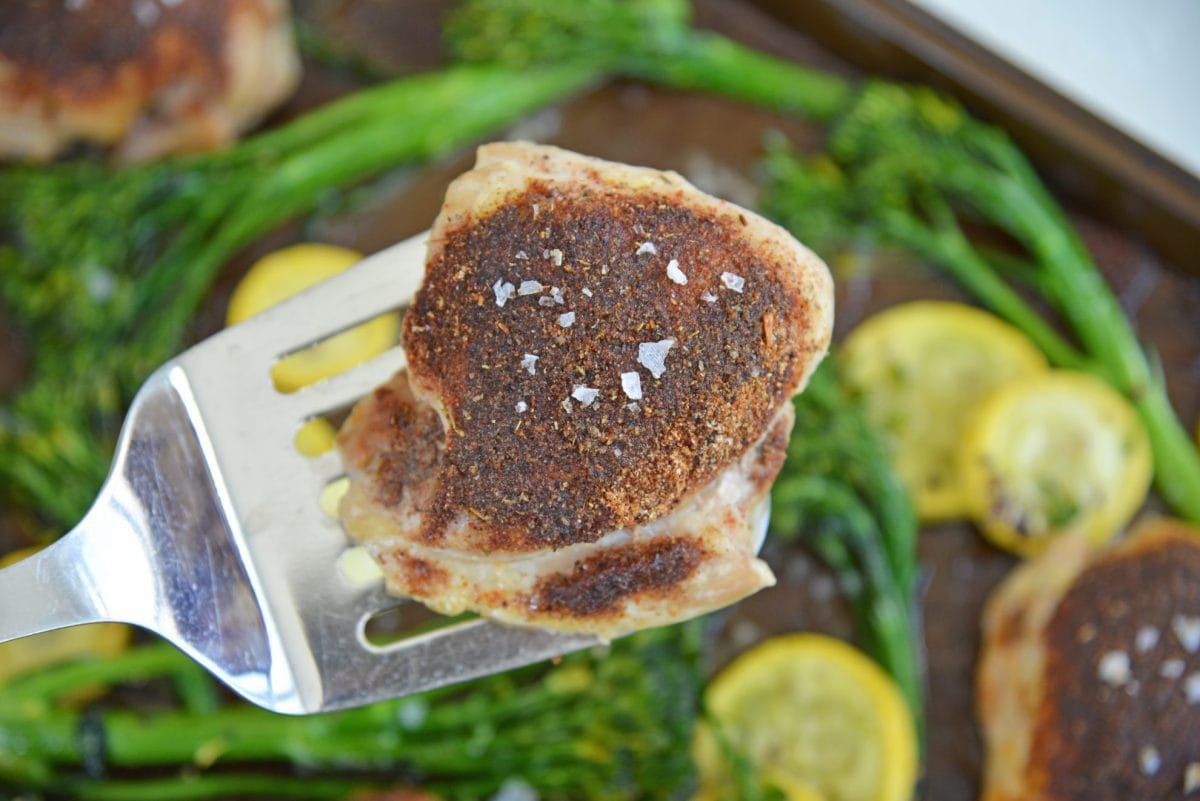 You can also use it on roast and grilled veggies, salads and even garlic bread, pasta or for seasoning alfredo sauce.
Blackened Fish Seasoning
This rub is especially good on fish and shellfish. You can go the old fashioned route of basting the seafood of choice with butter or dab it dry with a paper towel and then rub in the mix.
You can do this right before cooking or let is marinate a little.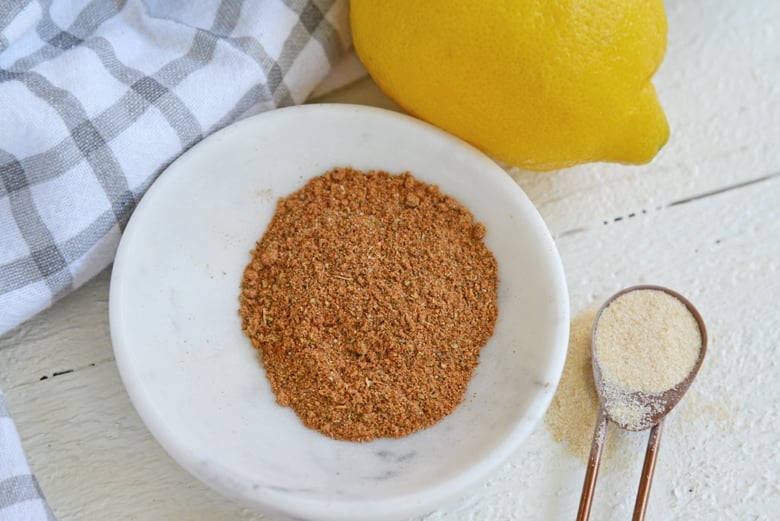 For shrimp, I prefer to peel them first, then toss dry shrimp in the seasoning. Pan frying over high heat or skewering and grilling.
Salmon, tilapia, cod, swordfish and any filleted fish also works well. You can also pan fry at high heat, starting with the seasoning side down, then flipping. These can also be grilled on a salt block or cedar plank.
Blackened Chicken Seasoning
Possibly the most popular way to use the seasoning is chicken. If pan frying, baste with butter then adhere the blackened seasoning.
Heat a cast iron pan to smoking point and sear. Turn on all your fans and open the windows! Things are going to get smoky!
You can also rub it into chicken pieces and either bake or grill them, but I don't suggest using butter for these because it will slide right off.
Using it on chicken breasts for a salad, to top alfredo pasta or for a chicken sandwich with aioli sauce are my favorite ways.
Smoked Paprika
Can I use regular paprika instead of smoked?
This question inevitably comes up and the answer is: yes. I like the smoked essence, but if that isn't your jam or you are just out, feel free to use regular paprika.
Chipotle Chile Powder
Can I use regular chile powder?
Again, yes. It also has a smoky aroma and flavor that I like in my blackened seasoning, especially when I am using it as a marinade or rub and not applying it to direct heat to really bring out the flavors.
Keep in mind that store bought chile powder is usually a mix of ground chile powders and other spices like cumin, garlic powder and oregano, so you might want to dial it back a notch on those ingredients in your mix.
Can I customize it?
By all means, YES! This ia base version. If you want something hotter, add more chipotle and cayenne or use even hotter chile powders.
Dial it back by reducing those. You can also play with the amounts of dried herbs to your liking. Sometimes I even add marjoram. If you don't have all three (or just want to cut a corner) try using 1 1/2 teaspoons of Italian Seasoning instead.
Spice Grinder
Wondering why the mix you buy at the store is a smooth grain, but the ingredients you are putting into yours are a little more coarse?
Two words: spice grinder. This one also works for coffee beans…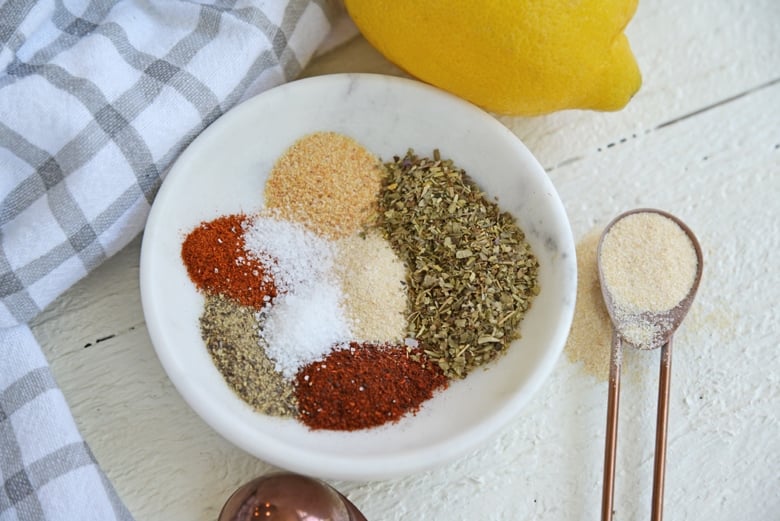 This is totally optional and a matter of personal perference. If you want a smooth mix, give it a few grinds. If you don't really care and just need the flavors, keep it whole.
Storage
Store at a room temperature in a cool, dry place like a cupboard or pantry, in an airtight container. I try to use mine within 1 year, but that is mostly because dried herbs and spices start to lose their potency after about 6 months of being opened, so your spice mix will also start to lose flavor.
Blackened seasoning also makes a great gift. Buy some small glass jars at the craft store and give it for hostess gifts, house warmers, Christmas and more.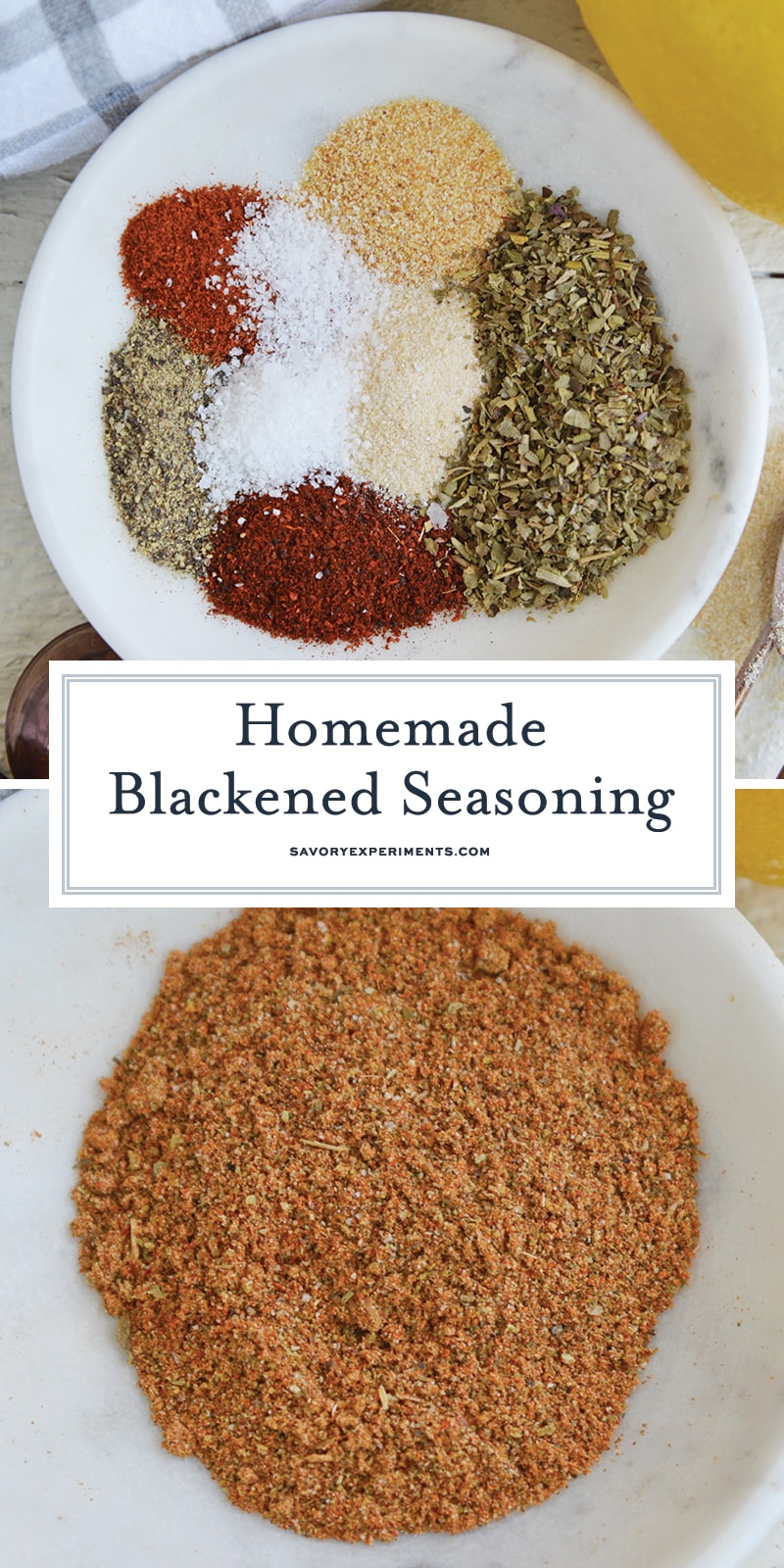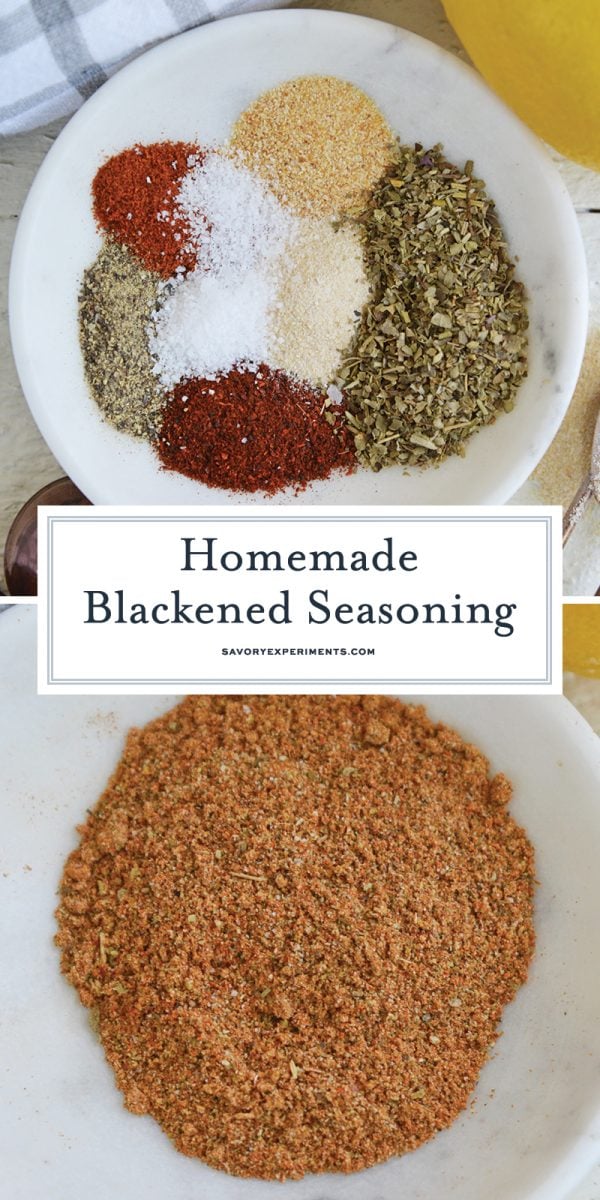 More homemade spice blends: