These potatoes are layers upon layers of cheesy deliciousness! Slow Cooker Potatoes au Gratin are one of the most satisfying sides around.

Slow Cooker Potatoes au Gratin are an amazing copycat recipe of Fleming's Steakhouse's potatoes. Pop it in your slow cooker and reap the cheesy benefits.
We recently went back to one of our old haunts, Fleming's Steakhouse and Wine Bar. All of their food is delicious, but the Fleming's Au Gratin Potatoes are remarkable.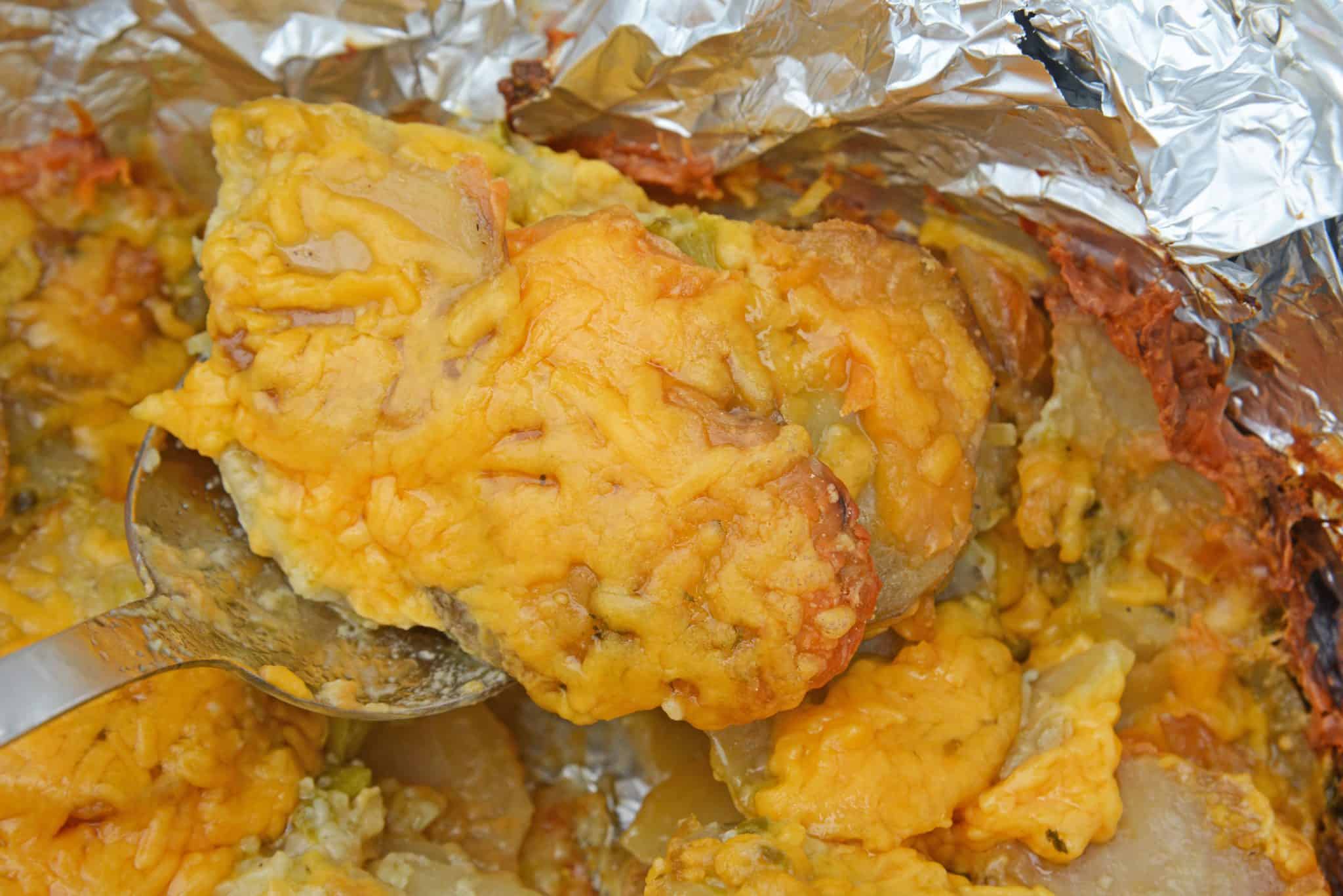 That isn't an exaggeration. They are so remarkable I always order two. One for the dinner table and one to take home! I don't mess around when it comes to these potatoes.
PRO TIP: Always freshly shred your cheese. Pre shredded cheese is coated in a powder starch which will prevent the cheese from melting properly.
Instead of spending tons of money to eat potatoes at a restaurant, I decided to create my own recipe using a slow cooker since my Cheesy Crock Pot Potatoes were such a hit!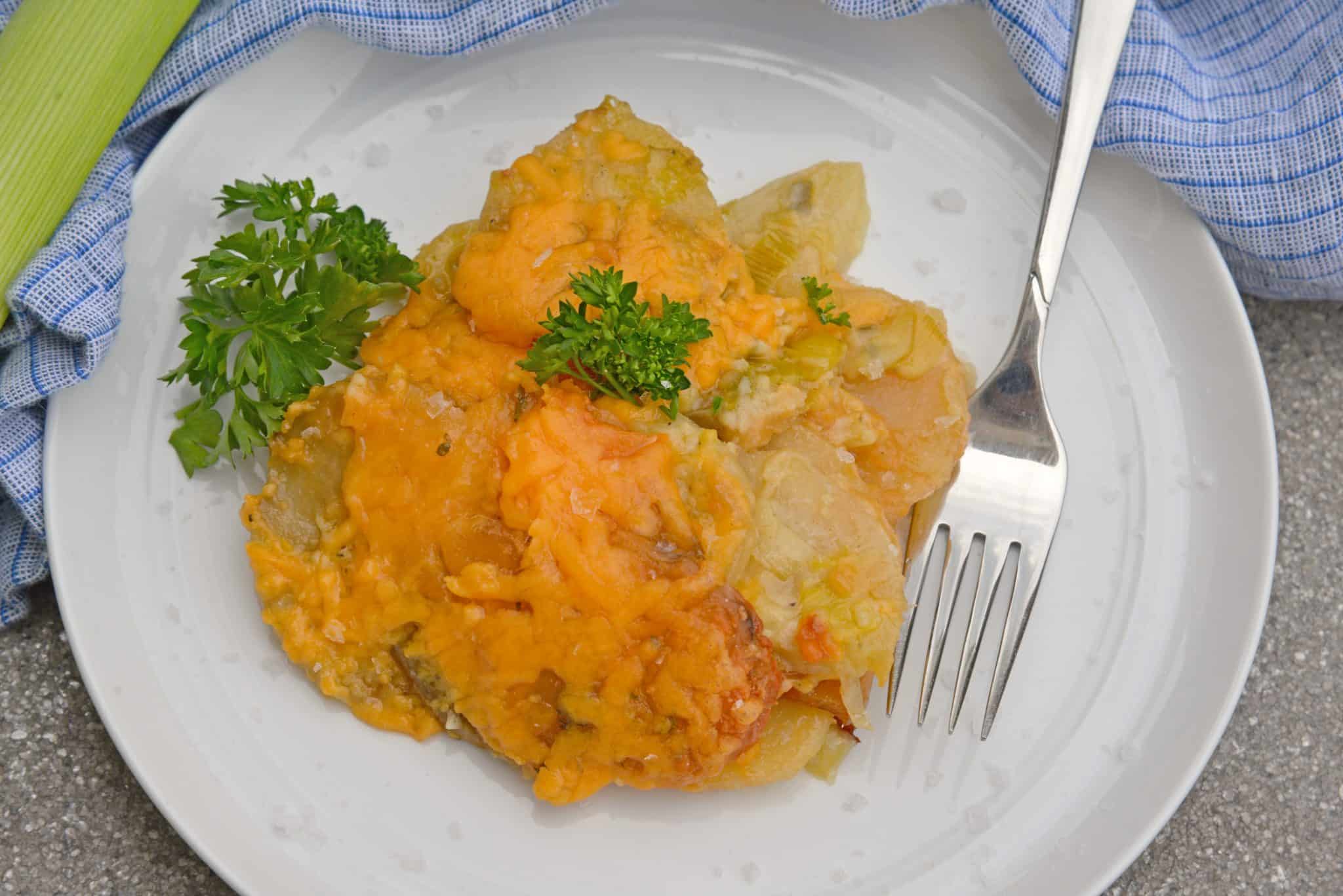 What makes Fleming's version so special? It's not just cheese and potatoes. They add butter sauteed leeks and jalapenos. Not so much that the flavors are overwhelming, but enough that you can get the essence.
Not a fan of heat? Don't worry! By sauteing them, you are cutting down on the kick and the heat becomes more peppery than spicy.
PRO TIP: If you use red potatoes or Yukon Golds, you won't need to peel the potatoes. But if you use Russets or another potato with a thick and leathery skin, you will need to peel them first.
In my version of Slow Cooker Potatoes au Gratin, I add flour to create a roux with the jalapenos and the leeks. The roux then thickens the heavy cream to create a rich, decadent sauce.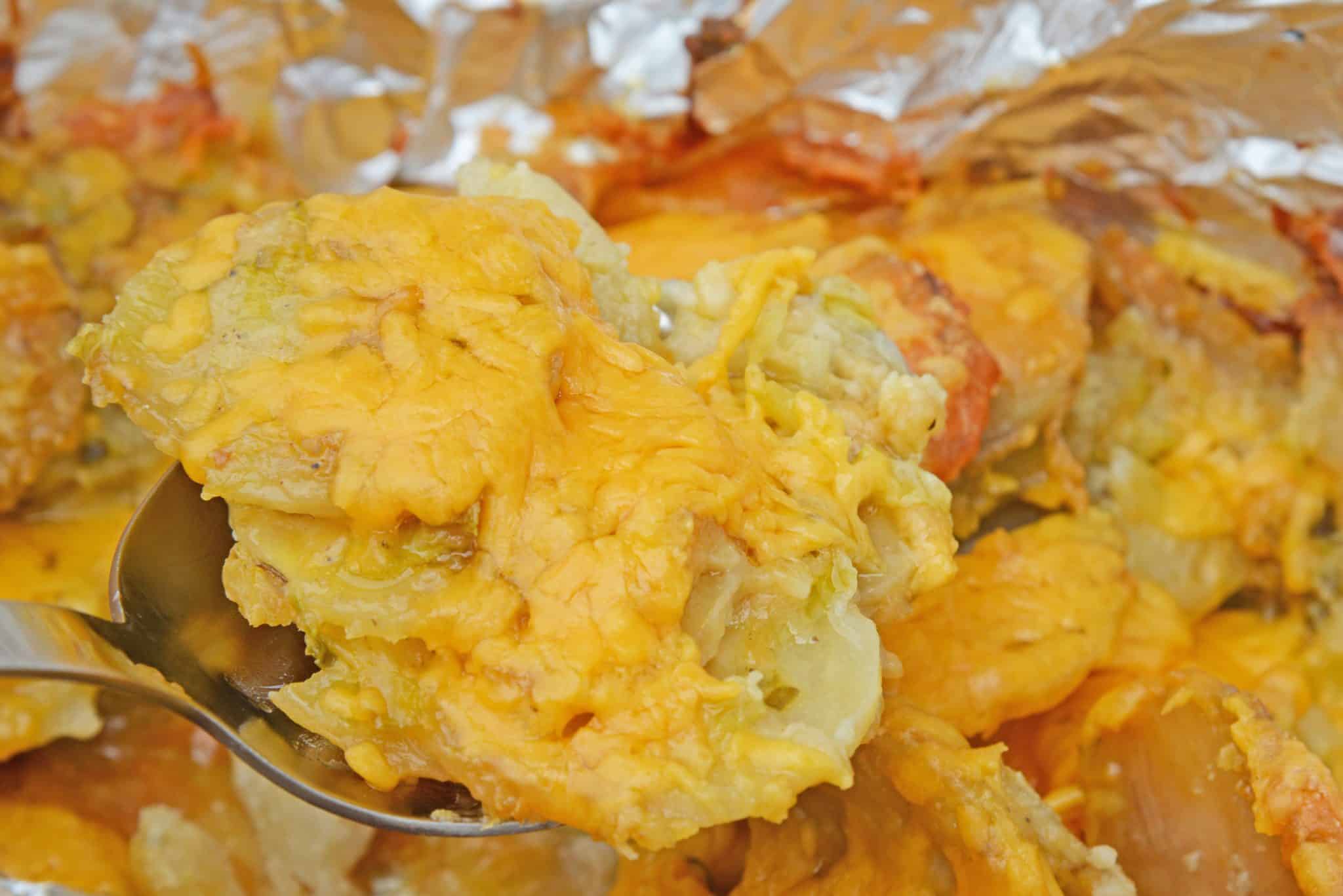 In all honesty, this recipe violates my strict, "10 minutes. Set and forget it," rule. These will take you a little longer, but the time spent is well worth it!
Slow Cooker Potatoes au Gratin are perfect for family get togethers and special meals. I prepare my Flemings Au Gratin Potatoes with a juicy Portabella Crusted Strip Steak seared in cast iron!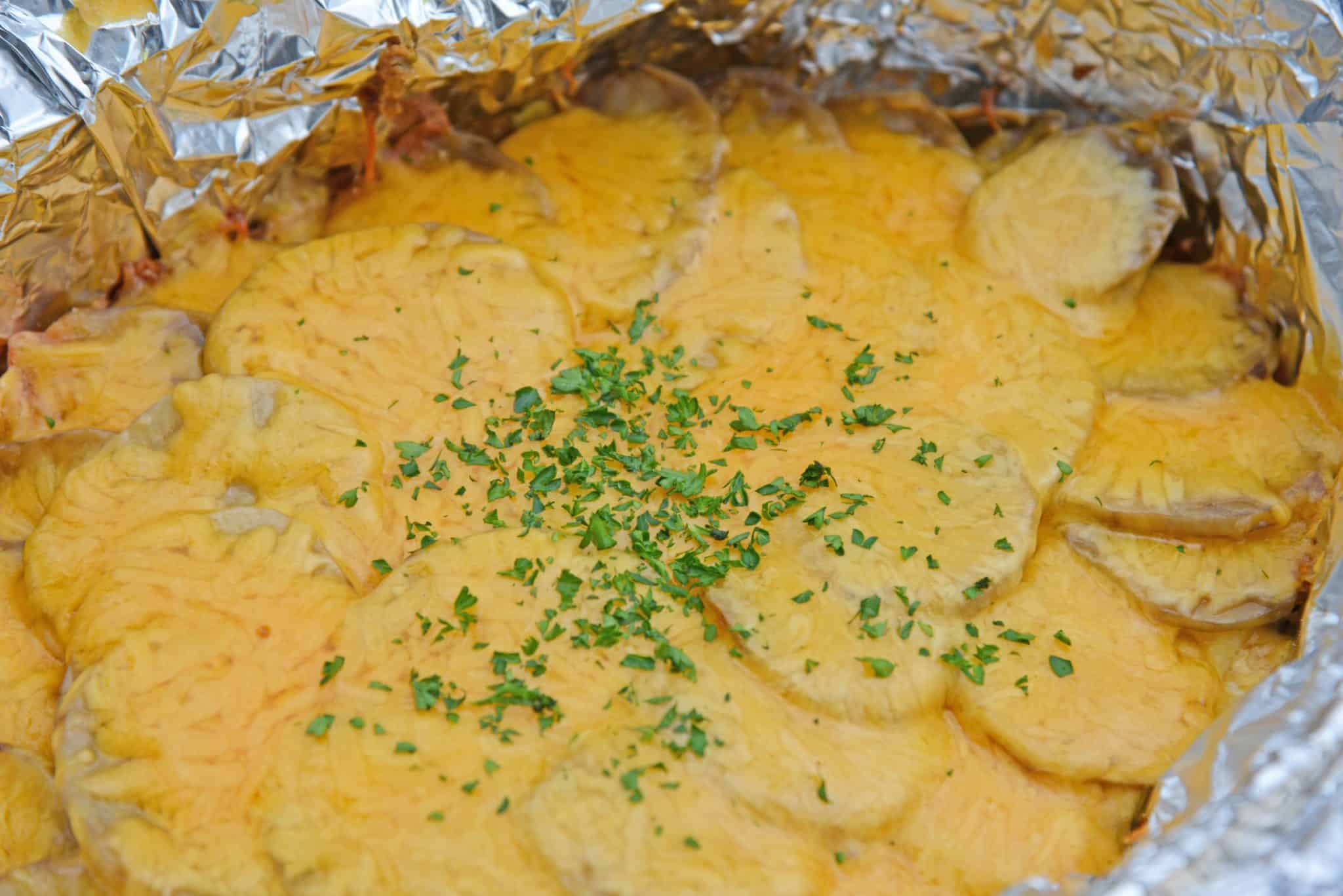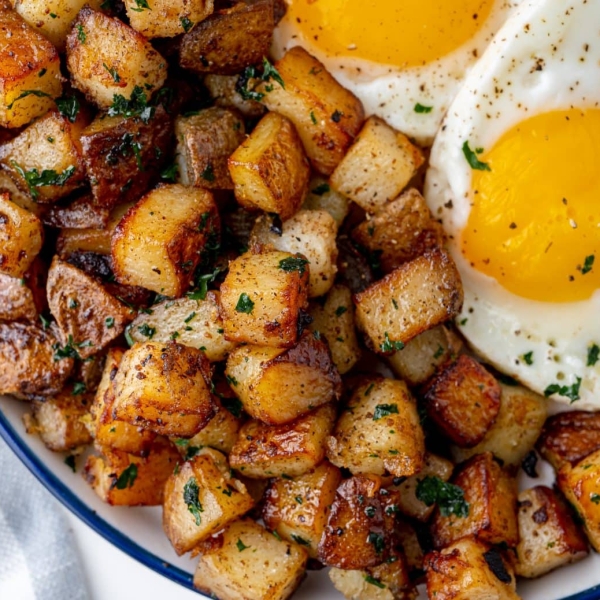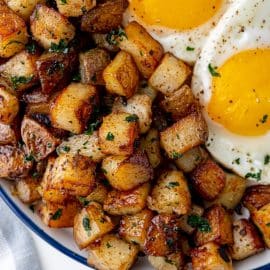 Crispy Home Fries
Make Crispy Home Fries just like at the restaurant at home. My recipe is super crispy, but also has a secret ingredient guaranteed to make these the best breakfast potatoes ever!
View this recipe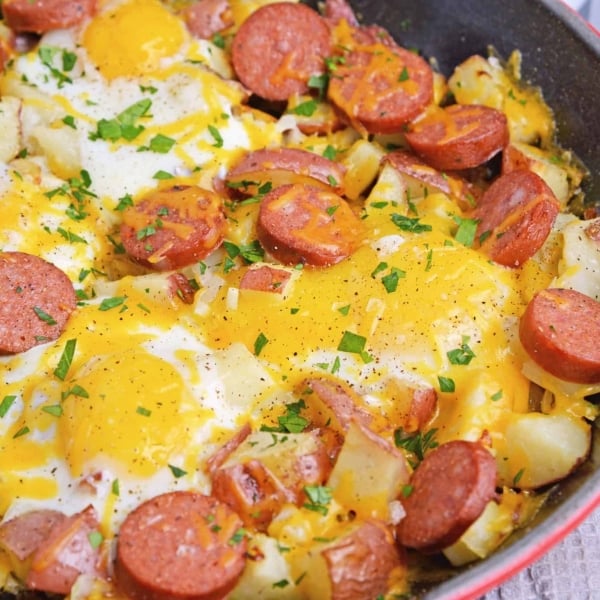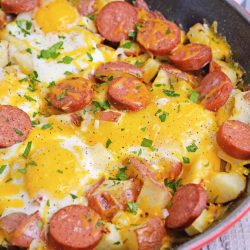 Sausage and Egg Skillet
Sausage and Egg Skillet is a delicious breakfast skillet with andouille sausage, potato, eggs and gooey cheese. Ready in 30 minutes and perfect for special weekend brunch!
View this recipe
Tools for making Slow Cooker Au Gratin Potatoes:
Mandolin Slicer– this is the easiest way to finely shredded anything without pulling out all of the accessories to your stand mixer. It will give you even potato slices. Just be careful, this also happens to be the kitchen tool with the most injuries. Always use the safety guard!
Wood cutting board – wood won't dull your knives like plastic and if treated properly, has natural antimicrobial properties.
Good knife – If you don't use a mandolin, you are going to be hand slicing your potatoes. Global is my favorite! They are worth the price, I promise. I am kind of obsessed with them and store them tucked away so no one else can use them. Including hubby. Hands off my good stuff!
Slow Cooker
– If you are making slow cooker potatoes, you'll need one! I prefer one with a locking lid for easy transportation.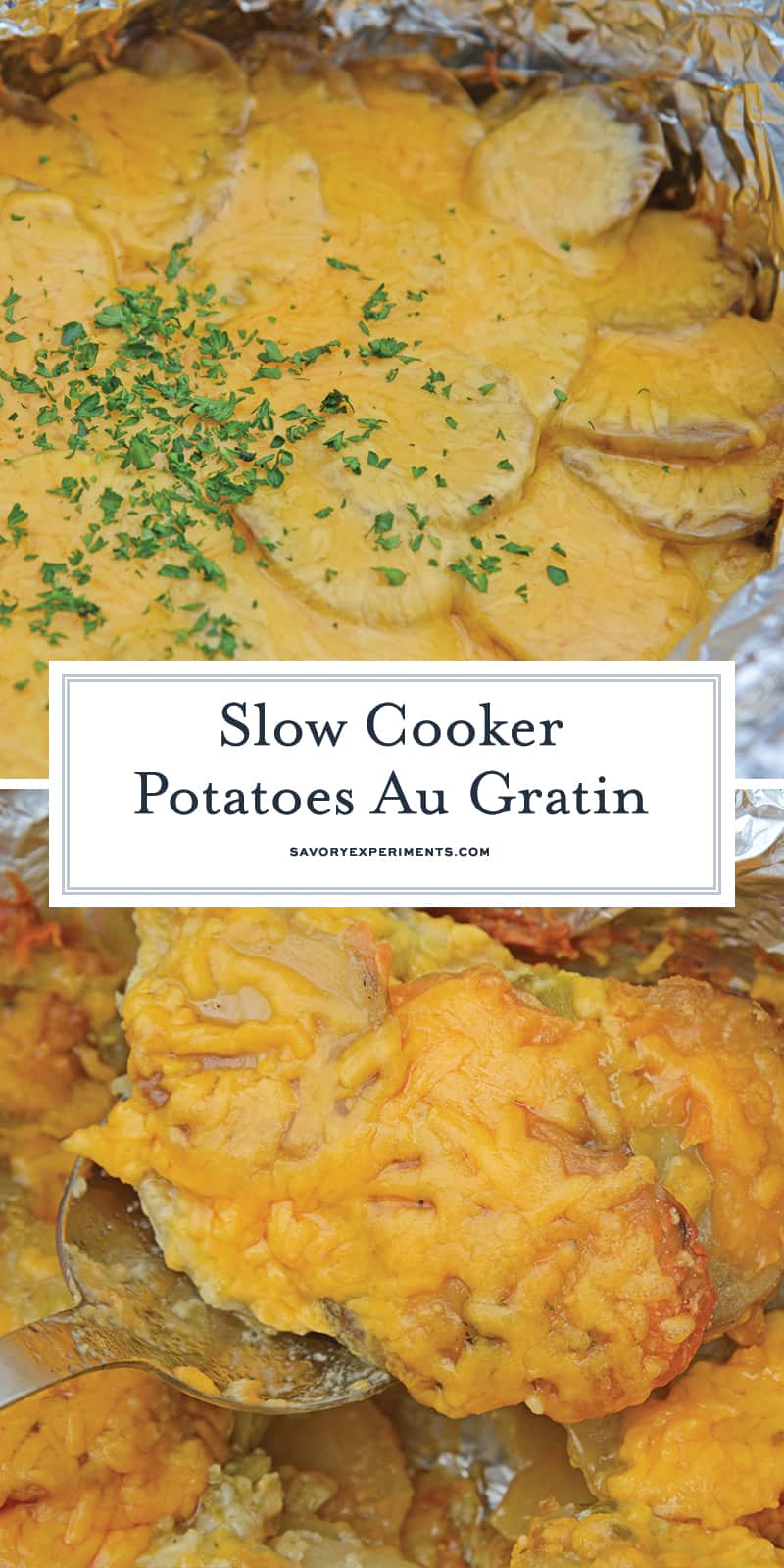 Questions you might have about how to make potato au gratin:
Is it potatoes au gratin or au gratin potatoes? Well, it can be either and you can "gratin" many items beyond potatoes. Gratin simply means a top layer of cheese… or bread crumbs.
Can you make crockpot au gratin potatoes ahead of time? You sure can! In fact, hubby would tell you they taste better the second day. He even likes them cold! I prefer mine reheated.
How do I reheat my au gratin potatoes? I would not recommend reheating them in the slow cooker- it will take too long. It is a dense dish and the center will take a while to get warm. You can, however place the same inner bowl of the slow cooker in the oven for a faster reheat.
Why make au gratin potatoes in the slow cooker? It is true that baking potatoes au gratin in the oven is faster, but making them in a crockpot will keep them moist.
The slow cooker seals in all the liquid instead of it evaporating. It also cooks them slowly, which prevents them from drying out as well.
Can I make this recipe in the oven instead? You sure can. Bake them, covered at 350 for about 90 minutes. Pierce the center to make sure they are soft all the way through. Make it in a large casserole dish.
Can I use a different type of cheese? Sure! Use your favorite cheese and even use a blend of cheeses for more sophisticated flavors. I like sharp cheddar cheese, but gruyere cheese is a close second.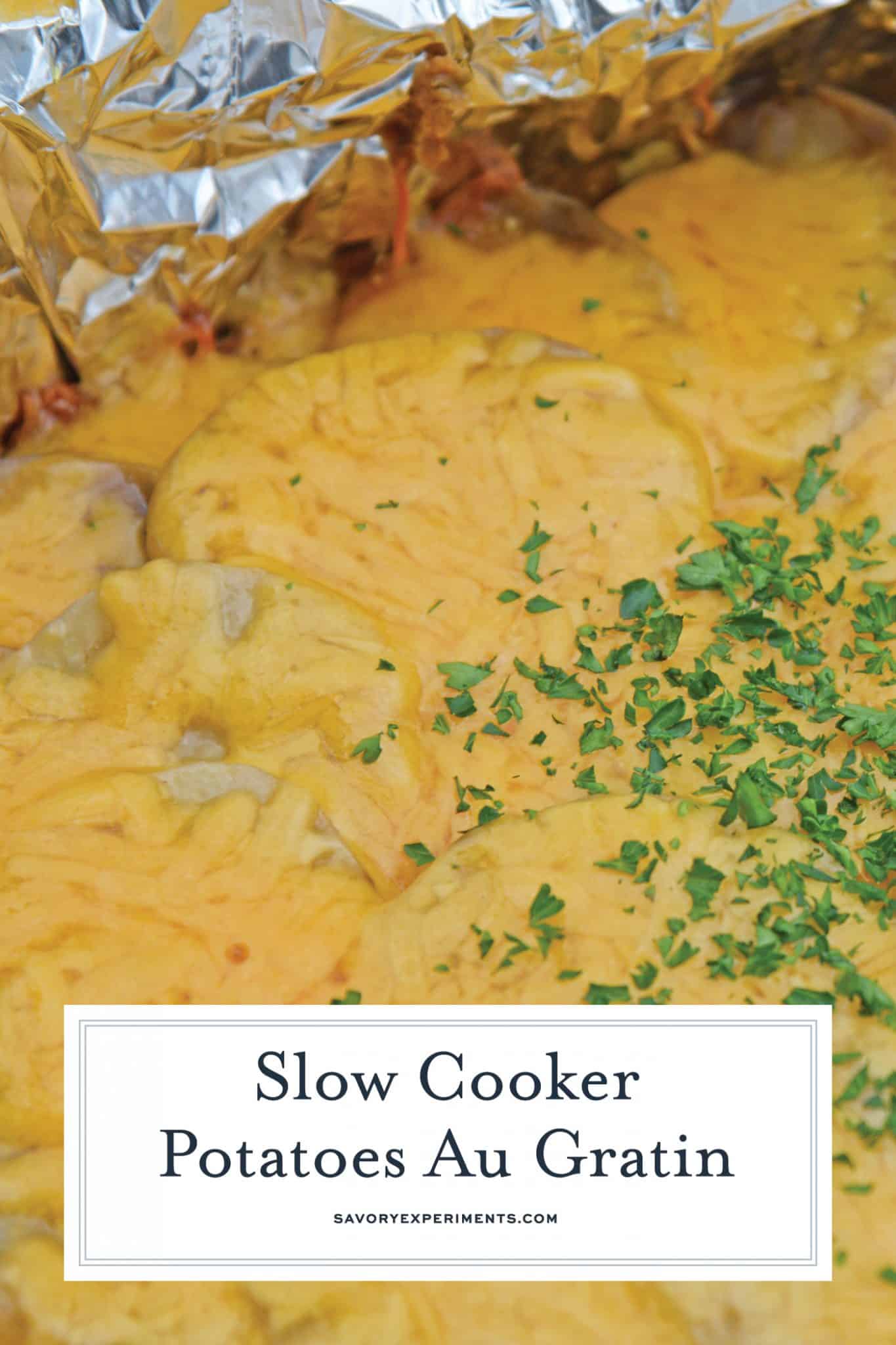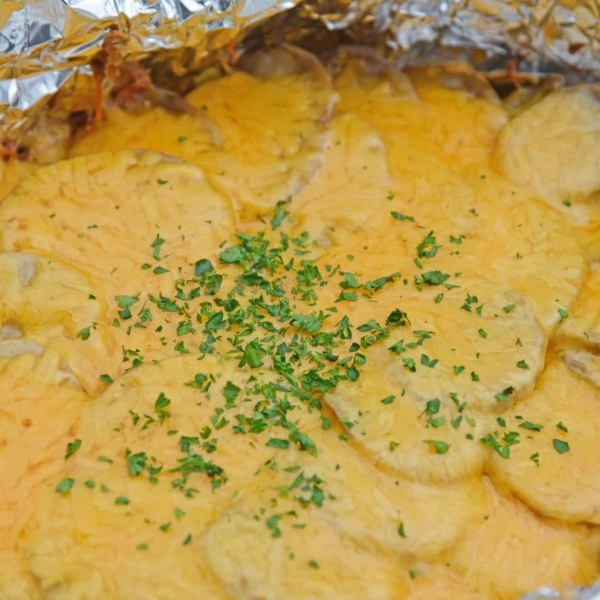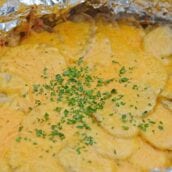 Slow Cooker Au Gratin Potato Recipe
Cheesy layers of potatoes, leeks, and jalapenos.
Instructions
In a medium saucepan, melt butter over medium-high heat. Saute leeks and jalapenos until soft. Add garlic and flour, making a paste, continuing to brown for 1 minute. Season with pepper and salt.

Using a fork, whisk in heavy cream and bring to a low simmer. The mixture should become thick, remove from heat, set aside.

Coat your slow cooker with cooking spray or aluminum foil. Start with a layer of potatoes, top with a large spoon of cream, leek and jalapeno mixture and sprinkle and quarter cup of cheddar cheese. Continue until your slow cooker is full. Refrain from topping the last layer with cheddar cheese.

Cover and set for 4 hours on low or 8 hours on high. Thirty minutes before serving, top with remaining cheddar cheese and cover until ready to serve.

Pierce potatoes with a knife to make sure they are soft. Cheese should be melted and bubbly. Serve your Fleming's Slow Cooker Au Gratin Potatoes.

If you've tried this recipe, come back and let us know how it was!
Nutrition
Calories:
440
kcal
,
Carbohydrates:
25
g
,
Protein:
9
g
,
Fat:
34
g
,
Saturated Fat:
21
g
,
Cholesterol:
112
mg
,
Sodium:
306
mg
,
Potassium:
540
mg
,
Fiber:
1
g
,
Sugar:
1
g
,
Vitamin A:
1535
IU
,
Vitamin C:
12
mg
,
Calcium:
222
mg
,
Iron:
1.5
mg