These potatoes are layers upon layers of cheesy deliciousness and Slow Cooker Potatoes au Gratin are beyond satisfying. Your family and guests will love them!

Slow Cooker Potatoes au Gratin are an amazing copycat recipe of Fleming's Steakhouse's potatoes. Pop it in your slow cooker and reap the cheesy benefits.
We recently went back to one of our favorite old haunts, Fleming's Steakhouse and Wine Bar and while all of their food is delicious, the Fleming's Au Gratin Potatoes are something else!
That isn't an exaggeration. They are so remarkable I always order two. One for the dinner table and one to take home! I don't mess around when it comes to these potatoes.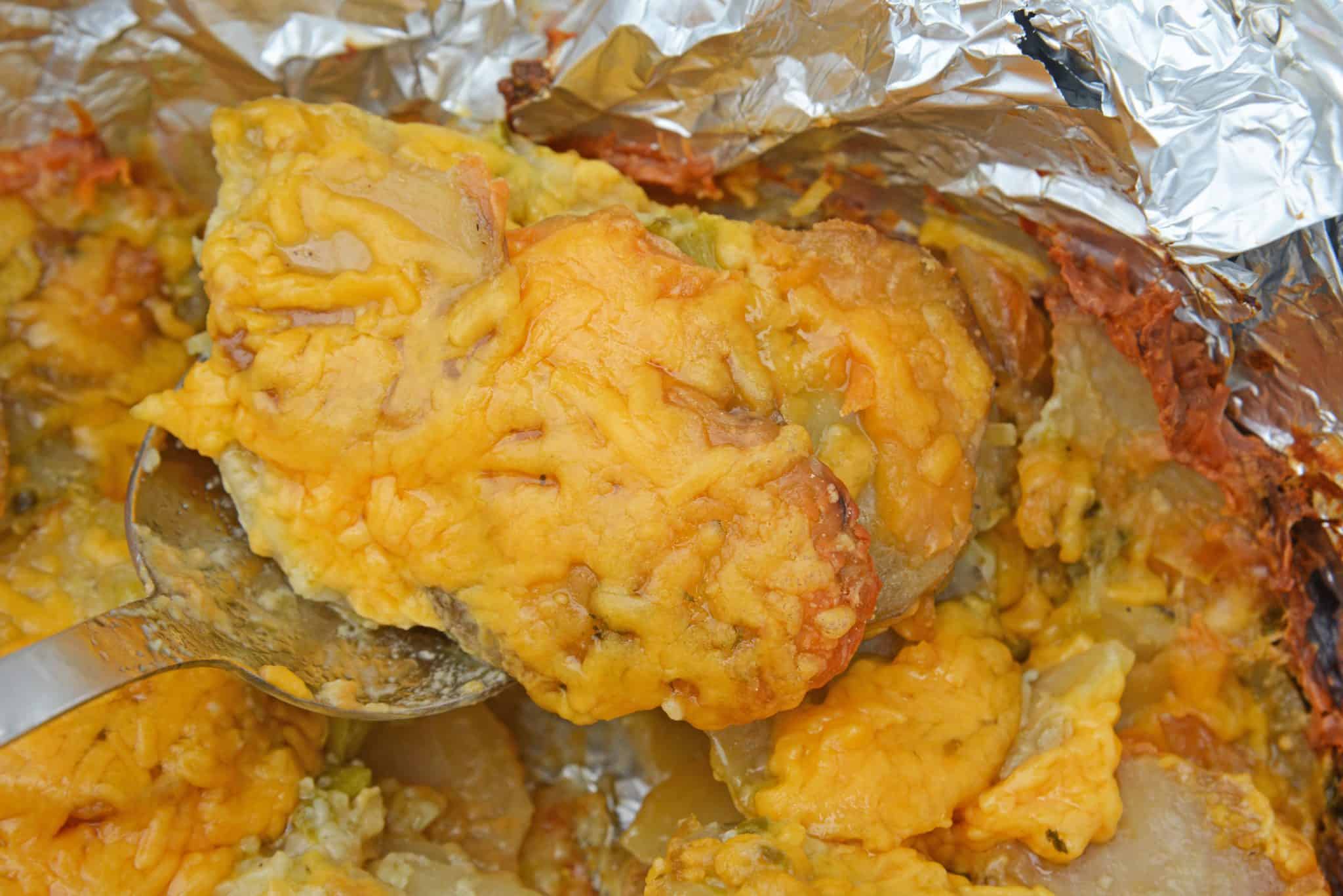 Why You'll Love Slow Cooker Potatoes au Gratin
I decided to create my own recipe using a slow cooker since my Cheesy Crock Pot Potatoes were such a hit!
Money Saving – Get the same amazing potatoes served in a schmancy steakhouse at home at a fraction of the cost.
Easy Clean-Up – Forget scrubbing cheese off of a pan with this recipe, clean up is as easy as pie.
Divide and Conquer – Because these babies need some time in the slow cooker, you can get your delicious side dish started first and then have plenty of time for other things – cooking or non-cooking!
Cheese Lover's Dream – Cheese and potatoes collided to make this dish wildly good.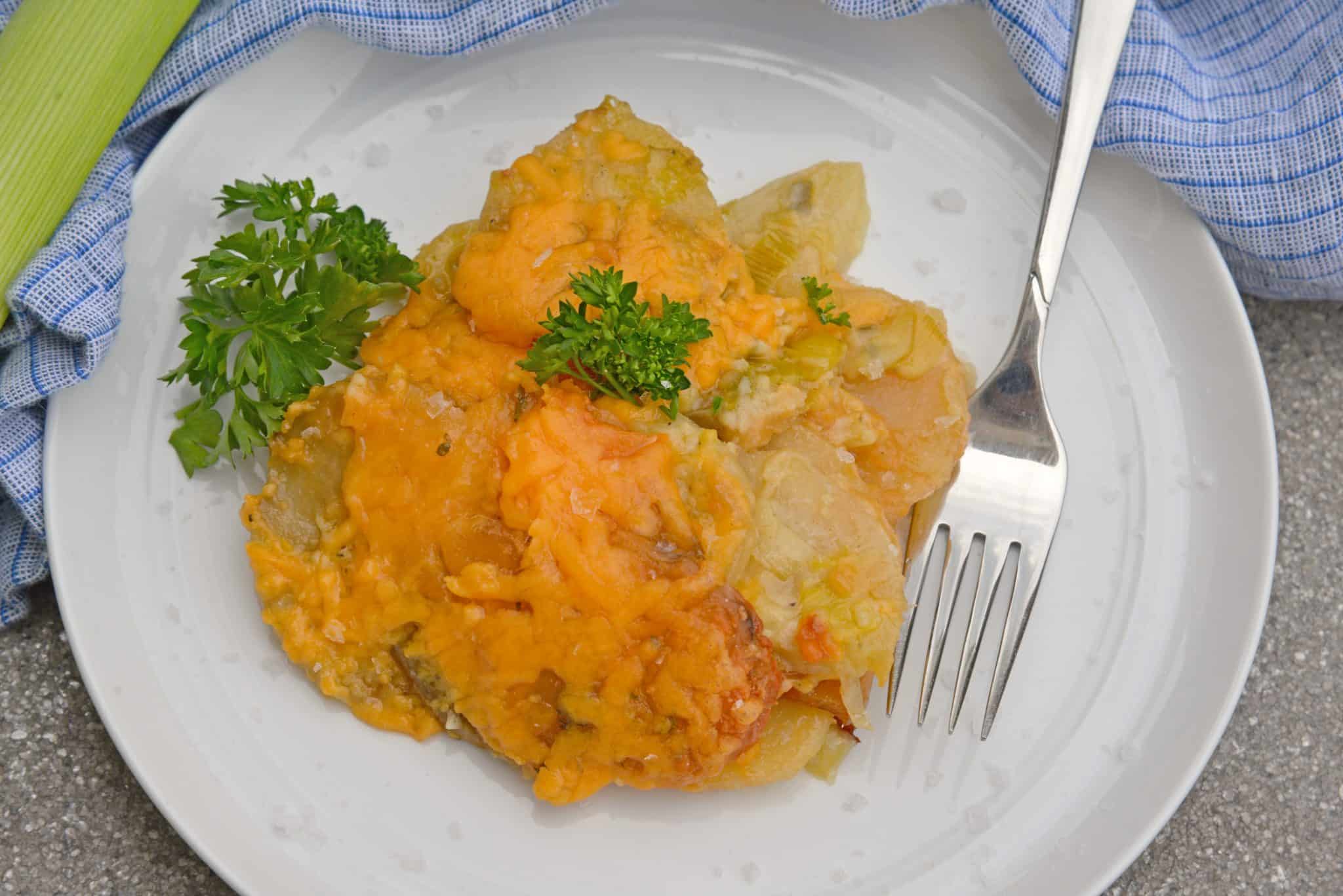 What Are Potatoes au Gratin?
Simply put, au gratin potatoes are thinly sliced spuds layered with cheese. The term "gratin" refers to a style of cooking where something is baked with cheese and or seasoned breadcrumbs.
What makes Fleming's version so special? It's not just cheese and potatoes. They add leeks and of all things jalapenos(!?) sauteed in butter. And while that seems potentially overwhelming in terms of flavors, all you get is the essence of each.
Not a fan of heat? Don't worry! By sauteing jalapenos, you are cutting down the spice, and the heat as it cooks becomes peppery in flavor.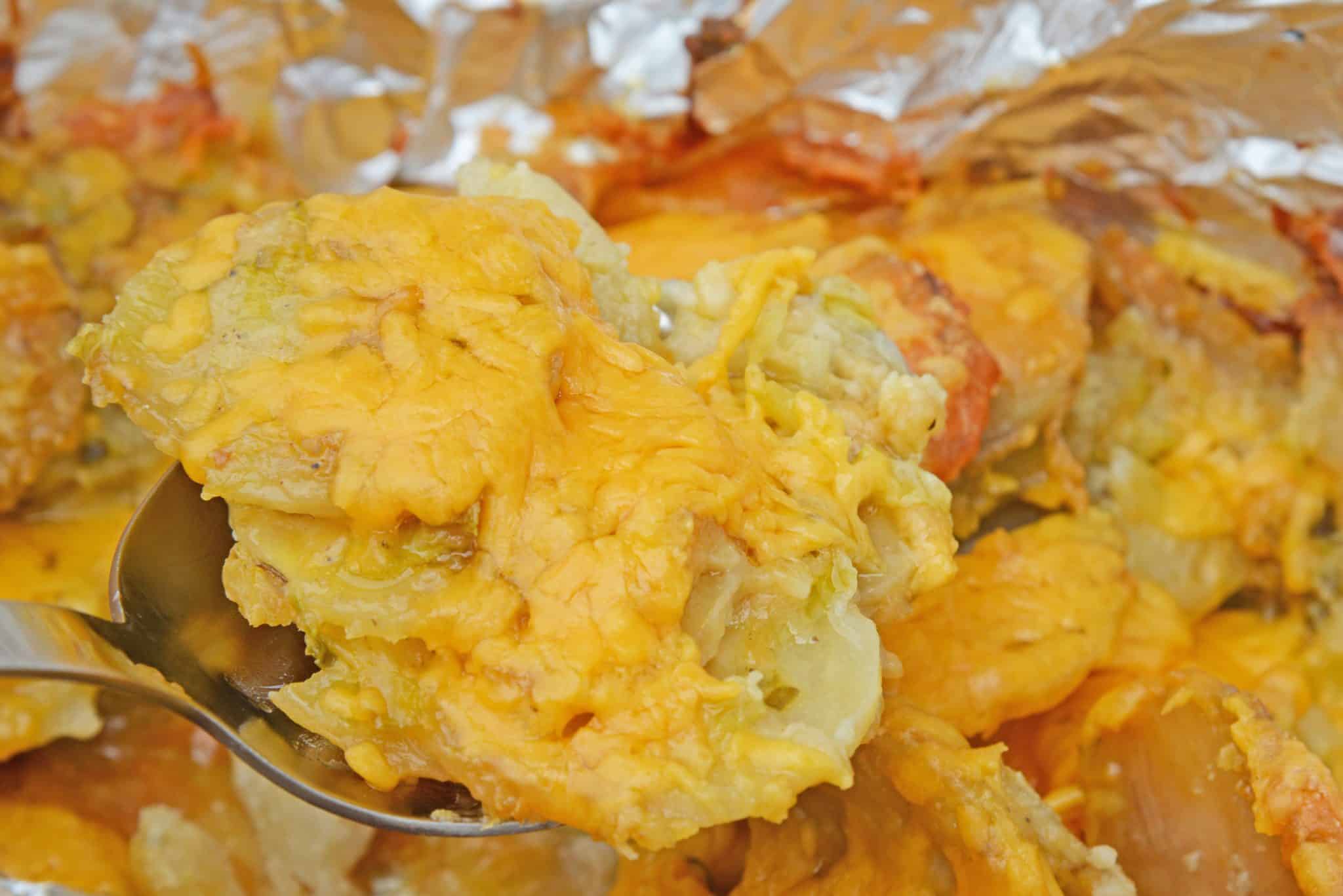 Ingredients
In my version of Slow Cooker Potatoes au Gratin, I add flour to create a roux with the jalapenos and the leeks. The roux helps to create a rich velvety sauce that soaks into the potatoes giving them a creamy texture.
Butter – Use unsalted butter here so you can control the salt levels. Keep in mind the salt you add as well as the cheese both add to the salt levels.
Leeks – Related to onions, garlic, and shallots, leeks have a subtle sweet onion quality. Be sure you give them a good rinse on the outside but also be sure to give them a rinse between the leaves because it can often be full of the soil or sand they are grown in.
Jalapenos – Removing the seeds helps to lower the heat, but if it is of concern, give each one a little nibble. Heat levels vary from chile to chile and taste testing will provide you with a good idea of what kind of heat you are working with.
Pepper – Freshly cracked black pepper is best.
Salt – I prefer to use coarse kosher salt because it has an even saltiness.
Garlic – Fresh cloves are best because they have a sharp pungency that jarred, minced garlic does not offer.
Flour – This is going to help create a roux for the potatoes. A roux is a mixture of flour and fats cooked together to help thicken sauces.
Heavy Cream – Potatoes are sponges and will soak up the richness and flavor of the heavy cream. Once added to the roux, it creates a basic sauce known as bechamel.
Russet Potatoes – Also known as the Idaho potato, these large, oblong spuds have dark brown skin and dry, white, soft flesh that takes on other flavors really well. If you have a mandolin or a food processor, use that to make quick work of slicing your potatoes.
Cheddar Cheese – Choose the pre-shredded kind to save time or shred your own at home from a block. I like the extra sharp variety, but any will do.
Cooking Spray – Every recipe needs a bit of fat to cook with and this cooking spray serves that purpose here. If you are using aluminum foil, give it a spray after you line your slow cooker with it.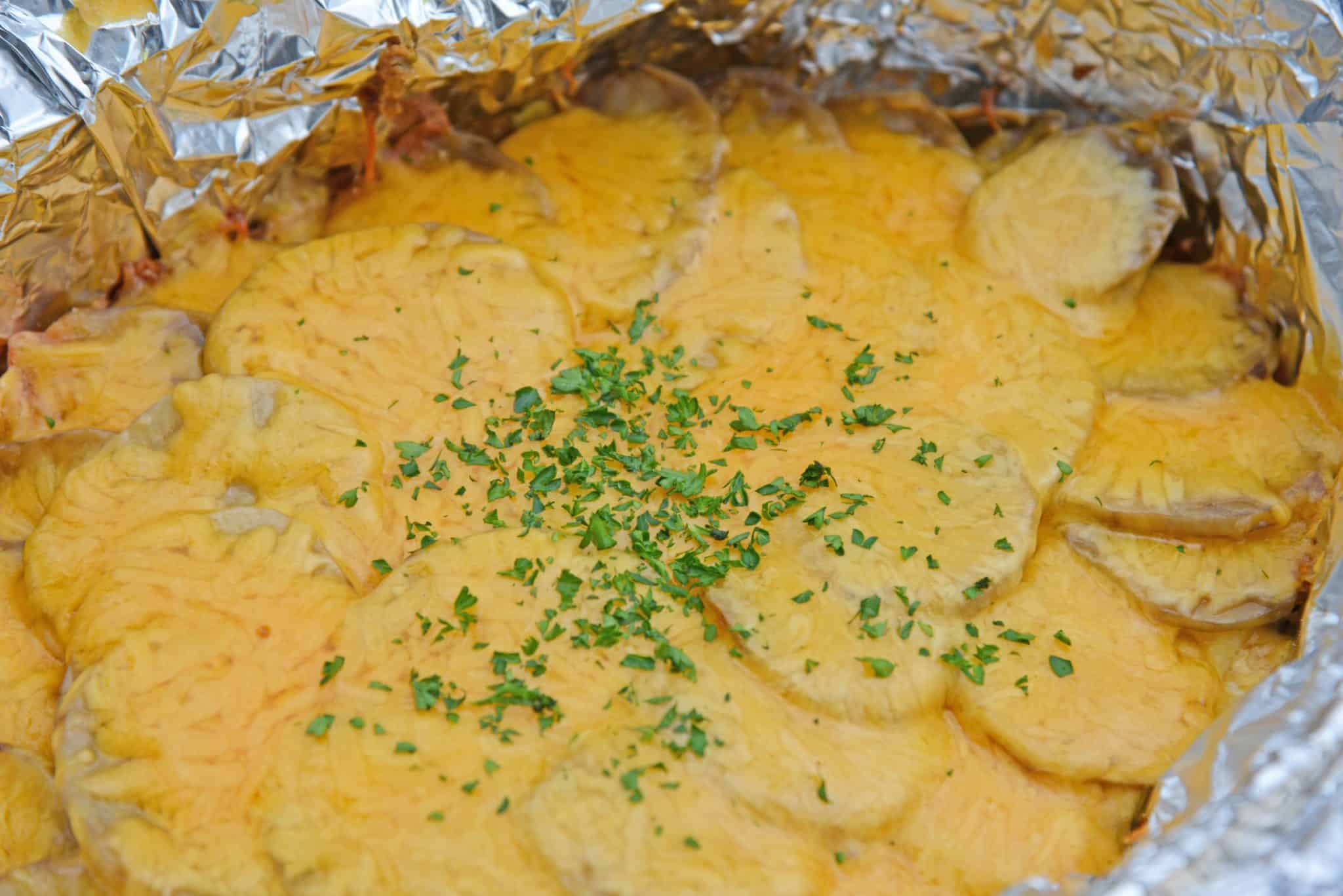 How to Make Slow Cooker au Gratin Potatoes
In all honesty, this recipe violates my strict, "10 minutes. Set and forget it," rule. These will take you a little longer, but the time spent is well worth it!
Create the roux. Use the butter to saute the leeks and jalapenos until soft. Adding the garlic after they have already softened prevents it from browning too quickly which will make it bitter. Add the flour and continue to stir constantly for about 1 minute. This helps cook the grittiness out of the flour. Season here with salt and pepper.
Add the heavy cream. Pour this in slowly and continue whisking constantly. As it comes to a simmer, it will start to thicken, and to test it, see if it liquid coats the back of a spoon. If it does, your roux is done!
Layer it in the slow cooker. Spray or line your slow cooker with aluminum foil and then work to layer in your potatoes, the bechamel, and the cheese.
Set and forget! Let this go depending on when you are hoping to eat it and only when it is time to eat, add the cheese on top.
Test your potatoes and serve. Give your potatoes a quick texture check to ensure they are cooked all the way through by putting a knife through them. Another way to know if they are done is if the cheese is nice and bubbly.
What to Serve with Slow Cooker au Gratin Potatoes
Slow Cooker Potatoes au Gratin are perfect for family get-togethers and special meals. I prepare my ode to Fleming's Au Gratin Potatoes with a juicy Portabella Crusted Strip Steak seared in cast iron!
Other options to pair with this dish:
Variations
If you want to stick to with the Fleming's flavor, I would adhere to the recipe, but if you want to play around here are a few ideas:
Change up the cheese – Gruyere, Jarlsberg, emmenthal, or even Swiss cheese are great substitutes for cheddar because of their flavor and their melting qualities.
Try different types of potatoes – Russets are great, but the creaminess of Yukon golds or the thin skins and low starch content of red-skinned potatoes make great substitutes.
Bake them – If you don't have a slow cooker or simply don't have the counter space, you can easily bake this recipe. Spray a large casserole dish with cooking spray, layer the same way as described, cover and bake at 350F for 90 minutes. Check for doneness with a knife and serve!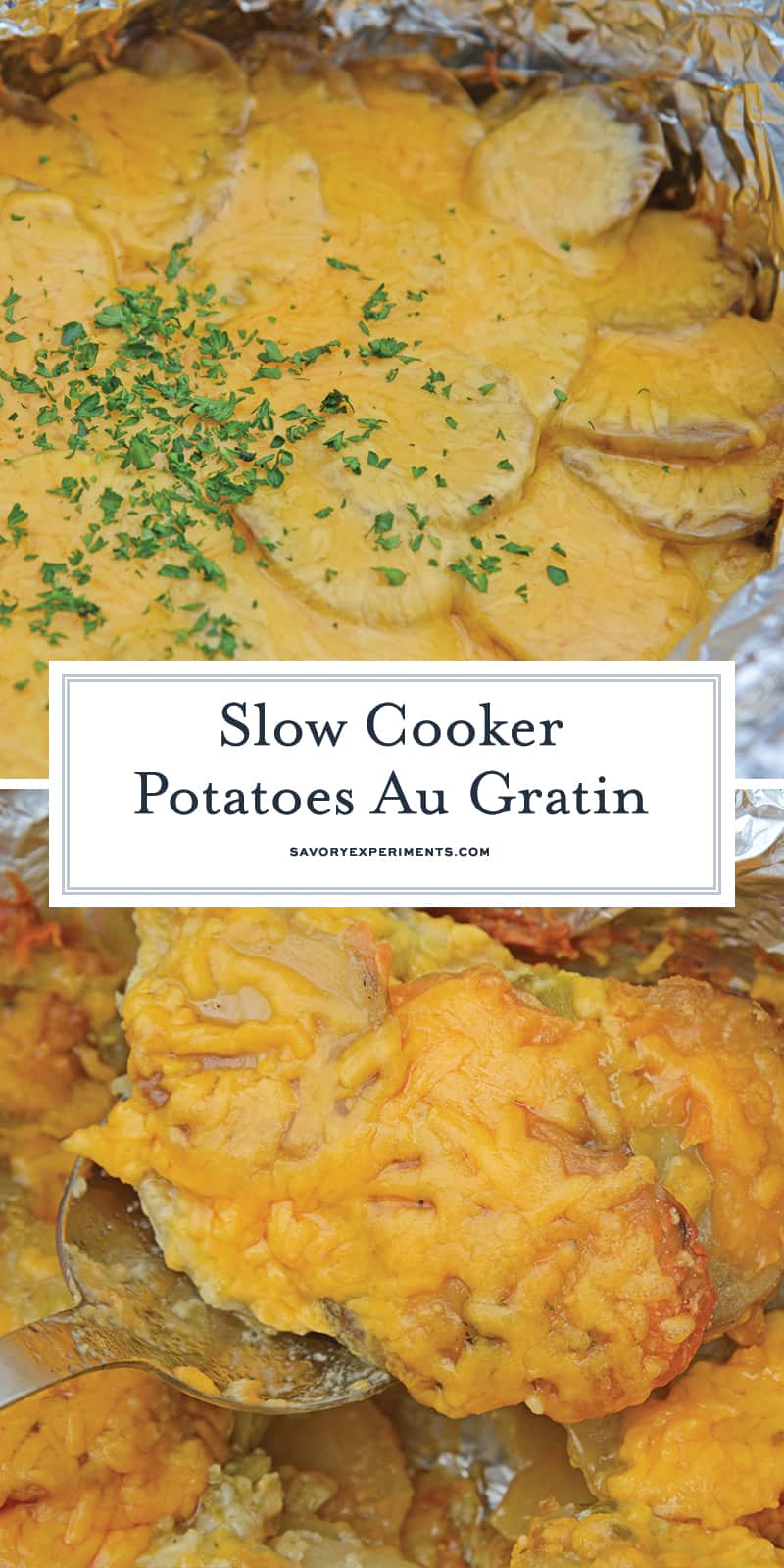 Storing & Freezing
Make-Ahead: You can easily make the creamy bechamel sauce ahead of time if need be. Just be sure to warm through before you layer it in with your potatoes to cook.
Storing: Any leftovers can easily be put in air-tight containers and stored in the fridge for up to 5 days.
Reheating: Warming in the oven, covered, for 15-20 minutes at 350F should do the trick, but if you are in a rush (like I normally am), pop them in the microwave until hot.
Freezing: This dish is easily frozen. For best results, freeze in individual portions in freezer-safe containers and thaw completely before reheating. It should last about 2 months in the freezer.
Questions about Potatoes au Gratin
What's the difference between scalloped potatoes and au gratin potatoes?
This answer is relatively simple! Scalloped potatoes don't include cheese. They are typically sliced thin and layered with dairy as well as some sort of richly flavored stock. That said, some newer scalloped potato recipes are bucking tradition and include cheese.
Do potatoes need to be submerged in the slow cooker?
Nope, sure don't! This recipe does not submerge them. The bechamel as well as the cheese work to slowly cook and soften the potatoes in the slow cooker.
Why are my Au Gratin Potatoes watery?
Some folks like to store their sliced potatoes in water to prevent browning and while this is a great technique, be sure to drain and completely pat them dry before assembling. Skipping this step can cause you to have water potatoes and no one wants that.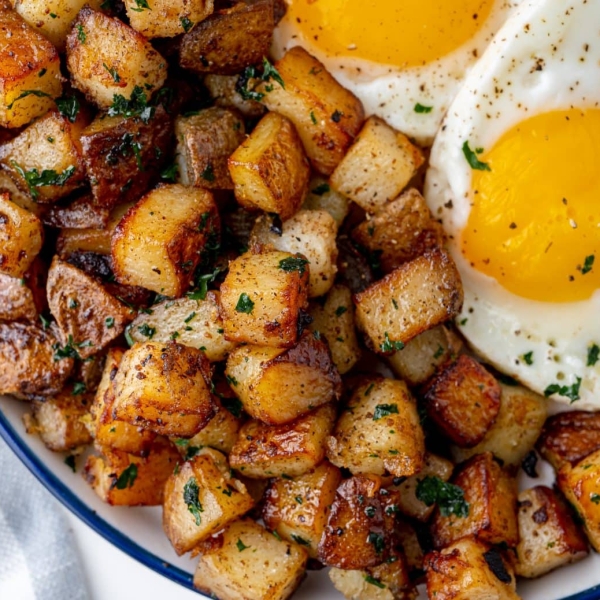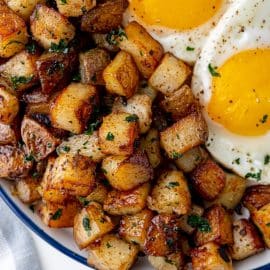 Crispy Home Fries
Make Crispy Home Fries just like at the restaurant at home. My recipe is super crispy, but also has a secret ingredient guaranteed to make these the best breakfast potatoes ever!
See The Recipe!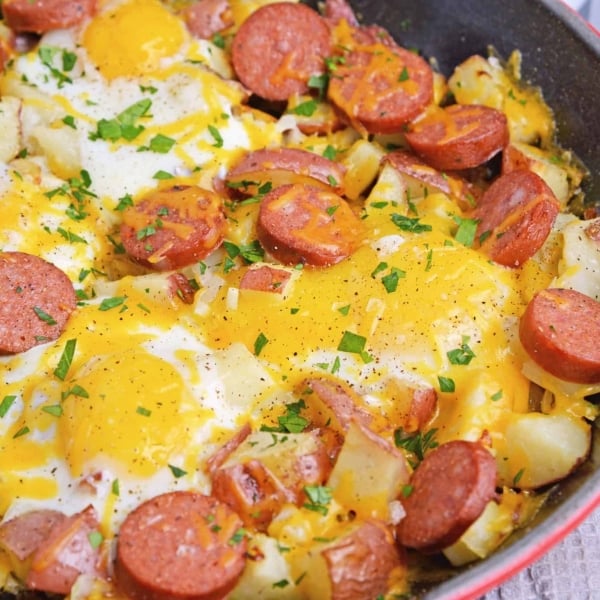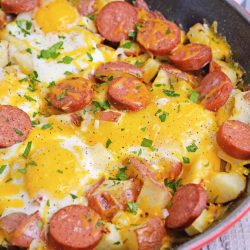 Sausage and Egg Skillet
Sausage and Egg Skillet is a delicious breakfast skillet with andouille sausage, potato, eggs and gooey cheese. Ready in 30 minutes and perfect for special weekend brunch!
See The Recipe!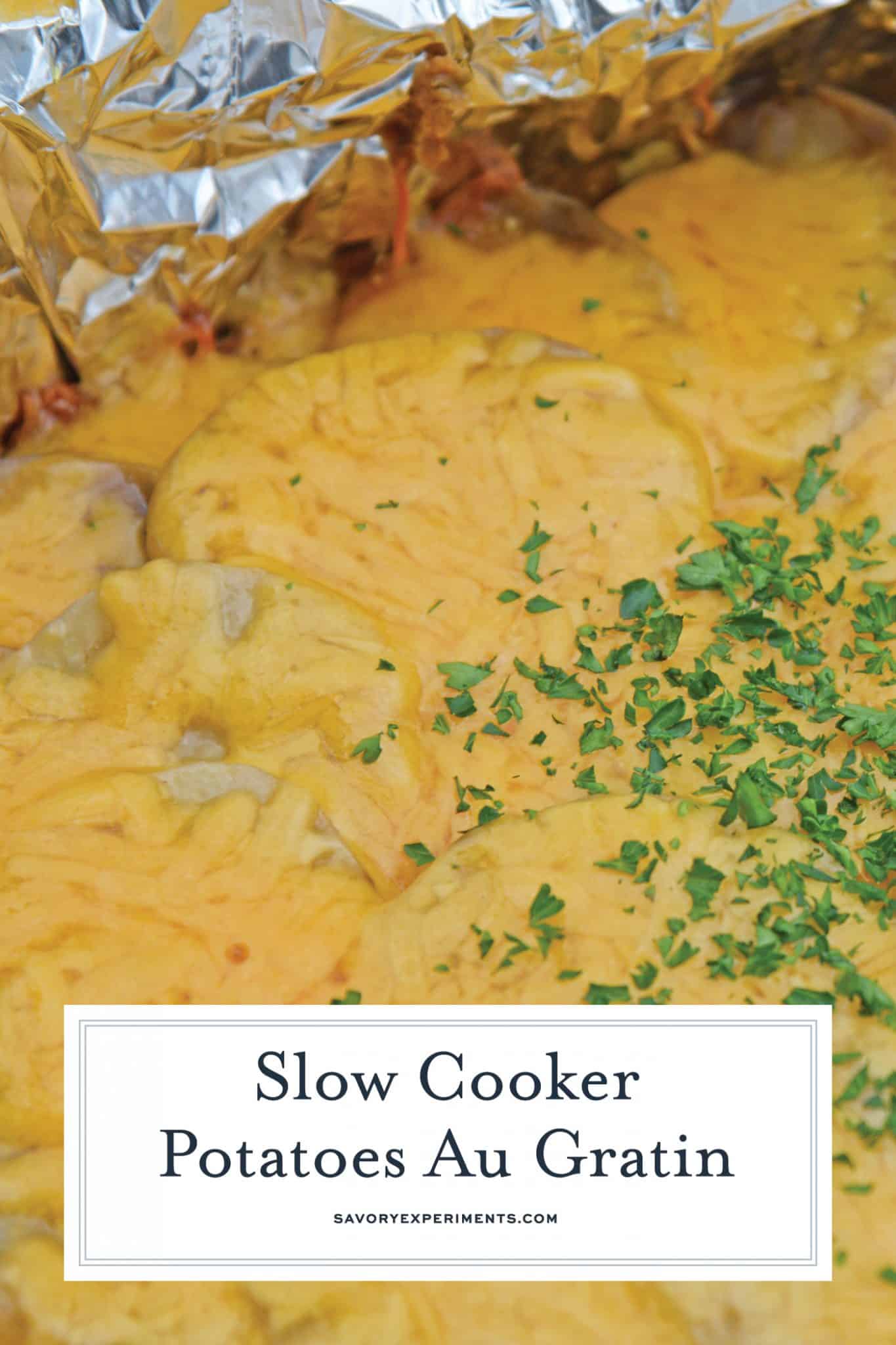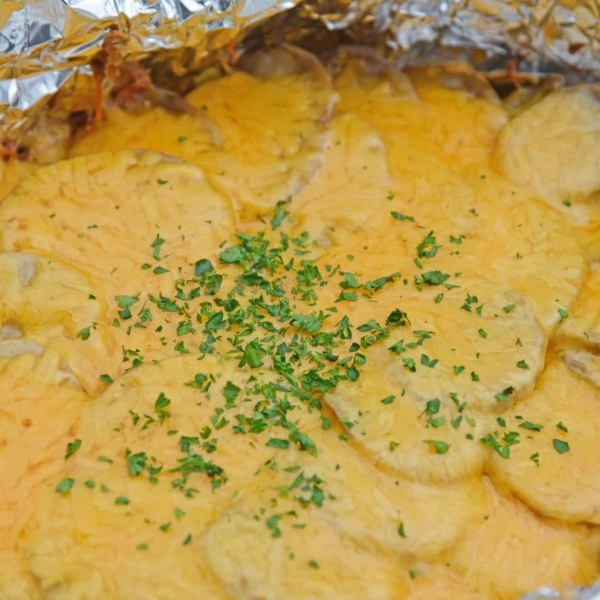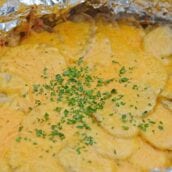 Slow Cooker Au Gratin Potato Recipe
Cheesy layers of potatoes, leeks, and jalapenos.
Instructions
In a medium saucepan, melt butter over medium-high heat. Saute leeks and jalapenos until soft. Add garlic and flour, making a paste, continuing to brown for 1 minute. Season with pepper and salt.

Using a fork, whisk in heavy cream and bring to a low simmer. The mixture should become thick, remove from heat, set aside.

Coat your slow cooker with cooking spray or aluminum foil. Start with a layer of potatoes, top with a large spoon of cream, leek and jalapeno mixture and sprinkle and quarter cup of cheddar cheese. Continue until your slow cooker is full. Refrain from topping the last layer with cheddar cheese.

Cover and set for 4 hours on low or 8 hours on high. Thirty minutes before serving, top with remaining cheddar cheese and cover until ready to serve.

Pierce potatoes with a knife to make sure they are soft. Cheese should be melted and bubbly. Serve your Fleming's Slow Cooker Au Gratin Potatoes.

If you've tried this recipe, come back and let us know how it was!
Nutrition
Calories:
440
kcal
,
Carbohydrates:
25
g
,
Protein:
9
g
,
Fat:
34
g
,
Saturated Fat:
21
g
,
Cholesterol:
112
mg
,
Sodium:
306
mg
,
Potassium:
540
mg
,
Fiber:
1
g
,
Sugar:
1
g
,
Vitamin A:
1535
IU
,
Vitamin C:
12
mg
,
Calcium:
222
mg
,
Iron:
1.5
mg