This is a sponsored post written by me on behalf of BUBBA burger. All opinions are 100% mine.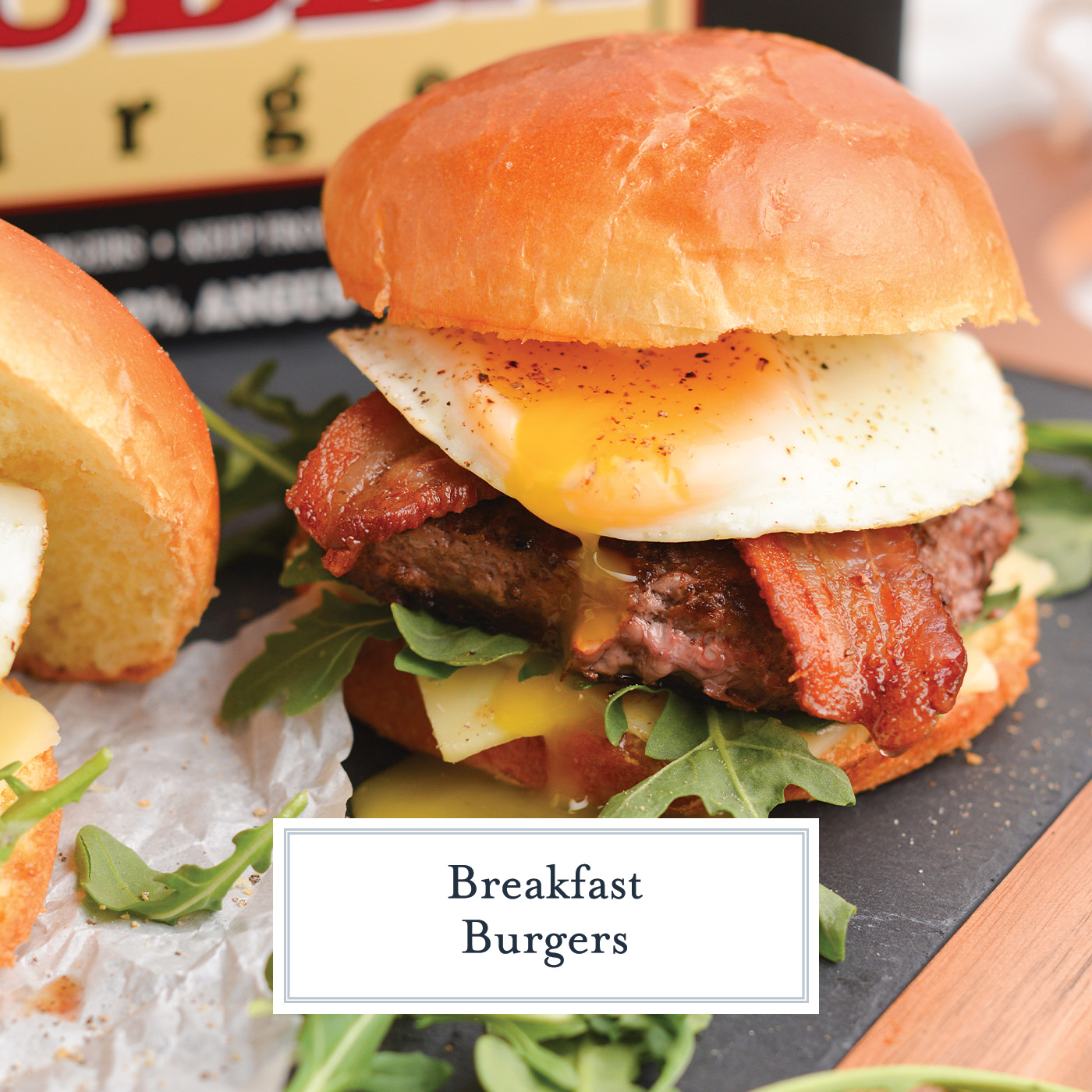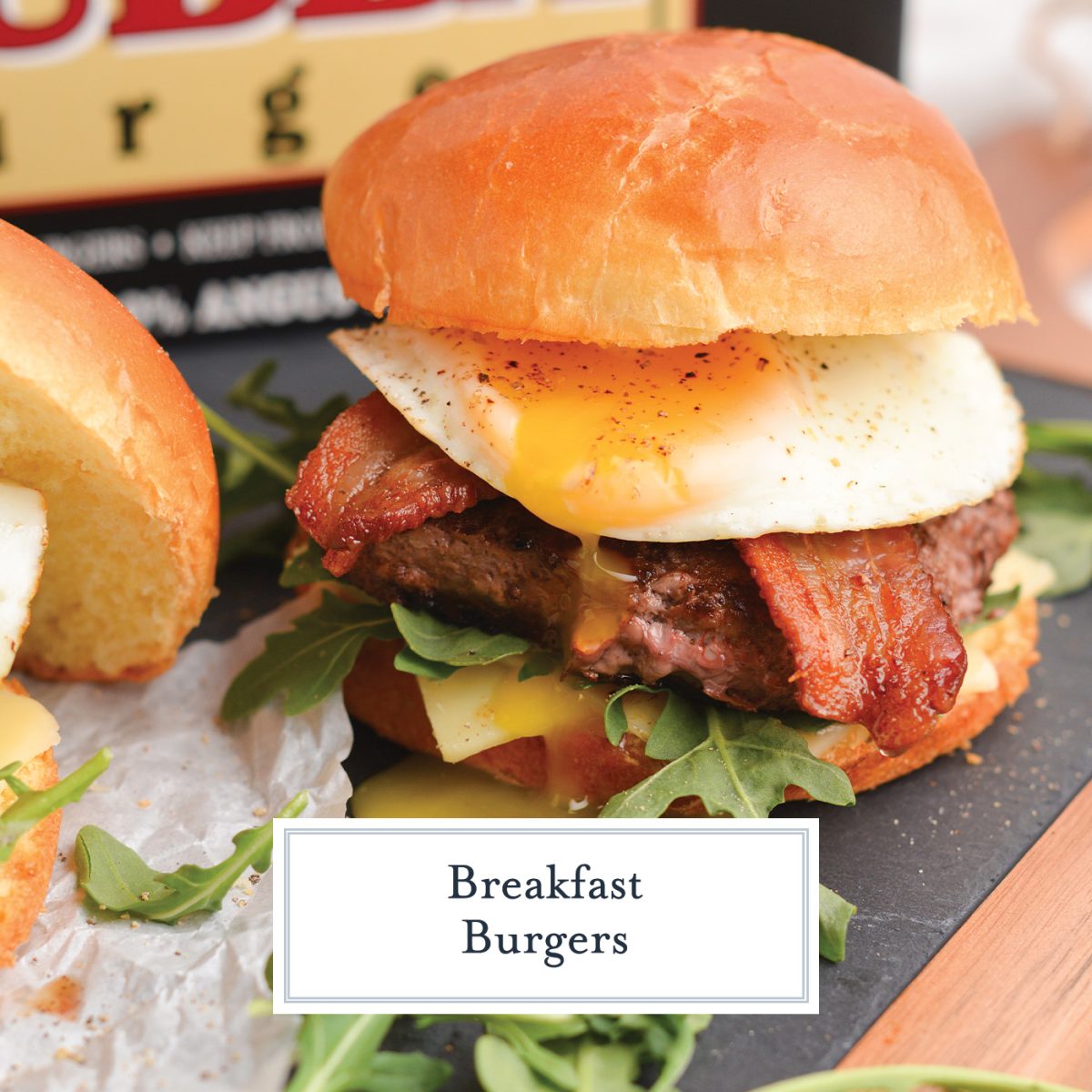 Burgers aren't just for lunch and dinner. A breakfast burger, served with a top and bottom bun, open-face or sans bread, is the perfect way to start the day. They can be made in mass, so they are also great for entertaining and brunch.
Regardless of the time of day, who doesn't love a burger with a nice runny egg on top? That jammy yolk adds color, flavor and a unique saucy texture.
Breakfast Burger Recipe
These burgers can be served for breakfast, of course, but also enjoy them for dinner, or brinner, if you will.
I'm a true believer that a good burger should be just beef (and select complementary toppings) which is why we choose BUBBA burgers. They can be kept in the freezer and cooked frozen, so no need to think ahead. BUBBA burgers are made with 100% USDA Choice Chuck; no fillers, no artificial ingredients, and no preservatives.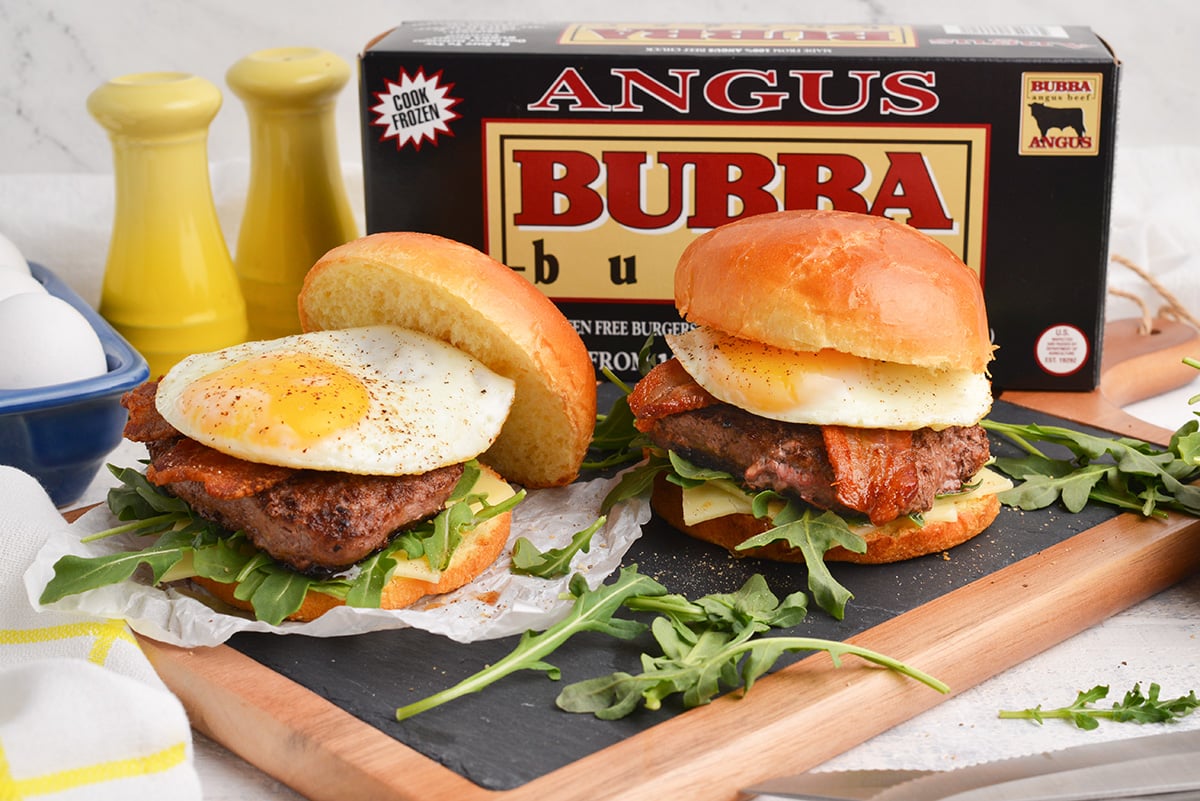 What You'll Need
BUBBA burgers- BUBBA burgers only have one ingredient: 100% choice beef chuck and for this beef cookbook author, that is super important. They are high in protein and quality and super convenient.
Bun- I love a sweet brioche bun, but a sesame seed bun, English muffin or even a buttery croissant roll can all hold your juicy breakfast burger.
White Cheddar Cheese- Use any cheese you like, for breakfast I like a sharp white cheddar. Yellow cheddar or even a spicy cheese like pepper jack are also great options.
Thick Cut Bacon- Mmmm…. Bacon. Just one slice, cut in half and crisscrossed adds a chewy texture and a touch of salt.
Arugula- You can your choice of leafy greens, but peppery arugula is a fun swap on the typical lettuce.
Egg- The beacon that shines atop this breakfast burger. I like my sunny yolk runny, but feel free to go over easy or even scrambled.
Salt & Pepper- For seasoning, but optional.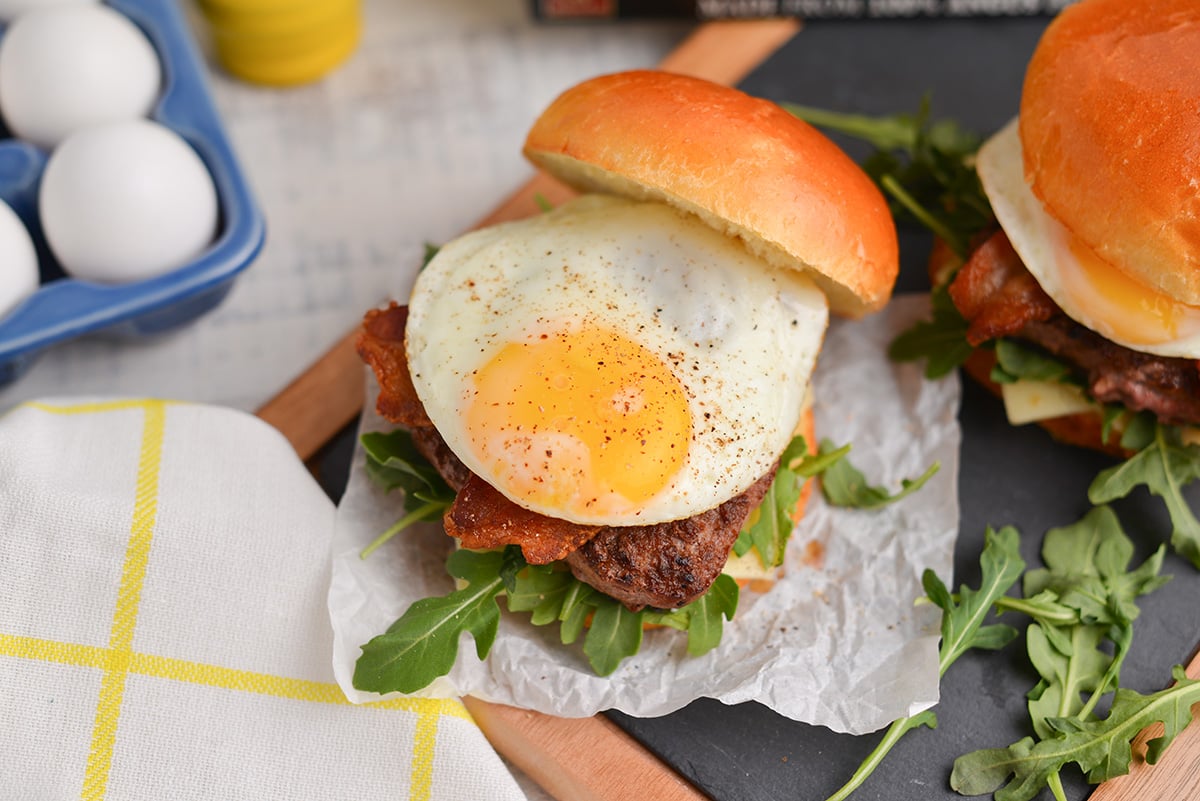 How to Make a Breakfast Burger
You have options when making your BUBBA burgers. For ease, I used a cast-iron skillet inside, but there are other options.
Place the frozen burger directly on a preheated grill (350°F on indirect heat) or skillet (medium heat).
Wait for the juices to rise to the top without moving the burger around and do NOT press on it with a spatula, approximately 4 to 6 minutes. Browning is a good thing, it helps to develop natural flavors!
Flip the BUBBA burger and cook for another 4 to 6 minutes or until your desired doneness.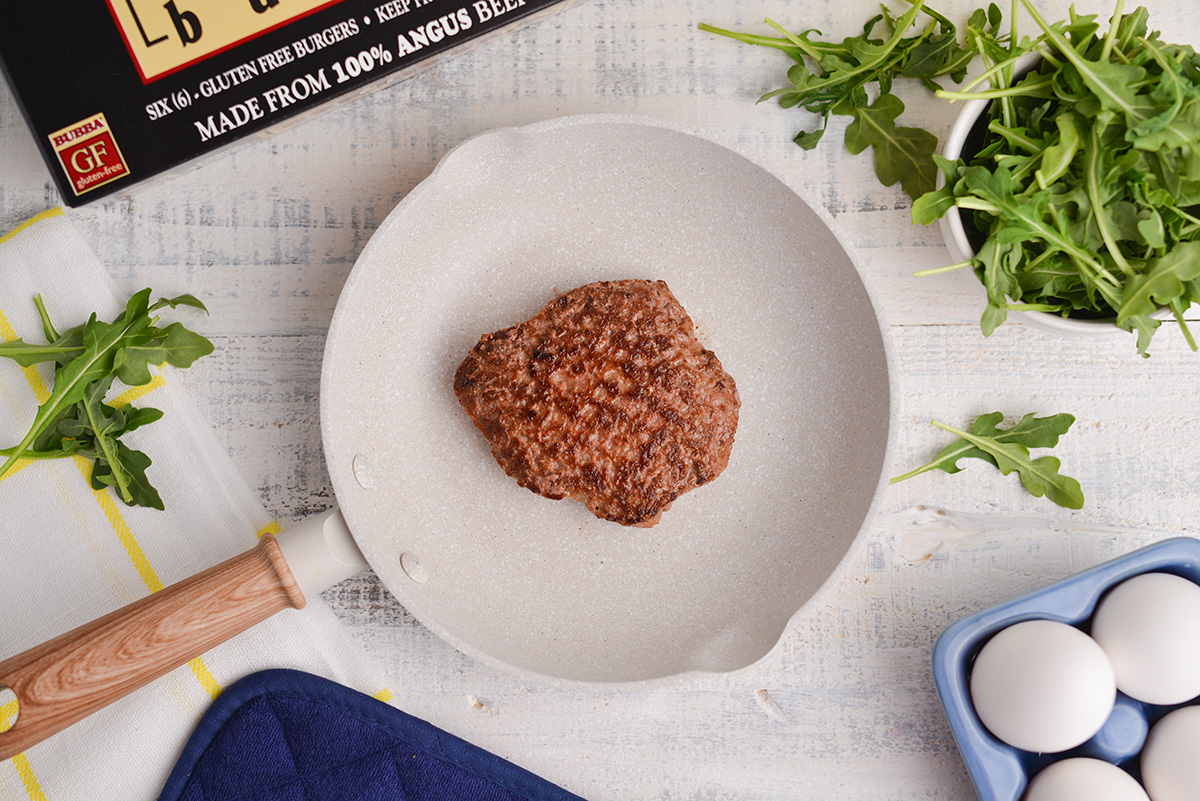 Allow the burger to rest while you use the same hot skillet to fry an egg. Top the skillet with a lid of piece of aluminum foil to get the perfect sunny side up fried egg.
Assemble the burger by placing 2 slices of white cheddar on the bottom bun, top liberally with fresh arugula, then your BUBBA burger, bacon and finally the egg. Season with salt and pepper to taste.
Enjoy open-faced or top with the other half of the bun.
Other breakfast burger toppings:
Tayler ham slice
Avocado slices
Thick cut tomato
Spinach
Microgreens
Hot Sauce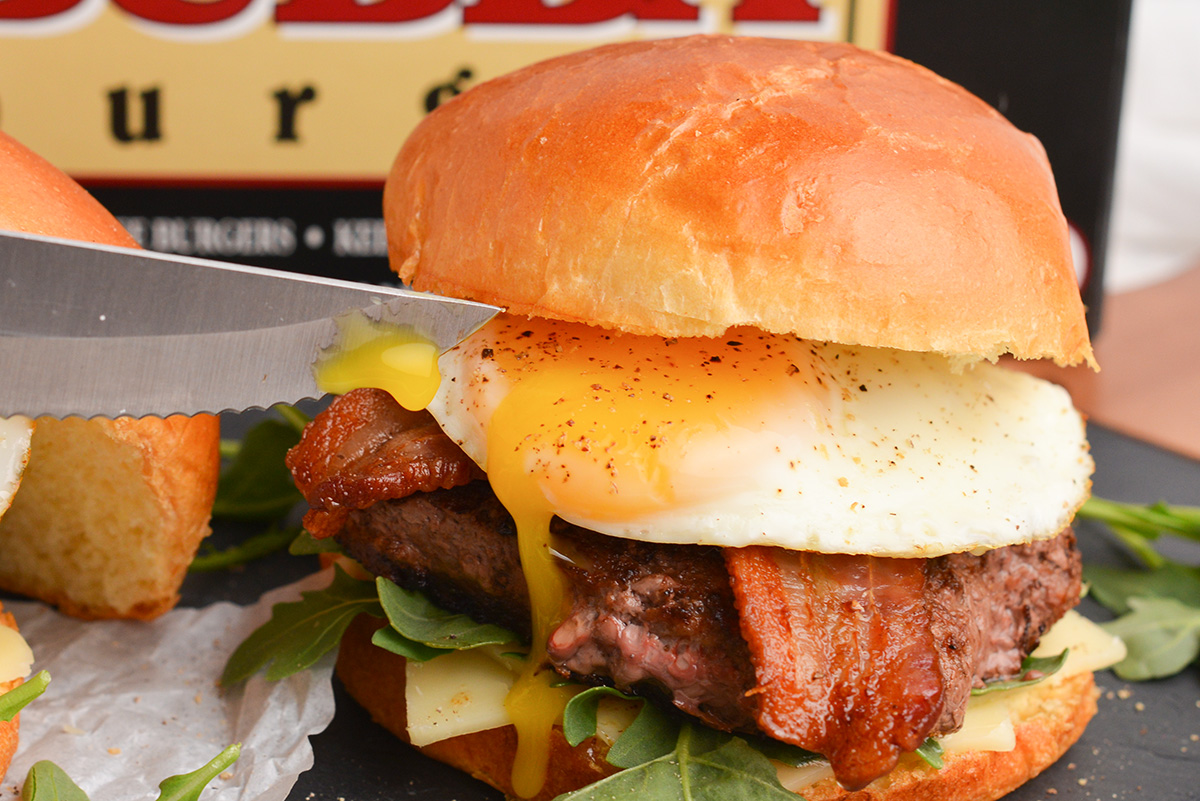 Leftovers
I highly suggest building your breakfast burger as you need it. This way you can store just the BUBBA burger separately from the toppings and buns should there be leftovers.
Reheat in a skillet or a quick trip to the microwave and then assemble the burger from scratch just like the original instructions.