Last time I posted Rochester Style Garbage Plates, it was an ode to Nick Tahou on his birthday, the evil genius behind piling greasy foods on a plate, leaving behind a legacy and tradition for all Rochester natives.   This time around it to celebrate hubby and his friends traveling up to Buffalo, New York this weekend for a Buffalo Bills game.  In his mind, nothing says fall football more than spicier-than-h*ll buffalo wings and Garbage Plates.
I know what you are thinking… "What in the world is a garbage plate??  I just see a pile of random food!"  Ding, ding, ding- you got it! Garbage plates come in many varieties, but they are all comprised of three basic layers: the base, meat and toppings.  The one ingredient that never changes is what garbage plate goers call Hot Sauce. Not the usual Texas Pete, but instead beef simmered in onion, garlic, tomato sauce and spices to an almost chili-like consistency, but ironically not very spicy. The base can consist of macaroni salad, baked beans, home fries or French fries. The meat layer can be just about any piece of meat, or non-meat, you can think of! A traditional plate uses cheeseburgers or hamburgers, but you can also mix it up and get hot dogs, grilled cheese, fried fish, steak, Italian sausage or fried chicken fingers.  The toppings range from fried eggs, extra cheese, raw onion, sauteed onion, mustard, ketchup or relish.  All plates are served with a side of buttered bread to mop up the extra sauce, the goal being to end up with a clean plate.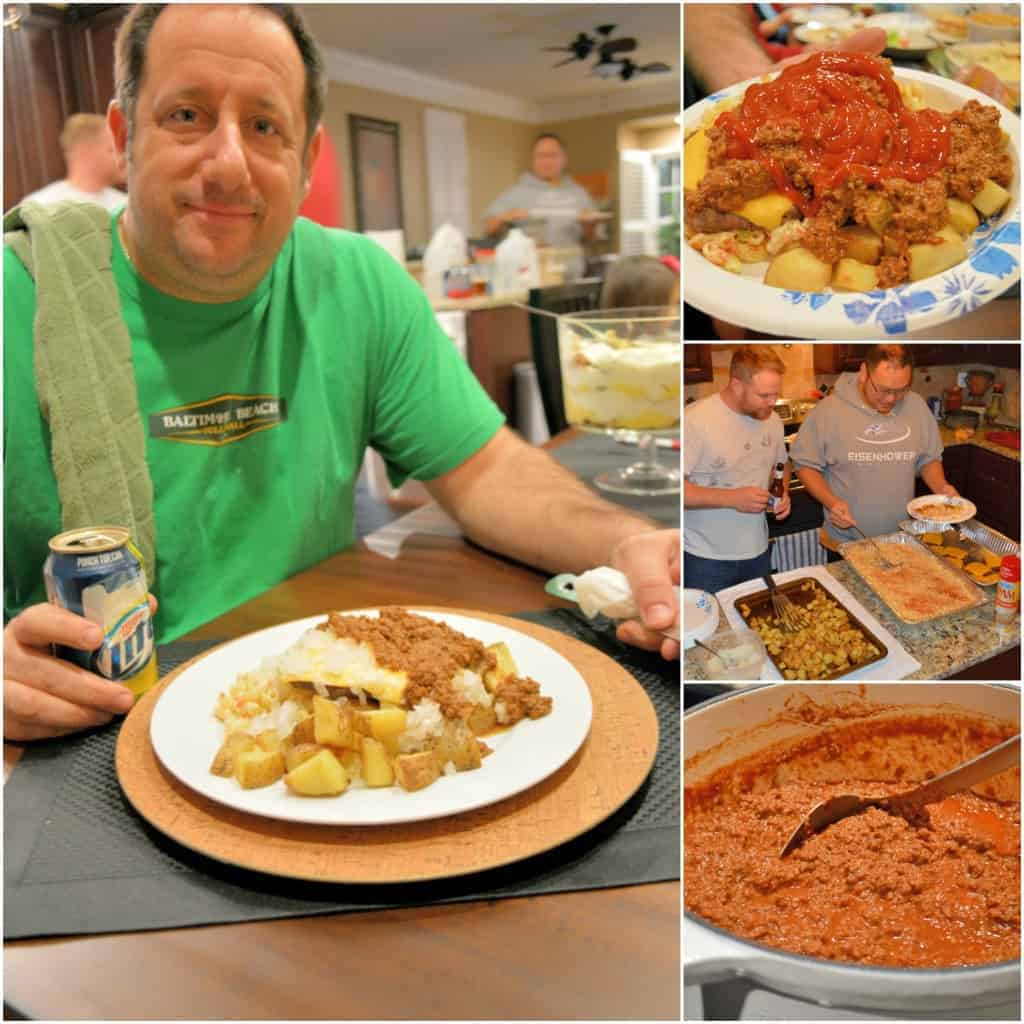 Not down for this long process, but want to try a plate?  You can always purchase pre-made macaroni salad, canned mild chili and frozen home fries. Another little fact, health.com has rated the Garbage Plate the fattiest food in the entire state of New York, so please consume in moderation!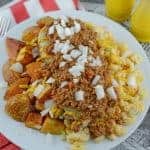 Rochester Style Garbage Plates- Throwback Thursday
Rochester Style Garbage Plates are a mess on a plate. Read on for all of the variations!
Ingredients
1

pound (dry)

elbow macaroni

2 1/4

cups

white onion

finely diced, divided

1/2

cup

carrots

finely diced

1/2

cup

celery

finely diced

1

cup

mayonnaise

1

teaspoon

black pepper

divided

2 1/4

teaspoons

paprika

divided

4

tablespoons

light extra virgin olive oil

4

large garlic cloves

minced

3

pounds

ground beef

lean

12

ounces

tomato paste

3

cups

light beer

or sub water

3

tablespoons

brown sugar

3

teaspoons

cayenne

3

teaspoons

black pepper

3

teaspoons

chili powder

1 1/2

teaspoons

cumin

1 1/2

teaspoons

allspice

1

teaspoon

fine sea salt

3

tablespoons

yellow mustard

plus more for topping

5

pounds

Yukon potatoes

diced to 1-2 inch cubes

Vegetable oil

for frying

12

frozen hamburger patties

12

slices

American cheese

1

Loaf of Italian bread

butter

softened, for buttering the bread
Instructions
Cook elbow macaroni in well salted water according to package directions for al dente. Drain and immediately rinse with cold water to stop the cooking process. Drain well, watery mac salad isn't very good.

After elbow macaroni has cooled and fully drained. Place into a large mixing bowl or tray. Add finely diced carrots and celery, but only 1/4 cup finely diced onion. Fold in mayonnaise and 1/2 teaspoon black pepper. Make sure to fold and not stir, so the elbow pieces stay intact. Smooth out the top and sprinkle with 1/4 teaspoon paprika. Cover and place in the refrigerator.

Heat light extra virgin olive oil in a large sauce pan or Dutch oven to medium-high heat. Sauté 2 cups white onion and garlic until soft, approximately 5 minutes. Add ground beef, breaking up well with a spoon. Brown the meat and continue to break apart to avoid ending up with a meatball. Browning will take approximately 10 minutes.

Add tomato paste and beer to browned beef mixture, mix well, breaking apart any remaining chunks of meat. Continue to cook for 10 minutes.

Next stir in brown sugar through yellow mustard, 2 teaspoons paprika and 1/2 teaspoon black pepper. Simmer on low for 1 hour, stirring occasionally.

While the hot sauce simmers, prepare your home fries by heating up 4 inches of vegetable oil in a large Dutch oven or other high sided pan. Fry potatoes in batches to not crowd the pan, until outsides are crispy and potato cubes float. The first batch will take the longest, about 10 minutes. The next two will be a little quicker, closer to 5-6. Remove to a paper towel lined baking sheet. Keep in the oven on low until ready to serve.

Next, fire up the grill to high heat. Grill each hamburger patty 5 minutes on each side for a medium burger. Top with cheese and allow to melt for 1 minute, remove.

Now you are ready to build your magnificent Rochester Style Garbage Plate! Take a large scoop of home fries, place on one side of the plate. Next, take a large scoop of macaroni salad and place on the other side of the plate. Top with 1-2 cheeseburgers, then raw onions and hot sauce. Finish with any desired condiments and serve with a slice of buttered bread. Enjoy your Rochester Style Garbage Plate!
 Be honest… would YOU eat a Garbage Plate???