Thanksgiving turkey recipes have sure come a long way. Thanksgiving dinner, in general, has come a long way!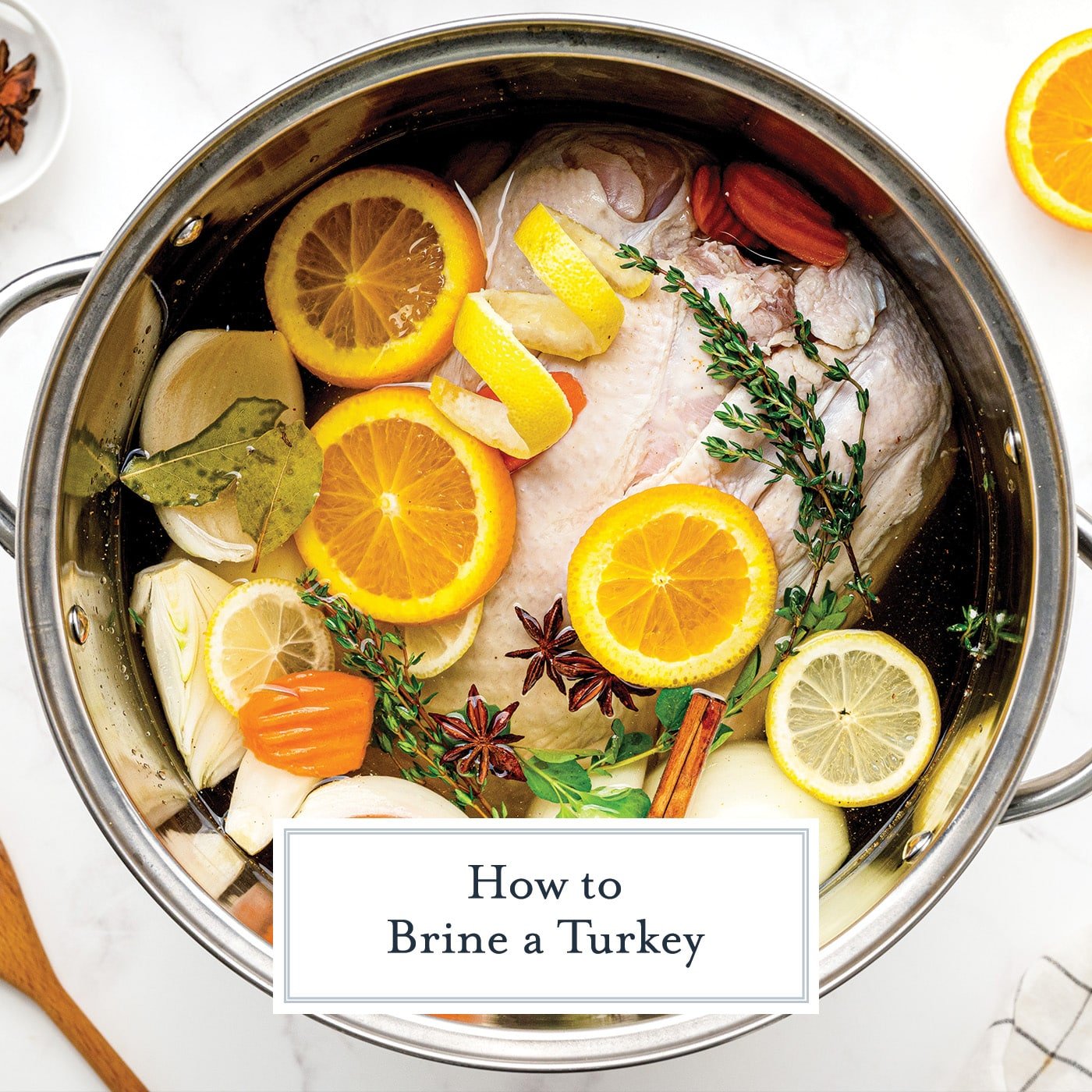 Why Brine Turkey?
Simple brine for turkey can be as easy as dissolving salt in water or as complicated as a two-day process of an herb infused brine and then allowing for an air dry for the perfect, crispy turkey skin.
Is it worth it to brine a turkey? I think so! Many others would agree with me. While there lots of ways to keep your turkey moist and succulent, brining is probably the best way. It adds flavor from the skin to the bone- no rub or injection offers that.
Benefits of Brine For Turkey
There are so many benefits to brining turkey, but two biggest are flavor and texture. Because turkeys are generally a larger bird, they need to slow roast and it can be challenging to keep the meat moist during the process. Brining infuses cells with moisture, helping it to stay buttery and juicy.
Those same liquids will bring flavor to the meat.
Turkey Brine vs. Rub vs. Injection
Is it just me, or did brining a turkey not become a "thing" until a few years ago? The newest in turkey trends. What will be next?
Turkey Rub– Great for seasoning right on the skin of the turkey, no marinating time needed. Just rub and go.
Turkey Injection– Can be used in conjunction with the rub, but not brining. You literally inject liquid into the turkey. No need to let it sit. Create pockets of flavor and moisture.
Brine– Bringing is the creme de la creme of turkey preparation, but also requires a bit of thinking ahead. It plumps every fiber of turkey with moisture and flavor, but also takes a good deal of space and at least 24 hours.
After any of these preparations, you can roast, fry or smoke the bird.
Turkey Brine Recipe Simple Ingredients
I set out to find a the best brine recipe ever for the juiciest turkey. The basics of a brine solution are using cold water and infusing it with salt, sugar and flavor.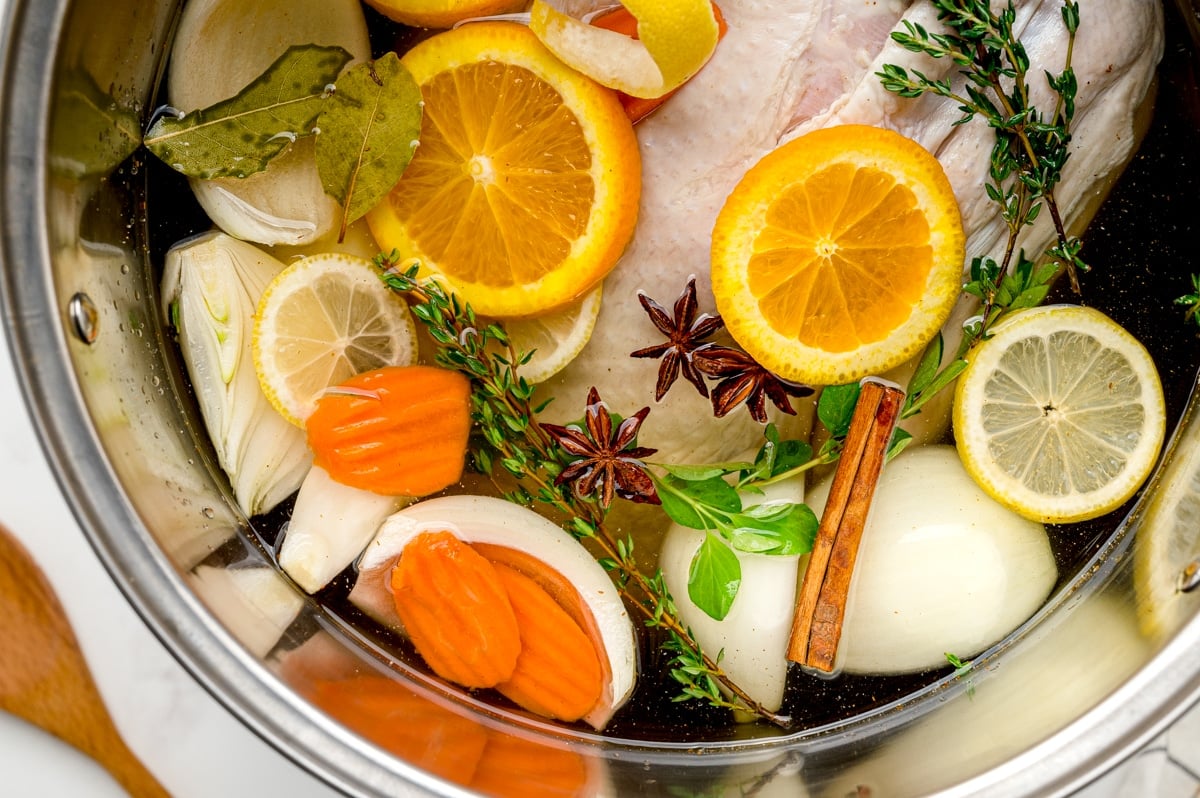 What is the ratio of salt to water for turkey brine? The general rule is 1 cup of salt for every gallon of water. Yes, the type of salt does matter- use a large, coarse grain salt, either Kosher or sea salt. If you are using a small grain salt, cut the amount in half, here there such a thing as too much salt. Other ingredients include:
Paprika
Chili powder
Garlic powder
Onion
Oregano
Thyme
Fresh garlic
Brown sugar
Bay leaves
Kosher salt (I like Diamond Crystal)
Here are a few variations to customize your flavorful turkey.
Orange Zest or Orange Slices
Lemon Zest or Lemon Slices
Carrots
Fresh Parsley
Celery
Juniper berries
Cinnamon Sticks
Cloves
Star Anise Pods
Nutmeg
Apple Juice or Apple Cider
Fruit Juice
Through the process of osmosis, your bird will be infused with all the flavors added and give you succulent and juicy meat from the legs to the breast, bone to skin.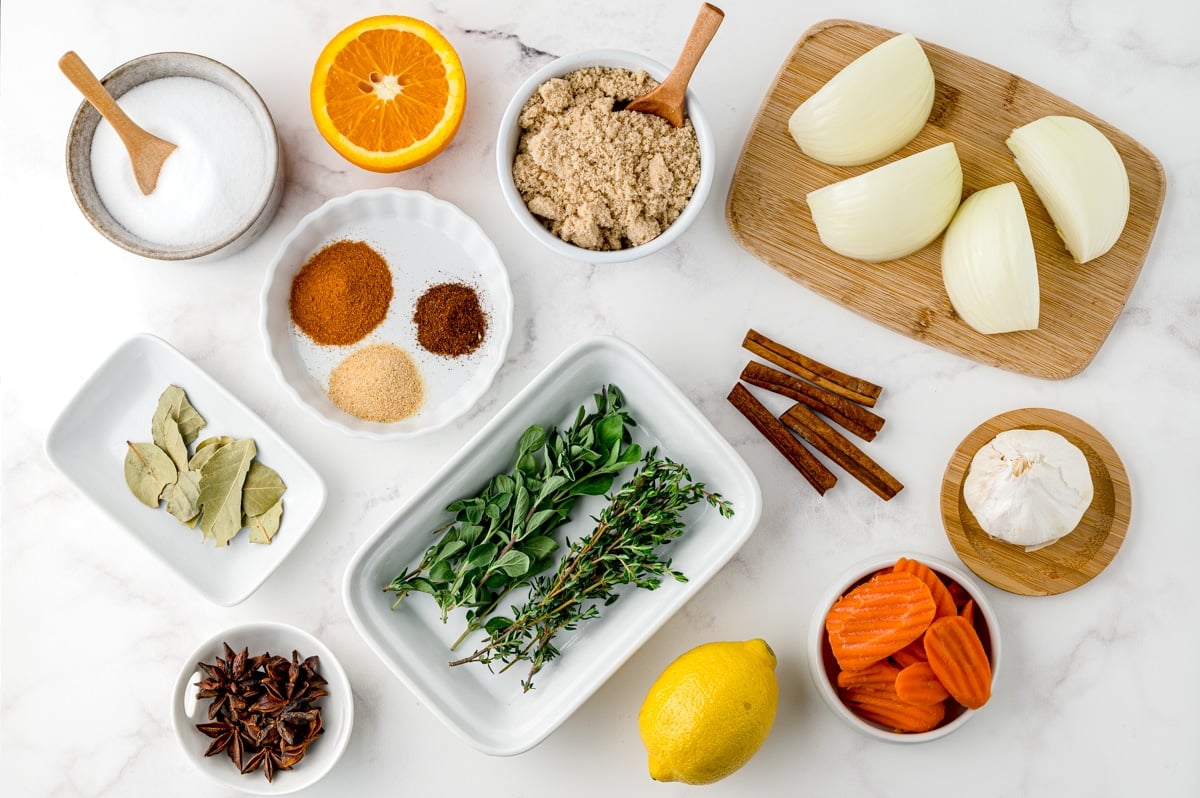 How to make this Turkey Brine Recipe
Prep the actual bird, removing all of the innards and any super loose skin that might be dangling off. Set aside until the brine is ready.
Bring the water to a boil and then whisk in all of the seasonings and salt. Using hot water helps the salt dissolve and flavors to infuse the water. Allow to cool fully- putting the turkey in hot water will just cook it and we aren't ready for that yet!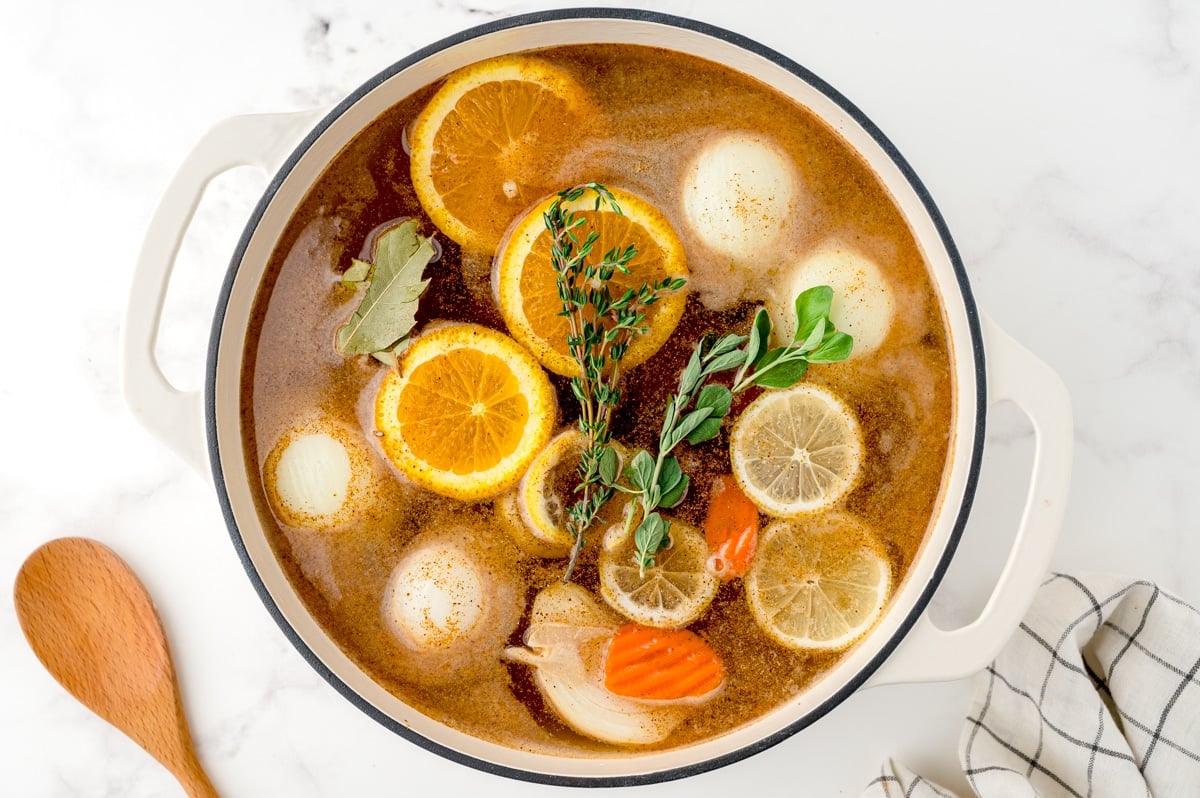 When brine has reached room temperature carefully transfer the liquid and the turkey to wherever you plan to store it. Place in refrigerator for 24 hours. *
Remove the turkey from the brine and rinse with cold water, this removed excess salt so it won't be too salty. Pat dry and then prepare your turkey according to desired recipe.
How long do I brine turkey? The short answer is overnight up to 24 hours and this is dependant on how large your turkey is. A bigger bird needs more time to soak.
Can you brine a turkey too long? It is relatively hard to hurt the turkey, but yes, you can brine for too long. The result will be a tougher and salty bird. I recommend only 24 hours for a large turkey. For a super large bird you can push it a little longer. Brining a turkey for too long will make it too salty and the texture tough and spongy. You have to find the sweet spot.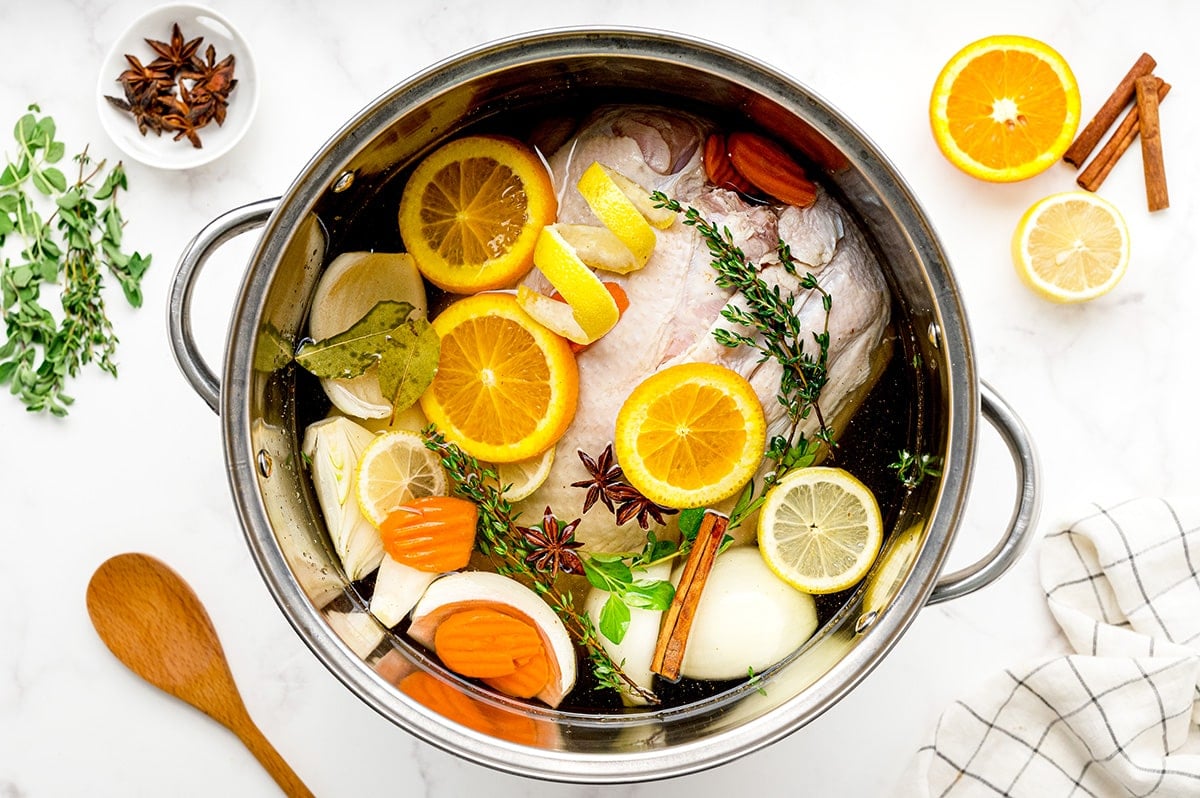 How to store Turkey Brine
How much turkey brine do I need? You need about 1 gallon for every 10 pounds of turkey. This turkey brine is for a 12 pound bird, but then you also need to take into account the size of the vessel you'll be using to let it sit- a large cooler needs a lot more space than a stock pot. Aim for the whole bird to be covered in the saltwater solution. Make sure you have enough brine, but if you have too much, just get rid of the rest of the water.
Where do I brine my turkey? You can most likely have some something to brine a turkey in at home. There are three main ways people use: a brining bag, a large pot or a cooler. You can also use a roasting bag as long as it isn't permeable.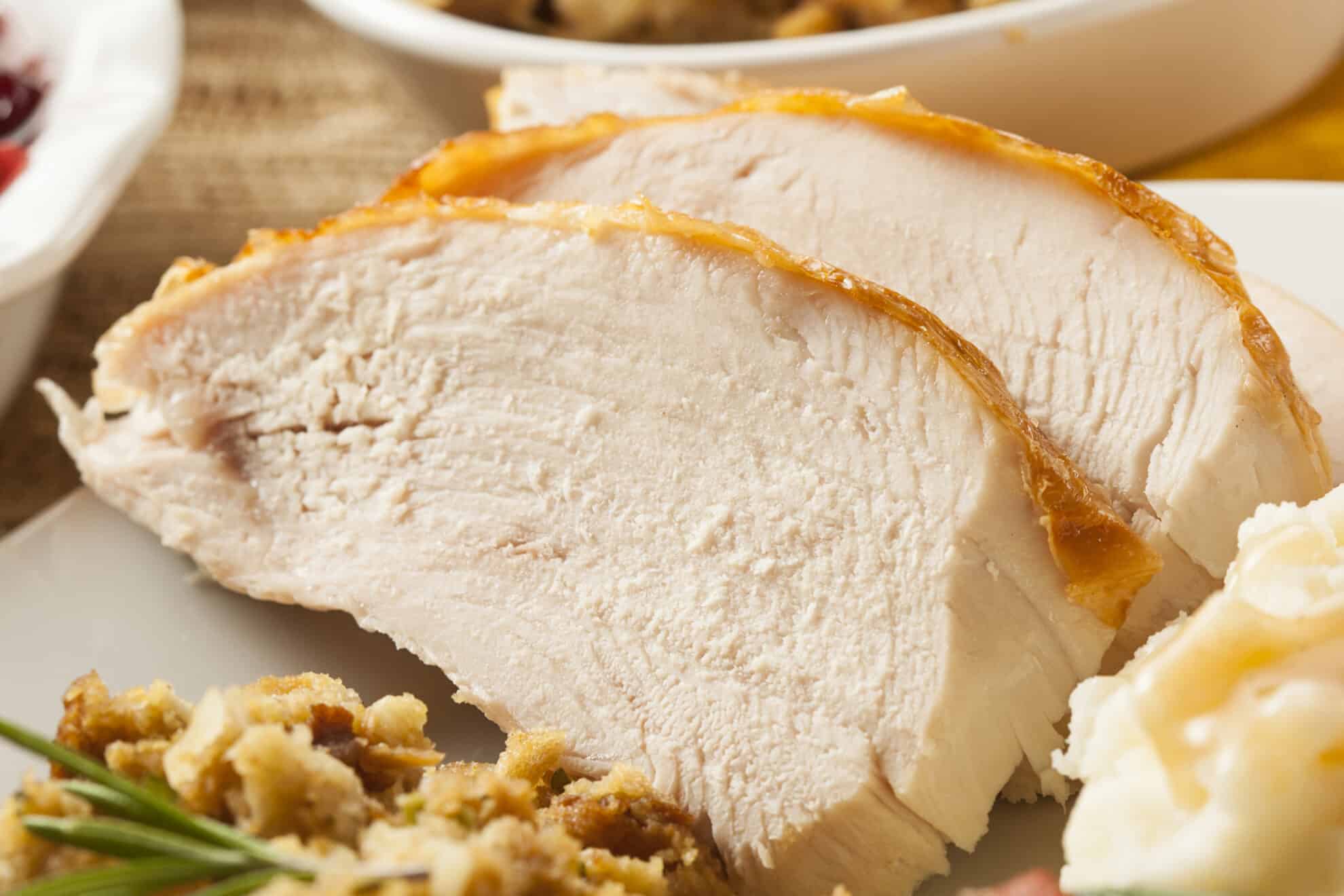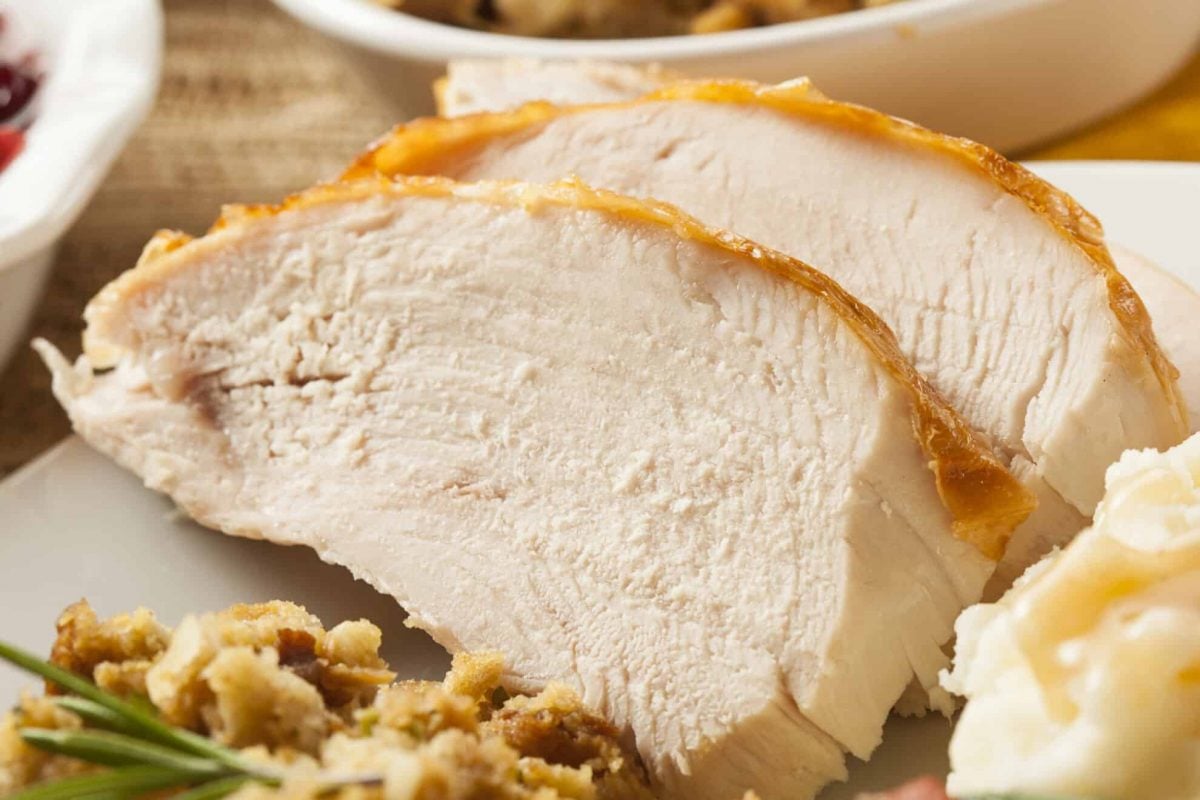 Turkey Brine Recipe Simple tips
Wet Brine. This technique is called wet brining. A wet turkey brine adds moisture to your turkey- nearly an entire pound of it for a 12 pound bird. The only downfall to wet brining a is not getting crispy turkey skin, but we have a solution for that below. You can learn more about a dry brines too.
Use Large Grain Salt. Not all salt is created equal. Salts have different flavor profiles, chemical structures, shapes, ability to dissolve (although they all will eventually) and sizes, resulting in varying density.

One tablespoon of Kosher salt is not the same as one tablespoon of table salt. Make sure to use Kosher salt with larger crystals to get the correct salt to water ratio for brine, which is 1 heaping tablespoon of kosher salt for every cup of water or 1 cup for every gallon of water.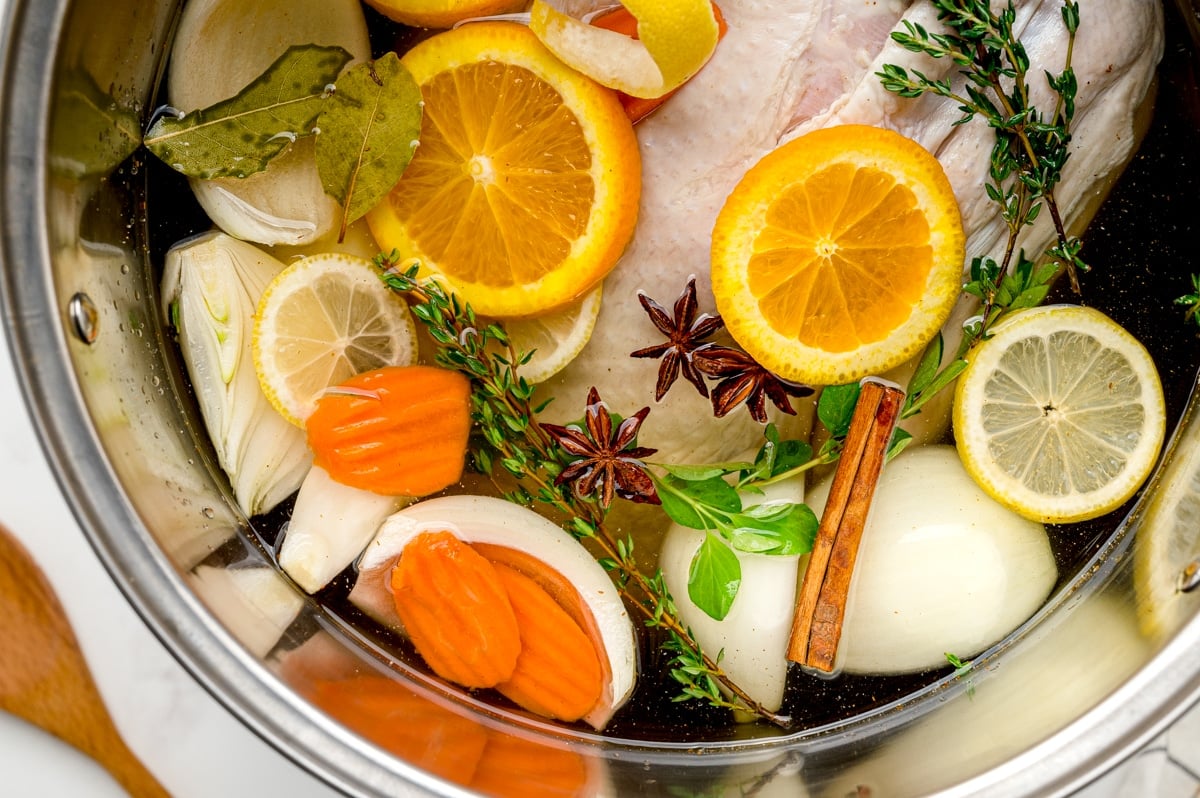 Add flavor. The types of flavor you can add to your easy brine are endless. For a simple brine recipe using just salt and water, there is no need to boil because the salt will dissolve regardless, but for more flavor, boiling is ideal to infuse water.
How Make the Crispiest Turkey Skin. Because brining adds to much moisture and flavor, it also makes the skin super wet and prevents browned, crispy skin.

To get the best of both worlds, brine your turkey for 24 hours, then remove from brine and allow to dry out, uncovered, in the refrigerator for an additional 24 hours. If you don't have time, simple dab dry with paper towels.
How to make turkey stock. And after you are all finished, save the bones to make Turkey Stock and Turkey Noodle Soup, the quickest and tastiest way to use up leftovers!
What is the best salt to water ratio for brine?
The typical ratio for brine is 1/4 cup of coarse kosher salt to every 4 cups of water. However, this doesn't have to be exact. I also strongly recommend using only coarse kosher salt, which is less salty and has less sodium If using table salt, the volume needs to be reduced by at least half and could still be a little too salty. Make sure to rinse the bird with cold water after brining.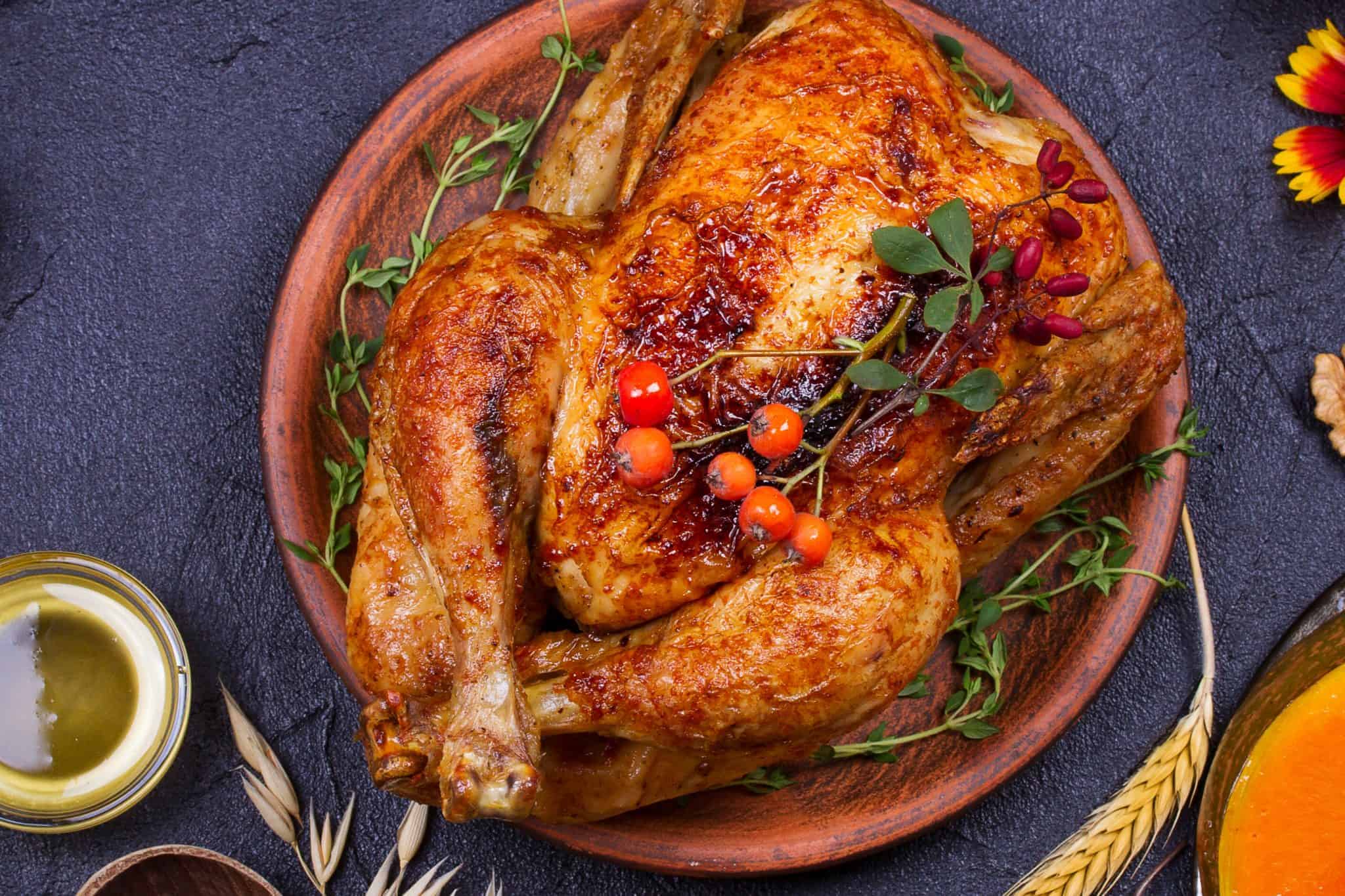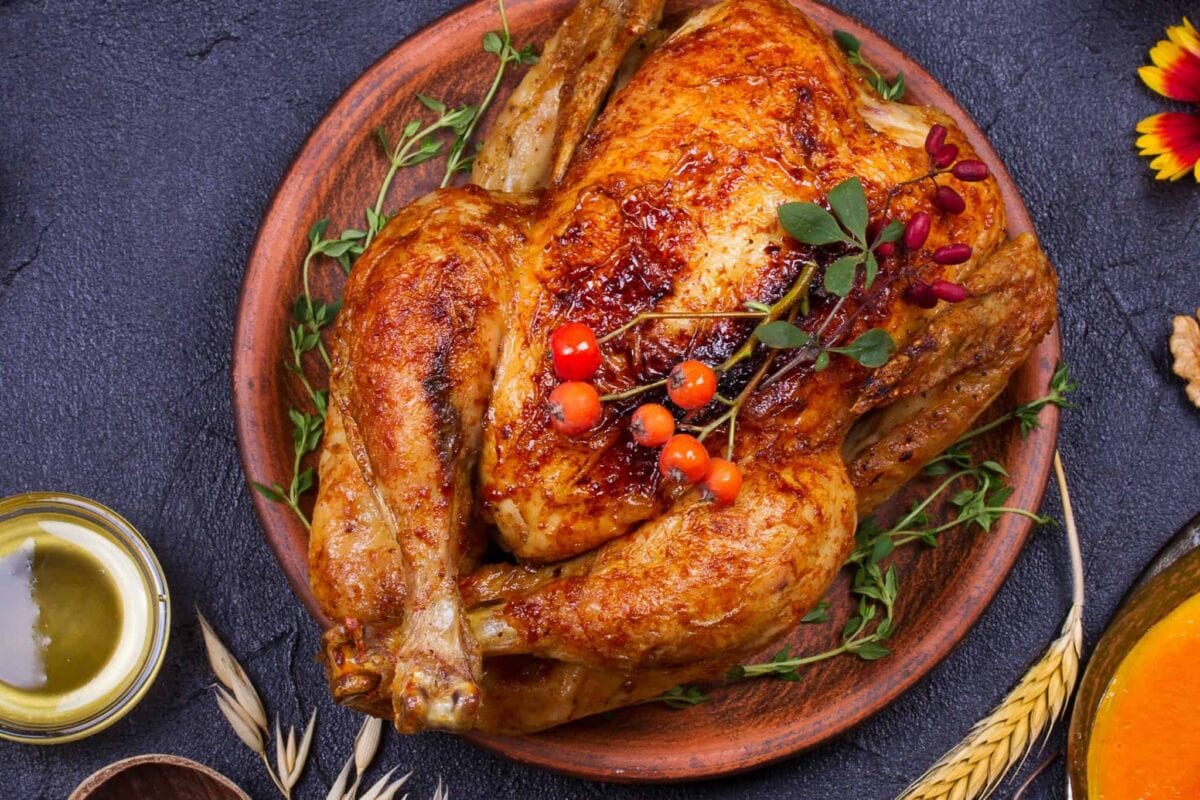 Brine For Turkey FAQs
What is a basic roasting recipe?
Rub your brined turkey (after rinsing) with a compound butter or dry rub, stuff it with desired herbs and vegetables. Allow it to sit at room temperature for about 30 minutes before cooking.
Preheat oven to 325°F and follow the times below depending on whether it is stuffed and size. Place, breast side down in a roasting pan for the first half of cooking and up for the rest of the time.
Check with a meat thermometer to make sure it reaches an internal temperature of 175 degrees in the thickest part of the turkey. Then remove and allow to rest for at least 20 minutes before carving.
Can you reuse turkey brine?
NO! This is raw meat and a marinade just like others. The brine can be easily contaminated and contaminate your food. Discard turkey brine after one use.
Can you brine a turkey when it is frozen?
A thawed turkey is best, because if it is frozen, the brine doesn't have a way to penetrate into the turkey. It is a little frozen, it is ok, but remember the ice left inside that still needs to thaw will dilute the brine, so compensate by adding a little more salt.
Can you over brine turkey?
Yes, turkey can be over brined which results in tough and rubbery meat. While you'd think more is better, there is a tipping point at which the meat starts to preserve and tense instead of tenderize. The exact number of hours depends on the size of the turkey, but we do not recommend brining for longer than 24-36 hours for a bird larger than 15 pounds. For birds less than 15 pounds, 18-24 hours.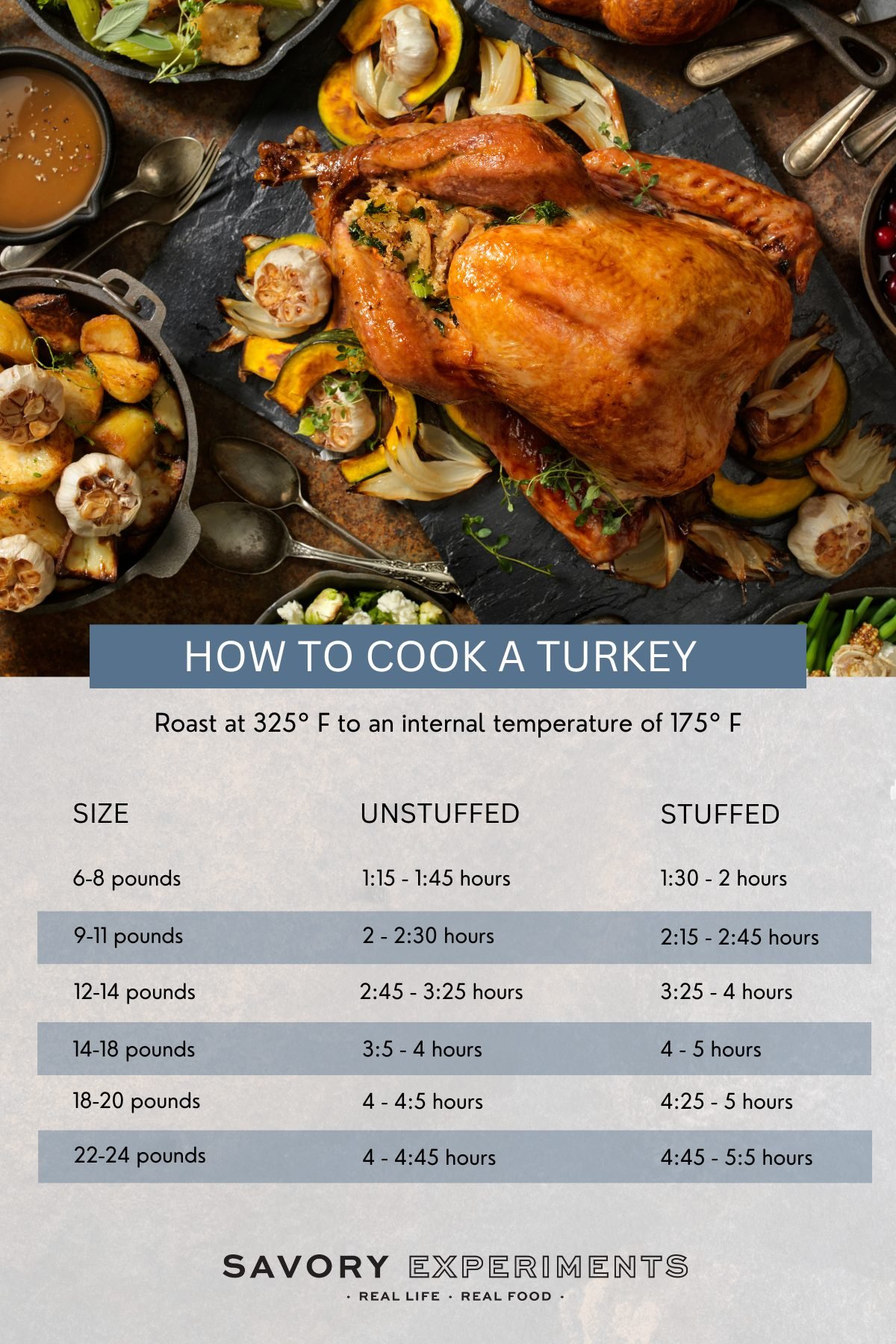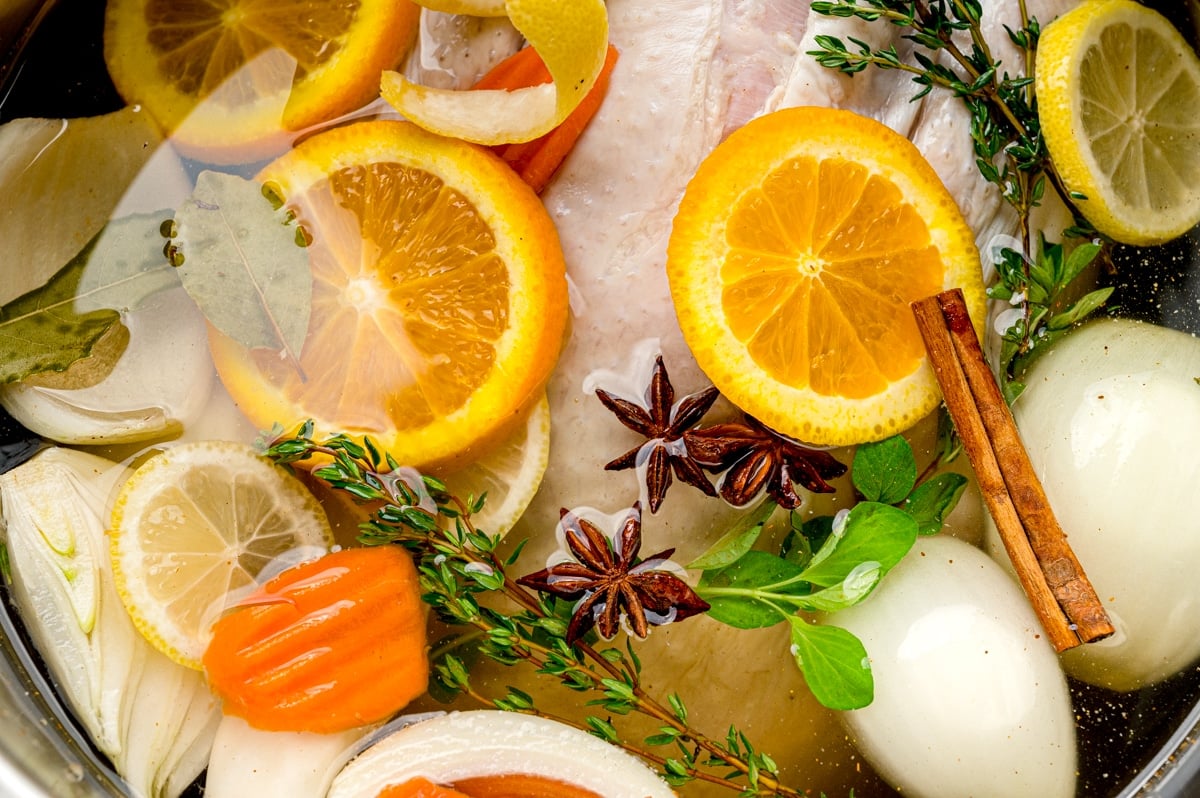 What to serve with Brine Turkey
What do I serve with Turkey? Here are our our favorite Thanksgiving side ideas .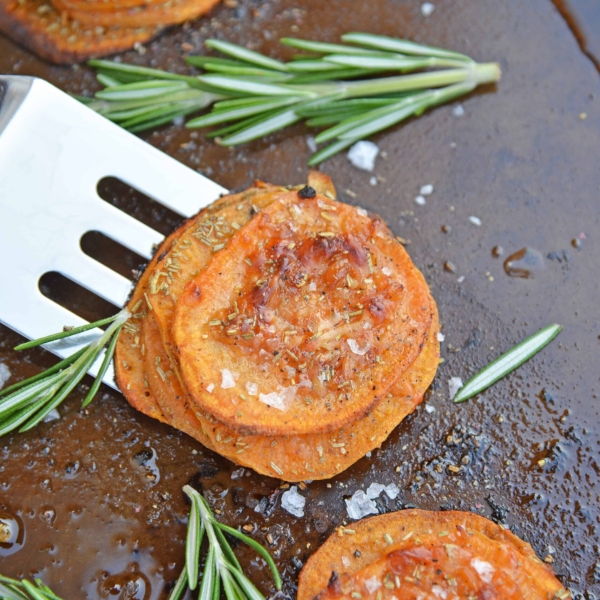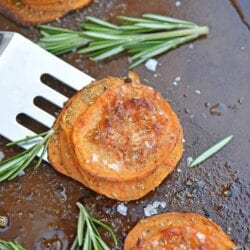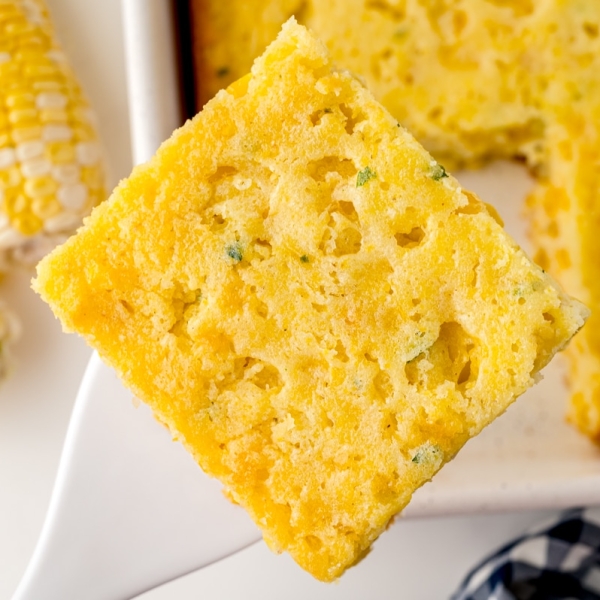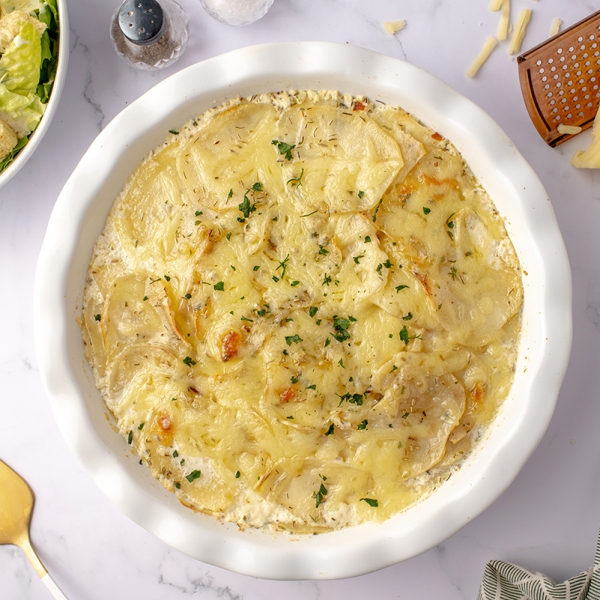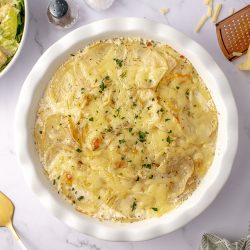 Potato Galette
A stunning Potato galette makes the perfect side dish made with layers of thinly cut potatoes, Swiss cheese, shallots, herbs and cream sauce.
See The Recipe!
Or a few fun new Thanksgiving desserts: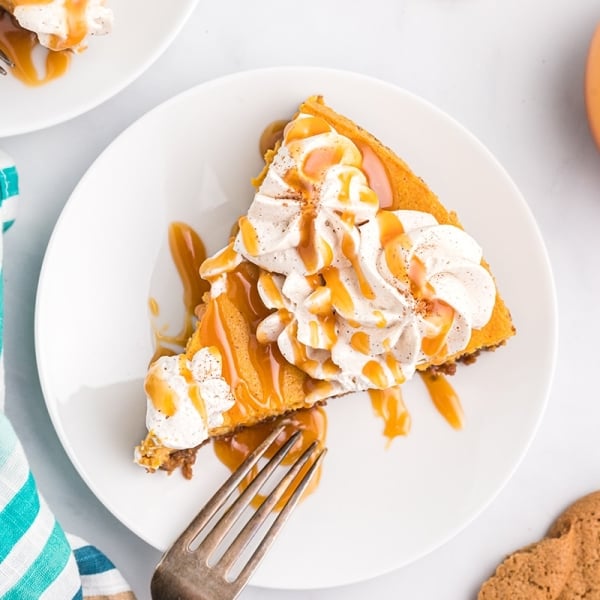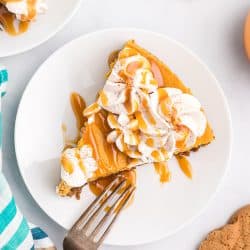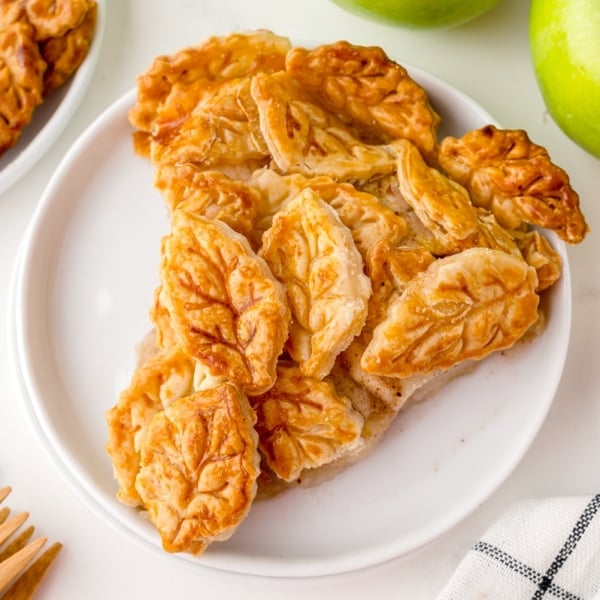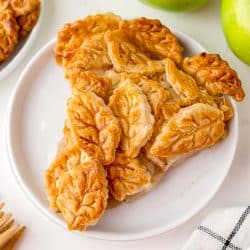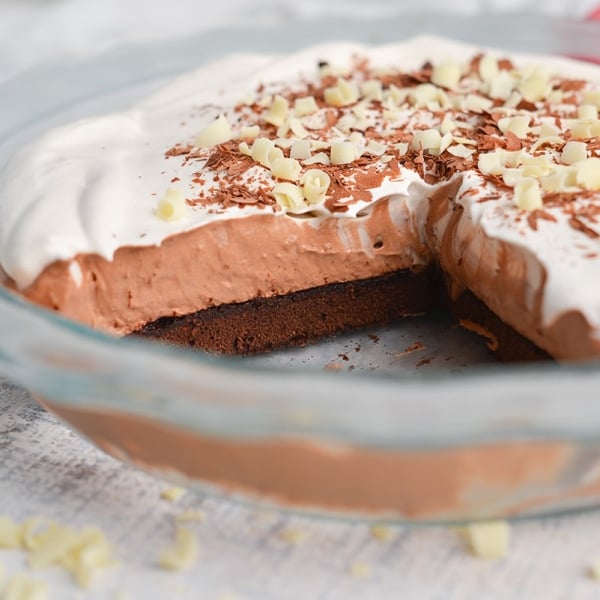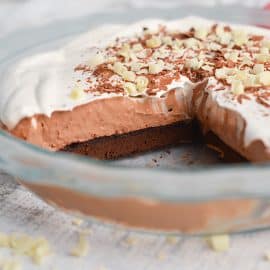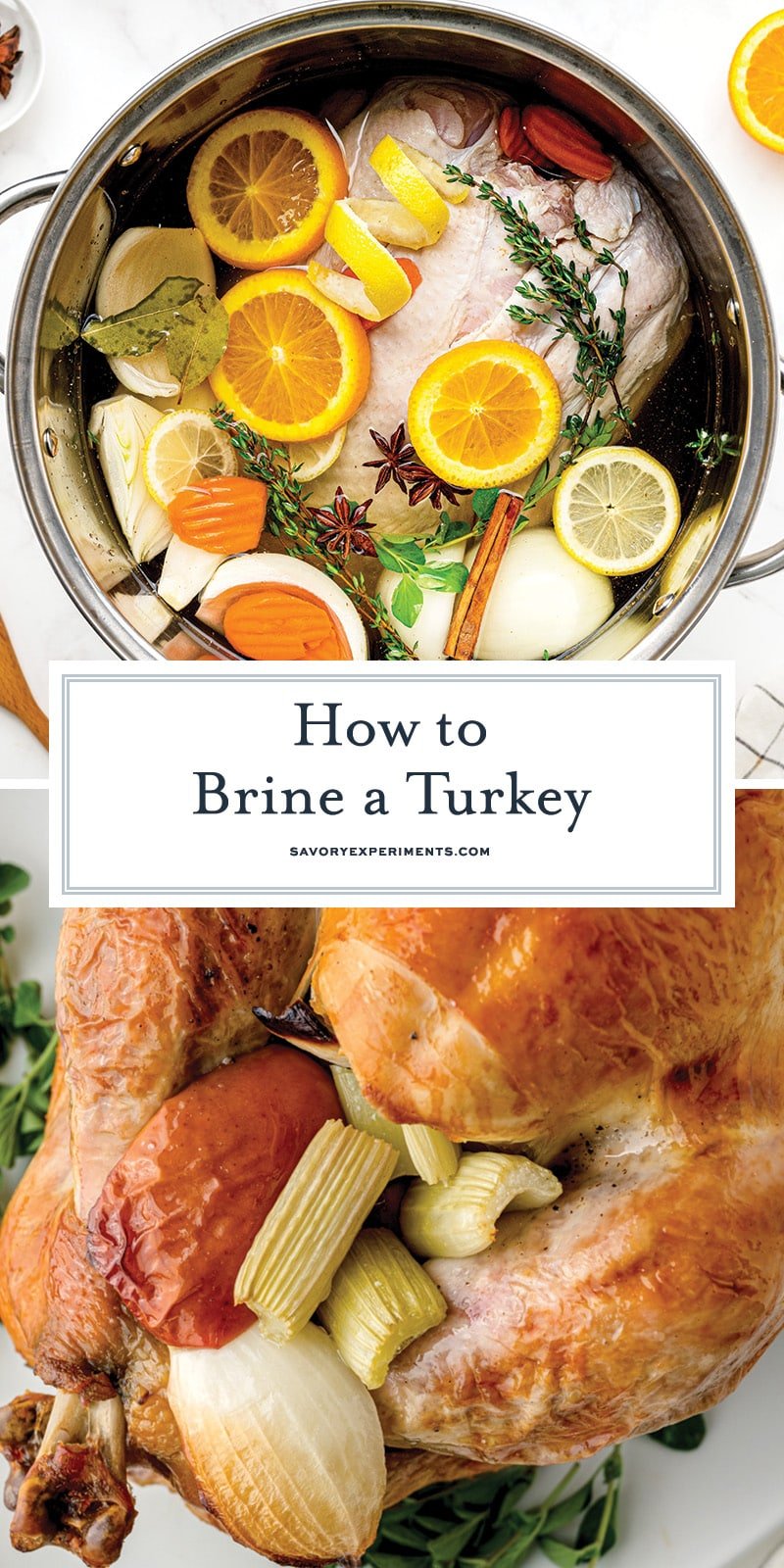 More Favorites from Savory Experiments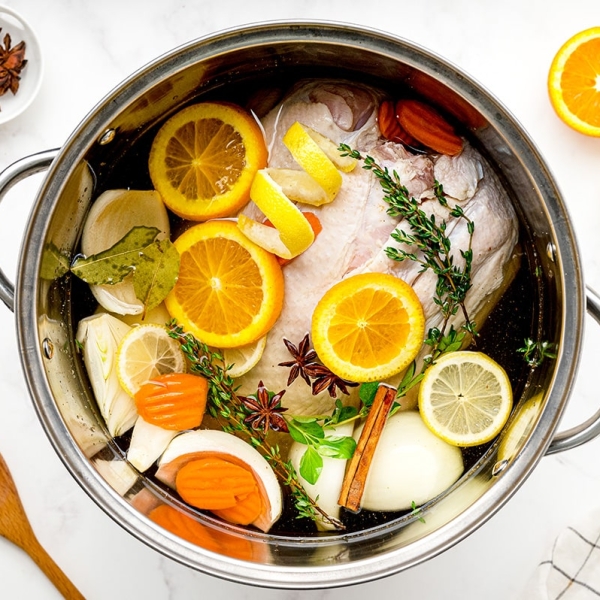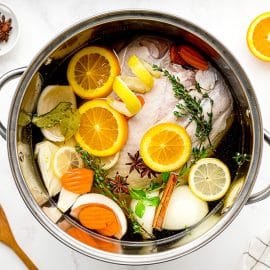 Turkey Brine Recipe Simple
The best turkey brine recipe and step-by-step instructions for how to brine a turkey for roasting, smoking or frying.
Ingredients
Optional Add-Ins
Orange Zest or Orange Slices

Lemon Zest or Lemon Slices

Carrots

, cut into slices

Celery

, cut into small pieces

Apple Juice or Apple Cider
Instructions
Remove the plastic wrap, gizzard and neck. Rinse the turkey well with cold water and place into whatever vessel you are brining it in. Make sure you have enough space to place whatever you use into the refrigerator.

Bring 16 cups of water to a rapid boil in a large stock pot. Whisk in the paprika, chile powder, garlic powder, onion, oregano, thyme, garlic cloves, brown sugar, bay leaves and kosher salt. Also add any optional add-ins you might want. Continue to boil for 15-20 minutes. Remove from the heat, allow to cool slightly (approximately 10-15 minutes) then add 4 cups of ice.

When the brine has reached room temperature carefully pour into brining bag (or whatever you are using to place it into the fridge) with turkey (this is a two person job.) Tightly pull bag up around the turkey, forcing the brine to fully encase the bird. Twist the top around a few times and then tie tightly with twine. The whole bird should be submerged in liquid. Place in refrigerator for 24 hours. *

Remove from brine and rinse with cold water. Pat dry and then prepare your turkey according to desired recipe.

If you've tried this recipe, come back and give it a rating and tell us how it was in the comments or ratings.
Notes
If the brine will not completely embrace the turkey you can rig it with other items. I used a small cup, shot glass and cheese grater to make sure the brine fully encompassed the turkey.
Nutrition
Calories:
579
kcal
,
Carbohydrates:
8
g
,
Protein:
84
g
,
Fat:
22
g
,
Saturated Fat:
5
g
,
Cholesterol:
278
mg
,
Sodium:
8957
mg
,
Potassium:
936
mg
,
Sugar:
6
g
,
Vitamin A:
810
IU
,
Vitamin C:
1.6
mg
,
Calcium:
74
mg
,
Iron:
3.9
mg