Whether you're making shrimp cocktail, ceviche, or shrimp scampi, a quick brine of salt, sugar, and water will elevate the flavor and make your shrimp irrestibly tender and juicy. Many people skip the step just because they aren't sure how to do it — that's where this how to brine shrimp recipe comes into play.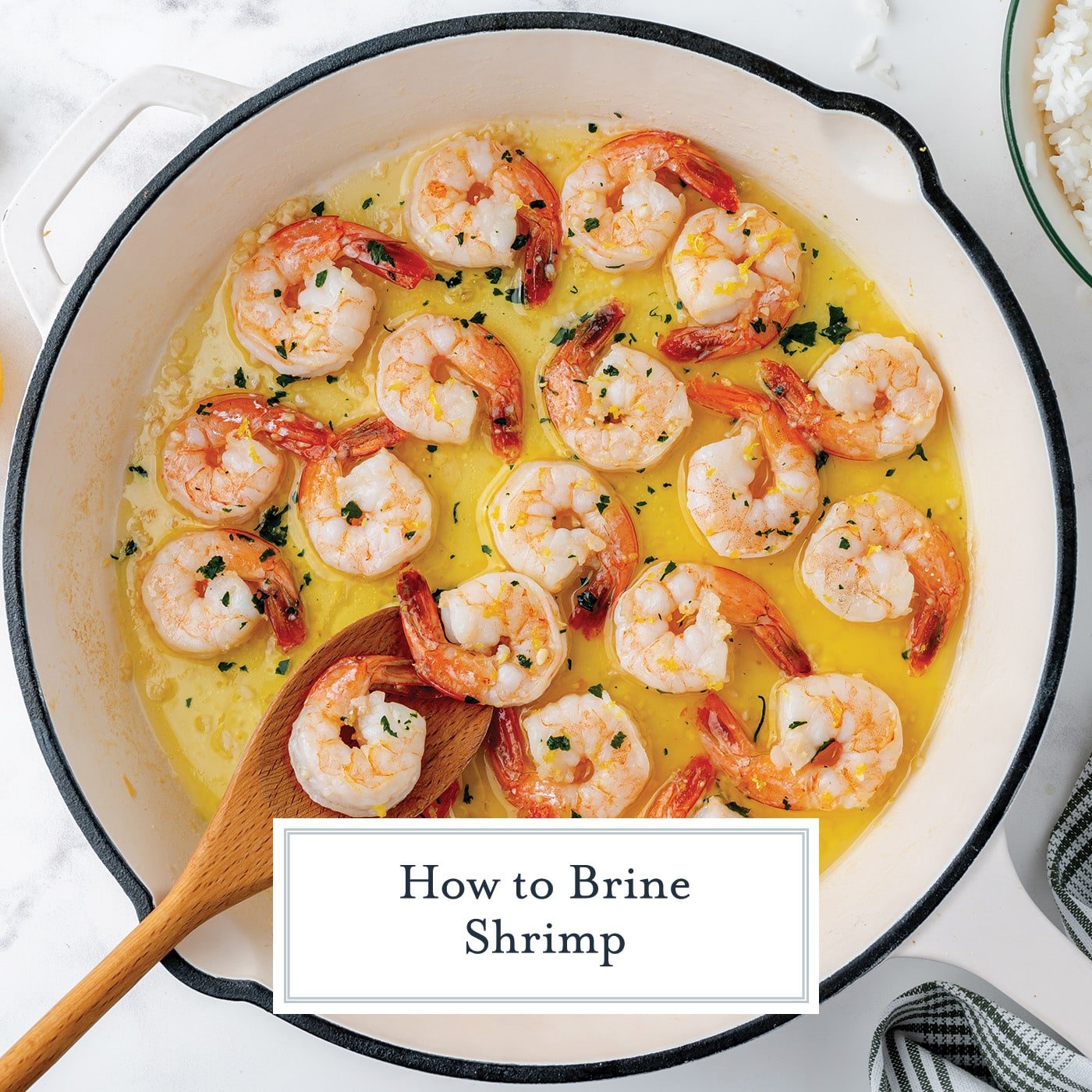 You can start with fresh shrimp or thawed frozen shrimp — either will work. Then you just quickly stir up the easy solution, add the shrimp, and let them sit for a short bit of time before you use your favorite recipe to prepare them.
There are other variations out there for brining shrimp, but this is my preferred method because it's so quick and easy and has so few ingredients. However, if you want to impart different flavors, you can add ingredients like bay leaves, spices, and herbs.
The next time you go to make shrimp, put aside a few extra minutes to brine them. You won't regret it!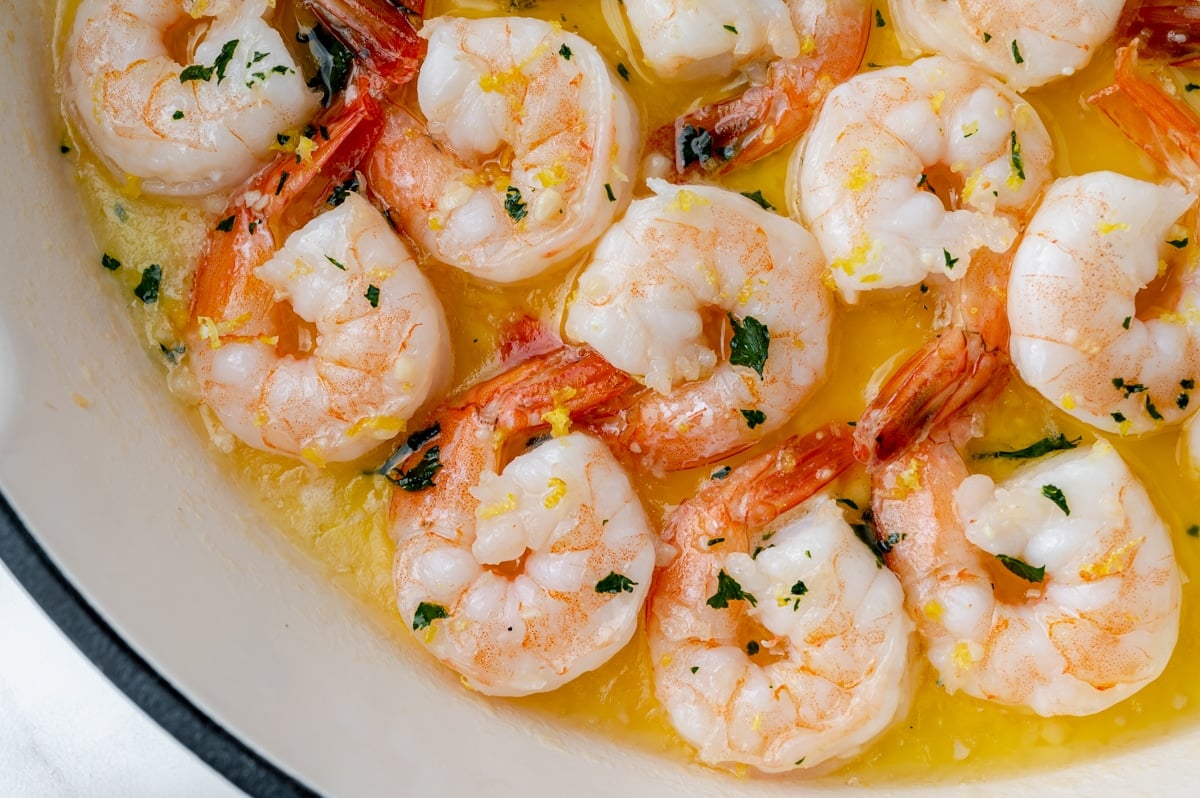 Why Brine?
Quite simply, brining shrimp helps to ensure that they are plump and have a firm texture — it also helps to keep them juicy when you cook them. The salt water affects the structure of the protein in the shrimp, allowing them to become tender.
The sugar, on the other hand, affects the taste and appearance of the shrimp, rather than the texture. Thanks to the sugar, they are slightly sweeter and become more brown when cooked.
Brining is hands-down the best way to ensure that you wind up with succulent shrimp on your plate no matter how you cook them.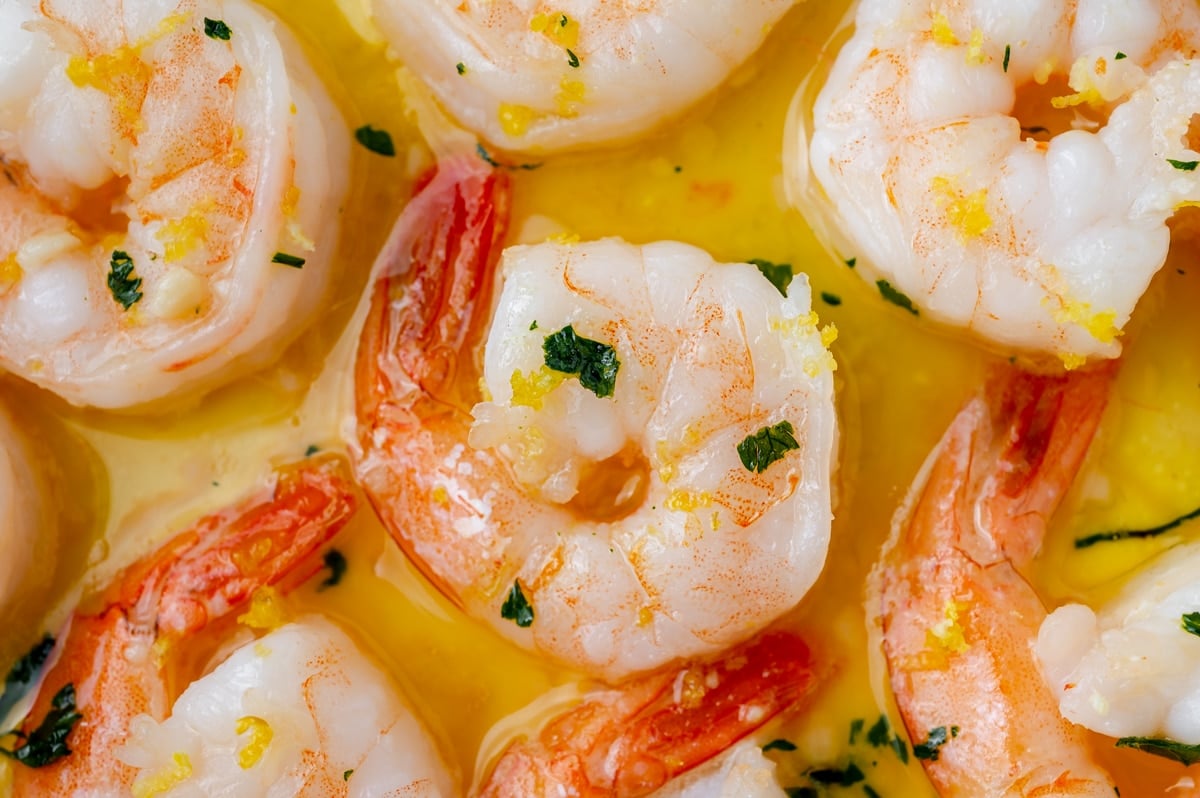 Best Shrimp Brine Recipe
You only need a few basic ingredients from the grocery store to both brine and cook the shrimp.
To Brine:
Cold water – Be sure to use cold water so that the shrimp remain at a safe temperature while brining.
Coarse kosher salt – While you can use any type of salt you prefer this variety works well and dissolves fairly quickly. Sea salt is another good option.
Sugar – Granulated sugar is the easiest to use for this recipe.
Large shrimp – One of the first things to do is devein and peel your raw shrimp. Peeled shrimp will brine more quickly.
To Cook:
Unsalted butter – Since the shrimp will retain some salt flavor from the brine, it's ideal to use unsalted butter. You can add more salt once you've taste-tested.
Garlic – Mince the garlic cloves finely so that there are no large chunks.
Lemon – For plenty of bright lemon flavor you'll want to use both the juice and the zest.
Flat leaf parsley – Chop the parsley finely for the best presentation.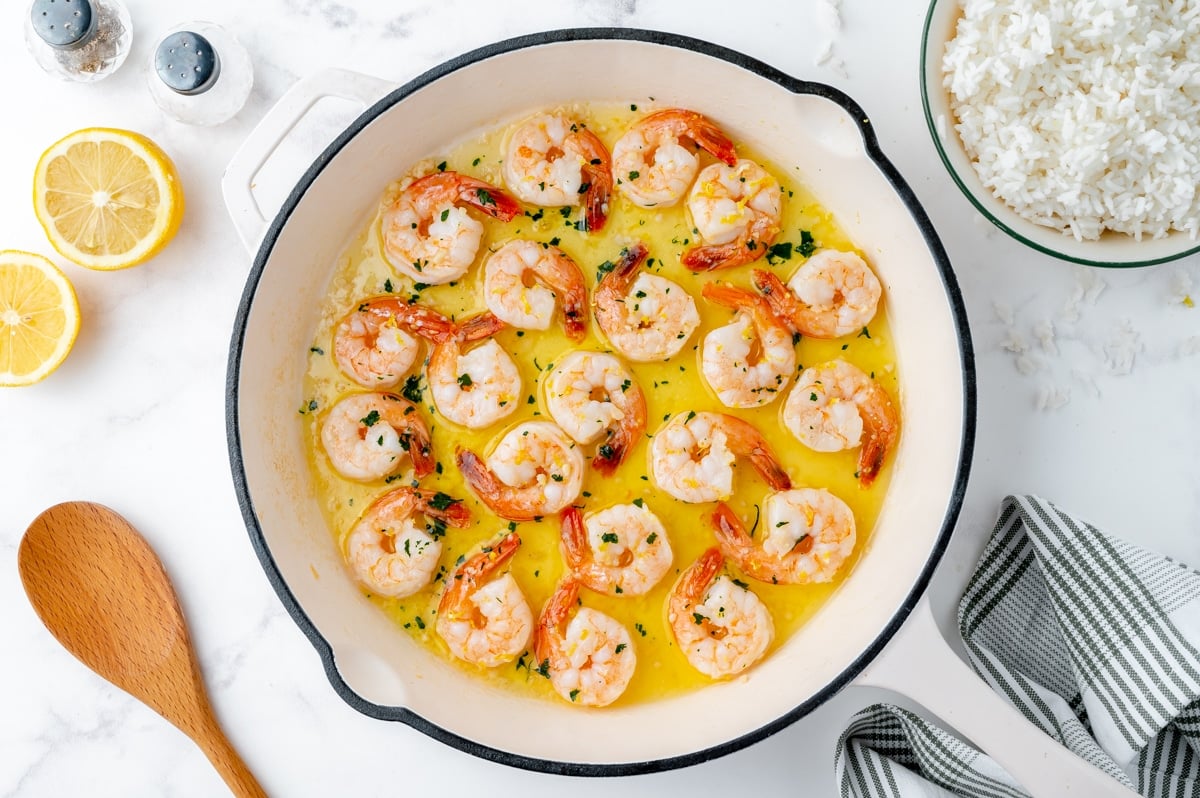 How To Brine Your Shrimp
The hands-prep time for both brining and cooking is minimal.
Pour water, salt and sugar into a large bowl and stir until the salt is entirely dissolved.
Place the deveined shrimp in the bowl with the brining solution. Make sure that there's enough brine solution so that the water level is above them all so that they brine evenly.
Allow the shrimp to brine for the recommended amount of time.
When ready to cook, remove the shrimp from the salt solution and gently dry them using paper towels or a clean kitchen towel.
Melt the butter and garlic in a large pan.
Add the shrimp to the pan and toss gently until they are pink and no longer translucent. As the shrimp cooks, the tail should curl.
Transfer to a plate, garnish, and serve.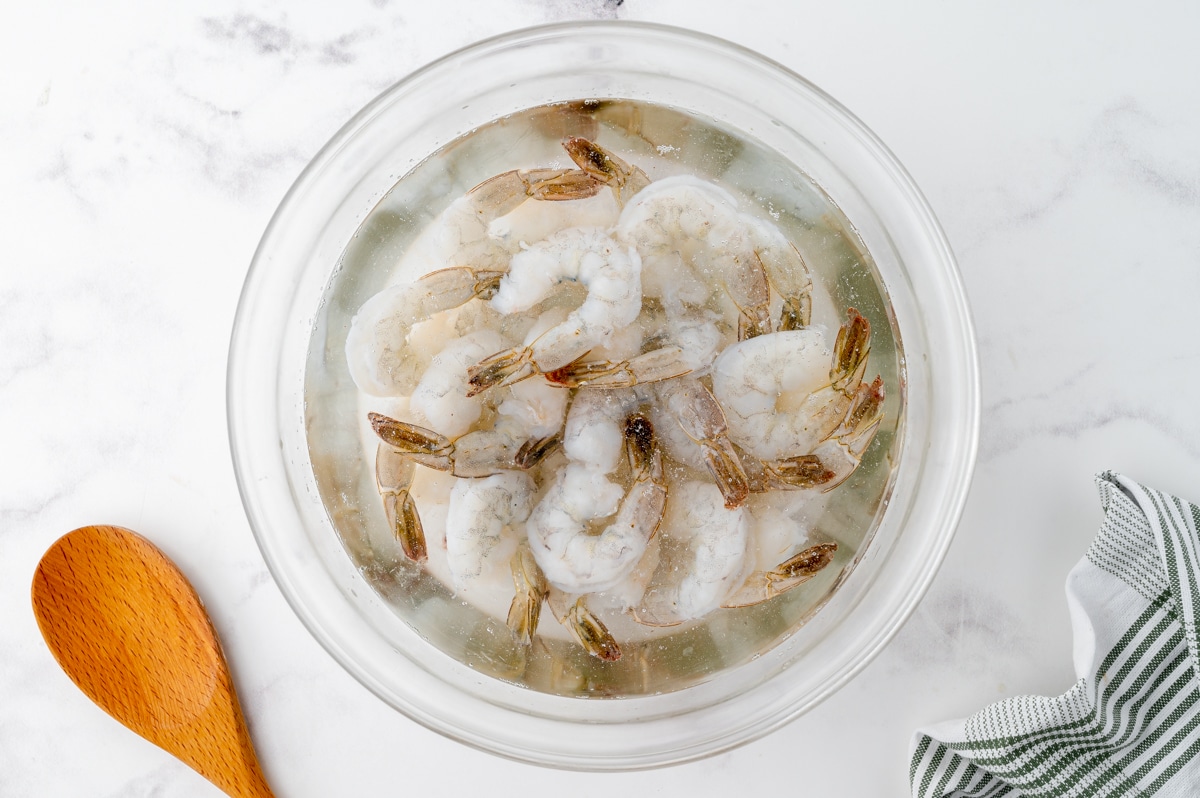 Other Easy How-Tos For Brining Protein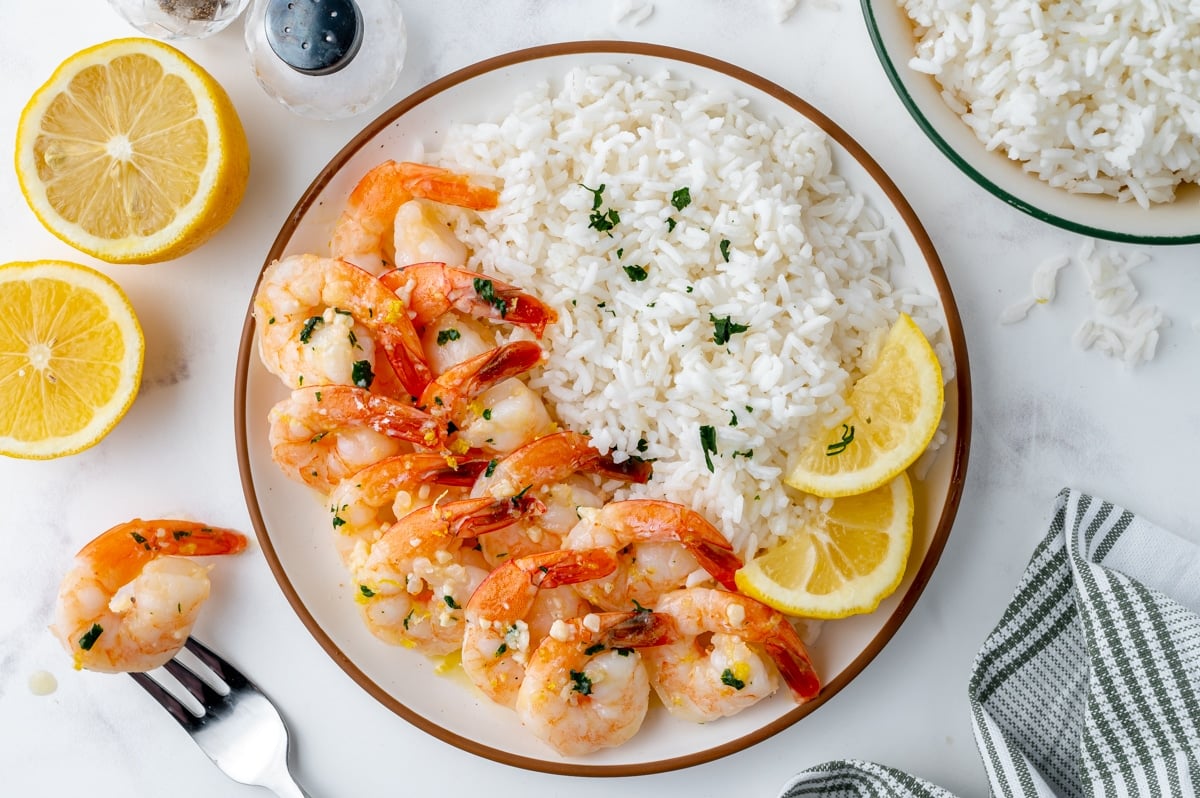 Common Questions About Brining Shrimp
How long: Peeled shrimp only need about 20-30 minutes of brining time while unpeeled shrimp require 40 minutes to an hour. Try not to brine for longer than an hour though to avoid interfering with the shrimp's delicate flavor and texture
Room temperature or in the refrigerator: Keeping proteins in the refrigerator while brining is usually necessary for food safety reasons because many meats require a longer brine time. However, since shrimp take less than an hour to brine, you can leave the bowl on the counter if you need to, provided that the room temperature is not too warm.
Table salt: You can use any salt that you like in order to brine. That said, like any recipe, if you use high quality ingredients you'll get the best results.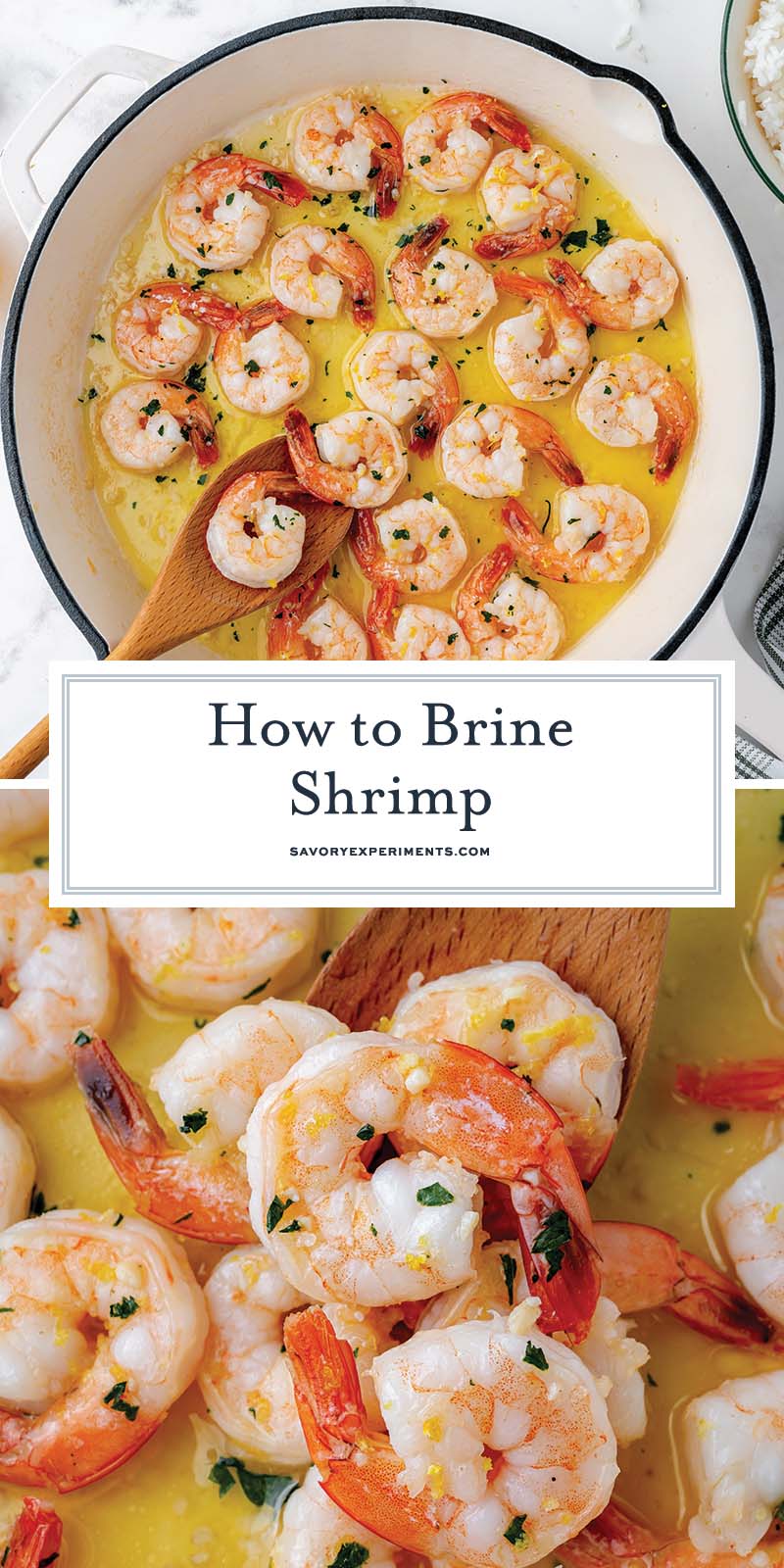 Easy Shrimp Recipes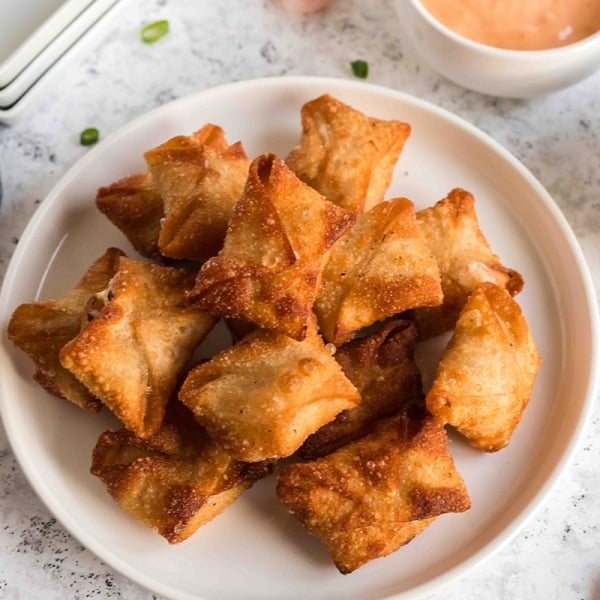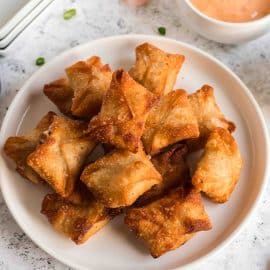 Shrimp Rangoon
Succulent shrimp mixed with cream cheese and wrapped in a crispy wonton wrapper, Shrimp Rangoon is sure to be your new favorite appetizer.
See The Recipe!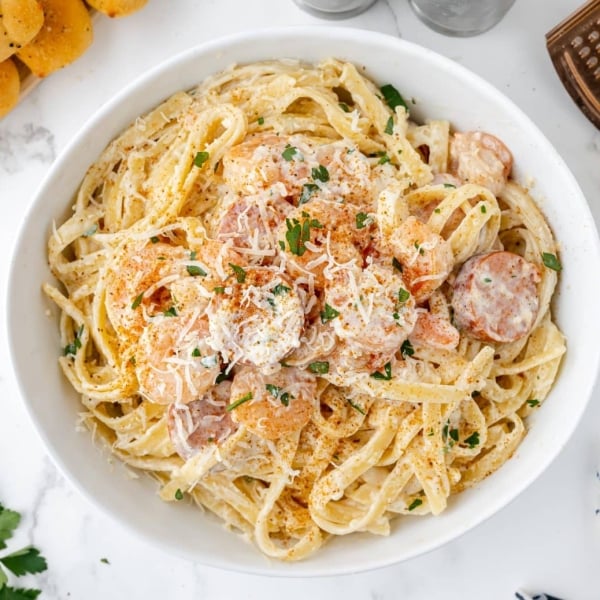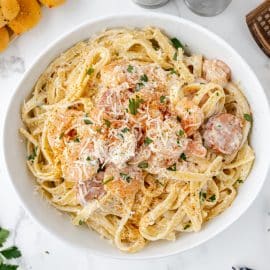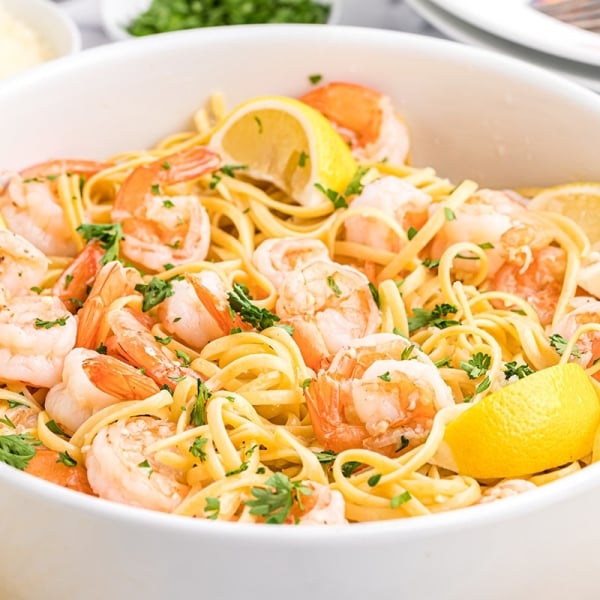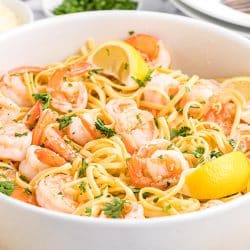 Shrimp Scampi
Shrimp Scampi is a traditional Italian dish made with a garlic butter sauce and shrimp with al dente pasta and fresh lemon juice.
See The Recipe!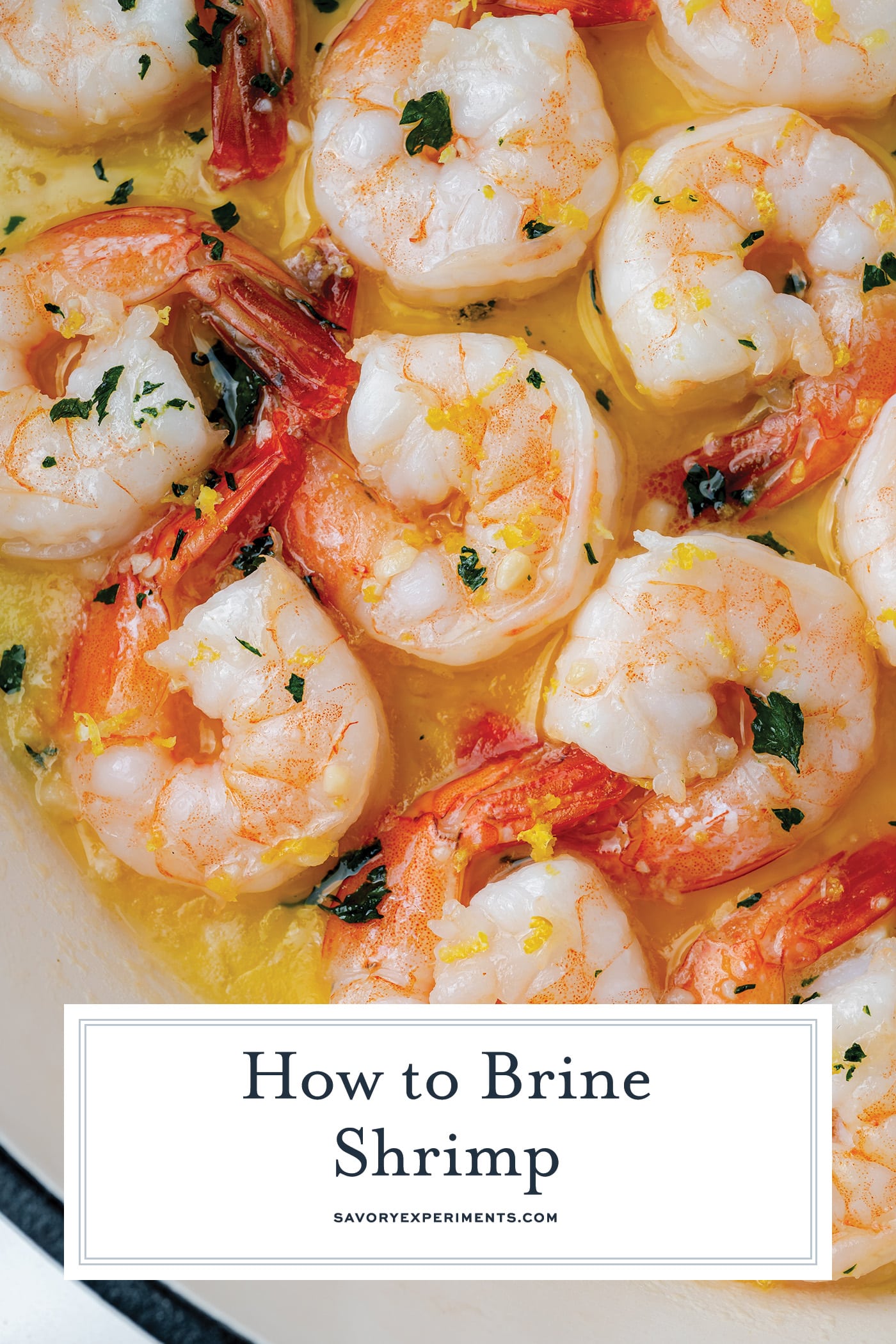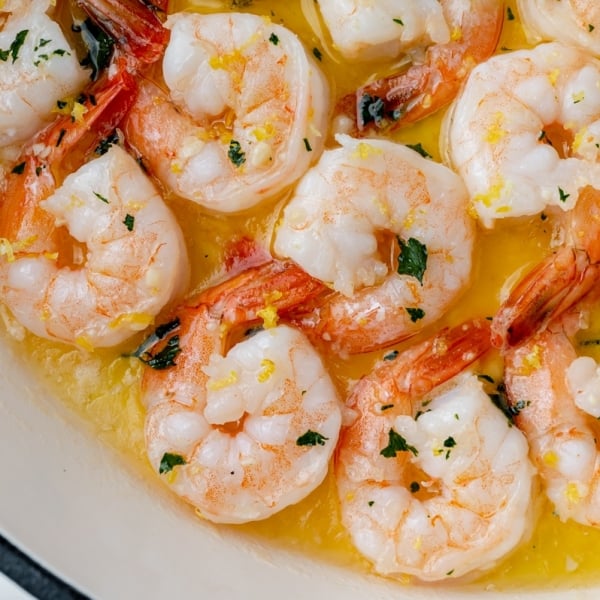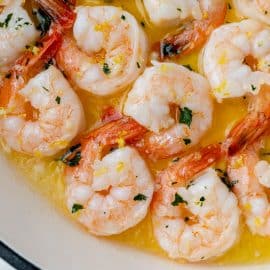 How to Brine Shrimp
The next time you're planning to prepare shrimp, set aside the few extra minutes it takes to brine them to get juicy and tender shrimp!
Instructions
Combine the water, salt and sugar in a large mixing bowl. Stir to dissolve the salt.

Add the shrimp, stirring lightly to mix. Set aside for 30 minutes.

Remove the shrimp from the brine and pat dry with paper towels.

Heat a large skillet over medium heat.

Add the butter and garlic. When butter had melted, add the dried shrimp.

Toss until shrimp tails are curled, they turn pink and opaque. Turn off heat (or remove from the heat).

Zest the lemon and squeeze fresh lemon juice into the shrimp. Stir in the parsley.

Serve.
Nutrition
Calories:
224
kcal
,
Carbohydrates:
6
g
,
Protein:
1
g
,
Fat:
23
g
,
Saturated Fat:
15
g
,
Polyunsaturated Fat:
1
g
,
Monounsaturated Fat:
6
g
,
Trans Fat:
1
g
,
Cholesterol:
61
mg
,
Sodium:
1748
mg
,
Potassium:
48
mg
,
Fiber:
1
g
,
Sugar:
4
g
,
Vitamin A:
719
IU
,
Vitamin C:
15
mg
,
Calcium:
16
mg
,
Iron:
0.2
mg