Homemade Turkey Rub Recipe
This Homemade Turkey Rub recipe is so simple and delicious, you'll want to make it to put on everything! Make a big batch and store it in the pantry.
Homemade Turkey Rub is a blend of 6 easy spices and herbs to make for a flavorful and delicious roast turkey! Use it on chicken, beef and more!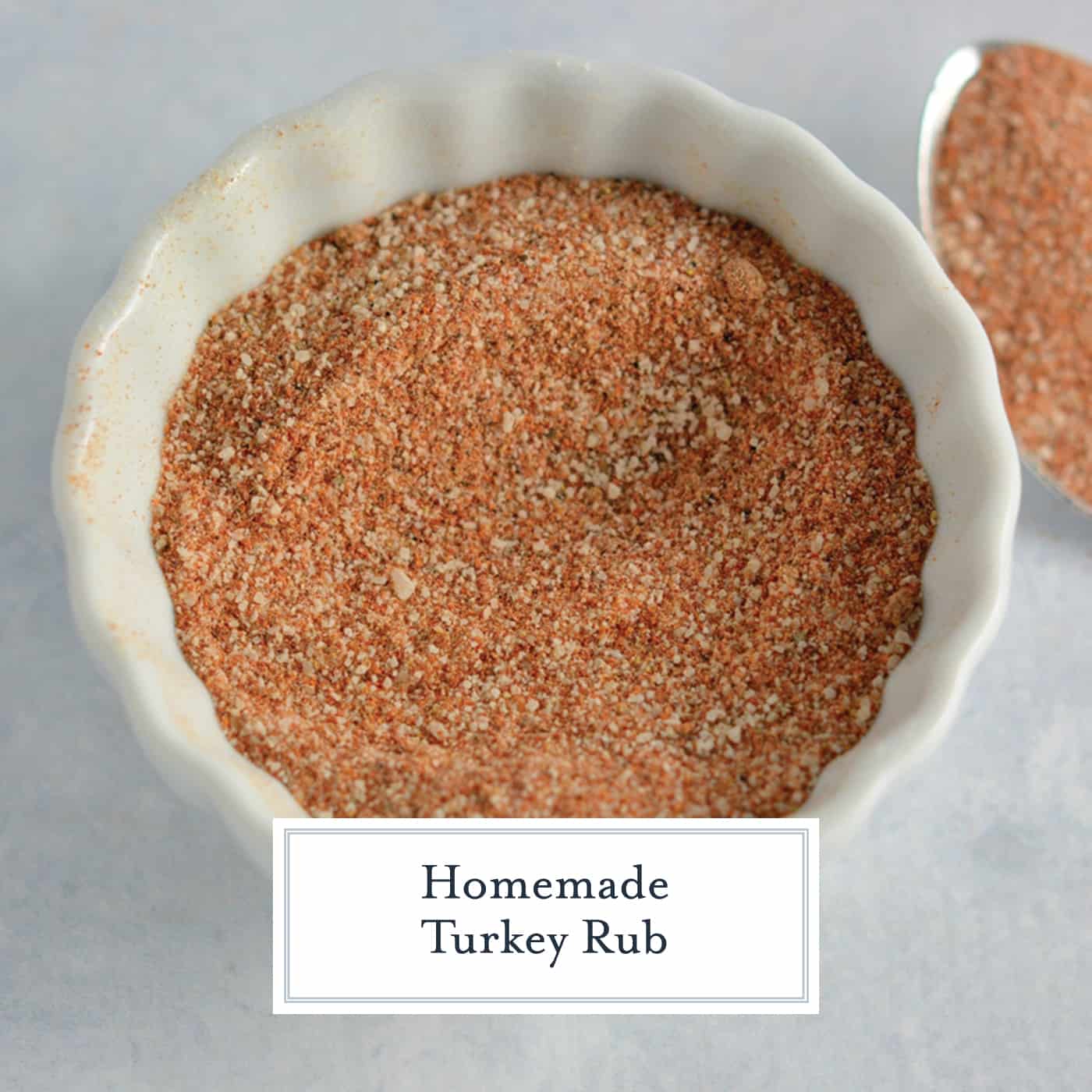 Have you ever wondered who was the genius that invented the little plastic pieces that go on the end of tennis shoe laces? How much $$ that person must have made patented that brilliantly simple idea?
Or the person who had the bright idea for the plastic stoppers in carry-out coffee cups? Well, I also feel that way about the folks capitalizing on cajun turkey rubs and cajun injections.
When did turkey get all cajun anyhow? I haven't nothing against it, but for me in Maryland, it seems more appropriate to cover my bird in Old Bay, LOL.
"This is the best turkey rub recipe! Tastes just like Cajun turkey from the store, but better!" -Rachel S.
Basically a turkey rub is perfect for the person who forgot to brine. Or maybe forgot to buy the overpriced, premade stuff at the store. Or the person who is making a turkey for the first time.
Making your own Homemade Turkey Rub is super simple, takes only minutes and you probably already have the ingredients in your pantry. Another pro to making your own turkey rub recipe is that you can customize it.
Turkey dry rub ingredients can run the gamut in variety and amount. Some of the most popular seasoning ingredients include brown sugar, black pepper, Kosher salt, garlic powder and of course, garlic powder.
PRO TIP: The internal temperature for turkey, regardless of the cut, is 165 degrees. For best results, use a meat thermometer.
Someone in your family watching salt? Make a low-sodium turkey rub. I also highly recommend using Kosher salt due to its large grain size, it ends up tasting less salty and sticks better.
Do not, under any circumstances use table salt. Iodized salt will make your bird taste metallic.
Like spice? Increase heat. You are getting the idea, right? Spices for turkey can be cayenne pepper, crushed red pepper flakes or any chile powder.
"Turkey rub for the win!" -Katie P.
Use this simple seasoning mixture as a base and then come up with your own special blend. Sometimes I add lemon or orange zest, coriander, allspice and even ginger. Be creative!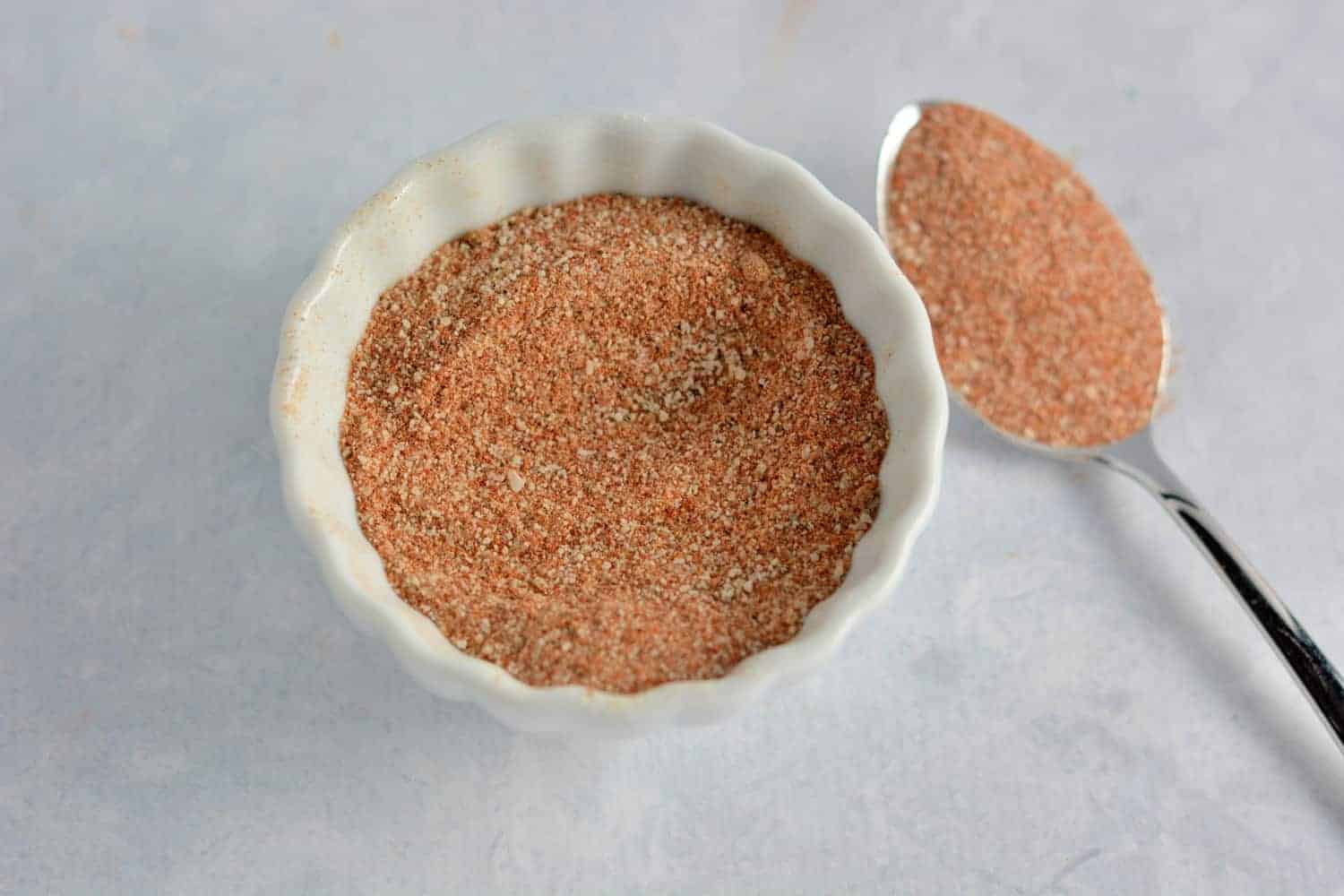 So… STOP… and take 3 minutes (yes THREE MINUTES) to make your own and save your $5.99. You won't regret it!
After you make you make your own homemade turkey rub, you can also inject your bird with my Homemade Turkey Injection Recipe and then roast as usual or fry him!
Wondering how to rub a turkey? Well, the answer really lies in how you plan to cook your bird.
"I didn't know if I should brine, rub or inject my turkey. This turkey rub was all I needed to so much flavor!" -Lee W.
If you are going to fry a turkey, you need to use a dry rub, which means no butter or olive oil. Just rub on the skin of the turkey that has been blotted dry with a paper towel.
If you plan to roast your bird, you'll want a wet rub, which means using a fat like olive oil or butter mixed with the spice rub. I use about 1/2 cup of butter for a 12 pound turkey. Measurements don't have to be exact.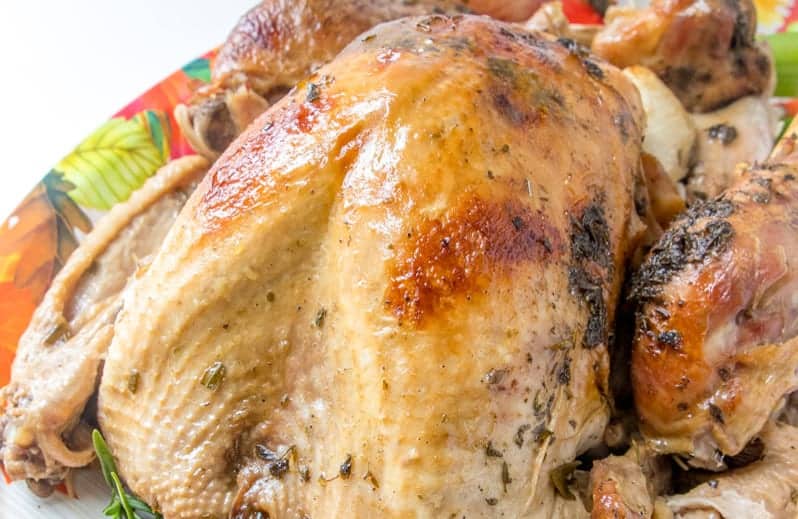 Next, you want to rub the turkey under the skin so it doesn't just wash right off.
To do this, start with a piece of skin around an edge and gently massage the skin up using your fingers. It might seem stuck, but it will loosen, I promise!
PRO TIP: Use all those pan juices from the roasting pan and make a fabulous turkey gravy. No need to add extra salt and pepper since it is already in the seasoning!
And after you are all finished, save the bones to make Turkey Stock and Turkey Noodle Soup, the quickest and tastiest way to use up leftovers! Yum!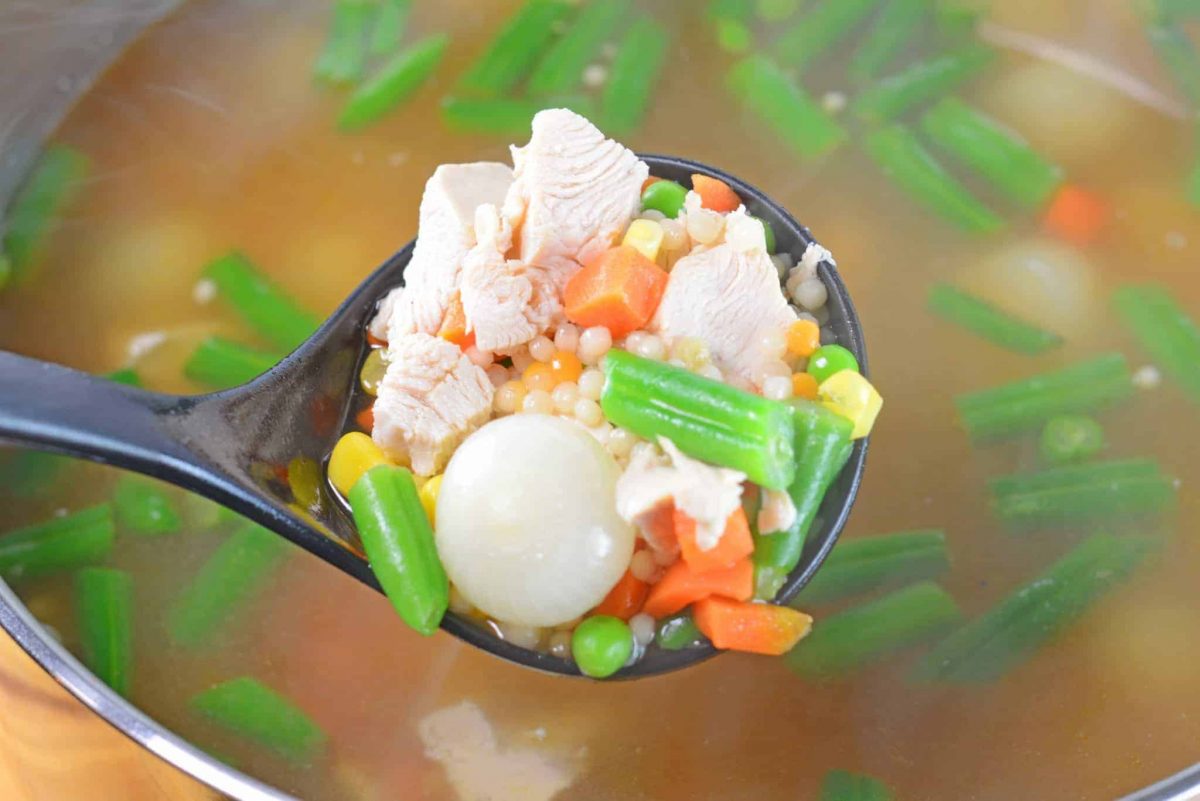 Questions you might have about how to make turkey rub:
When do I apply my turkey rub? You can apply it up to 12 hours before you plan to roast, fry or smoke your turkey. Don't put it on too early because it has a lot of salt and you don't want a salty bird.
Where to buy turkey rub? Don't buy it! It is overpriced! Just make this one in 3 minutes with ingredients you already have. However, if you are insistent that you need to buy a turkey rub, here is a good one.
What is beer can turkey rub? The same as this turkey rub, but with a can of beer up the turkey's rear end. Feel free to add one for more flavor, but also make sure to use a flavorful beer.
Lite beers won't cut it. I honestly don't think it adds that much flavor or moisture. And certainly don't put a beer can up the turkey's butt if you plan to fry, this technique is for smoking and roasting only.
What is trash can turkey rub? It is just a term that means "a little bit of everything." I guess technically speaking, this is a trash can turkey rub. I don't like to use the term trash in anything that has to do with my Thanksgiving turkey.
Can you rub turkey with olive oil? It sure doesn't hurt, but the crispiest skin is dry skin. It is a matter of personal preference.
Can you dry rub a turkey? Yes! For the crispies skin, dry rubbing best. Just like chicken. Pat that bird dry and rub the turkey rub on and under the skin.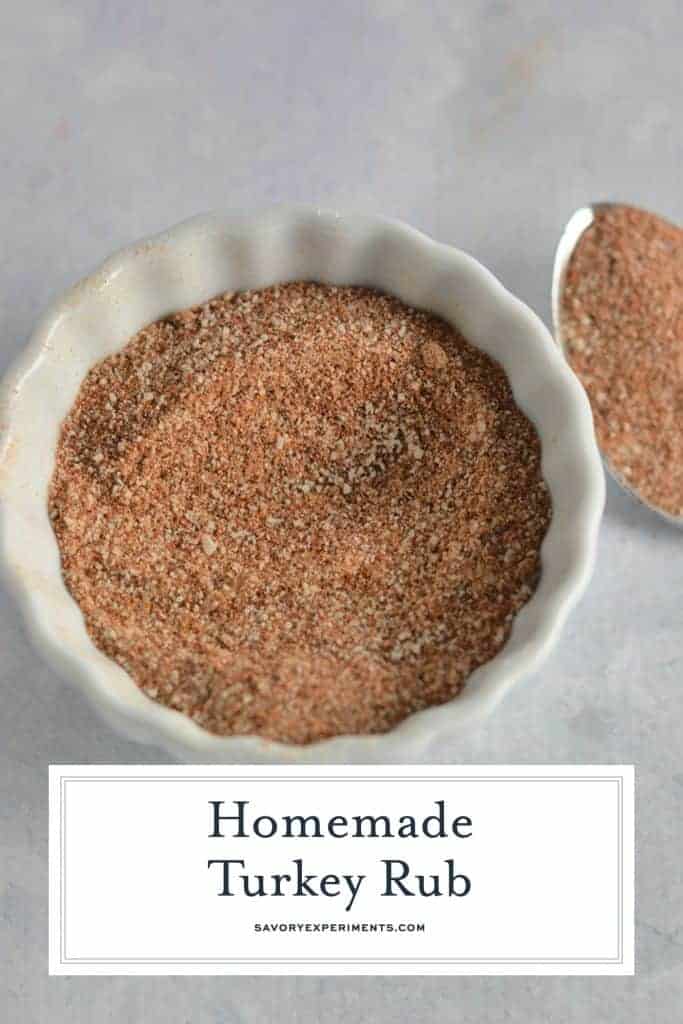 How to apply turkey seasoning? Just like you would to anything else. Wash your hands and get dirty.
You might need to work the skin away from the meat a little, but make sure you get on the skin and under the skin where the rub can't get away if you plan to baste your turkey.
Can I rub my turkey with butter? Of course! Butter will help get a golden brown and crispy better than olive oil, but not as good as dry rubbed. It does add flavor.
Again, personal preference. If you want to add butter to this recipe, just let 1 cup (2 sticks) come to room temperture so it is easy to spread.
Other great recipes to serve with turkey!
Red Wine Gravy | Easy Dinner Rolls | Fried Turkey | Pumpkin Cheesecake | The BEST Apple Pie | Orange, Anise and Thyme Turkey
Cast Iron Sweet Potatoes with Honey and Cinnamon | Mascarpone Mashed Potatoes | How to (Safely) Fry a Turkey | Cranberry Relish |
Green Beans with Mascarpone Cream Sauce | Cheese Chile Cornbread Casserole | Pumpkin Cheesecake | Chinese Sausage Stuffing | Garlic Butter Brussels Sprouts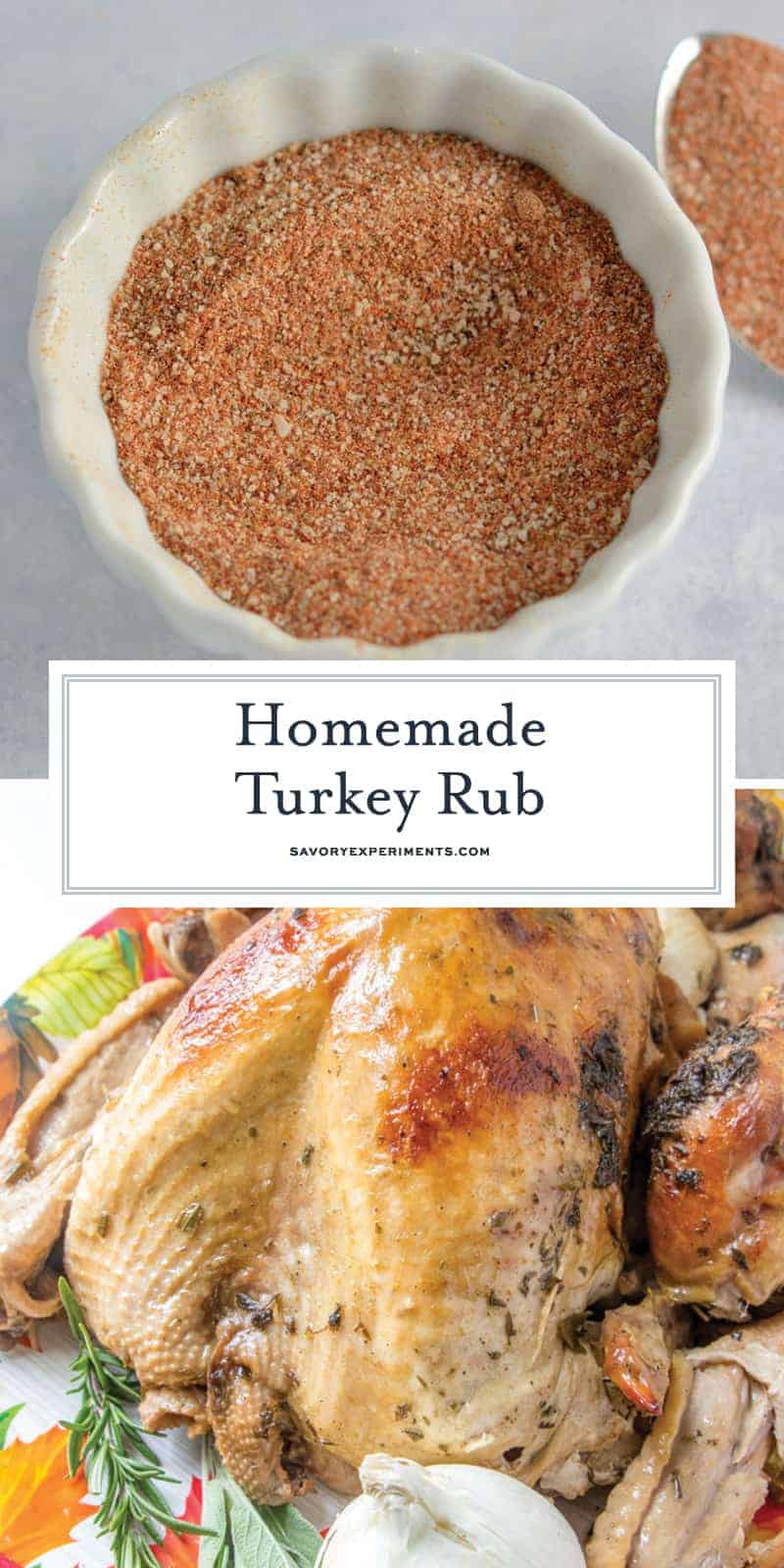 Make sure you check out out our fabulous collection of LEFTOVER TURKEY RECIPES (if there are any)!
CONNECT WITH SAVORY EXPERIMENTS!

Be sure to follow me on social media, so you never miss a post!

Facebook | Twitter | Youtube
Pinterest | Instagram

Get our FREE 8 Day E-Course on How to Be a Better Home Cook. Sign up HERE!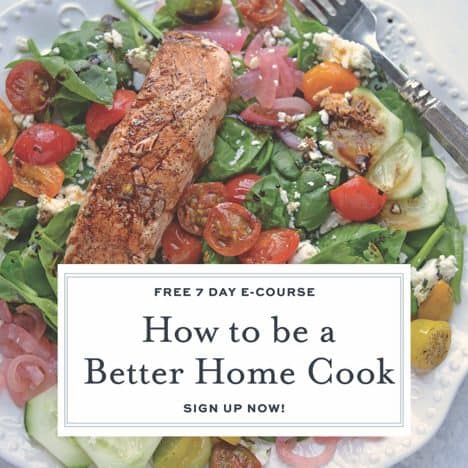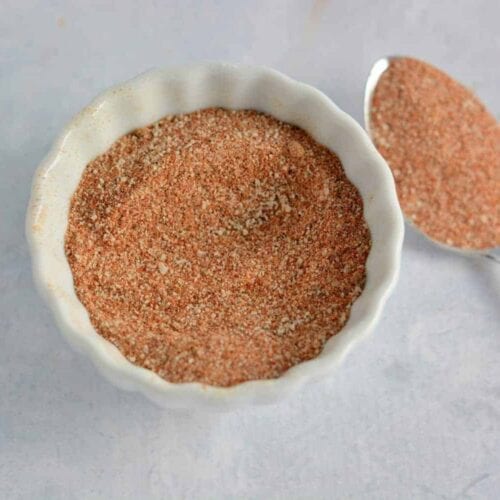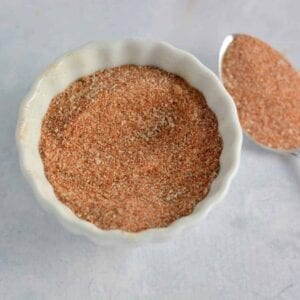 Homemade Turkey Rub Recipe
Homemade Turkey Rub is a blend of 6 easy spices and herbs to make for a flavorful and delicious roast turkey! Use it on chicken, beef and more! Makes a rub for a 10-12 pound turkey.
Keyword:
homemade turkey rub
Ingredients
1

tablespoon

Kosher salt

1

tablespoon

chili powder

1

tablespoon

paprika

1/2

tablespoon

ground black pepper

1/2

tablespoon

onion powder

1/2

tablespoon

garlic powder

Dash of cayenne
Instructions
Combine all ingredients in a small bowl.

Rub evenly over turkey and under skin.

Prepare as desired.

If you've tried this recipe, come back and let us know how it was!
Recipe Video
Nutrition Facts
Homemade Turkey Rub Recipe
Amount Per Serving
Calories 75
Calories from Fat 18
% Daily Value*
Fat 2g3%
Sodium 141mg6%
Potassium 403mg12%
Carbohydrates 15g5%
Protein 3g6%
Vitamin A 5820IU116%
Calcium 69mg7%
Iron 3.4mg19%
* Percent Daily Values are based on a 2000 calorie diet.
Happy holidays!