This is a sponsored post written by me on behalf of Holland House Cooking Wines.
The holidays are here and if you are anything like me, you have numerous balls in the air. At the top of the list is creating menus for all of my visiting family and friends. There are days that our guest room should just have a revolving door.
Orange Sage Turkey Breast with Creamy Sherry Sauce is a flavorful and easy meal made with sherry cooking wine, fresh oranges and a sweet cream sauce.
There is a lot of pressure to WOW in the kitchen because of my occupation, so I have a few recipes up my sleeve for stress-free entertaining and filling life with flavor. One of them is my Orange Sage Turkey Breast with Creamy Sherry Sauce.
It is always a crowd pleaser!
In fact, I've teamed up with members of Holland House's #HHCookingWineCo to create a custom holiday full-course meal plan and this main entrée is one of five recipes on the menu.
Each recipe is designed to be quick and easy to prepare to ensure the holidays stay stress-free (at least in the kitchen anyway). Links to my fellow #HHCookingWineCo member recipes are listed at the end of this post. I want to thank Holland House Cooking Wines for sponsoring this post and bringing all five of us together.
Turkey breast is lean protein and much easier to prepare than a whole bird. Basic seasonings like fresh sage and orange zest layered with a simple savory sherry sauce will give you a restaurant quality dish.
PRO TIP: For easy holiday entertaining, keep plenty of fresh herbs and citrus on hand. Any dish is easily garnished using citrus slices and sprigs of herb.
I can prep the turkey in less than 5 minutes and use the drippings to have my sherry sauce ready-to-go before it leaves the oven. While it roasts, I am making all the sides.
Gravy, by definition, is usually rich and creamy and thick. While this sauce is rich and decadent, it is more of a sauce and less of a gravy.
PRO TIP: Using unsalted butter allows you to have more control over the saltiness in your dish. Add slowly until it reaches the desired taste. Salt can be added up until time to serve and even as garnish.
I use a combination of turkey butter drippings with just a little bit of flour. Instead of using heavy cream or whole milk, it uses skim.
And to thicken it, I use the same technique as hollandaise sauce, egg yolks. Egg yolk is chalk full of antioxidants, vitamins, amino acids and omega-3 fats.
PRO TIP: The little brown bits are like little flavor bombs for your gravy don't worry if they're a little specs in it that's what's going to get character.
It doesn't need much additional seasoning since the turkey drippings include unsalted butter, orange zest, kosher salt and fresh sage.
Orange sage butter could also be used on a whole turkey. Just quadruple the recipe. Truth be told, I even served it on dinner rolls and melted over sautéed broccolini.
And a little goes a long way so you really only need two tablespoons for an entire turkey breast to make to get a whole lot of flavor.
The real star of the show isn't the turkey, it is the sherry cream sauce. Delicious, slightly sweet and totally rich sherry sauce!
PRO TIP: Sherry is a fabulous ingredient added to any sauce. A little bit goes a long way and can make the difference in elevating your dish from every day to restaurant quality.
Holland House Cooking Wines are my go-to brand for quality cooking wines. Hand selected grapes are transformed into wine, blended with seasonings that offer a bold zing of flavor and then aged to perfection.
Sherry Cooking Wine, as used in this recipe, is sweet and is golden in hue. It has a mild, dry flavor with hints of nuts and caramel. Use it in these ways to elevate any dish or recipe:
Use in dessert recipes and sauces.
Splash in soups and sauces right before serving.
Soak fresh ginger and garlic in sherry before using in sauces, salads or stir-fry.
Create easy salad dressings with olive oil and fresh herbs.
Toss 1 tablespoon with cooked rice, pasta and quinoa.
Use in cold pasta or potato salads.
Holland House is available in five flavor-boosting varieties, so I can always find one to help amplify my dishes.
Want to round out your menu? Pair your Orange Sage Turkey Breast with these recipes for a stress-free meal!
Want more great easy holiday inspiration?
Holland House has partnered with me and other food bloggers. Together, we've created a stress-free & full-course holiday meal.
Questions you might have about how to make this recipe:
Can I use sherry cream sauce on anything else? Yes! It is a light and delicate sauce suitable for many different recipes. I like to use it in place of hollandaise sauce on eggs benedicts.
It also tastes fabulous over baked fish, in pasta dishes and on chicken.
What is sherry cooking wine? Sherry is a wine made from grapes and fortified with brandy. It offers a sweet, nutty aroma and taste.
How do I thin my sherry cream sauce? If your sauce gets too thick, you can thin it out by whisking in water, splash of sherry or orange juice, 1 tablespoon at a time.
What about the butter? Make extra orange sage butter to put on dinner rolls!
CONNECT WITH SAVORY EXPERIMENTS!

Be sure to follow me on social media, so you never miss a post!

Facebook | Twitter | Youtube
Pinterest | Instagram
Get our FREE 8 Day E-Course on How to Be a Better Home Cook. Sign up HERE!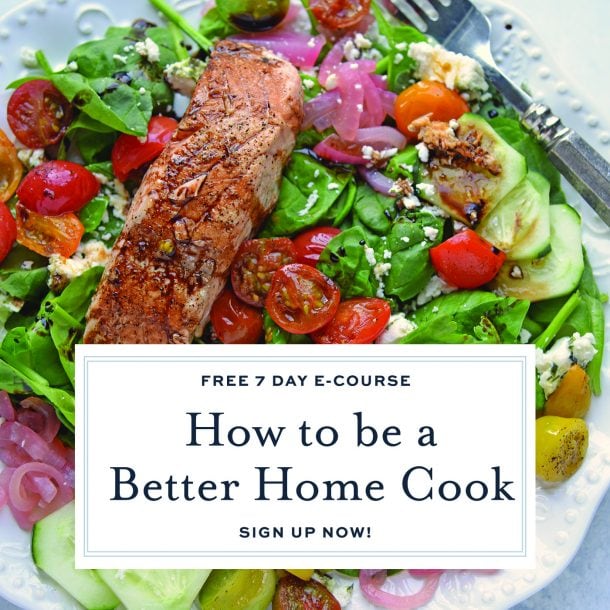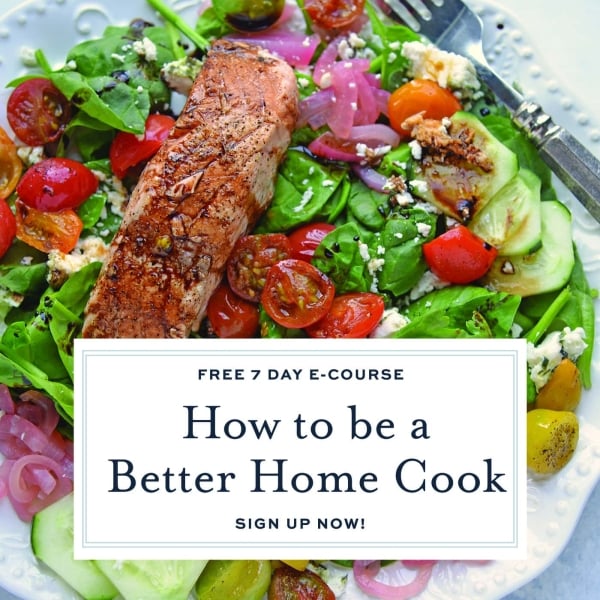 Orange Sage Turkey Breast with Creamy Sherry Sauce
Orange Sage Turkey Breast with Creamy Sherry Sauce is a flavorful and easy meal made with sherry cooking wine, fresh oranges and a sweet cream sauce.
Instructions
For Turkey:
Preheat oven to 350 degrees. Coat a rimmed baking sheet or dish with cooking spray.

In a small bowl, mash together softened butter, fresh sage and orange zest.

Season turkey breasts with kosher salt and then rub with butter mixture.

Place on baking sheet and roast for 45-55 minutes. Two or three times during cooking, use a basting brush and dab run off juices and better on the top. Dab, do not brush or else the orange zest and sage will brush off.

Continue to roast turkey until internal temperature reaches 165 degrees at the thickest part of the breast. Remove at 165 degrees and allow to rest for 10 minutes before serving.

Slice turkey breast horizontally and serve with 2-3 tablespoons of sherry cream sauce over each serving.
For Sherry Cream Sauce:
At 30 minutes cooked, spoon 2 tablespoons of drippings from the baking dish and transfer to a small saucepan.

Over low heat, brown butter for 5 minutes or until it starts to smell nutty.

Whisk in flour until it forms a paste.

While whisking, add skim milk. Whisk until smooth and then add orange juice and Sherry Cooking Wine.

Ladle out approximately ¼ cup of sauce. Quickly whisk in two egg yolks and then return to main mixture over low heat. Continue to whisk until thick and hot.

Remove from heat and taste test and correct seasoning with fine sea salt and freshly cracked black pepper. Sauce should be sweet and decedent with a hint of sherry and fresh orange.

Serve immediately to prevent over thickening.
Notes
Notes: Turkey breast sizes vary greatly just like turkeys do! Mine were about 1 pound each, 2 pounds total. The best way to gauge the doneness of turkey is to use a digital thermometer.
If sherry cream sauce starts to get too thick, whisk in a small amount of water and another splash of sherry to liven it back up.
Make my easy green beans by steaming 1 pound of trimmed green beans. Drain well. Toss with 1 tablespoon Sherry Cooking Wine and top with 1 tablespoon slivered almonds. Season with flaky sea salt. Serve hot.
Nutrition
Calories:
165
kcal
|
Carbohydrates:
7
g
|
Protein:
4
g
|
Fat:
14
g
|
Saturated Fat:
8
g
|
Cholesterol:
129
mg
|
Sodium:
613
mg
|
Potassium:
133
mg
|
Fiber:
1
g
|
Sugar:
4
g
|
Vitamin A:
681
IU
|
Vitamin C:
6
mg
|
Calcium:
106
mg
|
Iron:
1
mg
This is a sponsored post written by me on behalf of Holland House Cooking Wines.