How to Brine a Turkey- a step-by-step guide for brining turkey, tips for a better turkey, how to brown turkey skin and a recipe for juicy turkey.
Simple brine for turkey can be as easy as dissolving salt in water or as complicated as a two day process of an herb infused brine and air dry for the perfect crispy turkey skin. This article will give you the basic tools on how to brine a turkey, the best turkey brine recipe ever and tips for brining a turkey regardless of what turkey brine recipe you use.
Is it just me, or did brining a turkey not become a "thing" until a few years ago?  As far as I can remember, turkey rubs were fairly basic, you may or may not stuff the cavity and then in went the bird to soak up all it's own juices. Nothing fancy.
Growing up we even had a giant turkey roaster
to provide more space in the kitchen oven on turkey day. This giant contraption was only drug out once a year and made it's home on top of the washer in the basement. Oh, family holiday memories.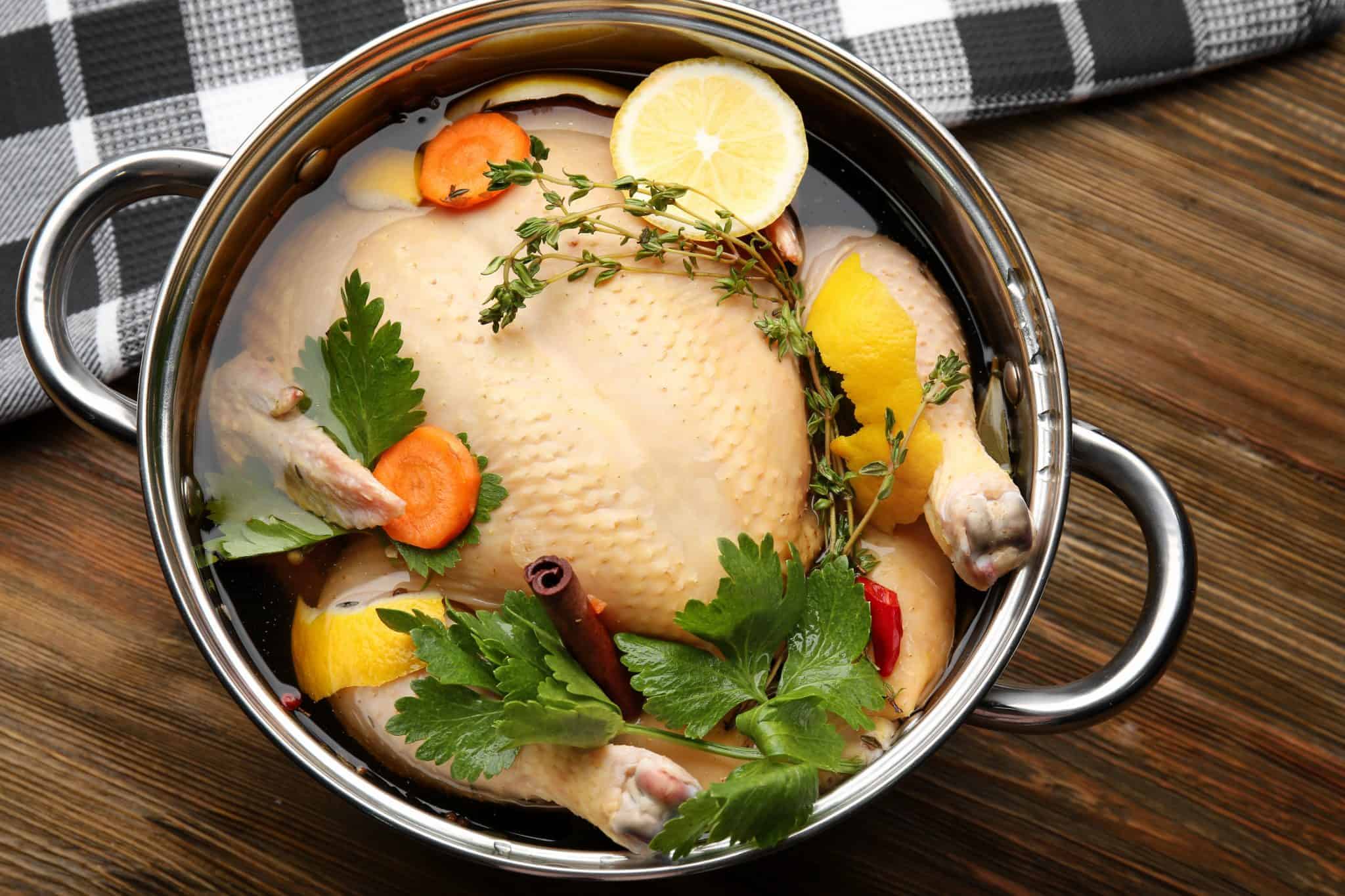 Things have changed and so have turkey fads. Now days you are expected to spice, rub, inject and brine before you slow roast, spatchcock or fry your turkey. I am no exception to the rule and have fallen victim to experimenting with the next great thing. Mainly for one reason: I don't really care for turkey. *GASP* I know, I know. However, I am adventurous and determined to find a turkey preparation that I DO enjoy.
One of my reasons for not like the gobble gobble is that it all too frequently ends up dry. Solution: brining your turkey. I set out to find a the best brine recipe ever for the juiciest turkey. Do you know how challenging it is to find whole turkey at the grocery store at any time during the year except Thanksgiving?
Here it is, I am teaching YOU how to brine a turkey with these easy brining tips and tricks. Make sure to scroll down to get the full recipe. You can use this simple brine recipe for turkey, chicken or pork and can be used before any other full recipe to add moisture.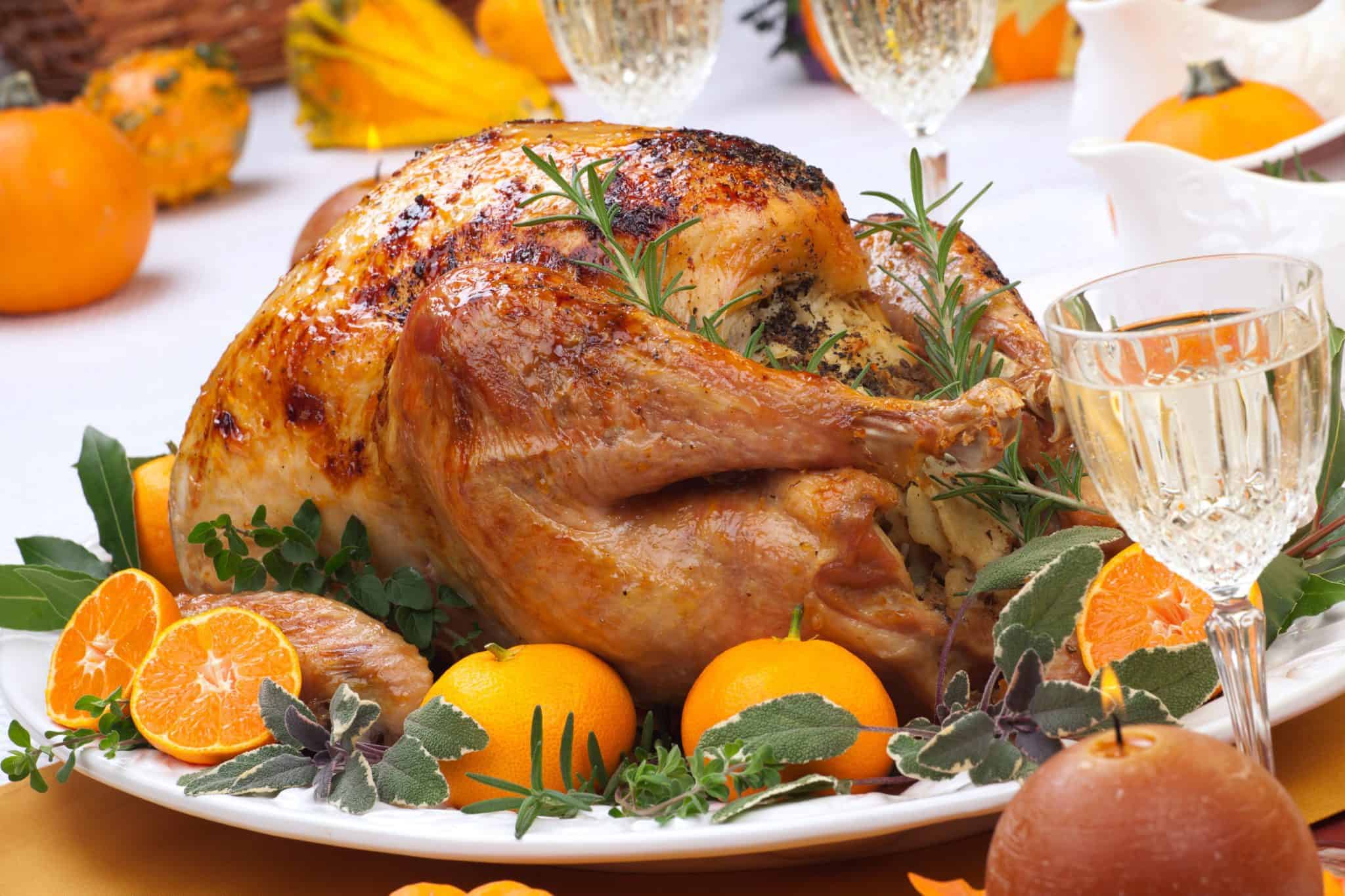 Tips for Brining Turkey:
Wet Brine- This technique is called wet brining. If you've ever wondered how to keep a turkey from drying out, wet brining is the answer and will result in the juiciest turkey ever! Wet brining adds moisture to your turkey- nearly an entire pound of it for a 12 pound bird. The only downfall to wet brining a is not getting crispy turkey skin. But don't worry, I have a solution so you can have a juicy turkey and browned, crispy turkey skin.
Use Kosher Salt- Not all salt is created equal. Salts have different flavor profiles, chemical structures, shapes, ability to dissolve (although they all will eventually) and sizes, resulting in varying density. On tablespoon of Kosher salt is not the same as one tablespoon of table salt. Make sure to use Kosher salt with larger crystals to get the correct salt to water ratio for brine, which is 1 heaping tablespoon of kosher salt for every cup of water.
Add flavor- The types of flavor you can add to your brine are endless. For a simple brine recipe using just salt and water, there is no need to boil because the salt will dissolve regardless, but for more flavor, boiling is ideal to infuse water.
How Make the Crispiest Turkey Skin- Because brining adds to much moisture and flavor, it also makes the skin super wet and prevents browned, crispy skin. To get the best of both worlds, brine your turkey for 24 hours, then remove from brine and allow to dry out, uncovered, in the refrigerator for an additional 24 hours. Then rub with compound butter. Do not baste during the cooking process.
How to make turkey stock- And after you are all finished, save the bones to make Turkey Stock and Turkey Noodle Soup, the quickest and tastiest way to use up leftovers!
Tools for making a juicy turkey:
Q & A from readers about how to brine a turkey:
Curious how to brine a turkey for smoking? The same way to brine a turkey for roasting! Use this same recipe and then follow your smoked turkey recipe.
What is a basic roasting recipe? Rub your turkey with a compound butter or dry rub, stuff it with desired herbs and vegetables. Preheat oven to 325 degrees and follow the times below depending on whether it is stuffed and size. Check with a thermometer to make sure it reaches an internal temperture of 175 degrees. Then remove and allow to rest for at least 20 minutes before carving.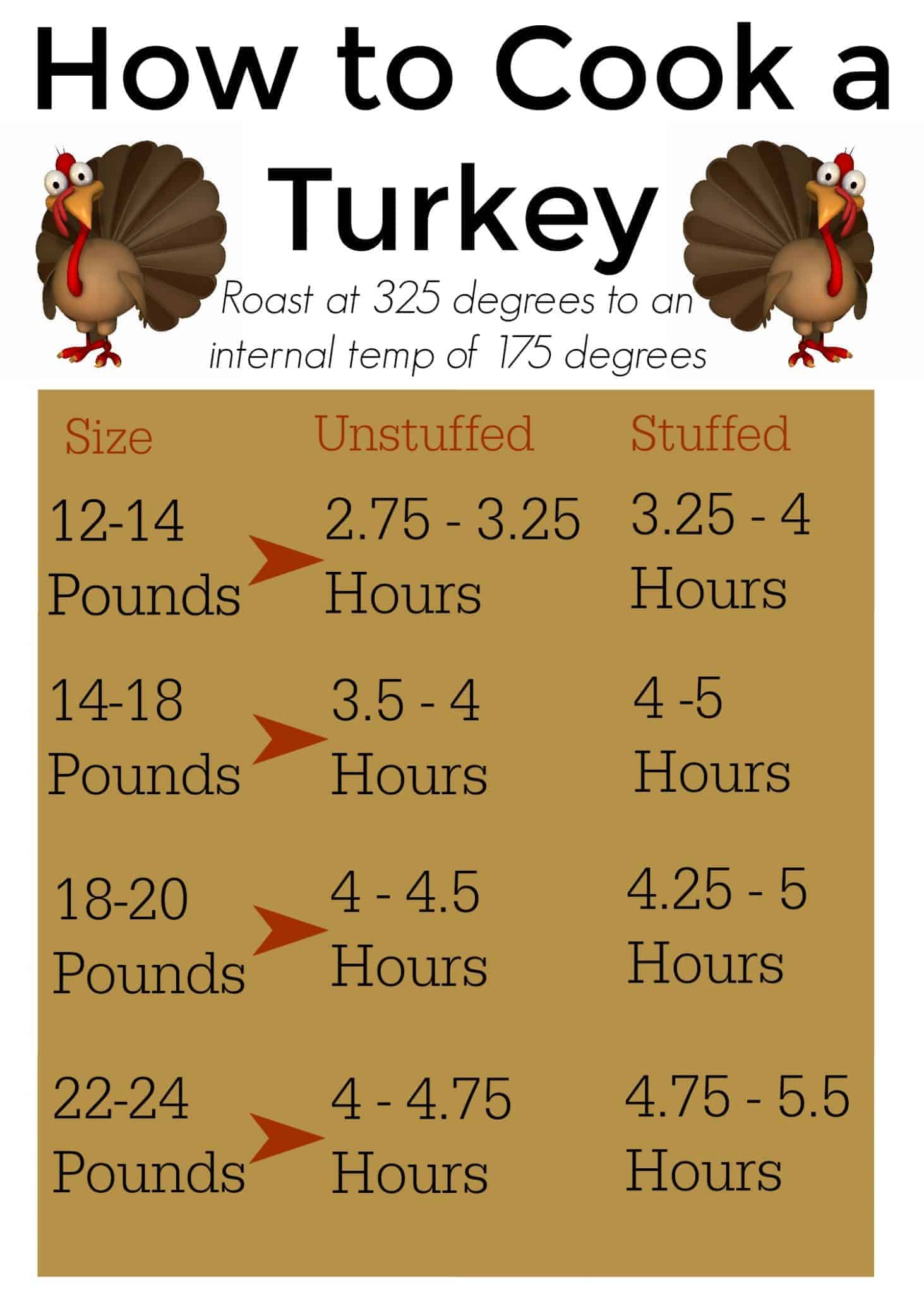 Do you cook a turkey breast up or down? This is debatable! If you want super crispy turkey skin, roast with the breast up so the skin has time to dry out. I would suggest injecting the breast with liquid to prevent the meat from drying out too. If the breasts start to brown too quickly, loosely tent with aluminum foil.
But if you are going for super moist and aren't too picky about browned skin, cook breast side down, allowing gravity to flow the juices downward. You can also fill the bottom of the pan with water, wine or chicken stock and baste the turkey with it's own drippings through the cooking process.
Can you brine for turkey breast? You can brine any meat! In fact, use this same brine recipe for turkey breast, chicken and even pork. Cut the recipe into a quarter and there you go!
Do you have recipe for roast turkey? My favorite is Orange, Anise and Thyme Turkey, but for more traditional recipes check out Paleo Turkey with Herb Rub, How to Cook a Thanksgiving Turkey, Maple Glazed Turkey with Bacon and Sage Butter.
Make sure to scroll Check out even more easy holiday recipes!
Red Wine Gravy | Easy Dinner Rolls | Fried Turkey | Pumpkin Cheesecake | The BEST Apple Pie | Sweet Potato Casserole with Pecans
Cast Iron Sweet Potatoes with Honey and Cinnamon | Mascarpone Mashed Potatoes | How to (Safely) Fry a Turkey  | Cranberry Relish
Green Beans with Mascarpone Cream Sauce | Cheese Chile Cornbread Casserole | Pumpkin Cheesecake | Chinese Sausage Stuffing  | Garlic Butter Brussels Sprouts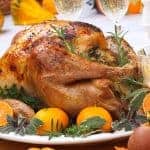 How to Brine a Turkey
How to Brine a Turkey- a step-by-step guide for brining turkey, tips for a better turkey, how to brown turkey skin and a recipe for juicy turkey.
Course:
Main Course, Main Dish
Ingredients
12

pound

turkey

16

cups

water

1

tablespoon

paprika

1

tablespoon

chili powder

1

tablespoon

garlic powder

1

yellow onion

cut into quarters

2

sprigs

fresh oregano

2

sprigs

fresh thyme

5

garlic cloves

, lightly smashed

1/4

cup

brown sugar

4

bay leaves

3/4

cup

kosher salt

4

cups

Ice
Optional Add-Ins
Orange Zest or Orange Slices

Lemon Zest or Lemon Slices

Carrots

, cut into slices

Fresh Parsley

Celery

, cut into small pieces

Cinnamon Sticks

Cloves

Anise Pods

Nutmeg
Instructions
Remove plastic wrap, gizzard and neck. Rinse well with cold water. Place into brining bag placed, large baking dish or large stock pot. Make sure you have enough space to place whatever you use into the refrigerator.

Bring 16 cups of water to a rapid boil in a large stock pot. Whisk in paprika, chile powder, garlic powder, onion, oregano, thyme, garlic cloves, brown sugar, bay leaves and kosher salt. Also add any additional, optional add-ins. Continue to boil for 15-20 minutes. Remove from heat, allow to cool slightly (approximately 10-15 minutes) then add 4 cups of ice.

When brine has reached room temperature carefully pour into brining bag (or whatever you are using to place it into the fridge) with turkey (this is a two person job.) Tightly pull bag up around the turkey, forcing the brine to fully encase the bird. Twist the top around a few times and then tie tightly with twine. Place in refrigerator for 24 hours. *

Remove from brine and rinse with cold water. Pat dry and then prepare your turkey according to desired recipe.
Recipe Notes
If the brine will not completely embrace the turkey you can rig it with other items. I used a small cup, shot glass and cheese grater to make sure the brine fully encompassed the turkey.
Red Wine Gravy | Easy Dinner Rolls | Fried Turkey | Pumpkin Cheesecake | The BEST Apple Pie | Sweet Potato Casserole with Pecans
Cast Iron Sweet Potatoes with Honey and Cinnamon | Mascarpone Mashed Potatoes | How to (Safely) Fry a Turkey  | Cranberry Relish
Green Beans with Mascarpone Cream Sauce | Cheese Chile Cornbread Casserole | Pumpkin Cheesecake | Chinese Sausage Stuffing  | Garlic Butter Brussels Sprouts