Best Turkey Brine Recipe
Thanksgiving turkey recipes have sure come a long way. Thanksgiving dinner, in general, has come a long way!
Simple brine for turkey can be as easy as dissolving salt in water or as complicated as a two-day process of an herb infused brine and then allowing for an air dry for the perfect, crispy turkey skin and everywhere between.
Is it worth it to brine a turkey? I think so! Many others would agree with me. While there are many ways to keep your turkey moist and succulent, brining is probably the best way.
This article will give you the basic tools on how to brine a turkey, the best turkey brine recipe ever and tips for brining a turkey regardless of what turkey brine recipe you use.
Don't buy an overpriced turkey brining kit when you have all the tools at home!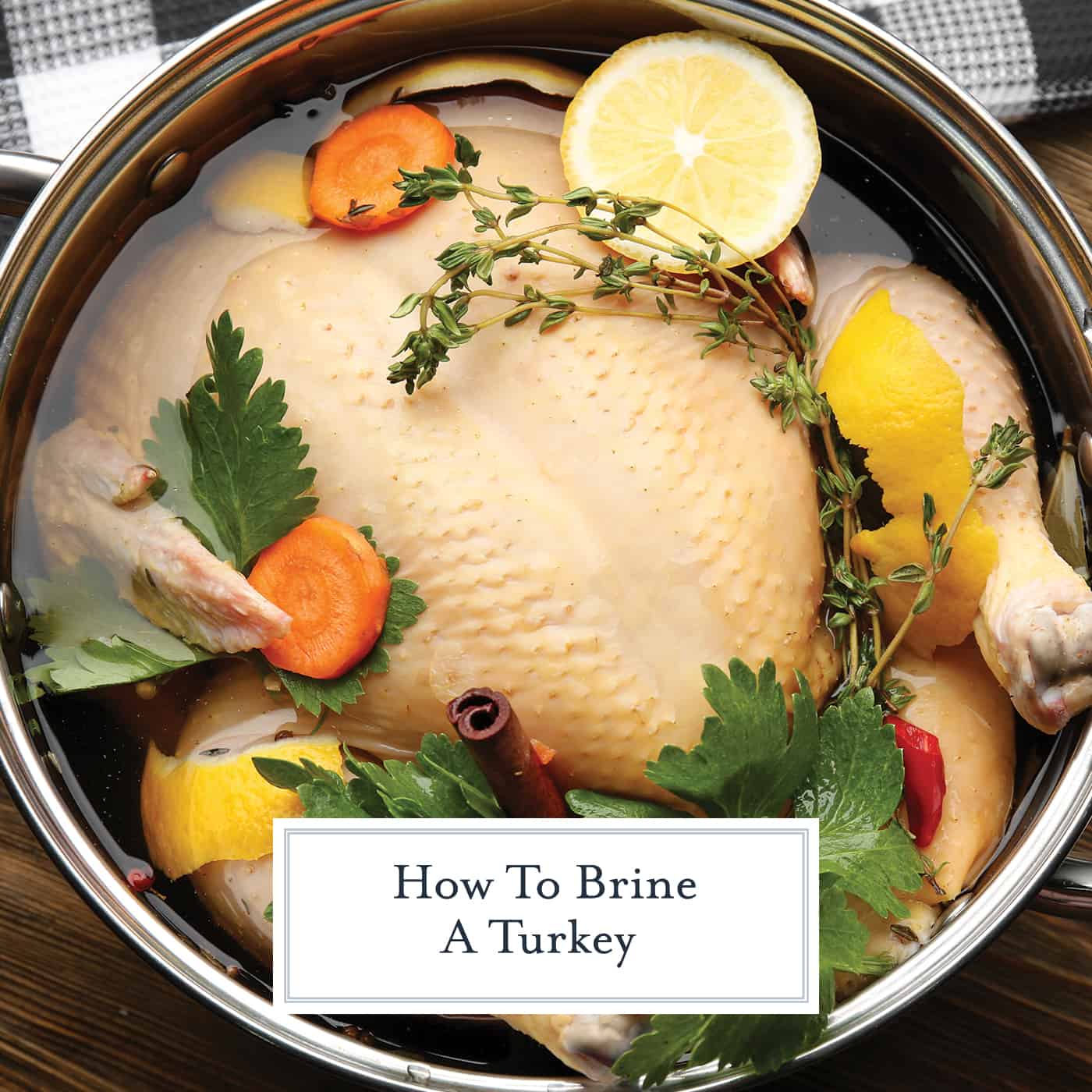 This step-by-step guide will show you how to brine a turkey, tips for a juicy turkey, how to brown turkey skin, also the best turkey brine recipe!
Is it just me, or did brining a turkey not become a "thing" until a few years ago? The newest in turkey trends. What will be next?
As far as I can remember, turkey rubs were fairly basic, you may or may not stuff the cavity and then in went the bird to soak up all its own juices. Nothing fancy.
Then came the famous Cajun injection to really get those flavors down in the skin using surgical precision.
Not gonna lie, I still inject my bird on occasion when I am running short on time and can't brine, but make my own turkey injection recipe.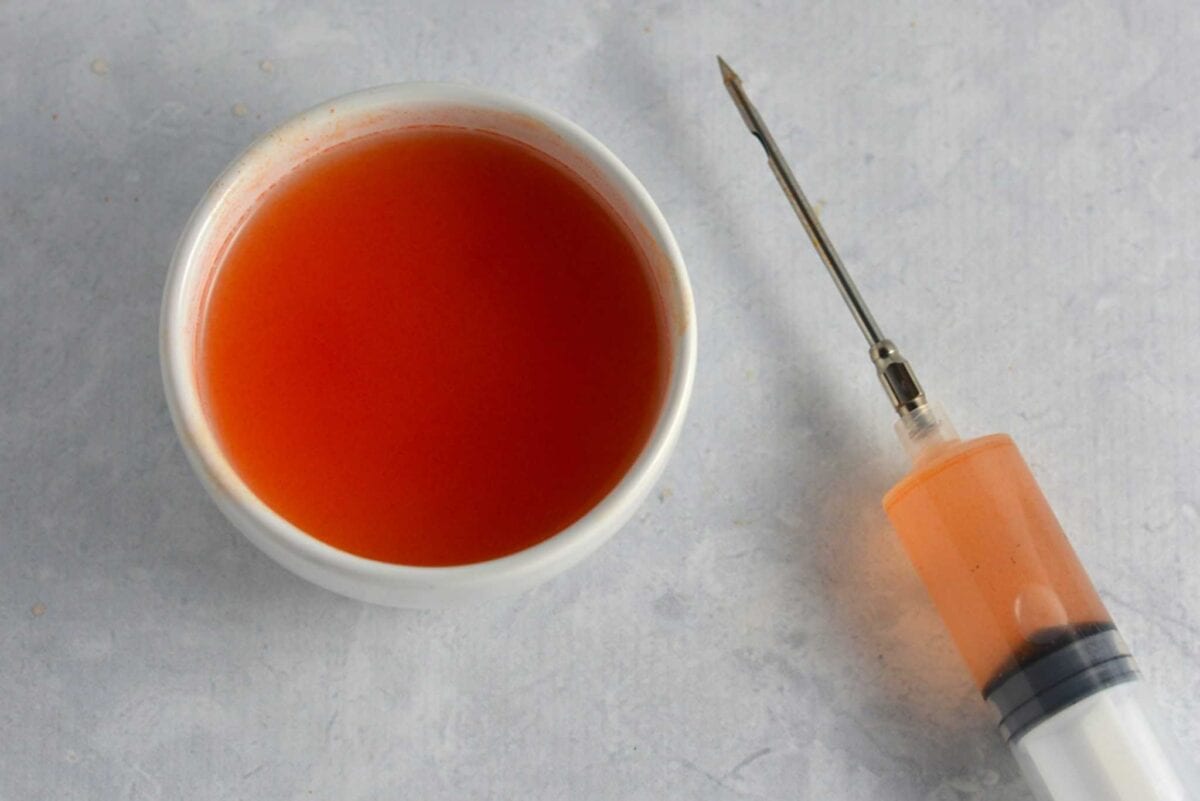 Growing up we even had a giant turkey roaster to provide more space in the kitchen oven on turkey day. This giant contraption was only lugged out once a year and made its home on top of the washer in the basement.
"This was the best turkey brine I've ever used. Everyone raved about how juicy and flavorful my bird was!" -Michael B.
Oh, family holiday memories. Smells came wafting up the stairs and if we even went within 20 feet, we'd get yelled out to "not burn yourself!"
Things have changed and so have turkey trends and fads. Now days you are expected to spice, rub, inject and brine before you slow roast, spatchcock or fry your turkey.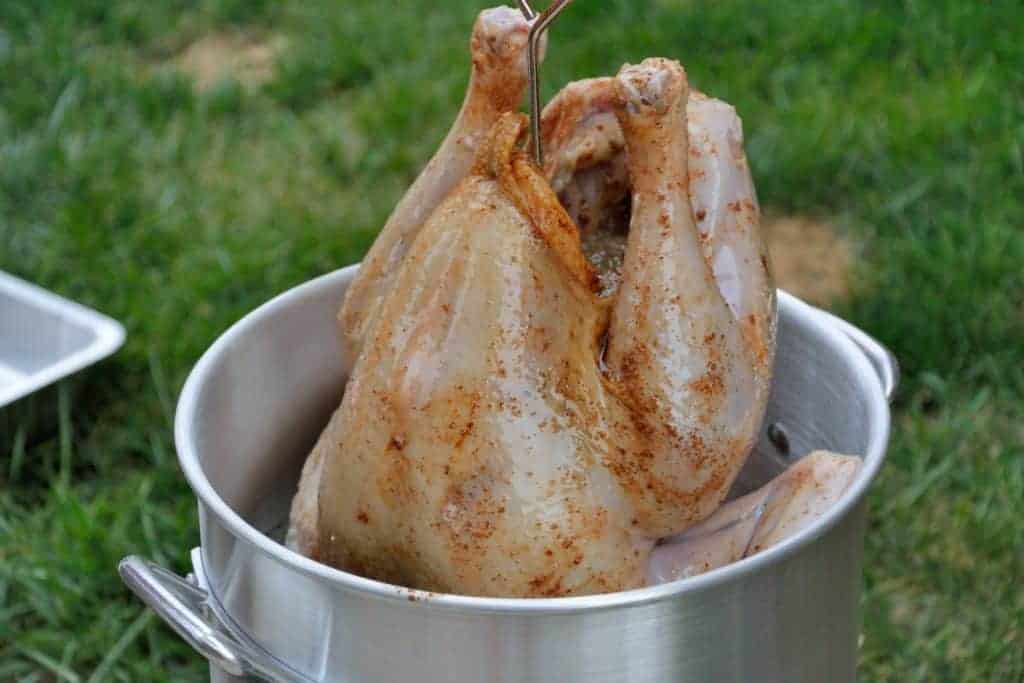 I am no exception to the rule and have fallen victim to experimenting with the next great thing. Mainly for one reason: I don't really care for turkey.
*GASP* I know, I know.
However, I am adventurous and determined to find a turkey preparation that I DO enjoy.
"If you like flavor, use this recipe!" – Debra F.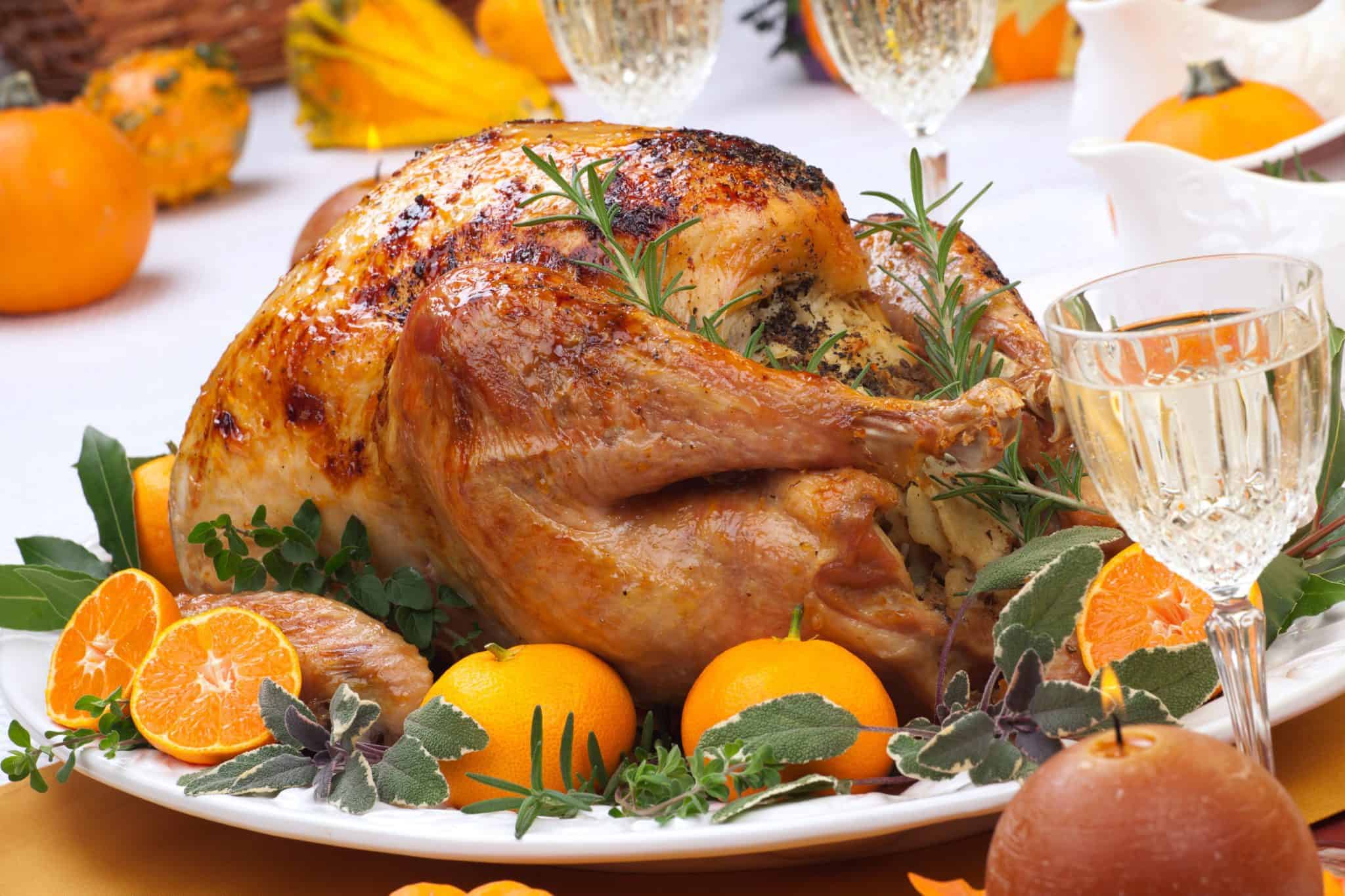 One of my reasons for not like the gobble gobble is that it all too frequently ends up dry. Solution: brining your turkey.
I set out to find a the best brine recipe ever for the juiciest turkey. Do you know how challenging it is to find whole turkey at the grocery store at any time during the year except Thanksgiving?
Surprisingly hard!
"I was scared to brine a turkey, but this recipe and all of the tips helped me tremendously. Best turkey brine recipe ever! Better than Alton Brown's turkey brine!" -Michelle A.
Here it is, I am teaching YOU how to brine a turkey with these easy brining tips and tricks. Make sure to scroll down to get the full recipe.
You can use this simple brine recipe for turkey, chicken or pork and can be used before any other full recipe to add moisture.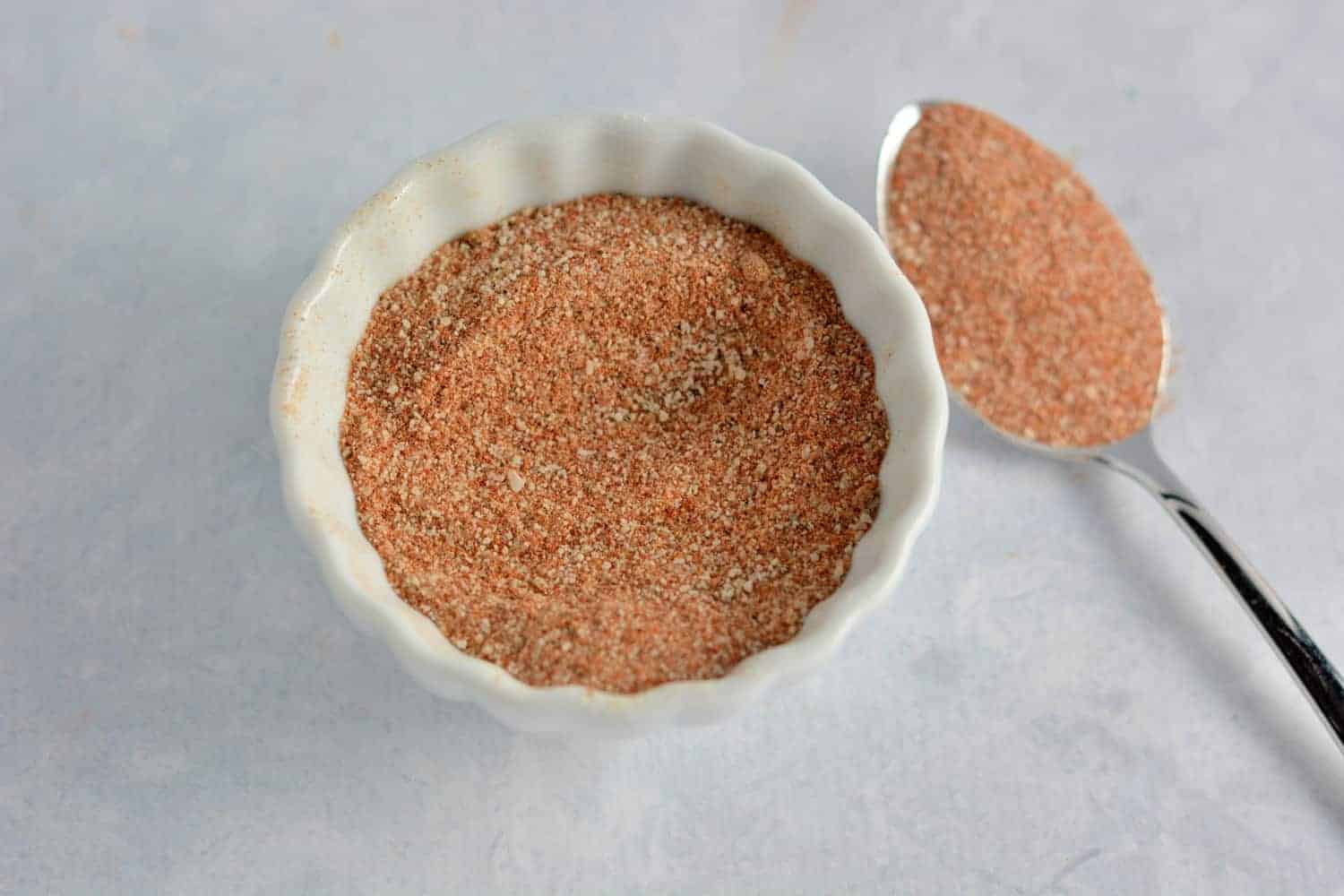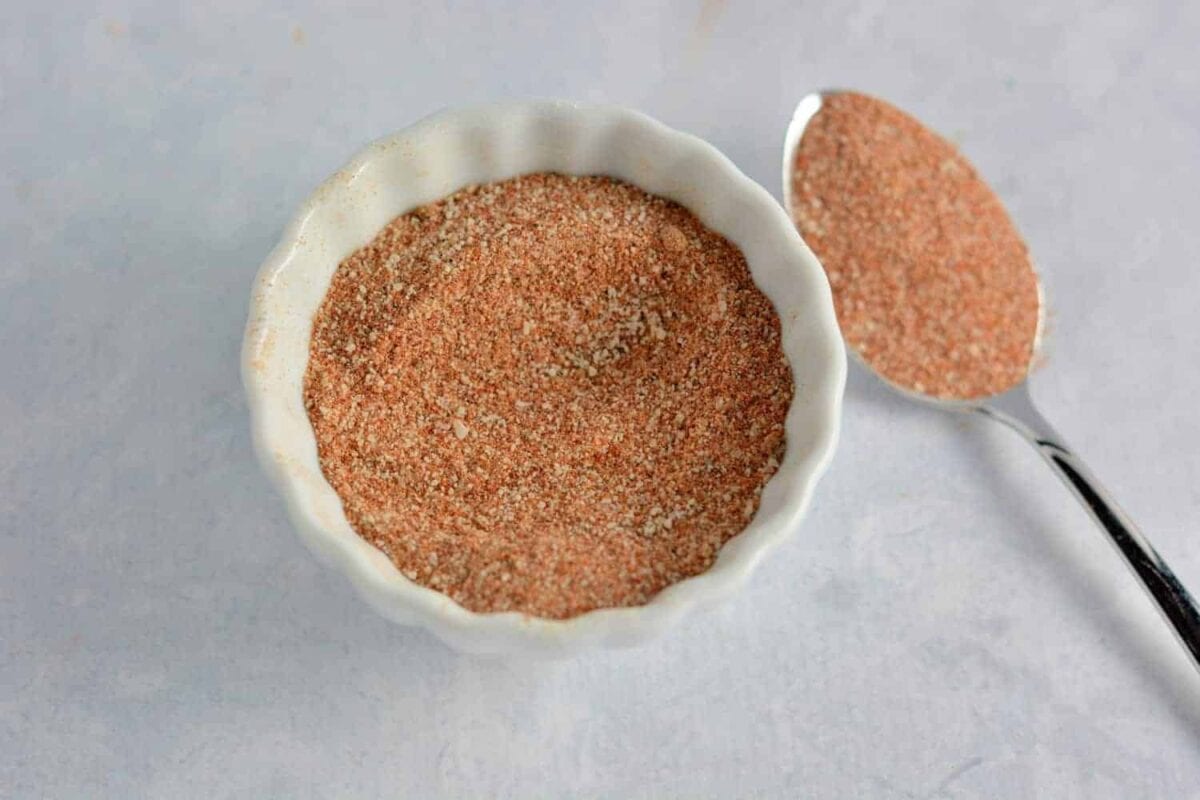 The basics of a brine solution are using cold water and infusing it with salt, sugar and flavor.
Through the process of osmosis, your bird will be infused with all the flavors added and give you succulent and juicy meat from the legs to the breast.
This is a smoked turkey brine, roasted turkey brine or even fried turkey brine recipe. Use it by itself or in addition to any other turkey recipe or turkey rub you wish!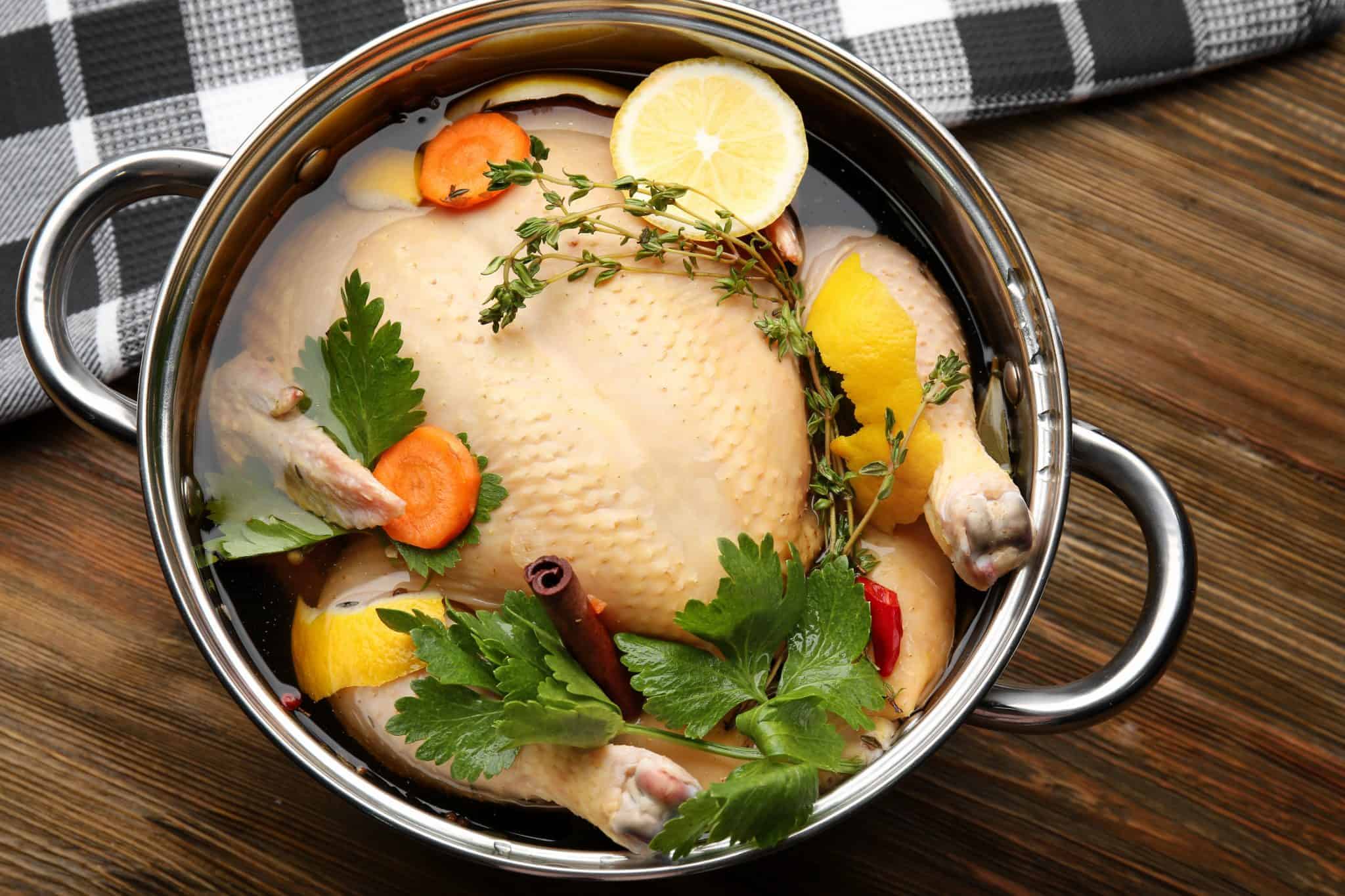 Tips for Brining Turkey:
One- Wet Brine. This technique is called wet brining. If you've ever wondered how to keep a turkey from drying out, wet brining is the answer and will result in the juiciest turkey ever!
Wet brining adds moisture to your turkey- nearly an entire pound of it for a 12 pound bird. The only downfall to wet brining a is not getting crispy turkey skin.
But don't worry, I have a solution so you can have a juicy turkey and browned, crispy turkey skin.
TWO- Use Kosher Salt. Not all salt is created equal. Salts have different flavor profiles, chemical structures, shapes, ability to dissolve (although they all will eventually) and sizes, resulting in varying density.
On tablespoon of Kosher salt is not the same as one tablespoon of table salt. Make sure to use Kosher salt with larger crystals to get the correct salt to water ratio for brine, which is 1 heaping tablespoon of kosher salt for every cup of water.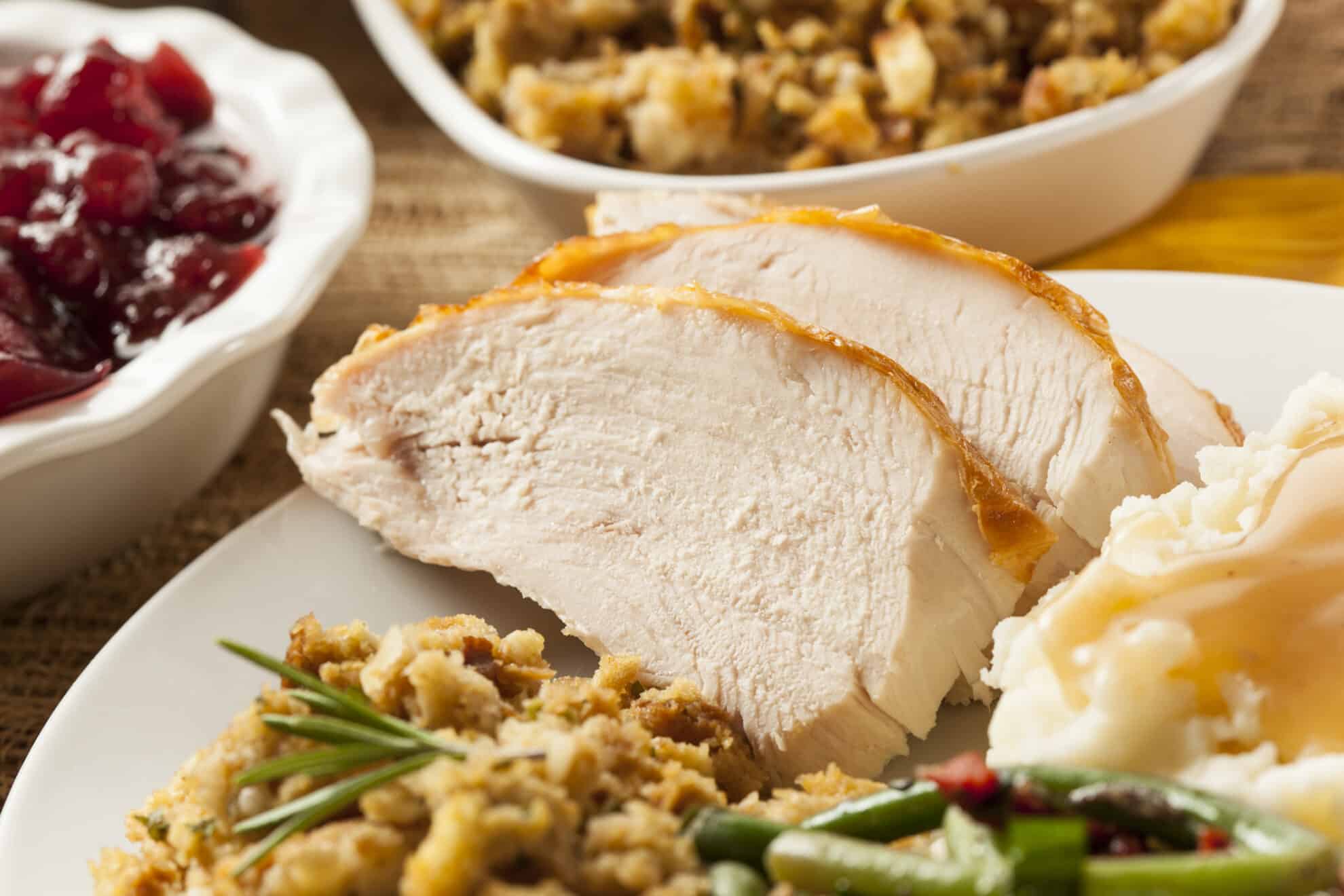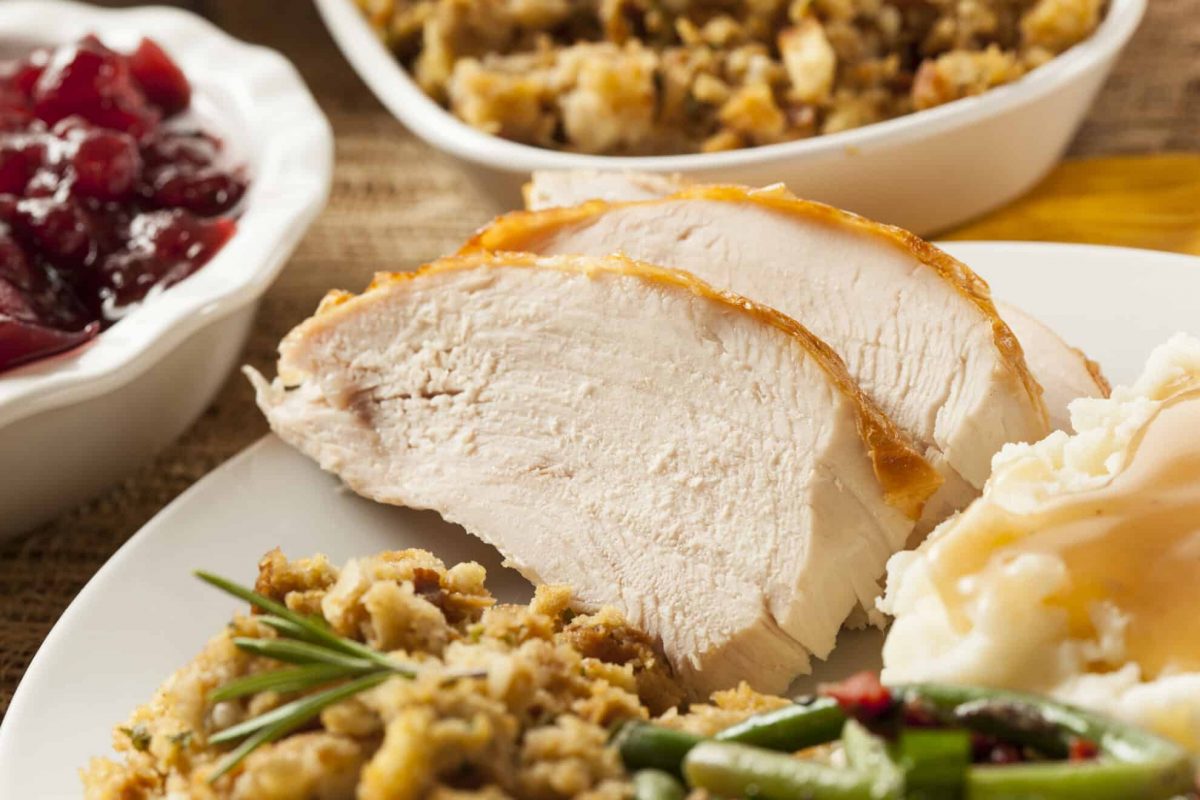 THREE- Add flavor. The types of flavor you can add to your brine are endless. For a simple brine recipe using just salt and water, there is no need to boil because the salt will dissolve regardless, but for more flavor, boiling is ideal to infuse water.
FOUR- How Make the Crispiest Turkey Skin. Because brining adds to much moisture and flavor, it also makes the skin super wet and prevents browned, crispy skin.
To get the best of both worlds, brine your turkey for 24 hours, then remove from brine and allow to dry out, uncovered, in the refrigerator for an additional 24 hours.
Then rub with compound butter. Do not baste during the cooking process.
FIVE- How to make turkey stock. And after you are all finished, save the bones to make Turkey Stock and Turkey Noodle Soup, the quickest and tastiest way to use up leftovers!
In summary, tips for bring a turkey:
Make a wet brine.
Use kosher salt.
Add flavor and aromatics.
Make a juicy turkey with crispy skin.
Don't waste your bird- make turkey stock!
Tools for making a juicy turkey:
Brining Bags– These are helpful to save space or if you have a huge turkey!
Large Stock Pot– A large stock pot is a kitchen essential not only for making stock, but also for brining and make large batches of sauces and steaming thing like whole lobster or crab.
Roasting Pan– A large roasting pan is perfect for roasting turkey, but also chicken and one pot meals for large parties.
Injector– Sometimes brining or marinating doesn't really get flavor to all the meat (although a full brine should), have an injector on hand just in case!
Cooking Twine– Keep those birds and roasts held tight with cooking twine. This ensures even cooking!
"So easy. I wish I had discovered this turkey brine years ago." -Nick D.
Questions you have had about how to brine a turkey:
Is turkey brining really worth it? I think so, but it is really a matter of personal preference. You'll just have to try it to find out!
Curious how to brine a turkey for smoking? The same way to brine a turkey for roasting! Use this same recipe and then follow your smoked turkey recipe.
Curious how to brine a turkey for frying? The same way you brine one for smoking or roasting! Just make sure you pat the excess liquid off really well.
Wet skin causes problems in a fryer. The flavor and juiciness is locked deep within.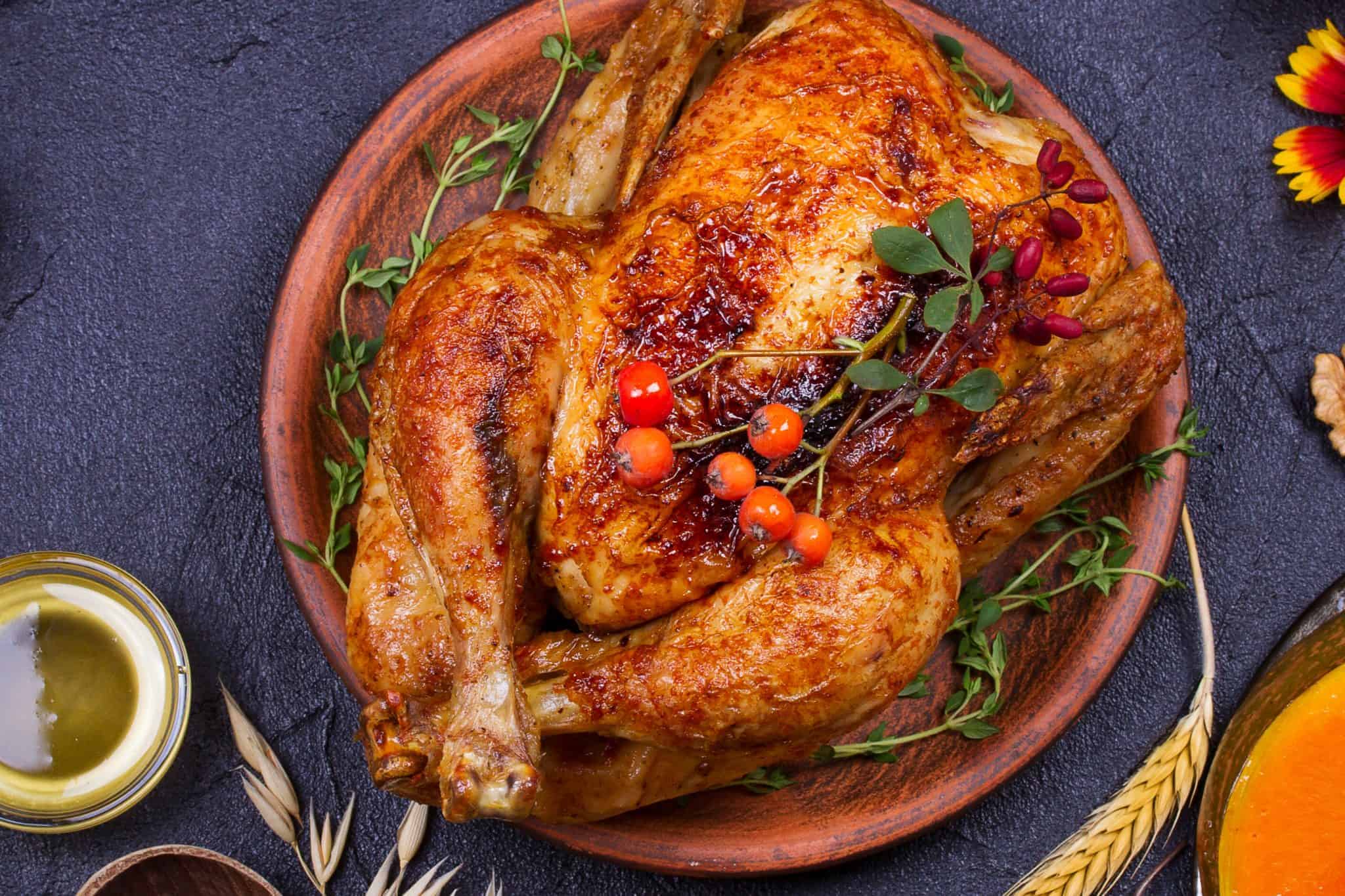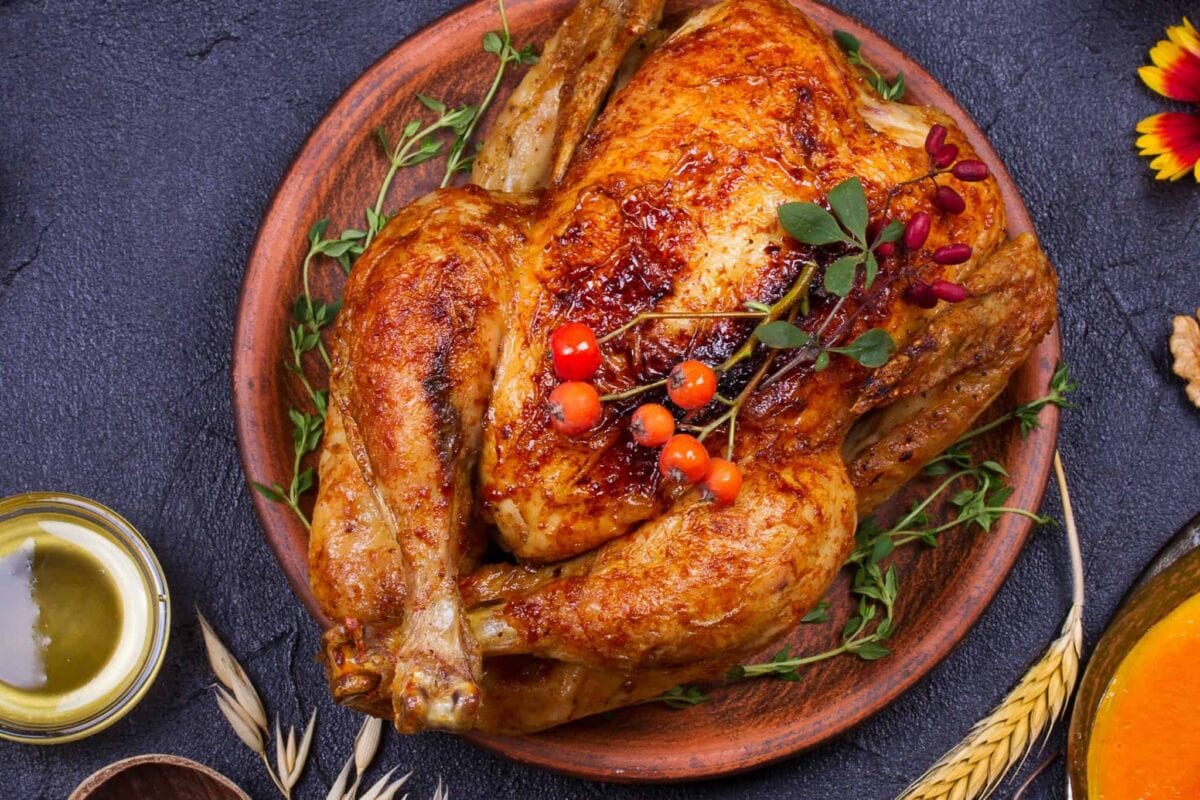 How to brine turkey parts or how to brine turkey breast? I bet you will guess this answer! The same way you brine a whole turkey! If you are only using a small amount, you can cut the recipe in half.
What is a basic roasting recipe? Rub your turkey with a compound butter or dry rub, stuff it with desired herbs and vegetables.
Preheat oven to 325 degrees and follow the times below depending on whether it is stuffed and size.
Check with a meat thermometer to make sure it reaches an internal temperture of 175 degrees. Then remove and allow to rest for at least 20 minutes before carving.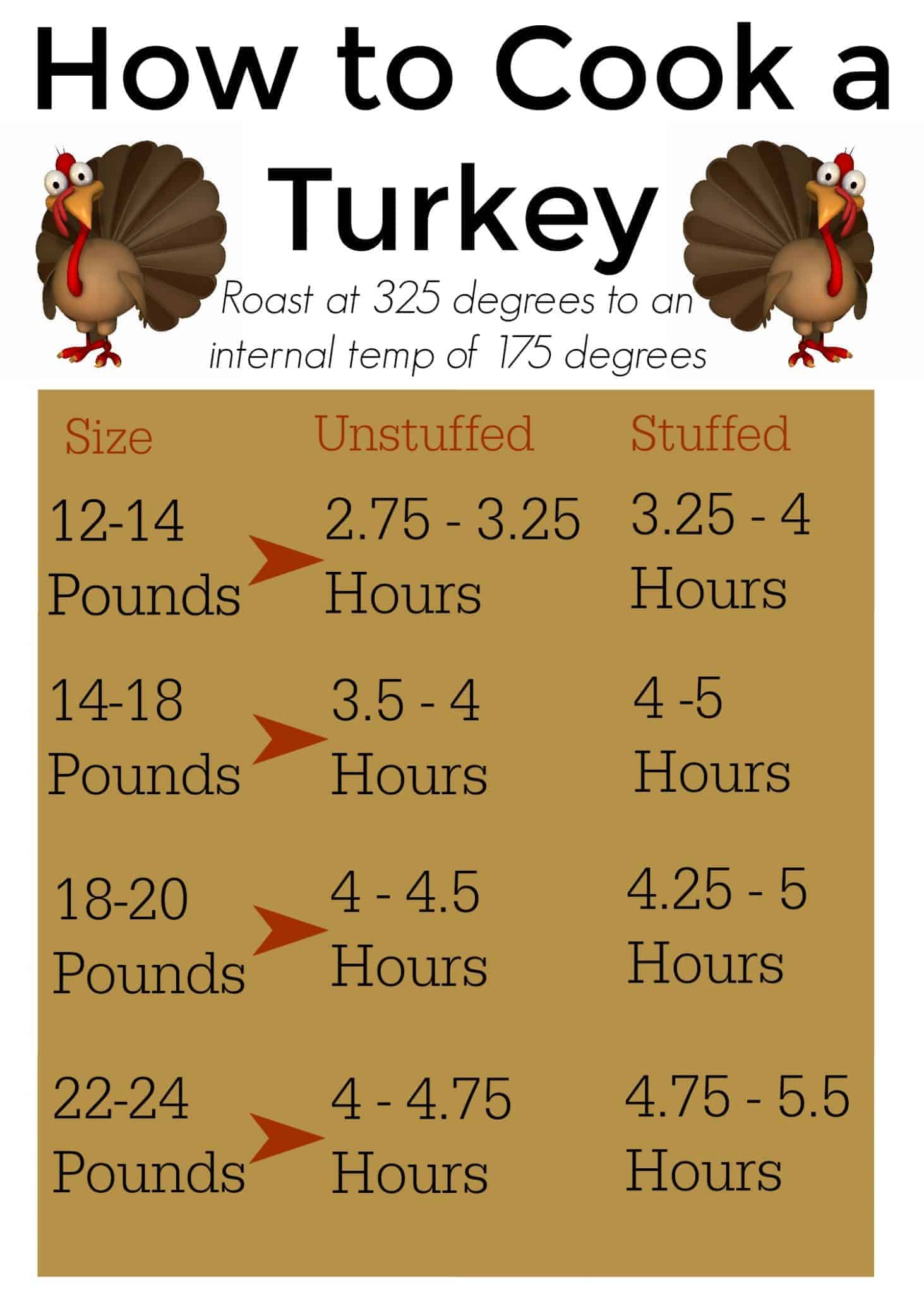 Do you cook a turkey breast up or down? This is debatable! If you want super crispy turkey skin, roast with the breast up so the skin has time to dry out.
I would suggest injecting the breast with liquid to prevent the meat from drying out too. If the breasts start to brown too quickly, loosely tent with aluminum foil.
But if you are going for super moist and aren't too picky about browned skin, cook breast side down, allowing gravity to flow the juices downward.
You can also fill the bottom of the pan with water, wine or chicken stock and baste the turkey with it's own drippings through the cooking process.
Can you brine turkey breast? You can brine any meat! In fact, use this same brine recipe for turkey breast, chicken and even pork. Cut the recipe into a quarter and there you go!
Also check out my holiday turkey breast recipes:
What is the difference between a wet brine and a dry brine? A wet brine, is well, wet and sues water, while a dry brine is basically a dry rub using a lot of salt.
How much turkey brine do I need? You need about 1 gallon for every 10 pounds of turkey. This turkey brine is for a 12 pound bird.
You can use the drop down box at the top to change the amount and all of the ingredient amounts will update.
Where do I brine my turkey? You can most likely have some something to brine a turkey in at home. There are three main ways people use: a brining bags, a stock pot or a cooler.
Brining bags can be found online or at the store, although they tend to sell out fast. Place your turkey in a bag and then another roasting dish in case anything leaks.
If you can't find turkey brining bags, you can use a garbage bag in a pinch.
You can also use a large stock pot, if your turkey fits and the stock pot fits into your fridge. Remember, the turkey needs to stay chilled for the duration of brining, so plan some space in the fridge!
Some people wonder it gives it a metallic taste, but I do not think so.
Some people also use a cooler. You can do this, but you will need A LOT more liquid and to stay on top of keeping it chilled. If it is cold enough where you live, you might able to just put it outside.
But if not, you will need to add lots of ice and add more salt and herbs because every time you add ice, you are diluting the brine.
Obviously, make sure the cooler is very, very clean and disinfected.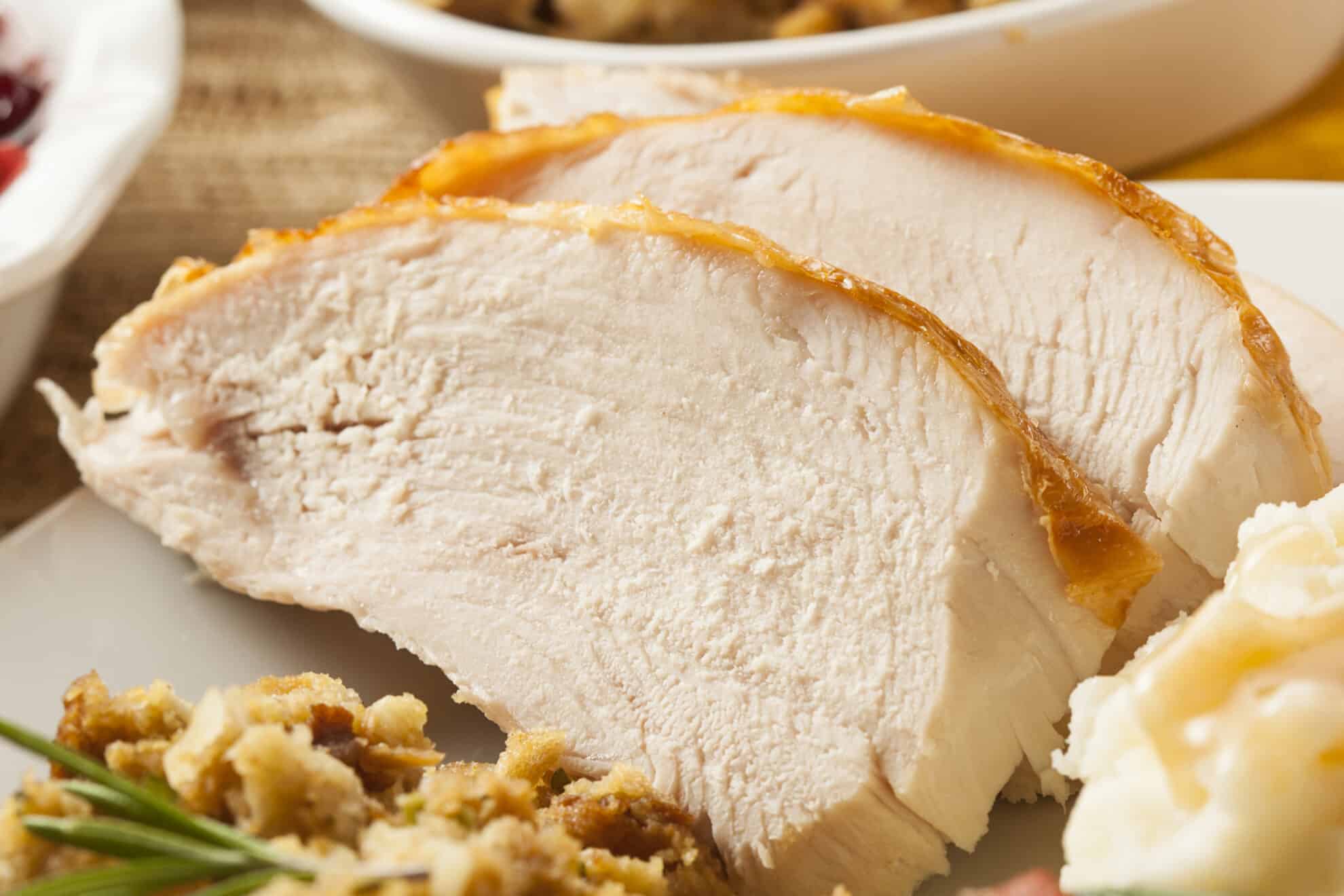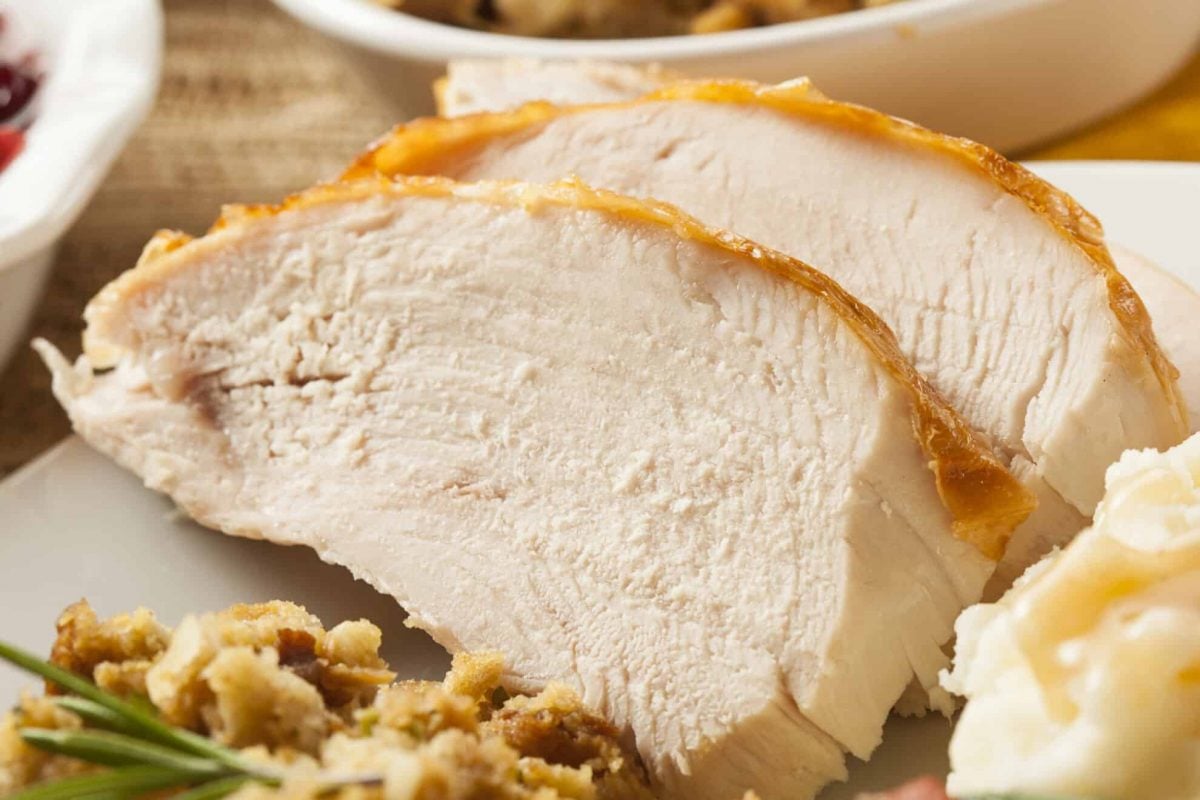 Why add sugar to the brine? Sugar improves flavors and also aids in the beautiful browning of the skin.
Do brined turkeys cook faster? Nope, it still takes the same amount of time to cook a turkey regardless of whether you brined or not.
I've seen some posts suggesting that they cook faster, but this is a myth.
Can you brine a turkey too long? It is relatively hard to hurt the turkey, but yes, you can brine for too long. The result will be a tougher and salty bird. I recommend only 24 hours for a large turkey.
Brining a turkey for too long will make it too salty and the texture tough and spongy. You have to find the sweet spot.
Can you reuse turkey brine? NO! This is raw meat and a marinade just like others. The brine can be easily contaminated and contaminate your food. Discard turkey brine after one use.
Can you brine a turkey when it is frozen? You want your turkey to be as thawed as possible. If it is frozen, the brine doesn't have a way to penetrate into the turkey.
It is a little frozen, it is ok, but remember the ice left inside that still needs to thaw will dilute the brine, so compensate by adding a little more salt.
Do you have recipe for roast turkey? Here are my best Turkey recipes: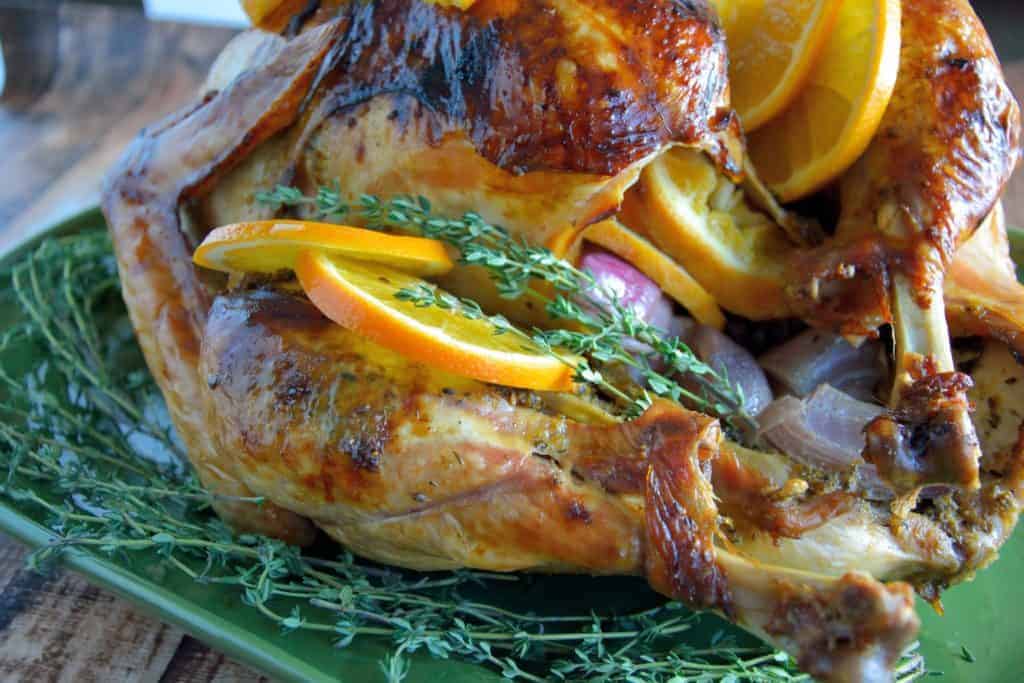 Here are my favorite holiday recipes to serve with turkey!
Red Wine Gravy | Easy Dinner Rolls | Fried Turkey | Pumpkin Cheesecake | The BEST Apple Pie | Sweet Potato Casserole with Pecans
Cast Iron Sweet Potatoes with Honey and Cinnamon | Mascarpone Mashed Potatoes | How to (Safely) Fry a Turkey | Cranberry Relish Green Bean Casserole | Cinnamon Sore Throat Tea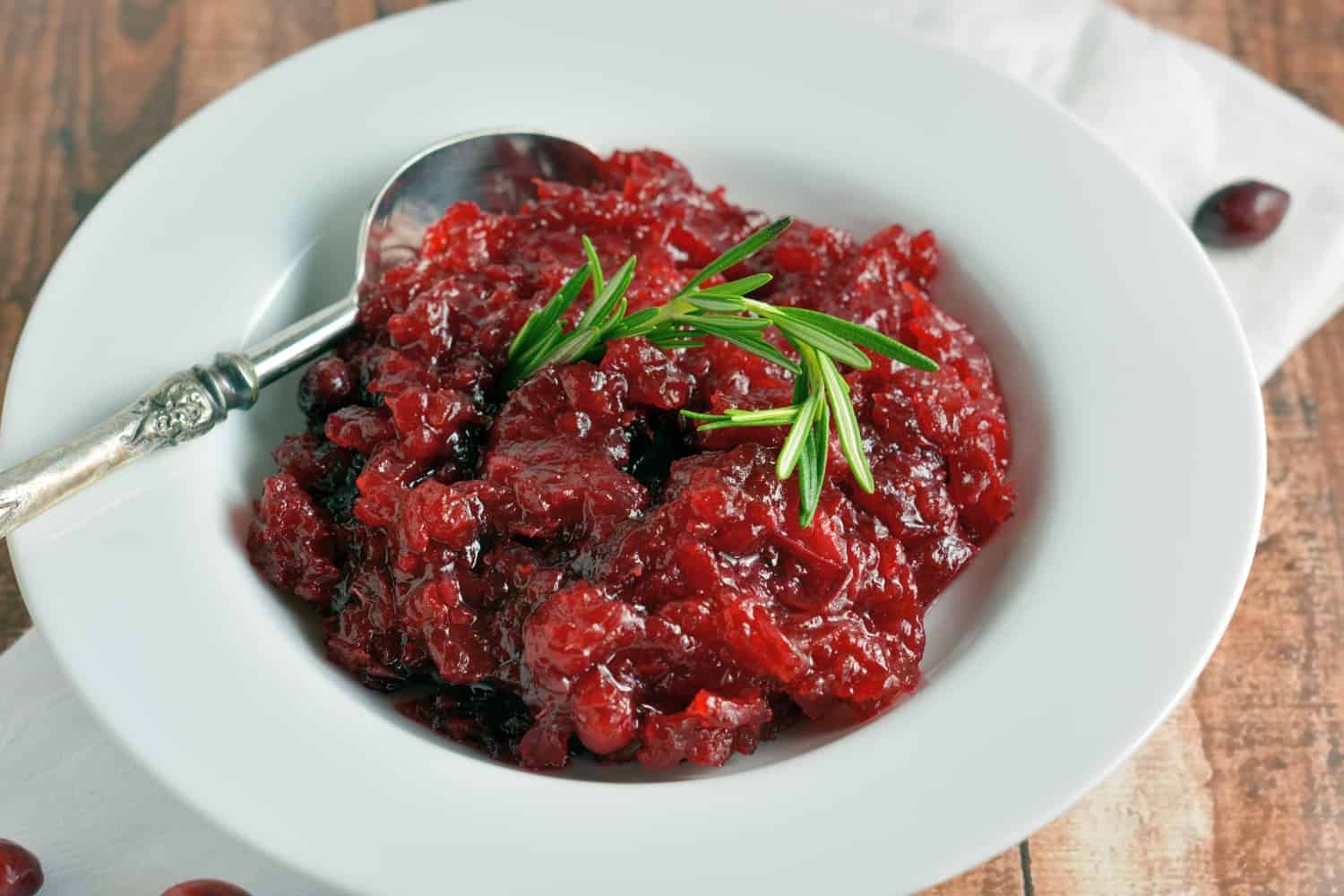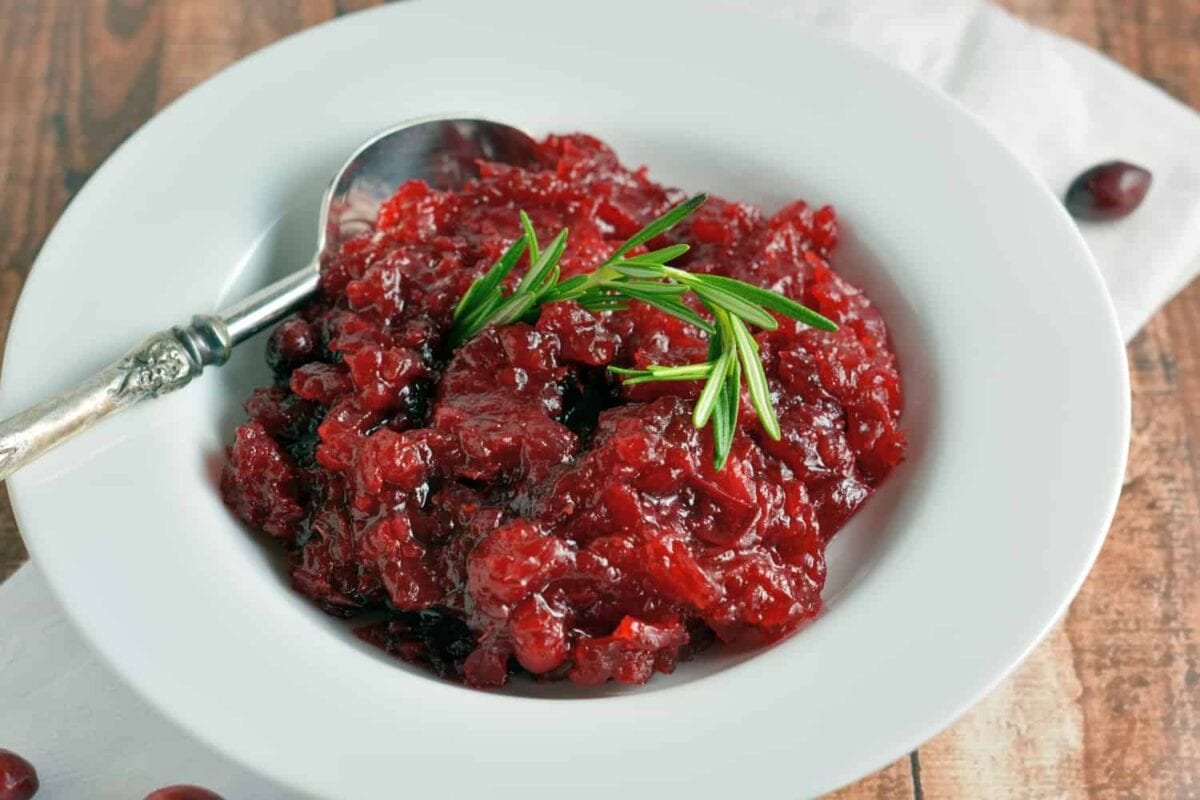 Green Beans with Mascarpone Cream Sauce | Cheese Chile Cornbread Casserole | Pumpkin Cheesecake | Chinese Sausage Stuffing | Garlic Butter Brussels Sprouts | Herbed Stuffing Wreath | 25 of the Best Make Ahead Thanksgiving Casseroles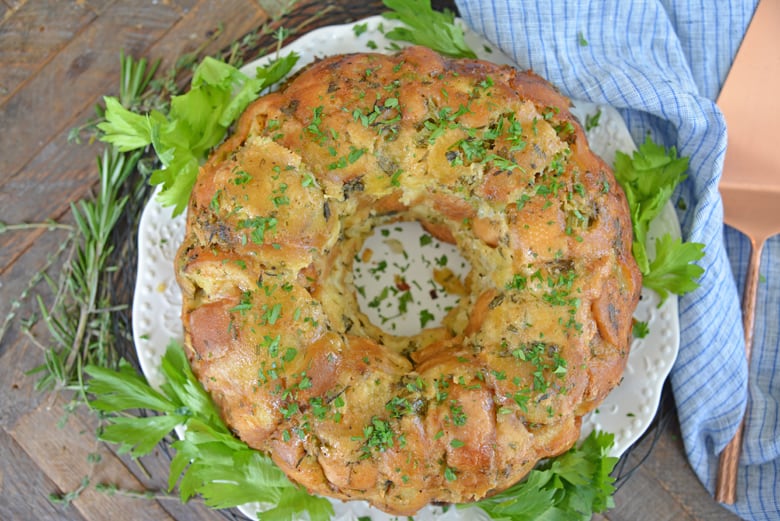 Serve your holiday meal with these fabulous holiday cocktails and mocktails!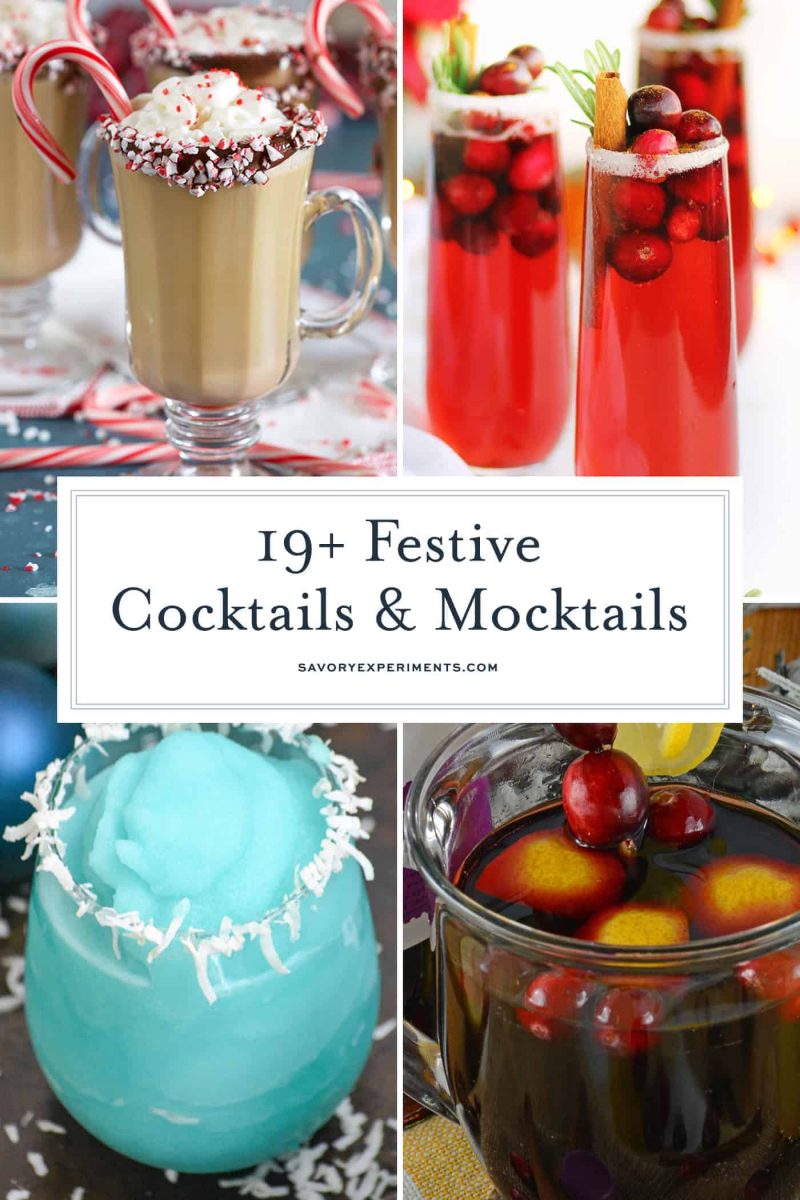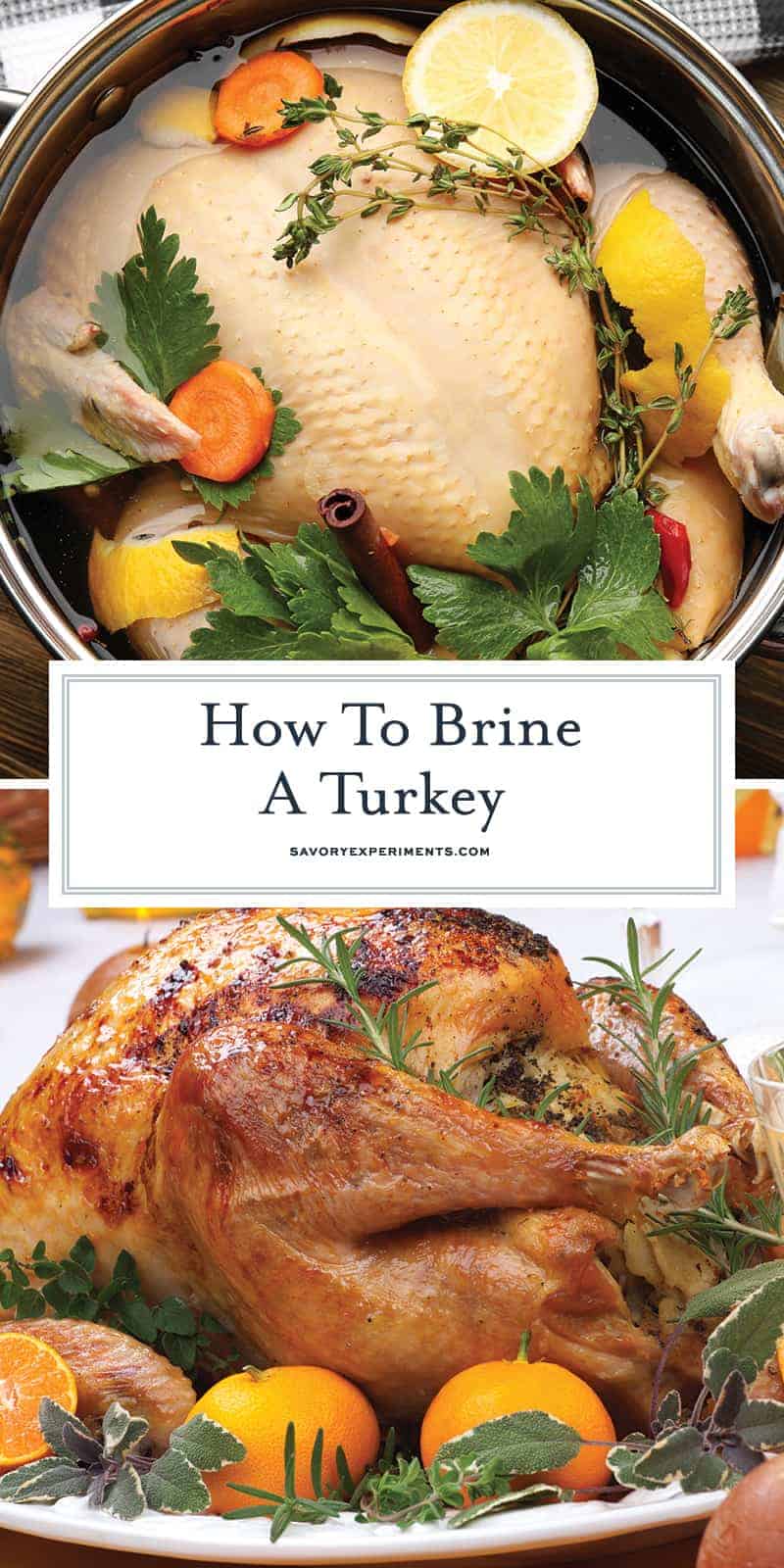 Make sure to check out our fabulous collection of LEFTOVER TURKEY RECIPES before you leave!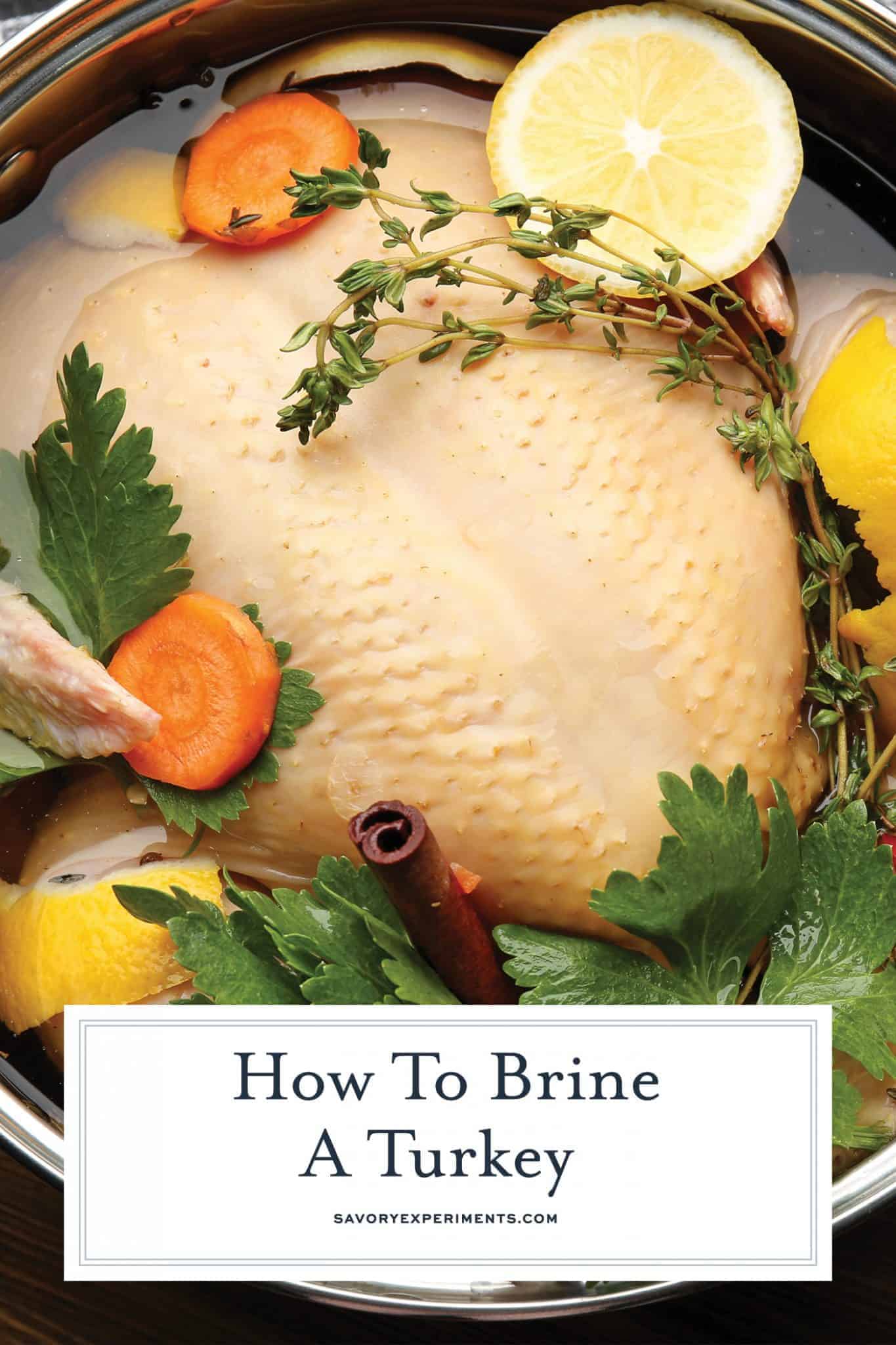 We hope you have a fabulous Thanksgiving and know you might still have questions. Feel free to email me at [email protected], but remember, I am hosting my own Thanksgiving feast, so I might not respond immediately. I will get back to you though!

"Bird is the word." – Jessica F.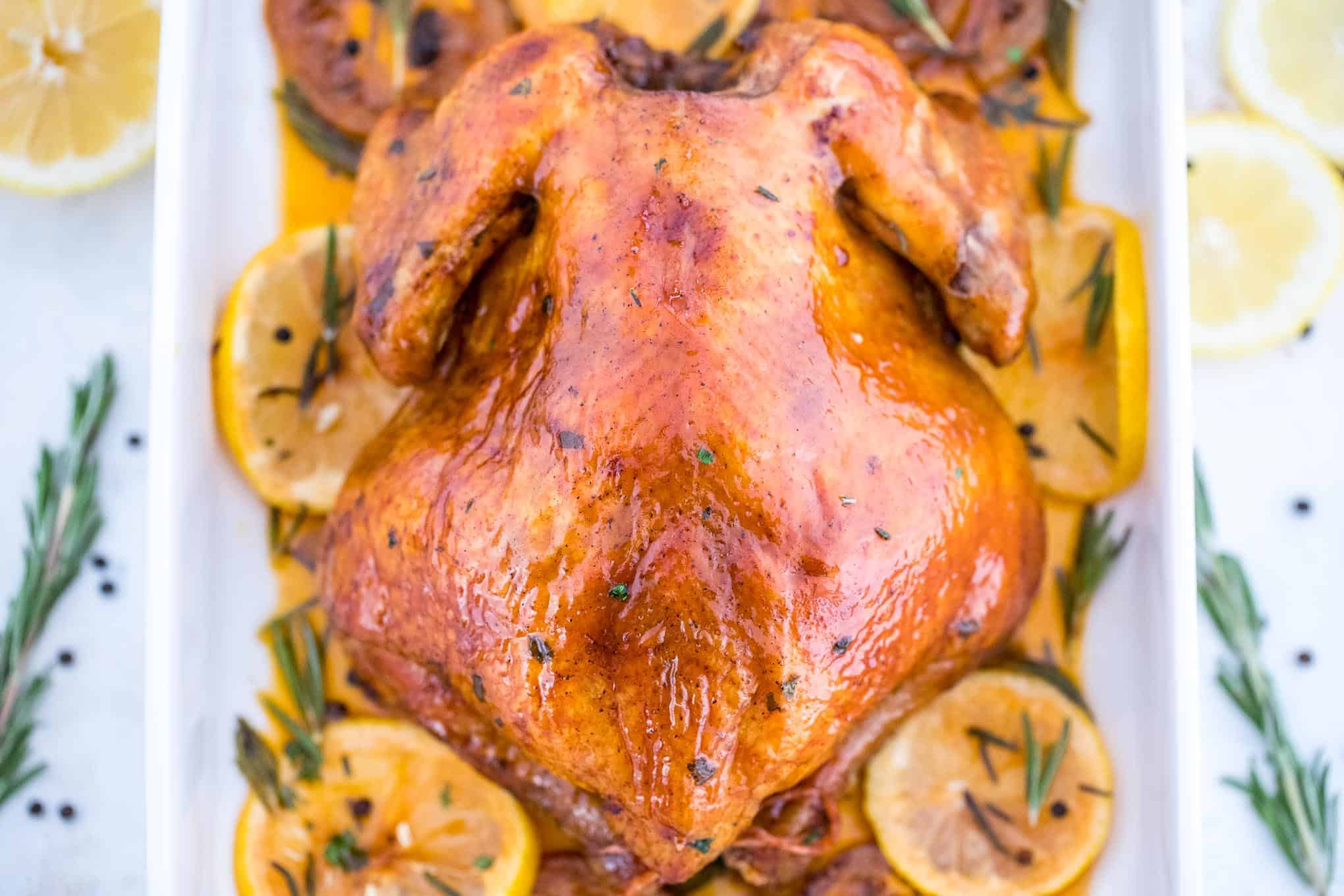 CONNECT WITH SAVORY EXPERIMENTS!

Be sure to follow me on social media, so you never miss a post!

Facebook | Twitter | Youtube
Pinterest | Instagram

Get our FREE 8 Day E-Course on How to Be a Better Home Cook. Sign up HERE!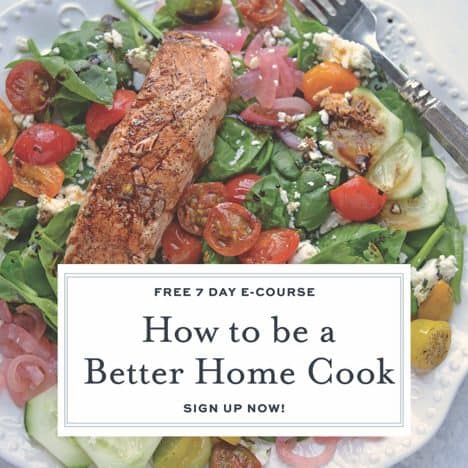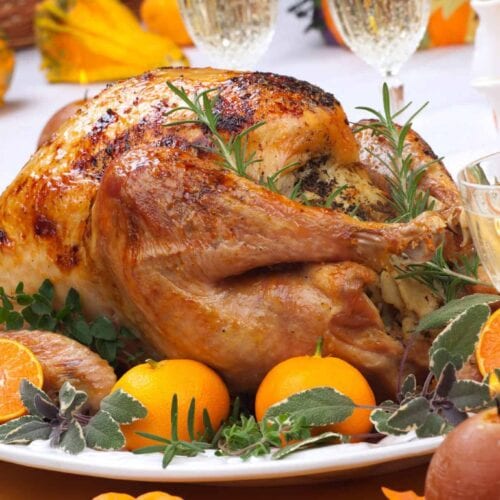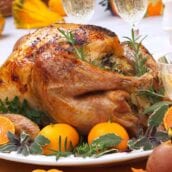 Print Recipe
How to Brine a Turkey
How to Brine a Turkey- a step-by-step guide for brining turkey, tips for a better turkey, how to brown turkey skin and a recipe for juicy turkey.
Ingredients
Optional Add-Ins
Orange Zest or Orange Slices

Lemon Zest or Lemon Slices

Carrots

, cut into slices

Celery

, cut into small pieces

Cloves

Anise Pods
Instructions
Remove plastic wrap, gizzard and neck. Rinse well with cold water. Place into brining bag placed, large baking dish or large stock pot. Make sure you have enough space to place whatever you use into the refrigerator.

Bring 16 cups of water to a rapid boil in a large stock pot. Whisk in paprika, chile powder, garlic powder, onion, oregano, thyme, garlic cloves, brown sugar, bay leaves and kosher salt. Also add any additional optional add-ins. Continue to boil for 15-20 minutes. Remove from heat, allow to cool slightly (approximately 10-15 minutes) then add 4 cups of ice.

When brine has reached room temperature carefully pour into brining bag (or whatever you are using to place it into the fridge) with turkey (this is a two person job.) Tightly pull bag up around the turkey, forcing the brine to fully encase the bird. Twist the top around a few times and then tie tightly with twine. Place in refrigerator for 24 hours. *

Remove from brine and rinse with cold water. Pat dry and then prepare your turkey according to desired recipe.

If you've tried this recipe, come back and give it a rating and tell us how it was!
Video
Notes
If the brine will not completely embrace the turkey you can rig it with other items. I used a small cup, shot glass and cheese grater to make sure the brine fully encompassed the turkey.
Nutrition
Calories:
579
kcal
|
Carbohydrates:
8
g
|
Protein:
84
g
|
Fat:
22
g
|
Saturated Fat:
5
g
|
Cholesterol:
278
mg
|
Sodium:
8957
mg
|
Potassium:
936
mg
|
Sugar:
6
g
|
Vitamin A:
810
IU
|
Vitamin C:
1.6
mg
|
Calcium:
74
mg
|
Iron:
3.9
mg