Thanksgiving menus can be tedious and sometimes you want dishes that just jump off the table with flavor. This Sausage Stuffing is a cure-all for those humdrum, Thanksgiving recipe blues.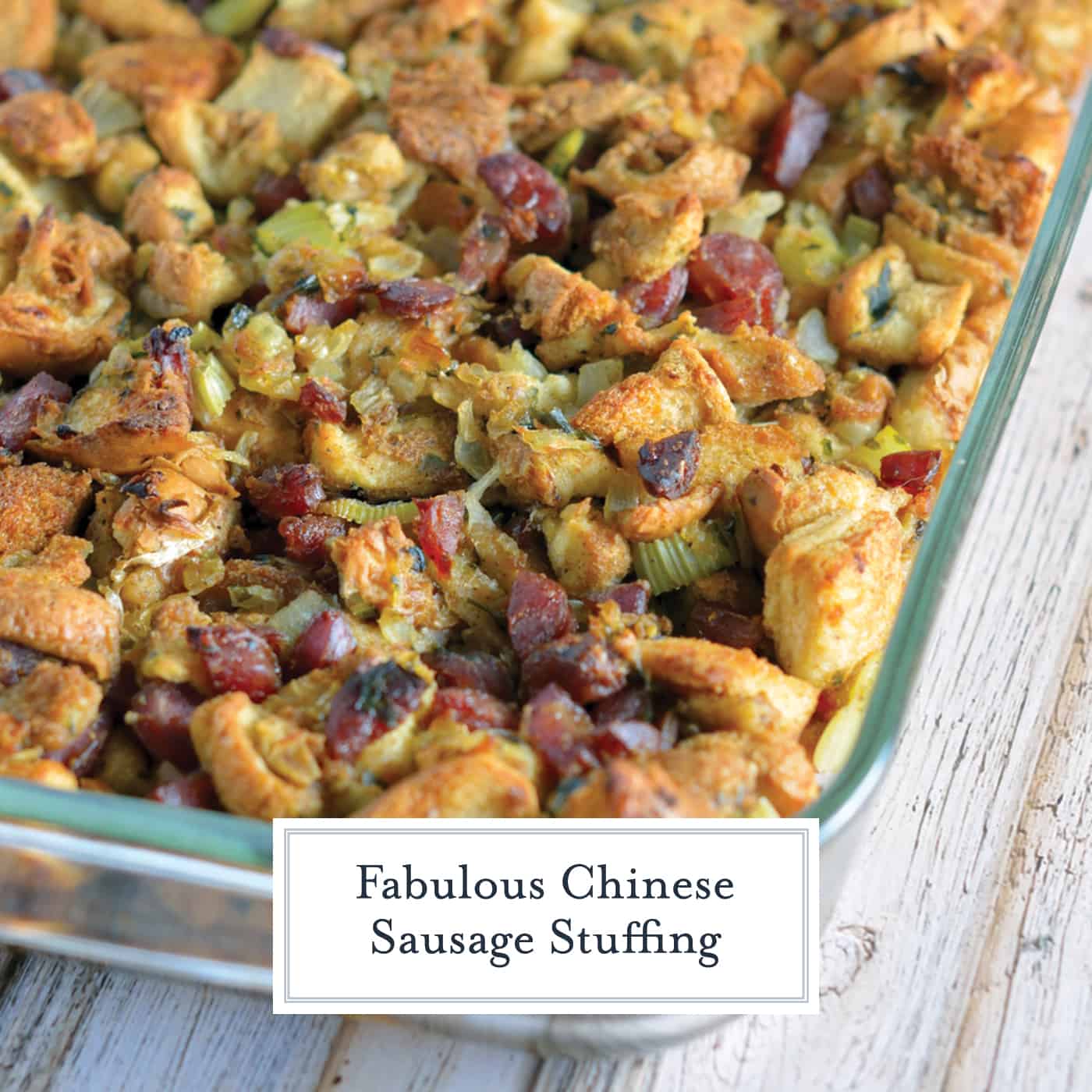 Thanksgiving Side Dishes
One of my strongest childhood memories is from Thanksgiving are two giant, lime green Corningware casseroles. My mother's workhorses, these were used to make two heaping helpings of her giblet and non-giblet stuffing.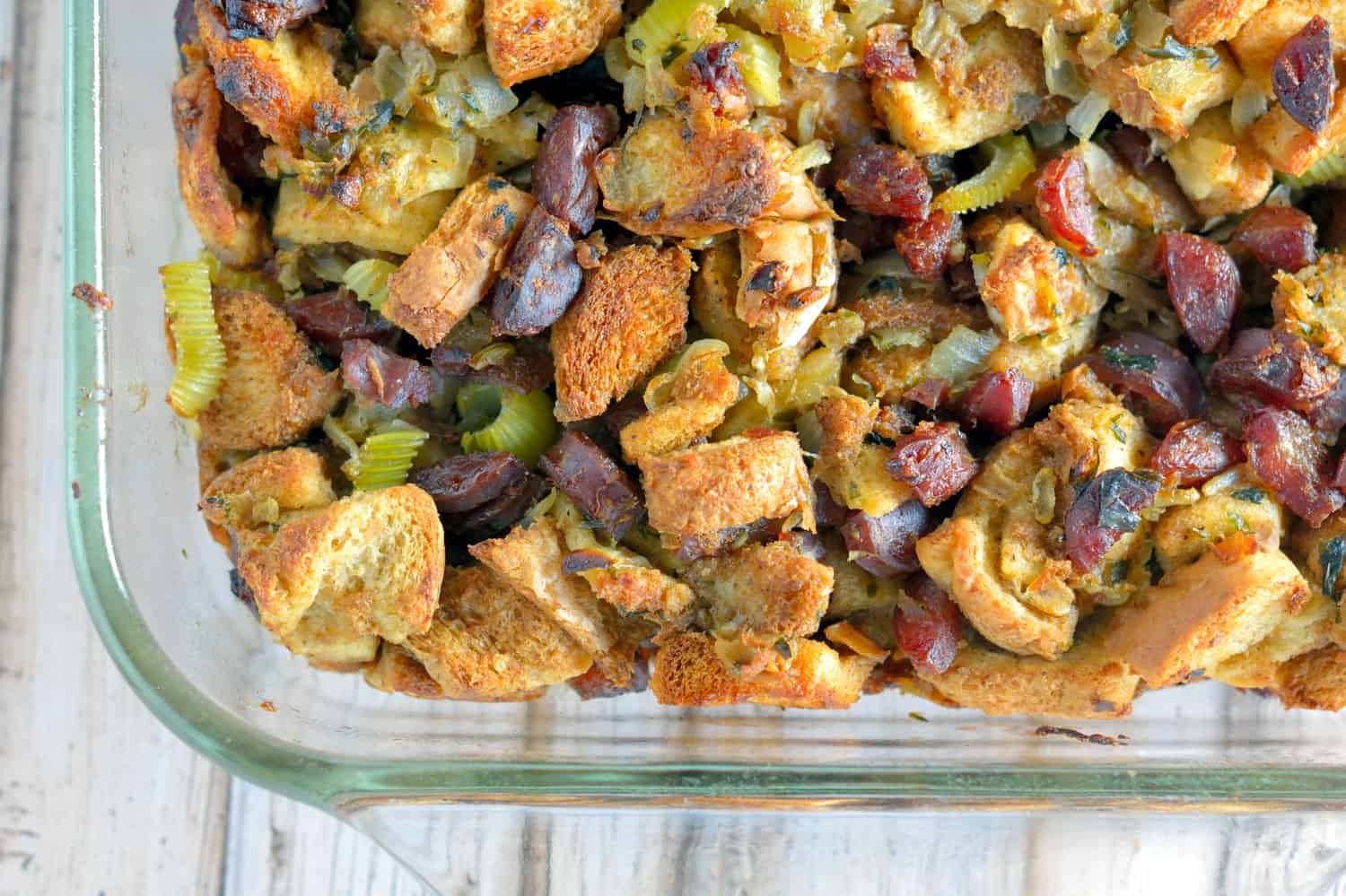 My dirty little secret is that I didn't care for stuffing at all. Yes, it's true, I grew up not liking stuffing. I just couldn't and wouldn't wrap my brain around it.
Fast forward and I am now hosting my own Thanksgiving dinners. I am still on the fence about stuffing (or dressing depending on what you want to call it). That said, I know my guests love it as it is such an iconic part of the traditional spread so I needed to find a recipe that I liked.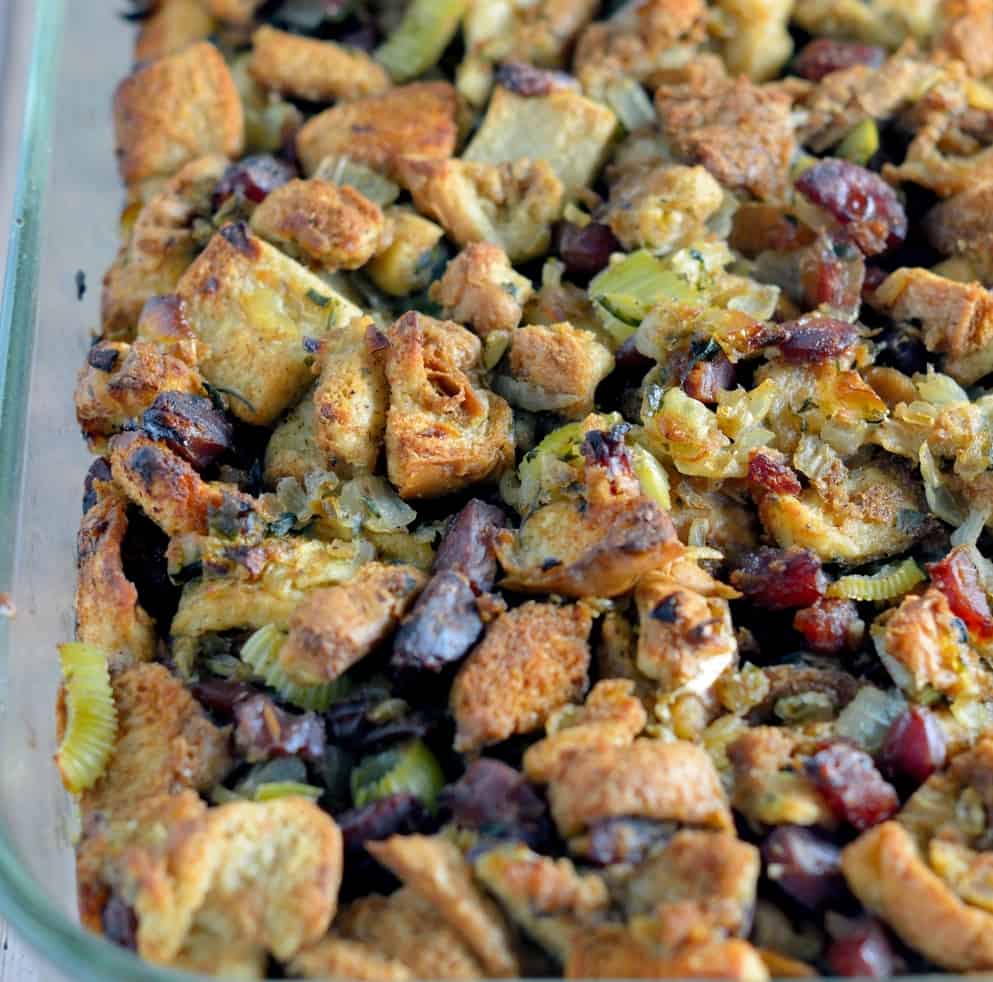 Sausage Stuffing
That was until I had sausage stuffing. Really, it is a no-brainer. I love sausage and I love bread, so sausage plus bread. DREAMY! But mine has a twist from the others… I use Chinese sausage.
Okay, so where did this Chinese Sausage Stuffing come from? I needed a star ingredient and it came from an unlikely place. This dish was inspired by my husband's recent obsession with Chinese sausage.
He grilled it one night for the two of us and the wheels started turning. I knew it would be perfect for stuffing; a sweet counterpoint and a savory standout. My Chinese Sausage Stuffing was born.
Of course you can use the same recipe with a different type of sausage. Italian- either mild or hot, kielbasa or other smoked sausages and even cured meat.
What is Chinese Sausage?
Chinese Sausage has an arresting red color and you can find it packaged two ways, fresh at the gourmet grocery store or dehydrated at the Asian market. It can also look something like jerky, but it is always a vibrant red color.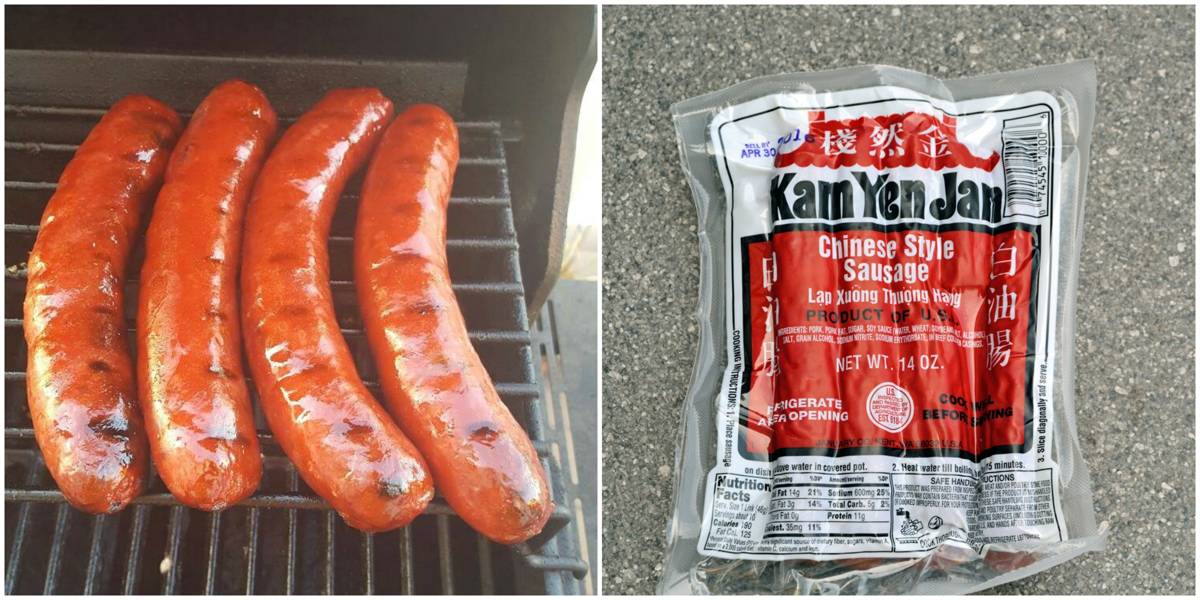 Thanks to a blend of sugar mixed with Asian spices, it has a sweet, meaty flavor. It is uniquely delicious and really versatile in the kitchen. Think recipes like used in pork fried rice, dim sum dishes, stir-fry recipes, and more.
What makes this stuffing so great aside from the taste, is the texture. The top is crispy while the base is a bit more tender and moist. This means all camps at my table are happy.
Ingredients
Of course we've got the sausage, but what else?
White bread– Or buy a bag of the dried bread cubes.
Yellow Onion– White or red does the trick too!
Celery
Garlic– If you want a strong garlicky flavor, opt for fresh. For a sweeter, mild garlic taste, use bottled chopped garlic.
Flat leaf parsley– Sometimes known as Italian. It has the flavor while curly parsley is more for garnish.
Chinese Five Spice Powder– A bit deceiving, five spice powder is usually made with more than 5 spices which include cinnamon, cloves, fennel, star anise, pepper, ginger and nutmeg.
Fine sea salt
Black Pepper
Vegetable Stock or Chicken Stock– Aim for low sodium as sausage tends to be on the salty side to start with.
How to Make Sausage Stuffing
Assembly is pretty straightforward and easy.
Combine all the ingredients in a large mixing bowl.
Toss until the bread is slightly softened by broth.
Transfer to a baking dish.
Bake until the top is crunchy and golden.
Make Ahead & Storage
I don't recommend making this dish too far in advance. You'll never get the same crunch back that you did the first time you made it. You can, however, mix all of the ingredients except broth and then set aside until ready to bake.
Leftover can be stored in the refrigerator for 3-4 days. This can also be frozen. Leave in the fridge overnight to thaw and reheat for 10-15 minutes, uncovered, at 350 degrees.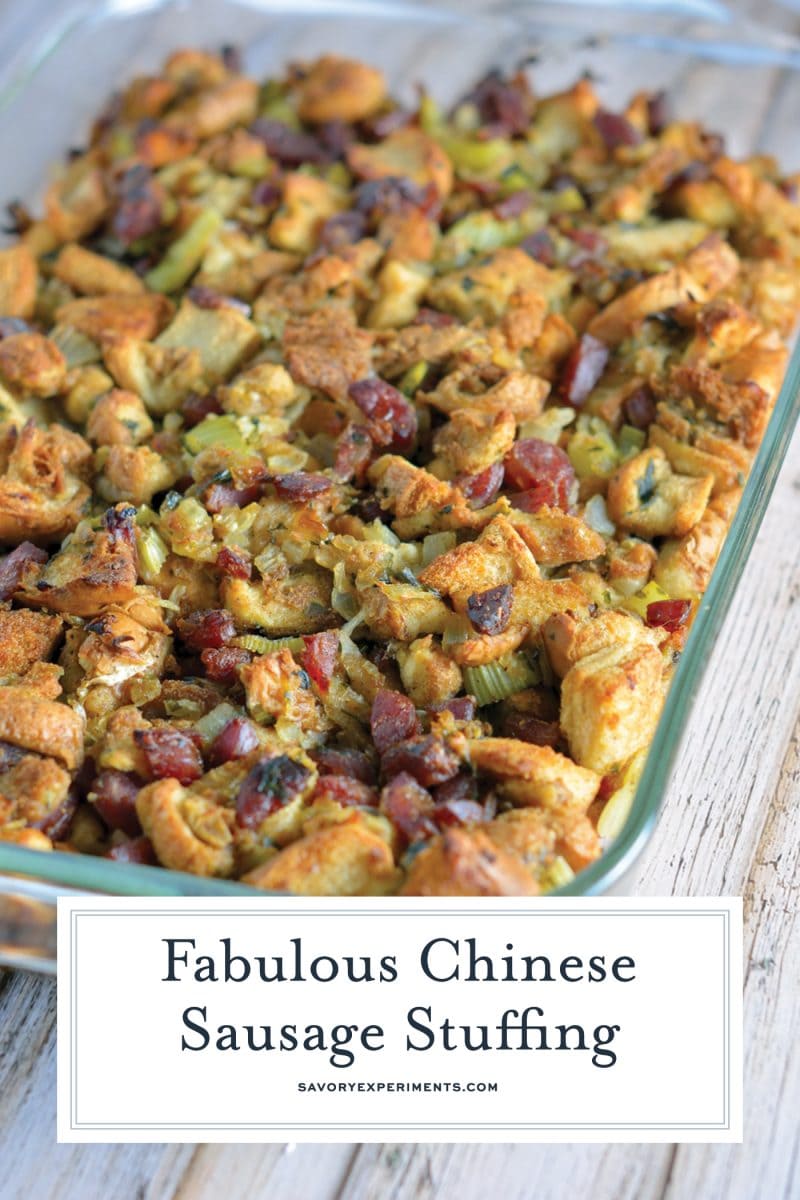 Tools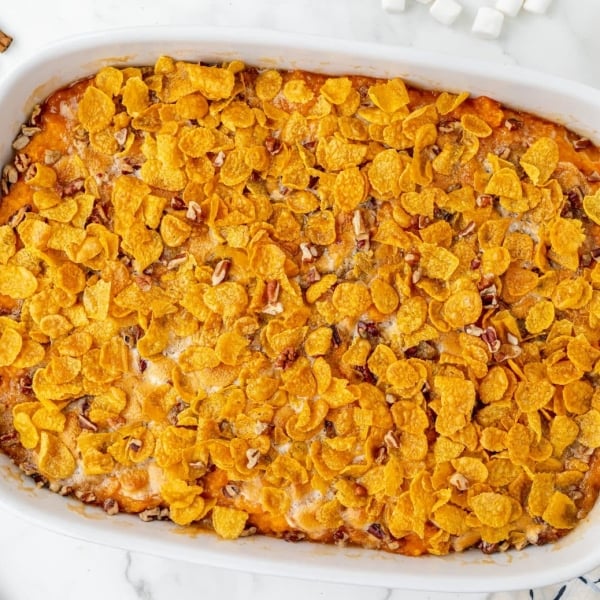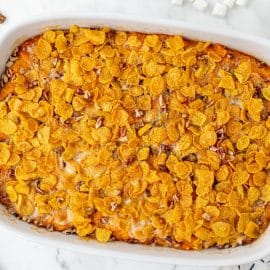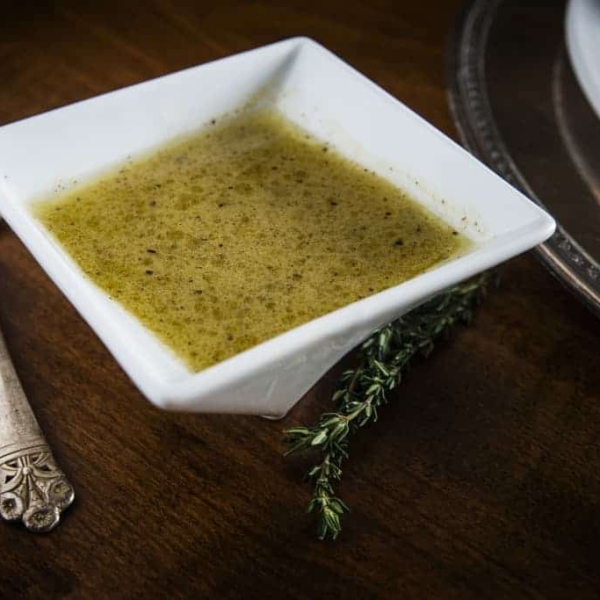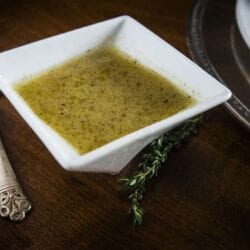 Dijon Lime Salad Dressing
Dijon Lime Salad Dressing is an easy homemade salad dressing with citrus flavors and tangy Dijon mustard. Use on your favorite salad, as a marinade or on grilled or roasted vegetables.
See The Recipe!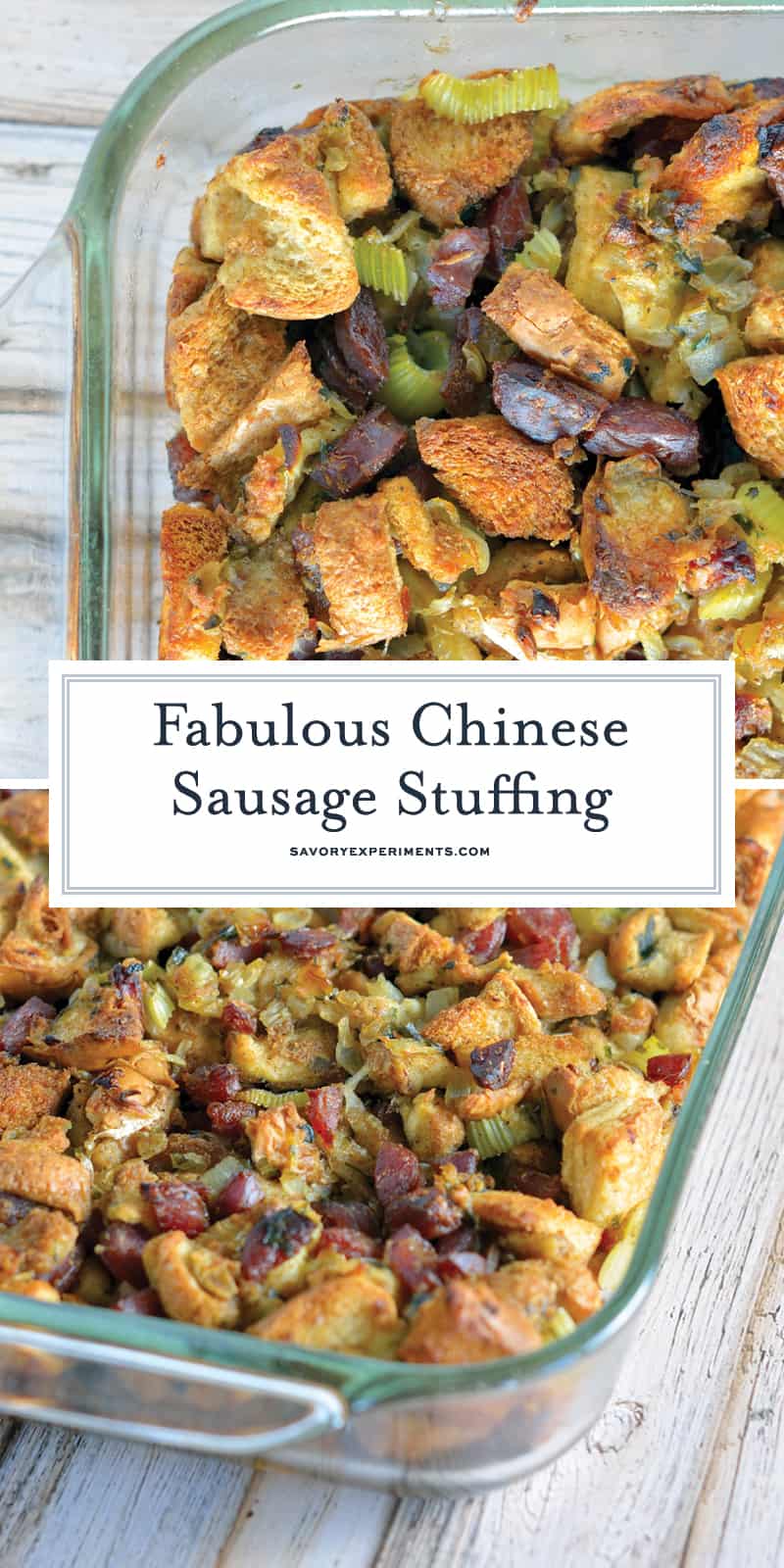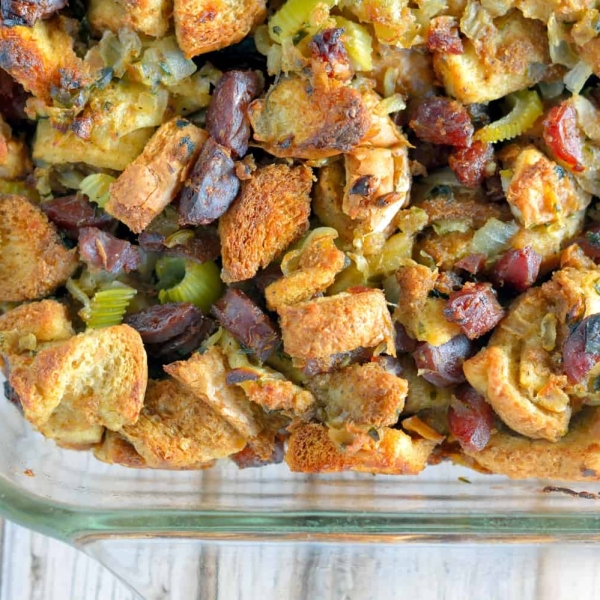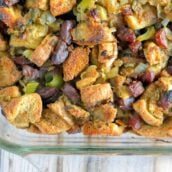 Sausage Stuffing
Sausage Stuffing Recipe is a unique blend of sweet and savory making it the perfect holiday side dish for any turkey recipe.
Instructions
Preheat oven to 350 degrees. Spread bread cubes on baking sheet. Bake for 7 minutes, turn and bake until brown and crispy, approximately 3-4 more minutes. Remove and allow to cool. Skip this step if you use stuffing mix.

In a large mixing bowl, combine dried bread, sausage, onion, celery, garlic, parsley, Chinese five spice powder, salt and pepper, tossing well. Pour vegetable stock over mixture. Bread should be slightly moist. If it isn't, add an additional 1/2 cup vegetable stock.

Spray a 9×13 baking dish with cooking spray, spread evenly into the dish.

Bake for 30-35 minutes or until top is crispy. Enjoy your Chinese Sausage Stuffing!

If you've tried this recipe, come back and let us know in the comments or ratings!
Notes
Chinese Sausage stuffing can be found fresh or dehydrated. Follow package directions and cooking fully before chopping and using in this recipe. Other variations include using other types of pork, tofu or chicken sausage and adding one diced apple.
If using premade stuffing mix, this equals about 10 cups of dried, cubed bread.
Nutrition
Calories:
204
kcal
,
Carbohydrates:
5
g
,
Protein:
10
g
,
Fat:
16
g
,
Saturated Fat:
5
g
,
Cholesterol:
43
mg
,
Sodium:
812
mg
,
Potassium:
232
mg
,
Fiber:
1
g
,
Sugar:
2
g
,
Vitamin A:
322
IU
,
Vitamin C:
5
mg
,
Calcium:
32
mg
,
Iron:
1
mg