Do you have memories of holidays as a child? I do. One of them involves giant lime green Corningware casseroles
filled with stuffing. My mother saved odd and end pieces of dried bread all year long in plastic bags for this ONE recipe. On Thanksgiving morning it was my sister and I's task to break all of the random bread into bite-size pieces. She would make two giant bowls: one with giblets and the other without.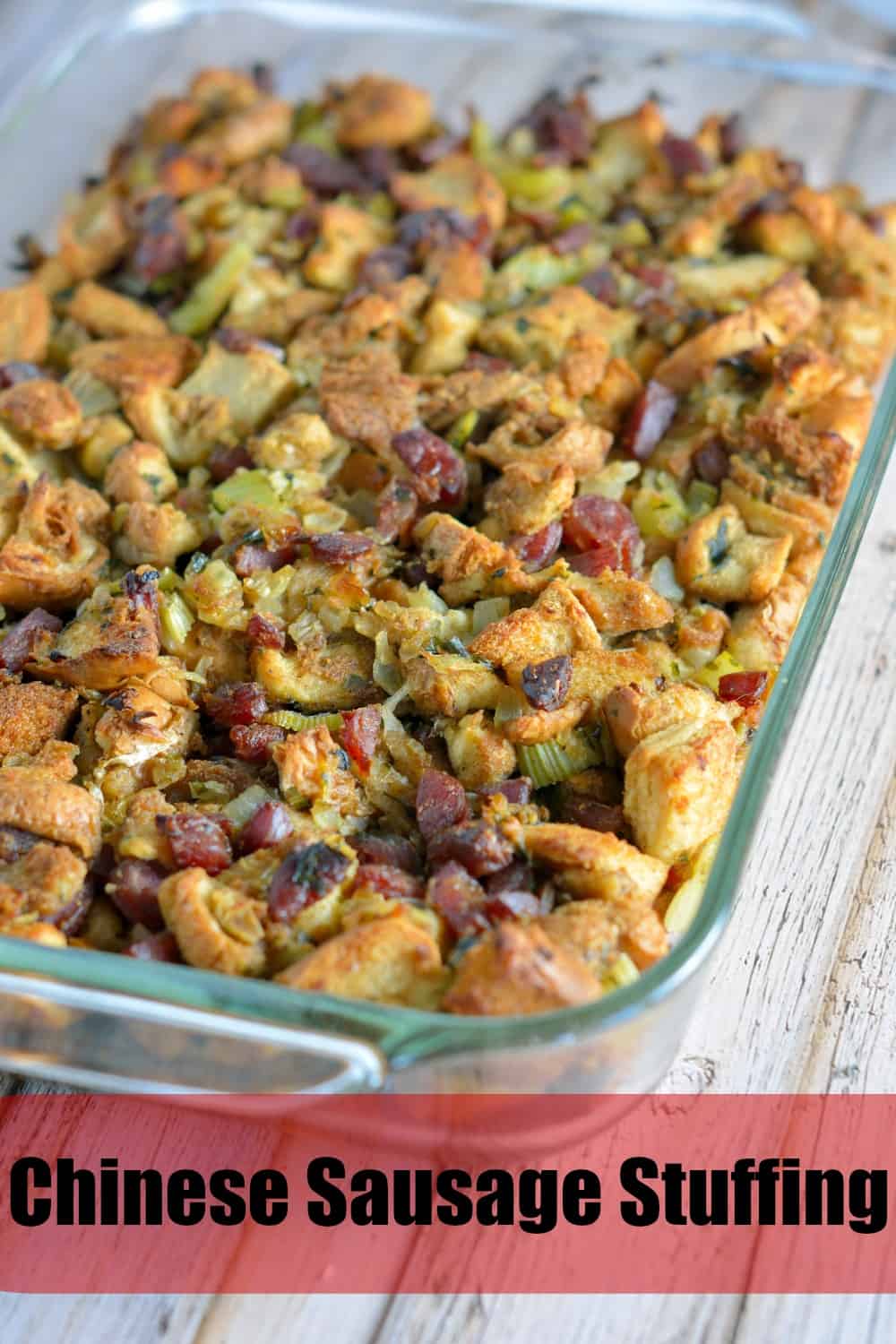 I hated it. There, I said it. Now you know. I grew up hating stuffing. In all honesty, I'm not sure I ever tried it, but I talked myself into believing I disliked it.  My other family members never forced to me to try it. In fact, they were perfectly fine with my aversion; it meant more for them and apparently all those assorted bread bit made one kick butt bowl of stuffing! Fast forward 20 years and now I am hosting my own Thanksgiving dinners and even though I still haven't convinced myself I don't care for stuffing, I am forced to make it for my guests as part of the traditional spread.  Imagine the horror if I used a box mix!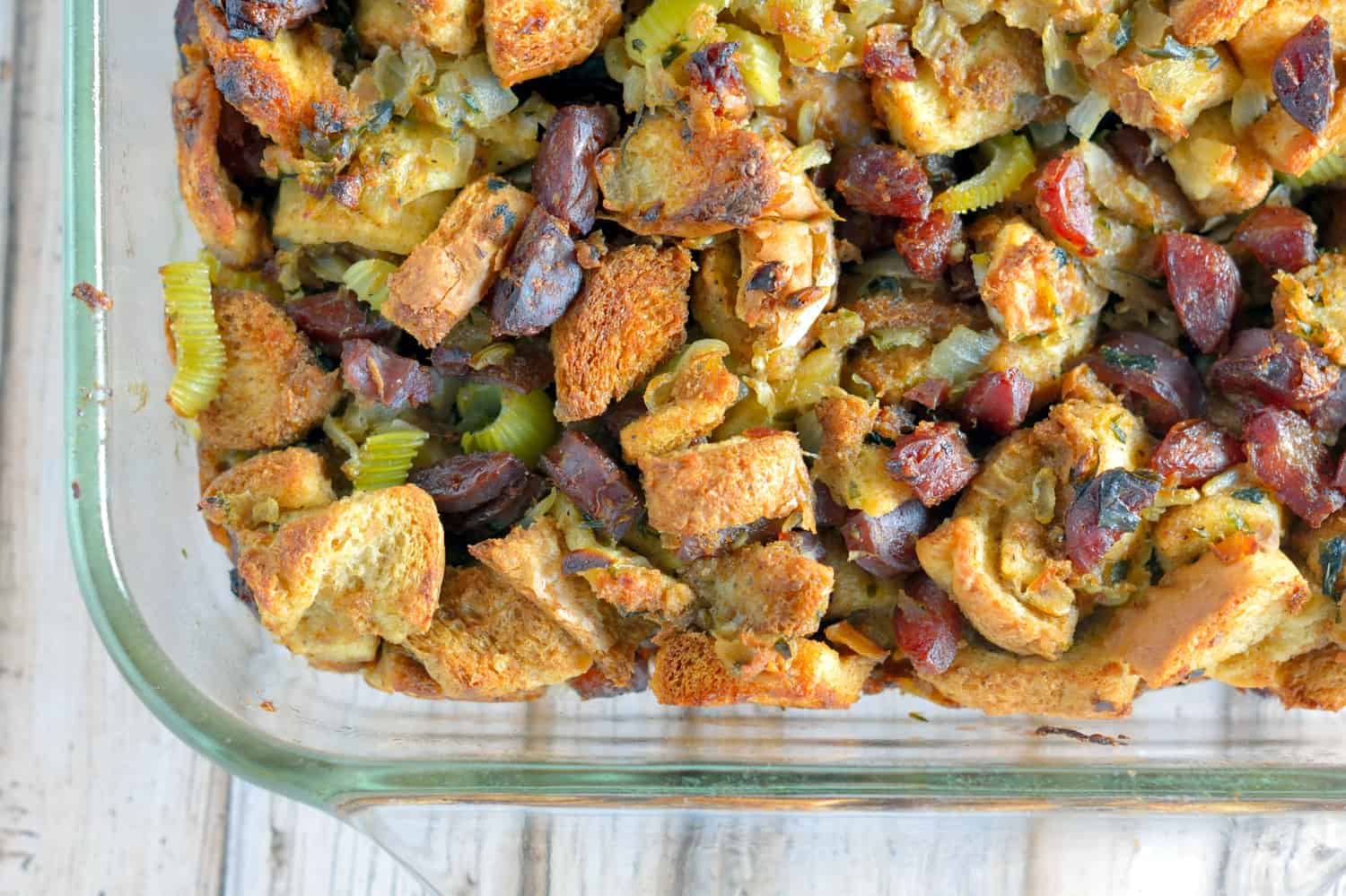 If I was going to do it, I needed to do it right. I've only ever made one stuffing that I enjoyed and I liked it sweet and crispy.  I wanted to use an ingredient that hadn't already been over done, so I used my husband's most recent obsession: Chinese Sausage. Have you ever had it? At first glance, it is a striking blood red color. Depending on how it is packaged (fresh at the gourmet grocery store or dehydrated
at the Asian market) it can also look like thick jerky strips, but it always comes with that vibrant color.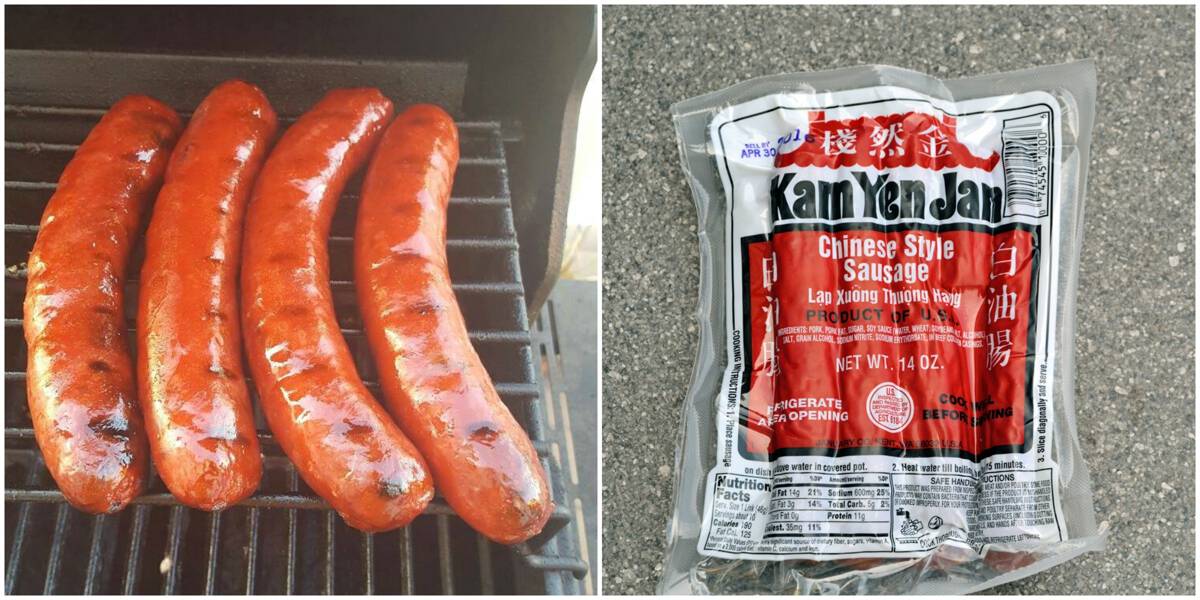 If you haven't had it, it is sweet. The blend of sugar and Asian spices gives it a unique flavor that you'll see not only in pork fried rice, but dim sum, stir fry and other Asian cuisine. After having some on the grill one night, I decided it would also be perfect for a Thanksgiving stuffing, blending the savory and sweet right on together. Next time, I think I might even a diced apple to the mix. The top of Chinese Sausage Stuffing is crispy, with the base being a little bit more moist, so it pleases both your variety of diners. Please enjoy my Chinese Sausage Stuffing!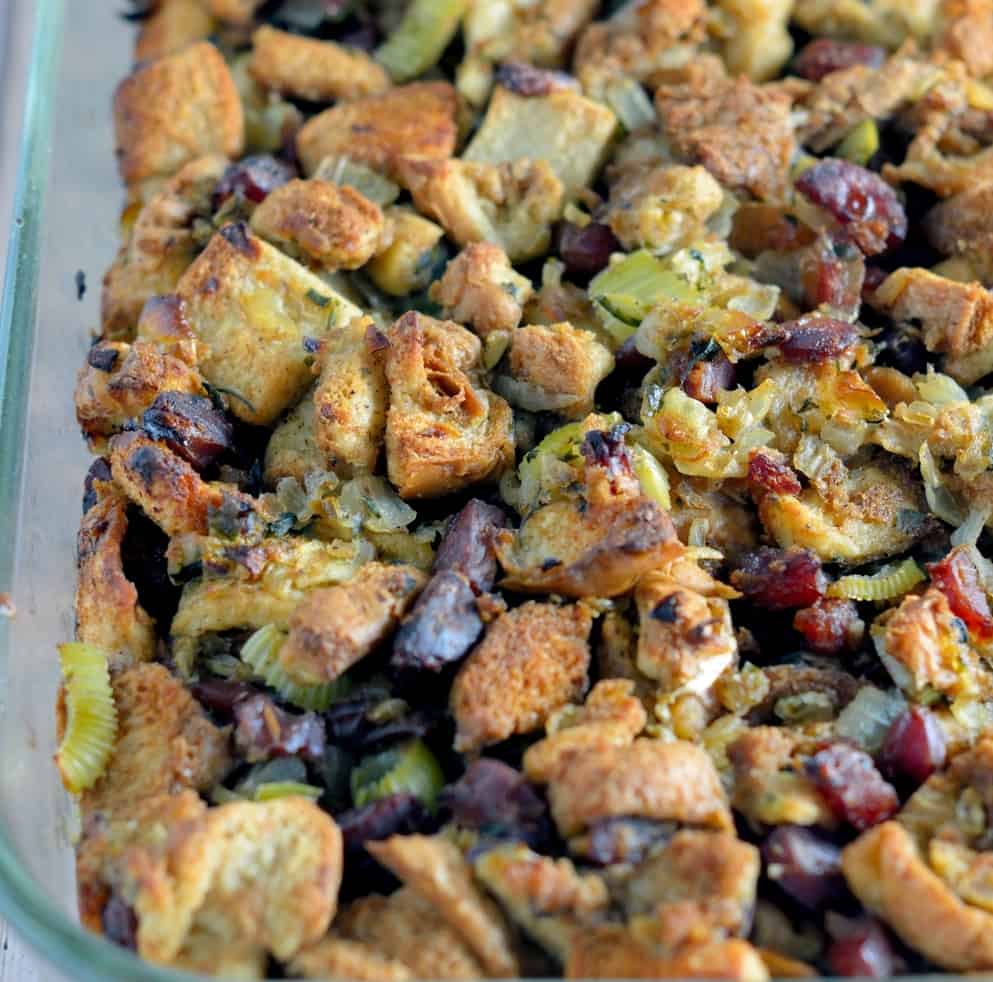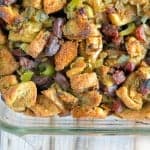 Chinese Sausage Dressing
Chinese Sausage Stuffing Recipe is a unique blend of sweet and savory, the perfect holiday side dish for any turkey recipe.
Ingredients
1

loaf white bread

cut into 1-inch cubes

2

cups

Chinese sausage

cooked and chopped, see notes

2

small yellow onions

chopped

1

cup

celery

thinly sliced

4

cloves

garlic

finely chopped

1/4

cup

flat leaf parsley

chopped

1

teaspoon

Chinese five spice powder*

1

teaspoon

fine sea salt

1/2

ground black pepper

1

cup

vegetable stock
Instructions
Preheat oven to 350 degrees. Spread bread cubes on baking sheet. Bake for 7 minutes, turn and bake until brown and crispy, approximately 3-4 more minutes. Remove and allow to cool.

In a large mixing bowl, combine Chinese sausage through black pepper. Add dried bread and toss to combine. Pour vegetable stock over mixture. Bread should be slightly moist. If it isn't, add an additional 1/2 cup vegetable stock.

Spray a 9x13 baking dish with cooking spray, spread evenly into the dish.

Bake for 30-35 minutes or until top is crispy. Enjoy your Chinese Sausage Stuffing!
Recipe Notes
Chinese Sausage stuffing can be found fresh or dehydrated. Follow package directions and cooking fully before chopping and using in this recipe.
Other variations include using other types of pork, tofu or chicken sausage and adding one diced apple.
Make sure you check out my other holiday treats to complete you meal! Make sure you check out my Thanksgiving Pinterest Board for even more ideas!
Red Wine Gravy | Easy Dinner Rolls | Fried Turkey | Pumpkin Cheesecake | The BEST Apple Pie | Orange, Anise and Thyme Turkey
Cast Iron Sweet Potatoes with Honey and Cinnamon | Mascarpone Mashed Potatoes | How to (Safely) Fry a Turkey  | Cranberry Relish |
Green Beans with Mascarpone Cream Sauce | Cheese Chile Cornbread Casserole | Pumpkin Cheesecake | Chinese Sausage Stuffing  | Garlic Butter Brussels Sprouts