We all know that eating stuffing for Thanksgiving is a bit of a tradition but who says you have to make an everyday, basic stuffing recipe? These stuffing muffins are my fun twist on stuffing and I think you'll love them too!
These Bacon Wrapped Stuffing Muffins are a delicious new way to serve stuffing for Thanksgiving dinner. Made with boxed stuffing and a few extra ingredients.
Thanksgiving Dinner
I can't believe it's already time to start thinking about what to make for Thanksgiving dinner. Where has this year gone?! It's completely flown by!
I think most of us have staples that get prepared for every Thanksgiving dinner. Turkey, mashed potatoes, cranberry sauce, gravy, stuffing, a casserole or two…
Honestly, I think most traditional Thanksgiving food is pretty boring, which is why I decided to experiment with one of my favorite dishes – stuffing.
Every family has a stuffing recipe they swear by. Personally, I like to keep things simple by using a box stuffing mix and added in some extra veggies and flavors.
Stuffing Muffins
For these Bacon Wrapped Stuffing Muffins, I decided to stick with the box stuffing mix to keep it even easier.
No need to make things complicated, especially on a day as busy as Thanksgiving. And then you can use whatever variety you choose: cornbread, savory herb (my favorite) or traditional.
Using chicken or vegetable stock instead of water just infuses even more flavor so you don't have to add any additional ingredient, herbs or spices.
However, as you can see, I still like to hide a few veggies in there.
They take about 5 minutes longer to prepare than a traditional stuffing for Thanksgiving but I think when the end result is stuffing with bacon, those 5 minutes are worth it!
What I love about these, besides that fact I get to eat stuffing with bacon, is that they're already in individual serving sizes. They fit perfectly on a plate and look way nicer on the dinner table than a big bowl of stuffing.
I know everyone is going to end up eating more than one – there's a reason this is my best stuffing recipe – but at least when I serve them, they look good.
How to Brine a Turkey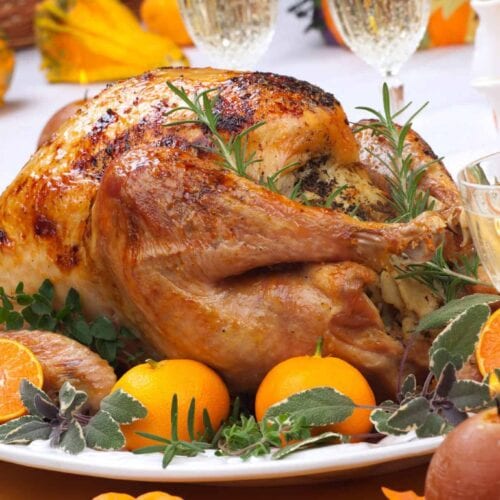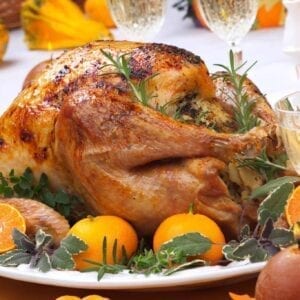 The best turkey brine recipe and step-by-step instructions for how to brine a turkey for roasting or frying.
Classic Green Bean Casserole
A classic green bean casserole doesn't get much better than this Green Bean Casserole recipe! Perfect for Thanksgiving!
The Best Apple Pie
The Best Apple Pie Recipe is an all-American dessert recipe that pairs tart apples with the perfect amount of sugar and spice.
Tools for making Stuffing Bites:
Measuring Utensils– While I like to eyeball it, most folks prefer to measure. Suit yourself 🙂
Mixing Bowls– make sure to check out my article on Using the Right Mixing Bowl, you'd be surprised how many people aren't!
Muffin Tins– I like to have 2 so I can bake all of my cupcakes at the same time. They are great for so much more than cupcakes, too!
Questions you might have about how to make stuffing muffins:
Do I have to use the bacon wrapping? Nope! You can simply put the stuffing mix directly into the muffin tins, but make sure you've adequately greased the pan.
Can I put chopped bacon in the mix? Yes! You can put chopped bacon into the stuffing mix and ditch the bacon wrapping or do both. Double bacon!
Can I use my homemade stuffing recipe? Sure! Use whatever recipe you want!
Can I freeze stuffing muffins? You can! Cook them and place them in an airtight plastic bag. Get all the air out and freeze for up to 6 months.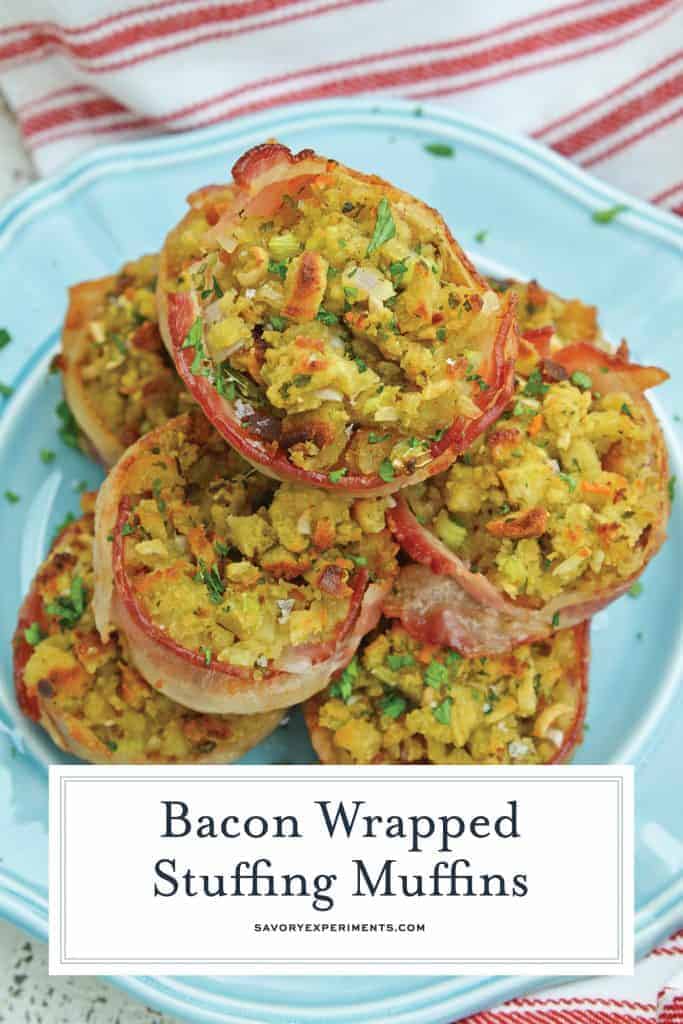 Bacon Wrapped Stuffing Muffins
Bacon Wrapped Stuffing Muffins will become your favorite stuffing for Thanksgiving recipe. Who doesn't love stuffing with bacon?!

Instructions
Preheat oven to 350 degrees.

Coat 12 well muffin tin with cooking spray.

Line the outside of each muffin tin with a strip of bacon.

Heat chicken broth in a microwave safe bowl or measuring cup for 60 seconds.

In a large mixing bowl, combine stuffing mix, carrot, celery, red onion, melted butter and heated chicken stock. Toss until all liquid has been absorbed by stuffing mix.

Evenly divide stuffing mix to all 12 muffin wells.

Bake for 20 minutes or until bacon is crispy and tops are lightly browned.

Remove and allow to sit for 5 minutes before removing, garnishing with minced parsley.

If you've tried this recipe, come back and let us know how it was!
Nutrition
Calories:
184
kcal
|
Carbohydrates:
12
g
|
Protein:
5
g
|
Fat:
12
g
|
Saturated Fat:
4
g
|
Cholesterol:
23
mg
|
Sodium:
415
mg
|
Potassium:
121
mg
|
Sugar:
1
g
|
Vitamin A:
520
IU
|
Vitamin C:
0.2
mg
|
Calcium:
17
mg
|
Iron:
0.7
mg