We all know that eating stuffing for Thanksgiving is a bit of a tradition but who says you have to make an everyday, basic stuffing recipe? These stuffing muffins are my fun twist on stuffing and I think you'll love them too!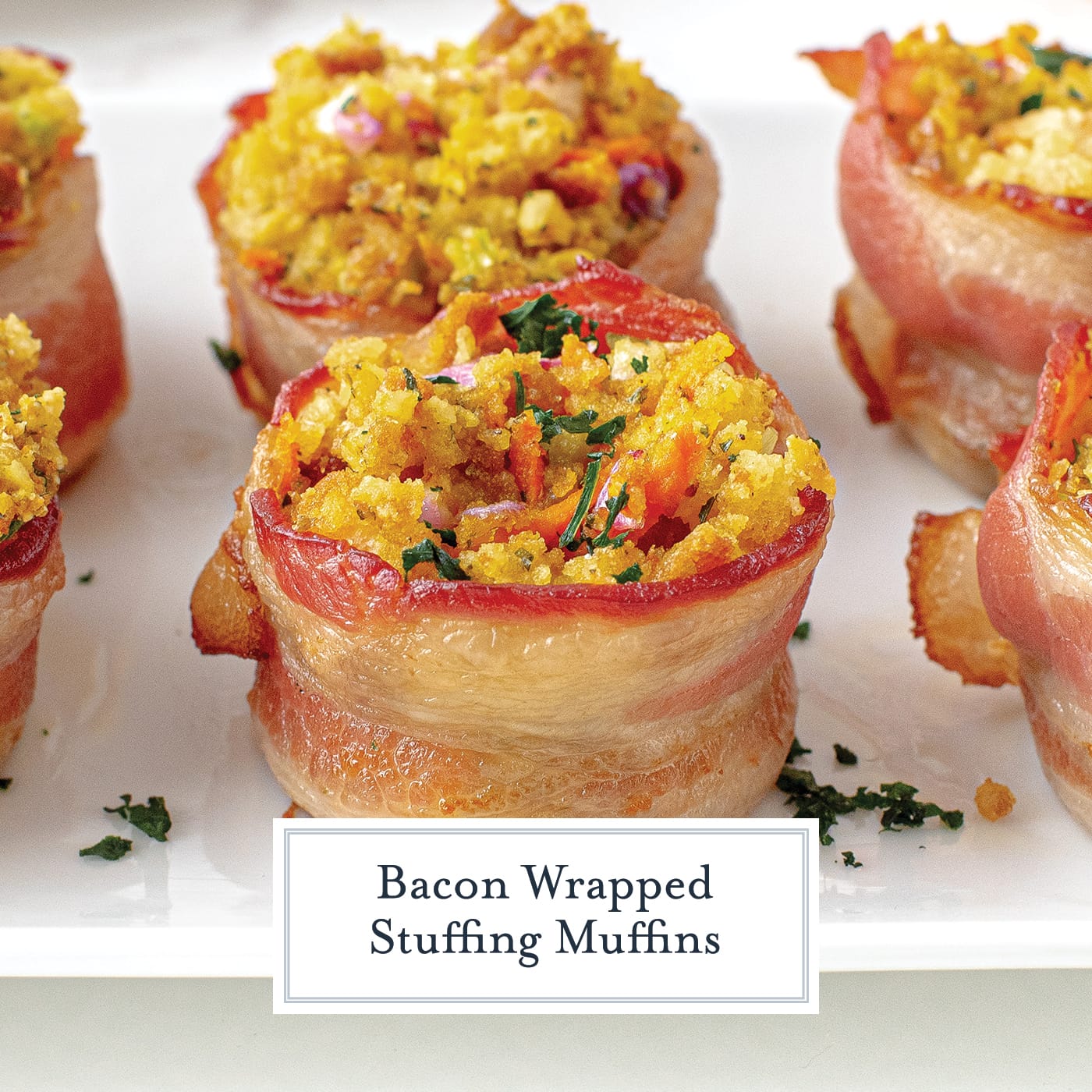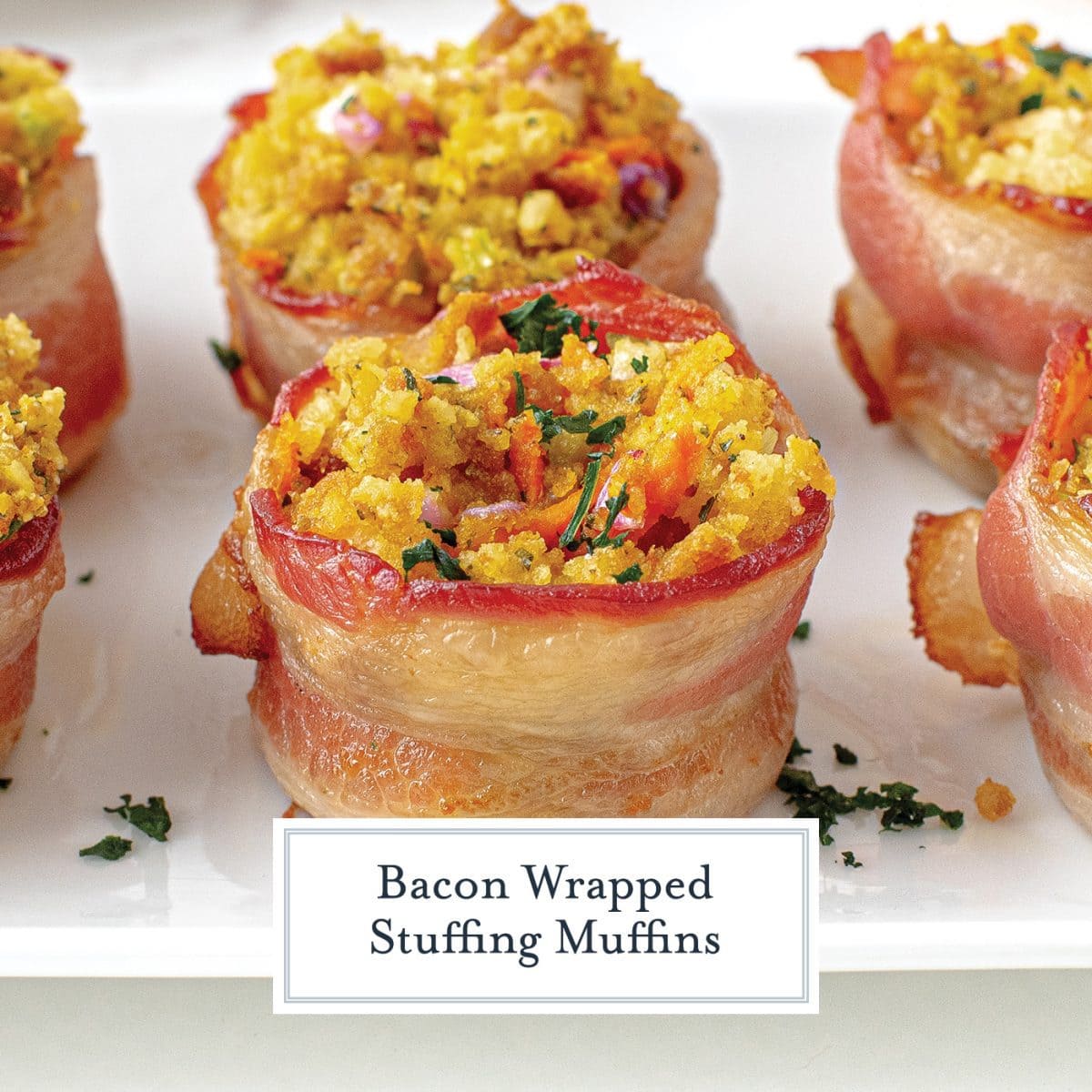 These Bacon Wrapped Stuffing Muffins are a delicious new way to serve stuffing for Thanksgiving dinner. Made with boxed stuffing and a few extra ingredients, they are also super easy.
Thanksgiving Dinner
I can't believe it's already time to start thinking about what to make for Thanksgiving. Where has this year gone?! It's completely flown by!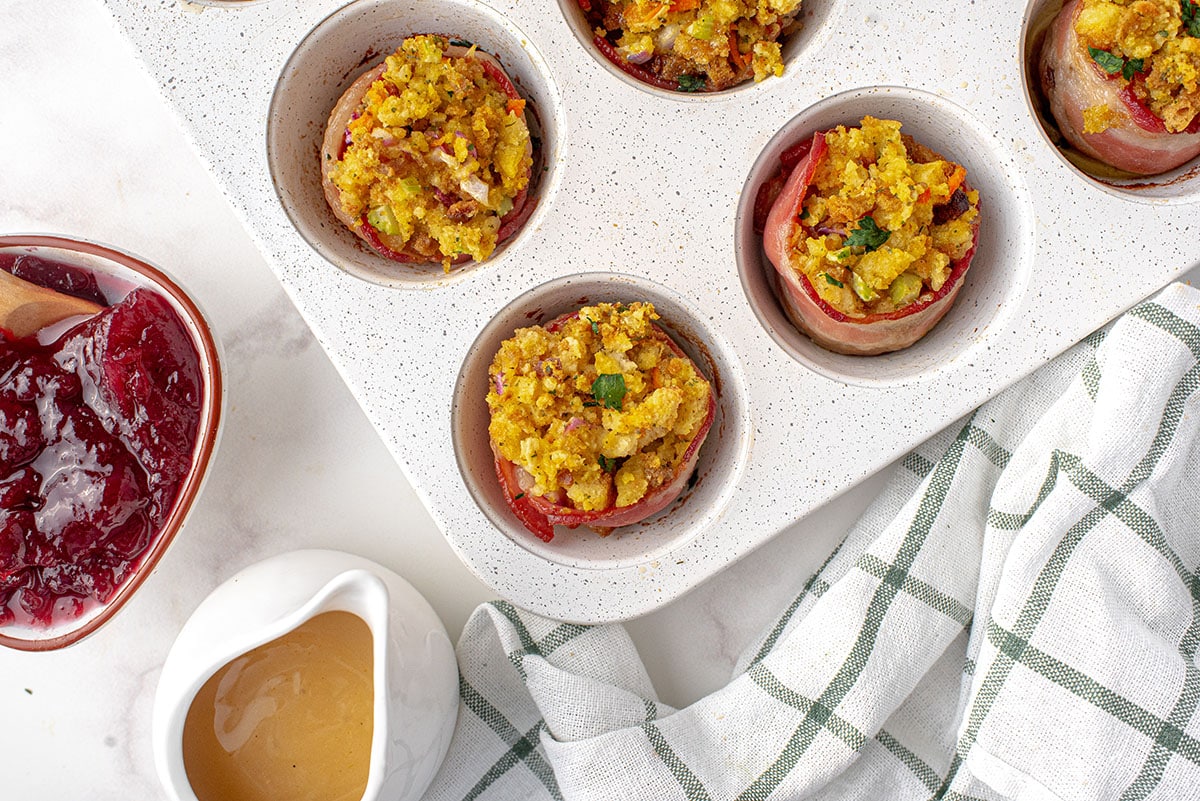 I think most of us have staples that get prepared for every Thanksgiving dinner. Turkey, mashed potatoes, cranberry sauce, gravy, stuffing, a casserole or two…
Honestly, I think most traditional Thanksgiving food is pretty boring, which is why I decided to experiment with one of my favorite dishes – stuffing. And bacon… because bacon makes everything better.
Stuffing Muffins
Every family has a stuffing recipe they swear by. Personally, I like to keep things simple by using a box stuffing mix and added in some extra veggies and flavors. I need to cut some corners when everything else is being made from scratch. I want to enjoy the day too.
You don't need a skillet, or a saucepan or even a casserole dish. Just a muffin tin, a mixing bowl, oven and microwave. Just tender centers with crispy tops, the perfect combo.
So grab a box mix and amp it up!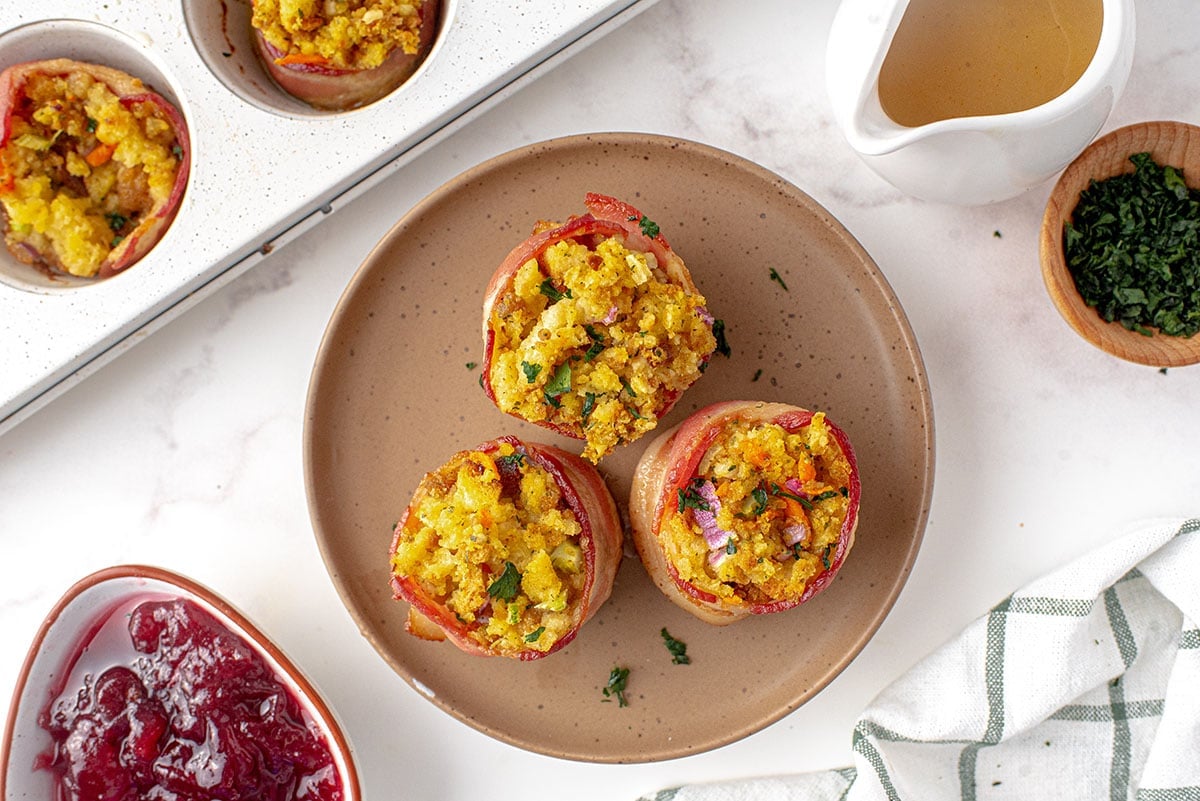 What You'll Need
This easy recipe uses common ingredients used during the holidays. Here is what you'll need:
Bacon– Do not use an thick cut bacon for this one. In order both the stuffing mix and the bacon to cook at the same rate, use a regular cut bacon. Rendered bacon fat will also help to season the stuffing cups.
Dry Stuffing Mix– Pick whatever flavor floats your boat: cornbread, sage, savory herb.
Carrots, celery and red onion– You can use less veggies, but try not to use much more. The liquid and total volume will be a little off and you'll have soggy muffins.
Unsalted butter- Please use an unsalted butter, this allows you to control the salt. This recipe uses bacon, stuffing mix and stock, which are all inherently salty. The only one you have control over is the butter.
Stock- Chicken stock is the most common, but vegetable broth can be used too. If you don't have either, water is fine too.
Flat leaf parsley– Optional, but makes them look pretty!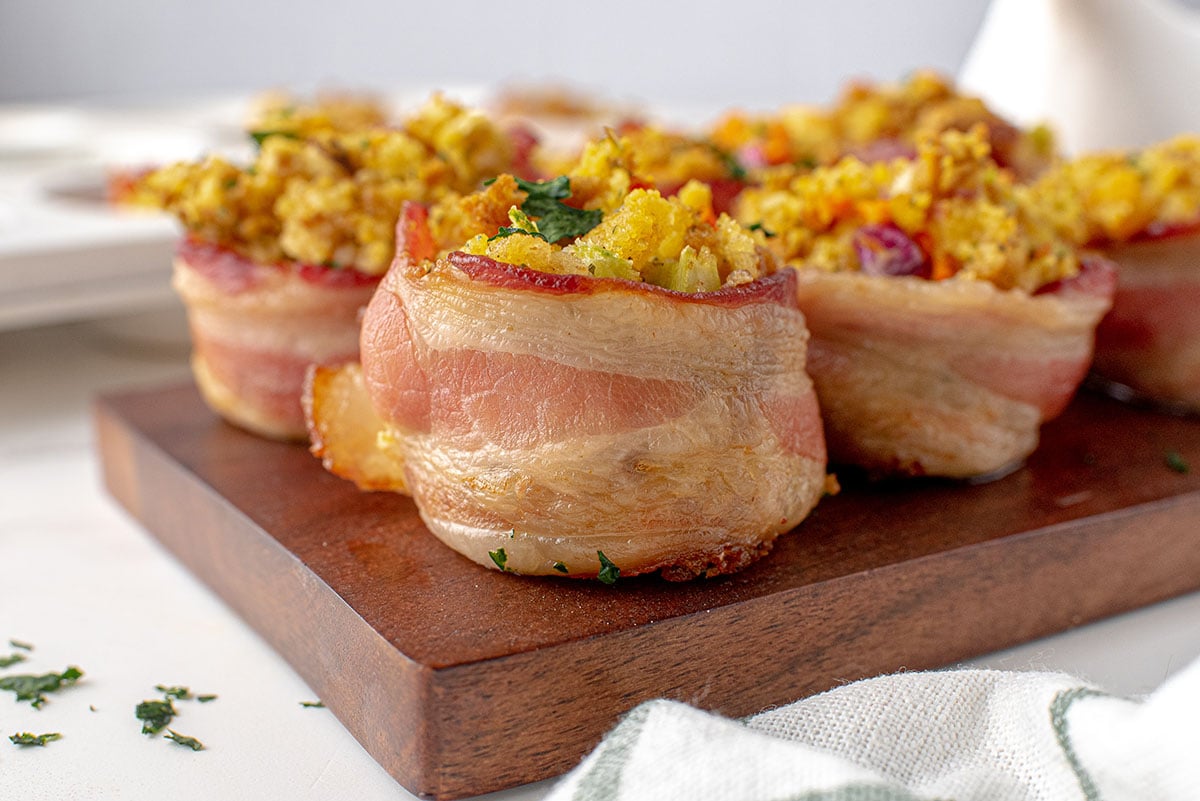 Bacon wrapping can be optional, but adds a lot of flavor. Another option would be to add chopped bacon to the stuffing mix. It can be omitted altogether, but then you'll need to coat the tins with cooking spray or a light coating of olive oil.
More seasoning like poultry seasoning, black pepper or even freshly chopped herbs, can also be added to customize the whole batch or individual portions.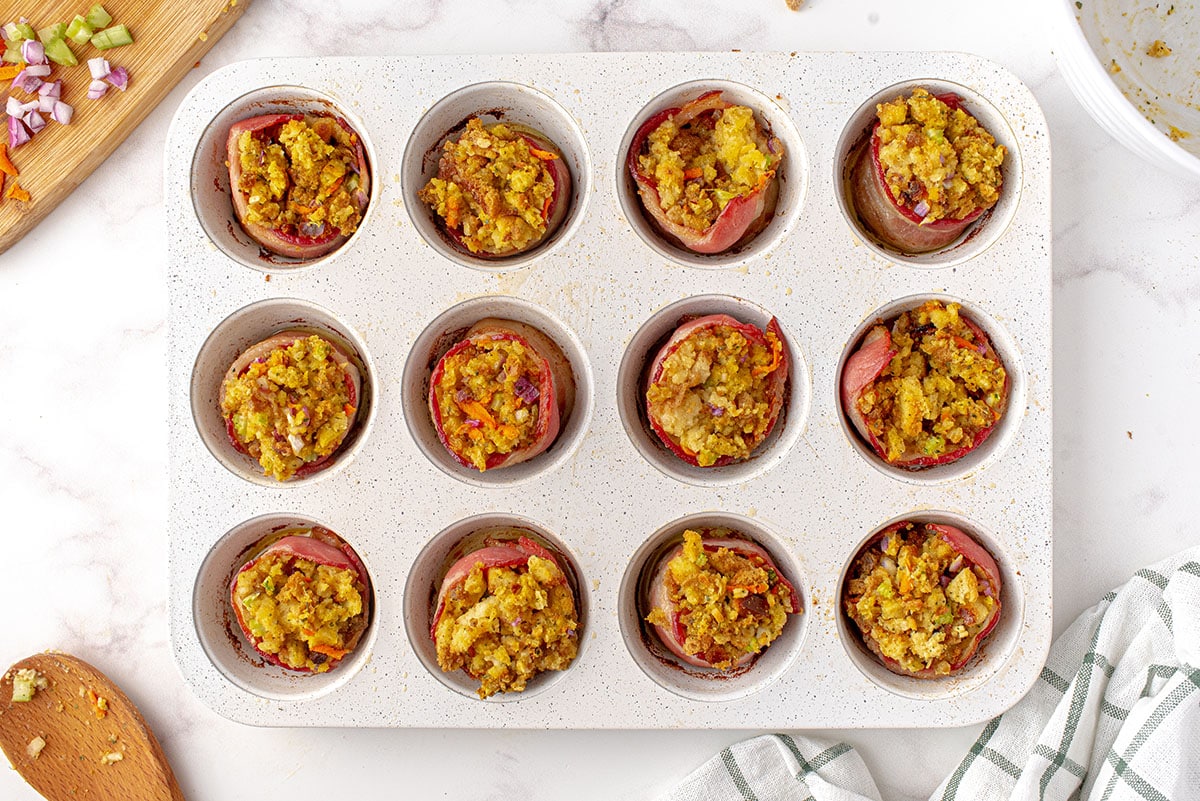 How to Make Them
Line the outside of each muffin pan well with a strip of bacon and set it aside while you make the stuffing.
Heat chicken broth in a microwave safe bowl or measuring cup for 60 seconds, it needs to be warm, but not super hot. Also melt butter.
In a large bowl, combine the bread cubes (and any seasonings in the box), veggies, butter and stock. Toss until all liquid has been absorbed by stuffing mix. Depending on the brand, you can add more liquid by 1-2 tablespoons. It should be a little damp, but not dry or soaked.
Press the stuffing mixture into bacon wrapped muffin tins and bake until the tops are golden brown and a little crispy.
Allow to cool for at least 5 minutes and then garnish with parsley, if desired. If any stick to the sides, loosen with a butter knife.
I will tell you now, make a double batch. These individual servings look cute and you'll only take one, but you will go back for seconds. Plan for at least 2 per person, if not more.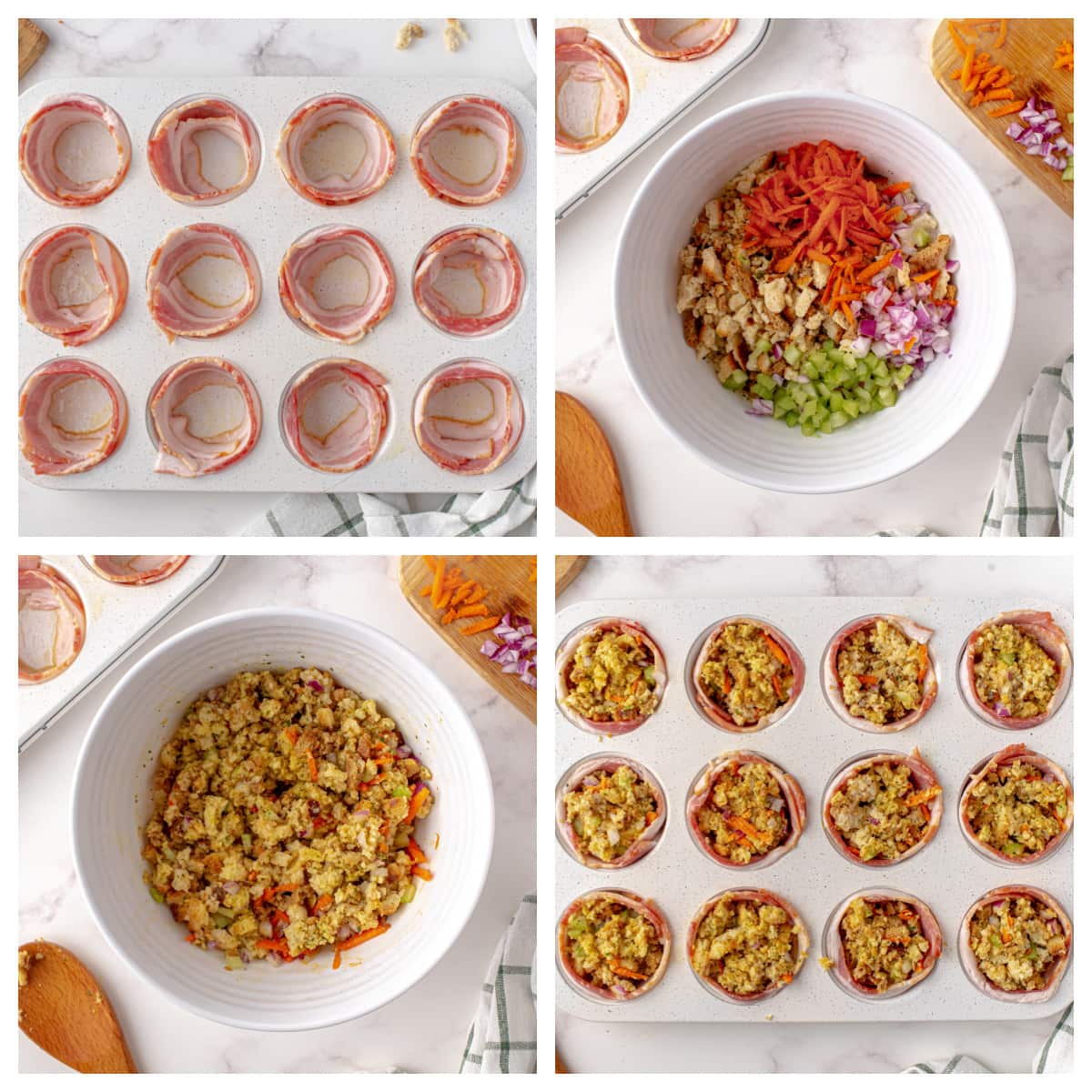 Storage & Freezing
In addition to being easy and tasty, these are also super easy to make ahead of time and freeze. Who doesn't want leftover stuffing muffins?
Store them in an airtight container or a plastic bag for up to 5 days. To reheat, heat in the oven preheated to 300°F for 4-5 minutes or until crunchy on top.
For freezing, place an airtight bag, getting out as much air as possible, and freeze for 6 months. To reheat, place in the oven while still frozen at 350°F for 9-10 minutes or until crunchy.
We do not recommend microwaving to reheat.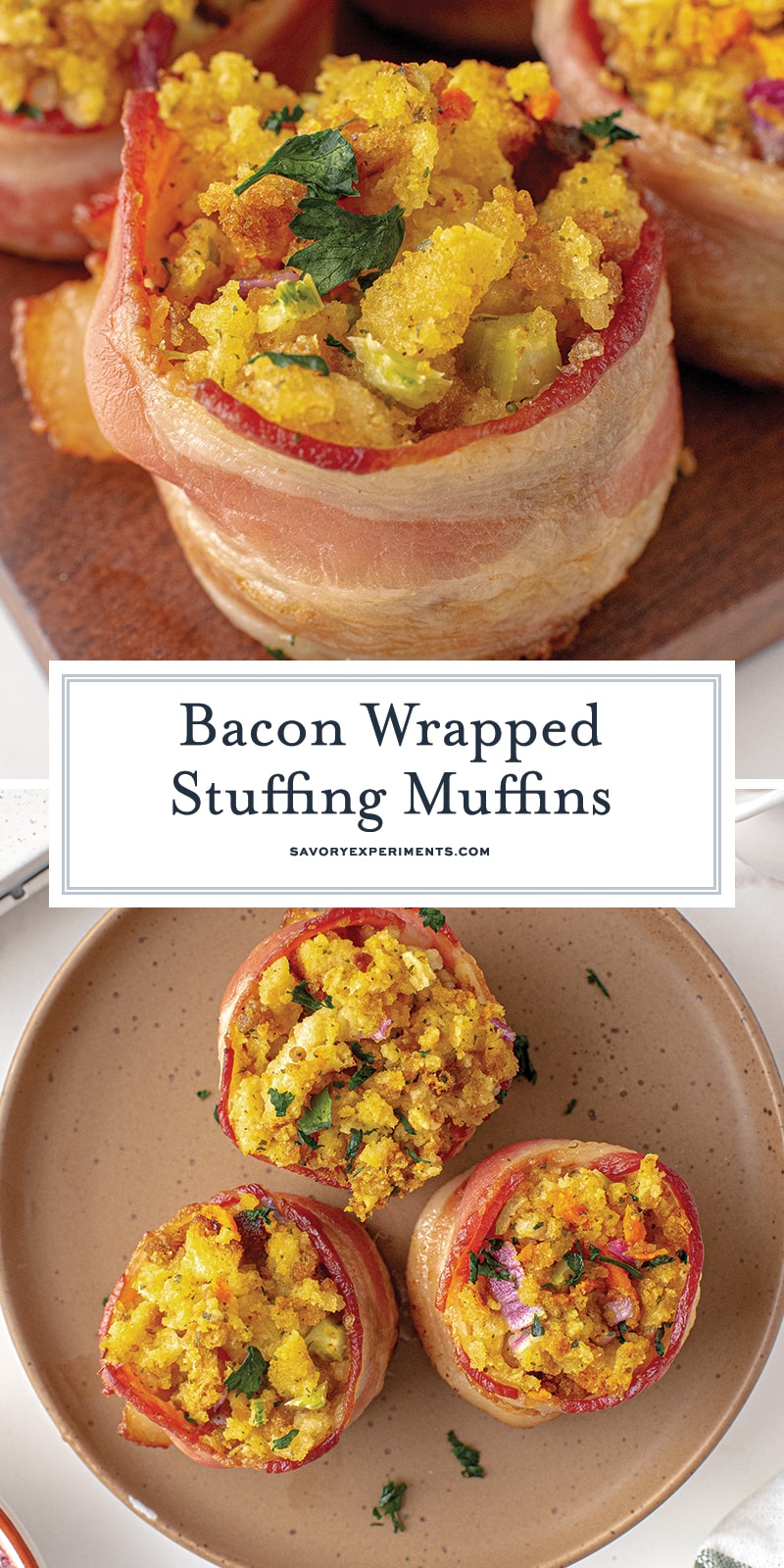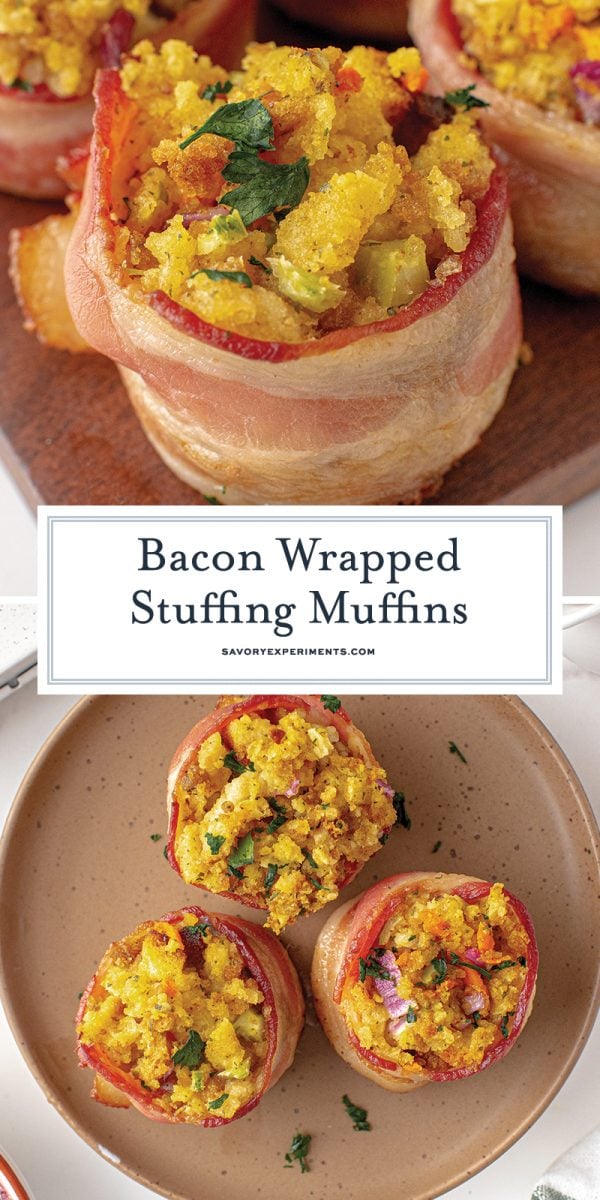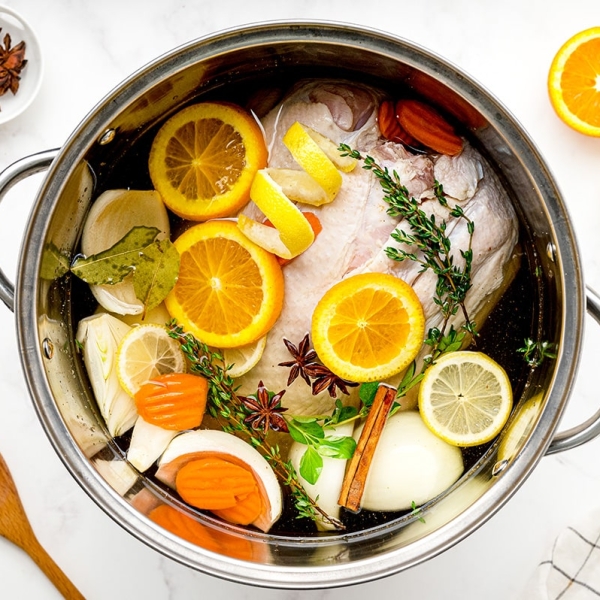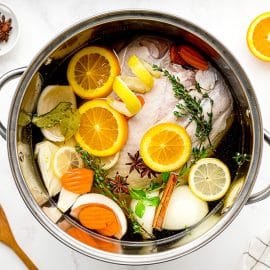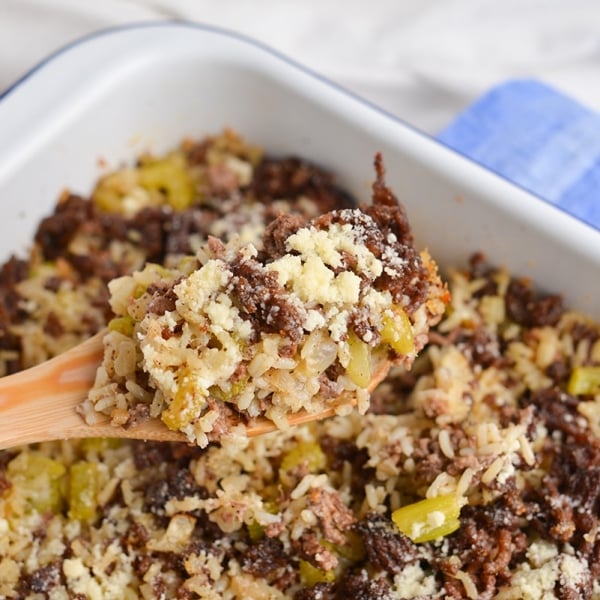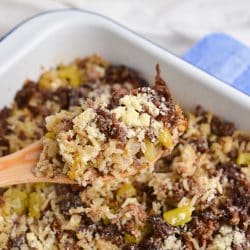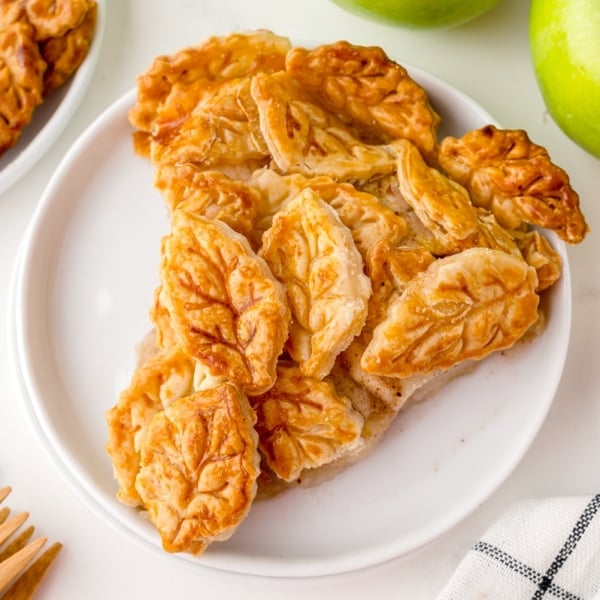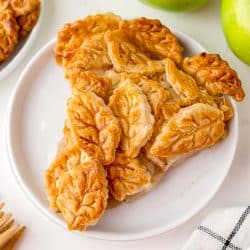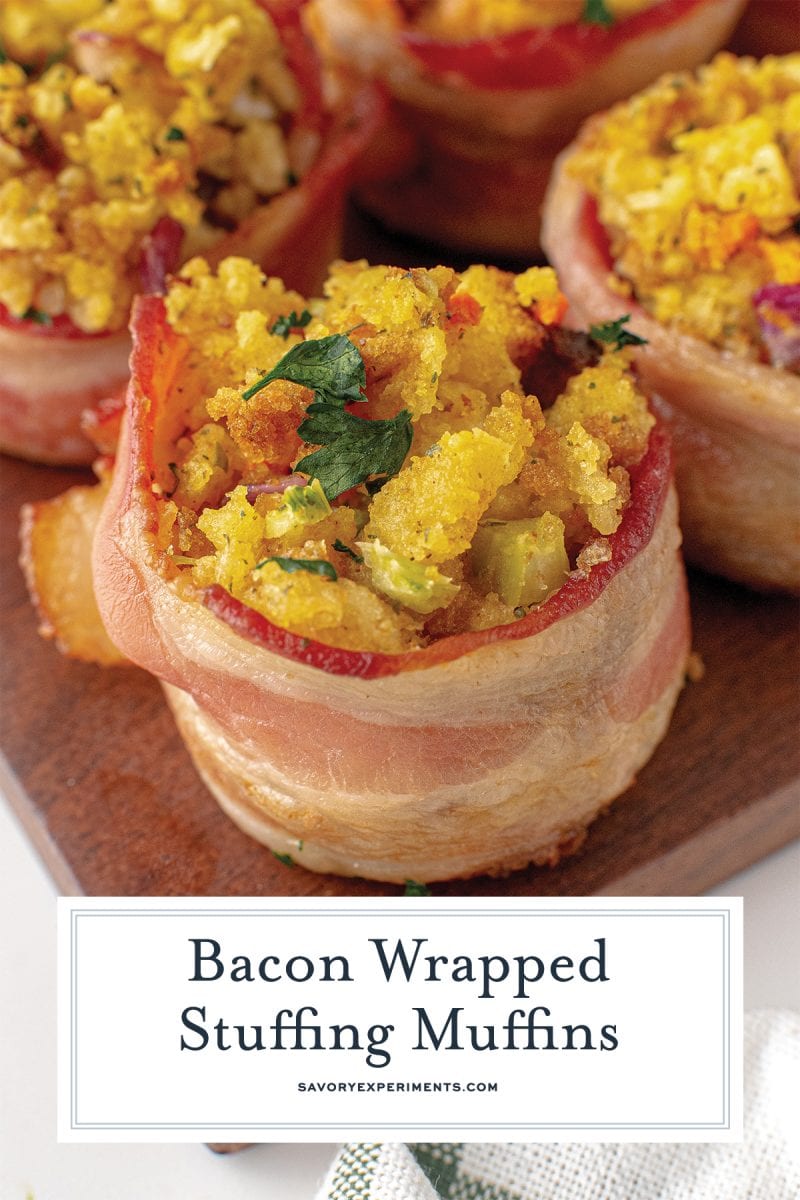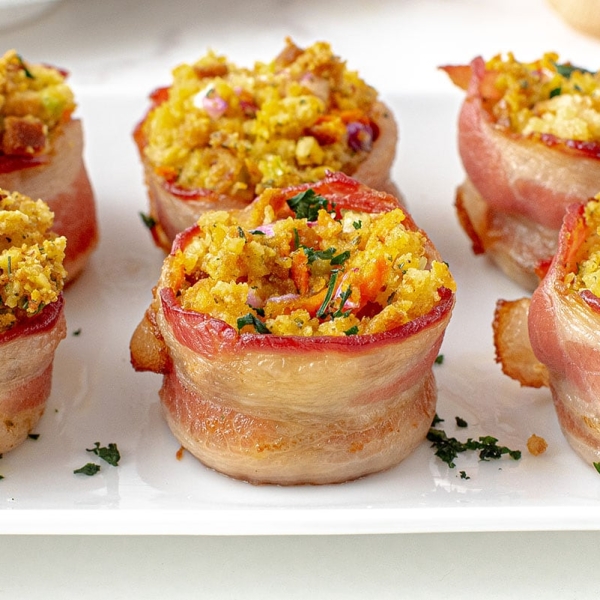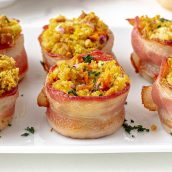 Bacon Wrapped Stuffing Muffins
Bacon Wrapped Stuffing Muffins will become your favorite stuffing for Thanksgiving recipe. Who doesn't love stuffing with bacon?!

Instructions
Preheat oven to 350°F and coat 12 well muffin tin with cooking spray.

Line the outside of each muffin tin with a strip of bacon.

Heat the chicken broth in a microwave safe bowl or measuring cup for 60 seconds.

In a large mixing bowl, combine the stuffing mix, carrot, celery, red onion, melted butter and heated chicken stock. Toss until all liquid has been absorbed by the bread cubes.

Evenly divide the stuffing mixture to all 12 muffin wells.

Bake for 20 minutes or until bacon is crispy and tops are lightly browned.

Remove and allow to sit for 5 minutes before removing, garnishing with minced parsley.

If you've tried this recipe, come back and let us know how it was in the comments or ratings!
Nutrition
Calories:
184
kcal
,
Carbohydrates:
12
g
,
Protein:
5
g
,
Fat:
12
g
,
Saturated Fat:
4
g
,
Cholesterol:
23
mg
,
Sodium:
415
mg
,
Potassium:
121
mg
,
Sugar:
1
g
,
Vitamin A:
520
IU
,
Vitamin C:
0.2
mg
,
Calcium:
17
mg
,
Iron:
0.7
mg