The holidays are right around the corner. If you are like me, your #1 goal is to produce a juicy roast turkey for your guests.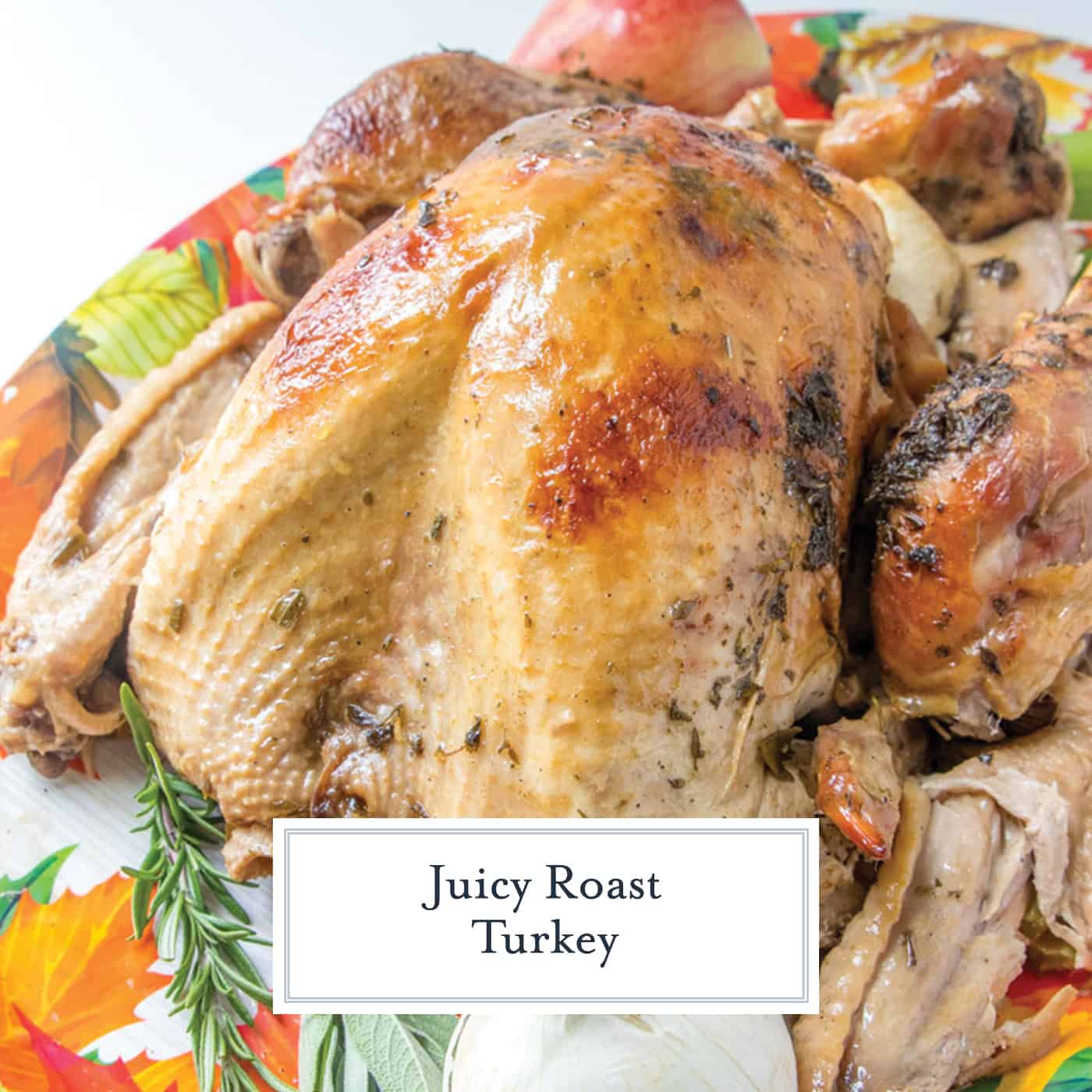 Juicy Turkey Recipes
Whether you making a Thanksgiving turkey or Christmas roast, roasting a turkey usually comes with two problems.
The first being flavor and the second moisture. A juicy, flavorful turkey is everyone's goal, right? And usually the #1 stressor of hosts.
People literally go bonkers with recipes, techniques and tactics to get a perfect bird. But a juicy turkey doesn't have to be difficult. First, let's start with some table talk.
Thanksgiving Turkey
Did you know that the first Thanksgiving feasts, also known as the Harvest celebration, lasted for 3 whole days and usually served venison as the protein? It wasn't until about 300 years ago that the official Thanksgiving turkey was introduced.
Of course the recipe and freshness of the turkey play a part in how juicer your turkey is, but the number one mistake is that the turkey is overcooked. I highly recommend using a digital thermometer in the meatiest part of the thigh to keep a watchful eye on your bird.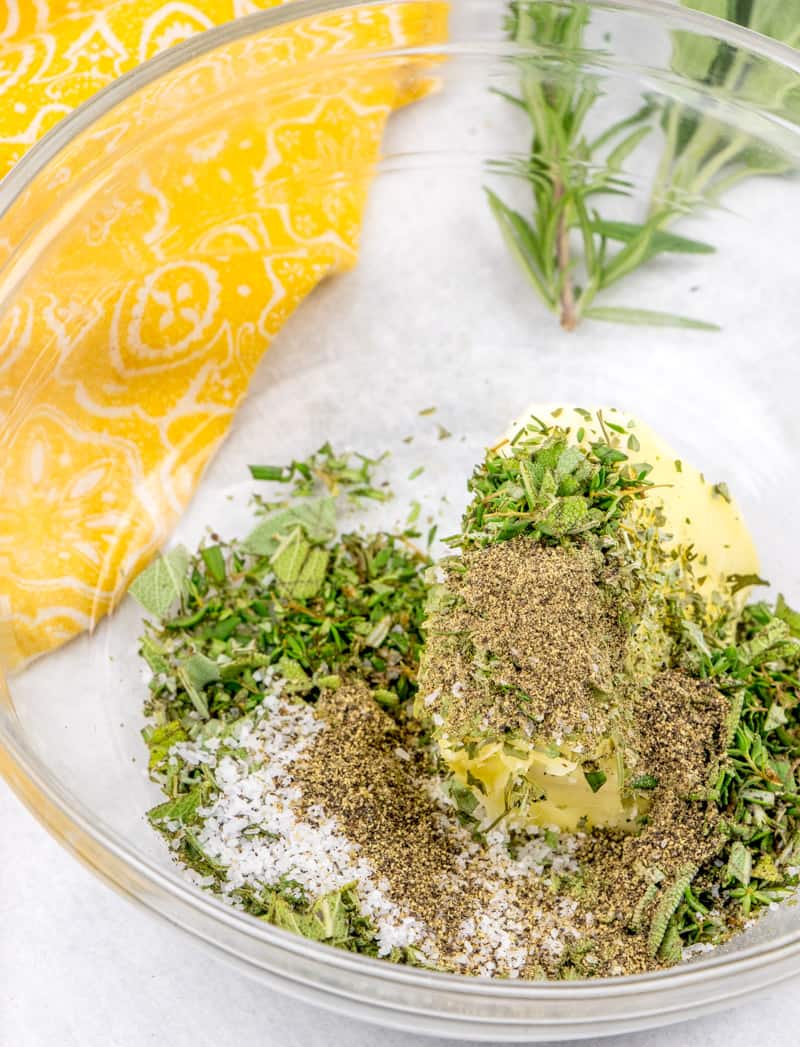 Cooking
A cooked turkey has an internal temperature of 180 degrees. If you are allowing time for the bird to rest, you can actually remove it from the oven when it is a few degrees away from the final temperature.
The resting time will give it a chance to continue to heat. This is called carry over cooking.
Resting is also an important step to prevent a dry turkey. Resting allows the juices to redistribute and absorb back into the meat.
Cutting in immediately prevents this from happening and the precious, flavorful juices you worked so hard for will be all over the cutting board instead.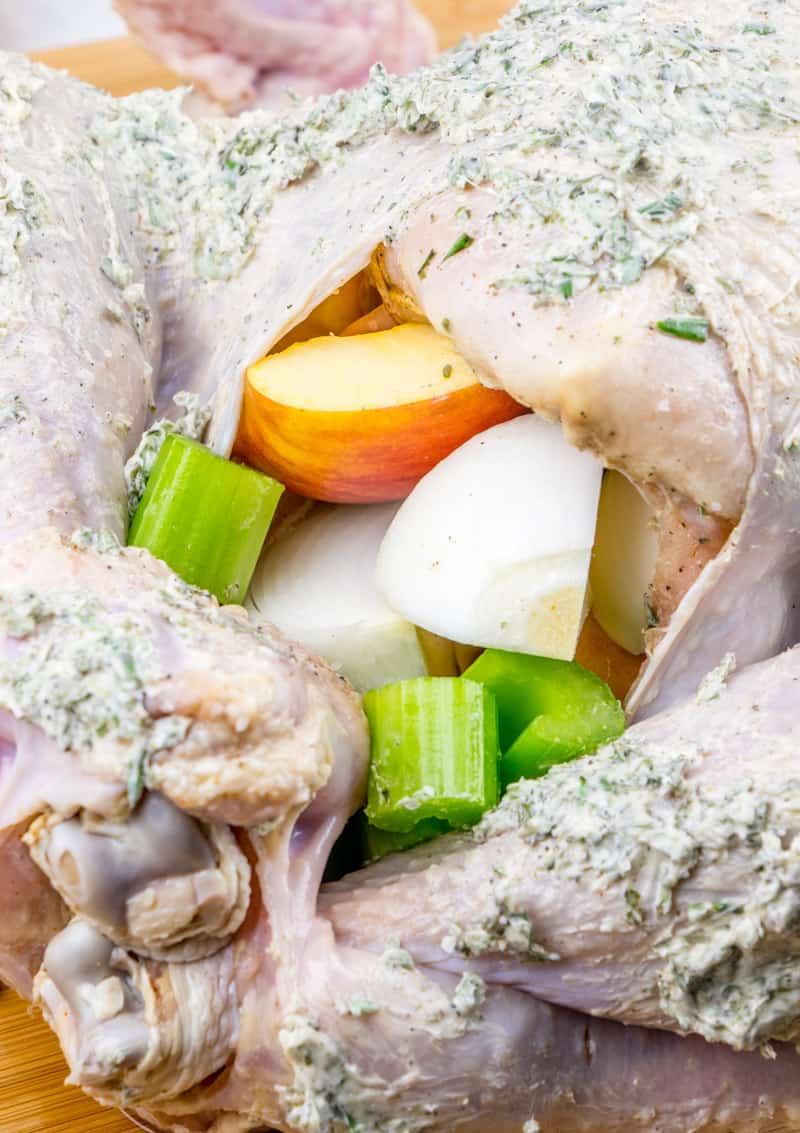 Resting
At the very minimum, allow your turkey to rest for 15 minutes. This is for a small bird, 10 pounds or under. If you are cooking the mother of all turkey, allow for up to 30 minutes. You will worry your meat will get cold, which is understandable.
To prevent the meat getting cold, carefully tent it with aluminum foil to keep it in. After carving, you can put the sliced meat back into the oven for five minutes to bring it back to temperature, however you'd be surprised how well it will hold its heat without being carved.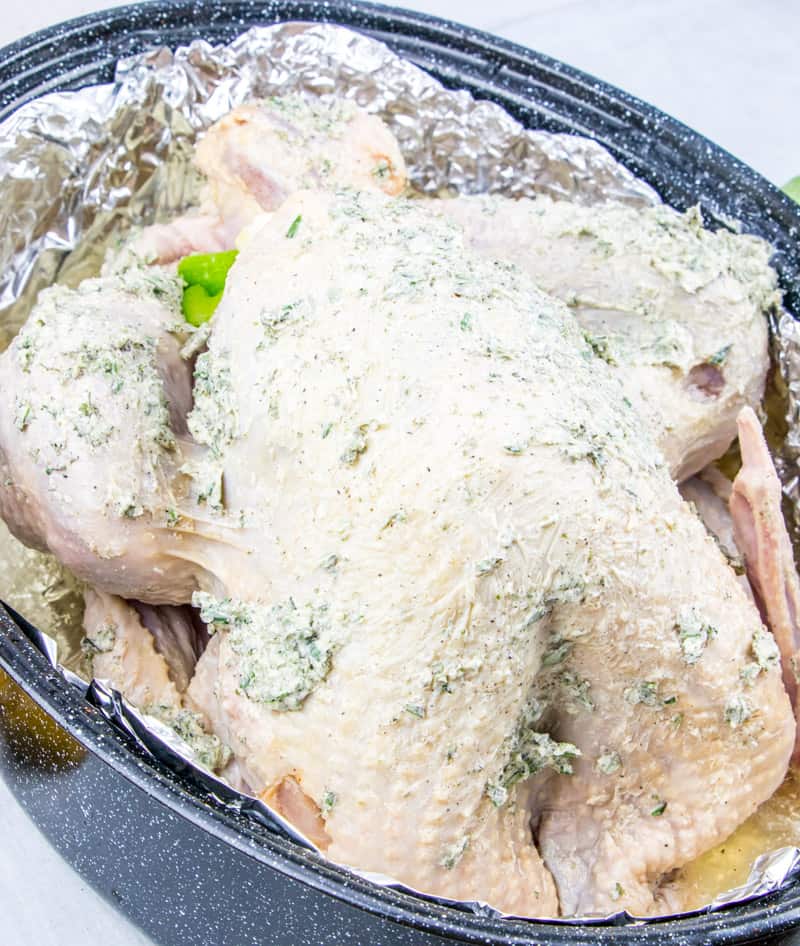 Seasoning
The second mistake it seasoning. You don't want to overseason the turkey, but you also don't want to underseason. Fresh herbs, butter and Kosher salt are your best bet.
Stuffing the turkey with flavorful vegetables and fruits also help seal in flavor. Apples are my favorite, but you can also use oranges or even pears.
Ideally, you want your flavors and seasonings to compliment the turkey, not overpower it.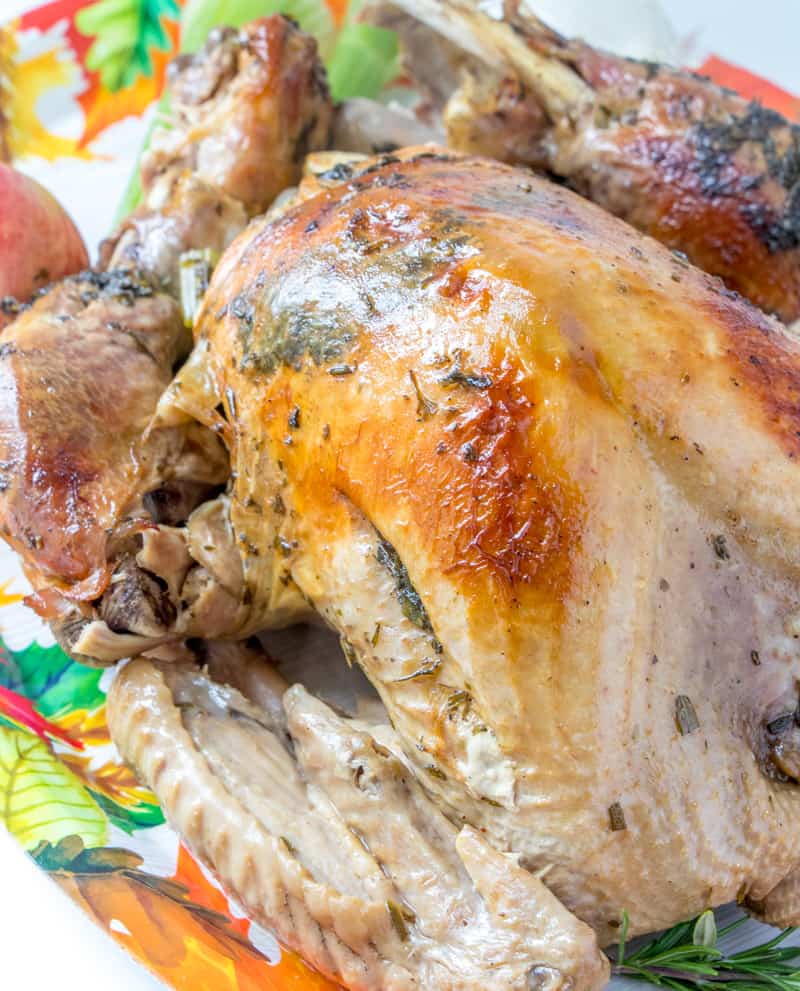 Crispy Skin
Covering the turkey creates a steamer function, preventing the meat from drying out. You are literally steaming your turkey in sparkling wine. Is there anything better?
Sparkling on turkey? YES! Most people don't think about cooking with champagne or a sparkling wine, but it is not unlike cooking with any other type of wine. Or beverage with carbonation, really.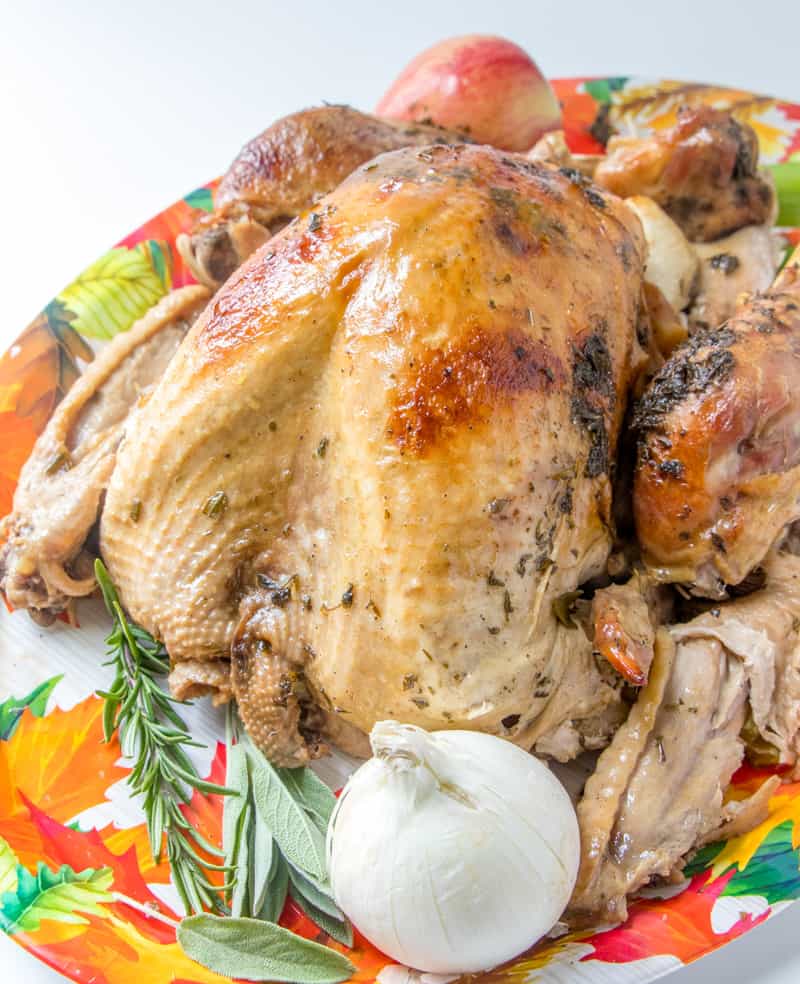 The common term champagne technically only refers to sparkling wines coming from the Champagne region of France and are traditionally dry or "brut".
Chances are the type you are buying isn't actually champagne, but don't worry. For this recipe, you don't want a super dry wine.
In fact, the goal is to impart sweet and floral notes. Aim for an Italian Prosecco or another sweet, cheap sparkling wine and save the good stuff for sipping and cocktails.
If you don't use alcohol in your cooking, substitute with ginger ale.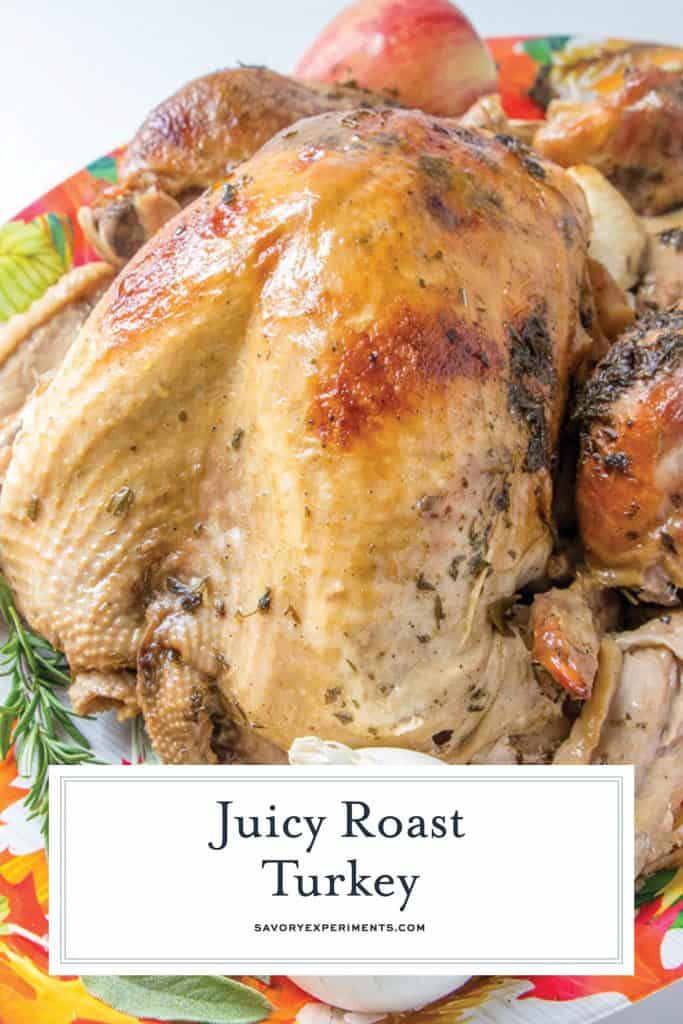 Tips for the perfect juicy roast turkey:
Use a fresh turkey instead of frozen.
Rub herbed butter under the skin.
Tent to steam using a flavorful liquid.
Don't overcook it.
Let the turkey rest before carving.
Classic side dishes: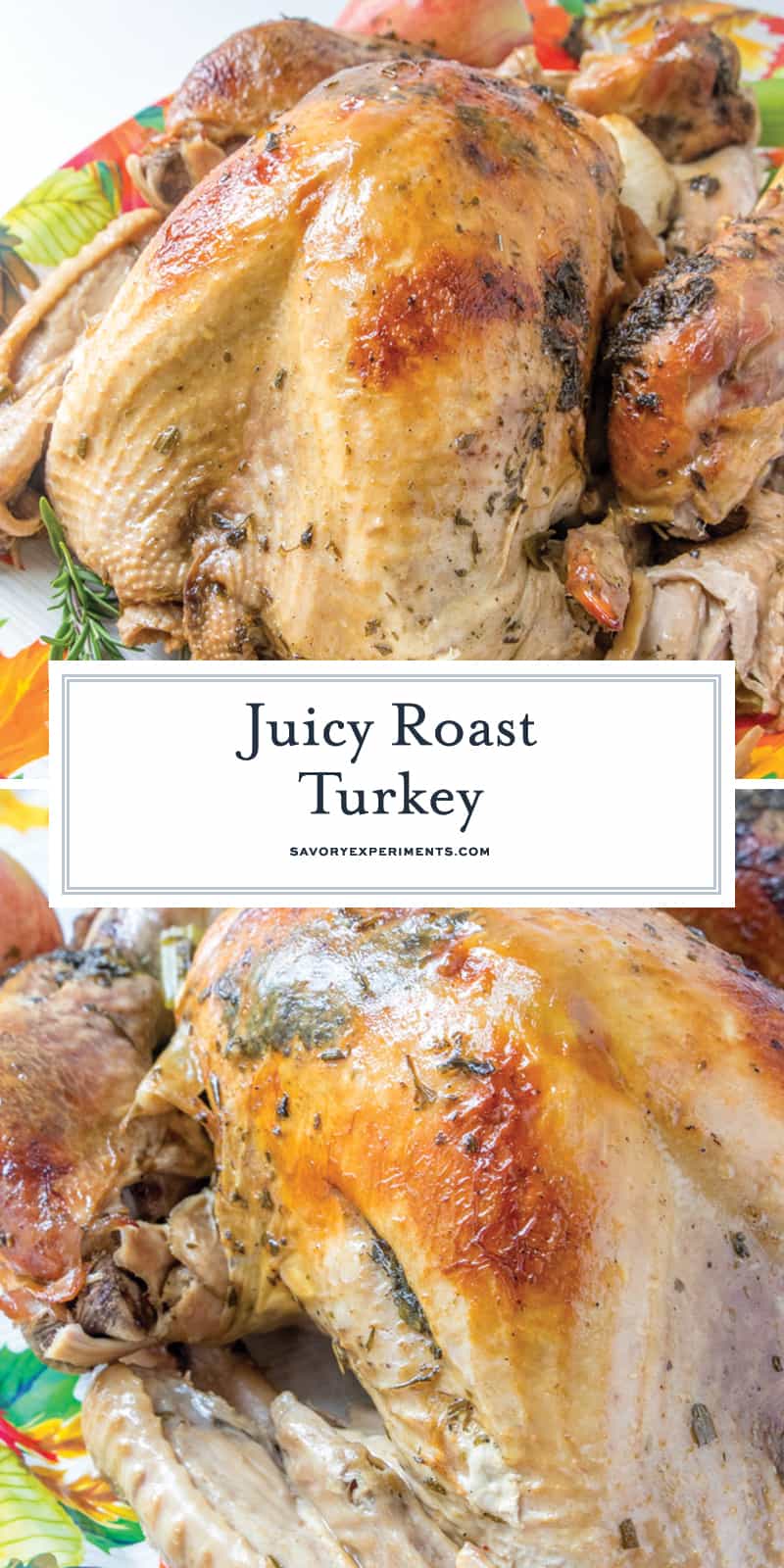 Dos and Don'ts:
Do you cook a turkey breast up or down? This is debatable! If you want super crispy turkey skin, roast with the breast up so the skin has time to dry out.
I would suggest injecting the breast with liquid to prevent the meat from drying out too. If the breasts start to brown too quickly, loosely tent with aluminum foil.
But if you are going for super moist and aren't too picky about browned skin, cook breast side down, allowing gravity to flow the juices downward.
You can also fill the bottom of the pan with water, wine or chicken stock and baste the turkey with it's own drippings through the cooking process.
Do you have a turkey gravy recipe? I sure do and it is an easy one that you can make with or without drippings. Get my Turkey Gravy Recipe here!
How long do I need to cook my turkey based on weight? here is my handy dandy turkey cooking guide!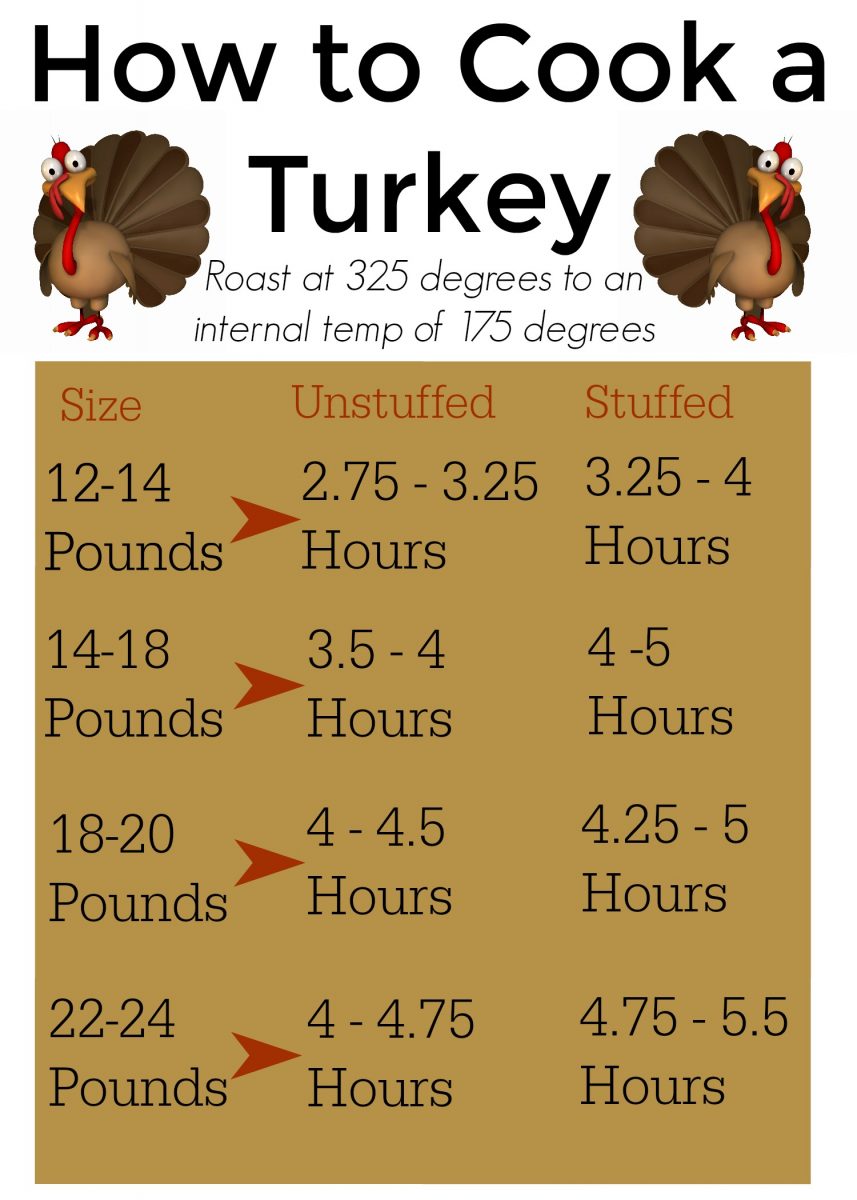 Should I brine this turkey too? Brining is rarely a bad idea, but it also isn't always necessary. If you do choose to brine before making my juicy turkey, here is my award winning turkey brine recipe.
Here are even more turkey recipes if you want to check them out. Remember, there is a million ways to cook the perfect turkey!
CONNECT WITH SAVORY EXPERIMENTS!

Be sure to follow me on social media, so you never miss a post!

Facebook | Twitter | Youtube
Pinterest | Instagram
Get our FREE 8 Day E-Course on How to Be a Better Home Cook. Sign up HERE!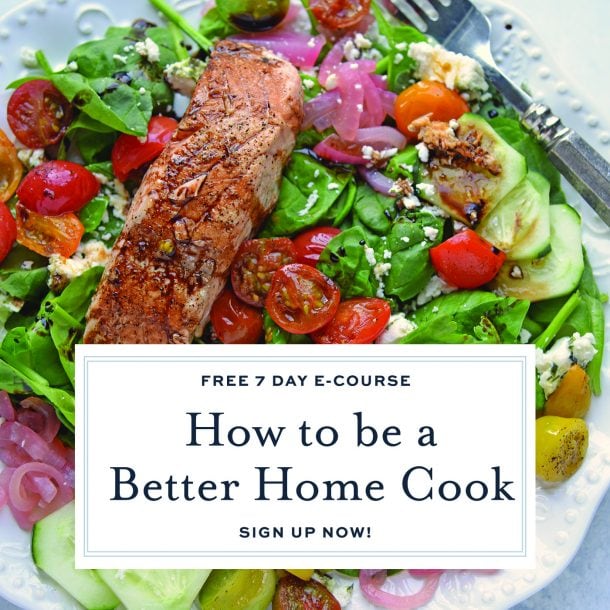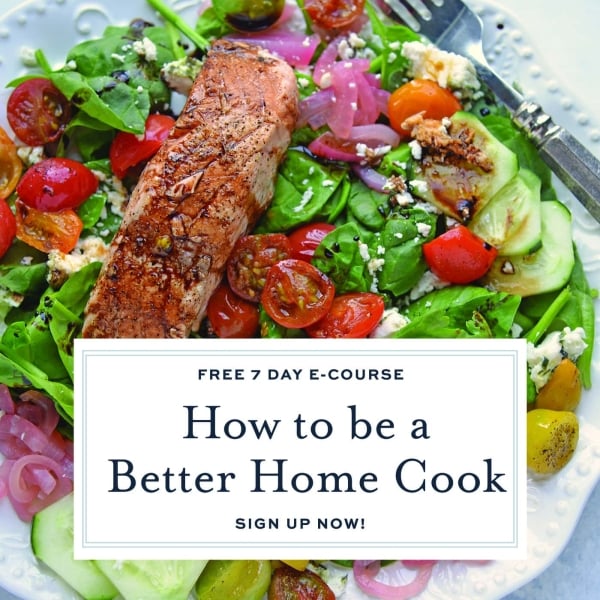 Juicy Roast Turkey
Juicy Roast Turkey is easier than you think with my buttery recipe, a bottle of bubbles and fresh herbs.
Instructions
Preheat oven to 350 degrees. Line a large roasting pan with aluminum foil (for easier clean up).

In a small bowl, combine softened butter with dried parsley, rosemary, thyme, sage, Kosher salt and ground black pepper.

Using your fingers, loosen skin from turkey meat. Massage butter mixture between skin and meat, and also a little in the cavity.

Stuff the cavity with apple, celery and onion.

Place the turkey, breast side up, in the roasting pan.

Pour champagne over turkey. Cover loosely with aluminum foil, being careful to not have aluminum foil touch the skin.

Bake turkey for 3 hours. Remove and take off aluminum foil. Baste with juices and champagne in the bottom of the pan.

Return to the oven uncovered for 30 minutes, or until internal temperature reaches 180 degrees at the meatiest part of the thigh. Baste every 15 minutes. Turkey should be a golden brown.

Remove from oven and carefully tent with aluminum foil. Allow to rest for 15-30 minutes.

Remove cavity stuffing and carve.

Garnish your serving platter with fresh herb sprigs.

If you've tried this recipe, please come back to give it a rating and let us know how you liked it!
Notes
*You can substitute Ginger Ale for sparkling wine.
Nutrition
Calories:
910
kcal
|
Carbohydrates:
7
g
|
Protein:
114
g
|
Fat:
41
g
|
Saturated Fat:
15
g
|
Cholesterol:
407
mg
|
Sodium:
1577
mg
|
Potassium:
1354
mg
|
Fiber:
1
g
|
Sugar:
4
g
|
Vitamin A:
840
IU
|
Vitamin C:
6.1
mg
|
Calcium:
101
mg
|
Iron:
5.5
mg